15 Crochet Backpack Patterns For Campers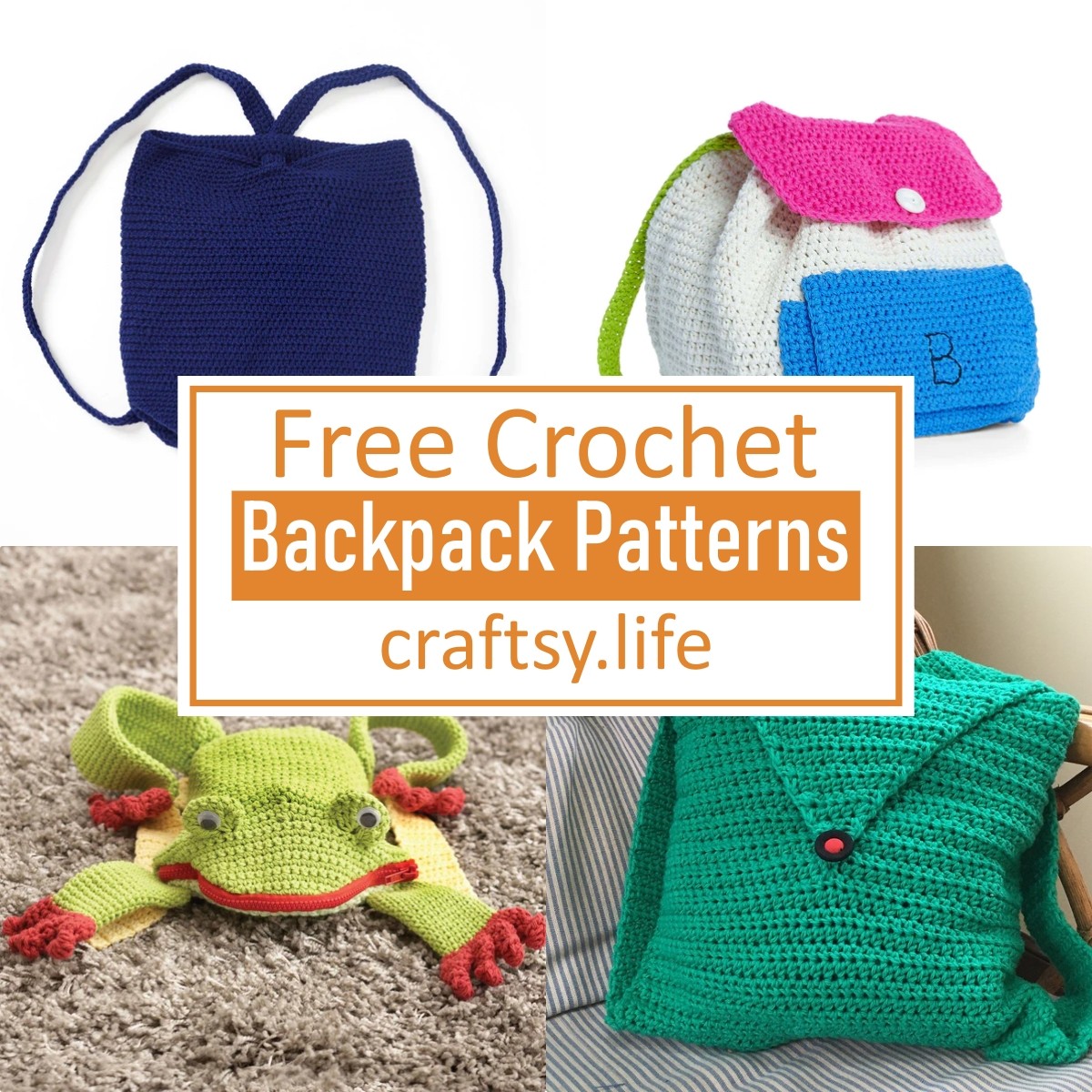 Crochet Backpacks are a must-have to carry your belongings while traveling, commuting, or hiking. They offer the convenience of being hands-free to use both hands for other purposes. It also saves money rather than buying a handbag or an old plastic bag. They are easy to make and only need a few hours. You can also use any yarn you like and make it as large or small as possible, depending on your needs. If you want to add some pockets or compartments, that is also possible with these amazing and free Crochet Backpack Patterns. These crochet backpack patterns are sure to make your kids proud. From fun designs and vibrant colors, these stylish bags will hold everything you need for a day at the library or on an adventure through nature.
Best Crochet Backpack Patterns For Beginners

These Crochet backpacks are a modern, trendy way to carry your stuff, whether headed to school, work or on a fun trip! Crochet backpack patterns can be big enough to hold all your belongings or small enough to keep them. Browse our complete collection of crochet backpack patterns to refresh and renew your skills. Crochet a small pouch for your keys or phone, or work on something bigger like a messenger bag, backpack, or duffel bag!
See Also
Supplies Needed:
Yarn

: Use any worsted-weight yarn you like.

Hook:

 This project uses a size H (5mm) crochet hook. The backpack has double crochet stitches, making it easy for beginners to follow along.

Additional Materials:

You'll also need scissors, a yarn needle, and a button for the handle (optional).
Crochet Rainbow Patch Backpack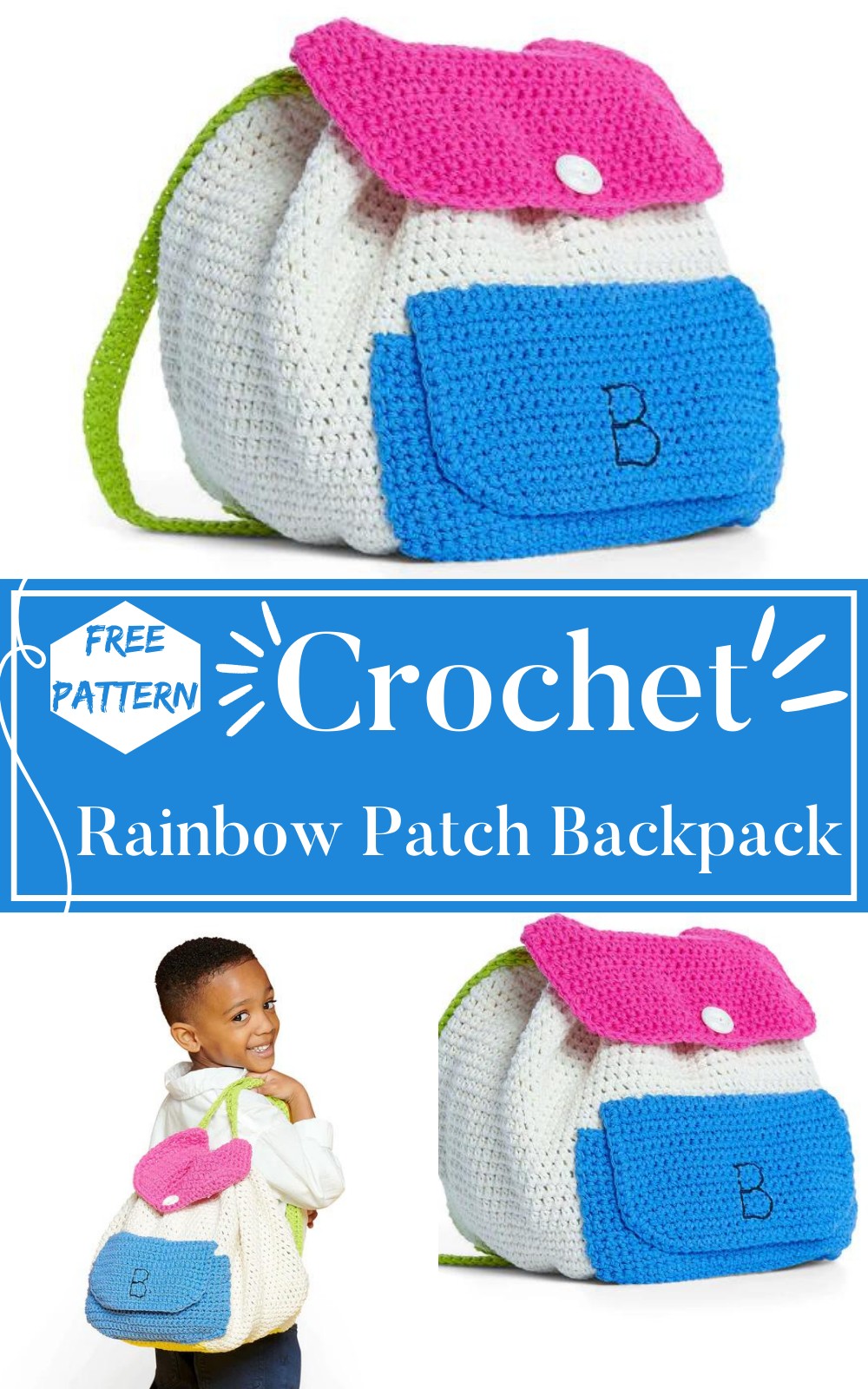 Surprise your little ones with a unique, handmade crochet backpack in their favorite colors! The sturdy and durable bag uses 100% cotton yarn to withstand the daily rigors that active kids face. It features a large compartment for storing all their books and a smaller one specifically designed for stationery items. However, write his name or first letter to make it more special and personalized!
Crochet Cream Frog Backpack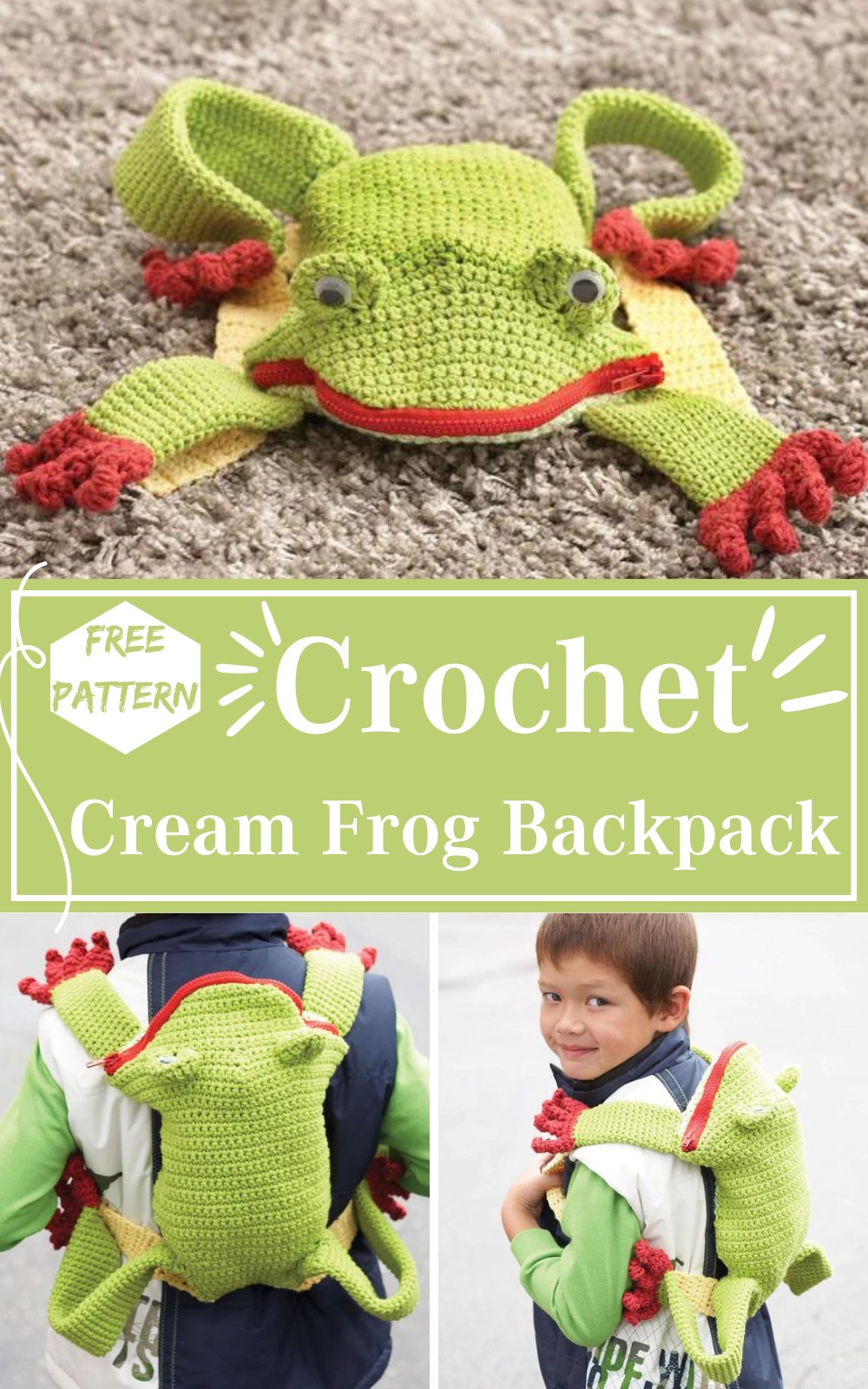 Introduce a new friend to your child with this crochet bag, also a playful frog. Featuring a zipper on the mouth and shoulder straps attached to the hands and legs, this backpack is designed to captivate your child's interest, making them excited about going to school. Besides its sun and cute looks, the crochet bag can hold all the child's school stuff and is also perfect to help ease those first-day-of-school nerves.
Crochet Everywhere Backpack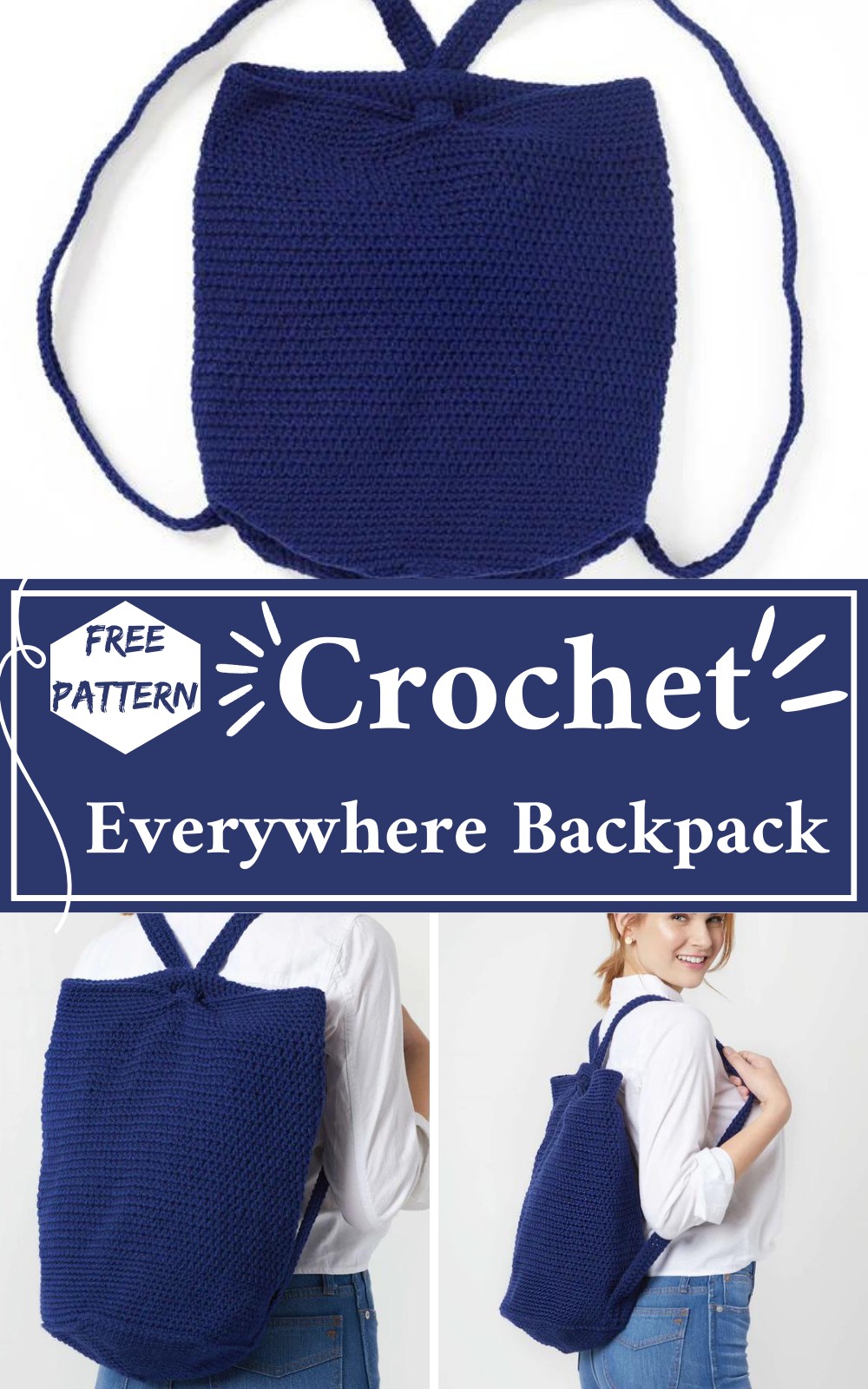 Whether toting books, shopping, or carrying beach essentials, honor that day with a handmade, functional accessory. Its simple and elegant design incorporates shoulder straps cleverly fashioned to close the backpack's mouth when hoisted on your shoulder. Conveniently, the mouth opens up when the bag is set down, allowing easy access. Furthermore, you may also add an applique or other embellishments on its plane look for more charm!
Crochet Rainbow Backpack Granny Squares
Celebrate Granny Square Day with this remarkable crochet backpack pattern. With a quartet of straps, a drawstring for secure closure, and a top flap equipped with a magnetic clasp, this backpack is practical for everyday use. Made from seven cotton candy granny squares, this bag can be made from squares you've created previously or from the pattern provided.
Crochet Softie Animal Backpacks
If you adore the Squishmallow's cute charm, you'll love the Unicorn, Cow, and Shark design bags. Using chenille yarn, these creations are soft yet sturdy, bearing daily use. Bright and vibrant, these backpacks make a stylish statement while neatly holding all essentials. However, You may skip their straps, and by stuffing it with cotton, you can have a playful, chubby toy or pillow for your child!
Hooty Owl House Backpack 2: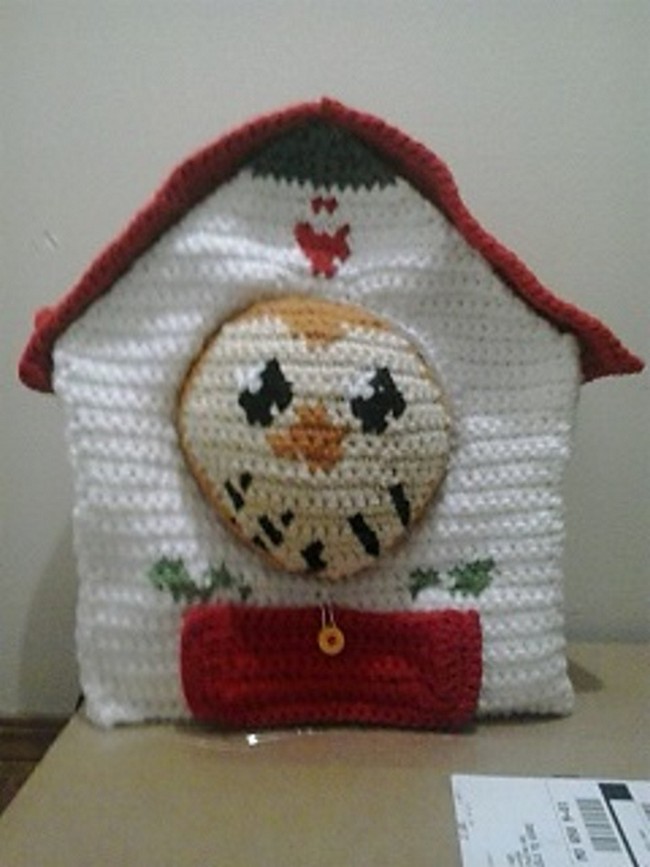 Hooty Owl House Backpack is a cute, fun, lightweight tote bag made with Worsted weight yarn. The hollow owl shape make it perfect for carrying small things such as magazines, books, or pencil case! Ideal patterns are for beginners or for busy moms who want to have some creative time. The finished product will look like it took hours to make, but it only takes a few hours to complete! This pattern is perfect if you want something new and fun for spring! Crochet this backpack for your child or as a gift for someone special.
Materials
Worsted weight yarn: White, heather, curry, red, leaf green, pewter, and black.
I crochet hook
Tapestry needle
2 1″ Belting/Strapping (each cut in half)
2 1″ Strap Adjusters
Two white buttons
One yellow button
Elastic cord
Sewing thread
Sewing needle
Four pieces of floral wire (2 folded in half)
Polyester fiberfill
Velcro
Glue
The Betty Backpack: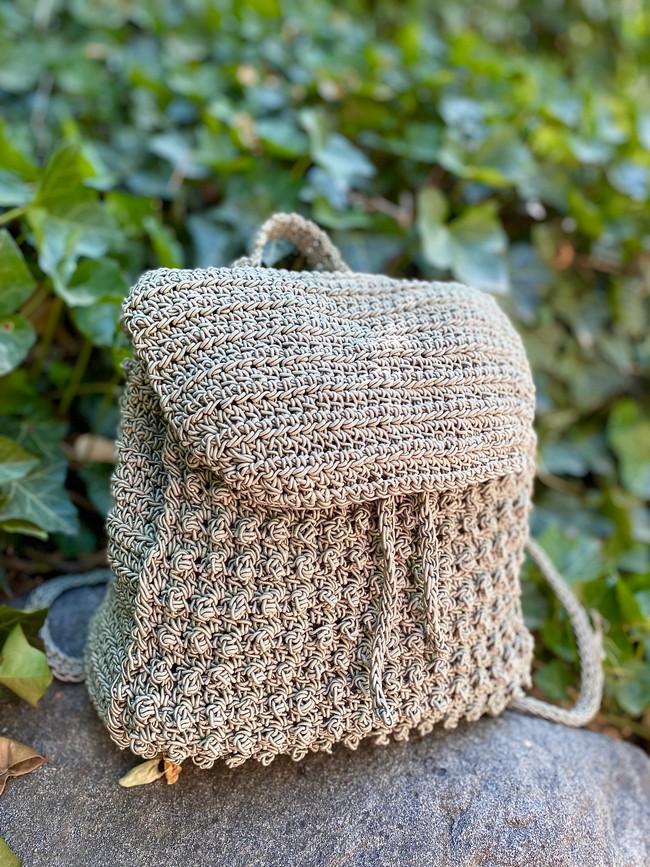 The Betty Backpack is a small tote-style bag that fits the essentials. Made with a combination of basic Crochet and simple applique, it'sit's the perfect size for any adventurer! So, Crochet this backpack that is perfect for everyday use. The pattern includes instructions on how to make the straps, sides, and buckles and how to integrate a zipper into the Betty backpack. This pattern is easy to follow and can be made from beginning to end in hours.
Materials
Worsted Weight (4) Yarn, Lion Brand For The Home Cording in "Willow", five skeins or 310 yards
H/5.00mm Crochet Hook
Needle
Scissors
Abbreviations
Fhdc- Foundation Half Double Crochet
Hdc- Half Double Crochet
Ch- Chain
Sc- Single Crochet
St- Stitch
Tr- Treble Crochet
FLO- Front Loop Only
BLO- Back Loop Only
Fpdc- Front Post Double Crochet
Bpdc- Back Post Double Crochet
Sk- Skip
Sl St- Slip Stitch
Santa Sack Backpack:
This crochet backpack pattern is perfect for your child or grandchild. Santa Sack Backpack includes a simple funnel top that can be easily made to fit any size child. This is also an excellent project for the holidays. It includes fast and easy instructions for making a cute crochet backpack pattern for girls, boys, and adults. Make the Santa sack in your child's or grandchild's favorite colors, or create a pattern that matches their name or interests!
Materials
Lion Brand 24/7 Yarn (Worsted, 100% Cotton, 186yards/100g) (2 colors), I used:
Red ([761-113B], bright red) – 4 skeins
White ([761-100], pure white) – 1 skein
4.0mm Crochet Hook -> I used Furls Crochet Hook
use NICKI15 for 15% off
scissors
tapestry needle
optional: I-cord Knitting Machine
Abbreviations
st/sts = stitch/stitches
ch = chain
sc = single crochet
wst = waistcoat Stitch
SK = skip
inc = increase
3rd loop behind the V
sl st = slip stitch
Icord made with an I-cord Machine
Mini Crochet Backpack: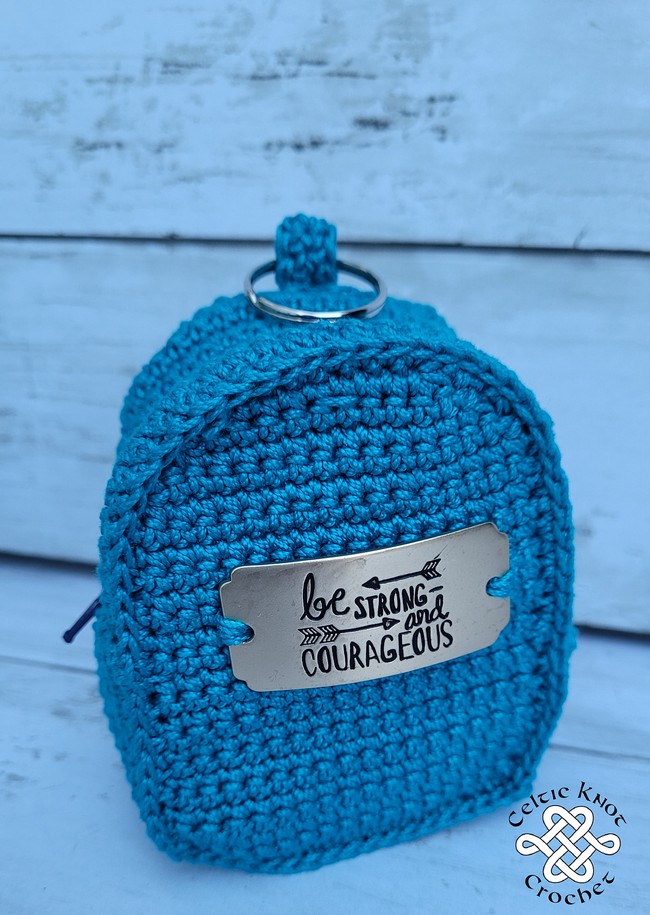 This mini crochet backpack pattern is a small crochet bag that you can use as a crossbody bag or a purse. It has a drawstring top that will fit all your everyday necessities. This backpack pattern includes instructions, a diagram, and a conversion chart." This would be a fun gift for the kids or grandkids to take on their camping trip. You can use them anywhere, so don't be surprised when your friends ask for one.
Materials
A small amount of yarn – Size 3 thread, Size 3 (DK weight), or Size 4
(For my mini-backpacks, I used Lizbeth Thread (blue), Sinfonia (pink), and Red Heart Super Saver (green)
Hooks to go with yarn (2.75mm, 3.75mm, or 5.5mm)
7″ zipper
Matching sewing thread and needle (or sewing machine)
10 -15 sewing pins
Keyring
Abbreviations
YO (yarn over)
Hk (hook)
Lp (loop)
Ch (chain)
St (Stitch)
Sp (space)
Sc (single Crochet)
Sl st (slip stitch)
Serendipity Day Bag:
A day bag is a perfect companion to match your casual outfits, an ideal gift that any girl would love to have. Crochet this stylish and practical backpack in your favorite color combination. This bag is versatile; you can easily adjust it to be narrower to fit everyday essentials like textbooks or products for art class. Or, add some straps and make it into a sling bag. This pattern includes step-by-step instructions with plenty of photos to help you along the way.
Materials
Hook Size: 4 mm hook, or size needed to obtain gauge
Yarn: weight 3 or 4 cotton yarn. Sample crocheted in Paintbox Yarns Cotton weight three yarn. Three hundred five yards MC, 240 yards other colors. (I had six colors other than the cream on my bag, so 40 yards of each color was used). 545 yards total.
Other: Bag hardware (D-rings with at least 1″ inside measurement, strap/keychain clips), stitch markers, measuring tape.
Gauge: 19sts/ 13rows = 4″ in hdc. Each granny square is 5″ x5″ after blocking. Gauge is not super important for this project.
Boho Diamond Bag:
The Boho Diamond Bag is a crochet backpack pattern designed for the gal on the go. It's perfect for summer days and nights when you need just one more bag to carry all your essentials to a picnic or beach trip or for your everyday purse. You will learn how to crochet this stylish yet practical bag. The crochet tutorial is a great way to learn how to pick up stitches in the round and make a bag with gathers. Crochet is a perfect gift for yourself or someone you love.
Materials
SHINE worsted yarn from WeCrochet OR your favorite #4 yarn:
 Willow: 3 skeins (225 yards, 150 grams)
 Serrano: 2 skeins (150 yards, 100 grams)
 Reef: 2 skeins (150 yards, 100 grams)
 Sweet Potato: 2 skeins (150 yards, 100 grams)
 Serenade: 2 skeins (150 yards, 100 grams)
4.00mm (G6)  crochet hook
scissors
tapestry needle
stitch markers
Abbreviations
ch = chain
st/sts = stitch/stitches
sl st = slip stitch
blo = back loop only
sc = single crochet
Crossbody Backpack Bag: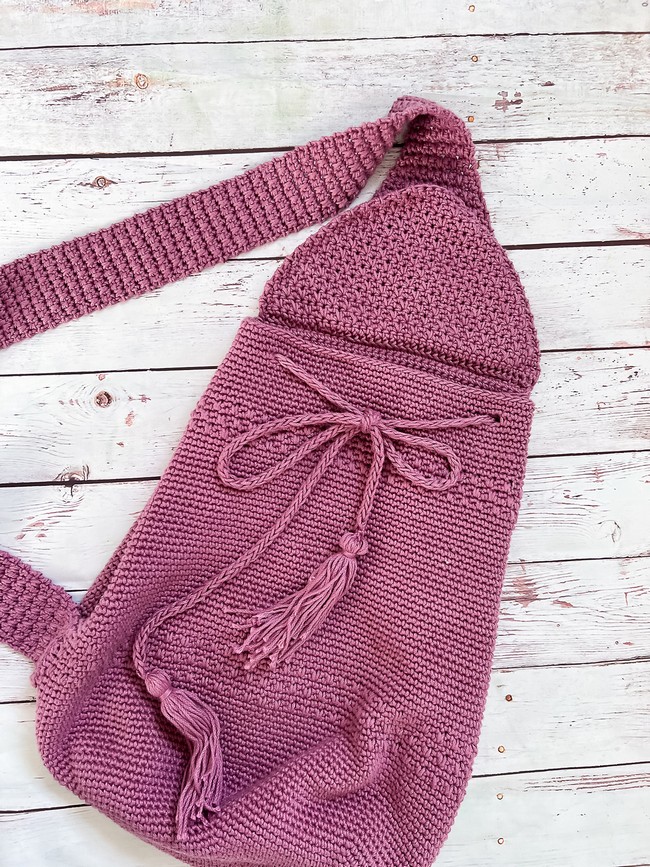 This crochet backpack pattern is perfect for you if you're looking for a stylish crossbody bag that can still be used as a backpack. You'llYou'll love the versatility of this bag; it'sit's great for travel, everyday use, and everywhere in between. This crochet backpack pattern is a quick, fun project you can finish in one or two weekends. It'sIt's an easy crossbody bag for kids, and it needs just a little yarn to make. The Stitch used works up quickly and looks great on this beautiful bag!
Materials
4.00 mm crochet hook
#4 Worsted Weight Cotton
5 Skeins LB 24/7 Cotton in Lilac #761-143D
840 Yards Equivalent
2 Stitch Markers
Abbreviations
Chain Stitch – ch
Slip Stitch – sl st
Stitch(es) – st(s)
Skip – SK
Stitch Marker – SM
Single Crochet – sc
Single Crochet Spike Stitch  – SPsc – Working your single crochet stitch as you usually would, create your single Crochet in the Stitch below "X" rows/rounds. You will work your SPsc one (1) row down for this pattern.
Crochet Mini Backpack for Dolls: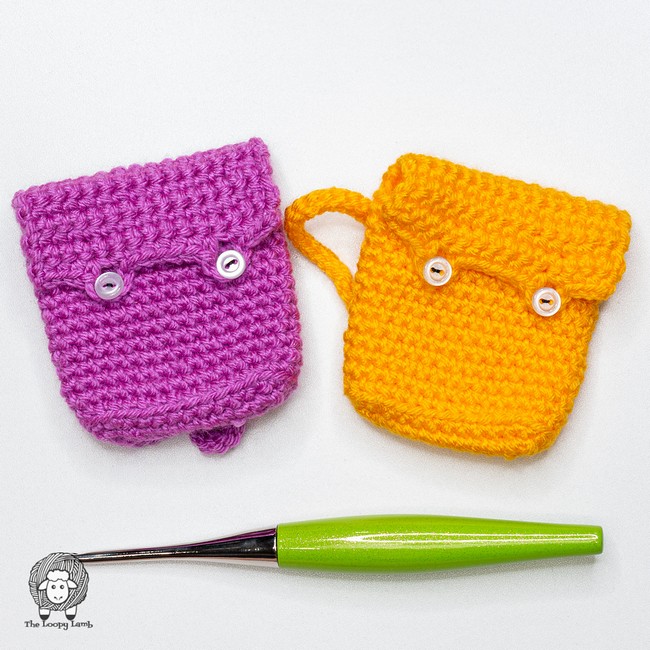 Are you looking for a new crochet backpack pattern? This mini backpack is perfect for carrying around your doll when she's not in her doll car. This mini crochet backpack is crocheted from cotton yarn and features a little pocket on the front so your little girl can carry her favorite things in style. This will also make a great decoration item if you do not have a doll to use it with. This is an excellent pattern for crocheting mini backpacks for your dolls, but of course, you can use this pattern for anything you like.
Materials
3.5 mm (E) Furls Crochet Hook <— Save 15% on qualifying purchases at Furls Crochet through this link using the code LOOPYLAMB15 at the checkout.
Brava Worsted Weight Yarn (100% Premium Acrylic, Worsted Weight (4), 218yds/200m, 100g/3.5oz), one skein each of:
2 – 9 mm Black Safety Eyes
12 – 9 mm Buttons in preferred color (s)
Polyester Stuffing
1 3/8″ Pom Pom Maker or a piece of cardboard
Tapestry Needle
Multiple Stitch Markers
Scissors
Sewing Thread and Needle
Sewing Pins (optional but helps make the assembly process easier)
Abbreviations
BLO = Back Loops Only
BPDC = Back Post Double Crochet
CH = Chain
CH SP = Chain Space
DC = Double Crochet
FPDC = Front Post Double Crochet
FLO = Front Loops Only
Wheatsheaf Backpack: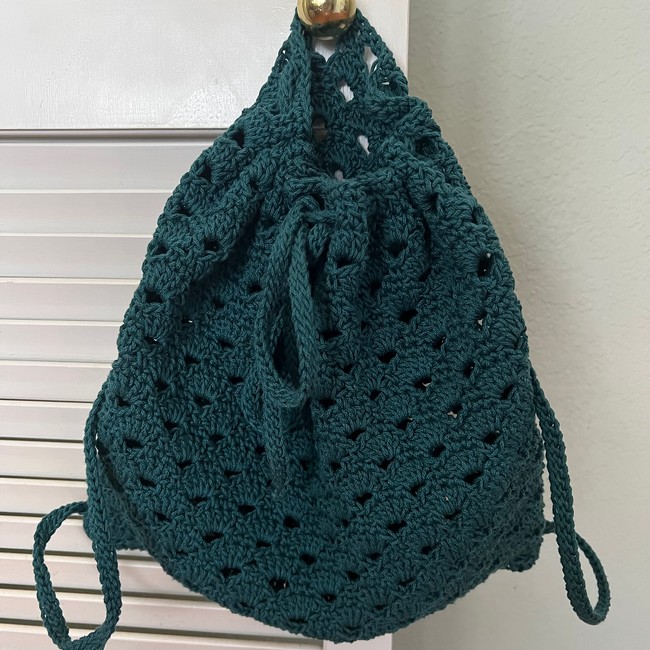 Are you looking for a craft project that's easy, stylish, and fun to make? This is the one: The Wheatsheaf Backpack is a stylish and functional bag perfect for your daily needs. It has a roomy main compartment for all of your necessities. This crochet backpack makes a great gift. It's easy to make and can be made in just one evening, using simple stitches that take you step-by-step through the pattern. Try this traditional style or design your unique design!
Materials
Lion Brand Yarn 24/7 Cotton, Medium Weight #4 yarn (100% Mercerized Cotton; 186 yds / 170 m, 3.5 oz / 100 g skein): Charcoal, 2 skeins.
US G/6 (4 mm) crochet hook
Scissors
Yarn Needle
Abbreviations
Ch(s) = chain(s)
Sc = single crochet
Dc = double crochet
St(s) = stitch(es)
Sl St = slip stitch
Meadow Backpack: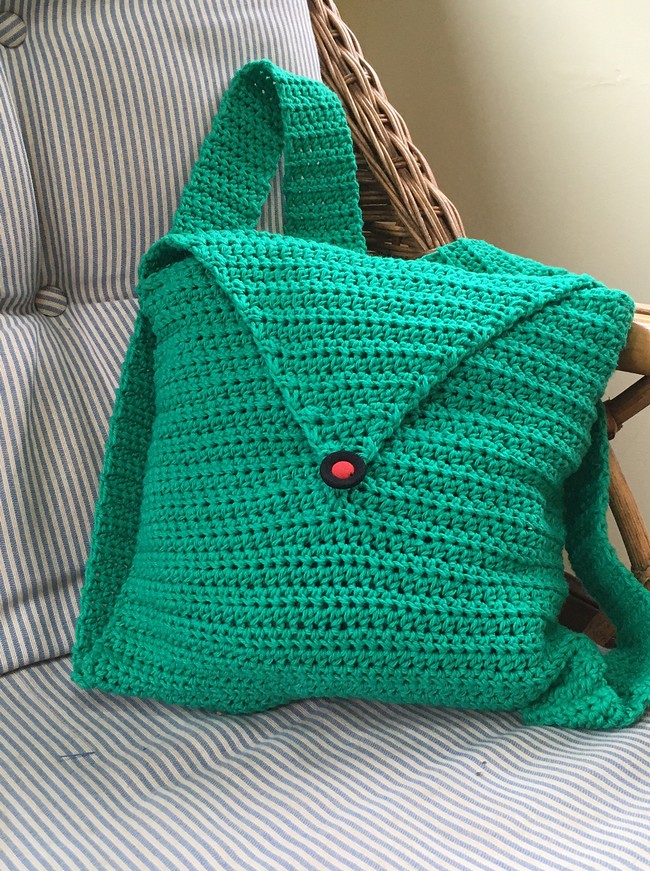 This crochet backpack, Meadow Backpack, is the perfect crocheted bag for school. It's super cute, durable, and easy to carry around. The pattern comes with instructions for toddler through adult sizes, so this will be everyone's favorite go-to bag for all their adventures. So, This summer, crochet this festive yet functional backpack. A beautiful colors that both boys and girls of all ages can use. It is the perfect size for small children and can be worn on the back or front.
Materials
360 yards worsted weight yarn (4)
Size H hook
One button (The one I used is 7/8″ in diameter)
Yarn needle
Abbreviations
Hdc – half double crochet
Sl st – slip Stitch
Decrease – half double crochet two stitches together
Lipa Backpack: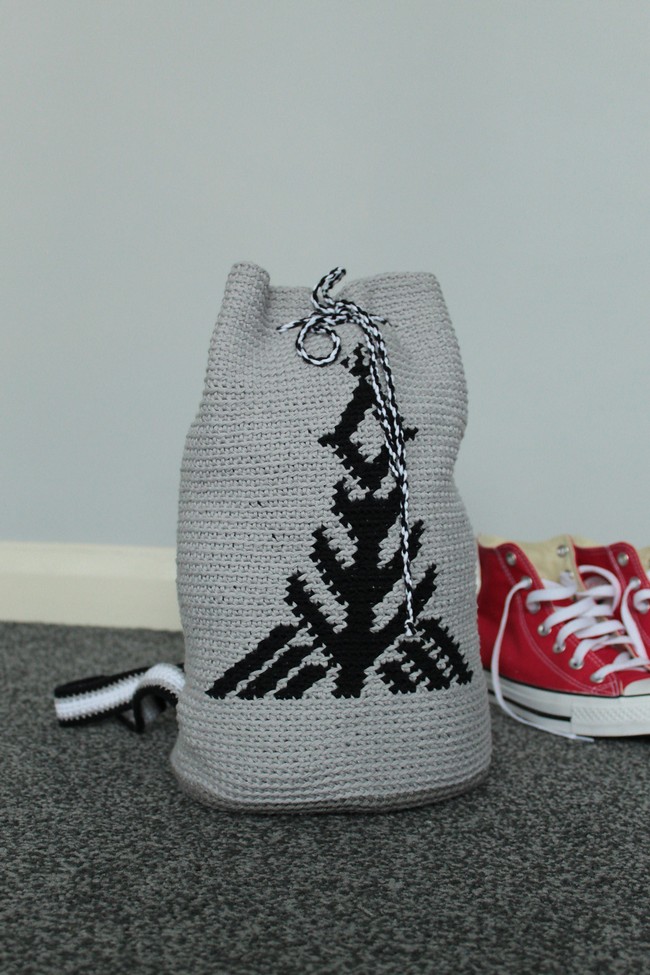 Lipa Backpack is an adorable and unique crochet backpack that your little one will love to show off. This pattern is excellent for beginners who have never crocheted a bag or any project. Just follow the step-by-step instructions to create this backpack. This easy-to-follow pattern teaches you how to make a fun, stylish, and unique backpack! It has been tested many times, so you will not have any problems making it.
Materials
Scheepjes Cahlista; aran/worsted weight; 100% double gassed cotton; 85m per 50g;
one ball each in Metal Grey, Bridal White, and Jet Black, four balls in Mercury
4.5mm and 3 mm crochet hooks
Yarn needle
Scissors
Abbreviations
ch- chain stitch
mc- magic circle
sc- single Crochet
sc blo– single Crochet worked through back loop only
sl st- slip Stitch
Candy Corn Drawstring Backpack: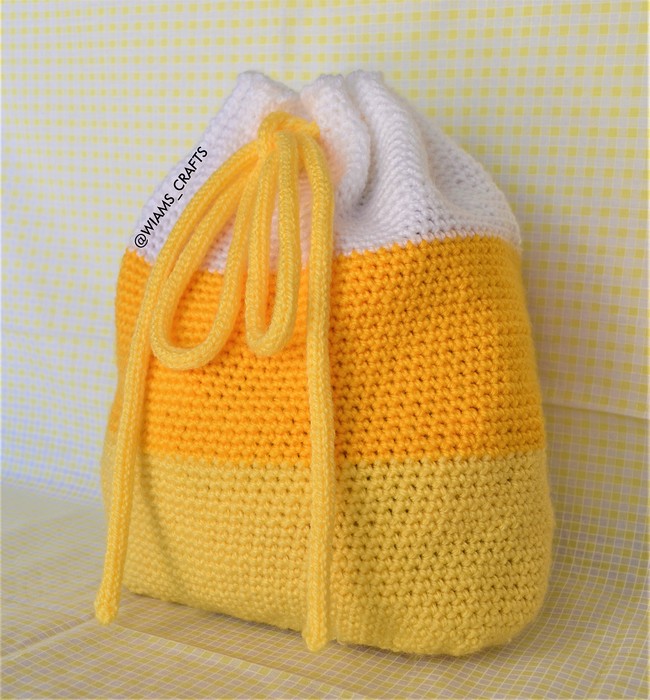 Are you looking for a quick, easy crochet backpack pattern that the kids will love? Look no further! This Candy Corn Drawstring Backpack pattern fits everything your child needs for a fun day outdoors. The drawstring ties can be any color to match your child's personality. With this crochet pattern, you can use any yarn or thread you have on hand as long as you meet gauge requirements. It will take just one skein of yarn (or more if making it prominent) and only takes a few hours to make.
Materials
Yarn: Nako Verizon: (100% premium acrylic, 100 g/ 3.53 Oz, 195 m/ 213 yds): Light yellow, color no. 215: 1 skein. Yellow, Color no. 184: 1 skein. White, color no. 208: 1 skein.
Hook US J-10 / 6 mm
Tapestry needle.
The Cord: You can either buy a 4.5 feet long suitable cord or make one simply by finding it here.
Wanderlust Chevron Backpack: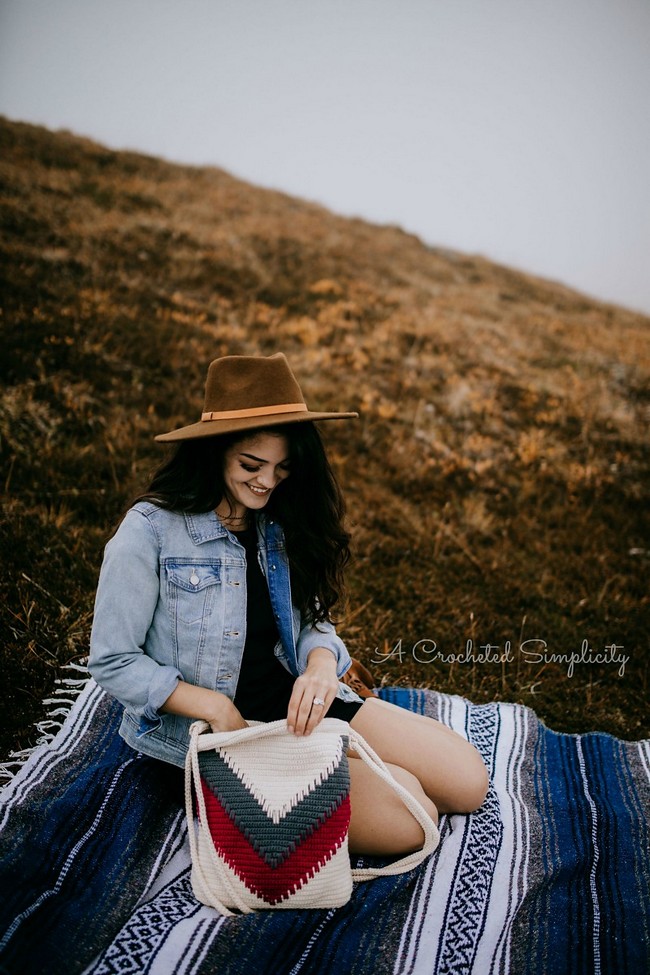 The Wanderlust Chevron Backpack Pattern is the perfect addition to your summer adventures. You will love this super lightweight, 4-grip backpack with its beautiful colors and chevron design on the front. The bag has two wide straps that make it comfortable on your shoulders and around your neck if needed. The inside pockets are perfect for stashing a phone or keys, Great for summer or all year round.
Materials
Yarn: Worsted Weight / 4;  Lion Brand Yarns 24/7 Cotton was used for the sample. 100% Mercerized Cotton Yarn (186 yards / 170 m / 3.5 oz / 100 g). Available for purchase on the Lion Brand Website or
Ecru (650 yards / 4 balls)
Magenta (96 yards / 1 ball)
Charcoal (80 yards / 1 ball)
Crochet Hooks:  G/6/4.00mm, E/3.50mm, or size needed to obtain gauge (My favorite crochet hooks are the Clover Amour Hooks, I've never had an ache in my hand since switching)
Scissors
Yarn Needle
Plastic Canvas (2) 4″ W x 9.5″ L (optional)
Locking Stitch Markers (4 or more)
Abbreviations
ch(s): chain(s)
sl st(s): slip stitch(es)
st(s): stitch(es)
sc: single crochet
bpsc: back post single crochet
spike sc 5: single crochet spike stitch 5  
Rnd(s): round(s)
RS / WS: right side / wrong side
SM: stitch marker
Rep: repeat
MC: Main Color (Ecru)
CC1: Contrasting Color 1 (Magenta)
CC2: Contrasting Color 2 (Charcoal)
Back 2 School Tunisian Bag: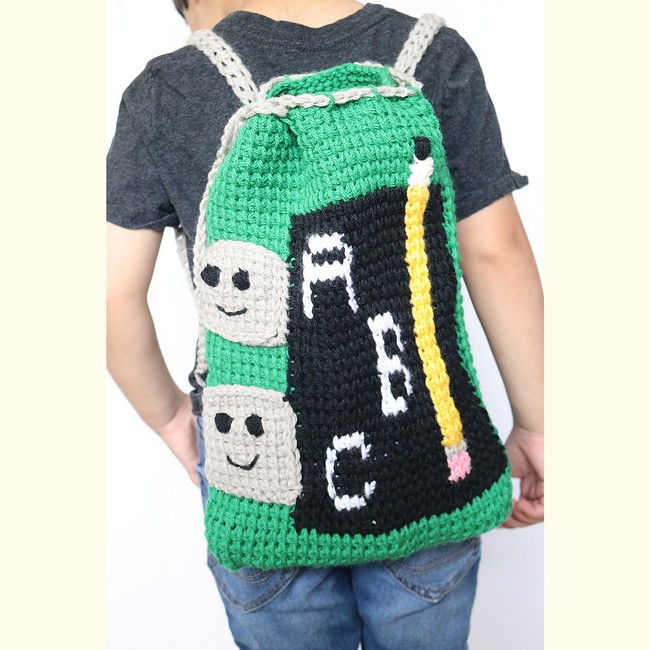 Backpack patterns get a stylish update with this Tunisian crochet bag! This easy-to-follow pattern is perfect for beginners but will also inspire more advanced crocheters to push the limits of their skills. Add personal touches using your favorite colors and patterns, or let your imagination go wild with stripes and colors galore! You can make this a straightforward project in less than a day. This free pattern offers a roomy bag with long straps, which is perfect for an extra-large laptop or tablet.
Materials
Col A – Big Twist Value Yarn in Emerald (200 yards)
Col B – Lily Sugar and Cream in Black (38 yards)
Col C – Lily Sugar and Cream in Pink (scrap yarn 12 in.)
Col D – Big Twist Baby Yarn in White (12 yards)
Col E – Big Twist Baby Yarn in Elephant (30 yards)
Col F – Big Twist Baby Yarn in Daffodil (20 yards)
Col G – Lily Sugar and Cream in Soft Ecru (10 yards)
Hooks
6.5 mm K Tunisian crochet hook with 24 in. cord (check out my favorite set of hooks!)
Scissors
Tapestry Needle
Measuring Tape
Abbreviations
Ch- Chain
TSS – Tunisian Simple Stitch
Reto – Return Pass
Sl St – Slip Stitch
MLB – Make Bobble
St(s) – Stitch(es)
Drawstring Mini-Backpack: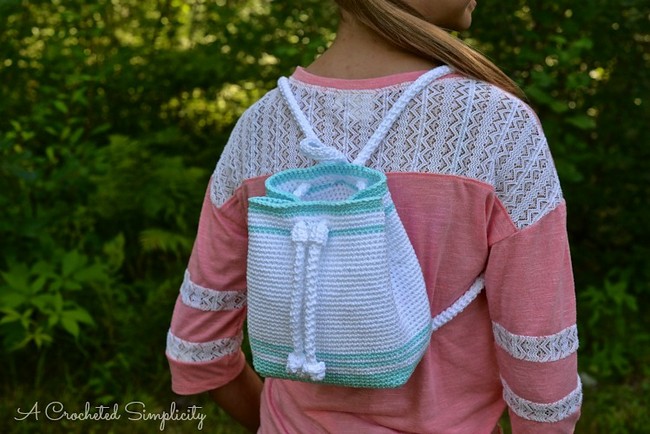 Here is a drawstring mini backpack that is easy to make and can hold quite a bit. This backpack looks great in any color! So, If you love to crochet, this mini backpack crochet pattern is for you! It'sIt's designed with a drawstring closure to keep your items safe and comfortable, carrying straps wide enough for comfort. Crochet this backpack easily with any yarn weight and pattern stitch you love!
Materials
Yarn: Worsted Weight / 4;  Lion Brand Yarns 24/7 Cotton was used for the sample. 100% Mercerized Cotton Yarn (186 yards / 170 m / 3.5 oz / 100 g). Available for purchase on the Lion Brand Website or
White (260 yards / 2 balls)
Aqua (100 yards / 1 ball)
Crochet Hook:  G/6/4.00mm, or size needed to obtain gauge (My favorite crochet hooks are the Clover Amour Hooks; I've never had an ache in my hand since switching)
Scissors
Yarn Needle
Plastic Canvas (2) 4″ W x 6″ L (optional)
Locking Stitch Markers (4 or more)
Abbreviations
ch(s): chain(s)
sl st(s): slip stitch(es)
st(s): stitch(es)
sc: single crochet
Rnd(s): round(s)
RS / WS: right side / wrong side
SM: stitch marker
Rep: repeat