Puff stitch crochet is the perfect solution to make your next afghan unique and cheerful. With our collection of puff stitch crochet patterns, you'll have so many options to choose from when it comes to all things puffed. After that, use our handy tips and tricks to avoid common mistakes and read up on insider secrets, like how to avoid crispy-looking edges. From babies to toys, these crochet puff stitch patterns are sure to bring a smile to your face. With so many puff stitch patterns, you won't know where to begin! With puff stitches, you can crochet lush fabrics that are thick and cozy for the whole family. They are easy to learn and great fun to do!
Crochet puff patterns:

Designed with beginners in mind, these puff stitch crochet patterns are the perfect starting place for anyone who wants to learn how to work puff stitch. Our motif pattern stitches will be a great addition to any project, no matter the hat, scarf, or blanket you start with. Have fun with these 6 crochet puff stitch patterns. Each of these projects is unique and sure to be an enjoyable way to spend some time. From hats and blankets to garments, toys, and home decor, our collection offers you many options for creating unique projects that will add personality to your everyday life.
How to Crochet the Puff Stitch
This post will teach you everything you need to know about the puff stitch. This tutorial is going to show you how to crochet the puff stitch, which is used in many different crochet patterns. This technique is relatively easy and can be mastered with just a little bit of practice and patience. By the end of this article, you'll be crocheting complicated patterns with ease. The puff stitch is an easy stitch that can make fun textural patterns and is often used as a border or edging for blankets, garments, or other crochet projects.
Puff Hearts Beanie Baby Child
This lovely beanie is crocheted using the puff stitch and a heart pattern. The hearts are made by working one row of puff stitches, then changing colors and working another row of puff stitches. This hat will keep your little one cozy while looking adorable! This hat will keep your little one cozy while looking adorable! This cozy hat is made for warmth and fun. Perfect for snuggling up in cold weather, it is also a lovely coordinating accessory to any outfit. The hat uses simple knitting techniques, and the finished product measures 5" when blocked.
Large Boxed Puff Stitch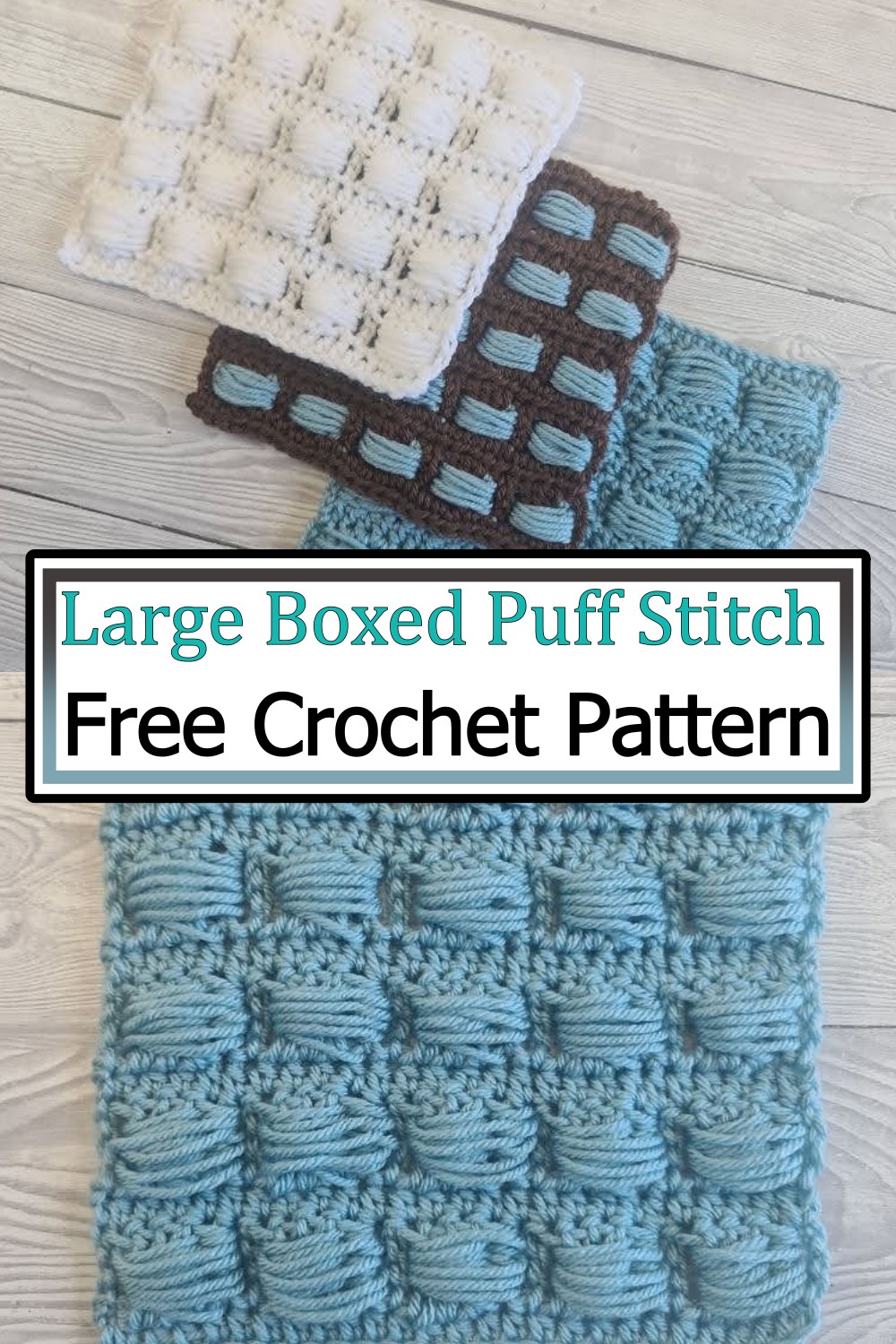 This Large Blocked Puff Stitch is one of my favorite new crochet patterns. It's a beautiful, large boxed puff stitch pattern with treble stitches and basic crochet skills, making it a quick and easy project. The finished fabric has an elegant texture that looks just like embossed bubbles on either side. When you stitch the Large Boxed Puff Stitch, you will create beautifully embossed bubble bubbles on either side of the fabric and a wonderfully textured surface.
Puff Quilt
Create a perfect snuggly blanket that's quilt-like in its feel. The Puff Quilt shows you how to use one simple stitch and simple seaming techniques. It creates an heirloom-quality blanket that will become a family favorite. This Puff Quilt is warm, cozy, and easy to make! Create a beautiful blanket in no time with just one simple stitch, then add simple seaming techniques. This easy-to-follow pattern is great for crocheters of all levels, and special stitches make it look far more complicated than it is. This heavy-weight, quilt-like crochet blanket will be your go-to piece for snuggling up next to the fireplace or watching television.
LOVE Puff Pillow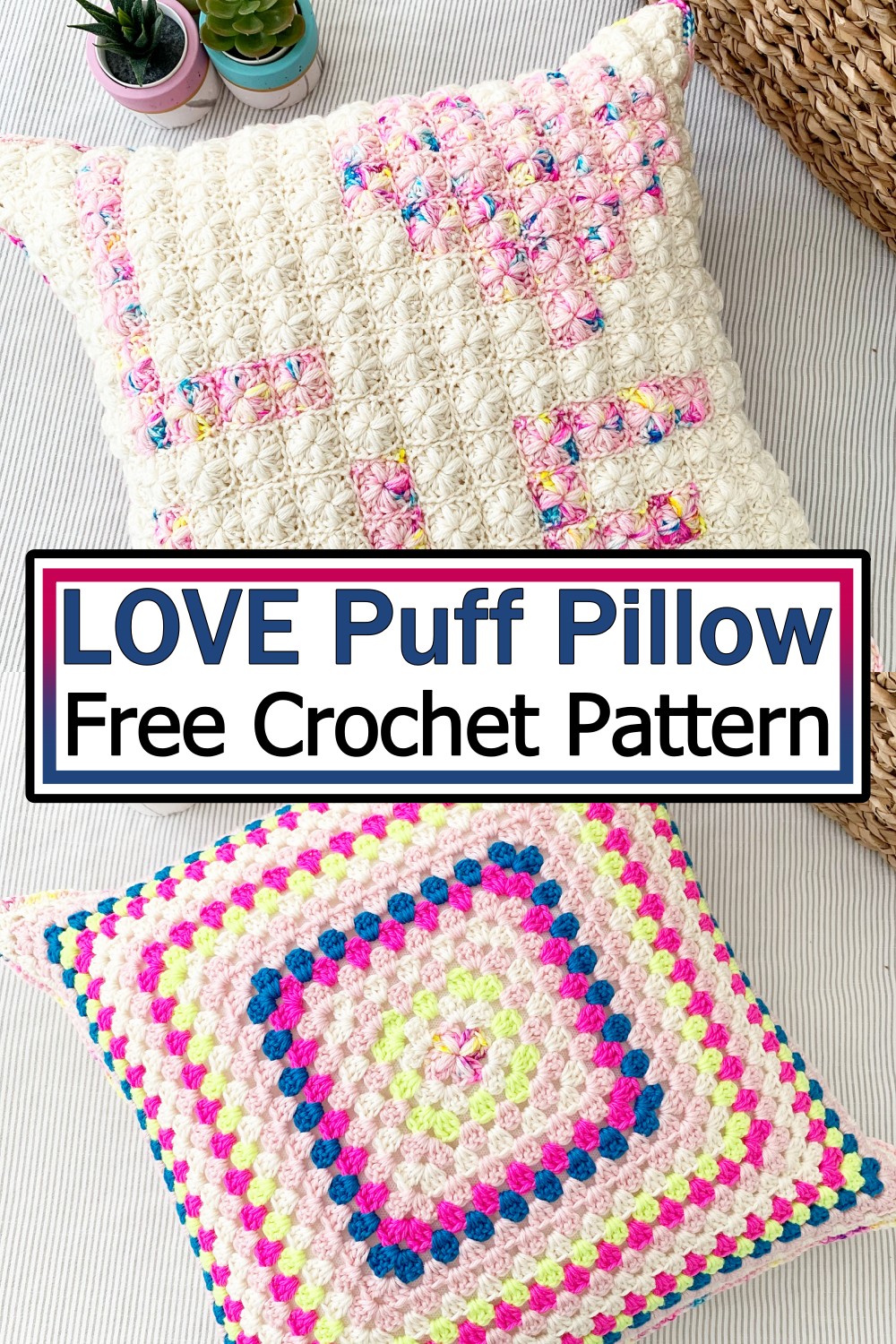 This love-inspired pillow is a great way to spread the love this Valentine's Day. Worked up with a traditional granny square and mini puff stitch granny square, this pattern is fun to work and easy enough for even the beginner crocheter. LOVE the feeling of the softness and puffiness of a throw pillow when you lay your head down. This is a geometric pattern with two different squares. The first square has a unique mini puff stitch. It works from side to side, horizontally, and the second square has a traditional granny stitch worked vertically.
Both squares are joined together in the end by working around each outside edge 3 times for a nice sturdy edge. The back is done with slip stitches joining each square together around in a continuous round allowing for a comfortable plush pillow.
Puff Dreams Table Runner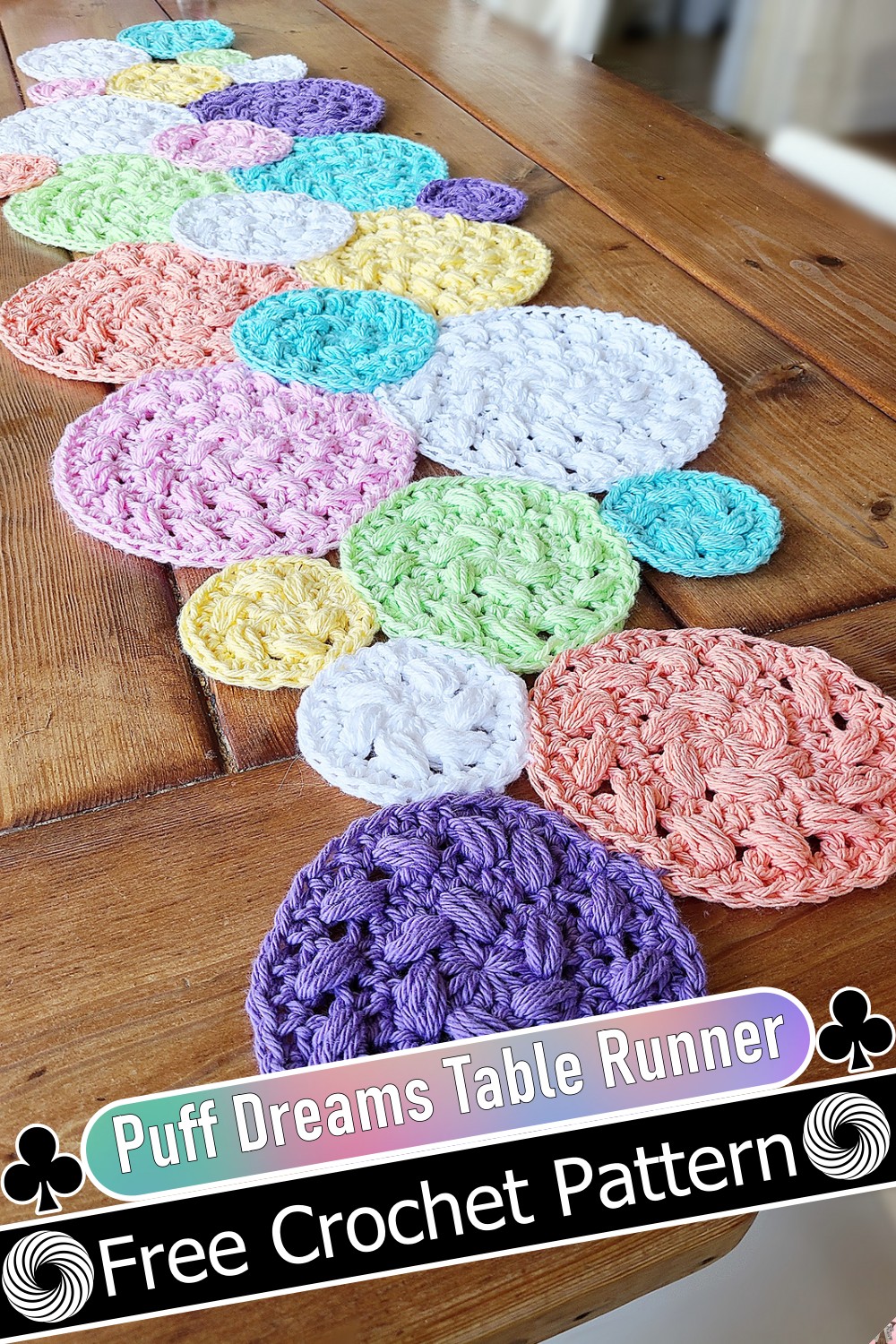 Puff Dreams table runners are beautiful, practical, and quicker than a store-bought item. A nice way to greet your guests on a kitchen table or as a gift for housewarming parties. These work up quickly with cotton yarn and a J hook. This delicate table runner uses the Puff Dreams stitch to create a lacy look but is easy enough for a beginner crocheter. With only 4 rounds of the pattern, it's sure to be completed in no time!