35 Easy FREE Crochet Table Runner Patterns For All Skill Levels!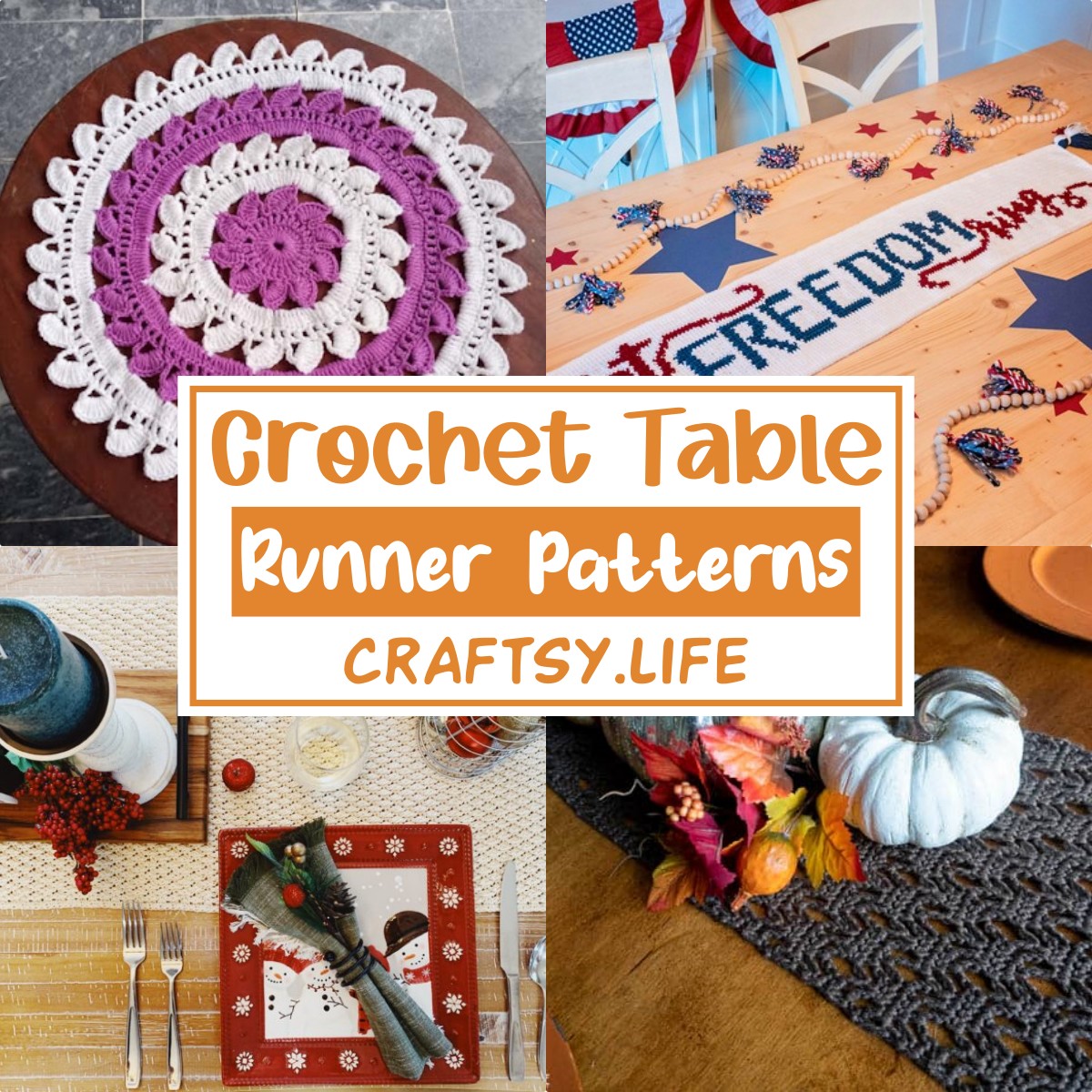 Check out these crochet table runner patterns to dress up any serving spot or gathering area for everyday or special occasions with something practical in many different textures, shapes, and colorful themes!
Cute Crochet Table Runners For Beginners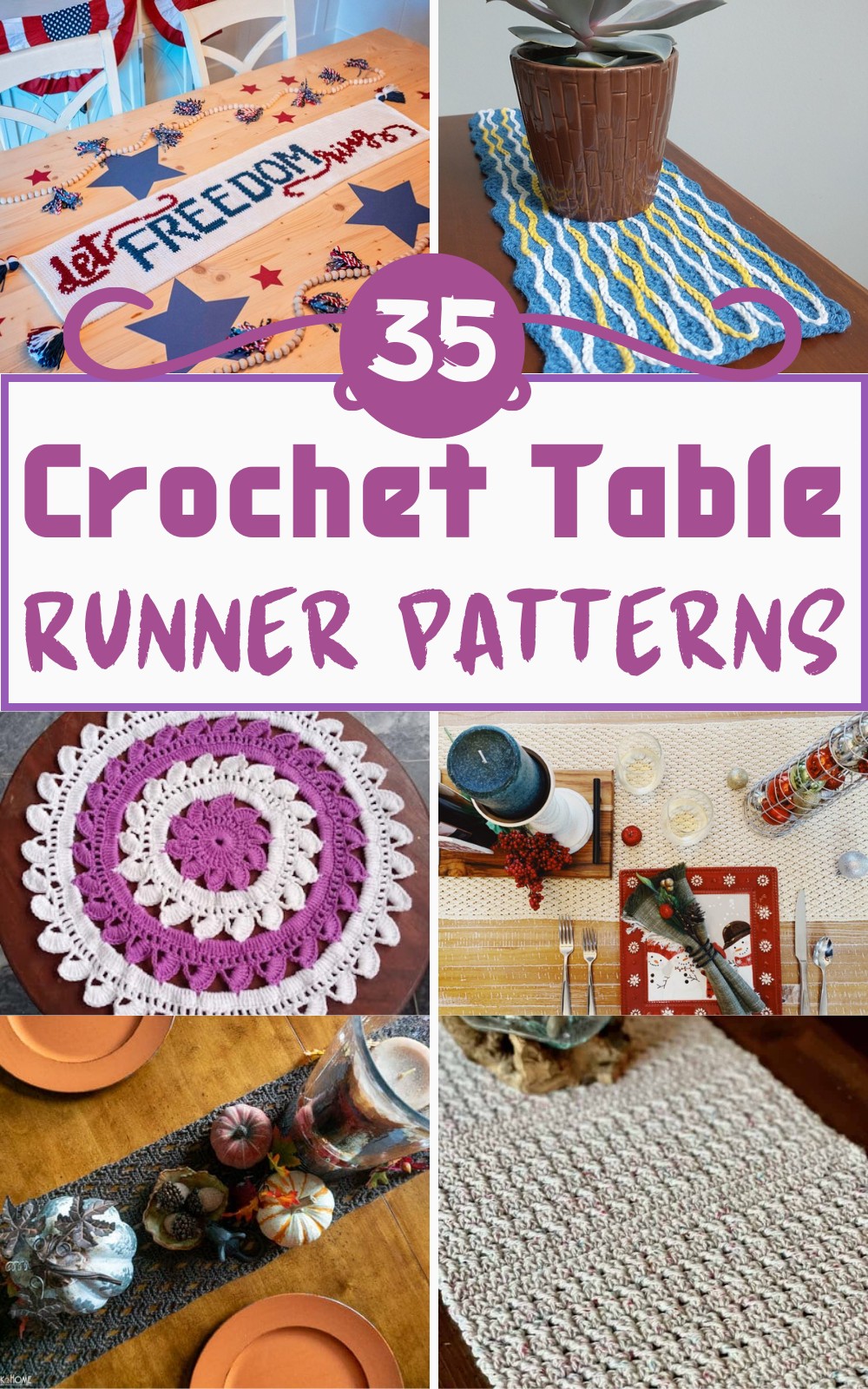 Crochet table runners can stylishly brighten your coffee, living room, kitchen, dining tables, dressers, bookshelves, and more, whether their style leans toward classic, rustic, or modern. More than decoration, they are practical gifts too by preventing the spots from becoming dirty, adding marks of heat or spills. So, you can enjoy any gathering without the mess! There are many options, from boho to lacy, rectangle to round, floral to granny square, and even simple heavy-duty ones. Many of these crochet table runner patterns are simple enough to crochet by beginners very quickly, fast and enjoyable way.
Stylish Crochet Table Runner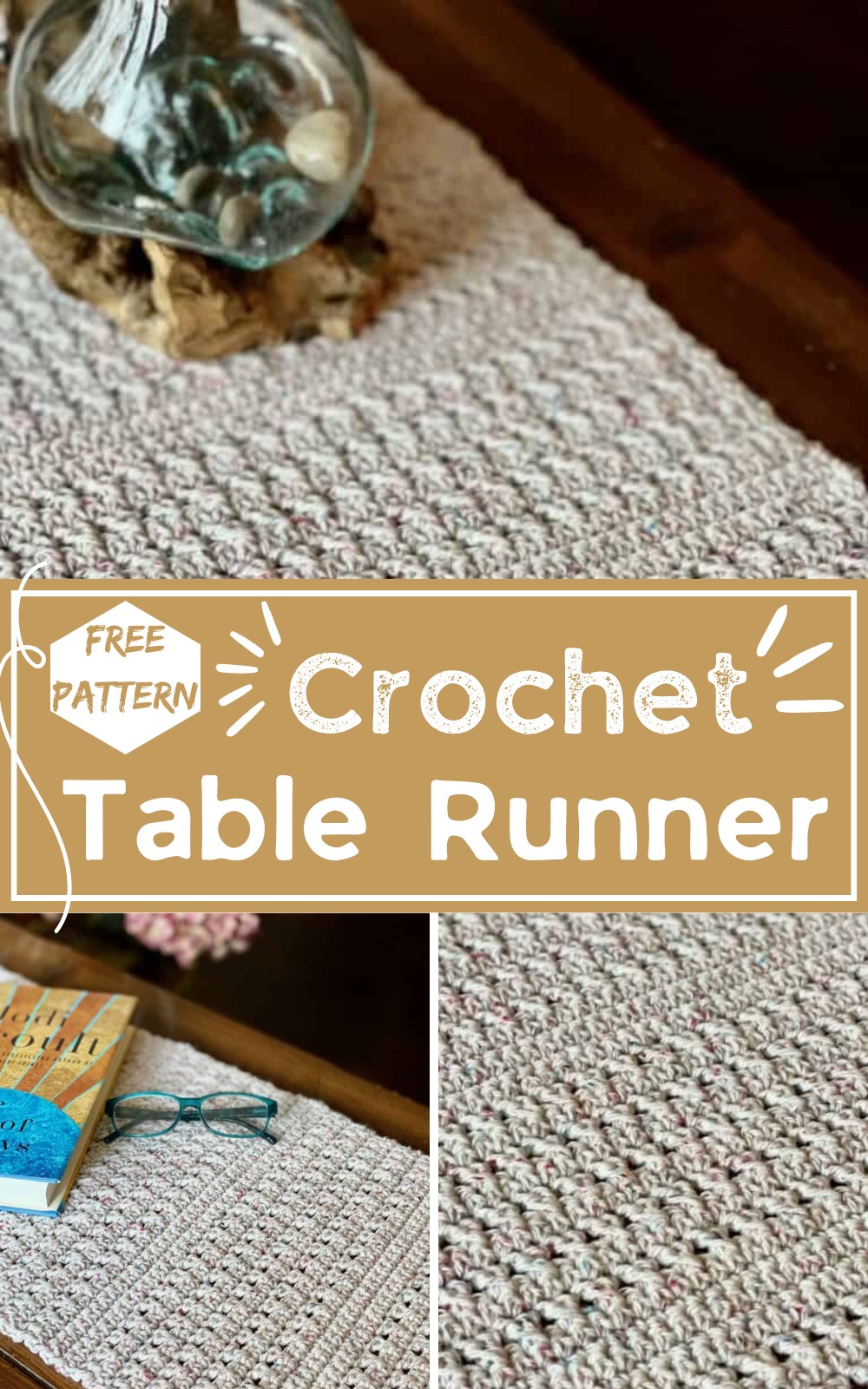 Crochet this simple long table runner for gatherings around the coffee table. This highly functional piece will protect your table with its dense crochet stitches. Still, its changing sections of little airy crossed double crochet (Crossing one double crochet stitch over another or F or BPDC) and solid single crochet make it adorable, too. You can make it longer or shorter and any color as needed!
Fall Table Runner Crochet Pattern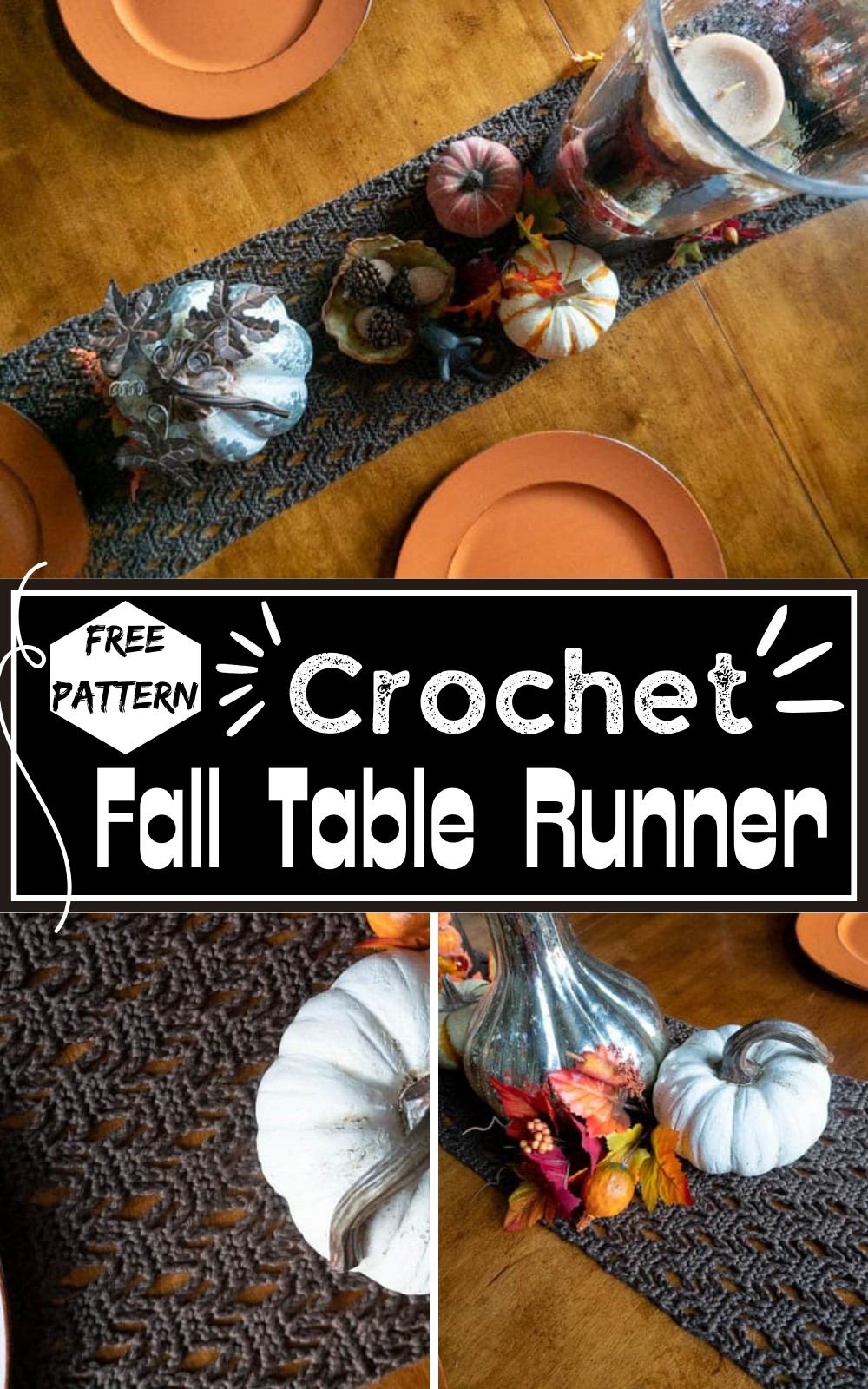 Make your dining table more inviting with this stylish, openwork crochet table runner using the woven lattice stitch. Look complicated? You can achieve this lacy texture by combining single, double, and chain stitches, making it fast, easy, and fun simply by skipping stitches at the right places as additional steps. While it's too usable for hot pots, it will be perfect for your table's springtime decoration.
Crochet Alpine Table Runner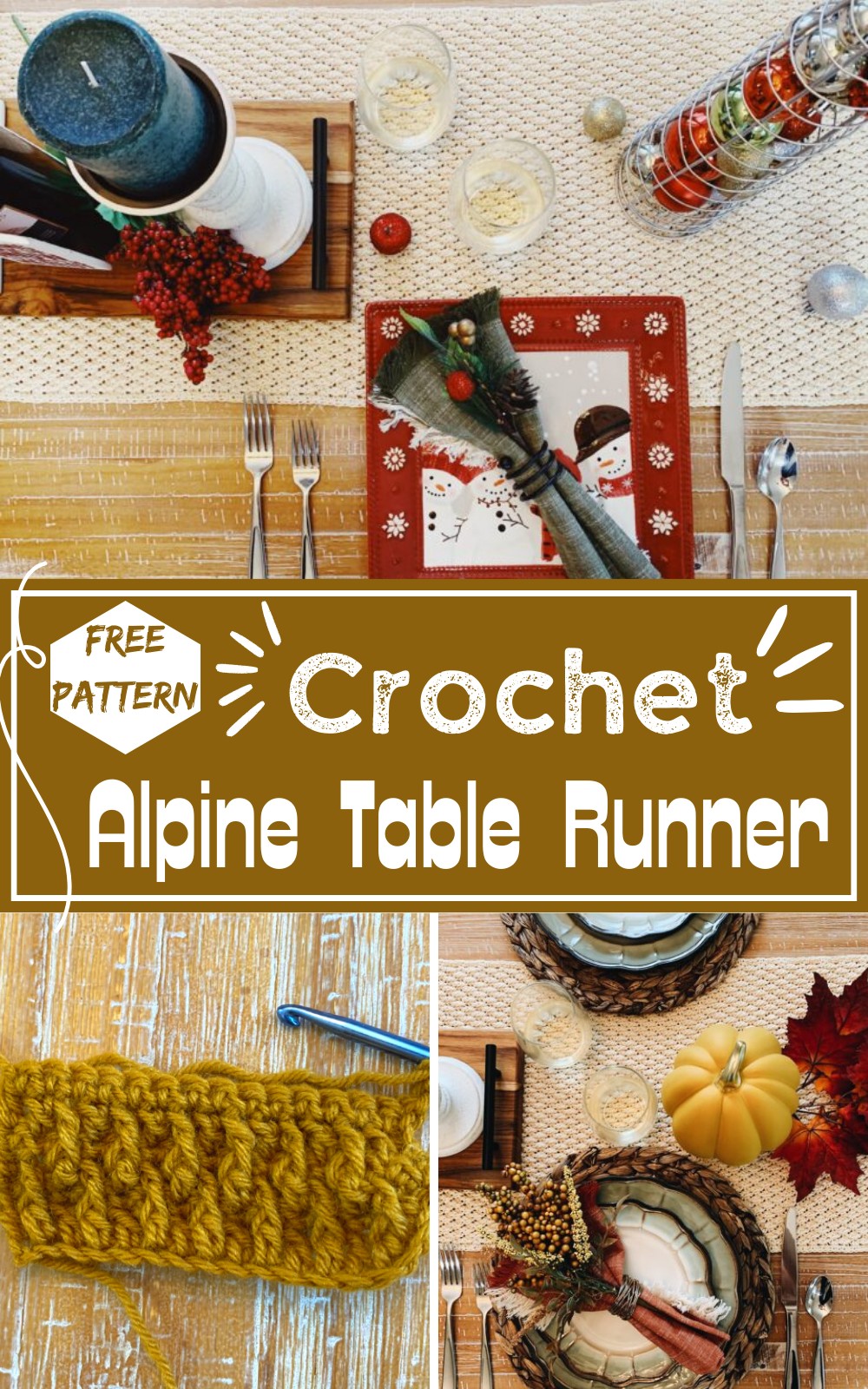 This modern crochet table runner with a simple but attractive raised texture (like mountain peaks) and chain stitches border will complement stylishly any table decor in any season or celebration. As it has a closed surface, it may take longer to crochet using the alpine stitch, but the end result will impress everybody!
Crochet Round Tablemat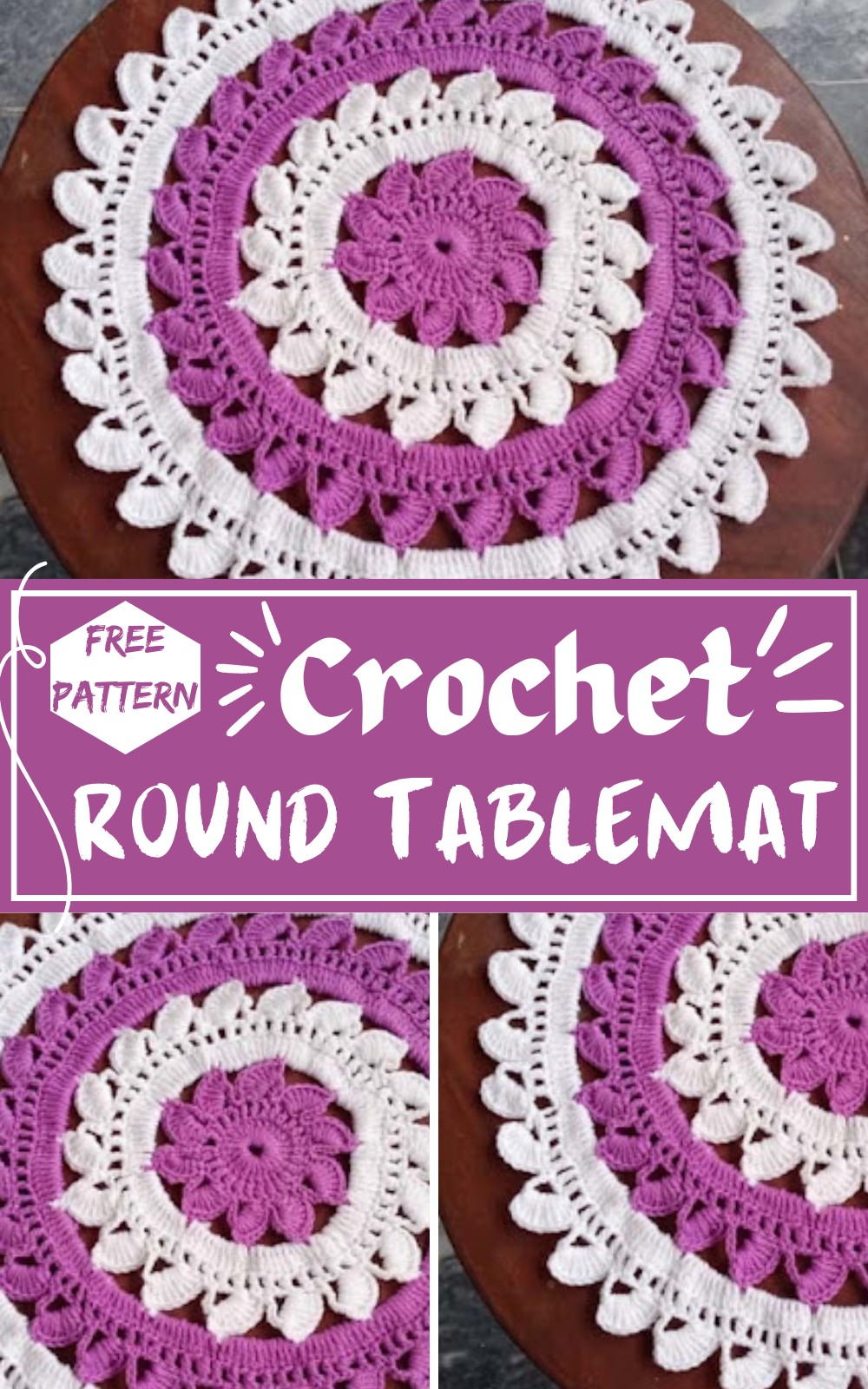 Crochet this cute round floral, lacy crochet table runner to dress up the center of your table. Use two of your favorite yarn colors and start by crocheting a floral applique. Next, make flower rings in repeating colors that gradually increase in size. Arrange these rings from the center outward, placing them inside one another! In the end, you will have the perfect decor for any spot!
Easy Crochet Table Runner Pattern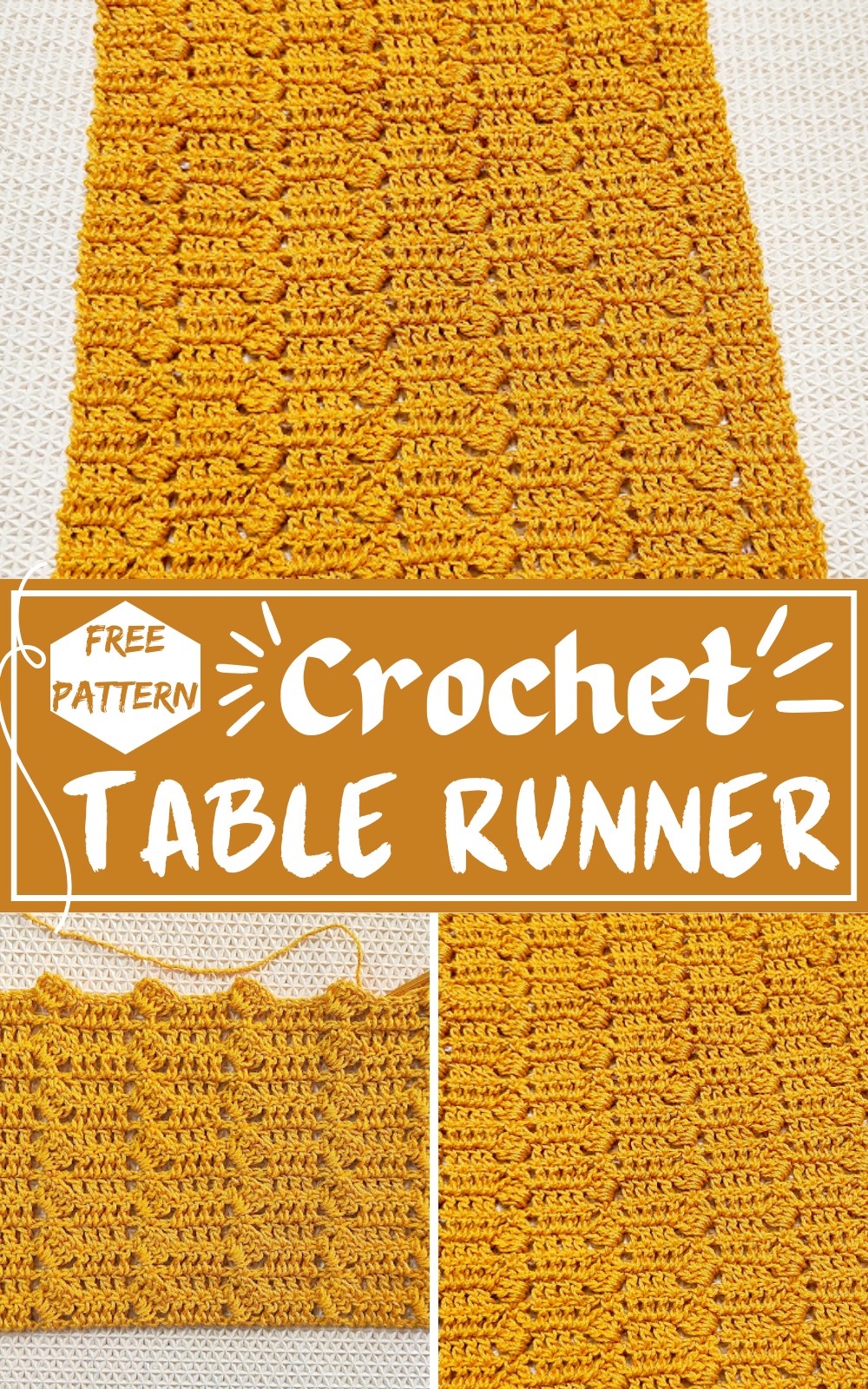 Here's another table runner crochet idea that has a very pleasing texture, perfect for adding a royal theme to your home when you match it with the decor. To create this, you'll need to learn the two-row repeat technique. Make many to gift someone who is lacking a table runner!
Round Crochet Table Runner Pattern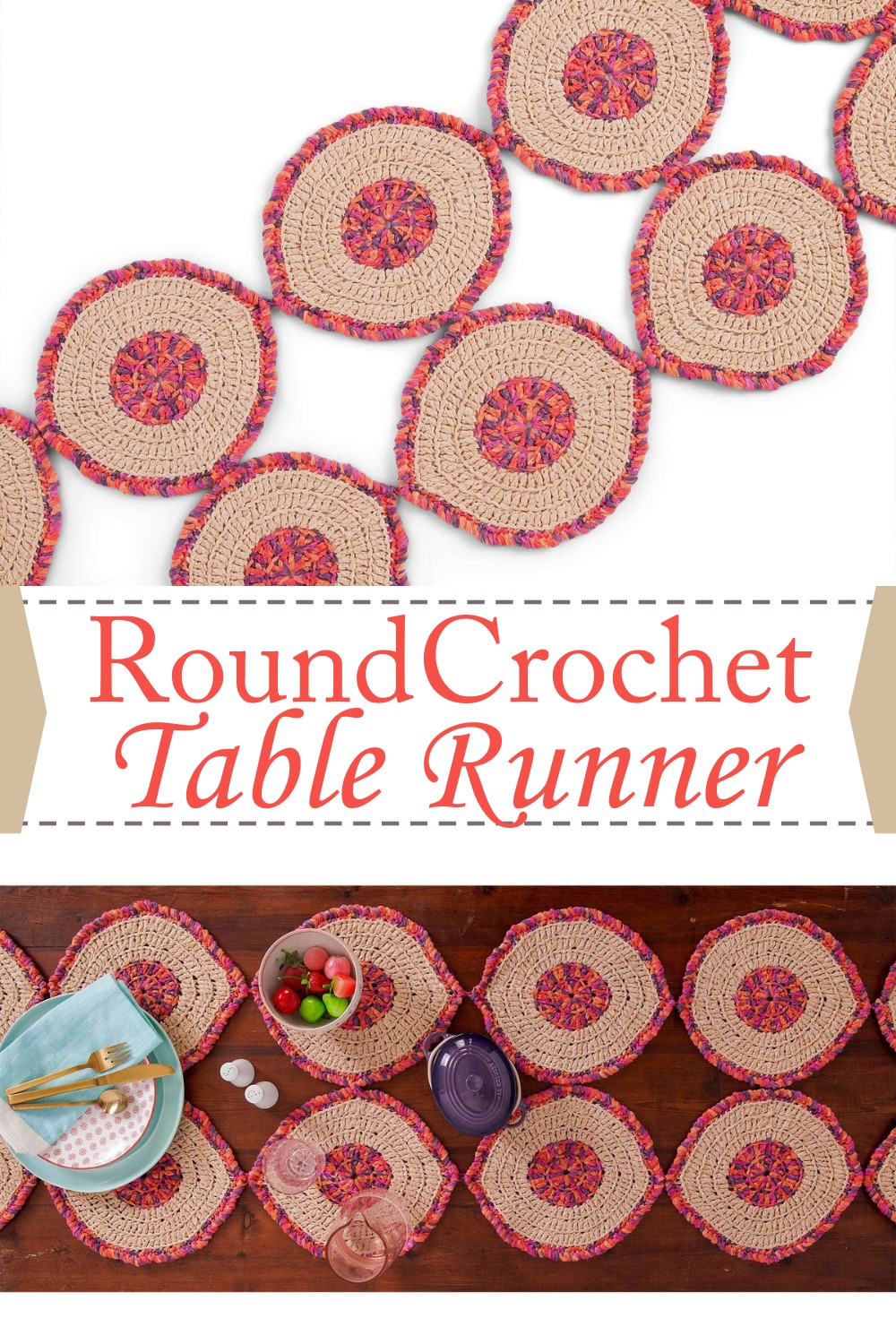 Make this Crochet Table Runner Pattern a timeless and elegant design that adds a touch of grace and charm to your dining experience. This beautiful design mixes traditional grace with the warmth of a handmade creation, creating a masterpiece that will impress your visitors and add a touch of magic to your dining table. Its entertaining pattern is perfect for all crocheters and allows you to improve your crocheting skills.
Measuring a versatile 20″ x 72″, this pattern is effortlessly customizable by adding or subtracting circles to fit your requirements. So, why wait? Choose colors that complement your environment for a strikingly original piece that catches the eye.
Making Waves Table Runner Crochet Pattern
Inspired by the calming motion of waves, this table runner showcases a visually appealing pattern that brings peace to your dining space. To complete the set, you can easily customize it, and it can be made for placemats and mug rugs are available, which create a cohesive and attractive ensemble for your table. So, why wait? Easily adjust the size, colors, and yarn types to create, and embellish with different types of beads and buttons to make a personalized table runner that reflects your taste and style! For Further info visit the link below:
 Suggested Yarn: Lion Brand Comfy Cotton Blend Yarn
Hook Size: 5.0mm
Crochet Shamrock Table Runner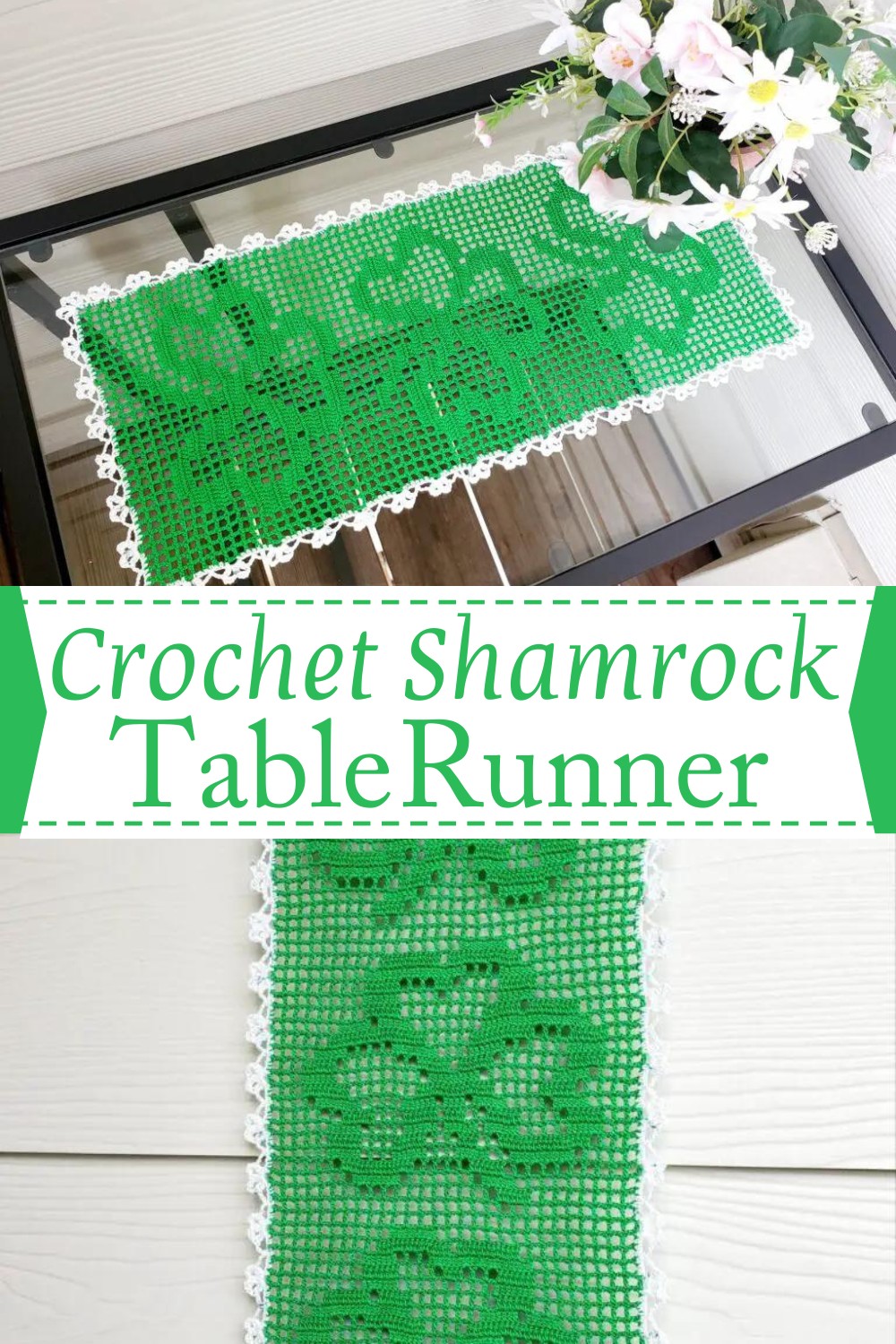 Infuse your dining space with the essence of spring using this charming free Crochet Shamrock Table Runner. This delightful handmade piece showcases a charming shamrock motif, evoking the freshness and liveliness of spring that is ideal for St. Patrick's Day celebrations or to bring a touch of luck and charm to your dining space. For making this Table Runner, you need Golo thread in size 10 green (color A) for the main body and white (color B) for the edging. A single ball containing 250 yards is sufficient for creating 3 leaves. The finished table runner measures approximately 17.5 inches in length and 8 inches in width. Simple yet elegant, this Crochet Table Runner effortlessly enhances your home's decor with its heartwarming appeal!
Crochet Table Runner Pattern Free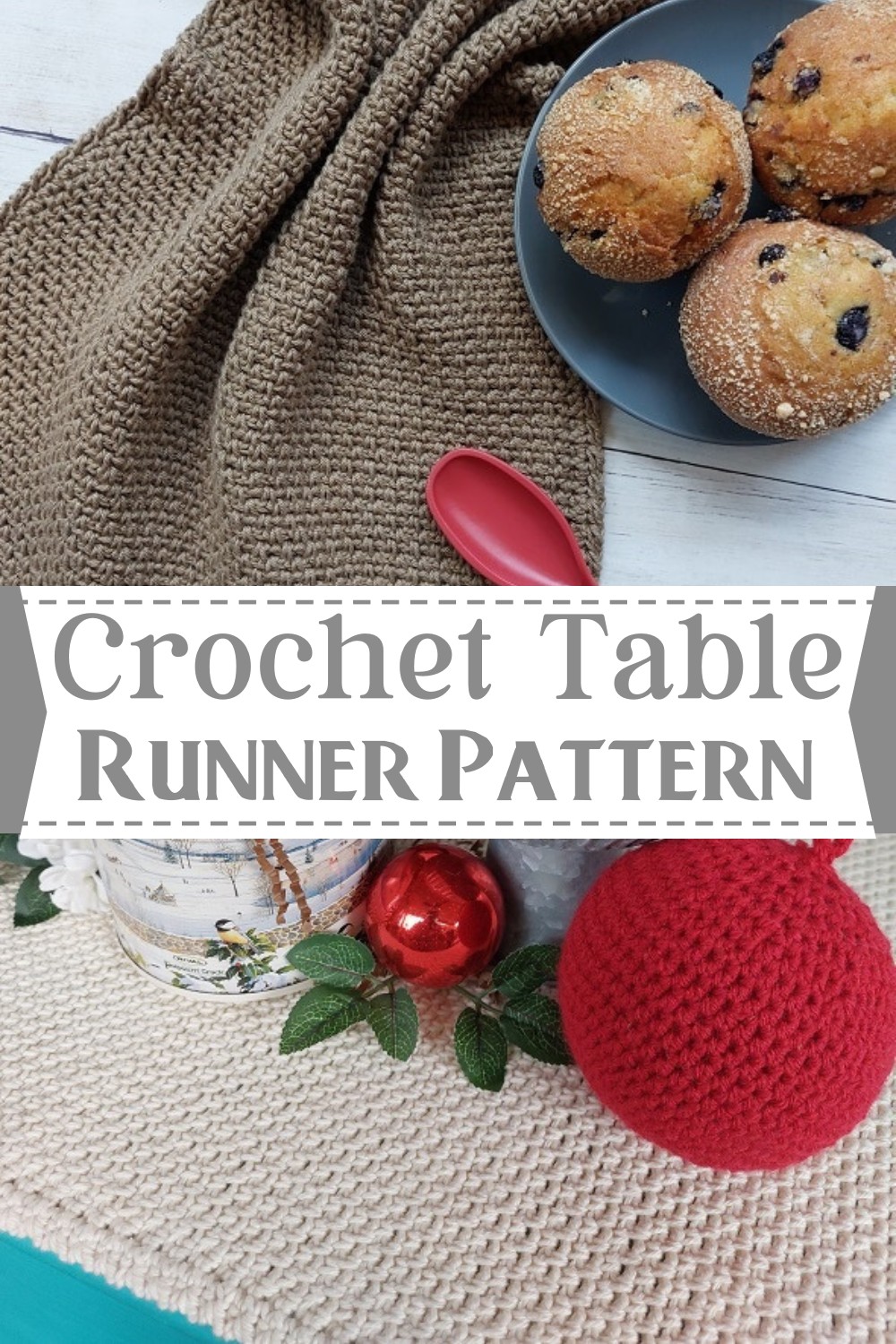 Introducing the delightful Crochet Table Runner Pattern Free – an elegant and budget-friendly solution to enhance your dining area. This charming and comfortable pattern allows you to create a beautiful, handmade piece that adds a touch of creativity and style to your home. Customize it with your choice of colors and yarns to create a unique, personalized table runner that perfectly complements your interior decor. Download this free pattern today and start crafting a lovely table runner to impress your guests and elevate your dining experience.Have Fun Crocheting!
Suggested Yarn: Worsted Weight Cotton Yarn
Hook Size: N
Easy To Crochet Table Runner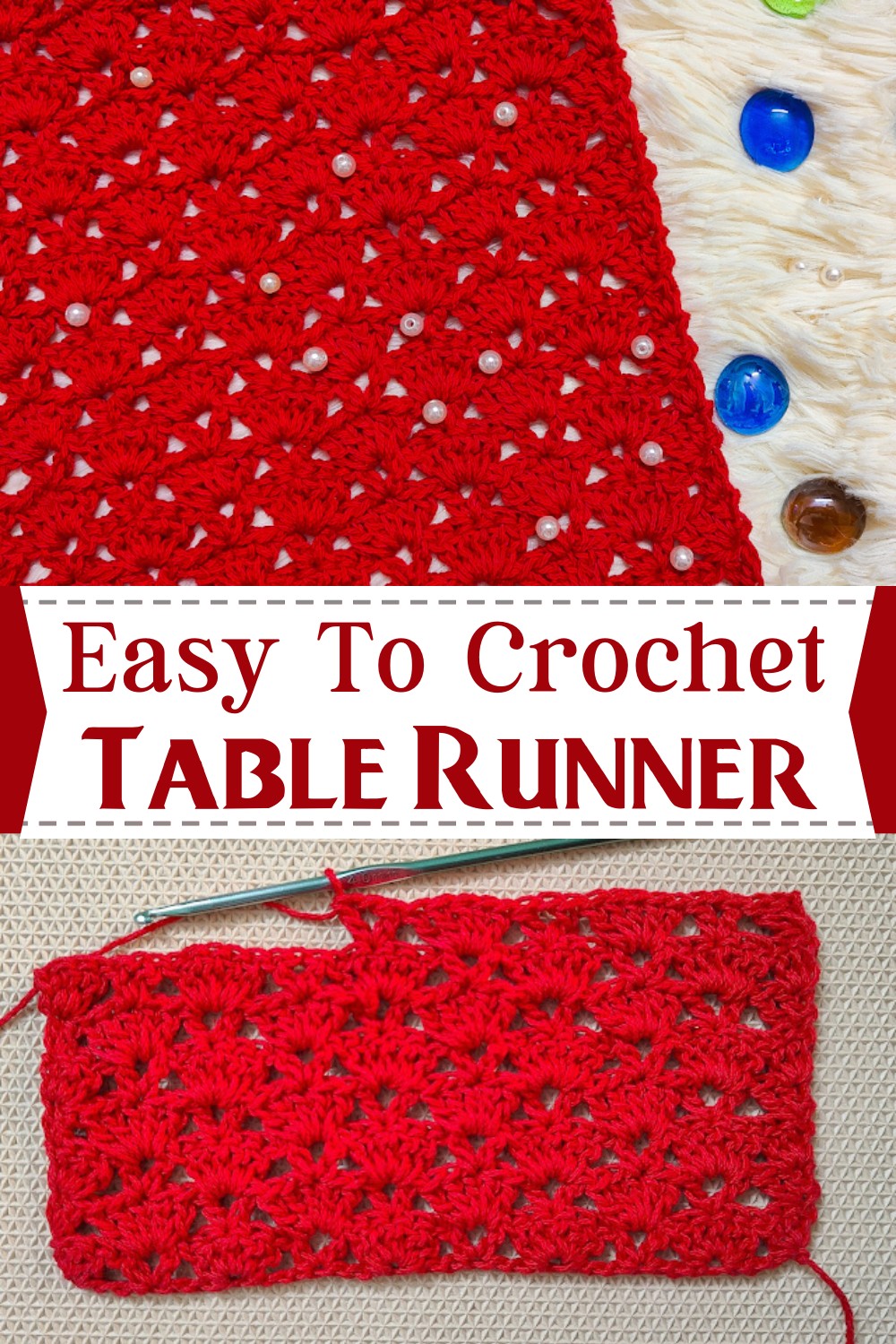 As Valentine's Day approaches, consider trying this simple and easy crochet table runner pattern to add a touch of romance to your dinner setting. The design of the table runner is made using Double Crochet V-Stitch and Shell Stitches. The easy repeat pattern makes it a quick project, and you will enjoy making it. You can easily make this two-row pattern  Table Runner using any size of yarn and crochet needle from worsted weight to heavy weight or even fingering weight yarn. So watch the complete video tutorial and start crocheting a lovely table runner that will enhance your home decor for years.
Suggested Yarn: 4 Ply Cotton Knitting Yarn
Crochet Hook: 4 mm
Heart Table Runner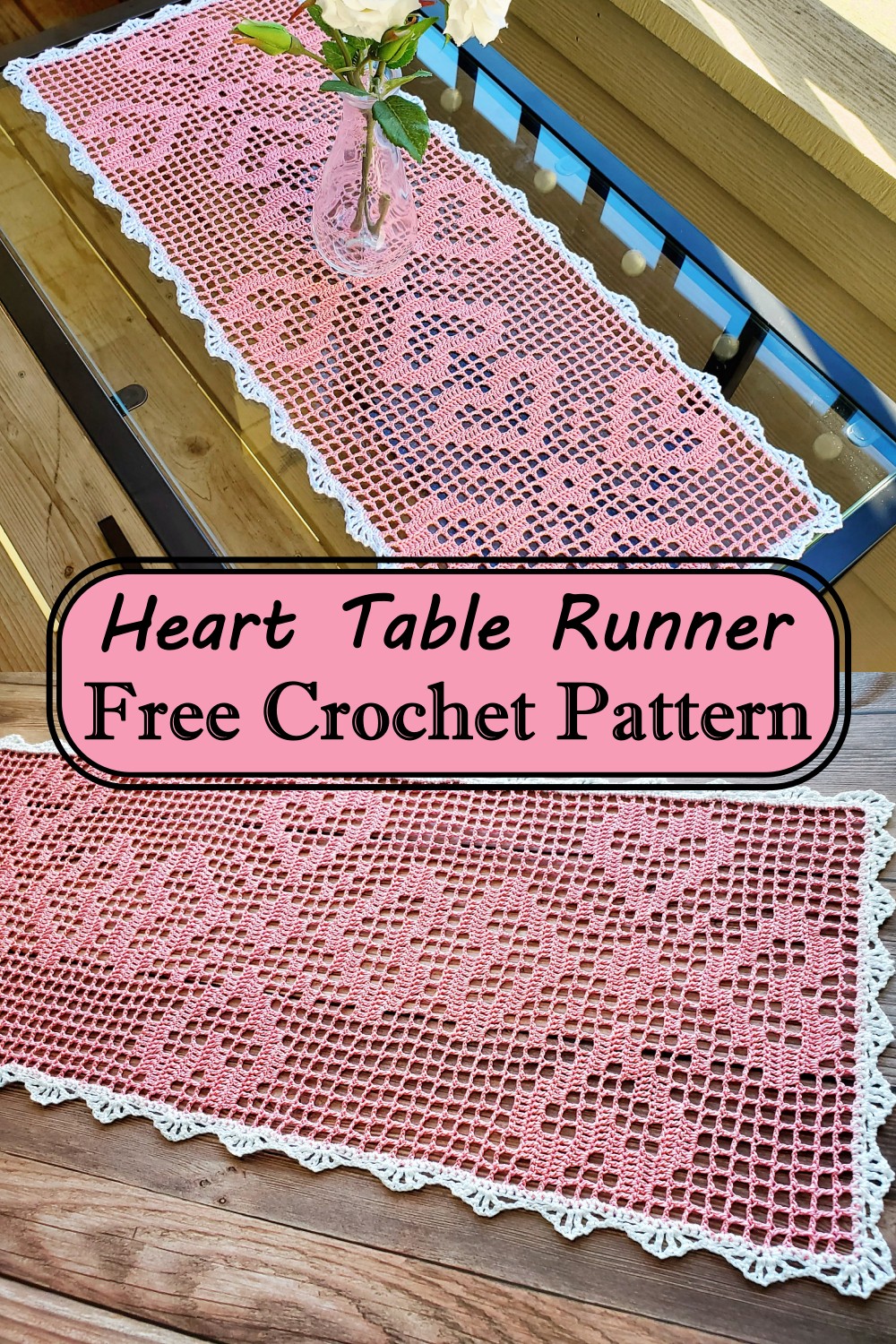 If you love Valentine's day, this project is perfect for you. Crochet Heart Table Runner is a filet crochet project that is easy enough even for beginners. It's absolutely gorgeous and will be a delightful addition to your home. It is really easy to make and it can be made in no time. You will learn the filet crochet technique and even if you've never done it before, you'll manage to create a wonderful piece to decorate your home! Add some romance to your home with this beautiful, handmade piece! As a bonus, it also makes for a wonderful gift for a loved one.
Snowflake Table Runner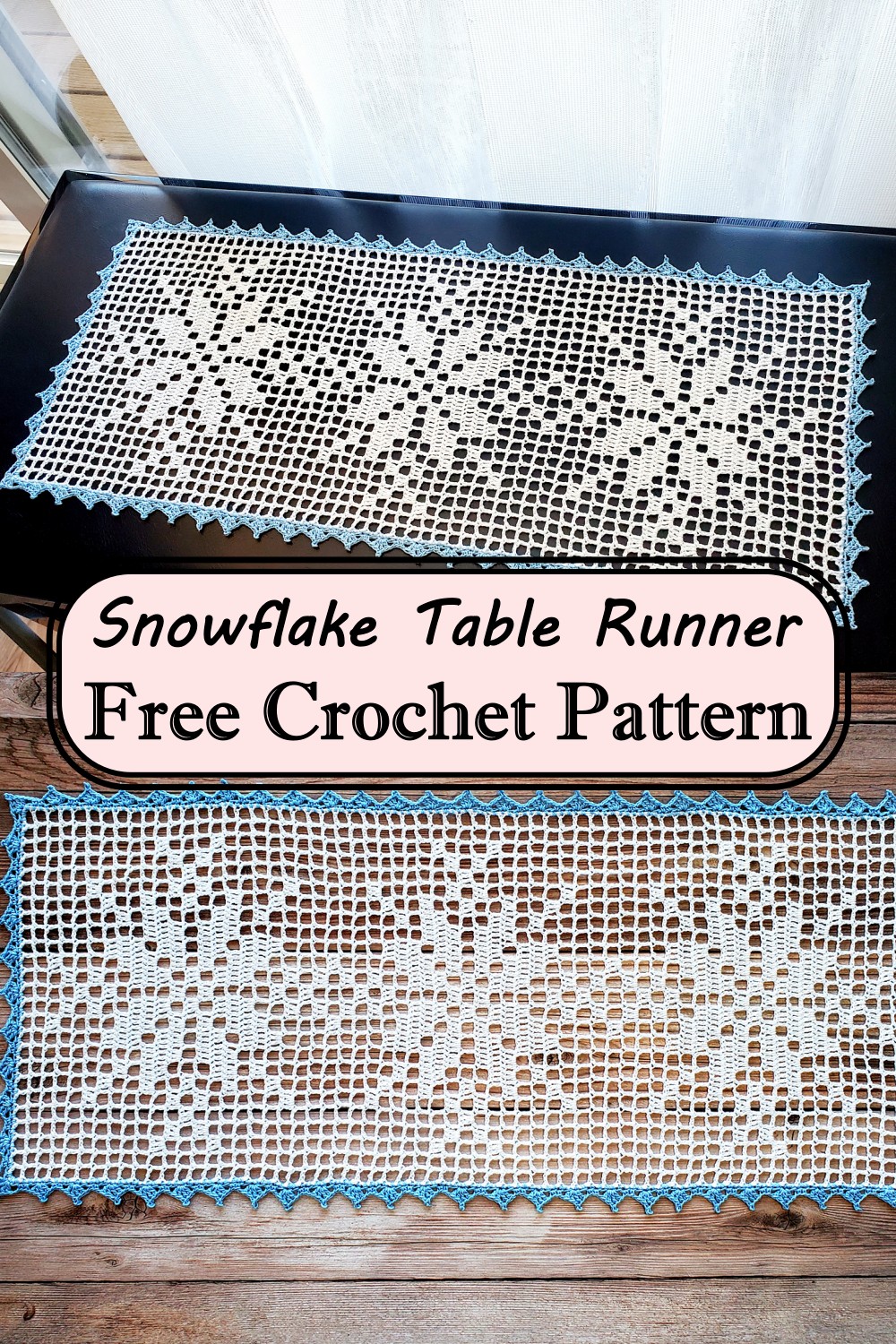 Snow is a beautiful part of the winter season, but what if there's a blizzard outside? Turn your kitchen table into a frosty wonderland with this Snowflake Table Runner. Made using simple filet crochet – a technique easy enough for beginners – you'll find yourself dreaming about snowstorms and winter holidays. Make your own table runner with this festive design that will add a cheerful touch to any holiday get-together. New in your filet crochet series, it's easy enough for beginners but elegant enough for more experienced crocheters.
Table Runner With Fringe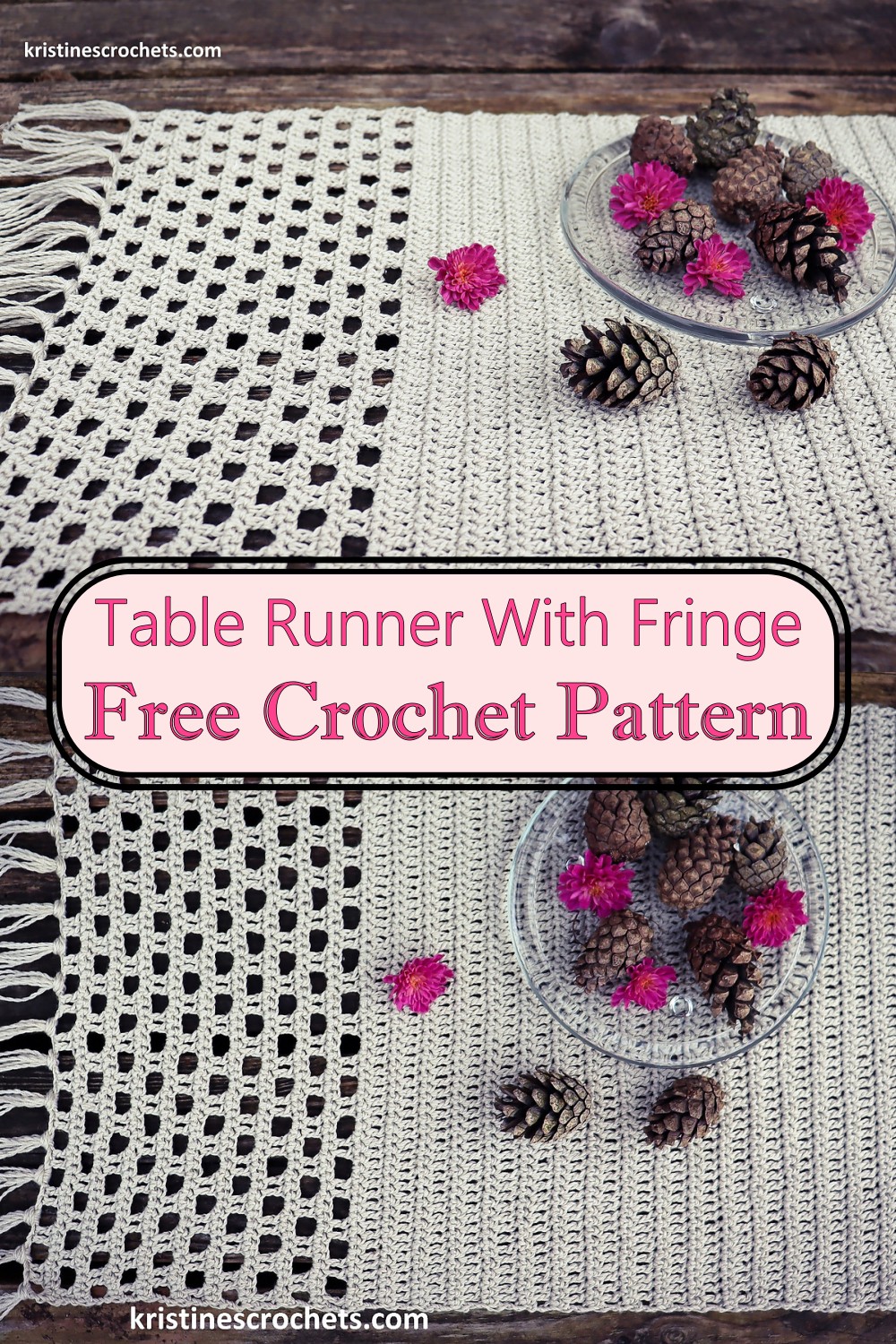 Dress up your table or mantel with our Crochet Table Runner With Fringe. This is also a perfect gift for folks who would like to dress up their home. This handmade crochet table runner brings a rustic look to your dining room. It can be used for any occasion whether it is for a formal or casual setting. The piece can decorate any table you have at home. A crochet table runner with fringes is an ideal choice if you have a rectangular dining table or any other large center table in your home. Handmade beautifully and very durable. It's like a conversation piece and decoration all in one, so all you have to do is sit back and enjoy your gathering.
Autumn Lane Table Runner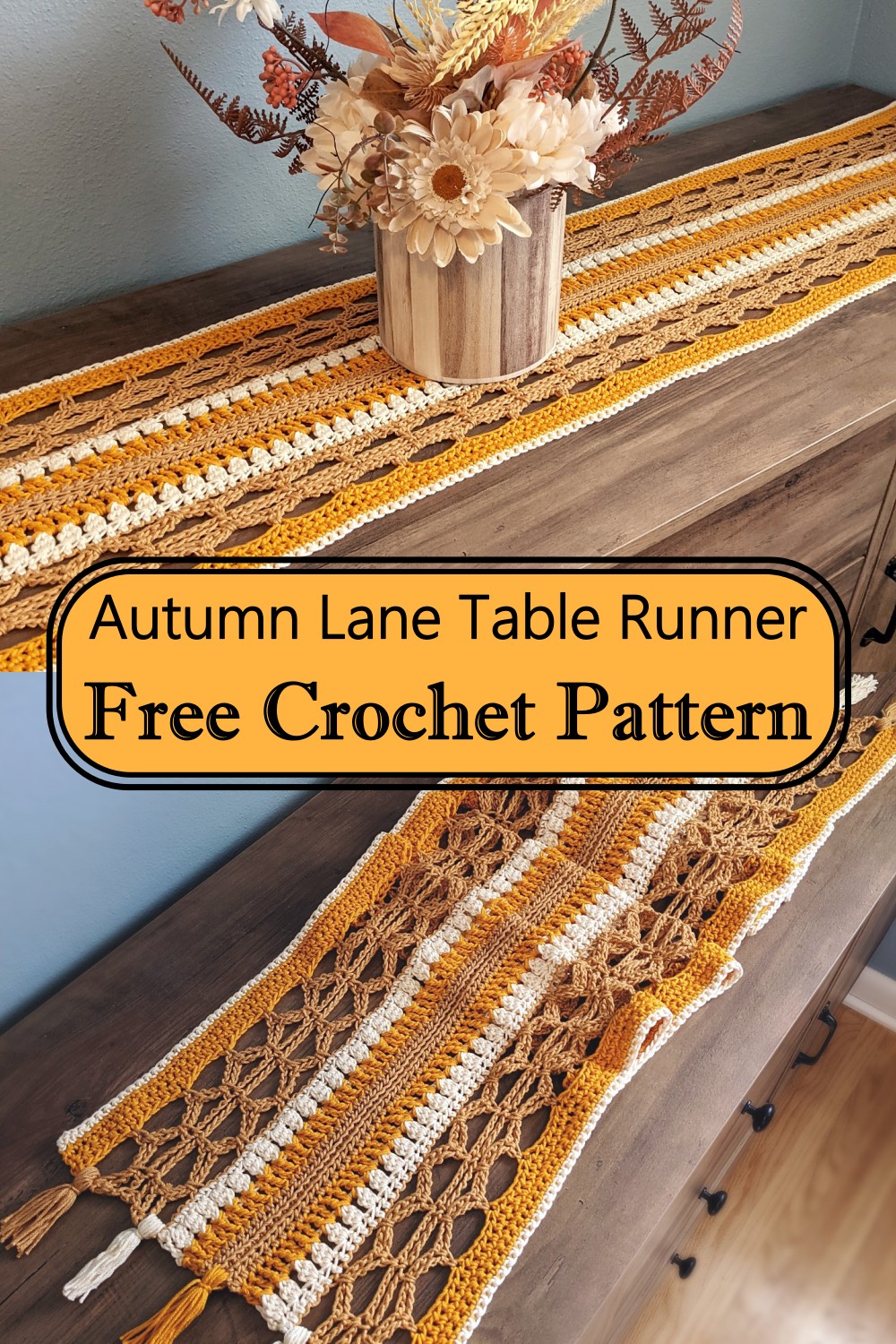 Enhance your fall-themed home with this beautiful autumn lane table runner. Keep it simple and elegant with this Crochet Autumn Lane Table Runner pattern. This design is a fun way to show off your skills. Change up the size by adding or removing rows of the repeat pattern. This project uses a variety of stitches to add texture and spice up the style. This gorgeous table runner adds just the right autumnal vibe to your dinner table. The fun and easy pattern uses a variety of stitches to add texture and can be completed in two colors or more complete the runner.
Grateful C2c Table Runner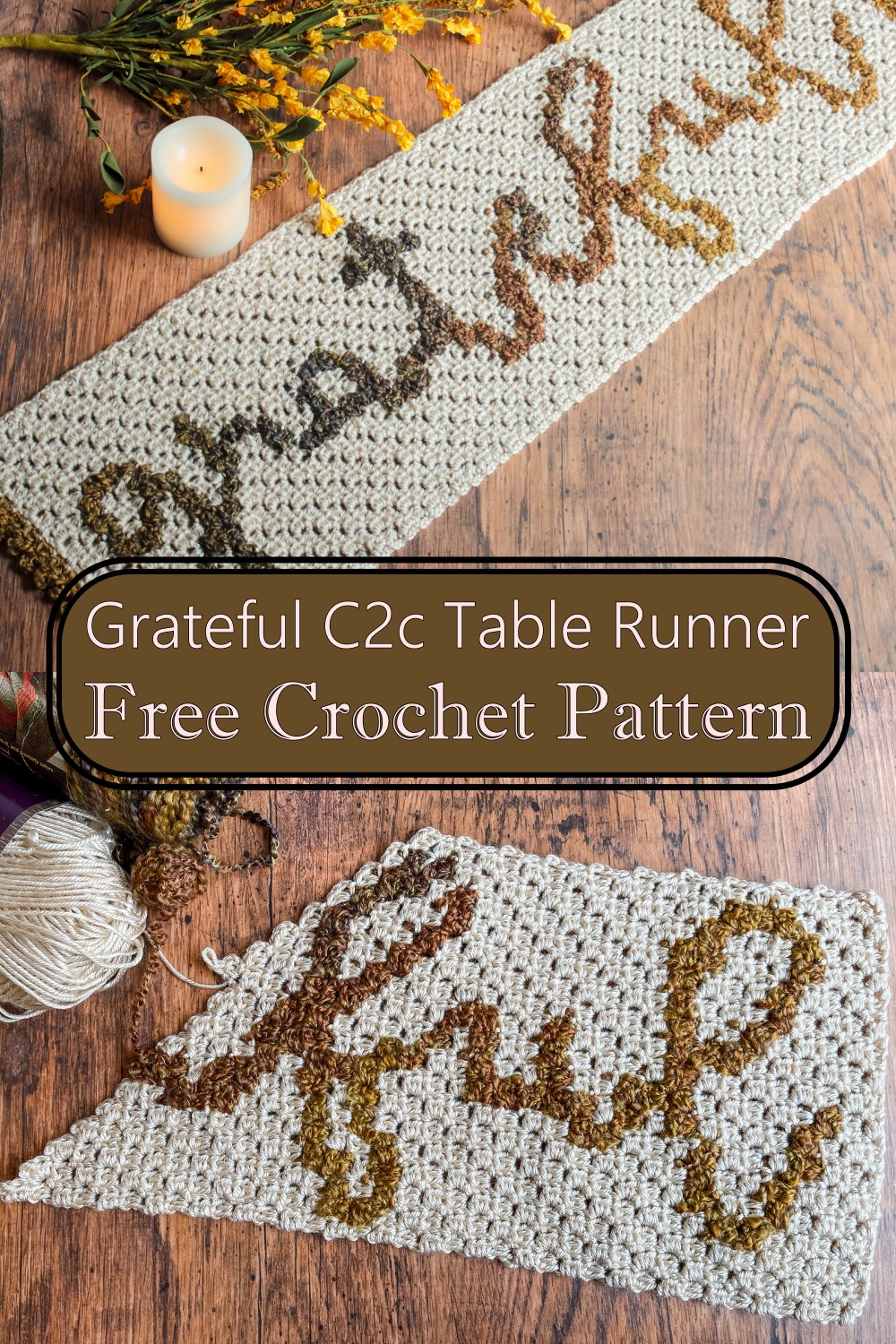 Enhance your fall-themed home with this beautiful autumn lane table runner. Keep it simple and elegant with this Crochet Autumn Lane Table Runner pattern. This design is a fun way to show off your skills. Change up the size by adding or removing rows of the repeat pattern. This project uses a variety of stitches to add texture and spice up the style. This gorgeous table runner adds just the right autumnal vibe to your dinner table. The fun and easy pattern uses a variety of stitches to add texture and can be completed in two colors or more complete the runner.
Leafy Table Runner
Decorate your dining table with a colorful leafy runner to add a festive look to your Thanksgiving dinner table. You can finish this easy pattern in just an hour or two. Use one color or play with color and make it multicolored. Add a fall touch to your dining table with this lovely, easy-to-make leafy table runner. Crochet it in one solid yarn color or use your favorite multi-color thread such as Golo thread collection's Colorful Purple to brighten your table and add the spirit of fall. It will become a family keepsake for years to come.
Festive Table Runner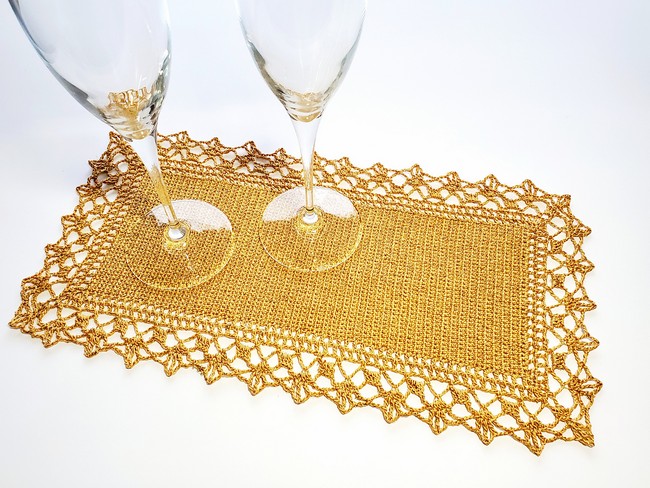 Hand-crocheted around a wire band that enables the runner to stand up, Festive Table Runner will bring so much joy and beauty to any table this holiday season. Add some sparkle and joy to your table with this elegant, handmade runner beautifully crafted in eco-friendly cotton. While it's ideal for holiday dining, this pattern The Festive Table Runner is also perfect for all sorts of special occasions, from weddings to birthdays, any time you need to upgrade the décor. It is perfect for tables, dressers, and any other piece of furniture. It will add a little bit of sparkle and light to your home when you need it the most.
Gingham Bunny Table Runner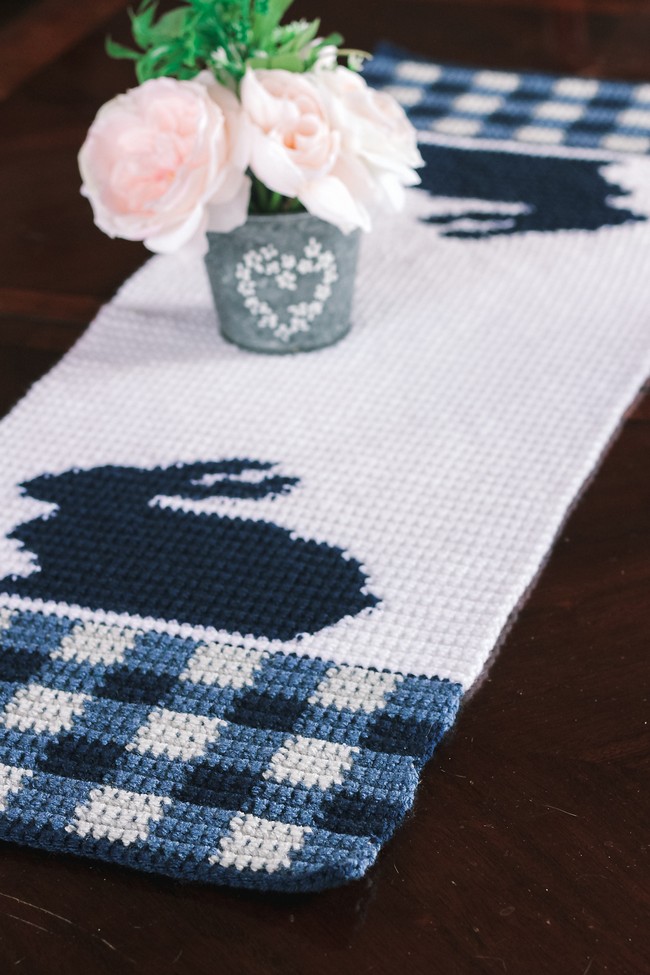 This pattern is for a cute bunny tapestry crochet table runner that would be perfect for your spring and Easter holiday home decor! It requires basic crochet skills, and the knowledge of changing colors over multiple rows, though the chart provides all of the reinforcement you should need. This is the perfect addition to your Easter decor! It can be used as a centerpiece on your dining room table or as a dresser scarf in your country kitchen. The bunny design on this piece is adorable and you might want to try several different color versions too!
Granny Square Table Runner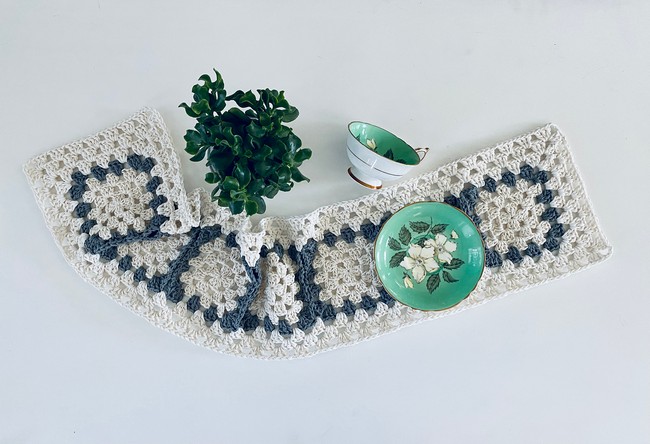 Love the rustic look of this multi-color crochet table runner? Then you'll really love the fact that it's made using granny squares! Lacy and quick to make, this pattern is perfect for even beginner crocheters (or anyone who'd like a refresher on how to work granny squares). Your granny square table runner is the perfect showcase for your unique design choices and ideal for any yarn that makes you feel happy! The fact that you made it yourself just makes it even better…This table runner would be a great project for your home, or as a gift for someone else. It's made using simple granny squares that are joined together, and then fully surrounded by a border.
Floral Table Runner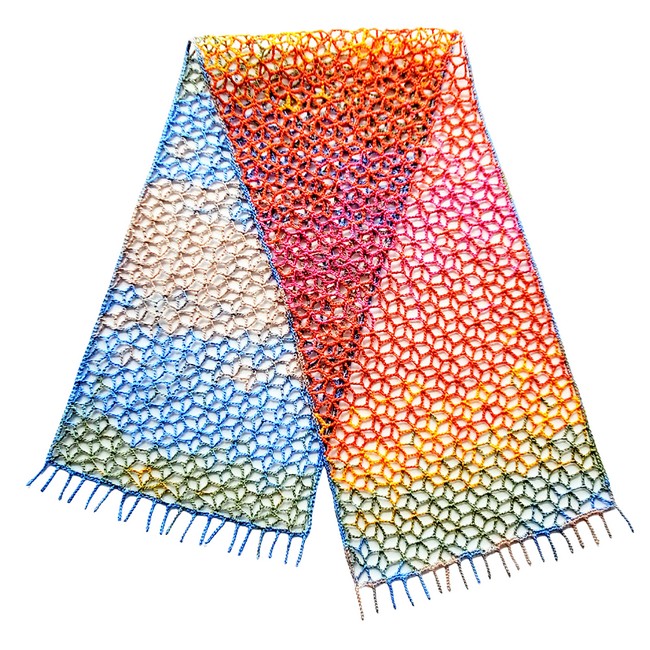 Use this pattern for a crochet table runner to impress your family and friends with your crochet skills. This easy, yet super detailed crochet table runner is excellent for beginners following the crochet pattern. The floral and lace design is easy to create with chains, single crochet, and triple crochet stitches. The beautiful star-shaped flowers will become the focal point of your dining room table. It's perfect as a centerpiece on the dining room table and easy to care for, too. A great gift for anyone who loves decorating their home!
Let Freedom Ring Table Runner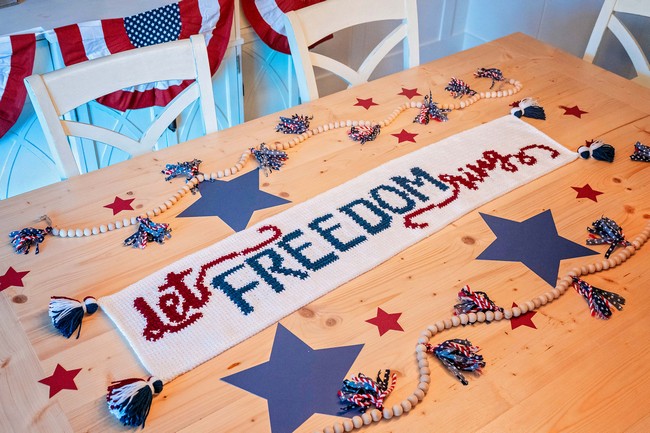 Want to make a statement in your home this Independence Day? The Let Freedom Ring Crochet Table Runner pattern is the perfect addition to your 4th of July home decor. Contemporary and elegant, its simple yet sophisticated table runner works well on many kinds of tables. This one is bound to be a conversation starter! It includes instructions on how to make this beautiful table runner and features instructions for any size – large or small, so start crocheting today! This crochet table runner pattern is a fun reminder that we are able to celebrate our independence while enjoying the company of friends and family.
Coastal Wave Runner
Add some flair to your coffee table with this beautiful coastal runner. A stunning centerpiece for your table, the Coastal Wave Runner features beautiful crochet work. Easy to make with basic crochet stitches, this runner is a unique addition to any home. Perfect for a year-round accent or a seasonal statement piece. It starts off with a row of ripple stitches and is then offset with a simple wave stitch pattern. The combination of the two along with a little surface crochet creates a unique and beautiful piece. It's the perfect accessory for any home or makes a great gift.
Rustic Table Runner
Add the perfect touch of coziness to your dining room or kitchen with this rustic table runner. The pattern is an easy beginner-friendly lace. You can easily adjust the length by adding or subtracting pattern repeats as desired. This is a lovely table runner that will enhance any room of your home, whether it be your dining or living room. It would also be perfect for a party or special event. This unique table runner incorporates and blends the classic elegance of yesteryear with trendy modern-day crocheting techniques to make a sumptuously comfortable home textile, a perfect housewarming gift!
Small Table Runner
Create a stunning crocheted table runner for your home. This small table runner pattern is super easy and truly the perfect piece for accenting any table in your home. Make this crochet runner pattern in a cotton yarn for your kitchen table, or in any other yarn that you want for use on any surface around the home. All you need is a hook, yarn and your hands to create this beautiful crochet table runner. It's here just in time for the holidays and perfect for any season!
Hygge Home Table Runner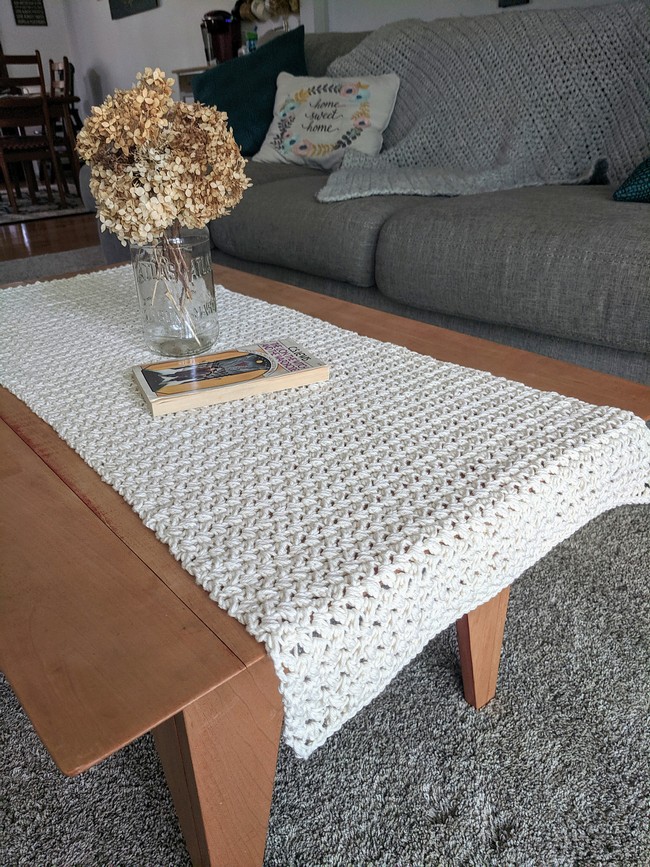 Kick up your feet and relax with the Hygge Home Table Runner. It will look beautiful on your coffee table or sofa side table or draped over a chair arm to give it a little extra flare. Create a boho-chic table runner with the help of this easy crochet pattern. Made with just 3 stitches and simple construction, this table runner is a beginner-friendly project that you'll love making again and again. Don't forget to add the matching hygge home dishcloths and coasters!
Falalalala Crochet Table Runner
Crochet Falalalala Crochet Table Runner is a festive table runner designed to get you in the holiday mood. Get more festive with a colorful crochet table runner. This one is made in several shades of green and white to mimic a Christmas tree. Change up the colors to make it more modern or match the color scheme of your wedding or event. This adorable table runner is perfect for the holiday season. It's cute and festive and easy to customize with any color scheme. Even those who are new to crochet can make this project (or the advanced crocheter will love it too).
You can also see: Crochet Macrame Patterns 
Cascading Flowers Table Runner:
Using a combination of vibrant greens and corals, this crocheted table runner will bring some life and color to your home. Place it on your dining room table or set it elsewhere for a bright accent. Grab your crochet hook and get to work. Cascading Flowers are perfect for creating a patchwork effect that's as handsome as it is memorable. You can easily customize the table runner according to your needs. This runner will look great on your kitchen or dining room table, and it makes a wonderful housewarming or hostess gift.
Buffalo Plaid Table Runner: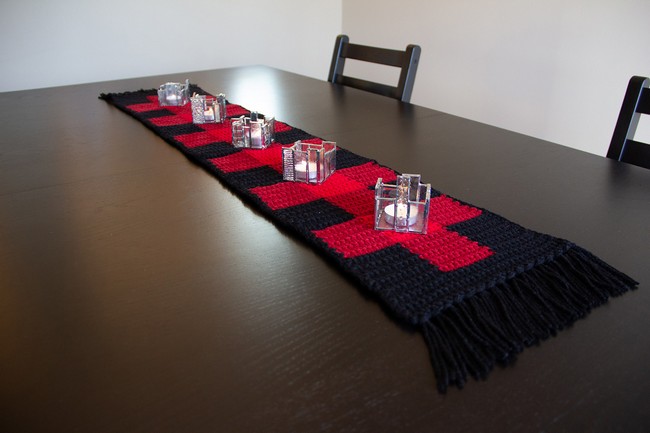 Knit this easy buffalo plaid table runner for an outdoor table, Thanksgiving or Christmas dinner table or to dress up your everyday dining. A simple pattern that you can easily pick up where you left off with minimal fuss. The Buffalo Plaid Table Runner is the perfect project for the holiday season! Square off buffalo plaid to make a runner for your favorite outdoor table, or try it in Christmas colors to finish off your dining room table! It is a great way to spruce up any tabletop, especially those you don't do much with.
Dreidel Table Runner & Napkin Rings: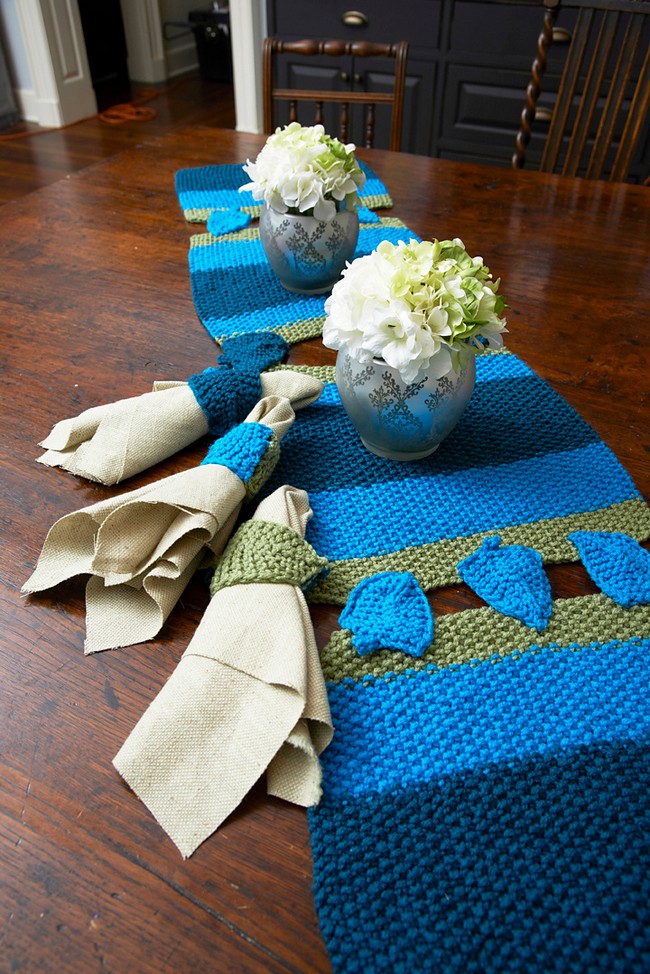 In these dreidel knitting patterns, you'll find a runner, place card holder napkin rings, and more to create a holiday table that's sure to become a family heirloom. Bring a bit of Hanukkah fun to your table with these playful dreidel accents. Knit in recycled cotton yarn, the placemat and napkin ring designs feature decorative center panels of stacked, slanted squares with traditional blue, green, and sea green hues. Each piece is centered around a circular motif at one end, providing a striking double-sided design that's sure to get your guests talking.
Pencil Table Runner: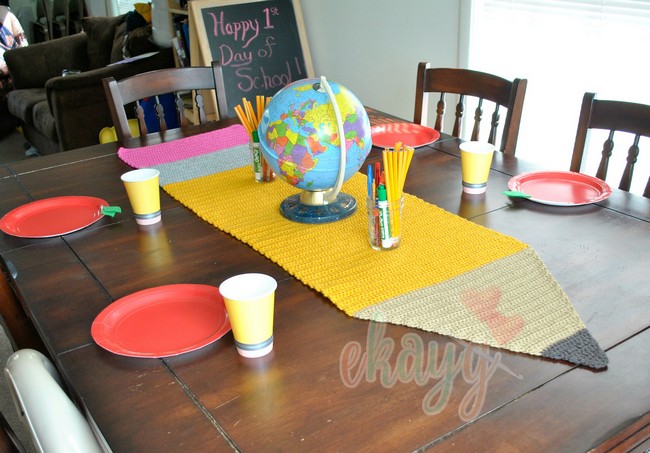 A fun and easy project, the Pencil Table Runner is a great teacher gift. Work the pencils in school colors if you are supporting your local school or team up with your child's teacher for back to school! Whether you're giving this to a teacher or using it in your own classroom, this table runner is sure to brighten up the space. Pencil Table Runner in sport or worsted weight yarn is a fun and easy project. By working the pencils in the school colors it is a great teacher gift. This table runner is sure to brighten up the space. It would also be useful to put your students' names on or to add onto a dresser scarf.
Halloween Table Runner: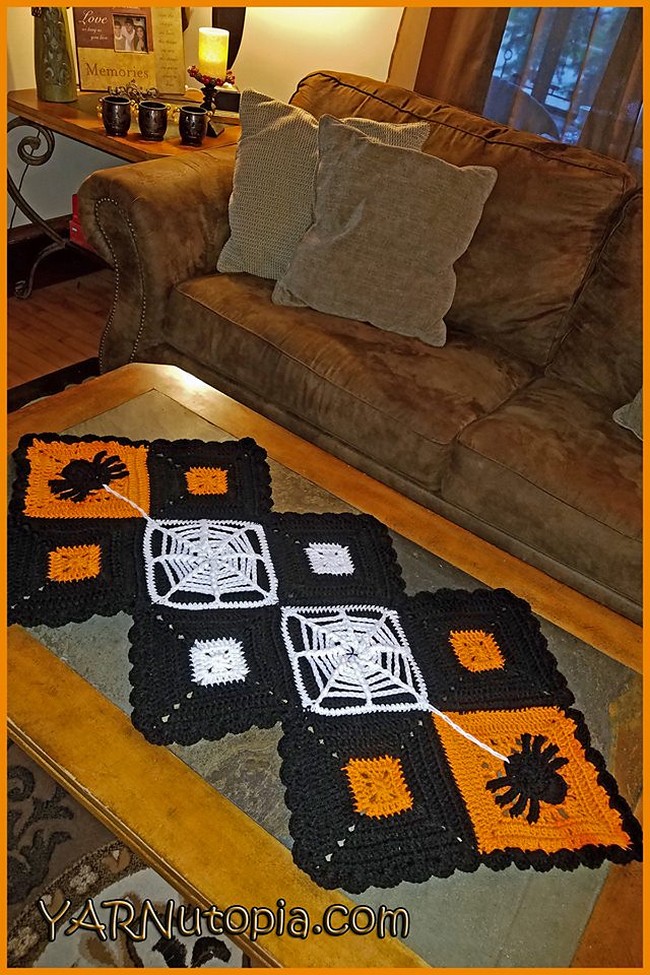 Halloween Table Runner is a fun and easy project. The spider design is quick to sew and can be finished with a spider on each end, or one bigger spider in the middle of the runner. This is a fun and easy project that kids of all ages can enjoy. Use scraps of black, white, and orange to mimic a spider web on one square while using black, orange, and white fabrics on the other so the spider seems to be spinning across the web.
Garden Party Table Runner:
A table runner is a beautiful way to dress up a tabletop. This free knitting pattern uses a fun checkerboard lace pattern with fringe on the ends to finish off the table in style. A great project for practicing lace or for experienced knitters looking for a quick design, this is sure to be the hit of any party. What's a garden party without a table runner? Made with checkerboard lace and fringe, this free knitting pattern is sure to add the perfect amount of casual elegance to your table.
Moss Stitch Table Runner: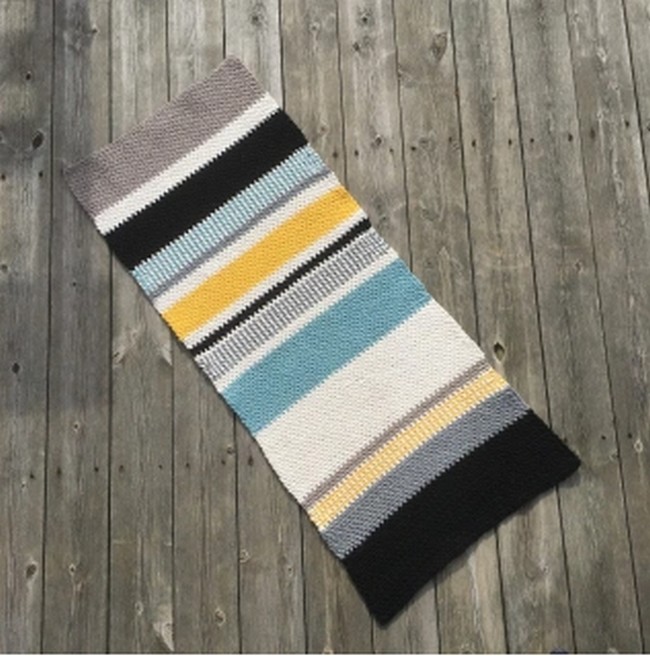 This Moss Stitch Table Runner is a quick project using the crochet moss stitch. The moss stitch together with a thick cotton yarn adds great texture which is combined beautifully with the border of shells. This table runner will look wonderful on your table for spring or any springtime meal. This crochet pattern will show you how to make a super cute table runner for spring or fall. It is a simple crochet pattern that will make a quick and lovely addition to your decorating repertoire.
Linen Stitch Crochet Table Runner Free Pattern: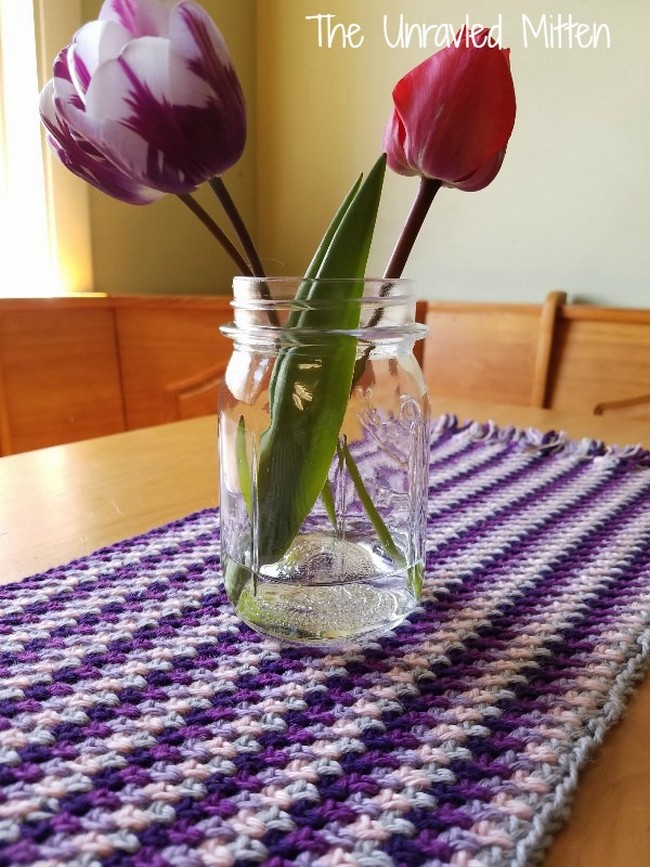 Give your tabletop a rustic charm with this beautiful Moss Green Linen Stitch Table Runner. A versatile piece, this table runner is perfect for any season, or event and will be a stunning focal point to any table. You can change the color to suit your décor, whether you want an all-white neutral look, or bright, dramatic hues to bring about a colorful ambiance. The bobble stitch center is worked by simply skipping stitches, then going back and adding in the bobbles with double crochet. This pattern is great for those who are just beginning to learn how to crochet and those who have been crocheting for years.
Crochet A Beautiful Hexagon Table Runner: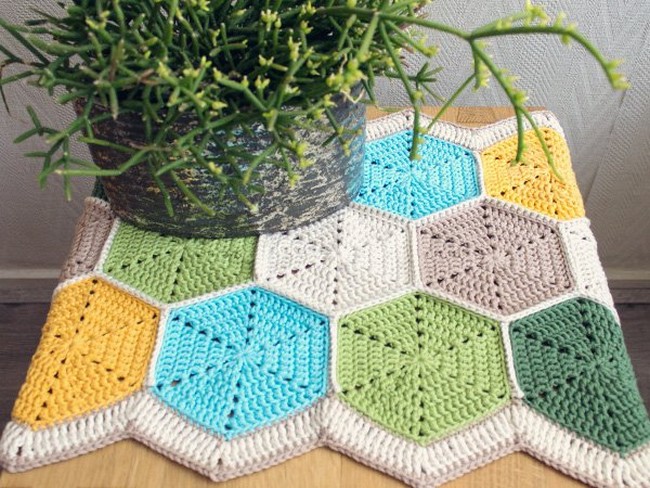 Hexagons are everywhere, and what better way to decorate your table runner this season than in this adorable hexagon shape? With these free crochet patterns for table runners, you can create a crocheted hexagon table runner that is perfect for any occasion. Hexagon motifs are very trendy at the moment, and there are lots of different designs out there to try. You can use any yarn that suits your desired color scheme but we have chosen neutral shades to ensure the crochet shines through.
More Crochet Collections