Let's begin with some home décors items like crochet wall hangings, plant holders, and other things that can be used for your home beautification. Crochet patterns for beginners and advanced crocheters are available in this collection of free crochet macramé patterns. The collection includes many easy and free crochet macramé patterns you can complete in a few hours. And the best thing about these free crochet macramé patterns is that they are not limited to just a specific season and occasion. You can apply them anywhere to add a unique touch to your home decor. So, please scroll down to get more information. These 24 Free Crochet Macramé Patterns are super easy to make, and you will find them highly inspiring and interesting.
Crochet Macramé Patterns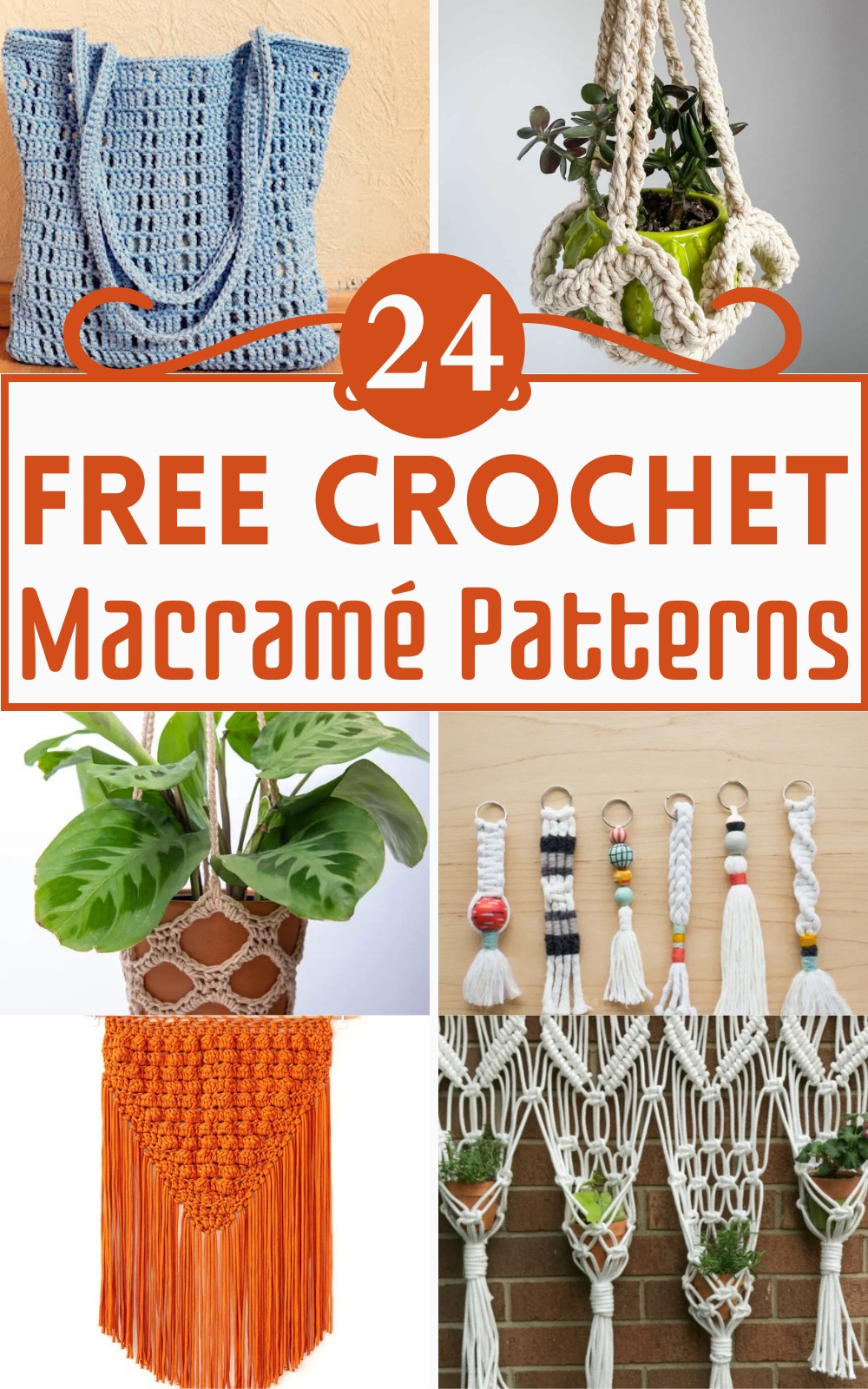 Macramé can be used in many ways to enhance the beauty of your home. And the best thing is that you need a little time and some basic supplies to complete these free crochet macramé patterns. You can use these free crochet macramé patterns for your home decoration and for making some nice gift ideas for your loved ones. You will also find some adorable free crochet macramé patterns in this collection that you can wear with your outfits. From crochet key chains to bags, purses, and even chandeliers, you will find everything you want here. The best thing is that all these free crochet macramé patterns are quick and easy to make, so anyone with basic crafting skills can easily make them.
These 24 Free Crochet Macramé Patterns will inspire you to create beautiful gift wraps for any occasion or decor for your home.
What is macramé?
Macramé is a textile made from knotting thread or yarn rather than weaving or knitting. It consists of "decorative knots and fringes made by hand from the cotton cord."
The word macramé comes from the Arabic migramah, which means "stripe." Over time, this term evolved into macrame and then macramé.
Crochet macramé patterns are some of our favorite projects to work on. We love how they combine two beloved techniques and how unique they are as a result. These crochet macramé patterns are perfect for anyone who loves to crochet and wants to learn how to use that skill in new ways!
Beauty Of Crochet Macramé Patterns
Crochet macramé patterns are a great way to add a personal touch to your home. Plus, they're easy and fun to make!
Crochet macramé is one of the most popular crafts in the world. Crocheting is a technique that uses yarn or thread to form loops which can then be crocheted into different shapes. It is usually done by hand but can also be done on a machine. There are many types of crochet stitches; examples include single crochet stitch, double crochet stitch, and treble crochet stitch. The type of stitch used depends upon what kind of pattern you want to create.
If you want your pattern to look like flowers or leaves, you might want to use single crochet stitches instead of double crochets. If it's something more intricate like an animal face or body part, then you could use any combination of stitches, including those mentioned above.
You don't need much yarn for this project; just one skein will do fine! You will also need some time since you have to wait until all the pieces are ready before starting work on another piece (unless you have several pieces already prepared).
Macrame Crochet Tote Bag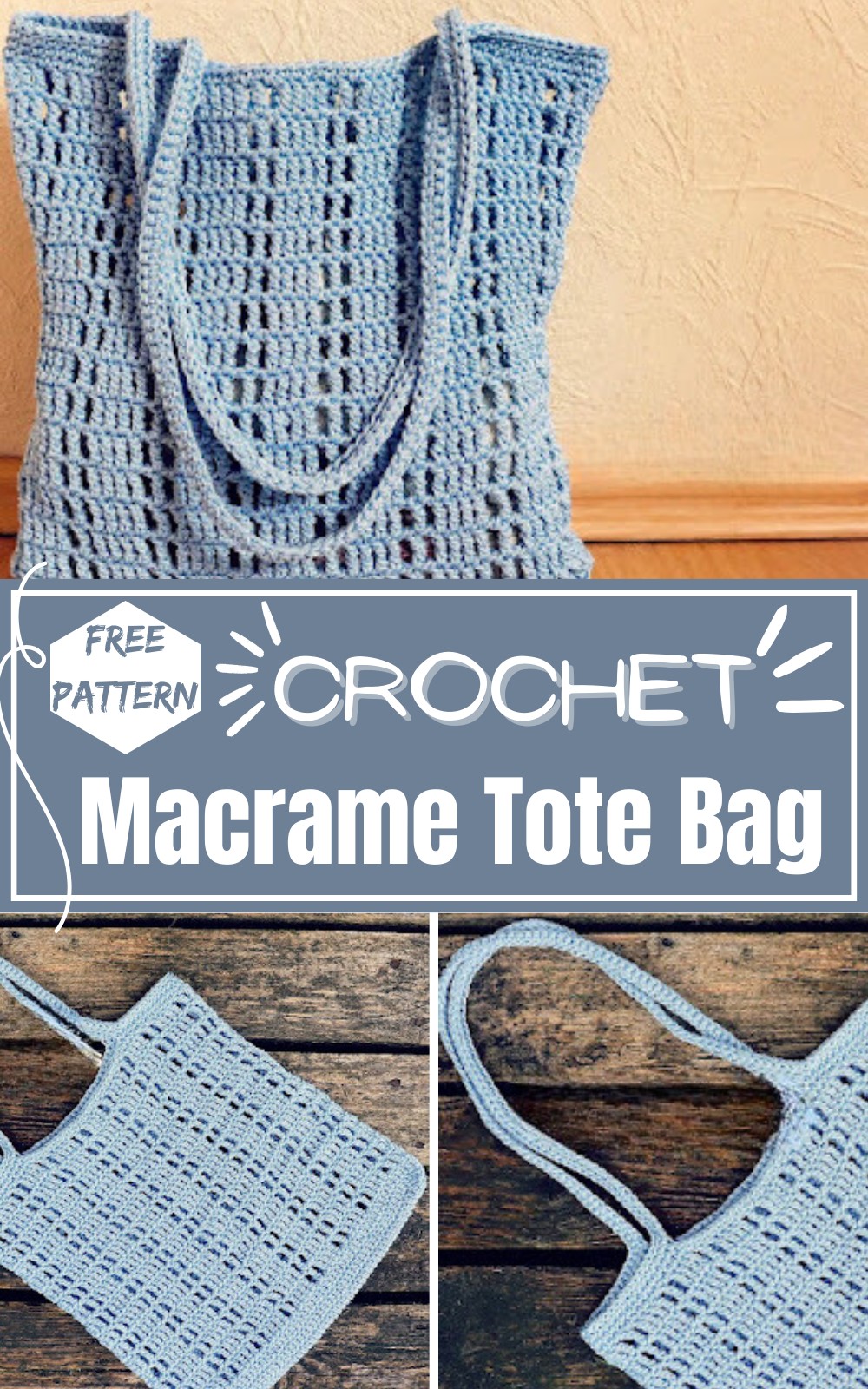 This Crochet Tote Bag offers an ideal mix of style and practicality. The bag embraces an airy, breathable design, making it ideal for versatile use. The lengthy straps offer the convenience of carrying it in your hand or slinging it over your shoulder. Whether heading to the beach, packing daily office essentials, or shopping, this crochet tote bag is your go-to companion.
Crochet Macrame Plant Hanger Pattern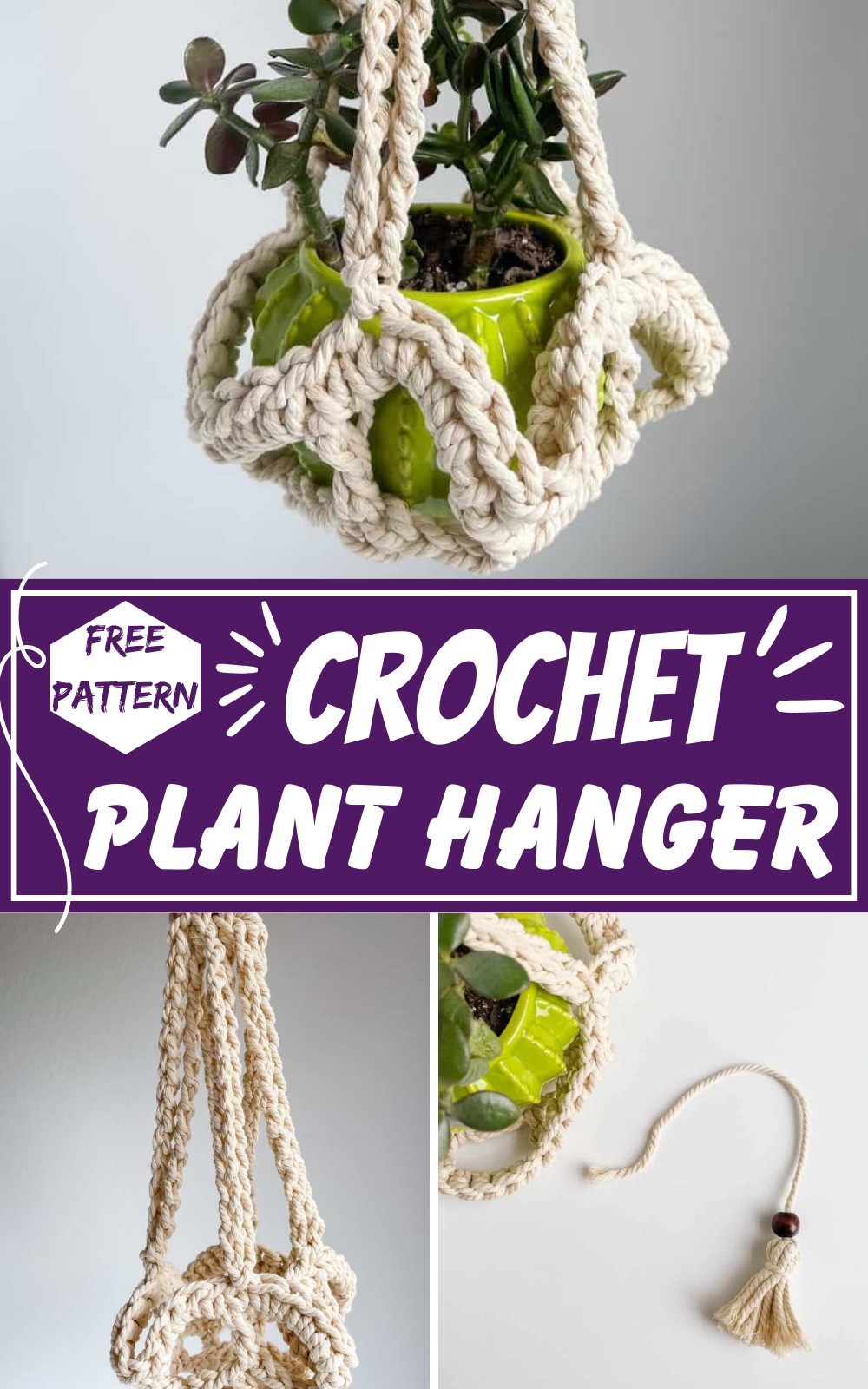 Looking for a last-minute Mother's Day gift? Make this simple crochet plant hanger perfect for displaying any houseplant. This quick and easy pattern uses the thick and tough yarn perfect for housing your heavy and big pots of plants. While the optional fringes add a boho charm to your decor, Ideal for those with a penchant for gardening.
Crochet Macrame Plant Hanger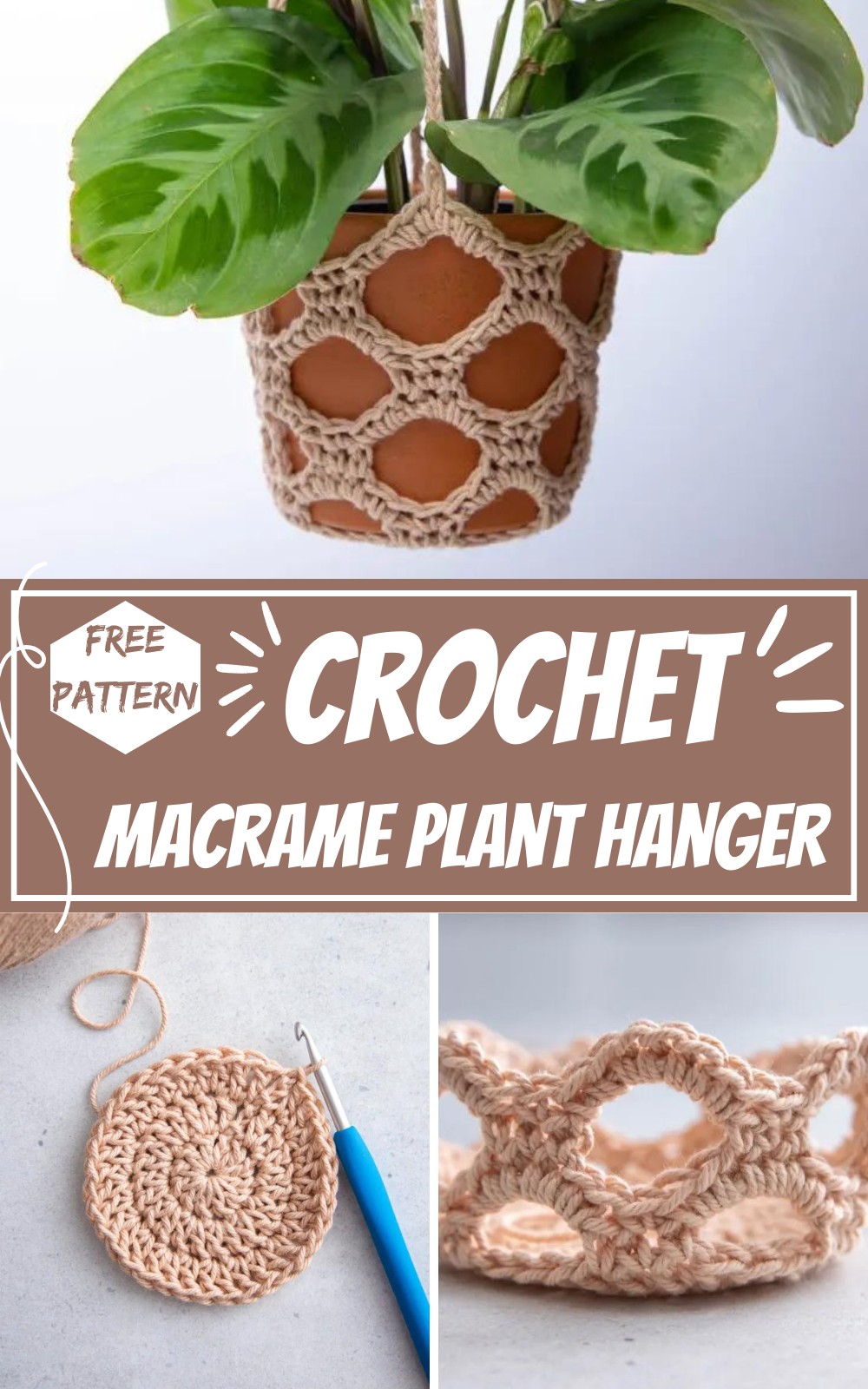 This artistic and practical crochet piece is perfect for displaying your beloved houseplants, giving your space a lively and bohemian touch. It's not just about style; this crochet pattern is beginner-friendly, and the sturdy design can easily accommodate a 5-inch tapered plant pot and adjust it according to need. Whether you are hanging it, on your balcony or patio, hallways, or entries, all admire this crochet plant hanger!
Textured Crochet Macrame Basket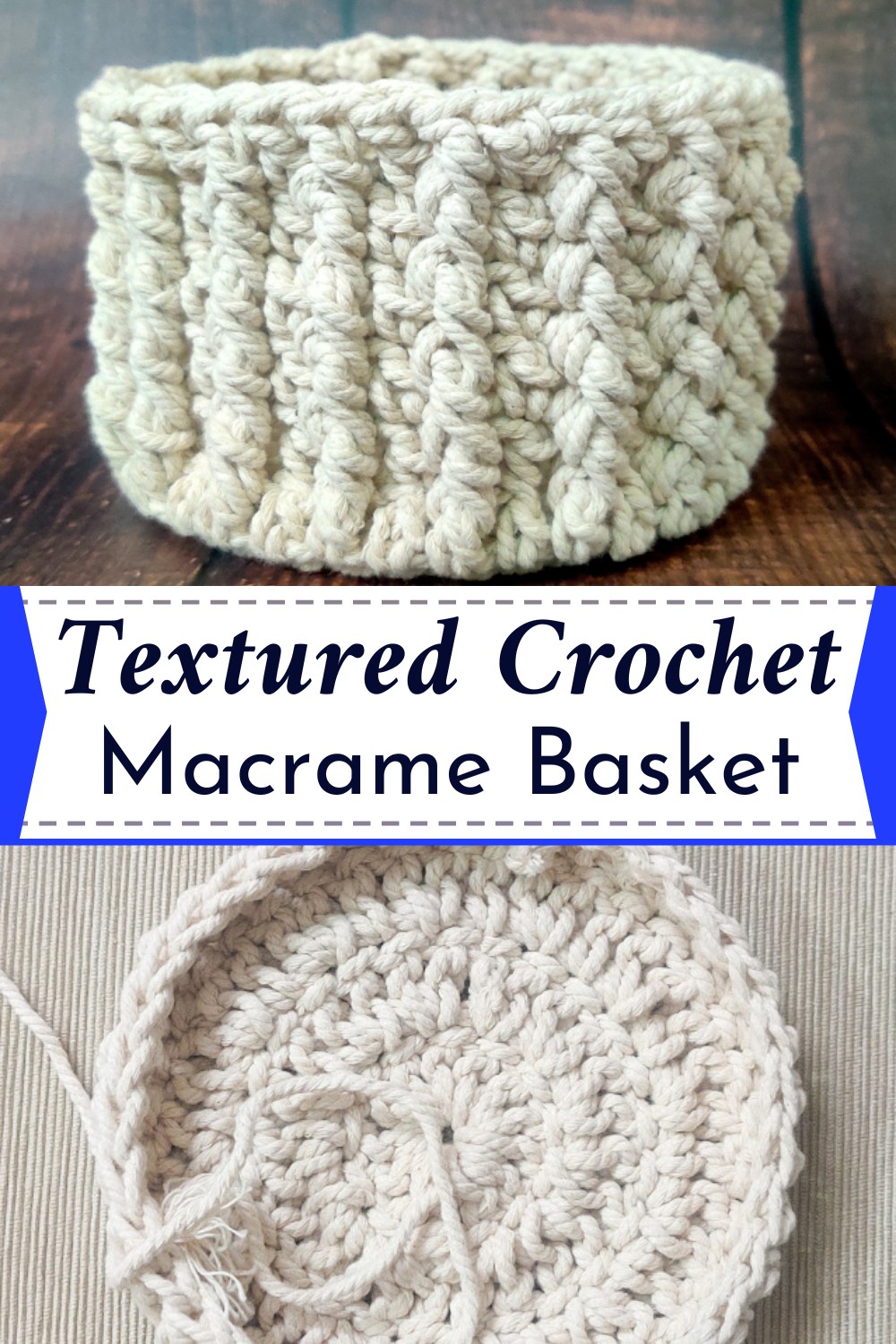 Make this Crochet Macrame Basket a perfect blend of style and functionality to elevate your home decor. This charming crochet basket combines the artistry of crochet and macrame techniques, creating an eye-catching textured design that adds elegance and flair to any space. The pattern is designed with simplicity and is accessible to crocheters of all skill levels, offering an enjoyable and rewarding crafting experience. The versatile design allows for size and color personalization, ensuring a custom basket tailored to your taste and needs. Enhance your home organization with this lovely Textured free Crochet Basket, a practical and cultured solution for storage that infuses warmth and charm into your living space.
Suggested Yarn:  Cotton Macrame Cord Yarn
Crochet Hook: 6mm
Crochet Macramé Plant Hanger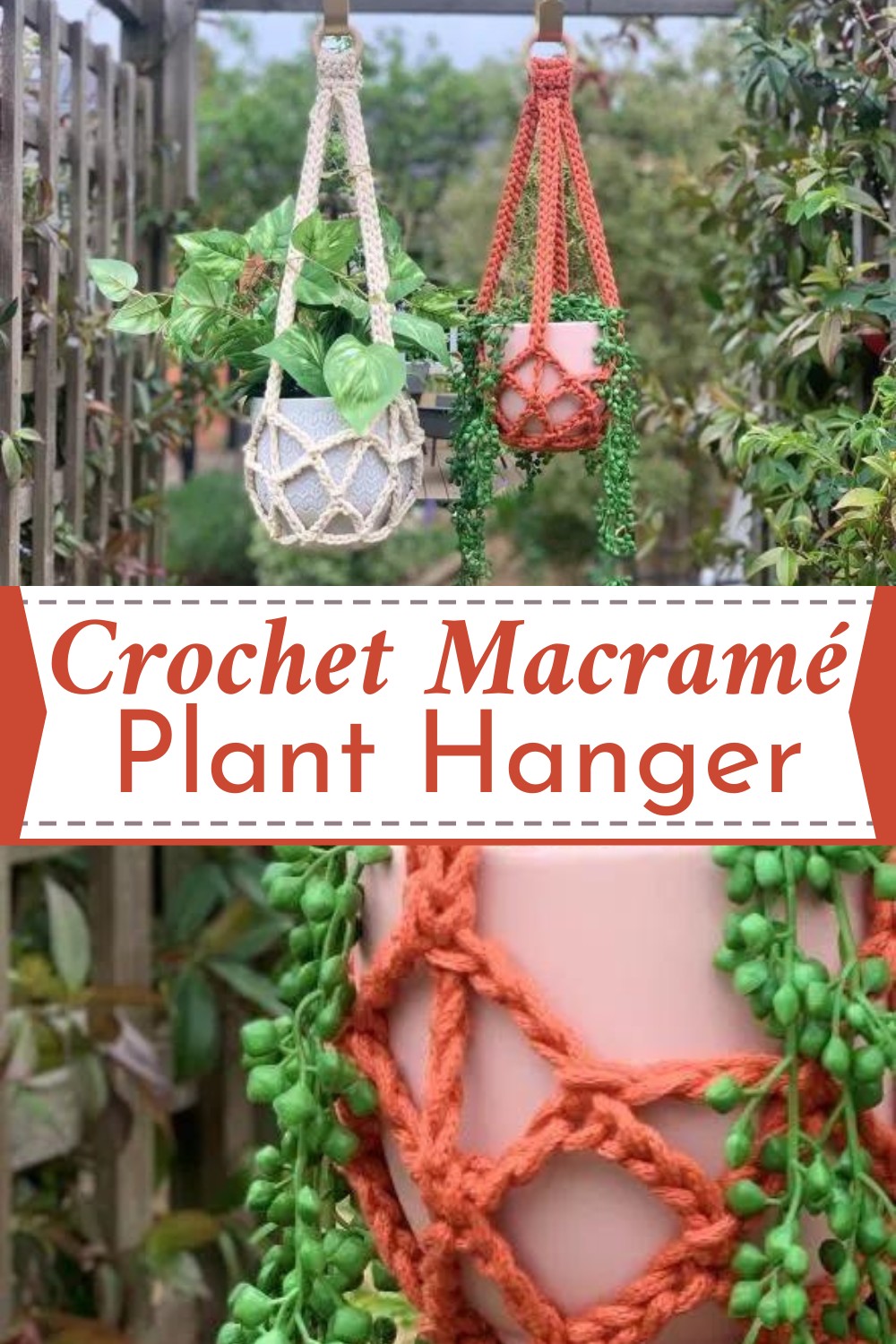 Crochet Macramé Plant Hanger is a delightful way to display your beloved plants while adding a touch of elegance to your home decor. This exquisite plant hanger artfully blends crochet and macramé techniques, creating a captivating textured design that enhances any indoor or outdoor space. With simplicity in mind, the pattern is designed for crocheters of all skill levels, offering an enjoyable and fulfilling crafting experience. The customizable design allows for adjustments in size and color, ensuring a perfectly tailored plant hanger to suit your style and preferences. So, Bring a hint of nature and sophistication into your living space with this stunning Crochet Macramé Plant Hanger, a beautiful and functional accessory that harmonizes with any environment.
Suggested Yarn: Chunky weight 100% Cotton
Crochet Hook: 6mm
Macrame-Inspired Crochet Table Runner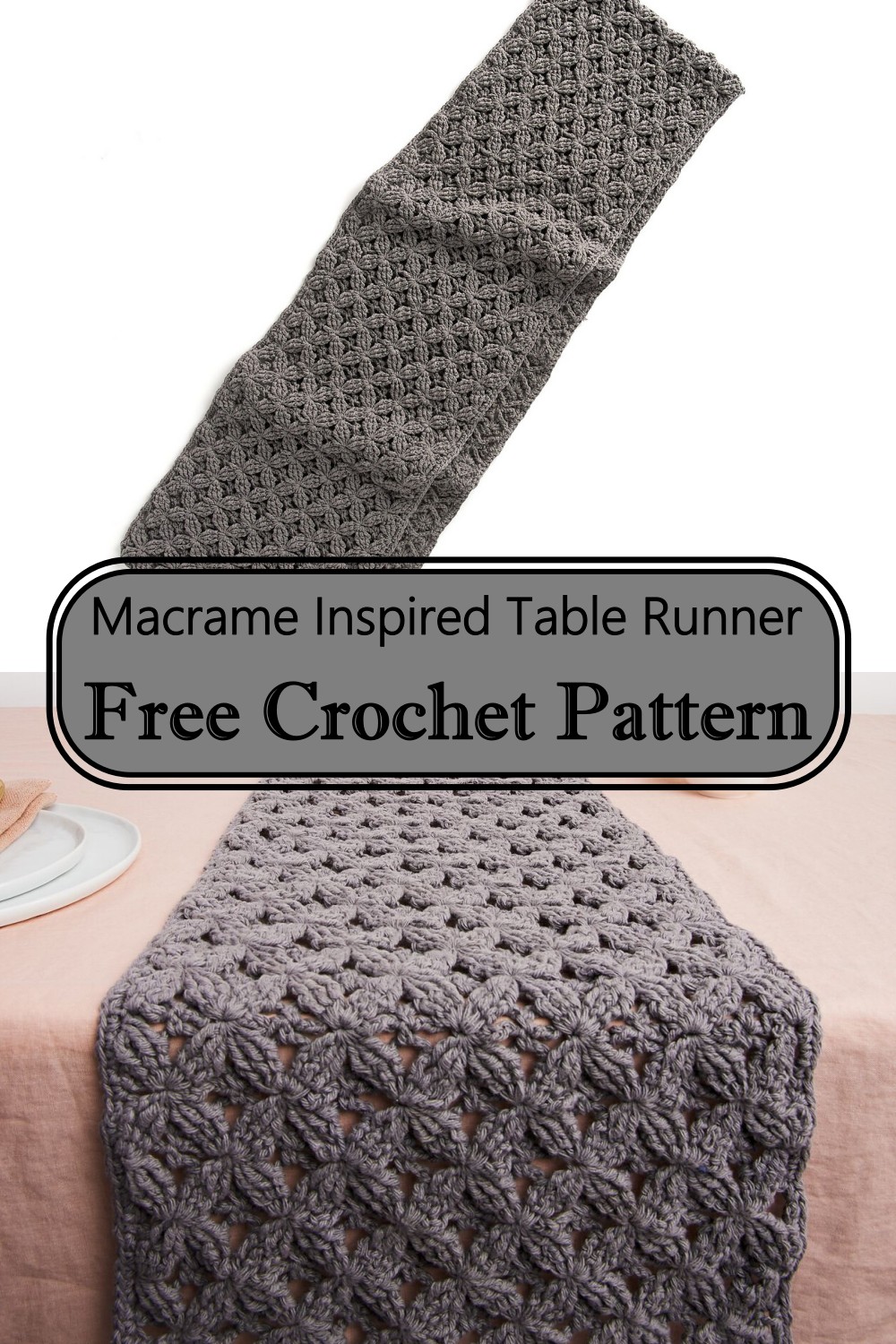 This table runner looks like a macrame masterpiece, but it's actually made with simple stitches! You'll love this 4-row repeat pattern's versatility that works quickly and is easy to shorten as needed. Featuring a back post treble crochet, this pattern looks great in almost any color to complement your kitchen or dining room. You'll love the versatility of this table runner pattern that can be made at any length you want. It'll dress up any table beautifully for everyday or special occasions.
Macrame Inspired Coasters Pattern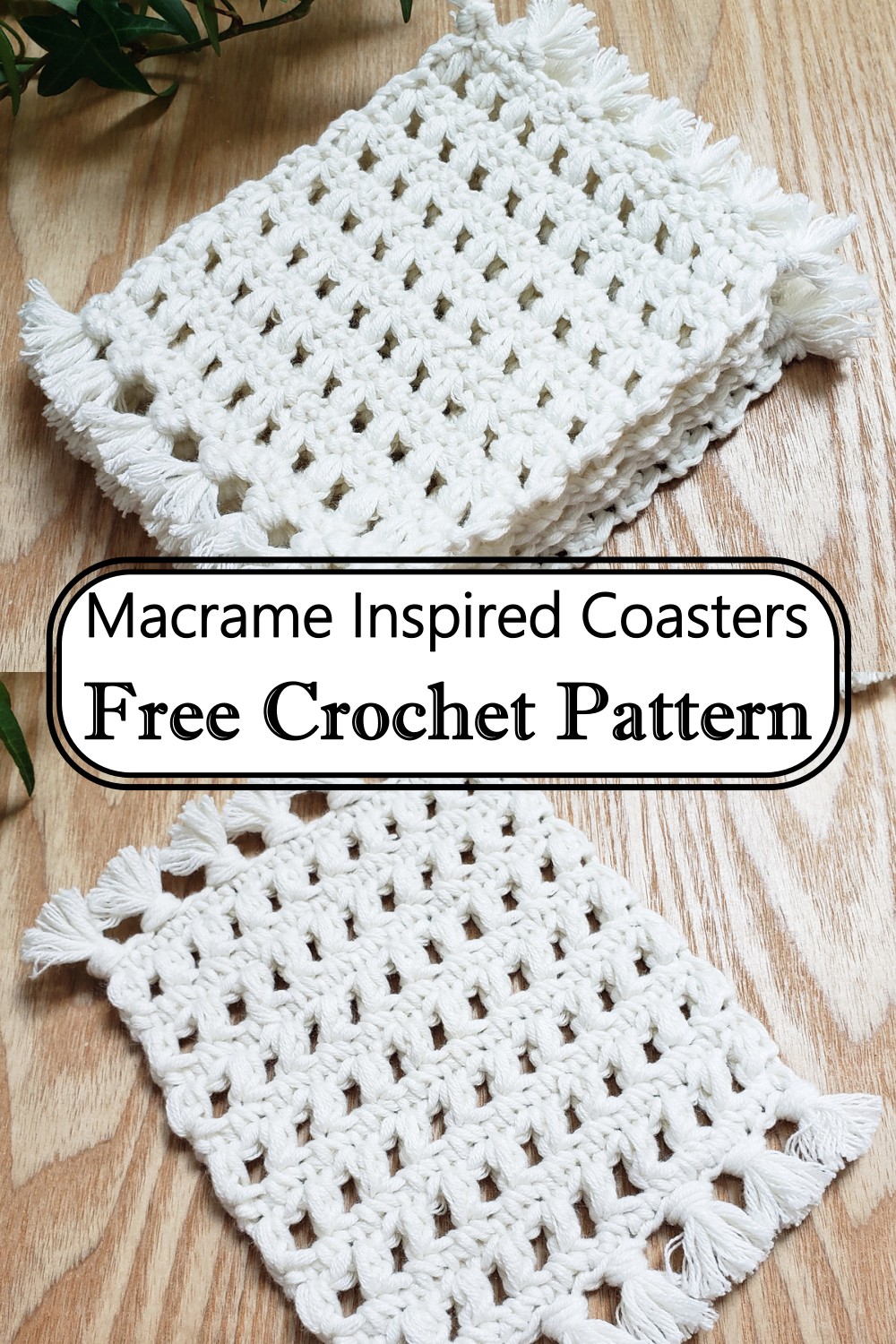 If you love to crochet and macrame, this project is perfect for you! These cozy little coasters bring a bit of boho flair to your table. They make excellent gifts and are great for adding a pop of color to your decor! These coasters are perfect for beginners, and they make a great summer hostess gift. Choose colorful yarn to make a set in every color of the rainbow! Add a little boho flair to your coffee table with these easy-to-make crochet coasters.
You can also see: Crochet Macrame Patterns 
Braided Bookmark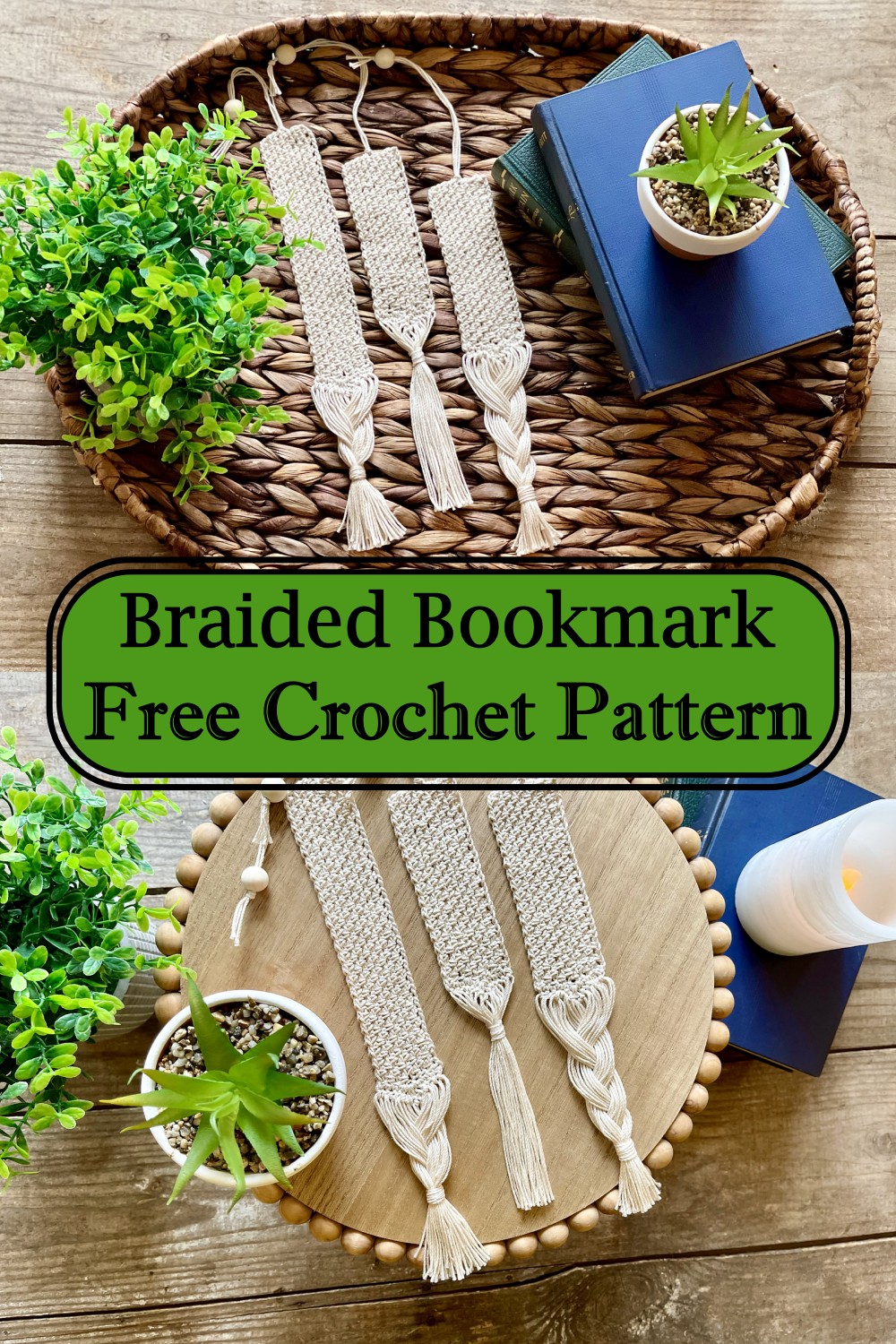 This is a beautiful addition to any book or journal. Crochet bookmarks are so popular right now because they are great gifts for the book lovers in your life, and they work up quickly. These bookmarks come with a variety of patterns to choose from, and they look really nice on the page of any book. Made in 100% cotton yarn, it will last for years to come. You can make these to match someone's favorite book, making the perfect gift for any occasion.
Macramé Cardi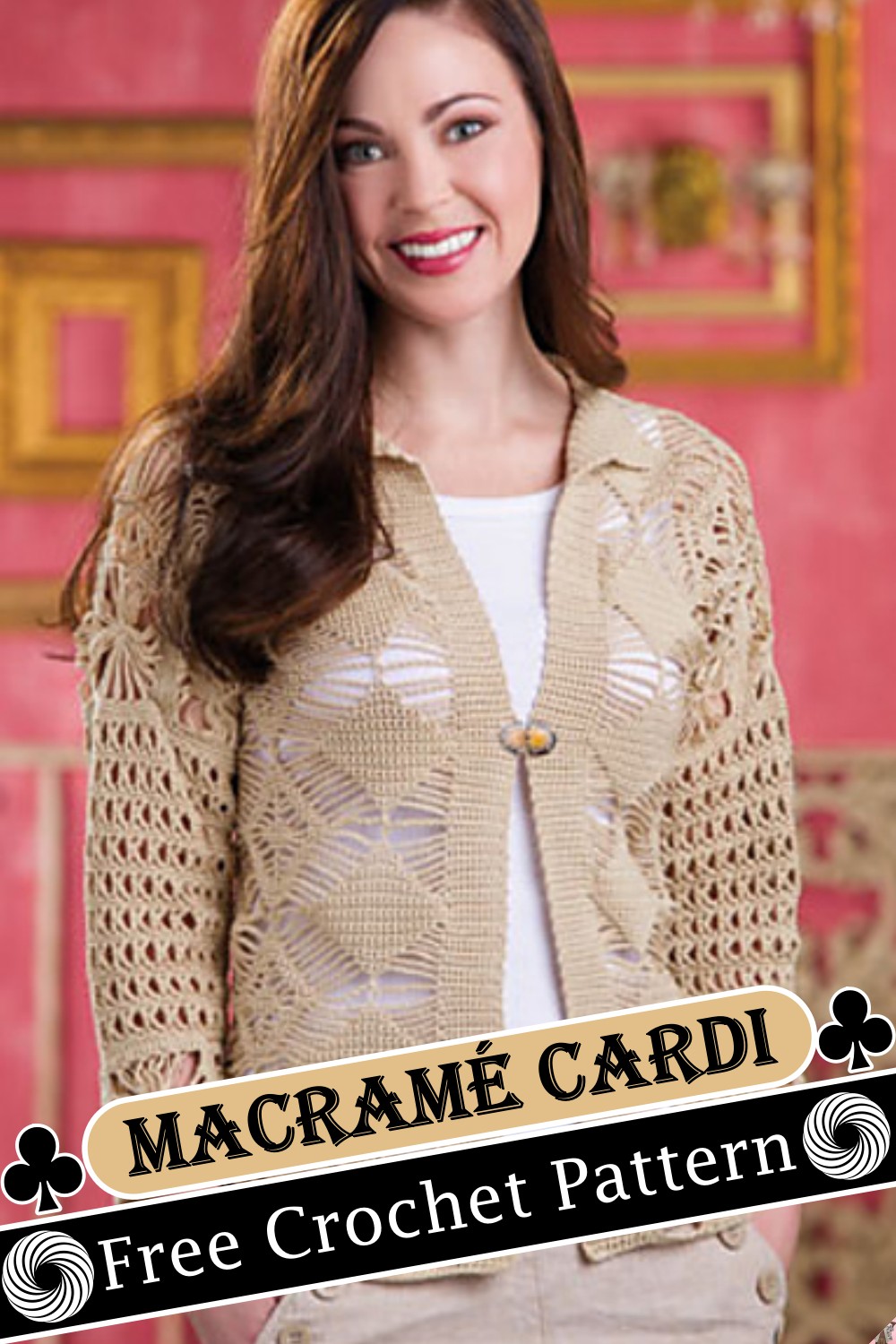 This cozy cover-up topper will keep you chic and stylish on any occasion! You'll love this cardigan's unique crochet look and feel, which features a button-down front, pockets, and chambray trim. This Crochet Macramé Cardi is the perfect knit for your fall wardrobe. This cardigan is both trendy and timeless and a thoughtful gift for your BFF or a stylish addition to your closet. This boho macramé cardi will be your new spring weather bestie. The breezy open-knit design is accented with three-quarter sleeves, a front tie closure, and a scalloped hemline. Pair it over dresses of all lengths for an added bohemian touch. Available in one size that fits most.
Also see: Fun Bracelet Crochet Patterns
Cotton Waves Handbag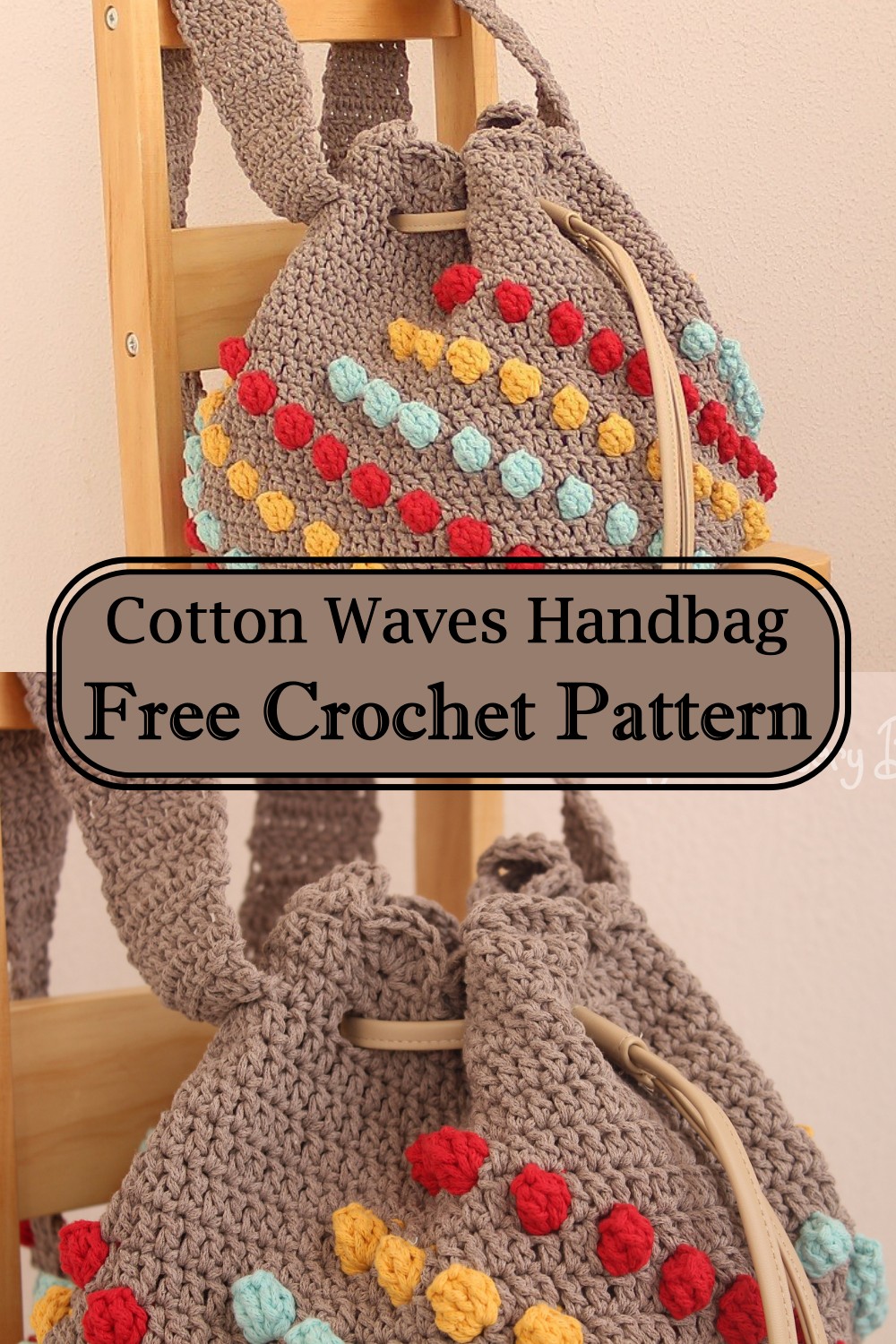 This one-of-a-kind handbag features a beautiful crochet design and is perfect for the summertime. A woven textile like this one speaks loudly on its own––no embellishment necessary! This Crochet Cotton Waves Handbag is the perfect accessory for your laid-back summer style. This bag features an easy-access magnetic clasp, a roomy interior pocket, and an adjustable canvas strap that lets you choose your preferred wearing length. This unique design is built from sustainable, organic hemp and cotton knit, accented with leather straps and closure.
Crochet Rainbow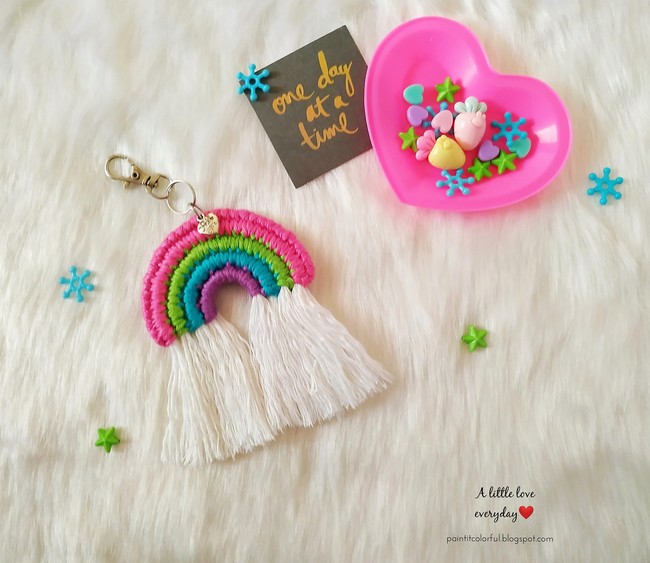 Looking for a colorful accessory to throw on your keys? This custom-made rainbow keychain is the perfect addition to your keyring backpack. Each side of the rainbow has a different design, creating an overall pattern when closed. Add a splash of color to your keys, bag, or backpack. This cheerful keychain is handmade of acrylic yarn and features a loved baby branded heart charm. The keychain's loop keeps it securely attached, and its soft yarn pom-pom adds a sweet touch.
Boho Macrame Wrap Crochet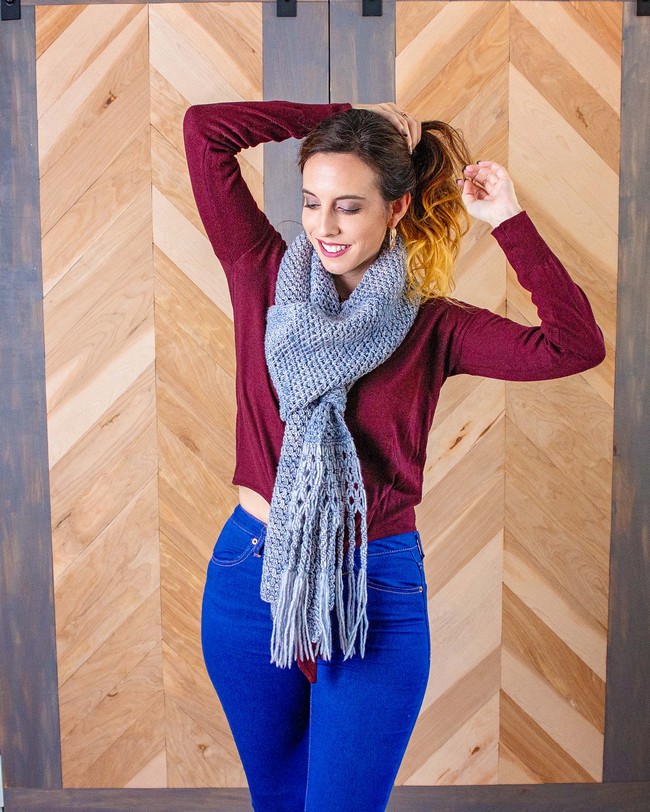 Here is a perfect project for lovers of crochet and macrame in one spectacular piece. This Boho Macrame Wrap couples crochet with macrame in one highly textural wrap. A delightful change of pace and one that will be sure to turn heads, this project is perfect for intermediate crafters. Complete this project with two skeins of yarn for a shorter version, or three skeins for a longer wrap. Crochet and Macrame fit seamlessly together for an amazing finish and rewarding project. This is a unique wrap uniting two forms of crafts into one spectacular piece. Crochet and Macrame fit seamlessly together for an amazing finish and rewarding project.
Knot Macrame Blanket​ Crochet Pattern
This boho-inspired blanket will add texture and style to your favorite space. If you're looking for a new crochet project, consider this inspiring blanket. You can add interest and warmth to any room with this Knot Macrame Blanket from Bernat. Using Bernat Blanket, you'll create diamond-shaped windows using chain stitches and simple single crochet, surrounded by bobbles. Plus, you'll don't have to worry about changing yarn every few rows or weaving in ends since this amazing chunky yarn is self-striping!
Braided Keychain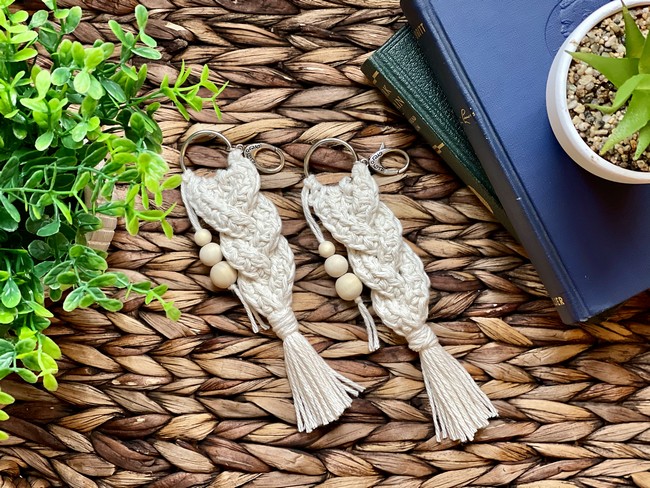 These fun little keychains are made using braided single crochet stitches. It makes them look really intricate, but they're very simple to learn and work up super quickly. They would make a great little vendor market item for the warmer months or a nice small gift! The Braided Keychain is not just a simple crochet project, it's also a jewelry-making tutorial. You'll be able to use this versatile jewelry pattern in countless ways. Use it as a keychain or use it as a zipper pull on your backpack or purse.
Monstera Leaf Plant Hanger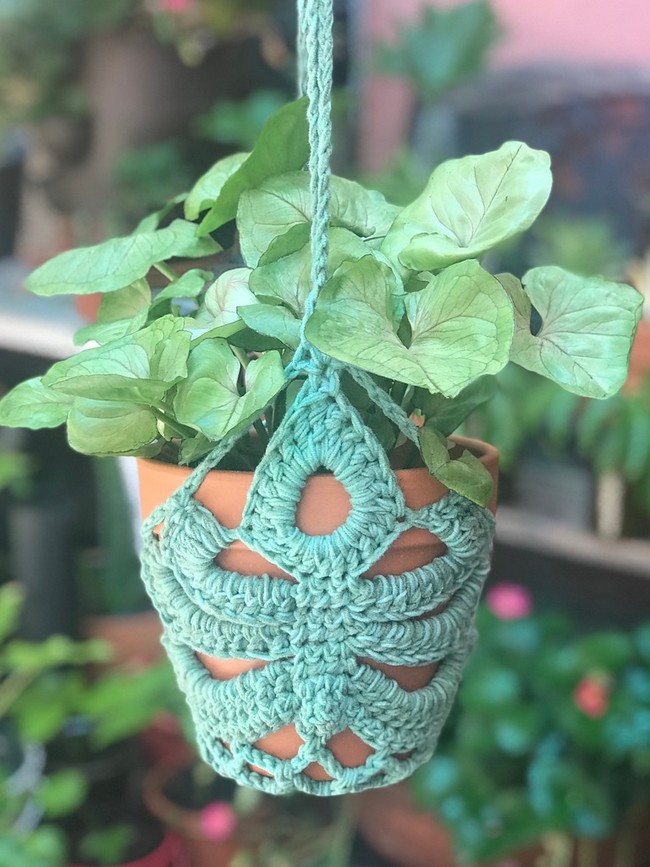 Bring the tropics home with this plant hanger! Create a vibrant, leafy corner for your home or office with this handmade item. Add a touch of nature and style to your decor with one of these beautiful plant hangers. Each plant hanger is hand-crocheted with a natural cotton cord, then dyed to achieve the perfect tropical green hue. This is perfect and can be customized to fit bigger pots upon request. Perfect as a housewarming gift for any greenery lover.
Macrame Basket With Handles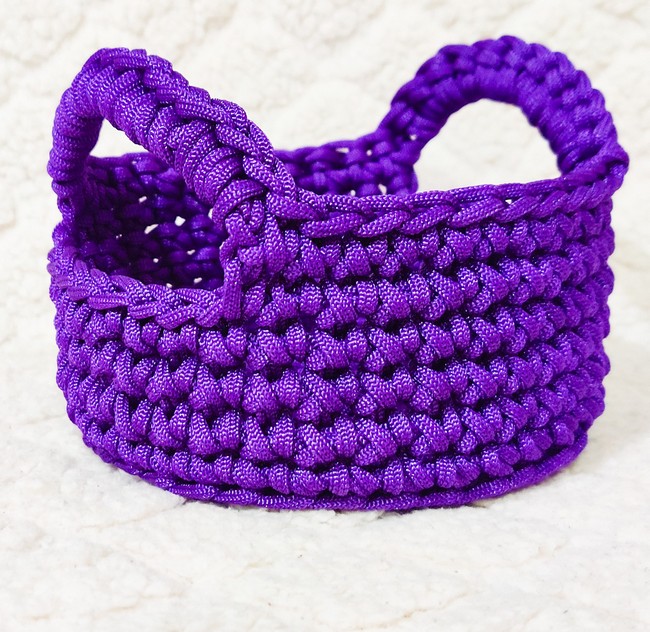 This basket is designed with a more natural feel, perfect for holding and storing anything from yarn to skincare products. It's a simple design that gives you the opportunity to play with color and have fun creating something truly unique. It has a natural feel and looks that lifts your space, to make it extra cozy! The handles give it an extra stylish as well as use look. You will love our Macrame Basket. It is made with a cotton cord and stands on its own! The handles make it easy to carry anything from clothes, toys, magazines, or electronic gear. Works great in your dorm, home, or office. It fits anywhere!
DIY Macrame Earrings: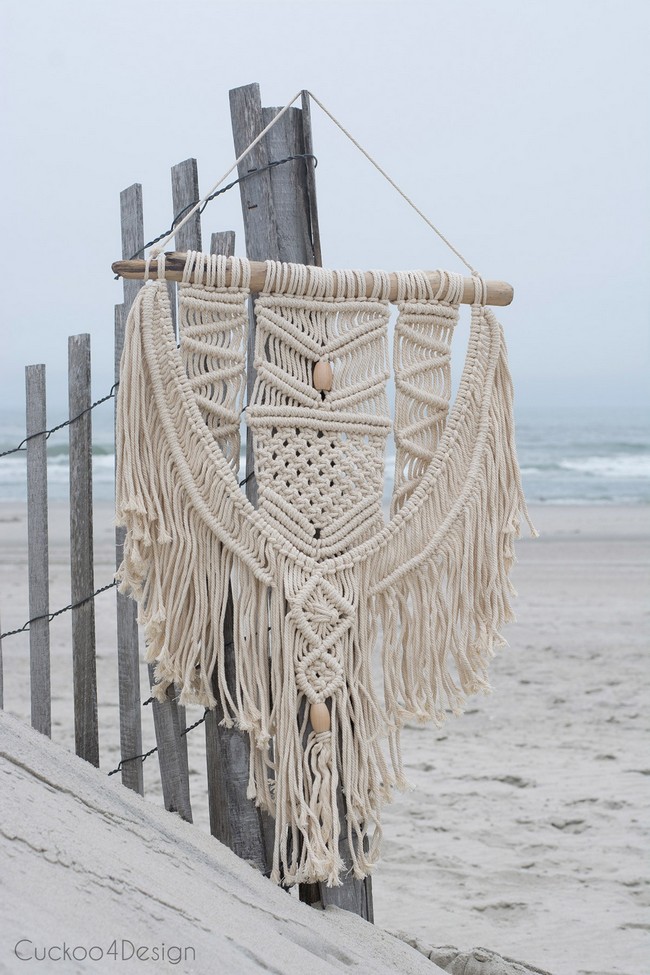 Do you want to decorate your home but are on a budget, or don't want to spend the time? DIY Macrame earrings will show you how to save money and time by creating beautiful decorations that guests will think you bought. This project is great for people who want to add a little boho-chic vibe and fun color to their home just in time for summer. The best part of this DIY is that it's so versatile, you can easily swap out the colors for a neutral scheme and take it straight through to fall.
Make A Macrame Table Runner: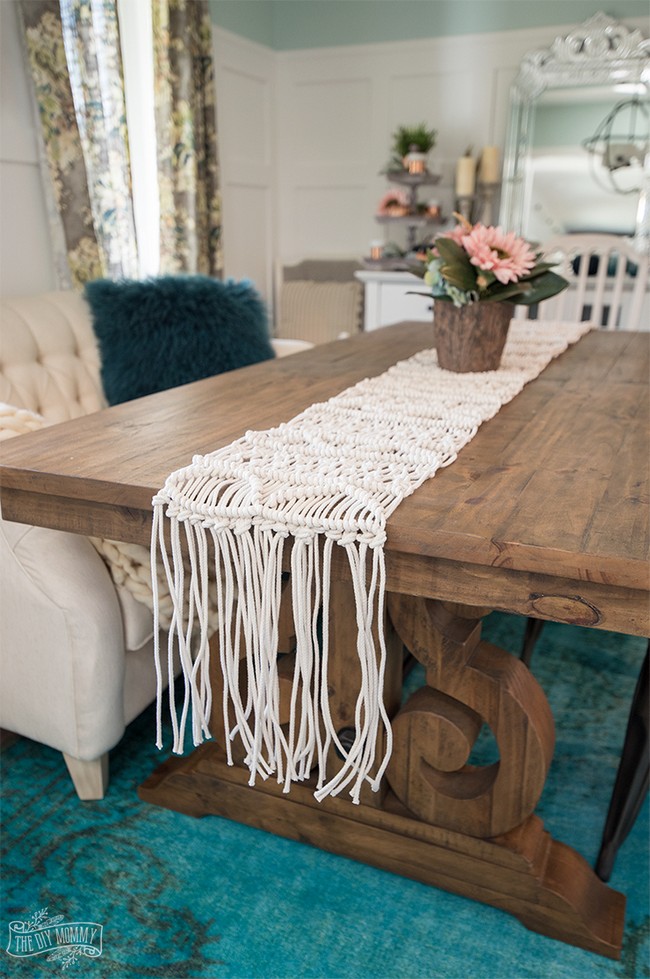 By following along with this macrame runner project, you'll master the basic stitch and explore new ways to experiment with more intricate weaves. You'll be well on your way to tackling more advanced macrame projects. The drawing-room's beauty and elegance are necessary to make the house look good. You can crochet this beautiful macrame table runner for your drawing room. It will give your home an elegant touch and if you put it on a table, it increases its charm. To make this beautiful crochet runner, you have to need cotton yarn.
DIY Beginner Macrame Garland: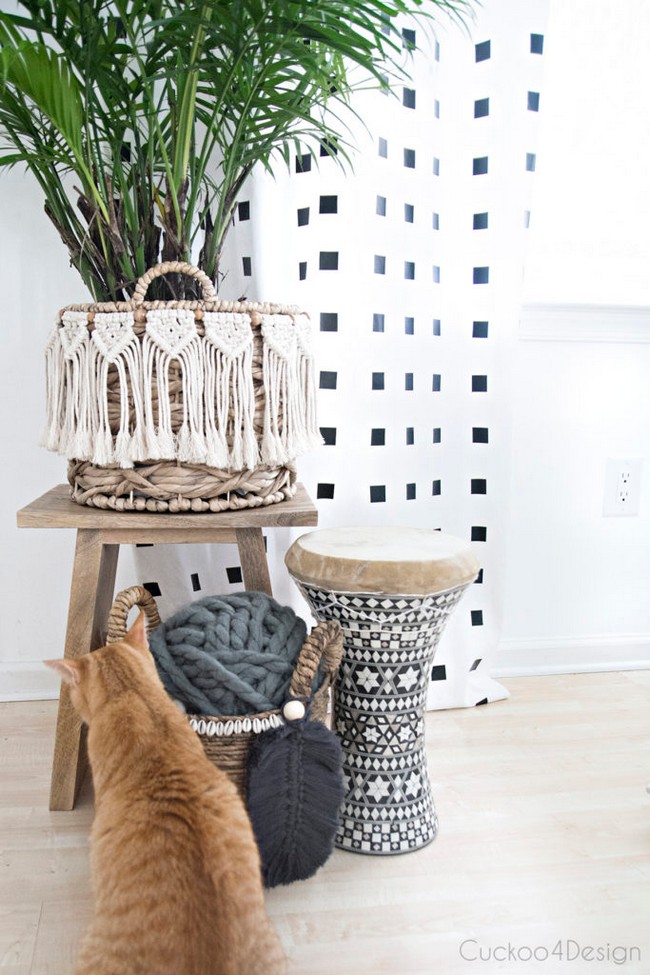 Do you want to make a crochet garland? If yes, then this post is just for you. This DIY beginner macrame garland can be made very easily with a few basic crochet stitches. You can hang this on your front door and your room's door. It will be a good project if you are a beginner to learn all the basics of crocheting through this. You can hang this on your front door and your room's door. It will be essential in learning all the basics of crocheting through this project if you are a beginner. You can use it as a gift to friends or family members.
Macrame Wall Hanging For Beginners: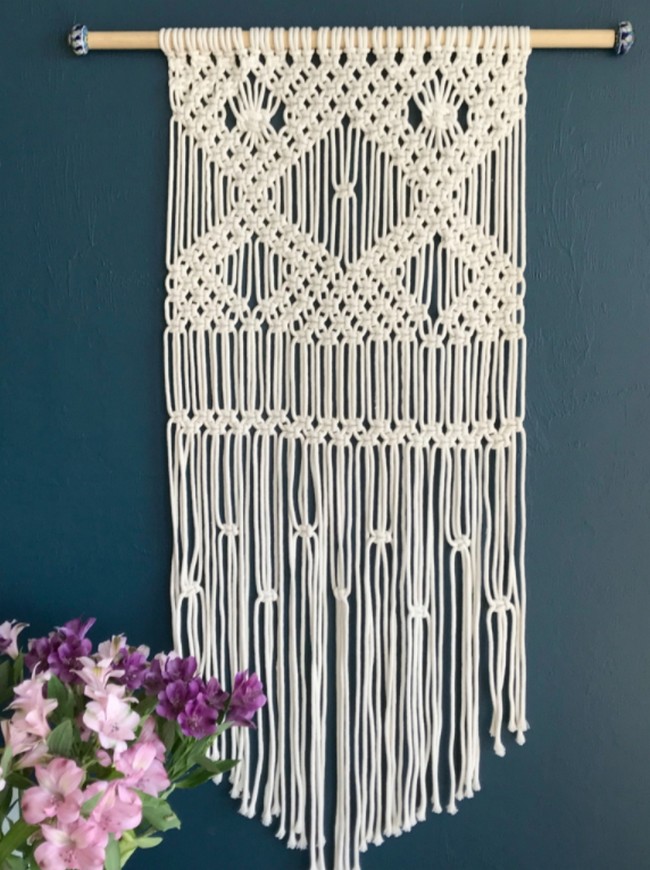 This macrame wall hanging is a breeze to make, even if you have never made any other macramé projects. A lovely Macrame wall decoration is the easiest way to refresh your home. This pattern has been created for beginners and it is very easy to make it. You need only cotton yarn, a little glue, and an empty frame. This design is the best gift for nature lovers and for those who are in need of something to add a special touch to the house! This is a beginner-friendly pattern that includes step-by-step instructions for making each component of the wall hanging.
Free Crochet Macrame 3 Pot Planter: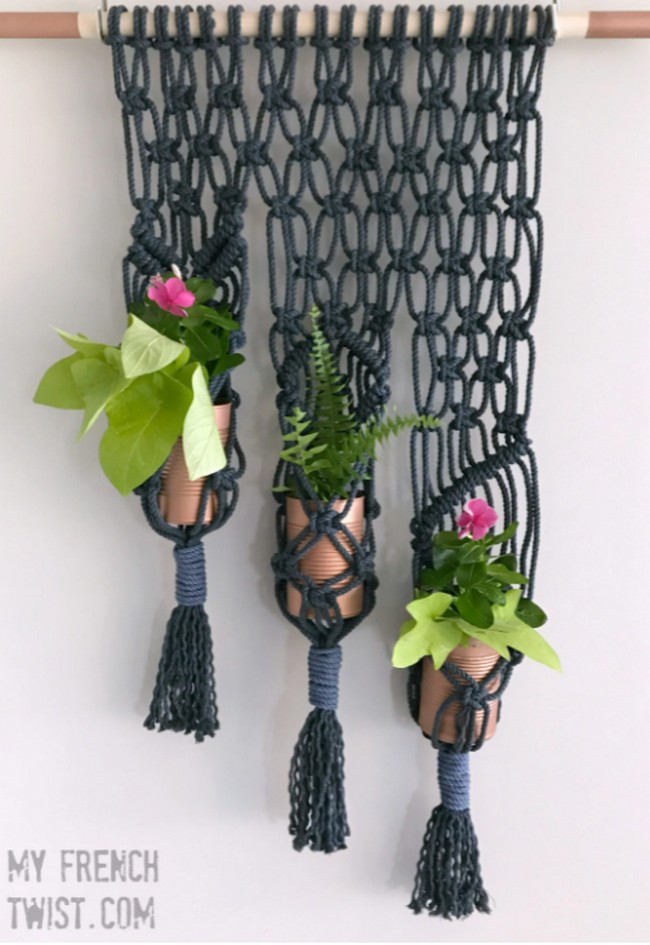 This is a beautiful macrame planter for your garden. It will protect your flower pious insects when they are growing. You have to need cotton yarn. The color has used black, but you can change the color if you want It is easy to crochet and makes a nice gift too. You can use it as a hanging planter or even as a door hanger. This macrame pot planter gives an elegant look to your garden. It will protect your flower pious insects when they are growing.
Macrame Hanging Herb Garden: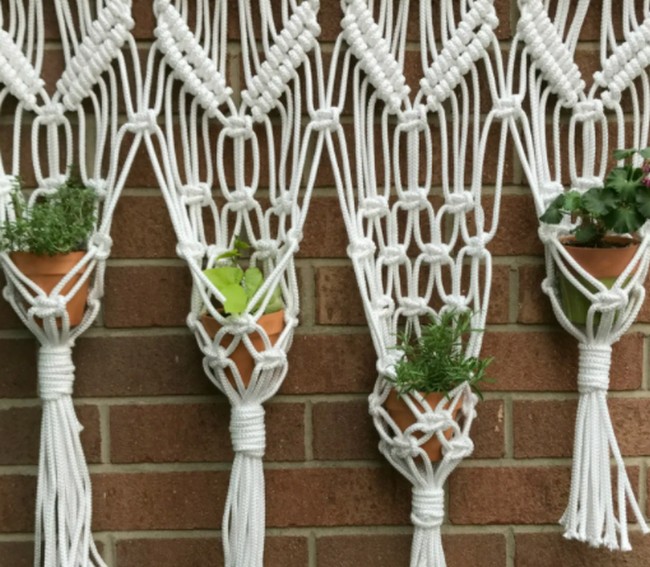 This cotton yarn kit gives your home a natural touch by creating a unique hanging herb garden. Create a unique hanging herb garden with Macrame! Our pattern is written in simple language that is easy to understand and you can crochet this easily. Crochet your own beautiful herb garden. Choose your favorite cotton yarn and get started with Macrame today. It is easy to crochet and suitable for beginners. With just some cotton yarn and a couple of hours, you can craft a stunning wall hanging that will surely be an eye-catcher.
How To Make A Macramé Produce Bag: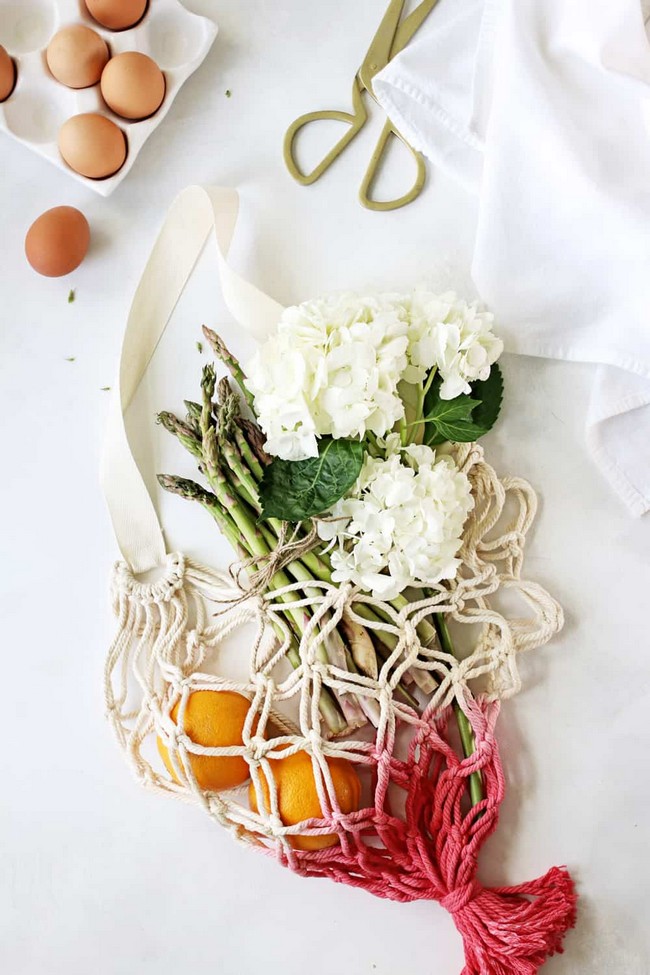 If you like to travel to get the better product. The crochet produce bag would help you in all those times when you go buy the eatable thing and protect it from cracking or breaking, although you can use it as a girlfriend to keep the vital and utility product if you do not want it to break. You also need not carry a plastic bag for every shopping will make harmful for the environment. To make a Macramé Produce Bag, you will do simple slip stitches and chains. The end product is a durable, lightweight fabric that is perfect for production because it allows fruits and veggies to breathe. We recommend cotton yarn for the bag. Make sure you have the right size of crochet hook.
DIY Tassel And Macramé Keychains: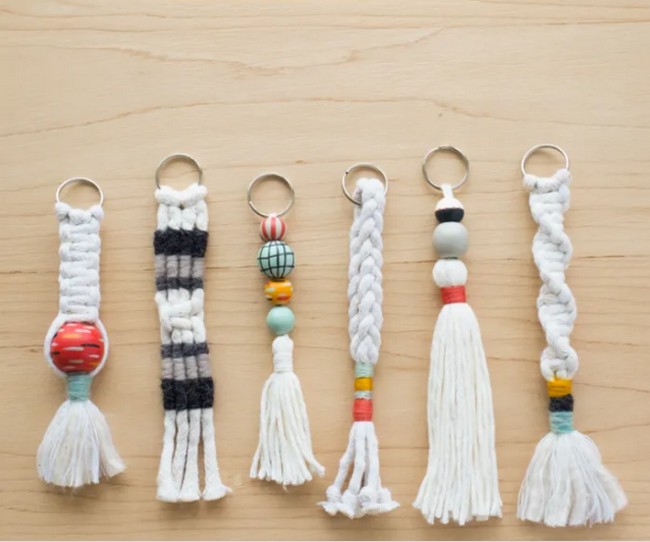 You will enjoy this DIY tassel and macrame keychain tutorial. The tutorial is really easy to follow and you can do it in a maximum of one hour. If you are just a beginner, there is nothing to worry about. This tutorial is well-explained, showing every single detail you will need in order to create your own tassel and macrame chain key chain. This simple-to-make craft is perfect for beginner crocheters. It has a very friendly look, just like a little toy. For this project, you will need no more than cotton yarn and some key rings.
Free Easy Crochet Wall Hanging Pattern: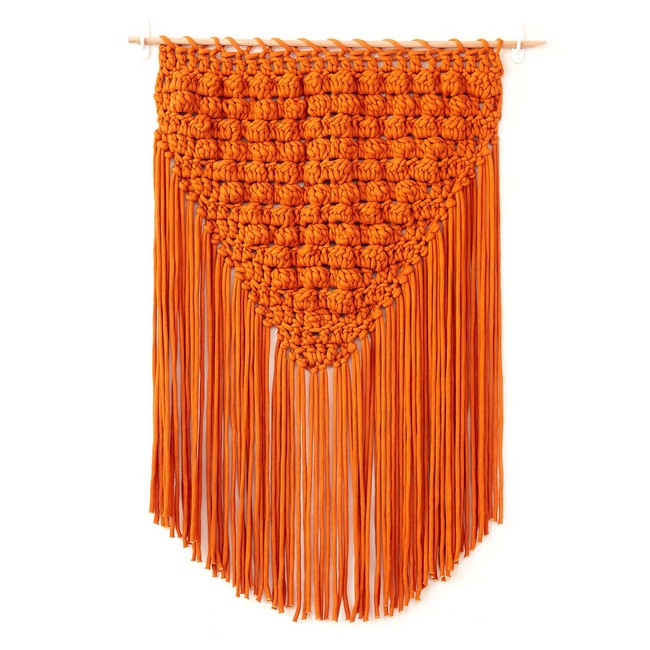 This wall hanging is a great way to add texture and modern appeal with this free crochet pattern. The bulky yarn and fun fringe add a boho touch that'll keep you looking fresh. Contemporary wall art is as easy to make as it is to love. This easy-to-make, beginner-friendly crochet wall hanging is a great way to add texture and charm to your home while learning new crochet stitches. Add it as the centerpiece of an existing gallery wall or hang it alone on a small blank wall.
Macrame Heart Wall Hanging: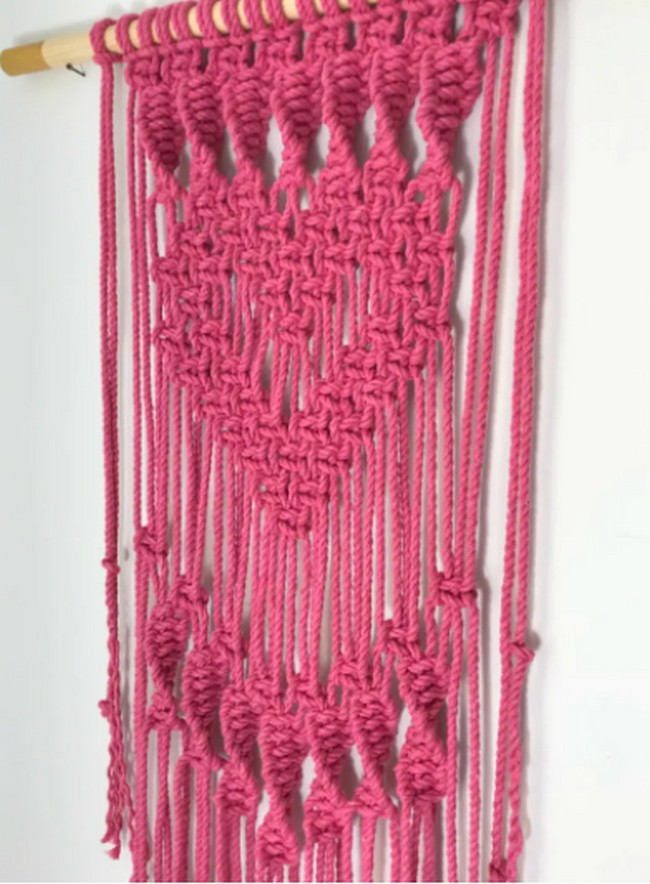 Give your home a great finishing touch with this Macrame Heart Shape Wall Hanging. It features a unique heart-shaped design and creates a fun way to add style to your living room or bedroom. Its minimalist geometric look blends seamlessly into any space and adds just the right amount of decorative touch! Handmade with durable cotton yarn, it's built to withstand years of use - even if that means your daughter pulls it off the wall while learning to crawl. This beautiful macrame heart wall hanging is the perfect addition to any home. Hang it in a bedroom, bathroom, living room, or child's nursery for a touch of warmth and charm. It adds so much color to any wall!