20 Crochet Bobble Pillow Patterns Free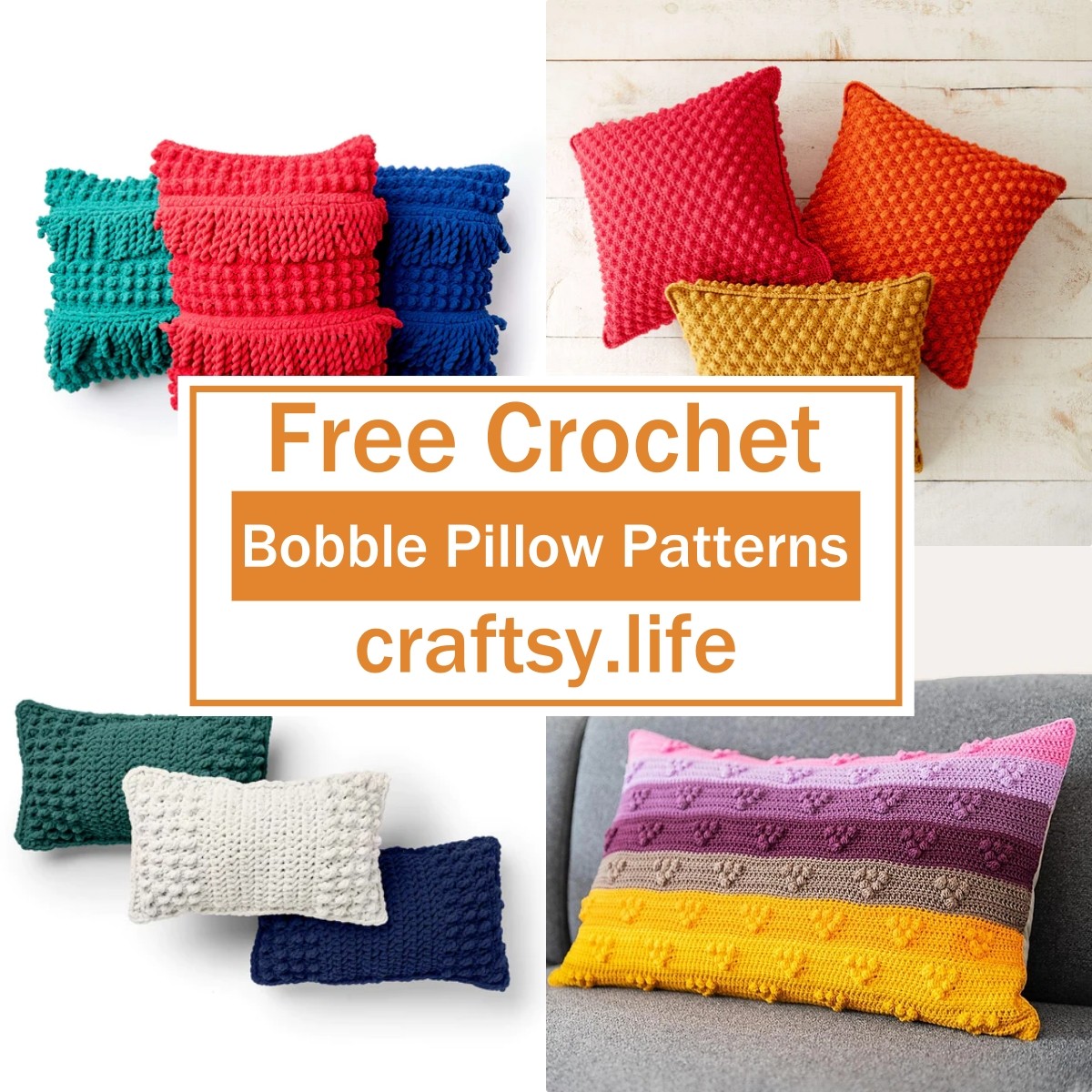 The crochet bobble pillow is a great project to learn how to make bobbles on your crochet projects. These pillows have a nice textured look, perfect for gifting. They are great for decorating your house and making it look more stylish. These crochet bobble pillow patterns are so fun and easy to Crochet. Make them in classic solids or bright colors, or add a patterned yarn with a simple bobble stitch for a textured look. Create a bold, colorful statement in your home with these Pillow Patterns. With a simple bobble pattern and cozy texture, these pillows are sure to be something you'll love to cuddle up with throughout the seasons!
Unique Crochet Bobble Pillow Patterns

Create a cozy, textured pillow with puff stitches and crochet bobbles. The bobble stitch is a great, easy, and pretty stitch. You can use it to create various things, such as textured scarves or hats, chunky sweaters, and afghans. This is a lovely collection of crochet bobble pillow patterns to make the perfect accent for any sofa or bed. It has all the fun and trendy styles you've wanted, with a new twist on some classic favorites. Adding color, texture, and design interest to your home is never easier with these modern crochet bobble pillows! These pillow patterns are suitable for showing off your bobble skills for those working through all the basic stitches.
Benefits Of Free Bobble Stitch Crochet Pillow Patterns
Crocheted Bobble Pillow Patterns are a great way to add color and fun to your home. They can be made with different types of yarn and are easy to make.
Here are some benefits of crocheting bobble pillow patterns:
They are easy to make, even if you have never crocheted before. You will find a pattern that suits your skill level and ability easily.
You can make them in any size you want. The only limitation is your imagination! You can make them small or large, depending on your needs or the space available in your home.
You can choose a simple pattern that is easy to follow or a more complicated one if you have time on your hands.
Crochet Persian Buttercup Pillow Cover
The Persian buttercup crochet pillow cover is a stash-busting pattern that elevates your home or creative space decor. The design incorporates diagonal cable work and Bobble stitches, making a striking and pleasing texture. With the flexibility to use any yarn, hook, and your favorite color combinations, this adaptable pattern takes on a highly personal and unique form.
Crochet Grapevine Pillow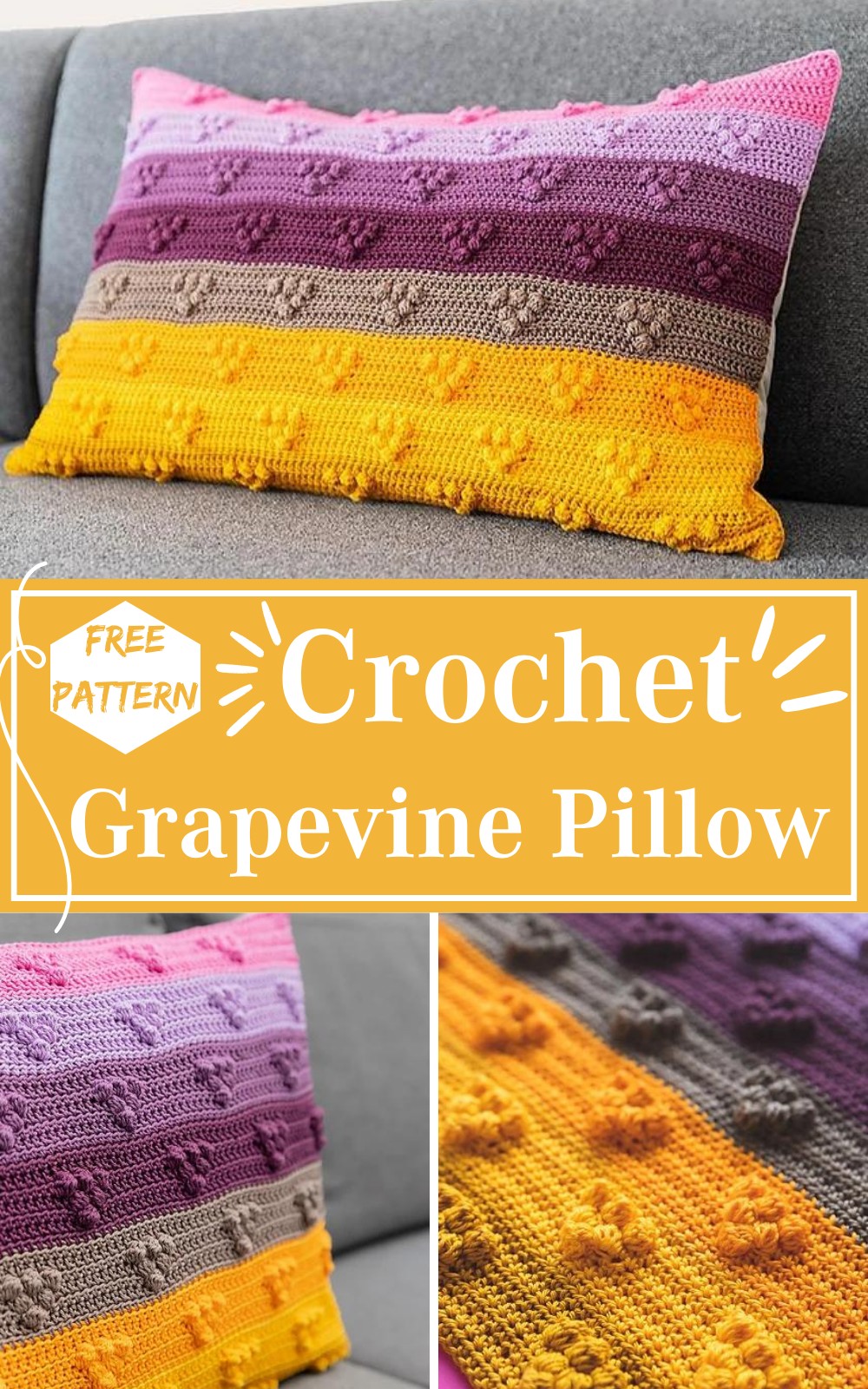 Skip the squares and go big and bold with a long rectangular crochet pillow that showcases triangular patterns brimming with visual interest. A reverse bobble, similar to a regular one, ensures an enhanced 3D effect that all like. However, If your bobbles need more volume, try crocheting the next hdc tighter to elevate the 'pop' factor. Whether you opt for this color scheme or inject your gradient, your pillow will surely be a stunner!
Bobble Licious Crochet Pillows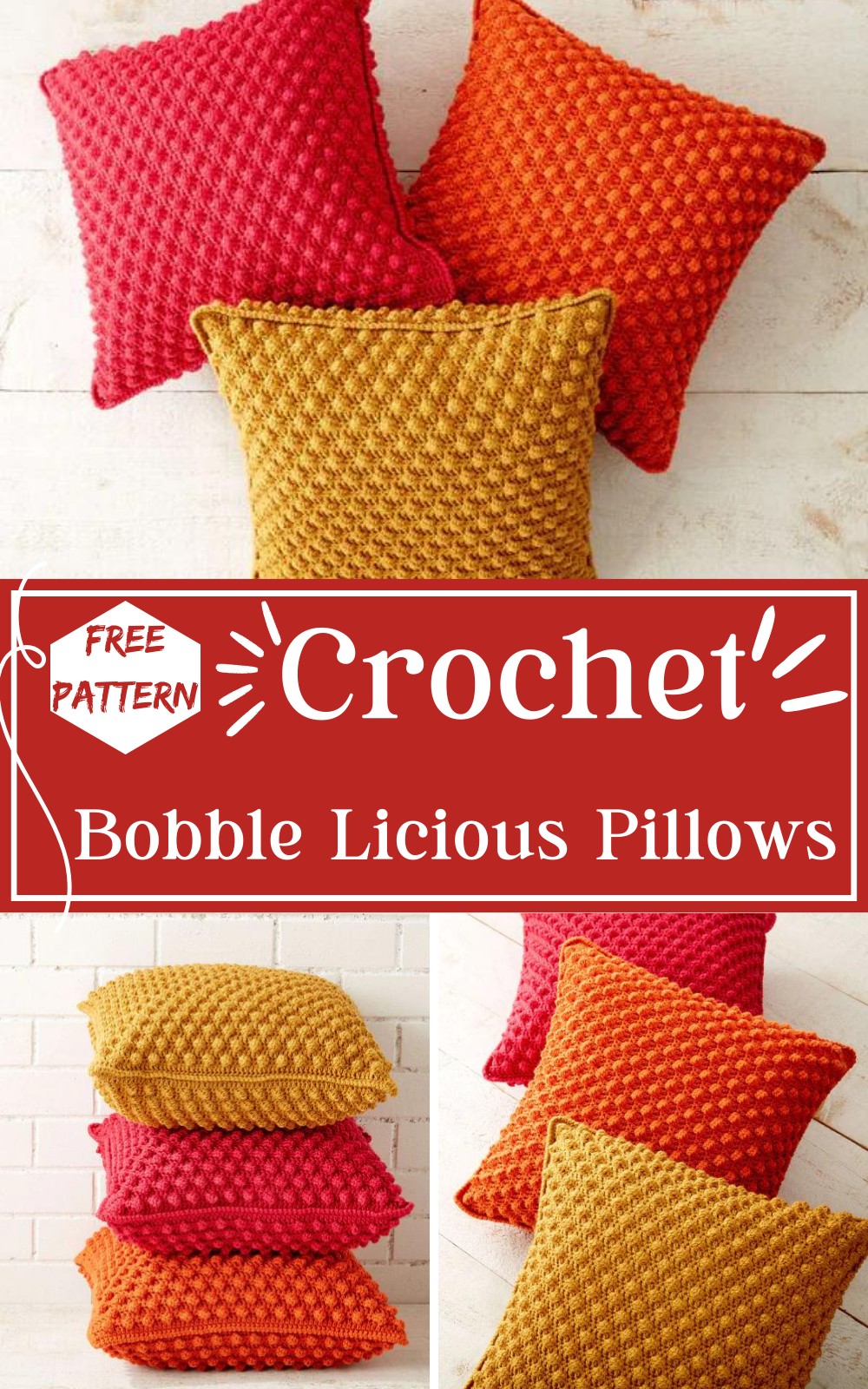 You'll love the Bobble Licious Crochet Pillows if you love textured crochet projects. The crochet pillow has raised bobbles throughout the pillow, creating a soothing and massaging texture. The Patons pillow offers a wide spectrum, from solid hues to vivid shades, ensuring the perfect match for your decor. So, don't wait and start making this crochet pillow for self-use or a heartful gift for loved ones!
Bobble Crochet Pillow Set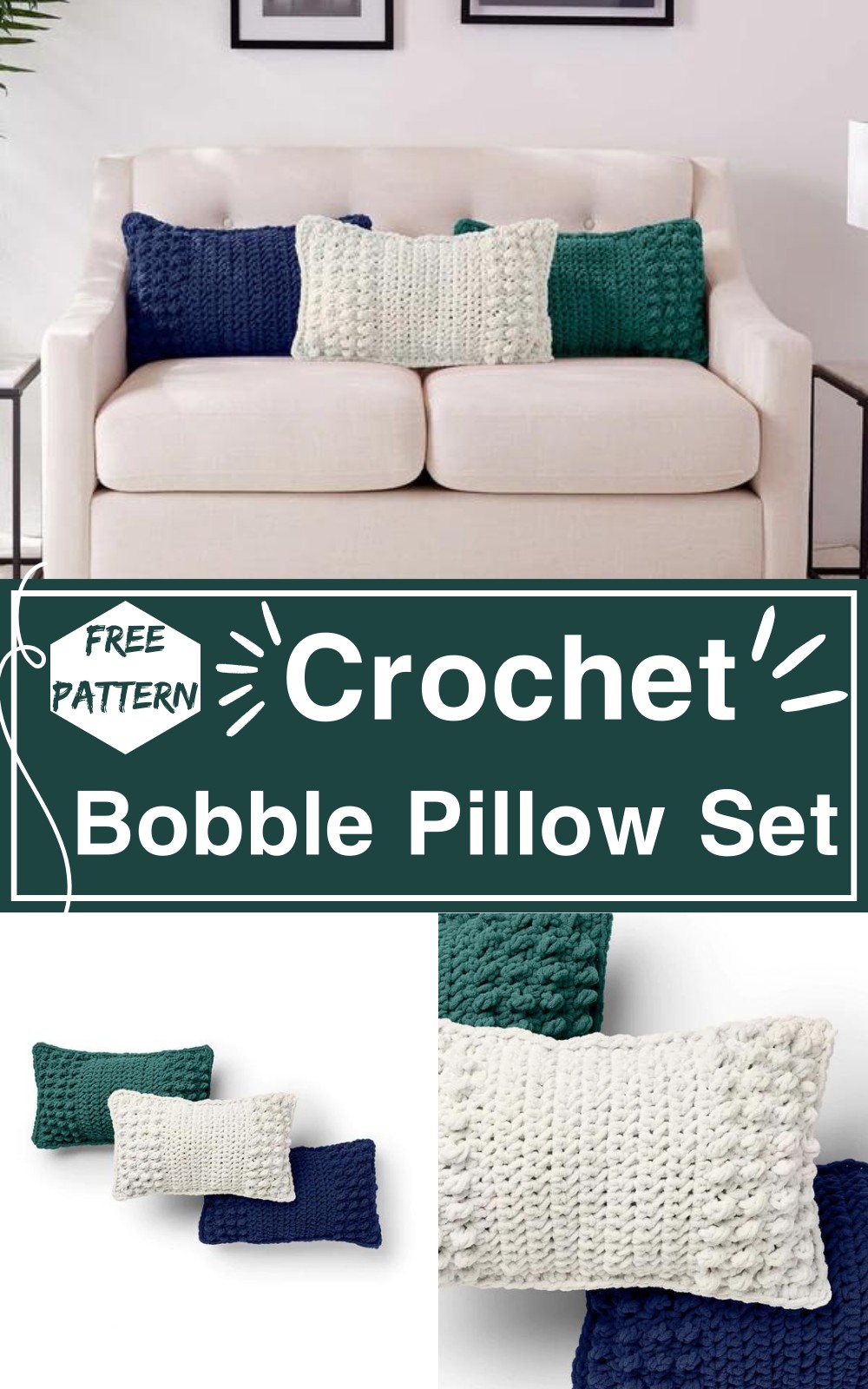 You will love the comfort and style of this crochet pillow, which uses the plush and vibrant shades of Bernat Blanket yarn. The stylish rectangular pillow features bobble blocks on the sides, while the center is kept simple, creating a striking contrast that will catch the eye. Whether you want to add extra comfort to your sofa or spruce up your living room decor, this set of three pillows is the perfect solution.
Bobble Fringe Crochet Pillow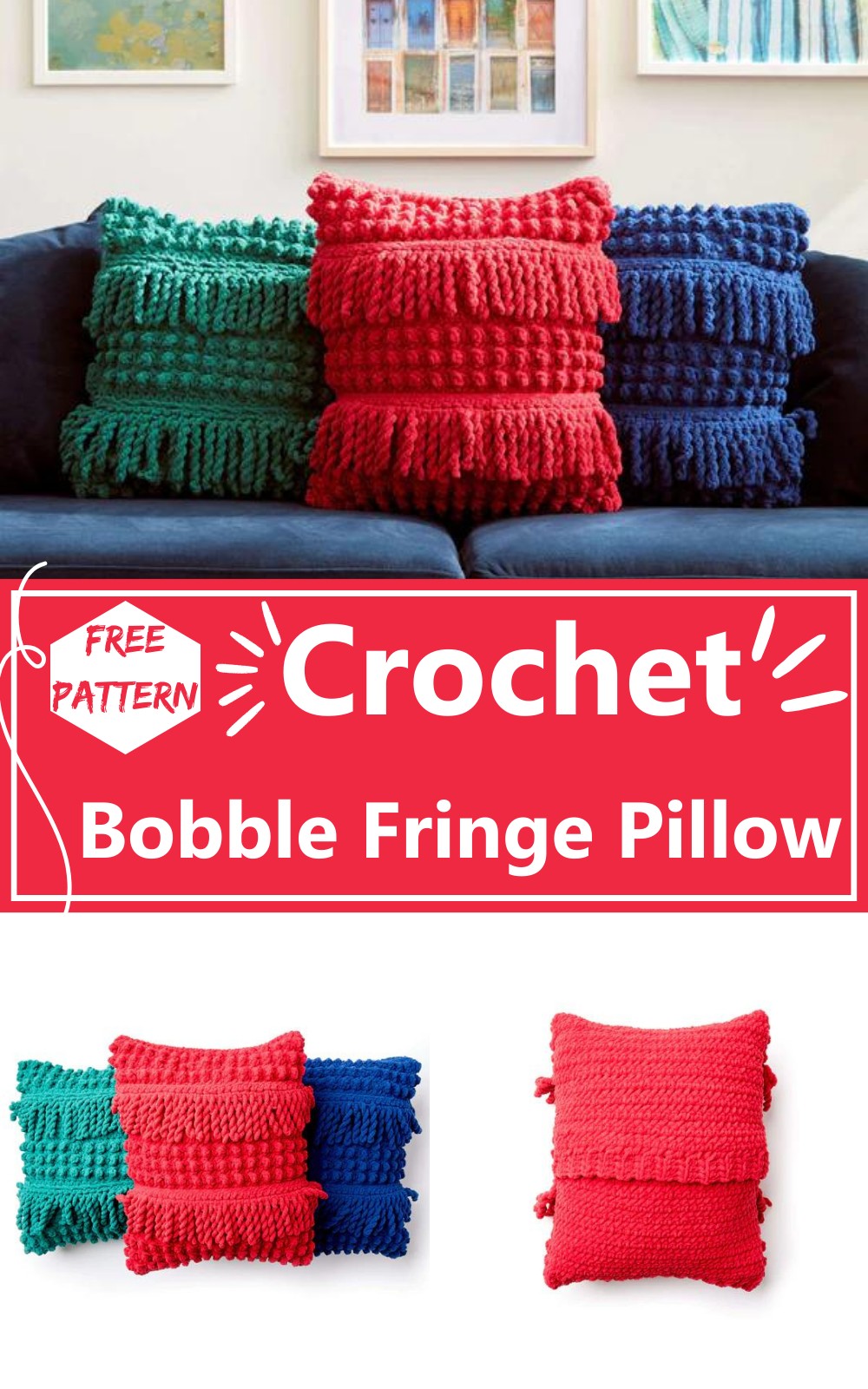 This pillow is a great way to add cozy charm to your home. With the simple single and treble crochet stitches, the pattern works to create fun bobble textures. But the real charm of these pillows lies in the details, from the fringe adornments. To the plain back with its convenient opening for inserting the cushion. And thanks to the bulky Bernat Blanket yarn, the textures are outsized, making them perfect for snuggling up on cold nights.
Dragon Eye Pillow:
This adorable Crochet Dragon Eye Pillow is perfect for your home. This is an excellent addition to any room in your house, especially if you love dragons! This soft crochet eye pillow is sure to make you fall asleep fast! Crocheted in a solid color, this Pillow has an extra soft, smooth finish and comfort. The black eyelids close gently on both sides when closed, making it perfect for meditation, napping, or relaxing. Use this Crochet Dragon Eye Pillow to add a unique and colorful accent to your home. Carefully handcrafted and wonderfully soft, it also cannot help but soothe.
Materials
Big Twist Value yarn, 100% acrylic, worsted weight, 380 yds/6 oz/170 g,; Wine (WINE), 3 balls; Cream (CRM), < 1 ball; Burnt Orange (ORG), < 1 ball; Varsity Gold (GOLD), < 1 ball; Black (BLK), < 1 ball.
Red Heart Super Saver yarn, 100% acrylic, worsted weight, 364 yds/7 oz/198 g, Cornmeal (CORN), < 1 ball.
H (5.00 mm) Furls Odyssey hook
G (4.00 mm) Furls Odyssey hook
Polyfil stuffing
18" x 18" pillow form
Tapestry needle
Straight pins
Stitch markers
Pops Jens Bobble Stitch Pillow: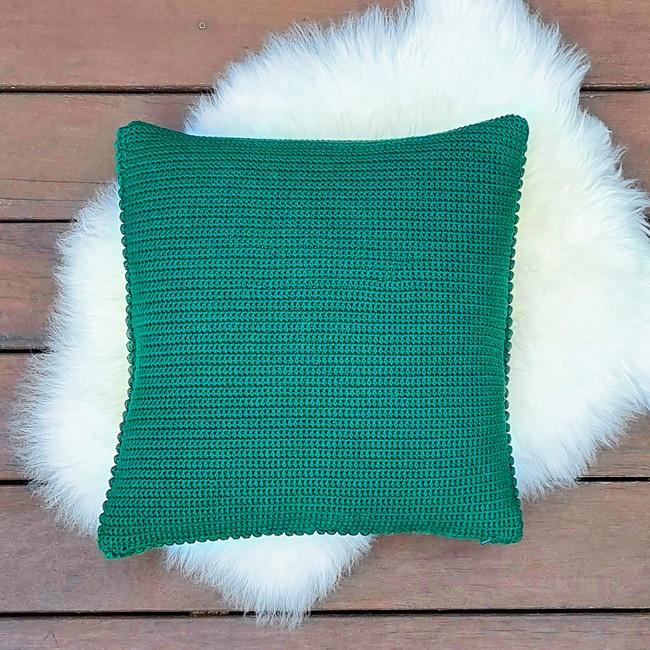 Crochet Pops is a full-size, fully washable, durable, and super cute pillow for your living room or bedroom. Each Pillow features a bobble stitch pattern that is easy to Crochet and requires minimal supplies. Your loved ones will surely love this handmade Pillow with its softness, smoothness, and style. That's all yours! This Pops Jens Bobble Stitch Pillow is a beautiful stitch for creating eye-catching pillows. Complete with the bobble stitch, it is perfect for a new addition to your decor or to add some color to your bedroom. Create this bright Pillow in any color you like, and have fun making it!
Materials
4.5 mm crochet hook
4 mm crochet hook
Tapestry needle
Stitch markers
Scissors
Clothespins/clamps (for attaching zipper)
Sewing needle
Cotton yarn

Infinity Hearts Rose 8/4: 

12 balls
"Handmade" leather tag in size Small
Inner pillow, 50 x 50 cm
Zipper, 40 cm
Thread
Crochet Textured Pillow Cover: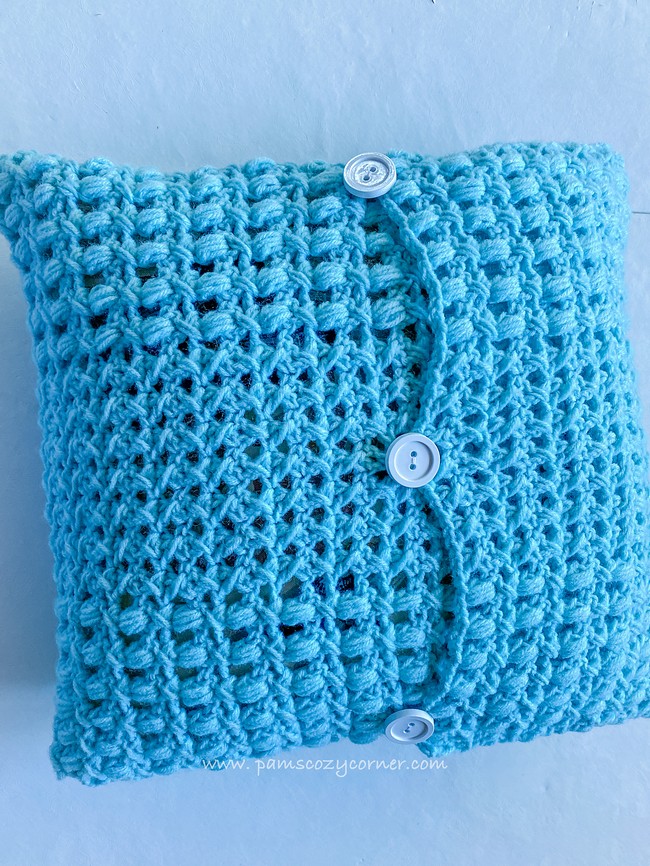 Soft and cozy, this beautiful crochet pillow cover adds a touch of color and texture to your decor scheme. The Pillow is made with 100% cotton yarn, providing comfort in any season. In addition, it's straightforward to clean: wash the cushion cover in cold water on a gentle cycle with non-chlorine bleach when needed, then remove the label at the backside of the Pillow before placing it into the washing machine. The crochet texture textile disk gives this Pillow cover a handmade look. The upholstered surface has a warm and cozy feeling.
Materials
Mary Maxim Value 100% 474 yds (443 m), 227 gm (8 oz) in Light Teal
Used 455 yds (416 m).
Hook Size 5 mm (H).
Tape Measure
Tapestry Needle
Scissors
3 buttons (1" each).
Abbreviations
Ch – chain
Sc – single crochet
Dc – double crochet
Sk -skip
Ahead of the Curve Throw Pillow: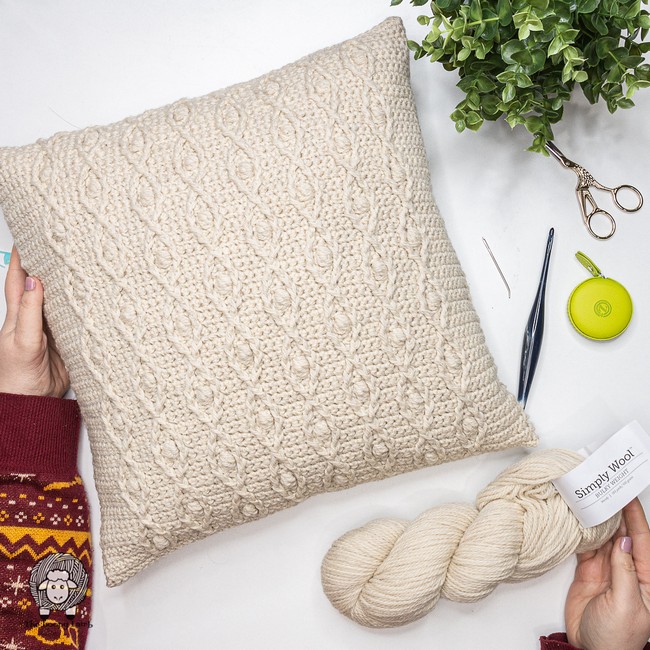 A bold take on an old favorite, the Crochet Ahead of the Curve Throw Pillow takes the traditional teal-and-white chevron pattern and adds a modern twist inspired by the trendsetting crochet hook. This Pillow is the perfect complement to any style; this Pillow will make home decorating easy, even if you're not a crafty person. This Crochet ahead of the curve throw pillow is a great decorative item. It is designed in beautiful colors, adding a focal point to any room in your home.
Materials
5.5 mm (I) Furls Crochet Hook (or size needed to obtain gauge) <— Save 15% on qualifying purchased at Furls Crochet through this link using the code LOOPYLAMB15 at the checkout.
WeCrochet Simply Wool Bulky (100% Eco Wool, Aran/Heavy Worsted (5), 193yds/176m, 100g/3.5oz), 5 balls in color Wendy
Tapestry Needle
14" Square Pillow Insert or Polyfill Stuffing
Scissors
Abbreviations
CH = Chain
FO = Finish Off
FPDC = Front Post Double Crochet
FPDC-L = Front Post Double Crochet Left Leaning
FPDC-R = Front Post Double Crochet Right Leaning
FPDC-B = Front Post DC Bobble
FPDC-V = Front Post Double Crochet V-Stitch
FPDC-DEC = Front Post DC Decrease
RS = Right Side
SC = Single Crochet
SL ST = Slip Stitch
ST = Stitch
WS = Wrong Side
Crochet Penguin Pillow Pal:
Snuggle up with your own crocheted Pillow, the pal. A crochet penguin buddy for your little one or to decorate a nursery. A fun, easy, and completely customizable project that can be made in any color. This decorative piece can serve as a sweet storage option for your study or living room or could become a cozy companion for a child's bed. This project is worked in the round, so once you get started, you'll be able to sit back and watch as it comes together.
Materials
King Cole Big Value Super Chunky yarn (100% acrylic, 3.5 oz/100 g/90 yd/81 m) – 2 skeins in 1758 White (CA), 4 skeins in 8 Black (CB), and 1 skein in 20 Wine (CC), or approximately 150 yd (137 m) in CA; 324 yd (296 m) in CB; and 20 yd (18 m) in CC in any super bulky weight yarn.
King Cole Big Value Super Chunky is available at your local yarn shop or online at LoveCrafts | Wool Warehouse UK | Annie's
Clover Amour US Size J-10/6 mm crochet hook, or size needed to obtain gauge.
Clover Quick Locking Stitch Marker Set.
Clover bent-tip yarn needle.
Fairfield World Poly-Fil Premium Polyester Fiber Fill – 20 ounce bag.
Abbreviations
ch – chain
dc – double crochet
pm – place stitch marker
rep – repeat
Rnd(s) – Round(s)
RS – right (front) side
sc – single crochet
sc2tog – Single Crochet 2 stitches together (decrease) – [Insert hook in next st, yo and draw up a loop] twice, yo and draw through all 3 loops on hook. Fiber Flux has a helpful video tutorial for this stitch here.
sl st – slip stitch
st(s) – stitch(es)
yo – yarn over
* Repeat instructions after the asterisk as indicated.
[] Repeat instructions between brackets as indicated.
Rainbow Granny Square Cushion: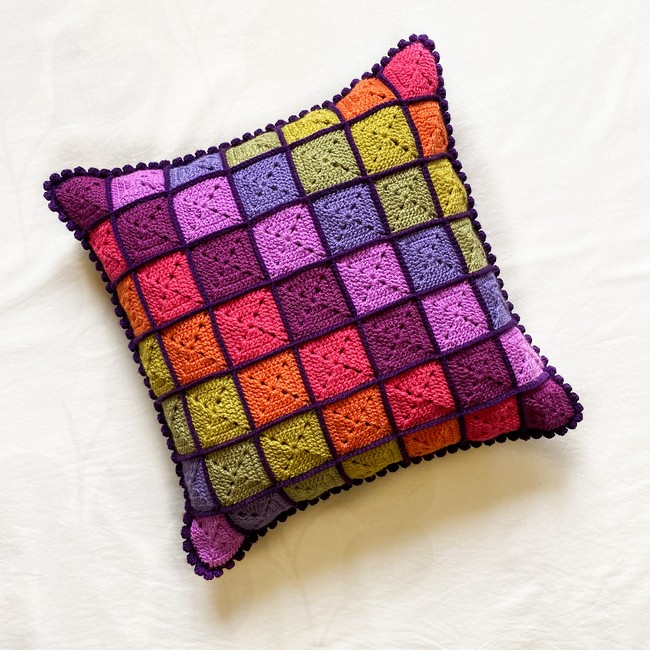 Crochet a colorful square cushion for your home or to give as a gift. The Pillow is made using the traditional granny square method of Crochet. Each square is worked in three rounds and then sewn together in spiral bands – super simple to make! There are 7 different colors used to create this cushion. The square cushion is an excellent addition to your home, or make them in every color combo you can think of. Knit and Crochet yourself a colorful cushion cover that bursts with energy! This cushion is made using granny squares, then sewn together to form one whole piece. The pattern includes complete charts for how to make each cushion cover square.
Materials
HOOK
3.5 MM
Deventer 1425 (used for joining, border, and back panel)
Meppel 1061
Amstelveen
Assen 1277
Nijmegen 1712
Leeuwarden 1711
Tilburg 1083
Hengelo 1084
Abbreviations
sl st – slip stitch
sc – single crochet
dc – double crochet
ch – chain
Arabesque 18-inch Decorative Pillow: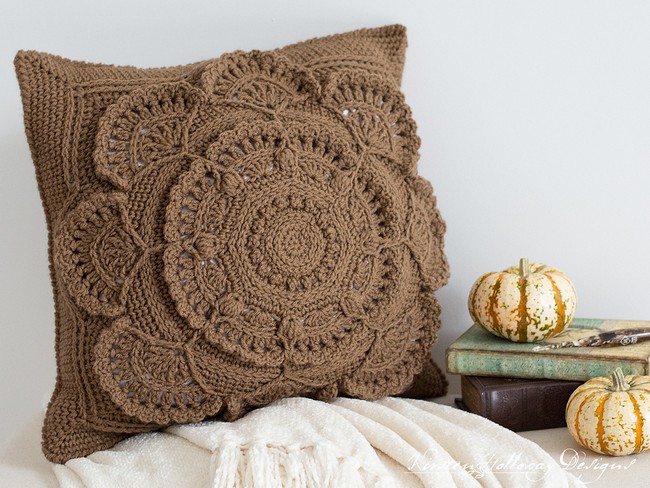 The Crochet Arabesque 18-inch Decorative Pillow is a unique decorative pillow that instantly adds a pop of color or sophistication to any space. The peace sign-inspired, crocheted motif showcases a rich combination of colorful yarn and is classic in appearance. This pattern is simple to follow and easy for beginners to create! It features a rich ombré color that complements any room in your home. Its classic, decorative style will blend seamlessly with your current decorative accessories.
Materials
5mm (H) hook, or hook needed to obtain gauge
675 yards #4 worsted weight O'Go Super Saver in Café Latte, Gold, or color of your choice
Yarn needle
Scissors
20″ x 20" pillowform <-these are filled with feathers, but you can get different ones filled with polyester stuffing instead
Abbreviations
ch = chain
sl st = slip stitch
sc = single crochet
dc = double crochet
FPdc = front post double crochet
2dc cluster = dc2tog in same st
FPdc2tog = front post double crochet 2 together
Oak Apple pillow: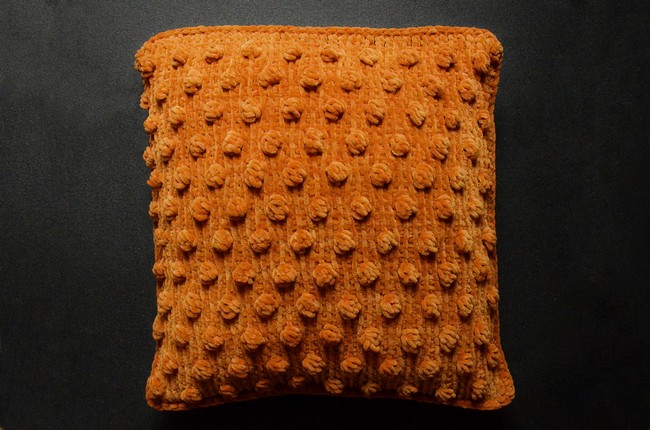 This cute crochet apple pillow made from a simple crochet pattern is perfect. This oak apple crochet pillow is the ideal way to add texture and color to any home room. Available in many shades to find one that fits best in your decor. Handmade and the perfect addition to your home decor. A decorative addition to your home. It's great for adding a pop of color to any room and will make you smile whenever you see it.
Materials
Yarn: chenille yarn such as Himalaya Dolphin Baby or an alternative (find yarn substitutes here: ; the yarn weight is 6 or super bulky/super chunky, at 120 meters per 100 grams; the recommended hook on the label is 4.5 mm; about 300 grams or 360 meters;
Hook – 7 mm hook – straight Tunisian crochet hook or hook with a cable;
Pillow – 50 by 50 cm or 19.5 by 19.5 inches pillow insert;
Tapestry needle;
Scissors;
Optional: 3 pairs of snaps, sewing thread, and needle.
Abbreviations
Ch – chain;
Ls – last stitch – put hook through the 2 vertical loops at the end of the row, YO, and pull up a loop;
Pop – Tunisian popcorn stitch – work 4 extended simple stitches or 4 double stitches in the same stitch; YO and pull through 4 loops on the hook or wait until the return pass, where you YO and pull through 5 loops on the hook when you reach the popcorn stitch;
R – regular Tunisian return: Ch1, repeat [YO and pull through 2 loops] until 1 loop left on hook;
Sl St – slip stitch;
Spill the Beans Pillow: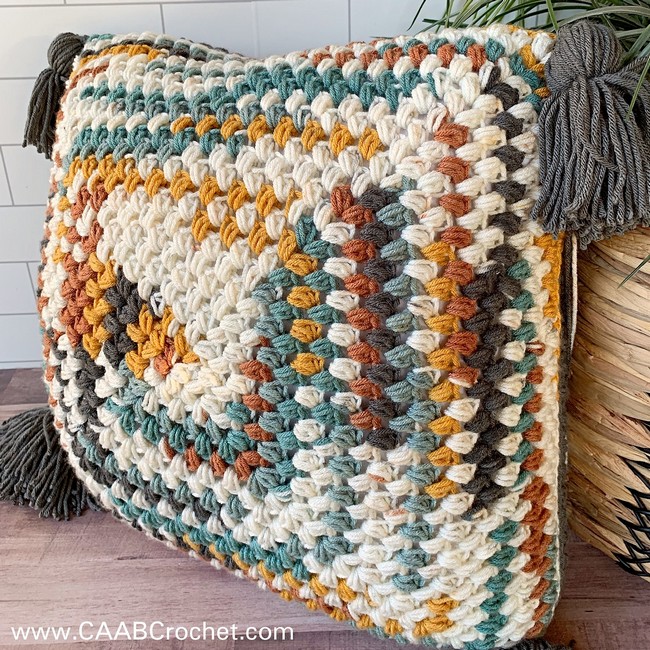 Crochet Spill the Beans Pillow is just for you if you're a coffee lover and can't stop making it. This beautiful crochet pillow would look great on your couch or in your living room! This decorative Pillow adds fun and whimsy to your living room or bedroom décor. The bright, colorful design of beans spilling from a canister has a modern style that ties any space together. This little crochet pillow is made of white colored cotton. This Pillow is perfect as a decorative piece or even to have around as a stress reliever!
Materials
Size 4 Yarn in 2 colors, 372 yards of each color (I used 2 skeins of Yarn Bee Soft & Sleek in Windswept Wishes and 2 skeins of Yarn Bee Soft & Sleek in Dark Gray)
US I9/ 5.5 mm Crochet Hook
20" Pillow Form
Yarn Needle
Scissors
Abbreviations
(ch) chain
(sl st) slip stitch
(sc) single crochet
Special stitch: Bean Stitch
Whip stitch
Crochet Bobble Pumpkin Pillow: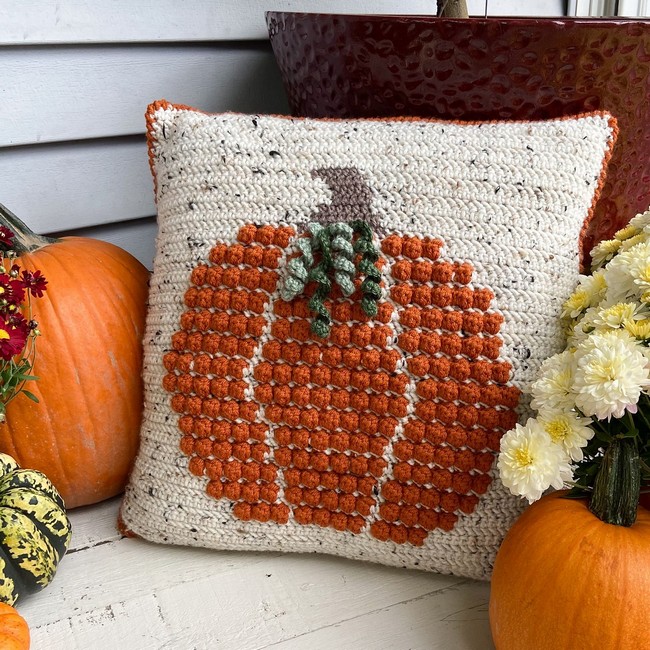 A soft and squishy pumpkin-shaped pillow keeps you cozy on a cold day! The Crochet Bobble Pumpkin Pillow is so adorable! Perfect for fall decorations and lighting up your home. It also makes a great gift! It brings the fall season to life with its vibrant orange bobbles, which give a modern twist to the traditional pumpkin decor. Worked in a large bobble stitch, this Pillow is quick and easy to make and the perfect addition to any sofa or bed. It also makes a super cute decoration for your house during fall/Halloween. You can leave it out all year round if needed 🙂
Materials
Yarn:
About 700 yards of total worsted weight (4) yarn. I used three skeins of "I Love This Yarn Tweed" (5oz (142g)/252yds(230m) per skein) in Ivory Tweed and one skein of "ILTY" (7oz (199g)/355yds (325m) per skein) in Burnt Pumpkin .
You will also need a small amount of yarn for the pumpkin details: about 10 yards of brown worsted weight yarn for the pumpkin stem (I used Lion Brand Pound of Love in Taupe) and 15 – 20 yards of green worsted weight yarn (I used a combo of scrap yarn).
Size H (5.00mm) crochet hook.
18″ Pillow Insert or other stuffing material.
Scissors, Yarn needle
Abbreviations
bo = bobble
ch = chain
hdc = half double crochet
hhdc = herringbone half double crochet
rsc = reverse single crochet
sc =single crochet
st =stitch
yo = yarn over
Bookend Bulky Bobble Pillow: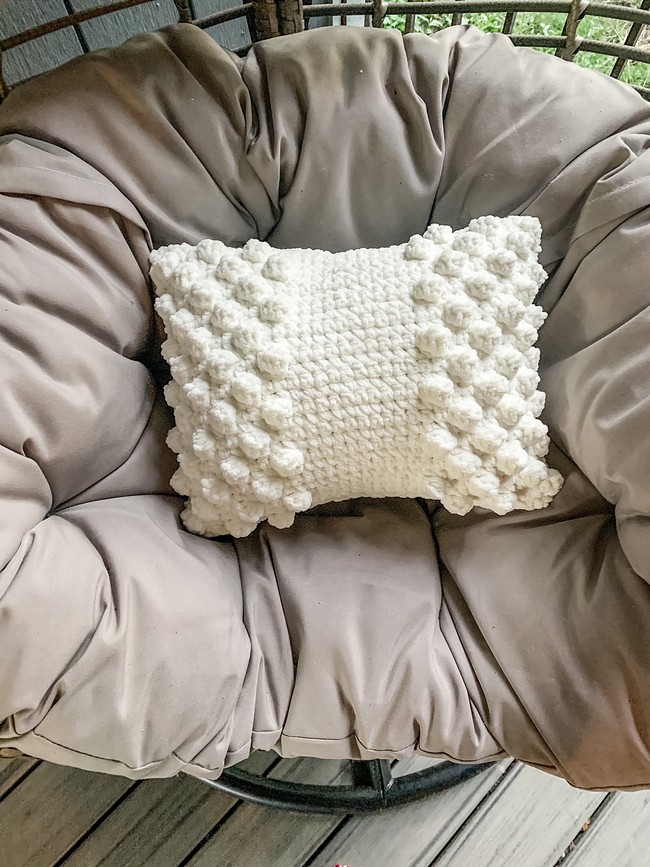 This crochet bookend, also known as a pillow, is heavy enough to support even hardcovers and large volumes. The classic bobble makes it fun and pretty at the same time. Crochet Bookend Bulky Bobble Pillow is an original crochet design. Simple, soft, and cozy. Perfect for a coffee table or end tables in your living room or bedroom. Crochet the cover and fill it with small fur balls or yarn scraps. The possibilities are endless! This is a great stash-buster and makes a fabulous holiday gift.
Materials
9.0mm hook
#6 Weight Yarn, I used Big Twist Cuddle Yarn
Approximately 210 yards
Yarn Needle
Scissors
Stitch Marker
Abbreviations
Ch – chain
Lps – loops
St – stitch
Sk – skip
Sc – single crochet
Dc – double crochet
* – repeat
Octagon Bobble Pillow: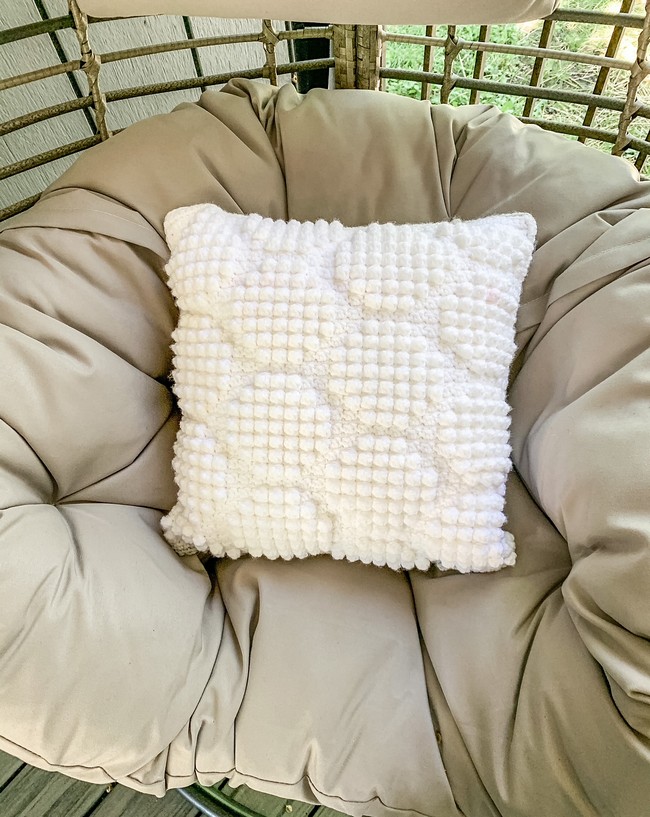 Snuggle up with this gorgeous Pillow. The soft and cozy Pillow features a bobble stitch pattern. Create your unique color palette with this versatile design! This beautiful Pillow will add a pop of color and texture to your space. Made with chains, slip stitches, and double crochet stitches, it is sure to stand out while keeping little ones cozy. The bobble stitch accentuates the scalloped edge making this Pillow uniquely beautiful! This crochet pillow is made with a vintage stitch that adds character to your home. It looks adorable when paired with other cushions for a more colorful look.
Materials
5.5 crochet hook
4 weight worsted yarn. I used Pound of Love in Maize by Lion Brand.
Scissors
Tapestry Needle
Abbreviations
St = stitch
Ch = chain
* = repeat
Sc = single crochet
Hdc = half double crochet
Dc = double crochet
WS = wrong side
RS = right side
YO = yarn over
Chunky Bobble Stitch Pillow Covers: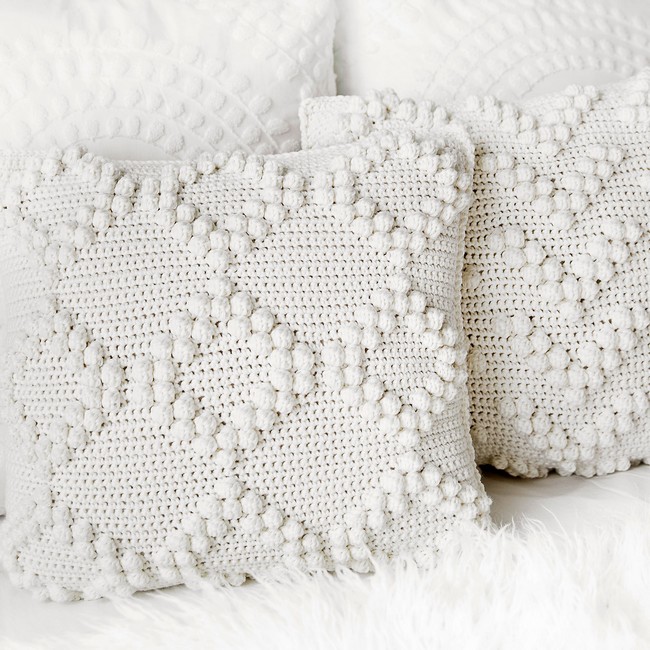 This super easy-to-make crochet pattern is a perfect addition to your home decor. It takes less than 100 yards of yarn and no more than 2-3 hours to complete. The chunky bobble stitch makes this very textured yet cushiony Pillow cover great for an accent pillow or throw Pillow on a couch, chair or bed. These crochet chunky bobble pillow covers are an excellent project for intermediate to advanced crocheters. The pattern includes instructions for two sizes, and they're easy to modify, so you can make them in any colors your heart desires.
Materials
 A size 7 (4.5 mm) Crochet Hook.
 14 skeins Knit Picks Swish Bulky Weight Yarn in White.
 Scissors.
 Two 20" X 20" Pillow Forms.
Tapestry/yarn needle to weave in ends (optional).
Abbreviations
CH: Chain Stitch.
SC: Single Crochet.
BS: Bobble Stitch: *Yarn over, insert hook into stitch, yarn over and pull up a loop; yarn over, pull through two loops.  Repeat from * four more times (five times total).  There will be 6 loops left on the hook.  Yarn over and pull through the remaining loops on the hook.
Hydrangea Pillow:
Add a summer splash to your home with this beautiful crochet hydrangea pillow. Made with 100% cotton yarn, this decorative Pillow is durable and machine washable. This lovely crochet hydrangea pillow is the perfect accent for any room. Crochet Hydrangea Pillow has been designed to complement various styles perfectly, and it can be enjoyed in almost any season. Place it on a sofa or chair near your favorite window to add interest throughout the year, or put it in the middle of a children's playroom for plenty of inspiration for active imaginations.
Materials
Hook: 5mm
Yarn: WeCrochet Comfy Color Mist (Worsted Weight 4, 219 yds, 100 grams, 75% cotton, 25% acrylic) in 4 colors:
20" x 20" pillow form
Tapestry needle
Scissors
Abbreviations
ch = chain
st(s) = stitch(es)
hdc = half double crochet
MC = main color
CC1 = contrast color 1
CC2 = contrast color 2
CC2 bobble = contrast color 2 bobble
CC3 = contrast color 3
CC3 bobble = contrast color 3 bobble
Bobbles of Fun Cushion cover: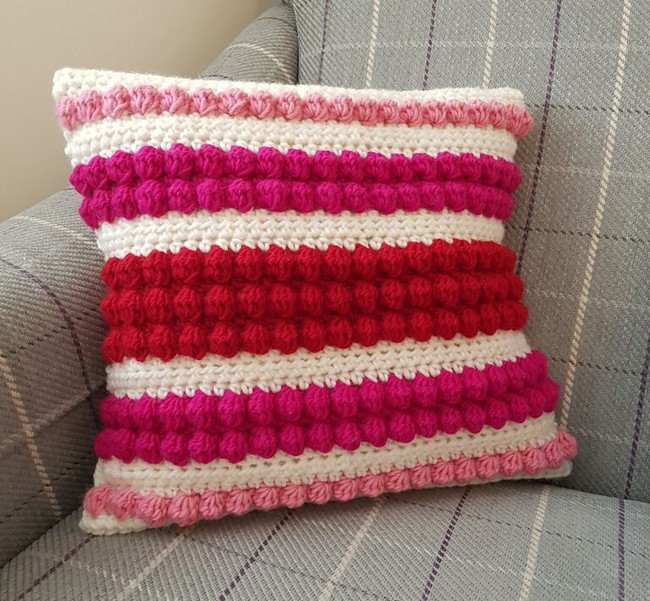 This apple-flavored cozy will complete your fall decor! This Pillow is crocheted in a beautiful oak leaf pattern and filled with polyester. Perfect for a guest room or to add an extra bit of color to accent your living room. The Pillow is especially suitable for the country and rustic styles, where it can create a lovely atmosphere. The Pillow is made of soft acrylic yarn, which has good handiness and durability and will not stain your clothes or hair.
Materials
7 mm hook
Stitch markers
X 2 40mm wooden buttons, I bought mine from amazon.
Thick and Easy from Knitshopyarns.co.uk in;
X 3 100g white
X 1 100g Candy Apple Red
X 1 100g Rose Pink
X 1 100g Fuchsia
X 2 5cm buttons
Abbreviations
Ch – chain
St – stitch
Hdc – half double crochet
Bo – bobble stitch
Rep – repeat
Con – continue
Sk – Skip