Everyone needs a little extra storage in their life, and wallets are a great place to start. They're a constant companion, and there's always room for more stuff. With the right crochet pattern, you can make one that fits your personality perfectly and even makes your life easier. We've compiled a list of our favorite patterns that we think you'll love. These crocheted wallets below are a sampling of the many options for every kind of wallet-carrying enthusiast. These 10 crochet wallet patterns are perfect for quick-to-make gifts or adding extra organization to your everyday life. Each wallet is made from high-quality yarn and will be the perfect accessory to coordinate with any outfit! Take a look at all of these fun patterns today! Try one yourself or surprise someone special with one as a gift.
Free Crochet Wallet Patterns

The crochet wallet pattern is a timeless and stylish accessory that can be made for any occasion in any color. Whether you're looking for a birthday present or a handmade gift for someone's special day, the crochet wallet pattern will always help you. The best part? You can use it as a perfect excuse to practice some of your favorite stitches. Just scroll down to find some unique crochet wallet patterns that are sure to please. Have fun!
See More: 15 Free Crochet Doily Patterns For Beginners
How To Crochet A Wallet
Crochet wallets are a great way to express your style and personality. These wallets are also easy to make and can be made in any size you want.
Here are some of the benefits of crocheting your wallet:
It will be unique and one of a kind. No other person in this world has exactly the same wallet as you. When making your crochet wallet, you can choose the colors, patterns, and designs you like best.
You can customize it to fit your needs perfectly. You know what you like in a wallet and what kind of features you need from a wallet, so why not make one that fits all those criteria?
You can create something unique for someone special in your life or yourself! If you have someone in mind who would love your handmade crochet project, then go ahead and make one for them because they will love it!
Easy Mini Wallet:
Mini wallets are practical, but finding the perfect one you like can sometimes be difficult. This mini crochet wallet pattern is the answer! Make your own in any size and style with an elastic cord or fold-over top closure - This mini crochet wallet pattern is so quick and easy that it makes the perfect project for beginners looking to branch beyond granny squares. It's also a great stash buster! Crochet this wallet in your favorite colors, or pick up some scraps and make them as gifts – an excellent gift for teachers, holiday office party gifts, and stocking stuffers!
Materials
US-F, 3.75 mm hook, Susan Bates
50 yds Bernat Softee Cotton (3 – Light; 60% cotton/40% acrylic; 120g/4.2 oz; 232 m/254 yds)
A – Golden
B – Pool Green
Card Holder:
Do you want small cardholders to store your business and other cards? This crochet card holder pattern is a great way to use your extra cotton yarn or scraps. It is fun to use different stitches and work with color. DIYers of all skill levels will enjoy doing this no-sew project. Start with a simple rectangle, fold it half, then sew to finish! Enjoy creating simple patterns that are easy to make but look much more complicated than they are. The crochet card holder pattern is a perfect gift for anyone!
Materials
1. Worsted-weight cotton yarn. I used Lily Sugar 'n Cream cotton yarn in colors Coral Rose, Seabreeze, and Soft Ecru.
2. A 4.5mm crochet hook
3. Sew-on magnetic snaps for closure
4. An optional branded tag in wood or faux leather for embellishment. I got mine made from Etsy.
5. Locking stitch markers or safety pins. I love the ones from Clover as they are easy to open and close and don't snag.
6. Regular sewing needle and thread for sewing the magnetic snaps.
Abbreviations
ch- chain
sc-single crochet
sk-skip
YO- yarn over
Retro Mixtape Wallet: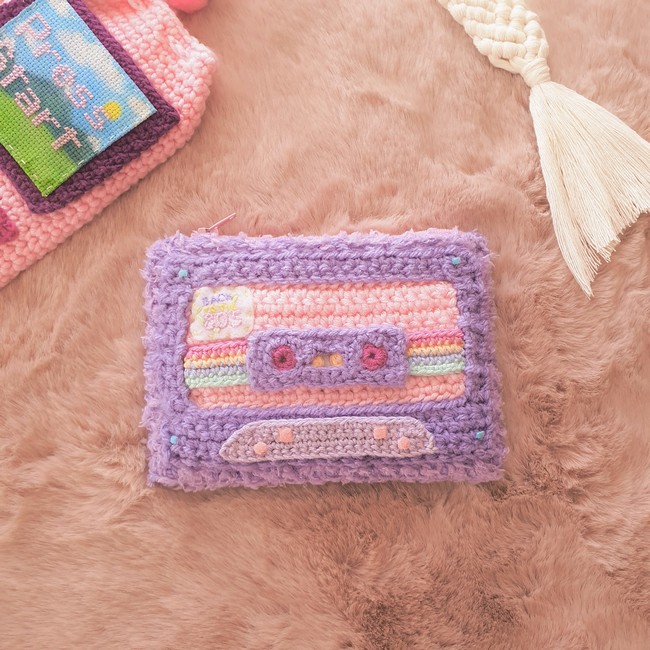 Are you a fan of the old school? With this wallet, your favorite mixtape will always be with you. This wallet is made by hand in a very small batch, and each one is unique. The wallet is made of high-quality wool acrylic and linen fabrics to achieve that authentic cassette sound! This funky wallet will start with a nice, simple base. Crochet with two yarn colors and use the "double knitting" method to create your mixtape design. These instructions will guide you through double knitting to make your wallet more solid.
Materials
Crochet hooks: 5 mm, 3,5 mm, and 3 mm
Fuzzy yarn DK light, 1 skein 25 gr
Acrylic worsted yarn of the same color as your fuzzy one, 1 skein 100 gr
Pink acrylic worsted yarn, 1 skein 100 gr
Several colors of DK cotton yarn: I personally used mint, pink, beige, light violet, light blue and magenta
15 cm zipper
small pieces of felt fabric (3 different colors: pink, blue, white)
stitch markers
sewing needle and yarn needle
glue gun
(optional) DMC threads for the embroidery
Abbreviations
ch: chain
sl st: slip stitch
sc: single crochet
hdc: half double crochet
dc: double crochet
dec: decrease
R: round / row
Amaryllis Keychain Wallet: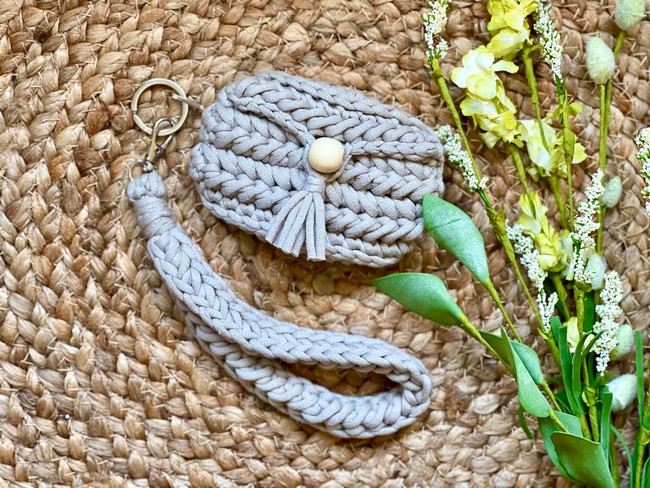 The Amaryllis Keychain Wallet: is a convenient way to carry your keys, cash, and cards. This wallet has a wrist strap that can be removed and used as a carabiner that can clip onto jackets, bags, or purses. It comes in different colors so you can choose your favorite! This can hold your keys, cash, and cards! Plus, it's a perfect gift for someone who carries everything in their hands instead of carrying a larger handbag.
Materials
-Approx. 20-30 yds. of a size 5 bulky weight yarn (I used Bernat Home Maker yarn, but you could use any bulky weight yarn or double ww size 4 yarn. A good substitute yarn would be Lion Brand's Rewind Tape)
-A 14 mm wooden bead or button of your choice
-A keychain ring with a swivel clasp
-An attachment ring for adding the keychain to the wallet
-A size H 5.0 mm hook (or size needed to obtain gauge)
-scissors, measuring tape, and 4 stitch markers
Abbreviations
The pattern is written in US terminology.
Begin(ning) - beg
Chain - ch
Fasten Off - FO
Half Double Crochet – hdc
Magic Ring - MR
Place Marker – PM
Puff Zip Flower Wallet: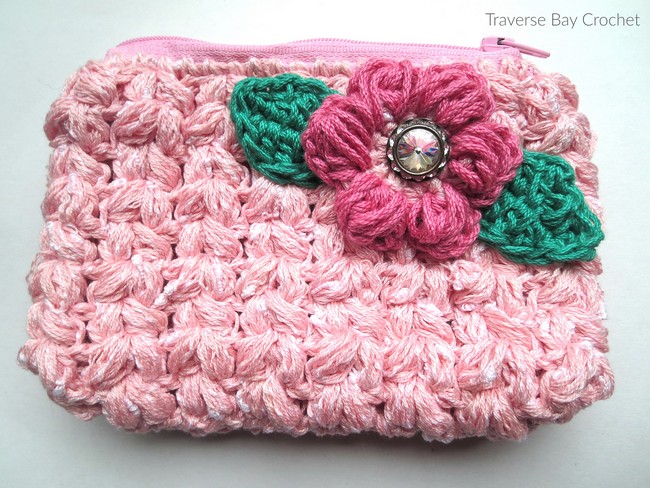 Here's a wallet that's got your back! It's so pretty and spacious enough to keep everything you use daily. It is worked in one solid piece with a zipper enclosure, adding that extra dose of fanciness to this wallet. The eyelash yarn comes together beautifully in this crochet pattern for an outfit with punchy good looks. The puff zip flower wallet is a fun and elegant accessory for every girl's handbag or a clutch to take out on the town. It's a relatively quick project, too - you'll be surprised how quickly it comes together.
Materials
– Hook sizes E and G
– 100% cotton yarn, I used 100% mercerized cotton yarn (1, 4oz ball)
– Awl or sharp needle to poke holes in zipper
– 6" zipper
– Threading floss of similar color as the yarn
– Scissors
– Blunt needle, sewing needle
– Button
Abbreviations
ch = chain (s)
st(s) = stitches
sl st = slip stitch
sc = single crochet
dc = double crochet
hdc = half double crochet
tr= treble crochet
Also see: How To Make Crochet Bracelets?
Zip Coin Wallet: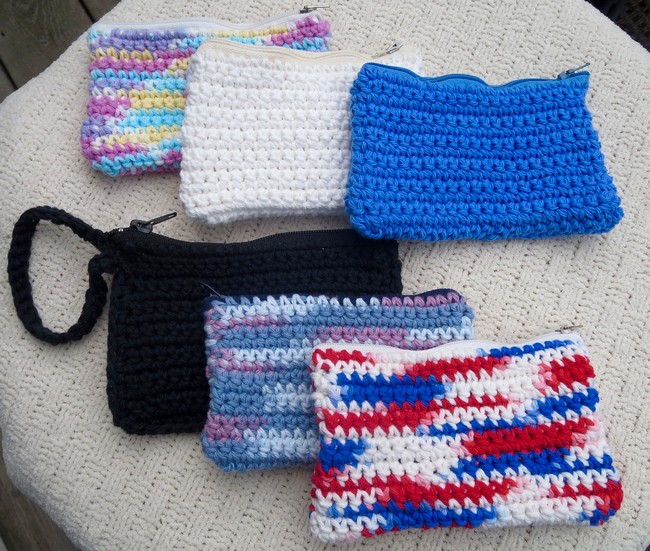 This Zip Coin Wallet is a fun, easy crochet pattern to make. It's small and will fit in your pocket or your needlework bag. Great because it can be made of various fabrics, and you can change the color scheme in just a few minutes. The zipper enclosure makes it easy to keep things together and instantly find what you're looking for! Create this cute and fun zip wallet crochet pattern! This is a great way to learn how to add a zipper; the color combinations are endless. It's also easy to make in any size so that it can be used for your next trip or as a wallet for everyday use.
Materials
– Hook sizes E and G
– 100% cotton yarn, I used Lilly's Sugar N' Cream
– Awl or sharp needle to poke holes in the zipper, I used a metal hook, and it poked through quite easily
– 6" zipper
– Threading floss of similar color as the yarn
– Scissors
– Blunt needle, sewing needle
– Button
Abbreviations
ch = chain (s)
st(s) = stitches
sl st = slip stitch
sc = single crochet
Little Crocheted Card Wallet: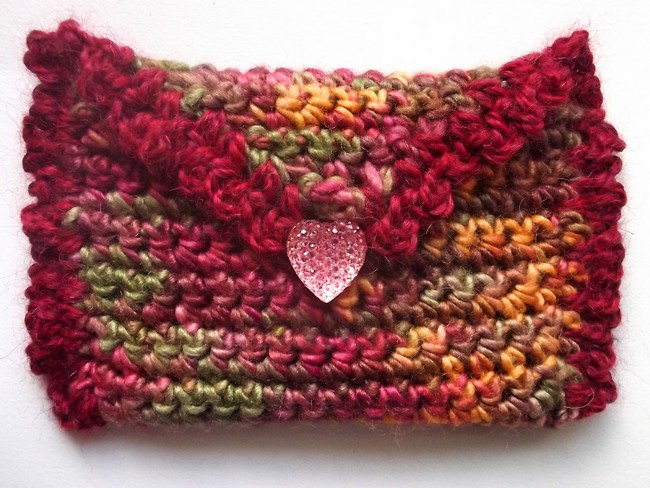 Don't you find it hard to put the credit card and other important things that you need when you shop? This little wallet is made for people like you. It holds all the cards, money, coupons, and gifts that you need to keep close at hand but get buried in your purse or pocket. Make yourself one as a gift. It is small enough to fit in your pocket or purse easily and big enough for two cards plus some cash. The pattern includes detailed instructions and step-by-step photos for the more difficult parts, so you can easily make this wallet to give away as gifts without making yourself crazy trying to figure out how!
Materials
About 25 yards of yarn for the body of the card wallet (for the wallet pictured in the tutorial, I used some leftover Malabrigo Silky Merino, a DK weight yarn that is 50% silk and 50% merino wool)
Crochet hook(s) of the appropriate size (in the tutorial, I used an F hook for the body and a G for the seam/edging)
An additional small amount of yarn for seams/edging (I used some leftover worsted-weight, deep red, wool blend yarn)
A button for the closure
Yarn, embroidery thread, beads — whatever you wish to use for embellishments
A small amount of felt for the lining (I like 100 % wool felt)
Paper (for the lining pattern)
Sewing thread in a color that coordinates with the wallet/lining
Sewing needle (for sewing in the lining)
Yarn needle (to work on your ends)
Any size needle that may be needed to add your embellishments
pencil
ruler and/or tape measure
scissors
straight pins
Bear coin purse: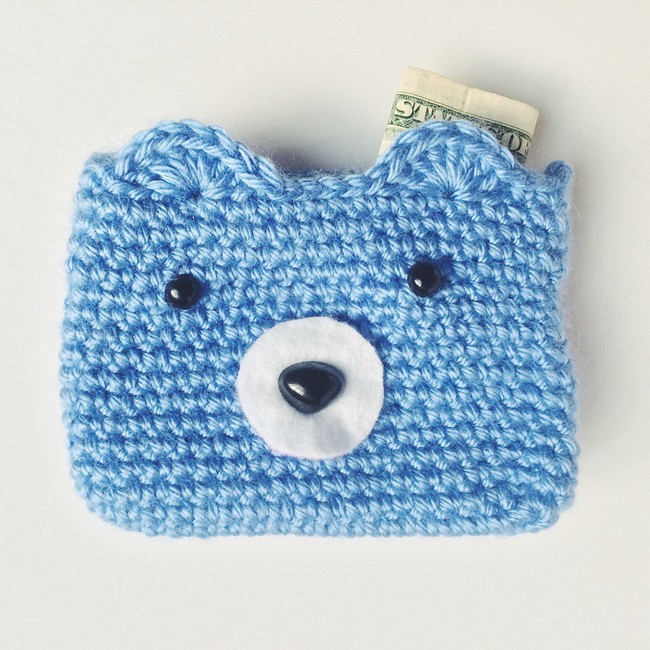 The Bear coin purse is a quick and easy pattern to sew up. It's a simple coin purse with a zipper closure and felt tongue. Use it to keep your change in one place or as a wallet for storing receipts when shopping! The Bear Wallet can be sewn out of upcycled fabrics like sweatshirts or crochet polar bear fleece, so it's eco-friendly too! Enjoy making your personalized bear purse made with love and crafty excellence.
Materials
You'll need the following:
A few yards of worsted-weight yarn. Less than 100.
Crochet hook G, 4 mm
A 4-inch zipper (if you want to make a larger wallet or turn it into a pencil case, buy a bigger zipper)
Safety eyes and nose
Small piece of contrasting color felt
Embroidery floss
Embroidery needle and yarn needle
Bow Wallet:
Are you looking for a new way to carry cash, credit cards, and checkbook? This bow wallet is simple and fun to create, from the dual colors to the pockets for holding your essentials. The pattern is simple, and the result is cute and functional! Soft, lightweight, and stylish—the Bow Wallet is perfect for carrying all your essentials. With pockets for credit cards, checkbooks and cash, it can easily carry everything you need for a night out or even a weekend getaway.
Materials
5.5 mm crochet hook
Worsted-weight acrylic yarn in 6 different colors (rust, yellow, green, blue, taupe)
ruler or tape measure
stitch markers
yarn needle
Little Treasures Envelope: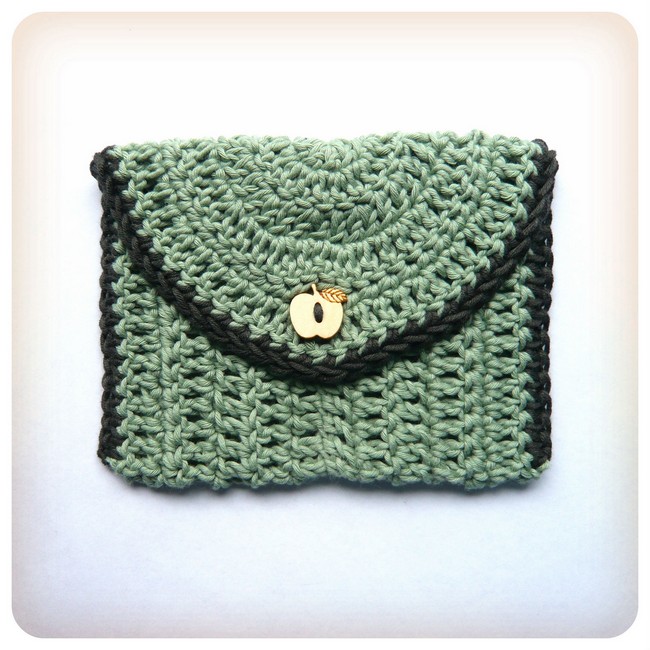 This Little Treasures Envelope pattern is quick, easy to make, and can be made with virtually any yarn. It uses quite a small amount of yarn, which means it's perfect for using up those little bits of lovely yarn at the bottom of your knitting that is too pretty to throw away. The basic shape is made in a rectangle and then folded in half to make the envelope. You can use it to hold jewelry or keep your little treasures from knitting.
Materials
3.5mm crochet hook

50m (55yds) DK or 8ply yarn
Button
Scissors
Tapestry needle to weave in yarn ends
Abbreviations
ch: chain

st or sts: stitch or stitches
dc : double crochet (U.S. sc : single crochet)
tr: treble (U.S. dc: double crochet)