If you're looking for a way to organize your coins, credit cards, and rewards cards—and you want it to look nice and be easy to sew—then these wallet sewing patterns are just what you've been waiting for. You may have seen some cute handmade wallets before and thought, "you'd love to make one of those," but it can be intimidating to get started if you don't know how. Below are some free wallet sewing patterns to give you some inspiration and options.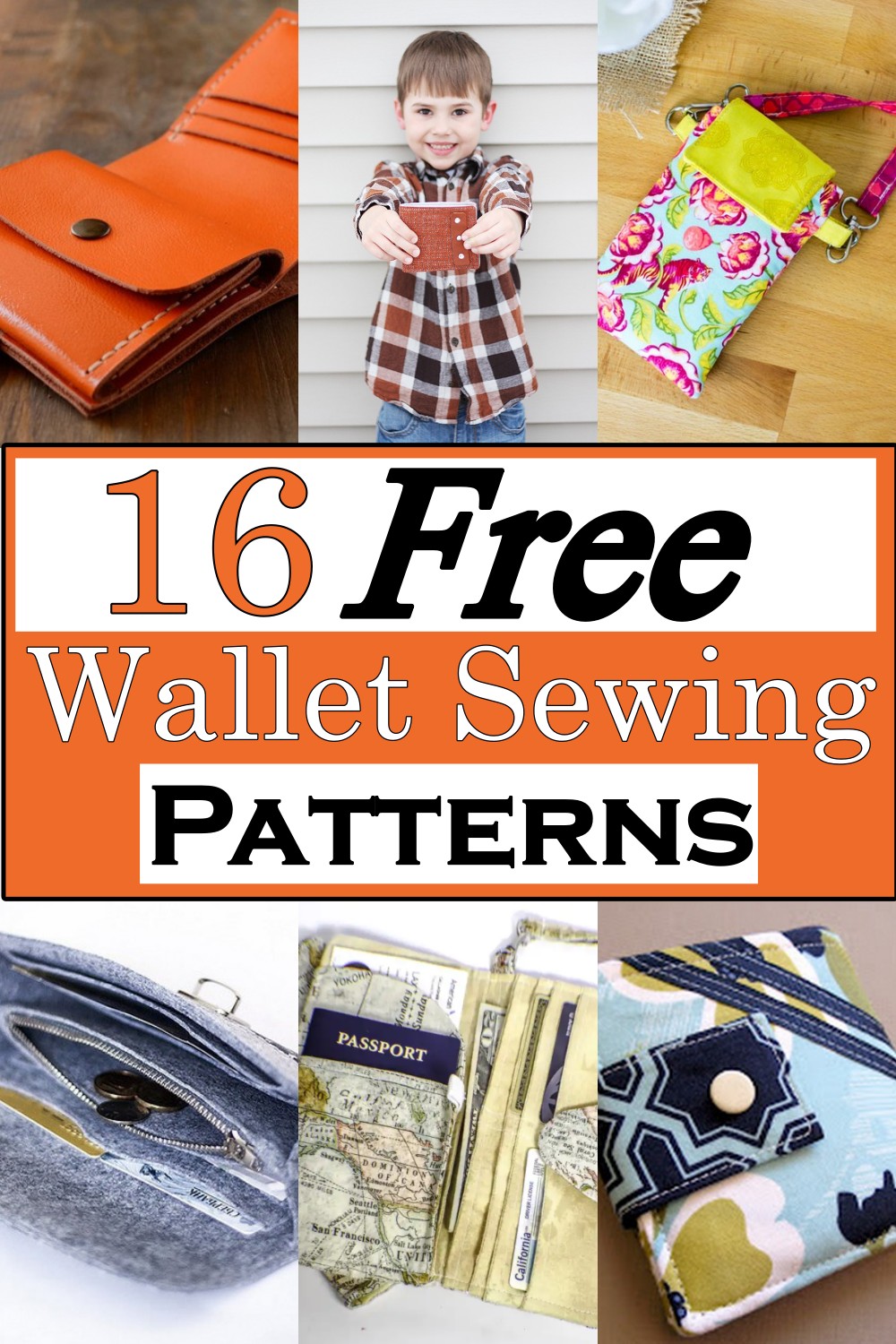 You can make a simple yet functional wallet with just a few supplies. Whether you're making one for yourself or someone else, this will come in handy—and so will these 16 free wallet sewing patterns for everyone! These free sewing patterns are perfect for anyone on your list, from kids to adults and everyone in between. Whether you're looking for something straightforward or more intricate, there's something here for everyone. These free wallet sewing patterns are sure to be a hit! Keep your or your friend's money safe and stylish with one of these free sewing patterns for wallets.
Were you looking for some free sewing patterns? Here you will find 16 Free Wallet Sewing Patterns that you can use to make your own wallet or card holder.
You Can See: 20 Free Bag Sewing Patterns For Everyone To Try
Easy Peasy Basic Wallet Tutorial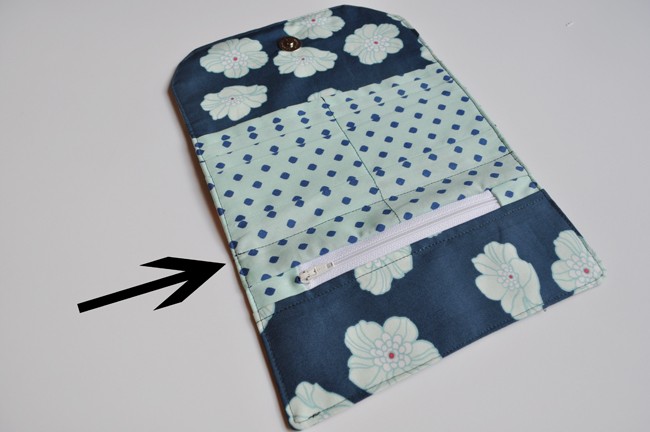 Sew up this wallet for yourself or a loved one! It is simple, elegant, and functional. With clean lines, snap closure, and many possibilities, it will appeal to beginners and experienced sewists alike. The template makes one small zippered pocket for change, one large pocket for cash or receipts, and two sets of card pockets on the interior (for credit cards or IDs). The great thing about sewing your wallets is the number of options for fabric choices you have. Let your creativity flow!
Basic Boy Wallet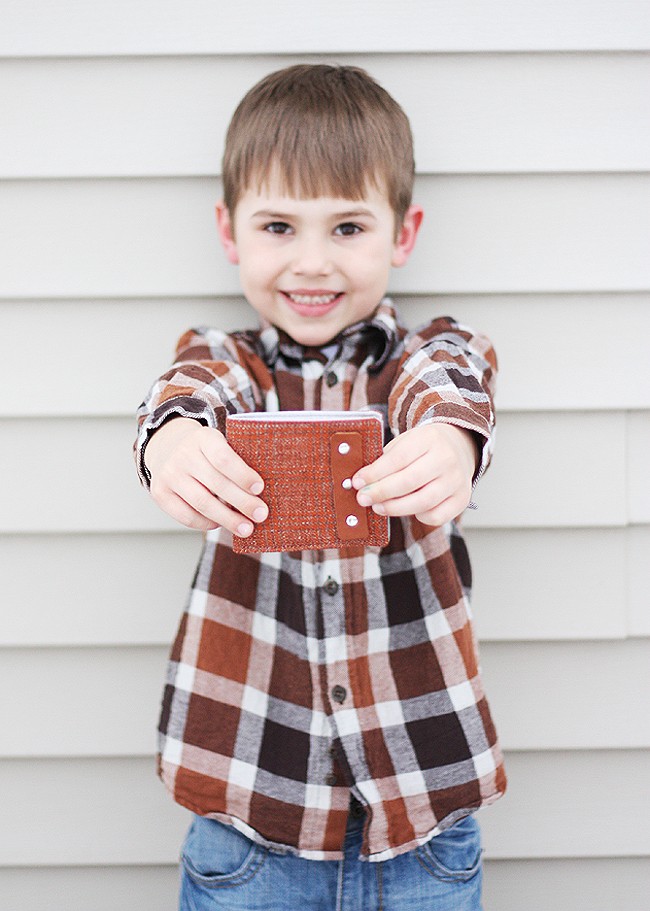 There are endless possibilities for creating this basic wallet sewing pattern. With double stitched edges, you can feel confident that it's durable enough to last just about anywhere your little man may go. It even has a zipper closure to keep everything secure yet easy to access! The perfect addition to any little guy's wardrobe or gift-giving occasion, this wallet is sure to be a hit! Make it in his favourite colour for a fun and functional gift!
by Noodle-head
Accordion Fabric Wallet Pattern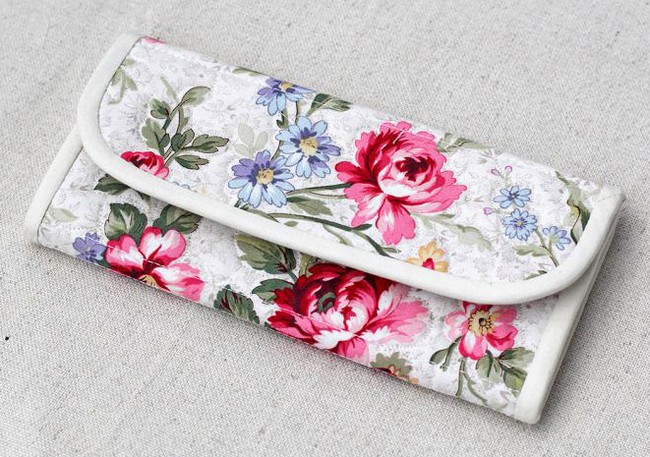 Upgrade your wallet with a modern take on the envelope purse. The Accordion Wallet combines waterproof canvas and denim for an edgy feel. With interior pockets for cash, cards and receipts, the Accordion Wallet is a practical way to keep your bills organized. This Accordion Fabric Wallet Pattern is the perfect wallet for all your needs. Whether going to work, school, or running errands around town, this wallet has your back. You will certainly be organized in style with three interior pockets and an envelope-style closure!
Large Clutch Wallet
The world is your oyster, and the Large Clutch Wallet perfectly matches your style! You can store all your cash, credit cards and change in this stylish clutch-style purse. With zippered main pocket, elastic strap on the back side of the wallet, and extra large pockets inside, you'll have all your valuables neatly tied together. This fun design features a shape that hugs ease and comfort. Make your Large Clutch Wallet with bright colours and a fun design by following this tutorial.
Women's leather zipper wallet
This is the perfect place to start if you want to make your own Women's Leather Zipper Wallet. It has a classic style that is perfect for anyone who likes to carry around a lot with them. The wallet features a zip-around closure made from high-quality leather and can hold everything from your cash, credit cards, money and other daily items. You can also add several other pockets in each of those pockets that can help you separate some of your lesser-used stuff like receipts or loose change.
Get the free pattern here: Women's leather zipper wallet pattern 
Mini Wallet
This Mini wallet sewing pattern will make your life easier. This wallet is perfect for those who want to be able to keep small amounts of cash and change in one place. You'll go nuts over this wallet's super cute design, multi-functionality, and style. Make this adorable mini wallet for yourself or as a gift for a friend. With three closure options and soft and durable fabric, this little gem is sure to be a favourite.
Coin Purse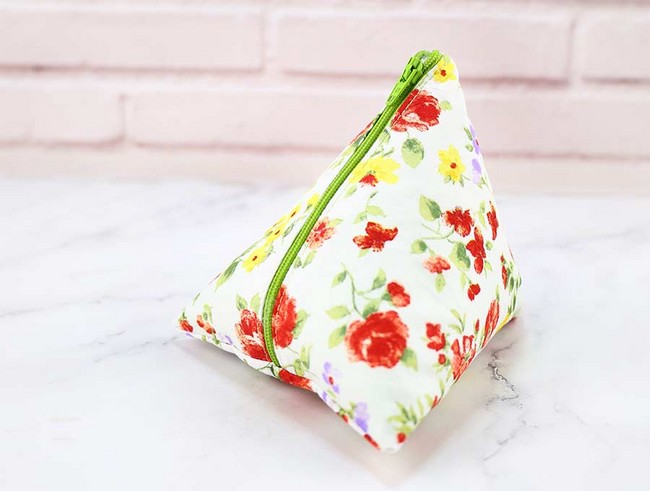 A coin purse is a small bag to hold small change and other small items. A pyramid coin purse is a small, three-sided pouch that opens into one large pocket. It functions as a mini wallet and can hold many kinds of change, coins and flat items like credit cards. You can use these wallets almost anywhere! It has many uses that make it perfect as a gift for yourself, a tween, or a teen heading off to school.
by Hellosewing
Easy Felt Wallet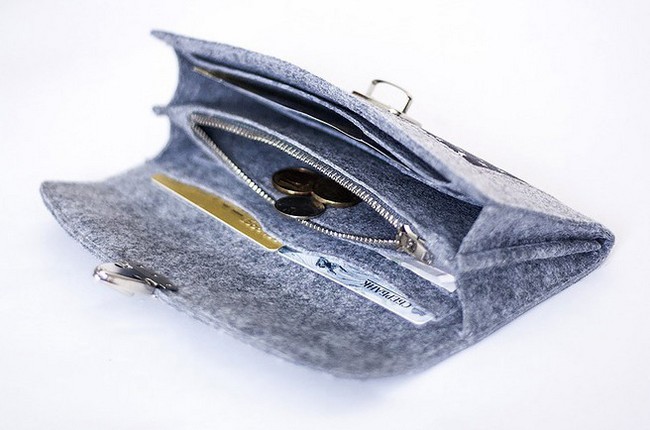 This ultra-comfy slim wallet is made of fabric, with two large pockets and a zippered pocket inside. Keep valuables in a zipper pocket and the rest of your belongings in large pockets. Make yourself a wallet you'll love carrying, or make one as a gift. You can make this wallet in hours with only two yards of fabric and some basic sewing skills. The easy-to-follow instructions and patterns will have you up and running in no time!
by Handmadiya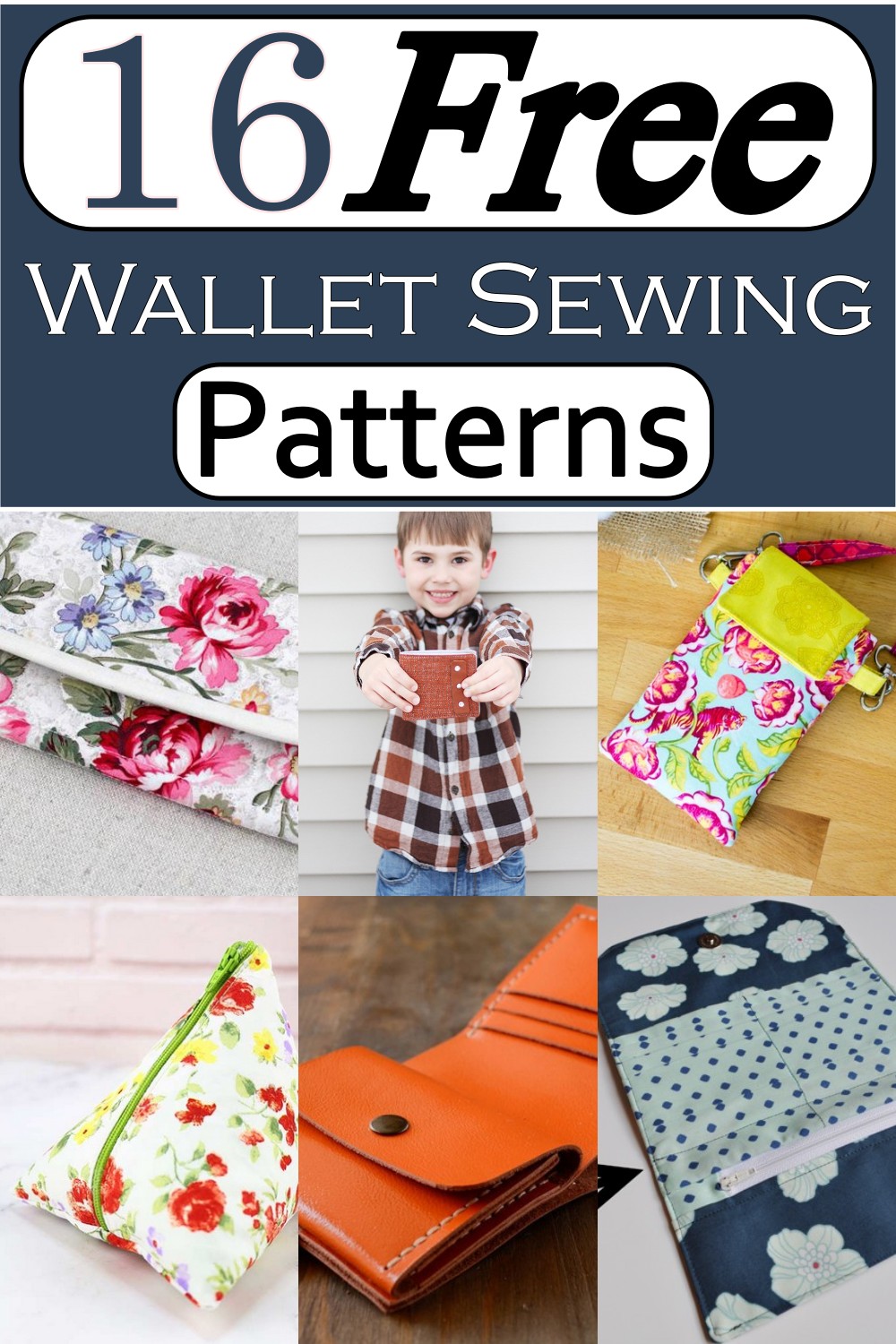 Vinyl Or Leather Minimalist Wallet Pattern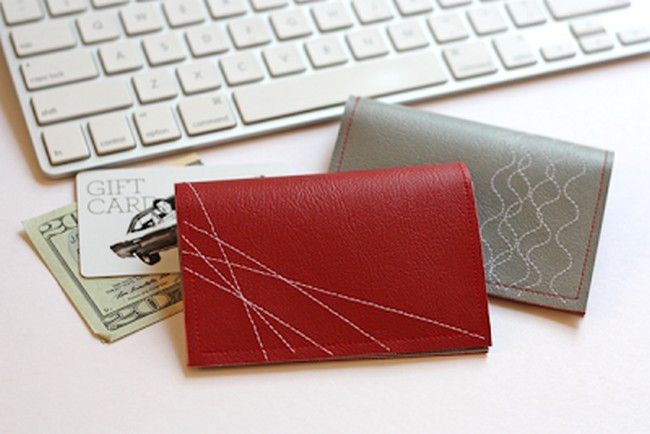 Minimalist wallets have become fashionable in recent years. Now you can create one of your own that is as unique as you are. The Vinyl or Leather Minimalist Wallet pattern has two large pockets, one for cash and one for cards, and a few small interior pockets to keep things organized. With this simple and attractive wallet pattern, you can carry everything you need in style. And when folded up, it will fit perfectly into your pocket or purse, so you always have the essentials.
Wristlet Wallet Pattern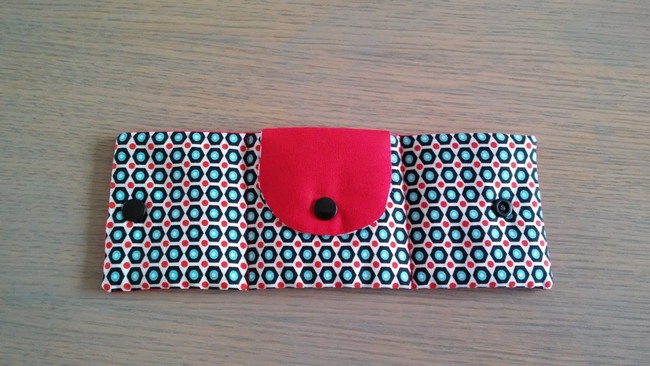 Are you tired of having bulky wallets? Or do you travel often and want an alternative to carrying those huge purses and luggage? Do you wish that you could carry your money on your wrist instead of always in your pockets? If you answered yes to any of these questions, this is the pattern for you! This easy-to-sew pattern will show you how to make a wristband wallet that can easily be used as a money holder, credit card holder, driver's license holder or anything else that fits in it. Sew several, so each member of your family has one too!
by JustmadebyMie (Translated from Dutch)
Cell Phone Wallet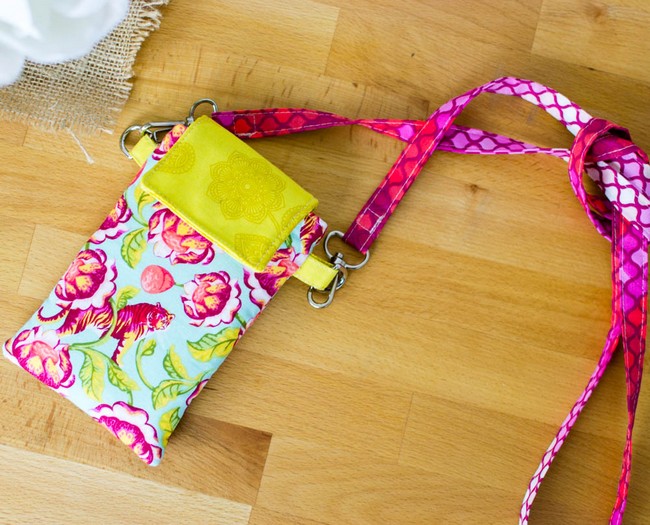 This phone wallet sewing pattern is perfect for keeping your essentials safe and close to hand for those who are always on the go. The soft vegan leather gives this bag a unique look while keeping it durable, and the magnetic flap will keep all your valuables safe from accidental drops throughout the day. Featuring a removable neck strap as well as a key ring, this cell phone wallet is an amazing addition to any bag. Its simple design means that it can be altered or added to with ease.
by Sewcanshe
Unisex Bi-fold Wallet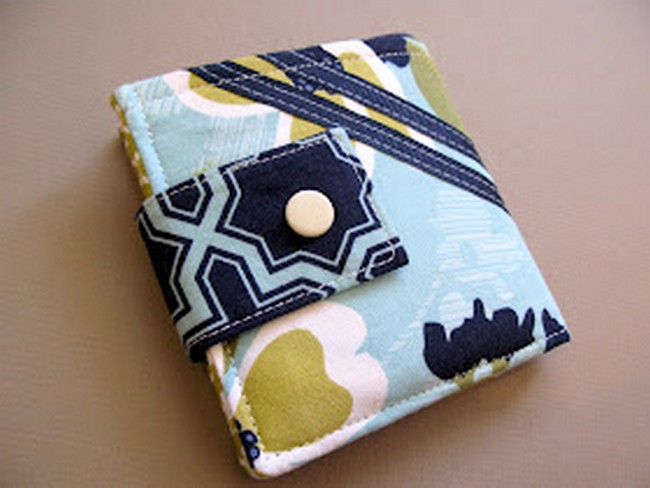 You'll not find a more useful tool in your sewing collection than the bifold wallet. The perfect thing for carrying all of your cash, cards, and things is a great way to keep track of receipts and business cards, especially if you put them inside a clear plastic sheet protector before sliding them into the pocket. The pockets and compartments are functional and well-organized; you'll always have what you need close at hand with this quick & easy sewing project!
by Modestmaven
Men's Leather Wallet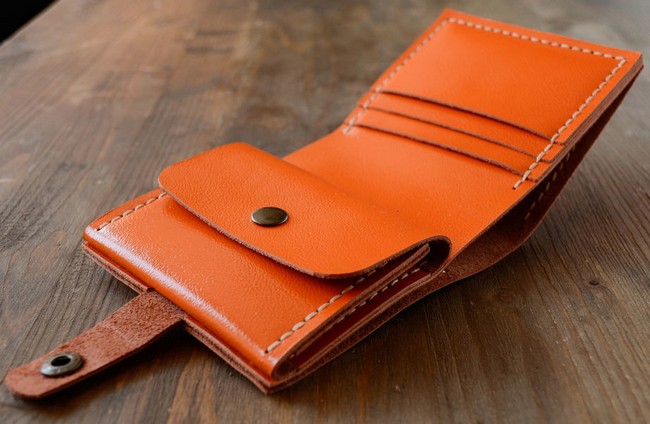 Are you looking for the perfect men's wallet sewing pattern to make for yourself or as a gift for your husband, boyfriend or son? This is it! This awesome leather wallet sewing pattern is easy to follow and even easier to assemble. Plus, it's one of the unique men's wallet sewing patterns. And best of all, guys, it's super cool, stylish and eye-catching! The result is incredible and will certainly be cherished by its recipient.
Passport Wallet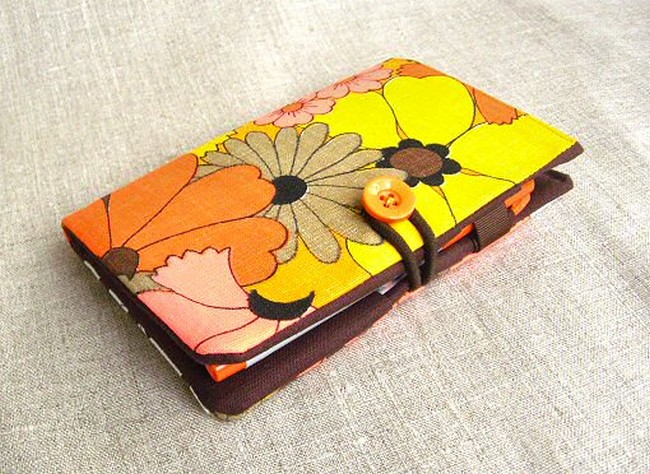 Are you tired of rummaging through your travel bag for your passport or other documents before you reach the security check? This Passport Wallet Sewing Pattern is the perfect organizer for your travel needs. With three slots for your essential cards and an upright pocket to hold your passport, you'll never have to worry about where you put your passport again. There's even an elastic closure to keep everything secure. Your passport will never get lost with the Passport Wallet Sewing Pattern. This tutorial can use to create a wallet that fits easily into a purse or small handbag and holds your important travel documents.
by Hollandcox
Passport Wallet
Want a passport holder that looks good and truly serves its purpose? You've come to the right place! This passport wallet sewing pattern is just what you need. Whether you're looking for a special gift or want an upgrade to your travelling essentials, this pattern includes everything you need to create a unique sleeve that can hold multiple passports and other travel essentials - all while adding some style along the way! The classic style of this handmade passport case makes it perfect for any traveller, whether you're headed to another country or just across town.
Vaccine Card Wallet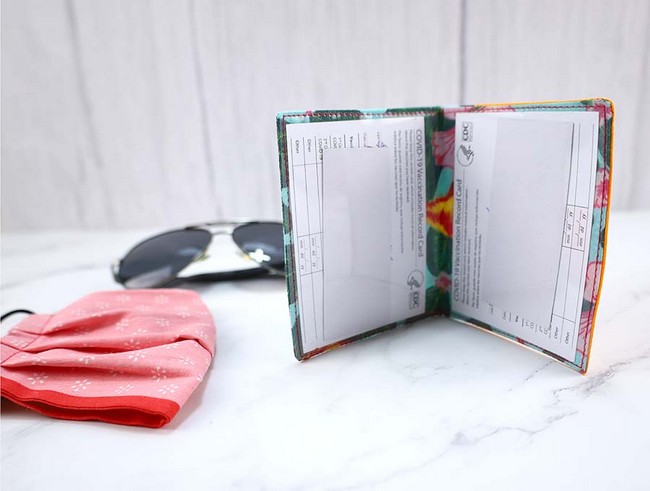 Are you looking for a vaccine card holder that protects your valuable documents from moisture and tearing? Look no further! This card holder is so easy to make that you'll wonder why you didn't make one before. The wallet will hold your child's vaccination cards durable and sanitary way. Cut the fabric and plastic, pop in your cards, hand stitch and voila! You will have an easy-access wallet that will protect your child's vaccination certificate from damage.
by Hellosewing