16 Free Crop Top Sewing Patterns For Summer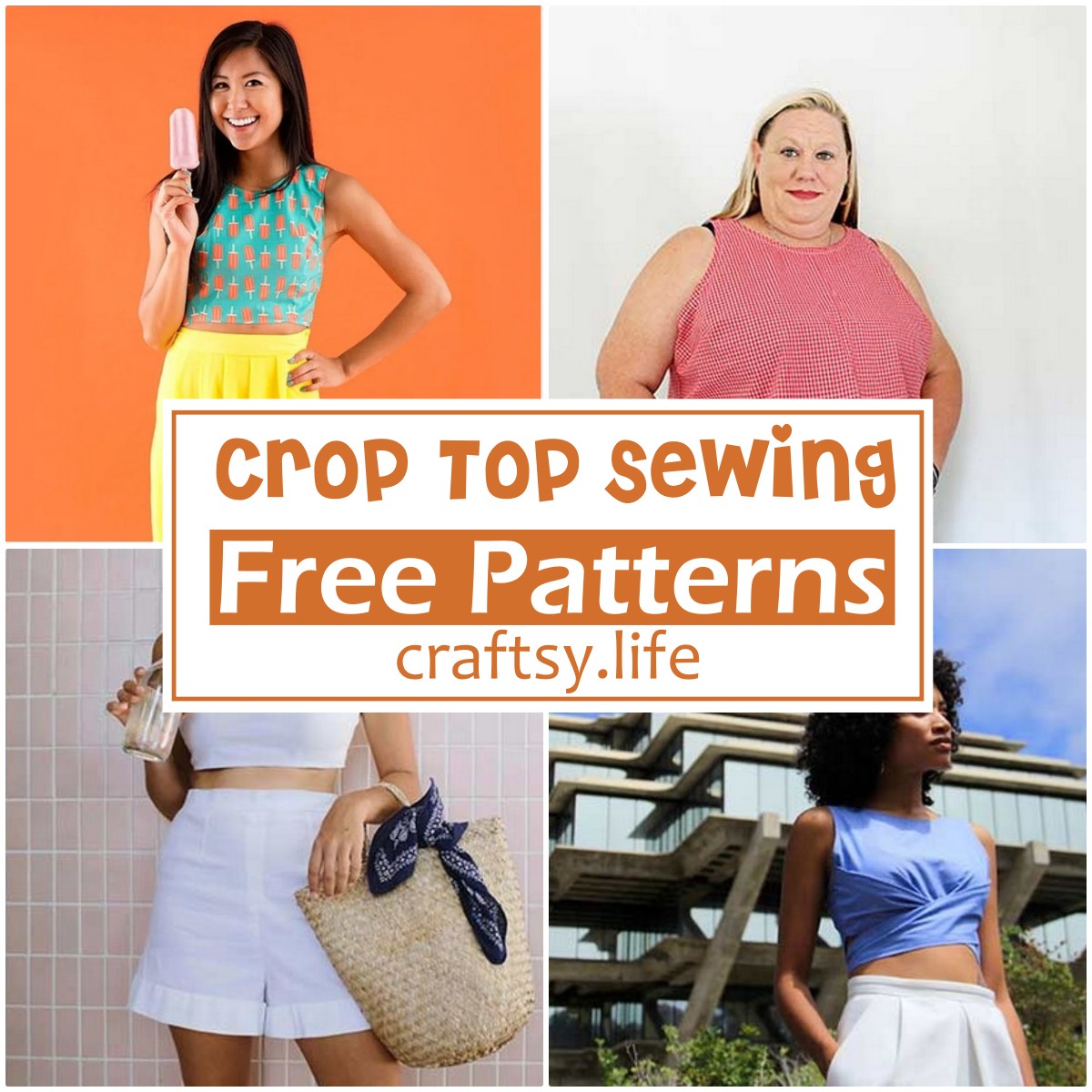 Sewing crop tops are a great way to update your wardrobe. You can wear crop tops in summer with shorts, jeans or leggings, and in winter all year long. Crop top sewing patterns are both trendy and stylish. Whether you're looking for a basic tee shirt type or an elegant knot style, these patterns will keep you going from season to season with ease. Add a pop of color to your summer wardrobe with these crop top sewing patterns. The versatile styles are perfect as workout gear or paired with jeans and heels. These crop top sewing patterns are pretty, lightweight, and comfortable. You can make them from jersey fabric or soft knit fabric.
Free Crop Top Sewing Patterns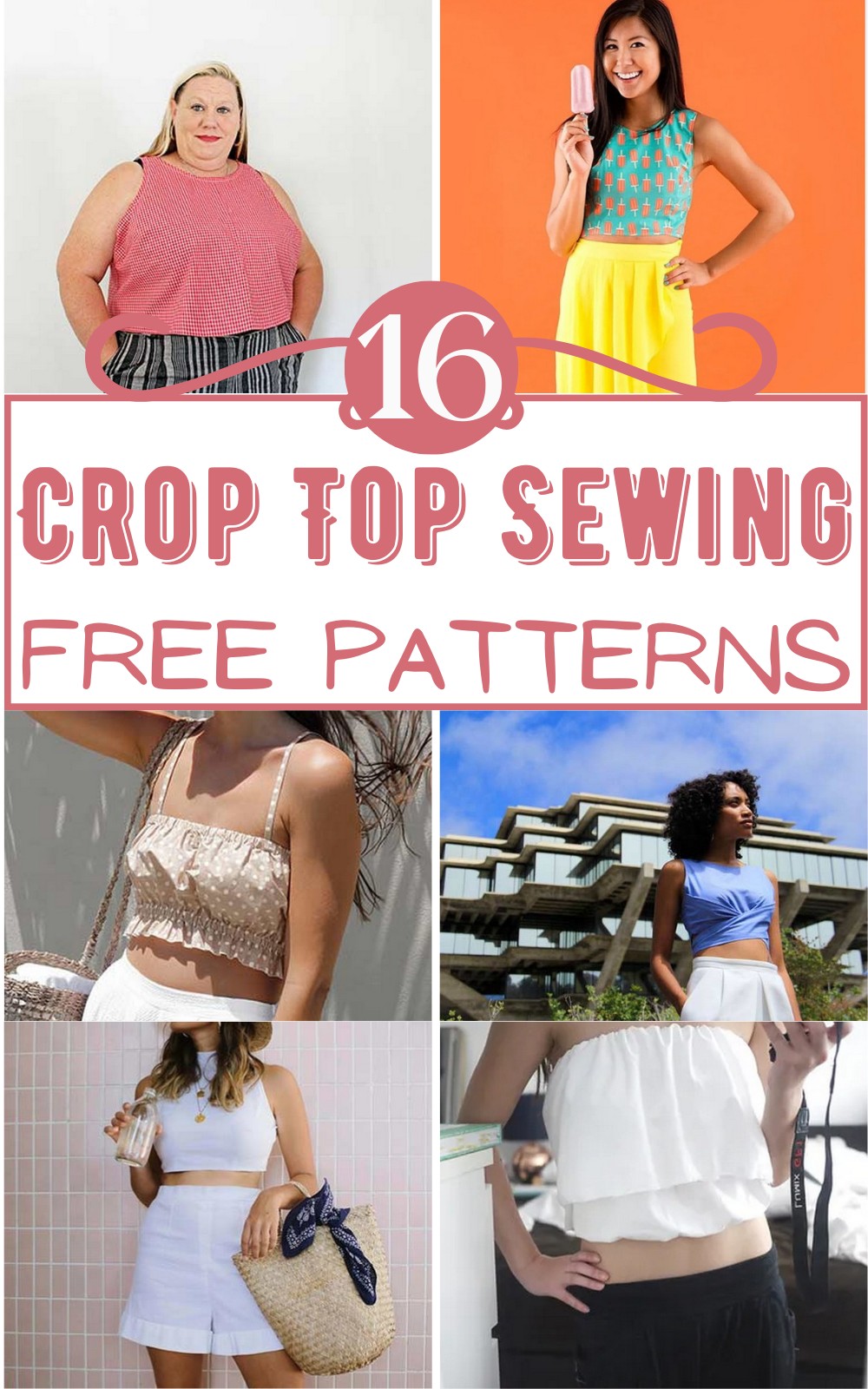 Crop tops are one of this summer's hottest trends, and now you can sew a cute, custom-fitting crop top in no time. Summer Top Patterns are a fun and easy sewing project with long-lasting results. Each pattern is designed to be snug but not tight to flatter your shape. These easy-to-follow sewing patterns will show you how to create your own awesome cropped tops, and they're available in multiple sizes and styles, so you can make them just how you want them. You'll love our tons of cute ideas for tees, tanks, camis, and more!
You Can See: 19 Easy Dress Patterns For Beginners
Why Sew Crop Top Pattern
A crop top pattern came when you thought you'd seen it all. It's not just a simple sleeveless shirt but a new type of clothing that can be used in many ways. You can use it for the beach or even underneath another piece of clothing for an added layer of warmth. Some people even wear these tops as pajamas!
So why would anyone want to sew these types of tops? Well, for beginners, they are easy to make and come in many different styles and designs. With so many other options available, there is no reason why you shouldn't try sewing one yourself!
Tips For Sewing Crop Top Patterns
Crop top patterns are a great way to get started in sewing. They're easy, don't require a lot of fabric, and are great for summer!
If you're starting, here are some tips for sewing crop top patterns that will help you get the job done right:
Get yourself some nice thread. You want something durable and won't fray easily, especially using a stretchy material like cotton or spandex.
Make sure you have a good machine needle on hand (we love Schmetz needles).
Make sure your fabric is stretched tight over the pattern pieces before sewing. This is important! If the material isn't stretched properly and evenly around the pattern piece, it won't fit correctly when finished.
Trendy Crop Top Sewing Pattern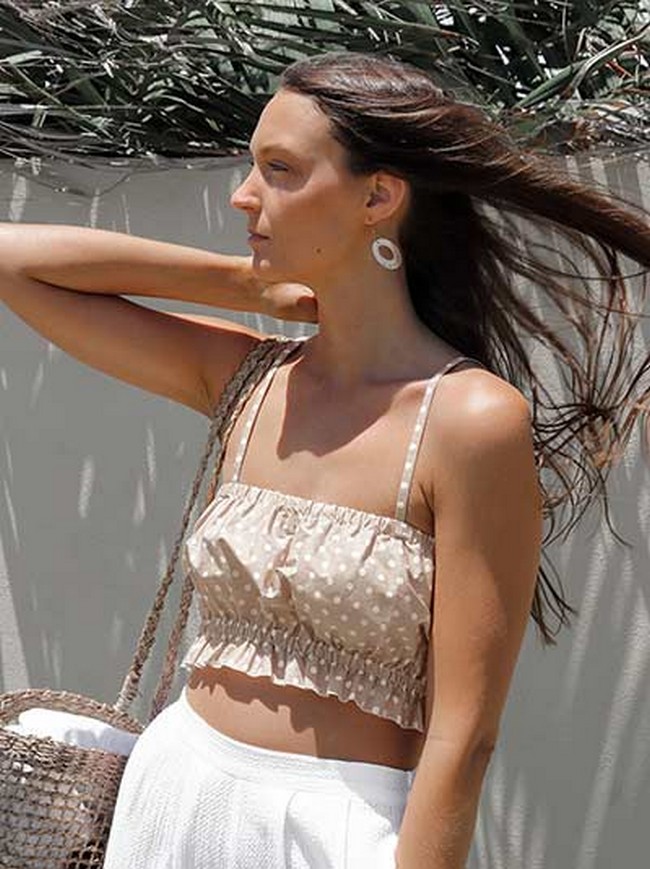 It's been said that the best clothes should be comfortable, easy to make, and versatile. This pattern is all of that and more. Whether paired with shorts or skinny jeans, this top makes you look effortlessly put together. It's also super quick to sew! This cropped top sewing pattern is a great way to sew a versatile top that will take you from day to night. The simple shape and flattering fit make this project easy for beginners and confident sewers alike.
Square Neck Crop Top Sewing pattern
A stylish way to keep cool in the summer months, this crop top combines the comfort of a t-shirt with a fitted shape. This pattern is ideal for beginners who want to sew with knit fabrics. It has a simple construction with no fancy techniques or tricky fitting challenges. Delicate enough to wear under a sweater or blouse but also looks great on its own with jeans! What a great addition to your wardrobe!
Beaded Cropped Top Pattern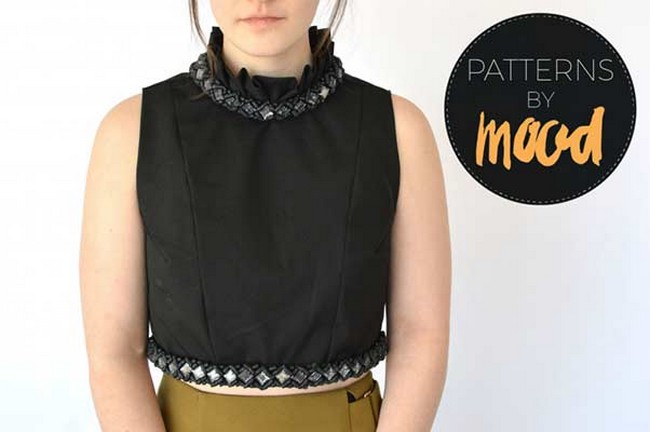 These tops are perfect for layering or can be worn as a cute and casual everyday look. The cropped length makes them just right for showing off your favorite pair of high-waisted jeans or pants. This beaded top is so easy to make! It features a simple neckline that lends itself well to using various embellishments. Use it as a starting point to create some cute looks that are both stylish and comfortable while keeping you cool in the summer heat.
Sleeveless Crop Top Sewing Pattern
Are you ready to make some cute sleeveless crop tops? This pattern is quick and easy to sew since it uses just a yard of fabric. They are perfect for the hot summer or as cover-ups on a cruise or vacation. Make them in different sizes and materials to create many looks, and they are versatile and fun! Learn how to sew a cute and comfortable tank top in this easy-to-follow sewing pattern. This is perfect for a beginner as it also includes tips, tricks, and step-by-step pictures to teach you the basics of sewn garments.
Simple Crop Top Sewing Pattern
This tutorial will lead you through the process of creating a basic cropped top pattern from scratch. The benefits of making your patterns are many. You can adjust patterns to fit perfectly, create multiple versions of the same piece, or even make changes like ruching or gathering for added design interest. It will show you how to measure yourself properly so you can get your custom fit without buying expensive ready-made patterns with sizes that don't always fit.
Wrap Crop Top Sewing Pattern
Looking for new summer tops to sew? Or want a cute new pattern to make and have? This simple wrap crop top pattern is perfect! It's so easy to take in or let out and can be worn knotted in front, wrapped around your body (tied at the back), or tied in a bow – all options are included in the tutorial. You'll love dressing this up with a tank underneath or wearing it on its own. Either way, you'll have fun putting together this simple sewing project that looks terrific when paired with shorts or jeans.
Linen Halter Crop Top Pattern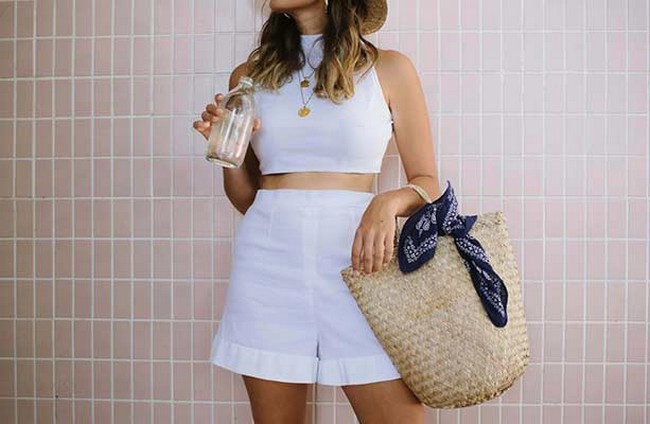 If you're looking for a stylish and flattering piece of clothing to add to your wardrobe, try sewing this linen halter crop top. It features a lovely modern pattern, easy-to-follow instructions, and tips on how to alter the pattern to fit your exact needs! With its sophisticated simplicity, this crop top sewing pattern will make you the center of attention. This top would be great to make in linens. Perfectly designed, you'll want to make one in every color!
Ruffled Tube Top Pattern
This tube top is so easy to make and super comfortable to wear. You will love how it looks, and as a bonus, you can use up some of your leftover fabric from your favorite projects! It's easy to make and is flattering on everyone. The wide straps and ruffled front and back facings are both pretty and functional. A quick and easy sew for the summer, this cropped ruffled tube top is the perfect project for beginners. It's almost too cute to cover up.
Puff Sleeve Crop Top Sewing Pattern
This pattern makes a cute cropped milkmaid top with a fitted bodice, full gathered skirt, and darted waist. It can be sewn in any fabric and easily adjusted to fit your body shape. This pattern is great for beginners who have experience sewing clothing and want to sew more complicated styles and are looking for the right project. The perfect top for anyone! Wear it to the office, or dress it down with jeans and heels.
Easy Criss Cross Crop Top Sewing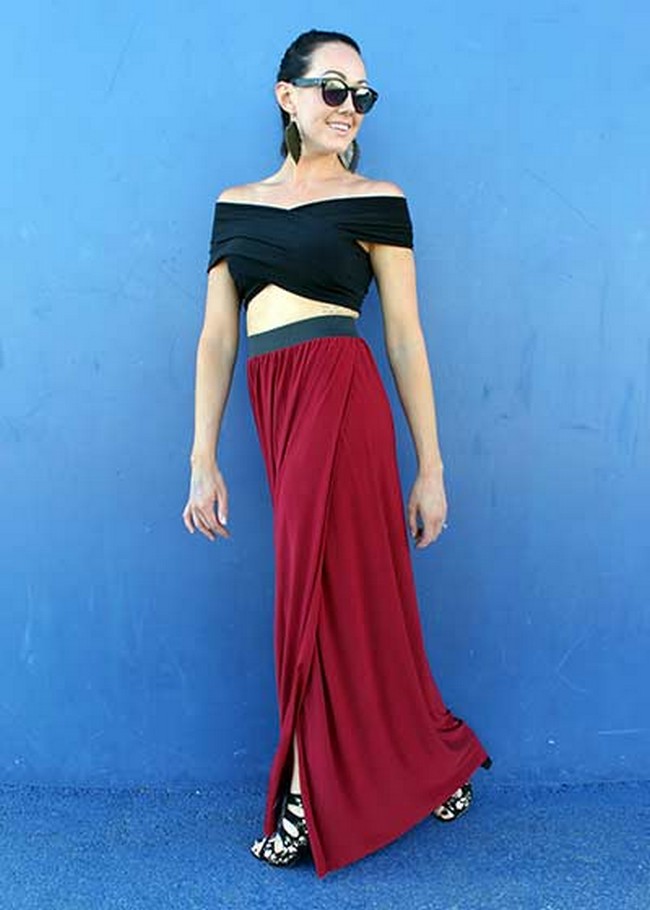 This Criss Cross Crop Top is perfect for the girl who's always on the go. With an easy-to-follow step-by-step tutorial, this pattern will have you looking your best in no time. With a professional grade of fabric and a size range to accommodate most body types, this style will look great regardless of your size. Perfect for wearing under a cardigan or blazer over leggings or jeans, you are sure to enjoy this top!
Bell Sleeve Crop Top Sewing Pattern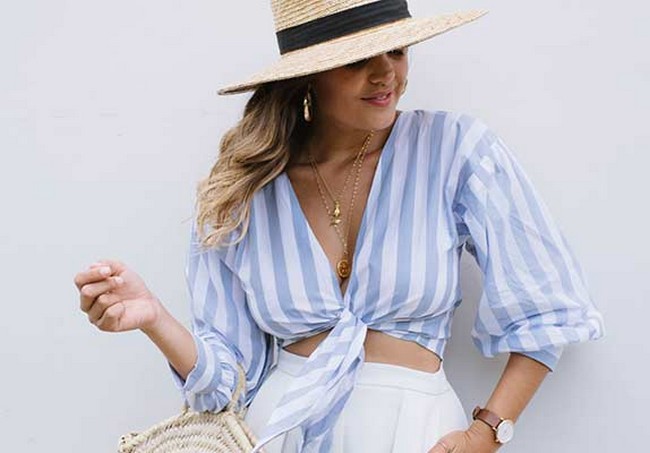 This cute and practical top is perfect for the spring months or any other time of year! The knit material makes it easy to throw on over a pair of leggings for running errands or under a cardigan for work. Long sleeves keep you warm in the cold months and can be cuffed to show off the fun bell sleeves. A front tie keeps everything in place while adding a bit of detail to make this shirt a fun addition to your closet.
Bishop Sleeve Crop Top Sewing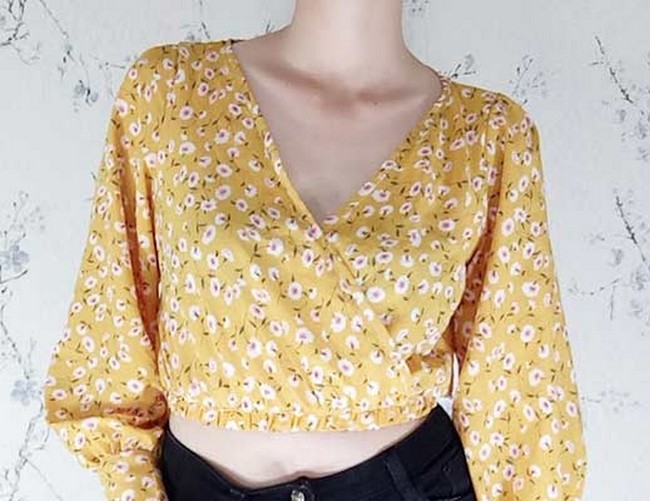 Dress your summer wardrobe with this easy-to-sew bishop sleeve crop top sewing pattern. Pair it with jeans and leggings for a super comfy look, or throw on a blazer and heels for a more formal look! This is the perfect crop top sewing pattern for anyone who loves easy-to-wear, versatile clothes. The bishop sleeve style makes this full easy to wear and versatile, while the cropped length and bust sizes make it a great option for many different body types!
Loose Crop Top Pattern
Looking for a new fashion item? Want to sew something different from others that you've seen? If your answer is yes, this Cute Cropped Top Sewing Pattern is a perfect choice. The loose, comfy fit makes it ideal for any fabric but especially perfect for draping over a form so that you can see how your fabric will hang before cutting into it. It can be worn on its own or layered under sweaters, tanks, and t-shirts.
Shirred Crop Top With Tie Straps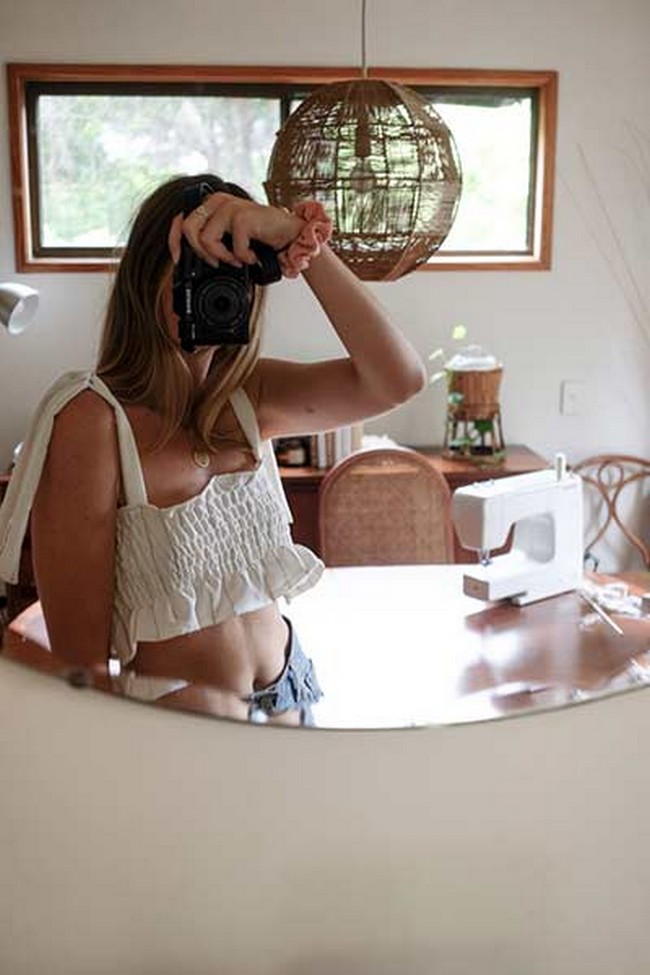 This top sewing pattern is a no-brainer to assemble, making it a great option for sewists who want to try a new skill. Complete this simple project by tying on chiffon scarves to add an extra layer of style. The perfect summer project for those who love sewing clothes that are easy to wear yet stylish! The pattern Includes photos and instructions for making a standard or fitted version. Material suggestions, tips, and sizing information are included in the detailed instructions.
Easy Crop Top Sewing Pattern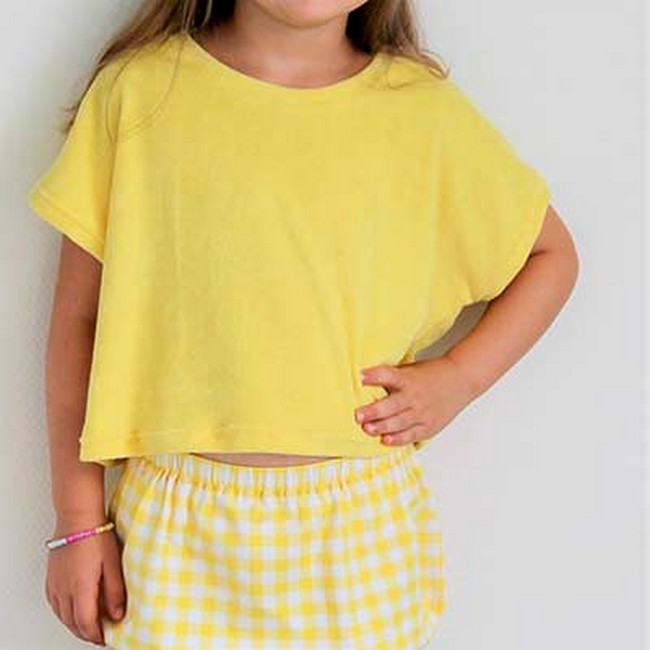 Easy Kids Crop Top Pattern features a soft, feminine style that is easy to wear. This easy sewing pattern for kids is perfect for beginners or advanced sewers. These crop tops are trendy and so fun to wear. Creating a day or night look is easy with one simple sewing tool—a serger. This top sewing pattern is great for beginners because of its basic construction and easy fitting for a child. The design is unique, and you will have the perfect fit for your little girl!
Off Shoulder Crop Top Sewing Pattern
The shoulder crop top is a great way to spice up your wardrobe without breaking the bank. The Nefer pattern is perfect for both beginners and experienced sewers and has been designed so that you can make it in any size, fabric, and color with confidence. You must have an intermediate level of skills to follow this tutorial successfully. It's a free pattern you will get as soon as you complete checkout. The Cute Cropped Top is a stylish, flowy, and comfortable summer staple. You'll love to make and wear it!
Click Here