Are you looking for a fun, festive crochet project to keep you busy this winter? Why not try making some elf slippers! There are many different crochet elf slipper patterns available here to choose from, so you can find the perfect one for your skill level. Plus, these little slippers will keep your feet warm and cozy all season long. So get ready to start crocheting – here are some of the best elf slipper patterns!
If you are in the mood for some winter crafting, why not try your hand at some crochet elf slipper patterns? Add some extra holiday spirit to your outfit with a pair of these crochet elf slippers. There are tons of great options out there, and they work up quickly, so you can have a new pair of slippers to keep your feet warm all season. Plus, they make great gifts! So grab your hook and get started. You won't regret it! The patterns are easy to follow and create a cute, warm, and comfortable pair of elf shoes that can be worn throughout the holidays and beyond.
Crochet Elf Slipper Patterns For Christmas

These crochet elf slipper patterns are the perfect way to create a whimsical winter ensemble for your little ones. From newborns to adults, we found some adorable styles that are sure to delight any child lucky enough to wear them.
Christmas Santa and Elf Booties
Are you looking for a festive crochet pattern to keep your toes warm this Christmas? Look no further than these adorable Santa or Elf Booties! This Crochet Along pattern is perfect for all levels of crocheters and can be made in any colors you choose. So grab your yarn and get started on these charming booties today! These are designed to fit a newborn through 6 months old baby's feet and are 9" around the widest part of the outer sole. To make it larger, add on an extra row or two before moving to round 10. The pattern is full color with detailed written instructions, photos, and diagrams.
Elf Crochet Slippers
These Elf Crochet Slippers are the perfect way to keep your feet warm this winter! These slippers are warm and cozy but lightweight. The stitch pattern is easy enough for a beginner to learn but interesting enough to keep you addicted to the project. These slippers are great for walking around in your own home or taking outside on a cool evening stroll. They're easy to make and only require basic crochet stitches, perfect for beginners. And they're so cute, and you'll want to make a pair for everyone in your family!
Elf Slippers
Warm, comfy, and stylish, these crochet Elf Slippers are perfect for little ones this Christmas season! They'll love wearing these slippers with a festive design and soft material all winter long. This fun pattern is for a quick and easy pair of crochet elf slippers, perfect for your little one this holiday season! These elf shoes are such a cute alternative to the traditional Christmas stocking. Plus, they make a great addition to any holiday décor. So get creative and make a pair of crochet Elf Slippers today!
Elf Slippers with Curled Toes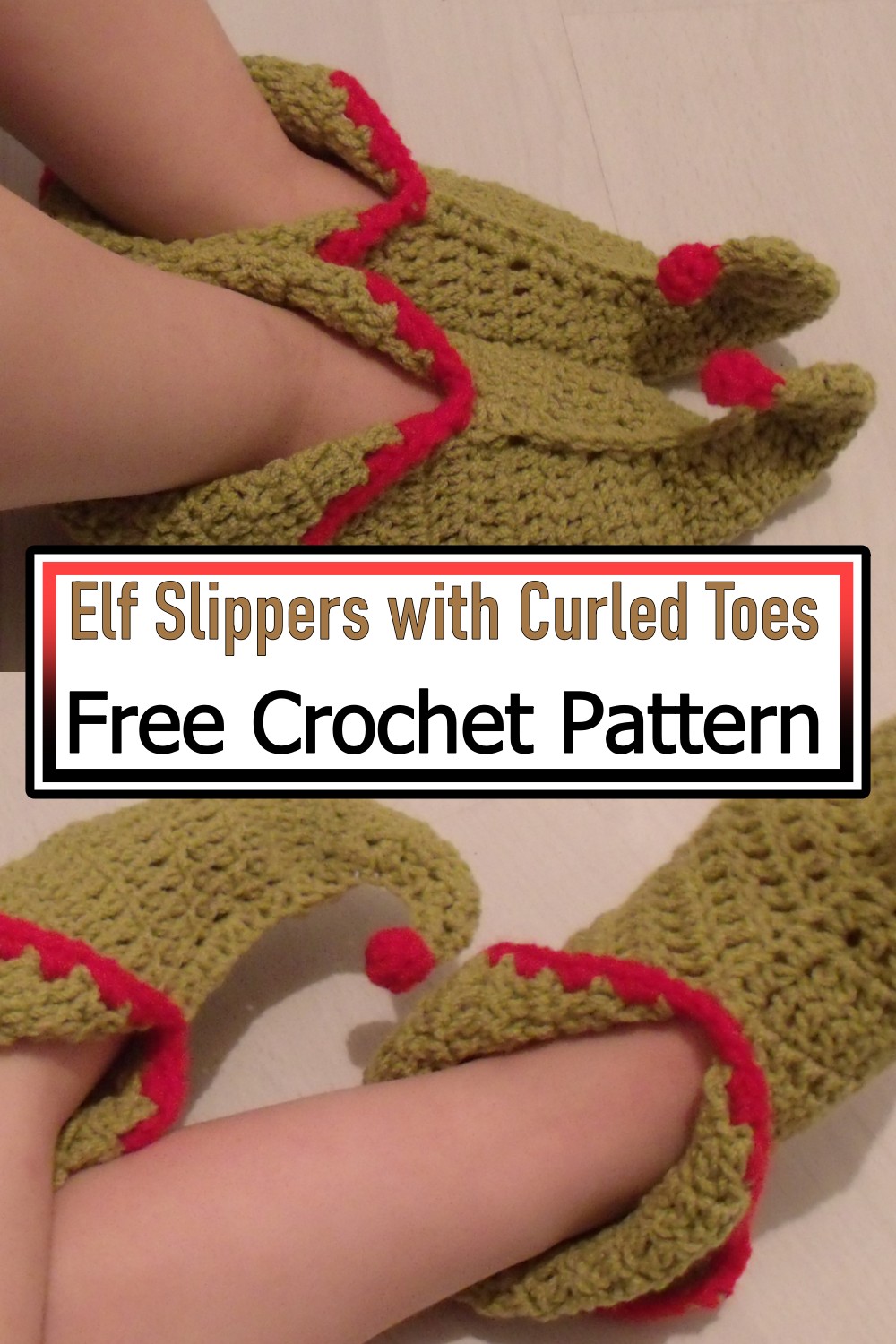 Looking for a cozy way to keep your feet warm this winter? Check out our Elf Slippers with Curled Toes! These slippers are perfect for anyone who wants to add a little bit of magic to their life. They can be worked in a variety of yarns so that you can find the perfect match for your style. And they're easy to make so that you can whip up a pair in no time. So don't wait any longer; make your Elf Slippers with Curled Toes today! This free pattern is suitable for beginners who have practiced a few basic stitches such as knit, purl, and double crochet or garter stitch. The pattern can be adjusted using different yarns to suit any age, man or woman.
Little Elf Booties
These delicate little elf booties are perfect for decorating your Christmas tree. These little elf booties are adorable. They are crocheted with a zig-zag stitch pattern and feature a slipper toe, heel, and cuff. These are great for baby showers or a Christening gift, and this pattern is perfect for beginners and experienced crocheters. The pattern is easy to follow with pictures and written instructions and fun to make. Each booty takes only a few hours to crochet so that you can make many more of them in no time!
Ligne jaune women slippers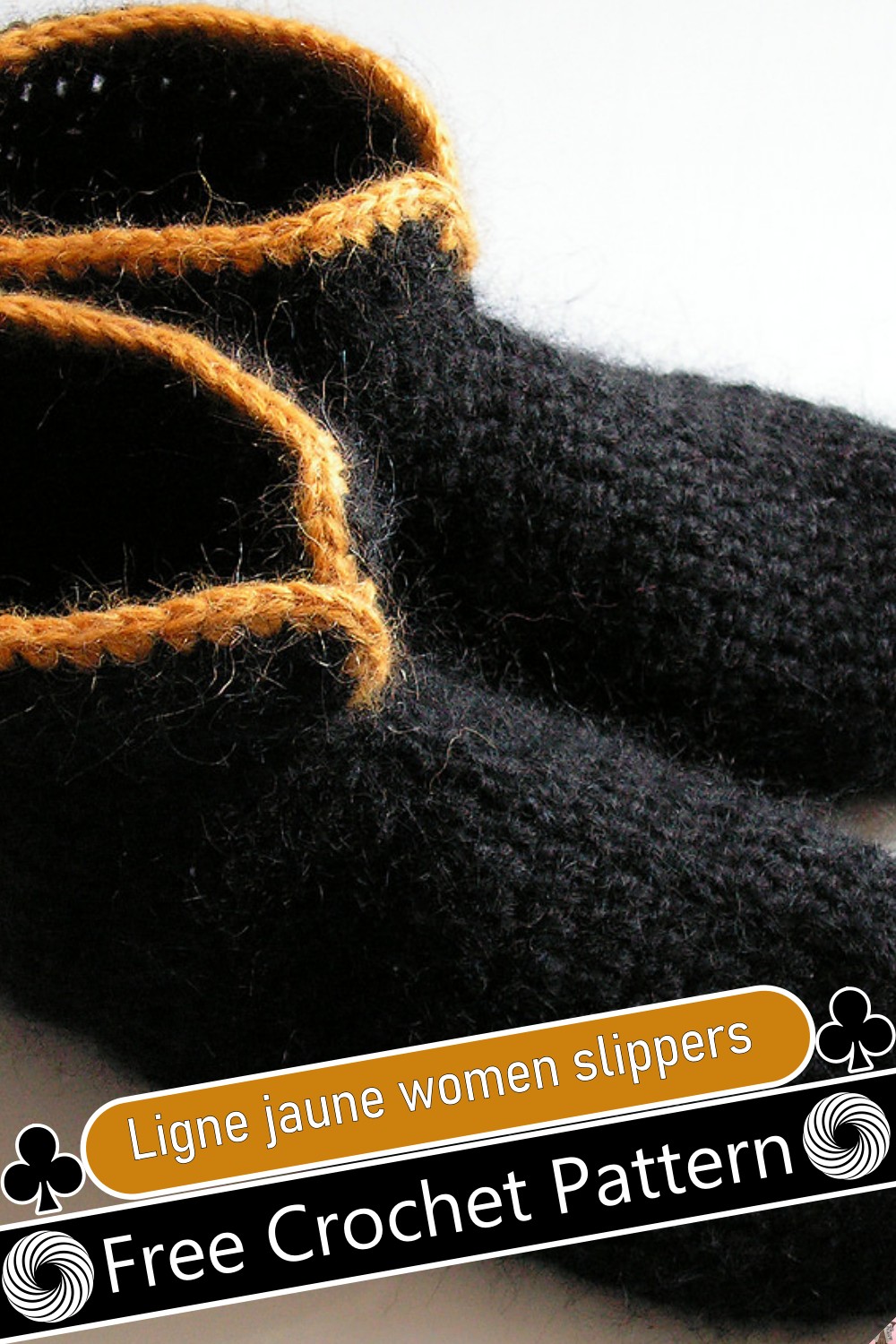 Toasty toes are a must in the colder months, and these Crochet Ligne Jaune women's slippers are the perfect way to keep your feet cozy. These slippers are works from super-soft mohair yarn in a vibrant yellow hue with a black line running through it - giving them a unique and stylish look. They'll also line with fleece for extra warmth and have a rubber sole so that you can wear them both indoors and out. Whether you're relaxing at home or running errands, these slippers will keep your feet comfortable. Make your pair today and stay cozy all season long!