15 Free Crochet Christmas Ornament Patterns For Decor
Christmas is almost here, so it's time to start thinking about how you can adorn your home with holiday cheer. Crocheted ornaments are a wonderful way to add a handmade touch to the usual Christmas traditions. They're an easy project for beginners and can be made from almost any fiber or material. They're also not that expensive: you can find patterns for anything from just a few dollars up to $10 at most. To give you plenty of options for decorating your tree, here are some unique crochet Christmas ornament patterns that would be perfect for anyone on your list!
Easy Free Crochet Christmas Ornament Patterns

Crocheting your ornaments is a fantastic way to add style to holiday decorations. There's no need to stick with the standard snowflake or wreath; plenty of other designs can be worked up in time for Christmas morning. In this post, we've gathered 15 of our favorite crochet ornament patterns, So get ready to pull out your hook and get started on some memories that will last long after Christmas break! Whether you're looking for a quick-to-crochet project or want to design your ornaments, this list is full of the best crochet Christmas ornament patterns! These make great gifts and are ideal for gift-giving.
Supplies needed for Christmas Ornament Crochet Patterns
Here are the supplies you'll need to make these crochet Christmas ornaments.
Crochet Hooks:

 The best way to find out what size hook works best with your yarn is to experiment. In other words, please don't buy a whole set of hooks and then decide you don't like them. Buy one hook at a time and see what works best. You'll also want to keep in mind the size of your fingers when deciding on a hook size: smaller hands will need smaller hooks, while larger hands may require larger hooks.

Yarn:

 Choose a yarn that's soft and easy to work with. If you're new to crochet, start with something basic like Red Heart Super Saver Yarn, Lion Brand Vanna's Choice Yarn, or Bernat Softee Baby Yarn. These yarns are easy to work with and inexpensive too!

Other Supplies

– Other supplies include scissors for cutting the yarn, and any other notions that come with the pattern, such as thread for sewing shut the ornament after it's been stuffed or buttons for decorating it once it's finished being crocheted
Quick and Easy Round Christmas Ornaments: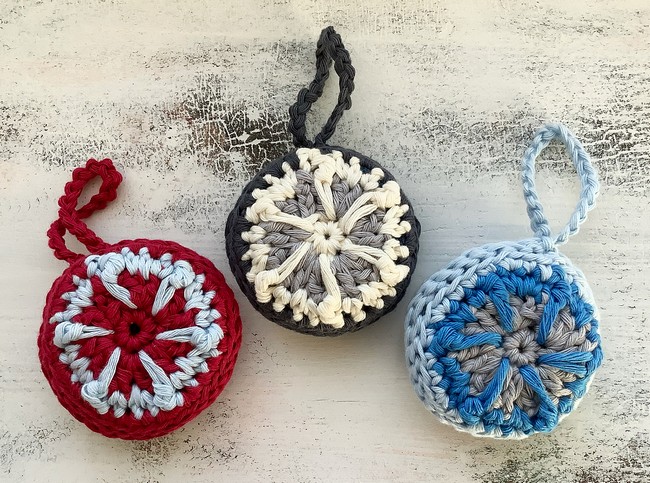 Need a quick and easy round Christmas ornament that takes just minutes to crochet? This is the pattern for you! You will have beautiful homemade Christmas ornaments with minimal supplies and a few stitches in no time! Take a trip to the pool store and get a bundle of different-colored pool noodles! The crochet Christmas ornament pattern is one of the easiest little round ornaments you can make! This is a great pattern if you have time to make just one or many more home decorations. You can also use it as a gift topper and centerpiece.
Materials
Small amounts of worsted weight yarn in 2 – 3 colors. Models are shown in Scheepjes Cahlista (Lovecraft link)
Crochet hook size F/5/3.75mm or size needed for a firm fabric
Pool noodle and knife you don't care about, or polyfill stuffing
Abbreviations
Long tr – long treble: yo 2 times, insert hook in sc in rnd below, yo, draw up a loop, (yo, draw through 2 loops on hook) 3 times.
Old World Christmas Baubles: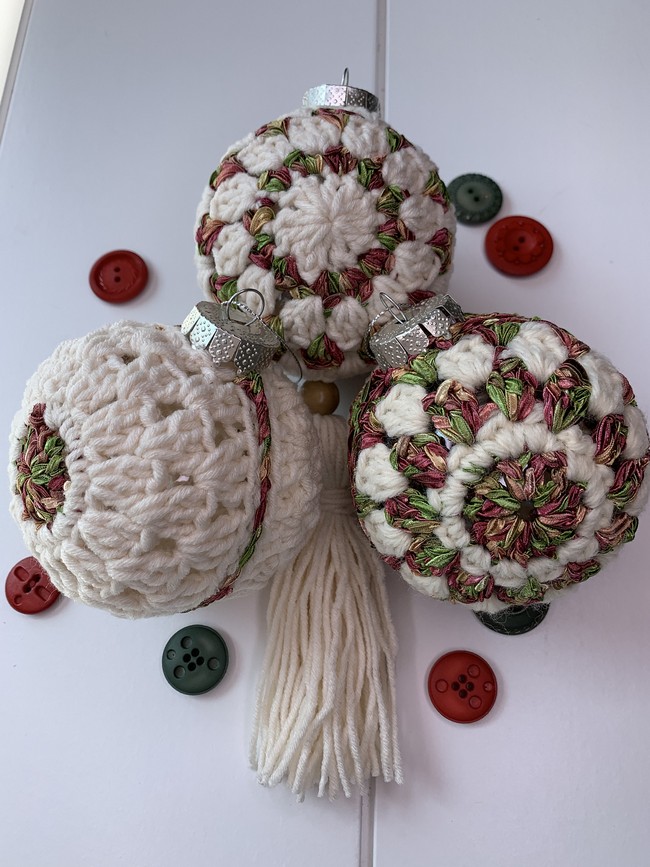 Make these stunning "Old World Christmas Ornaments" for your tree this holiday season. The great thing about these ornaments is that you can use any yarn and color combinations you like! Add them to a wreath on your front door, or hang them as individual ornaments on your Christmas tree! This pattern includes an easy-written pattern to guide you through each step fully. Learn how to make your unique crochet baubles and add them to your tree this year
Materials
Main colour 1 skein Hobby Lobby I Love This Yarn in Ivory #20 (100% acrylic, 7 oz/199 g, 355 yds/325 m)
Contrast color 1 ball Berlini Memento ribbon in Fall Herbs #113 (100% nylon, 1.75 oz/ 50 g, 88 yds/ 80 m)
E/4-3.50 mm hook
Yarn needle
Scissors
2 1/2" plastic ball ornament
Wooden bead
Abbreviations
ch-chain
dc-double crochet
m-marker
rep-repeat
sl st-slip stitch
sc-single crochet
sp-space
CL-cluster
beg CL-beginning cluster
Christmas Wreath Ornament: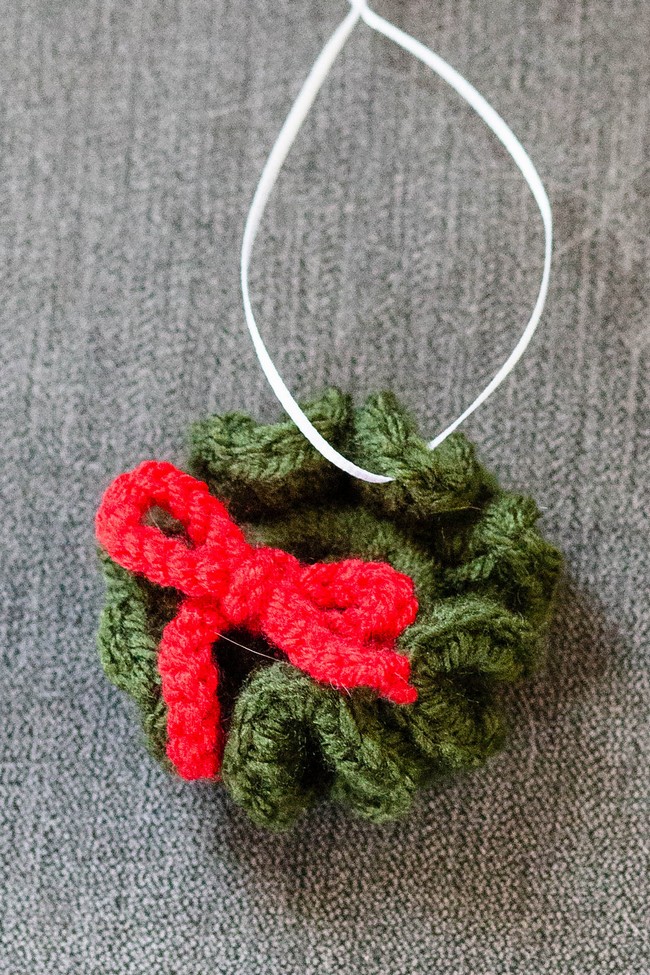 A simple crochet pattern to make a beautiful Christmas wreath ornament. This is a great project for an intermediate crocheter, requiring you to use basic stitches such as half double crochet and double crochet. This mini wreath would also look great hanging on your Christmas tree or wrapped around a Christmas present! This beautiful crochet Christmas Ornament Pattern is easy to follow and makes the perfect gift! These are the perfect sizes for ornaments, wreaths, or a tree. This fun little project will make you cheerful all season long!!!
Materials
Yarn (green and red)
Hairband
Yarn: 4/worsted
Hook: H/5mm
Abbreviations
SC: single crochet
CH: chain
SLST: slipstitch
ST: stitch
HDC: half double crochet
(): Repeat items in parentheses as many times as indicated
3hdc-inc: Place three HDC in a single stitch
Swirl Lollipop Ornament: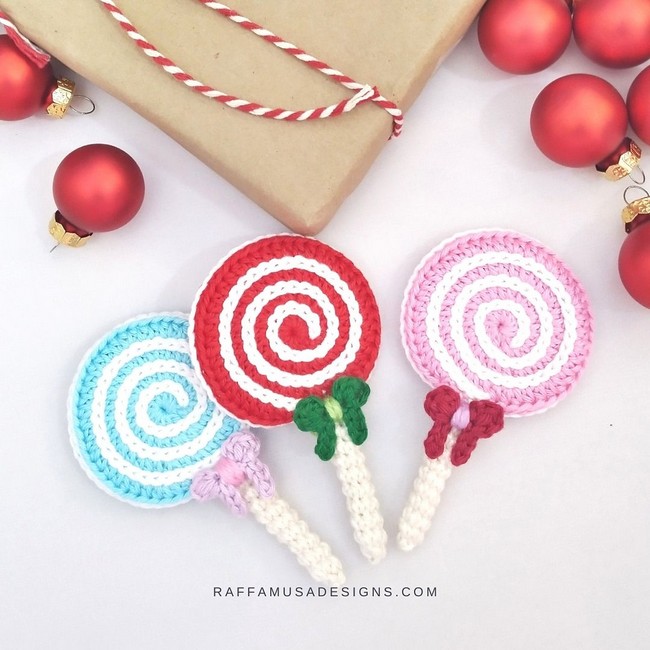 Swirl Lollipop Ornament is a unique and fun crochet Christmas ornament pattern. The resulting crochet swirl lollipop ornament looks like a giant lollipop! You will love how this project uses up small remnant yarns leftover from other projects, plus it can be customized with your favorite colors. These Swirl Lollipop Christmas ornaments make the perfect gift for anyone on your list! This lollipop-shaped ornament is simple, easy to make, and only takes a few hours to crochet. This ornament is also the perfect way to add a touch of handmade charm to your Christmas tree.
Materials
2.5 mm (12 UK) Crochet Hook
Sport (2, Fine) Weight Yarn
Tapestry Needle
Abbreviations
Ch – Chain
Hdc – Half Double Crochet
Inc – Increase
MC – Magic Circle
Sc – Single Crochet
Sk – Skip
Sl St – Slip Stitch
St – Stitch
Yo – Yarn over
Little Christmas Presents: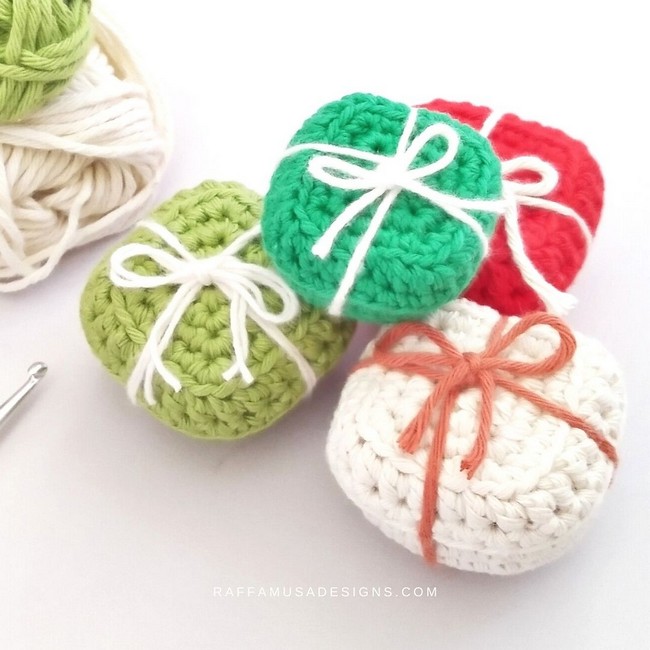 Remember the old saying, "The gift that keeps on giving"? Crochet this ornament, and it will keep giving and receiving. The idea is to make a Christmas tree ornament doubles as a gift box for presents. It takes less than an hour to make one, so it's a great way to use up some scrap yarn bits. And if you want to make them as decorations on your Christmas tree, sew a small loop or crochet chain stitch in the top of the box so you can hang them up easily!
Materials
3.5 mm (E/4 USA, 9 UK) Crochet Hook
Aran (4, Medium) Weight Yarn in 2 Contrasting Colors (A and B)
One Stitch Marker (to work in the round)
Poly-Fil or Cotton Stuffing
Tapestry Needle
Abbreviations
BLO – Back Loop Only
Ch – Chain
FLO – Front Loop Only
Inc – Increase
MC – Magic Circle
RS – Right Side
Sc – Single Crochet
Sc3tog – Single Crochet 3 Together
Sl St – Slip Stitch
St – Stitch
Third-Loop Sc – Third Loop Single Crochet
WS – Wrong Side
Yo – Yarn Over
Round Christmas Ornaments: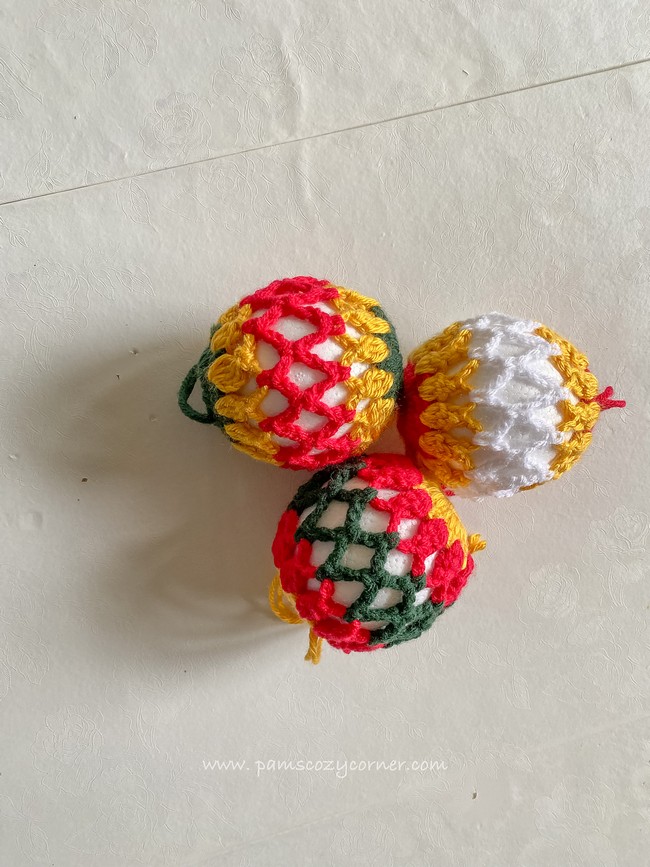 The pattern for this crochet Christmas bauble is easy and quick to follow because it is made in rounds. You will need to add a nice border and use different colors and yarn weights to make them look nice. This Crochet Christmas Ornament Pattern is a great way to use your leftover yarn and can be made in any yarn weight from DK to 4ply. These decorations would look beautiful hanging from branches. You can make these round baubles in any size you like simply by changing the thread and hook sizes.
Materials
Knitpicks Brava 500, 100% Premium Acrylic 1090 yds (997 m) 18 oz (500 g) worsted weight (4) in Red.
Knitpicks Brava 100% Premium Acrylic 218 yds (199 m), 3.5 oz (100g) worsted weight (4) in White.
Big Twist Value 100% Acrylic 380 yds (347 m), 6 oz (170 g) worsted weight (4) in Emerald Green.
Hook 4 mm (G)
Tapestry Needle
Tape Measure
2.9" Styrofoam ball
Abbreviations
Ch – chain
Sc – single crochet
Dc – double crochet
ch-sp(s) – chain space(s)
Sl st – slip stitch
Sk – skip
Rep -repeat
lp(s) – loop(s)
Favourite Christmas Ornament: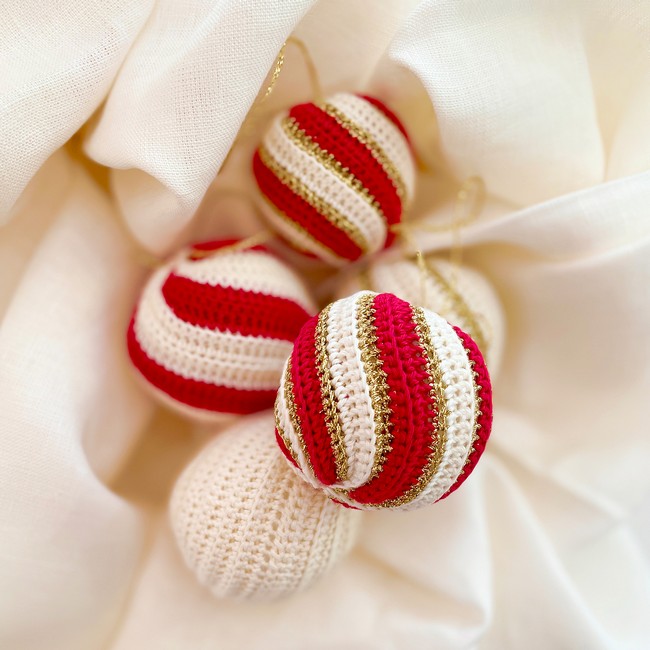 Are you looking for a cute and easy crochet Christmas ornament that is not too messy and can be finished in one sitting? This project is great if you want to make several ornaments with different motifs. These pretty crochet Christmas ornaments are the perfect gift for your favorite crafter, classmate, family member, or child. This crochet Christmas ornament is easy and quick to follow, with only one basic stitch (double crochet), making it the perfect beginner project for all looking to branch out into more intricate patterns.
Materials
Zipper pouch Christmas ornament: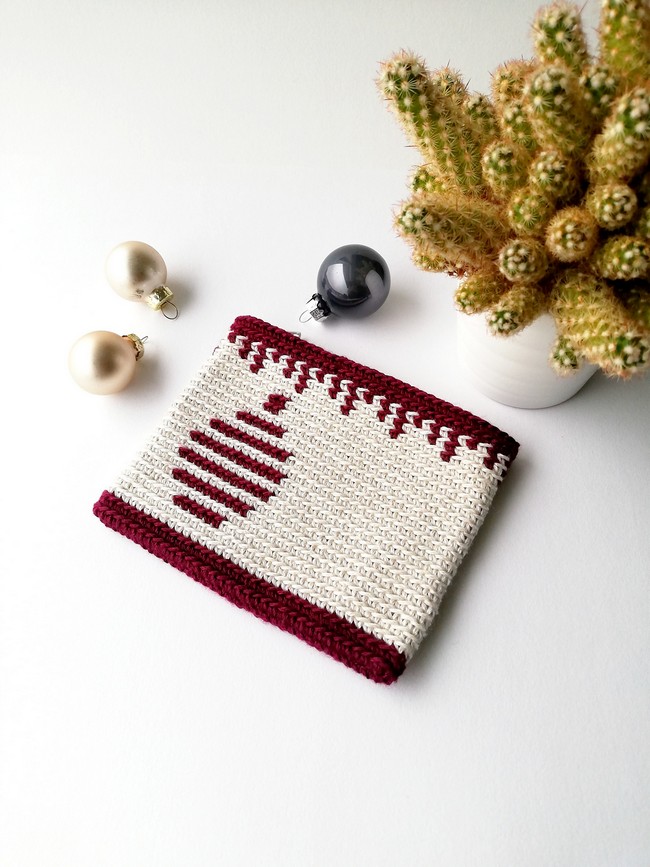 Learn to crochet a zipper pouch pattern and make this simple yet eye-catching zipper pouch Christmas ornament! The zipper pouch can store accessories, makeup, or even your phone. It makes a nice stocking stuffer or monogrammed gift for the holidays. This crochet pattern contains Detailed color photos to follow along with Step by step crochet instructions for each section and a materials list so that you can complete this project.
Materials
Yarn: any thin yarn will work (mercerized cotton works great in tapestry crochet projects). I used Tencel 100% lyocell, 50 g = 141 m, colours: red (318291) and white (318290).
Hook: as suggested on your yarn label. I used a hook size of 2.0 mm.
Abbreviations
ch: chain
sl st: slip stitch
sc: single crochet
msc: modified single crochet
prev: previous
st: stitch
Bag with Christmas ornament: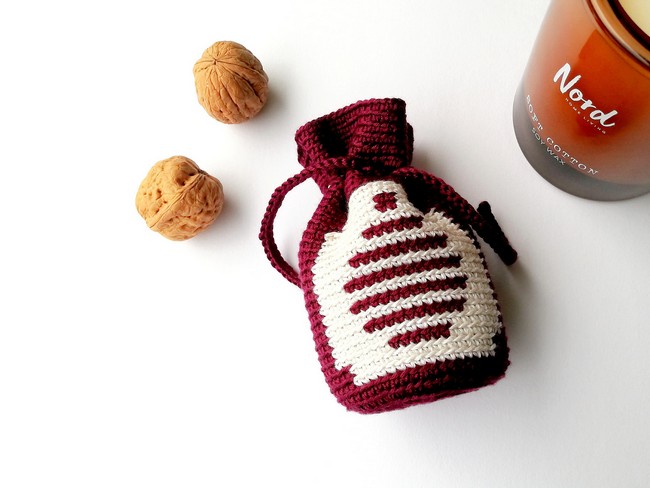 This Bag with Christmas ornament is a great Christmas crochet pattern for a lovely ornament in a beautiful bag. It's easy to do, and you can even make it a gift. So grab your hooks, thread, and yarn and get started on one of the most fun crochet patterns you have ever done! Your favorite possessions deserve special places to rest at night. This bag is simple to crochet, making it easy for beginner crocheters, yet it looks elegant enough to display on your tree or use as a gift bag.
Materials
Yarn: any thin yarn will work (mercerized cotton works great in tapestry crochet projects). I used Tencel 100% lyocell, 50 g = 141 m, colours: red (318291) and white (318290).
Hook: as suggested on your yarn label. I used a hook size of 2.0 mm.
Abbreviations
ch: chain
sl st: slip stitch
sc: single crochet
msc: modified single crochet
prev: previous
st: stitch
rep **: repeat from * to *
Nordic Dove Christmas Ornament: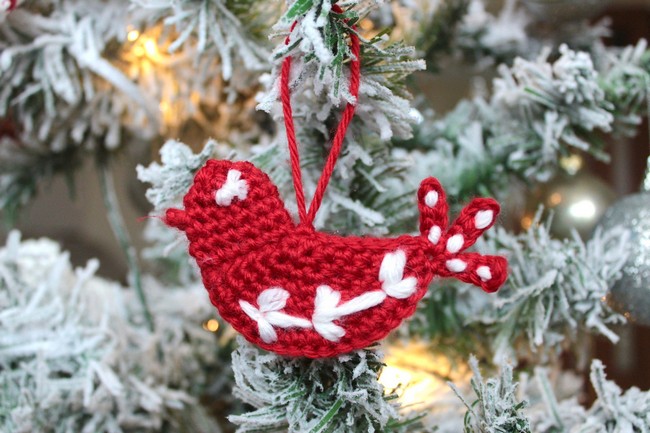 This crochet Christmas ornament pattern will appeal to the bird lovers in your life with its delicate design, and it's a great way to make handmade gifts for family and friends during the holiday season. Make the Nordic Dove Ornament in any size by changing the needle size and the thread weight. You can make it with a simple pattern and yarn that you probably already have in your stash! It's also incredibly easy to customize as an ornament for yourself or another bird-lover by adding beads or sequins for eyes!
Materials
We Crochet Swish Worsted (110y, 50g, 100% wool) or other light worsted yarn in two colors in red and white
4 mm crochet hook
Scissors
Yarn needle
Abbreviations
ch- chain stitch
sc – single crochet
sl st – slip stitch
MC – magic circle
Christmas Ball Ornament: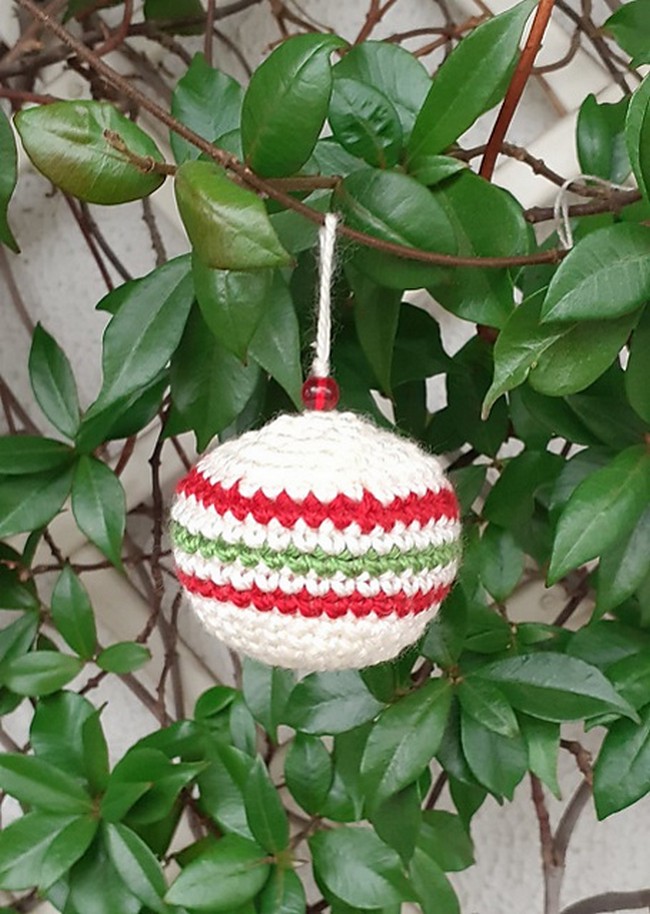 This is a Christmas crochet ornament pattern to make your own miniature crochet Christmas ball! This would be perfect for hanging on a tree or as a gift tag. It is easy to make, and most yarn shops' materials are needed. This pattern includes instructions for how to make it into Christmas ball ornaments. This Christmas Ball Ornament is the perfect gift for all the crochet lovers in your life. It works up quickly and makes such an adorable statement!!
Materials
 Sport or DK light, you can do it in one colour or more colours. For one colour ball needed in total of 65gr/2.29oz, 85mtr/3.346inc-93yds.
o   Gauge: 24sts x 32rows : 10cm x 10cm/4′ x 4′
Hook: metric3.5mm, US E /4, UK9
1 bead
Filling
1 crochet stitch marker
A pair of scissors
sew yarn needle
Abbreviations
sc: single crochet
ch: chain
st (s) : stitch (stitches)
dec:   invisible decrease – 2 sc together
Inc: increase 2sts together in the same stitch
Christmas Wreath ornament: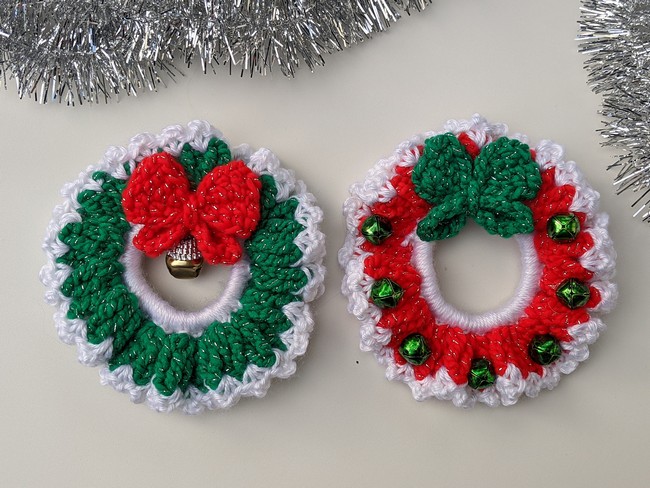 This festive little crochet Christmas ornament makes the perfect gift for any occasion. It's easy to crochet and just the right size for hanging on a Christmas tree, making it the perfect homemade gift for family members, friends, and co-workers! Wrap this as a gift or keep it as your special little reminder of why you celebrate Christmas each year. This easy design can be made by beginners and experts alike. The crochet pattern includes step-by-step instructions, tutorials, and other resources.
Materials
 Crochet hook 4 mm (US G7) or 4.5 mm (US 7)
 Red and Green Yarn – Bernat, Christmas, Happy Holidays (4) –98% acrylic, 2% metallic thread.
White – Caron Simply Soft (4) – 100% acrylic
Hair elastic band, plastic or metal ring.
Abbreviations
ch – chain
sc – single crochet
st – stitch
sl st – slip stitch
dc – double crochet
hdc – half double crochet
ETR – extended treble crochet: two yarn overs, insert the hook into the next stitch, yarn over and pull through (4 loops on the hook), yarn over and pull through the first loop only, [yarn over again and pull through 2 loops on the hook] – repeat 3 times
Crossed Diamond Bauble: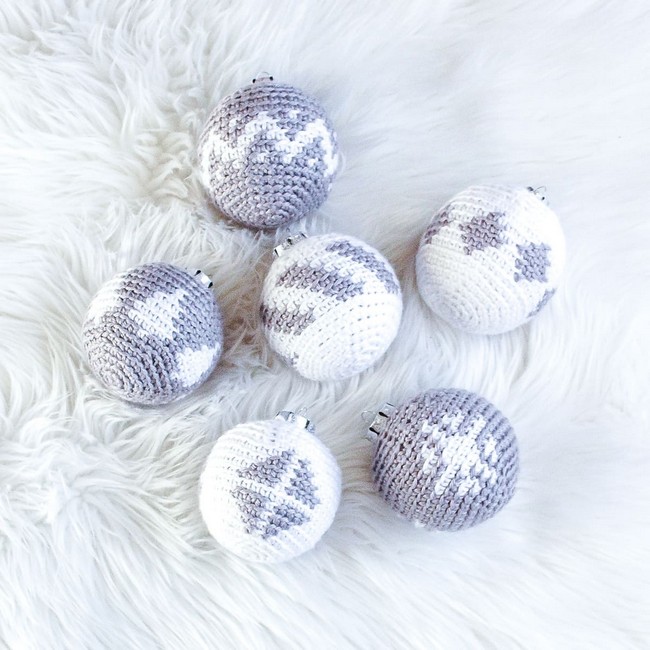 Create a wonderful handmade Christmas ornament using this cross-stitch pattern. Perfect for someone who loves the beautiful art of crochet, this pattern provides the instructions you need to make your own crochet Christmas baubles. The crocheted ornament pattern includes step-by-step directions and an image of what your finished product will look like. This crochet Christmas ornament pattern is quick and easy; it only takes around 2 hours! You can hang it on the tree or as a decor piece in your home at Christmas.
Materials
Any #4/Medium/Worsted weight yarn in two colours.
The amounts given here are for WeCrochet Brava Worsted (218yds/199m per 100g skein; Weight: #4/Medium/Worsted; 100% Acrylic)
Per Bauble: Approx. 50 yds / 45m of each colour.
Hook: 4mm (G-6) crochet hook (or hook required to meet gauge – see Colorwork Notes below).
Yarn needle
Stitch marker
Abbreviations
h = chain
st = stitch
sl st = slip stitch
blo = back loop only
sc2tog = single crochet two together (see Special Stitches)
beg = beginning
rem = remaining
C1 = Color 1
C2 = Color 2
Christmas Bell Ornaments: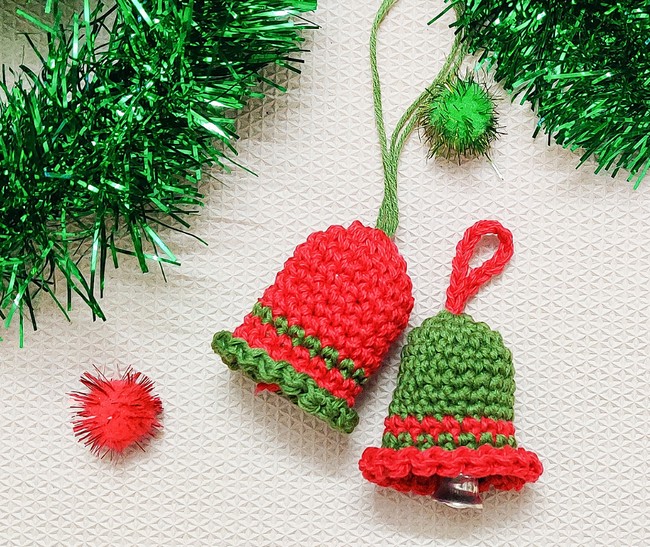 Crochet Christmas Bell Ornament Pattern; Bright and cheery crochet Christmas Bell ornaments made in red and green. These bells are quick to make with just a few simple stitches and work quickly for those last-minute gifts! These little crochet Christmas ornaments are fun to make and use, perfect for Christmas tree ornaments. Suitable for all skill levels, this pattern is easy to follow, with plenty of pictures showing each step. With these crochet Christmas ornaments, you will have a blast creating a whole set of hanging ornaments that can use year after year.
Materials
4 Ply Cotton Knitting Yarn

4 mm Crochet Hook
Decorative Bell or Beads
Robin Bauble Christmas Ornament:
The Robin Bauble Christmas Ornament makes a sweet little ornament for your tree or a pretty gift to decorate the home of someone special. Instructions are included for a small, medium, and large version of the Robin, making it perfect for personalization – whether with the colors, size, etc. There are also instructions on making the chain you need to hang up in your craft stash! This little crochet project is great for beginners and makes a lovely gift.
Materials
Any category 3 / light / DK / 8 ply / light worsted yarn in red, yellow, brown, cream and black.
5.5 mm hook
2.2″ in diameter / 7.1″ in circumference bauble
Measuring tape
Scissors
Abbreviations
ch: chain
dc: double crochet
rep: repeat
sc: single crochet
sl: slip
sliding loop: magic loop, magic circle, adjustable loop, magic ring, adjustable ring, drawstring ring
st: stitch
t: turn