15 Free Crochet Decor Patterns For Beginners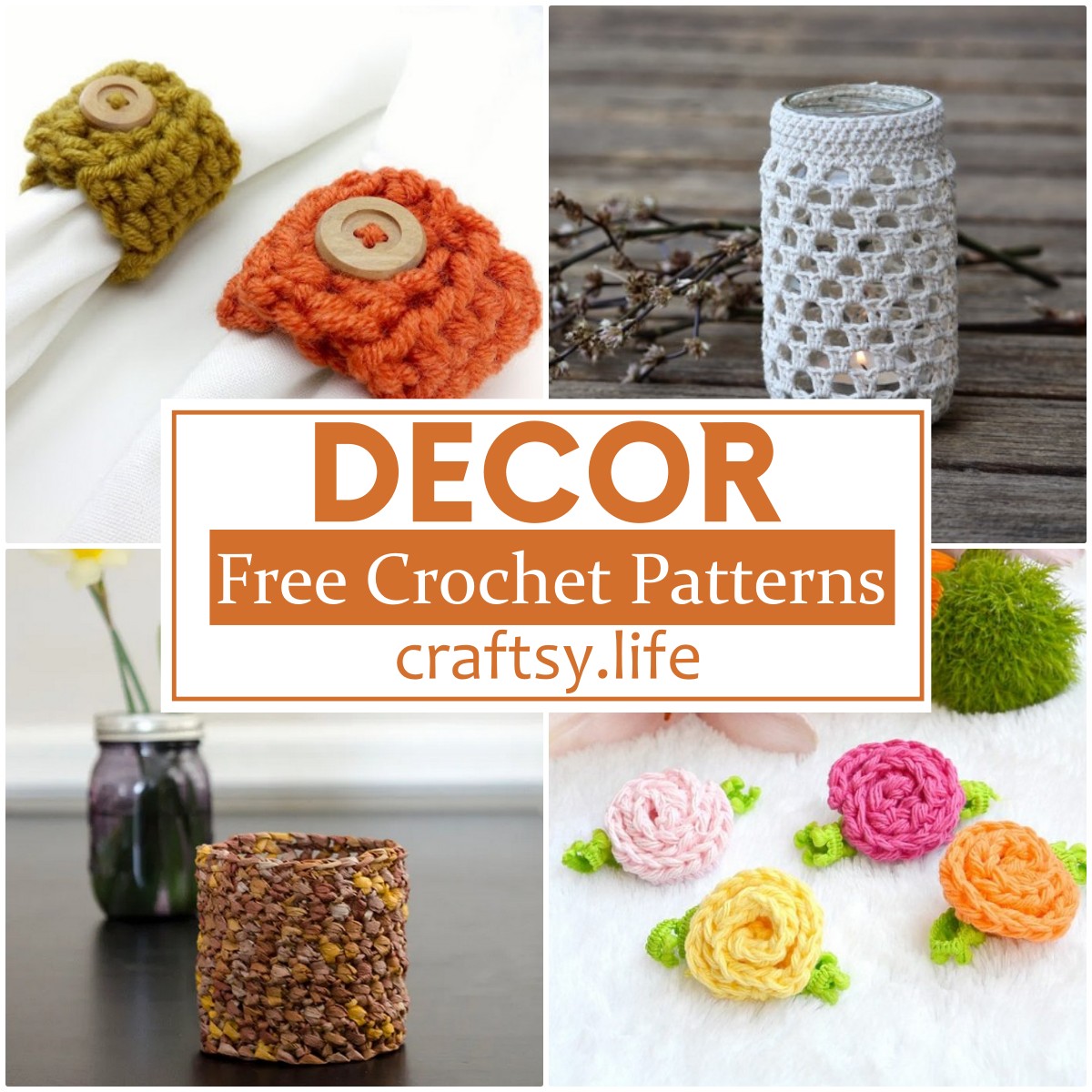 Crocheting has become a popular hobby for both the experienced and the novice alike. It's relatively easy to learn and can be as simple or complex as you want. You can make blankets, hats, scarves, and so much more with some yarn, a crochet hook, and a pattern. A huge selection of crochet decor patterns online and in magazines is perfect for decorating your home. These Free Crochet Decor Patterns will inspire you to try out your new-found hobby! They are all soft and luxurious and will add a lot of comfort and warmth to your home. Some of them can be adapted to match other decor styles, so even if you're not into the hippie look, that shouldn't stop you from trying them out!
Easy To Crochet Decor Patterns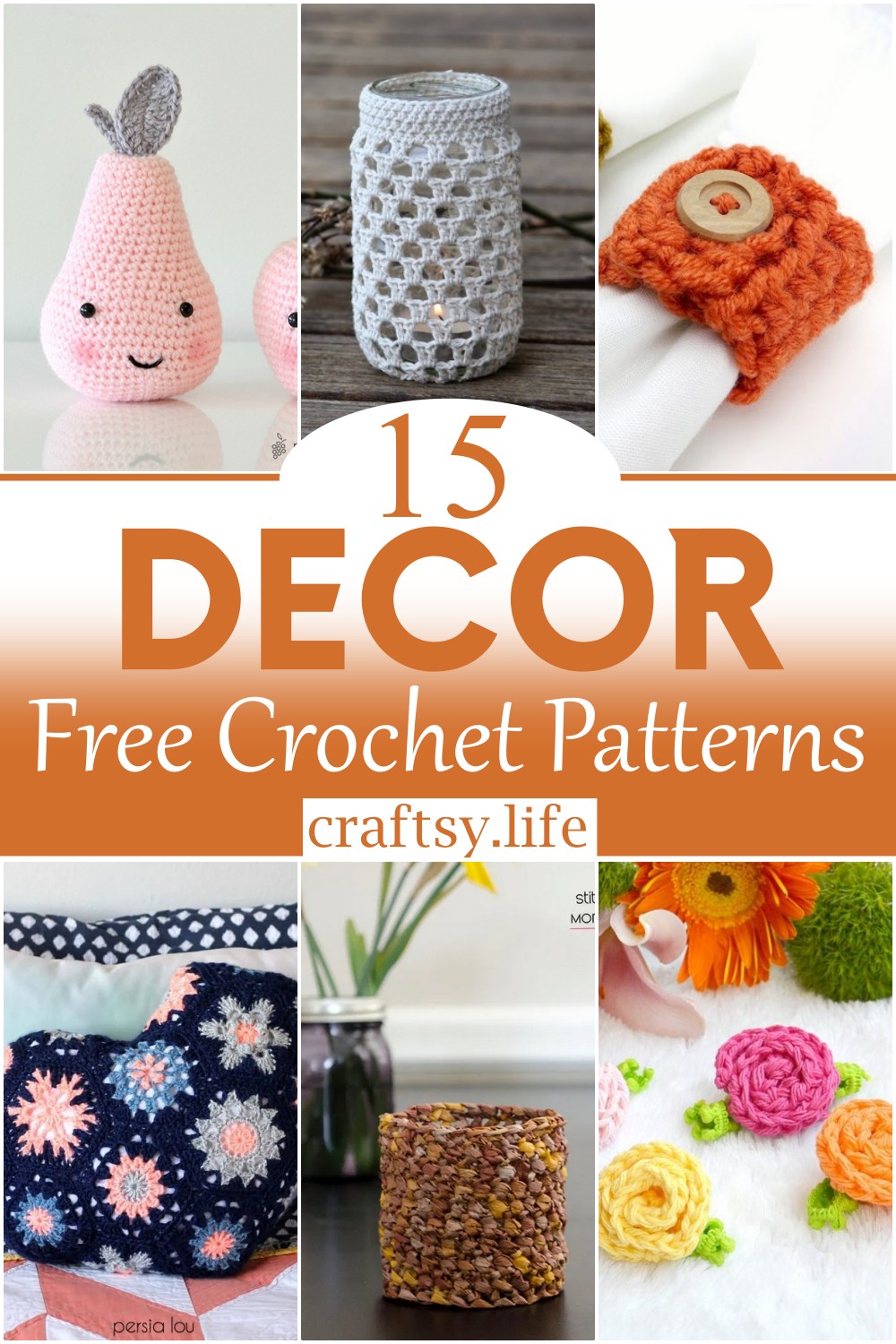 Crocheting is a great way to add a personal touch to your home decor, regardless of whether you're a beginner or an expert. Not only can it be really fun to do, but the result can be just as rewarding. Anyone can do many simple projects, from making a pillow cover or some dishcloths to decorating your Christmas tree or even fashioning a shower curtain. Here is a collection of the most unique and original crochet decor patterns that impress your closest friends and family. Crochet granny chic pillow with tassels, crochet Christmas stocking patterns, modern boho style wall hanging, and more!
Benefits Of Unique Crochet Decor Patterns
Crochet decor is a great way to add a personal touch to your home. It can be used as a wall hanging, pillow, or even as a blanket that you can use on your couch. Here are some benefits of crochet decor patterns.
It's Easy To Make: Crochet is a popular craft anyone can make. You need some yarn, a crochet hook, and patience, and you're ready to go! Making crochet decor pieces is simple, making it easy for beginners to create their own pieces.
It's Affordable: Crochet decor is an affordable way to add some personality to your home without breaking the bank. You can make your own crocheted pieces or find them online at affordable prices. You don't have to spend much money on this type of decoration at all!
Any Yarn Can be Used For Your Project: There are so many types of yarn available today that it's easy to find one that perfectly matches your style and taste! Whether you prefer wool, cotton, or acrylic, there are plenty of options for you to choose from when picking out yarn for your next project.
Easter Bunny Decor
Give your home a cute Easter makeover with this Crochet Bunny Decor. A great addition to any bunny lover's home, the lightweight piece features adorable buttons for the eyes, two removable bunnies (just in case one gets lost), and a shiny black bow tie. Crochet Easter Bunny Decor is the perfect addition to your Easter decor. This adorable crochet bunny will add some fun to your Easter table, and it's also a cute decoration for Spring. Add this crocheted bunny to your Easter table! He's sweet and soft, just like a little egg.
Mini Easter Eggs
Crochet Mini Easter Eggs are the perfect project for Easter. These tiny little eggs will fit into any space, making them easy to store and display year-round. Crochet mini Easter Eggs are a fun gift for kids, friends, or anyone who loves springtime colors. Crochet Mini Easter Eggs are the perfect Easter decor. Each egg comes with a little crochet basket that you can use to hold little goodies. It's also the perfect size for a pretend easter basket for the Easter bunny!
Aloft Plant Holder
This colorful crochet pot hanger will add a fun touch of warmth to any interior. In just a few hours, you can have it hanging beautifully on your wall and enjoy the joy of having a plant so close. This Aloft Plant Holder is a great addition to your home decor. Whether you hang these in your living room, bedroom or kitchen, they're sure to be a conversation starter with their vibrant colors and bright textures. Pick from over 15 color combinations that let you match any look. Or keep it simple with just one color scheme that works in all rooms!
Valentine Garland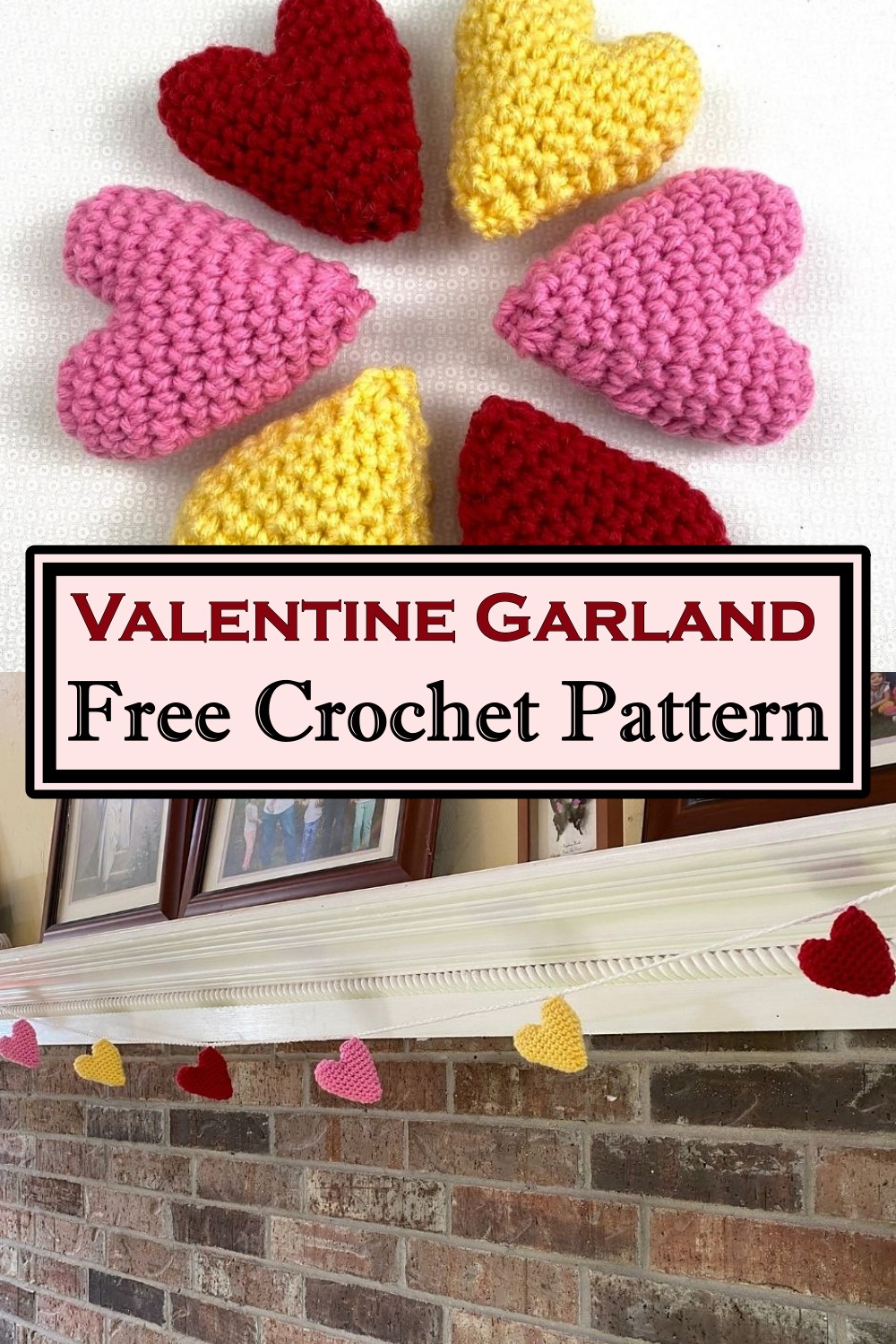 Crochet your own Valentine's Day garland with these three-dimensional hearts. This Valentine Garland will brighten your home during the holiday season. A bright red and white crocheted heart garland to decorate your house. 3-D hearts are attached to the crochet chain as you work, creating a fun textured look at the end of this easy project! Add a little romance and a festive touch to your home with the Valentine Garland. Decorate your home for the holiday, or gift it to a friend! You can hang them on the wall or create an entire room decor by adding them to lights, windows, and more!
Cutie Pie Pumpkin
This crocheted pumpkin will add a bit of whimsy to any fall decor. He's the right size to hold small candies or as a fun catch-all for keys, change, and other assorted items. This darling pumpkin may be as small as a doll, but it's packed with all the fun you can imagine. The no-sew face pops out of the head, so you get to enjoy a simple project while making something cute and cheerful. Use it on your table at Halloween, or keep it out year-round. These adorable crochet pumpkin dolls are quick and easy for your holiday decor. Craft and add them to your display or give them as gifts.
Large Yarn Bombing Sunflower Decoration
Crochet this large yarn-bombing sunflower decoration. Not only is it a beautiful and fun craft project, but you can use it to decorate the home or as a gift. This great beginner crochet pattern is perfect for your summer valentines day! Decorate your home with this crochet sunflower decoration. Large, round and cheery, this piece is great for Spring decorating or as a brightening up the corner of any room in your house. This large crochet sunflower is perfect for outdoor decorating, garden plants, and flower pots. It's green, unique, and will add a burst of color to your yard.
Mini Norwegian Nisse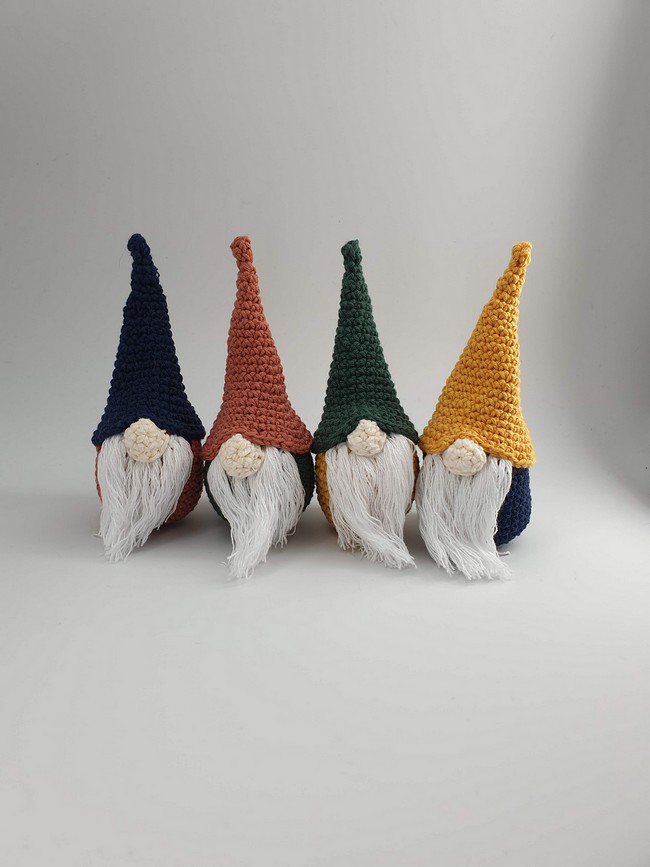 Crochet Mini Norwegian Nisse is a fun and easy Christmas decoration. Perfect for your holiday decorating, gift wrapping, or tree trimming. The perfect addition to any Christmas celebration! Give your friends or relatives a unique and special gift with our crochet mini Norwegian Nisse. This traditional toy is hand crocheted with wool yarn, which has been dyed by hand with vegetable dyes, making it completely natural. The finished product is completely safe for kids due to its handcrafted nature and the wool used in production, so there are no worries about the safety of the baby's delicate skin.
Rocket Firecracker Wind Spinner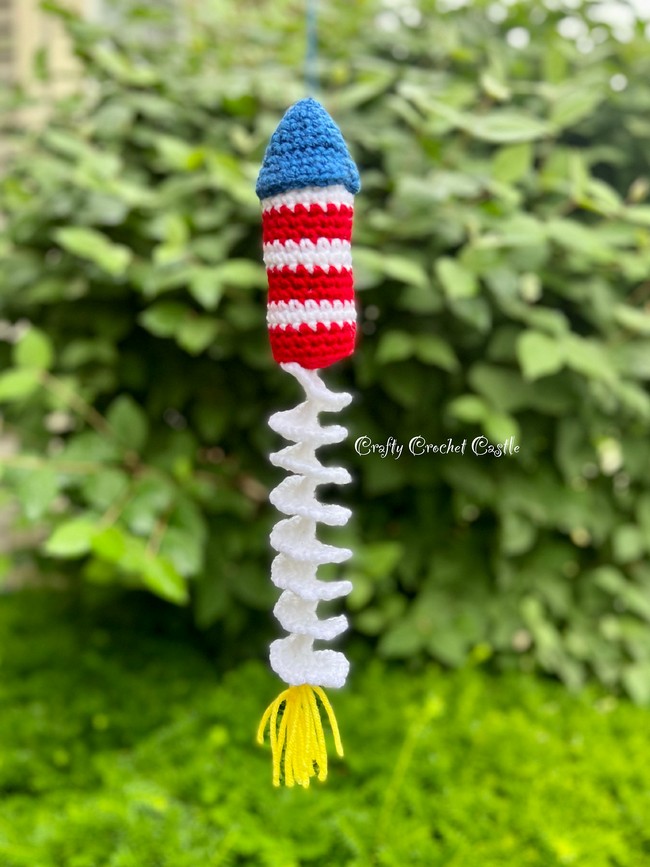 This Rocket Firecracker Wind Spinner will make you want to set off all your fireworks. It's the perfect decoration for a July 4th party or hanging up in your home year round! This Rocket Firecracker Crochet Wind Spinner is a quick and easy project to whip up in the afternoon. Be sure to make it well ahead of your next Independence Day festivities, as it makes an excellent gift for the patriotic crafter in your family. This delicate-looking wind spinner packs some serious punch when it comes down to it, making a huge impression at any backyard BBQ or family potluck this summer (or winter too!)
Free Crochet Mandala Hoops Wall Hangings:
Do you want to decorate your home? Are you looking for an elegant Mandala hoop wall hanging? You have come to the best place. This is among the top ten crochet mandala patterns in the world. The project looks beautiful and different from other projects with this crochet technique, style, and design. It can be done within a short period. You can make this wonderful Mandala wall hanging for your place. Add it to your living room or bedroom to add a rustic yet modern look to your decor. Ideal as decoration during Christmas, thanksgiving day, and other festivals.
Heart-Shaped Hexagon Pillow Crochet Pattern: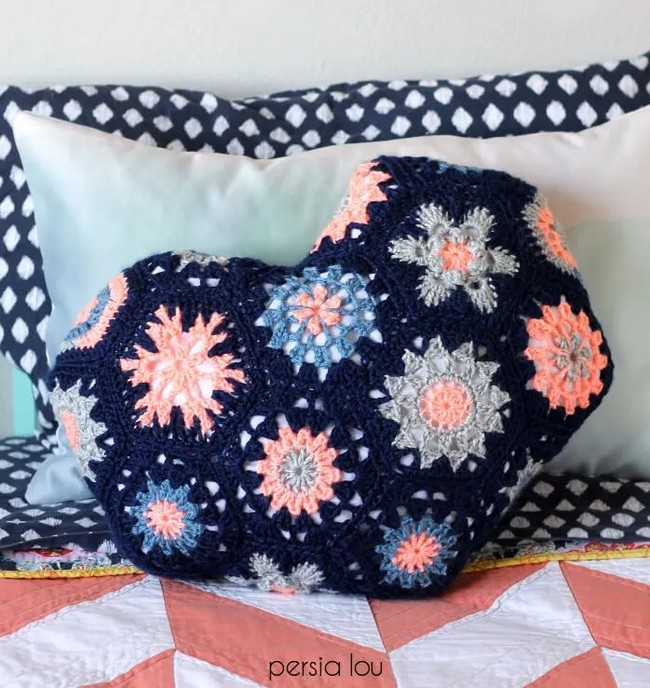 This heart-shaped pillow is perfect for any homeroom but especially well suited to a bedroom. This crochet pillow pattern shows you how to make it easy. It also includes free tutorials that help you work with a hexagon shape and construct two different sizes of pillowcases. This pillow pattern is perfect for those who love to make things by crocheting. It's simple and easy to make, and you can use any color combination. This makes a lovely gift to give to your loved ones on Valentine's Day or any other day.
Little Free Crochet Deco Roses: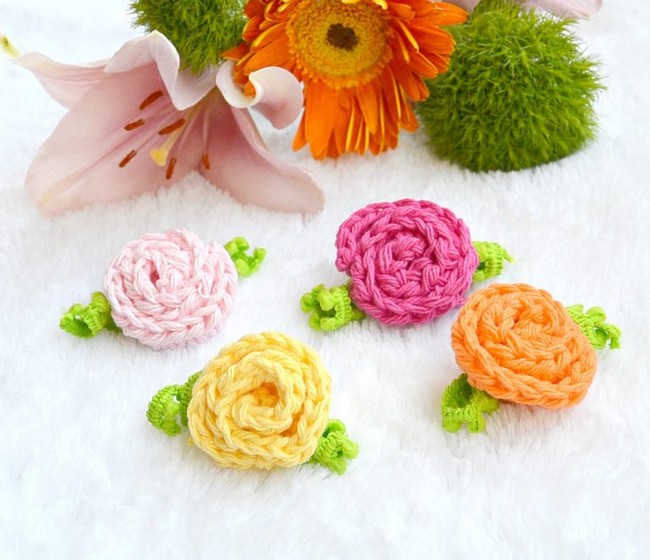 These little crochet rose flowers are easy to make and look great on any project. These are perfect for giving your room more personality or adding color to your wardrobe! This flower's very easy to make and perfect for beginners. These small crochet flowers will enhance your home décor and add more beauty to your living room, bedroom, hallway, or bathroom. You can make these hats with the help of a hook and the right kind of yarn. The best part is that you don't need to be an expert in crocheting, as it is hard to mess up this pattern.
Free Crochet Apple Pattern: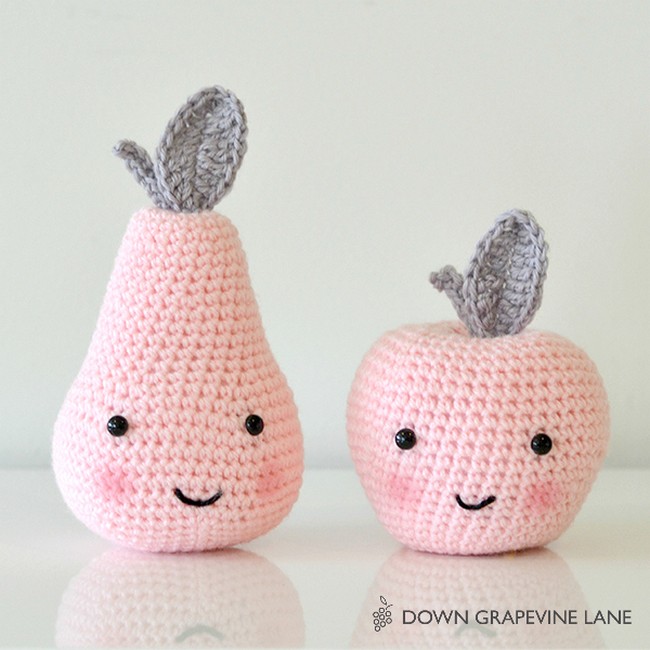 Crochet this apple potholder. It has a real apple feel to it. You can use it for your kitchen dashboard or gift to a loved one. This is a great option if you want gifts for your students, teachers, and friends. Fun to make and great for decorating your home or office, this crochet apple pattern is sure to be a conversation starter. Whether you need a decorative piece for your desk or want to create something that will last for years, this apple will be ready for anything.
Free Crochet Jar Cosy Pattern: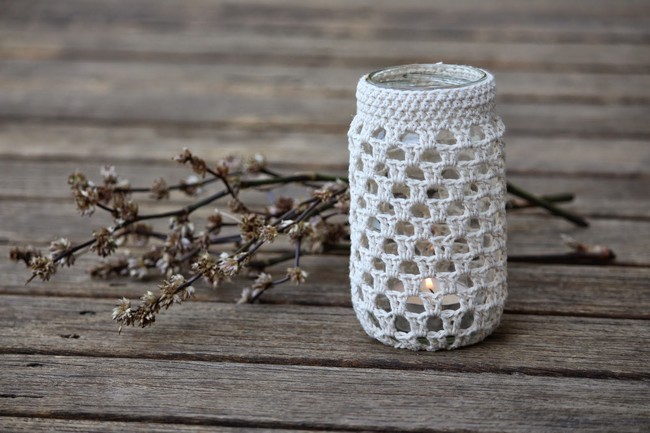 Crochet Jar Cozy covers do not take a lot of time to make, but they can change the look of your home. If you want something to crochet that meets this description and adds an extra touch to your kitchen, then you can use these easy crochet jar cozy covers. The pattern is easy to follow, and many people have tested it. There are so many things that can be done with this classic knot stitch that even once you master this pattern, there will still be many different shawls, blankets, hats, and other garments for you to enjoy. You can use any crochet hook size appropriate to the yarn weight – check the gauge over several rows first!
Crochet Pattern Harvest Button Napkin Ring: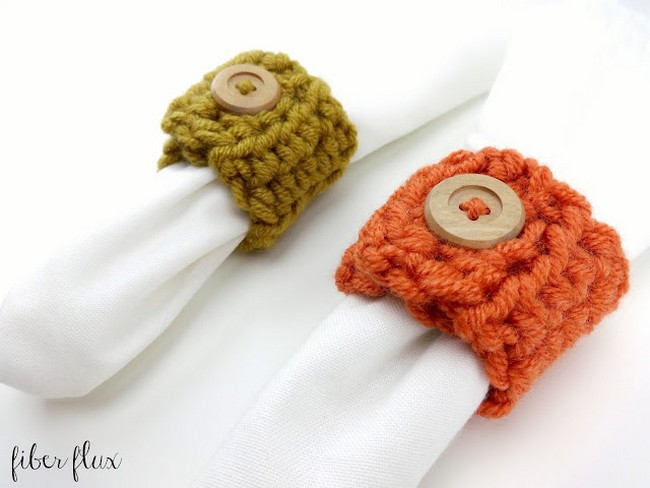 A perfect accessory for your fall and winter table, these harvest button napkin rings are an amazing project for the beginner crocheter. This is a simple but beautiful project and will make an awesome gift for the holidays. It's made with chunky yarn, so it works quickly and can be finished in just a few hours. The button is sewn onto both sides and provides a place to put your napkin, keeping it from falling off easily! This Harvest Button Napkin Ring is super-fast and effortless to make, yet still impressive! The fun button adds a personal flair to this adorable napkin holder.
Mini Raffia Basket Free Crochet Pattern:
The Mini Raffia basket is special because it has a very elegant and decorative design. It is perfect for keeping your front door neat. This basket can hold some keys and other small things you need daily. It is helpful for your kids to store their toys or other accessories. The crochet pattern creates an amazing look that shows your taste and style and your home's interior decor. This stunning little basket can hold small items like crochet fruit or coffee pods. A great gift for that special hostess or housewarming! Or use it to store craft items, like scrapbooking scissors and envelopes or baking spices in the kitchen.