50 Free Crochet Pillow Patterns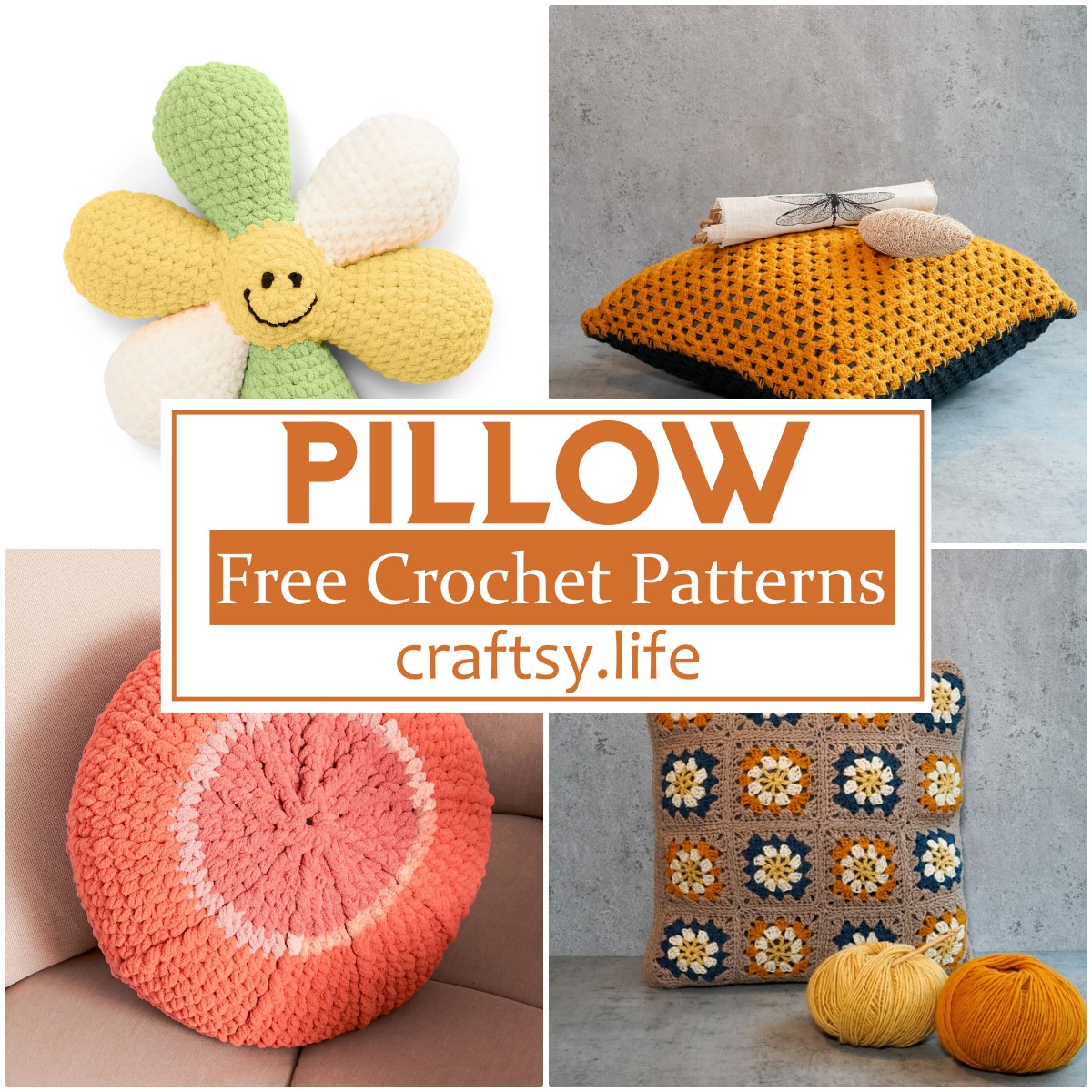 Are you looking for affordable crochet patterns? Have fun and make an immediate impact by making your own crochet pillows. Make a statement with your crochet pillow patterns! Crocheting pillows are the perfect beginner project for you to practice crocheting a fabric. The shapes of the pillow patterns are simple and do not require advanced skills. They are great for learning how to do crochet projects and decorating your home and can even be used as a gift for a friend or family member. Crochet pillow patterns range from simple throws, pillows, and totes to cushions and our own unique patchwork collection for your home or nursery.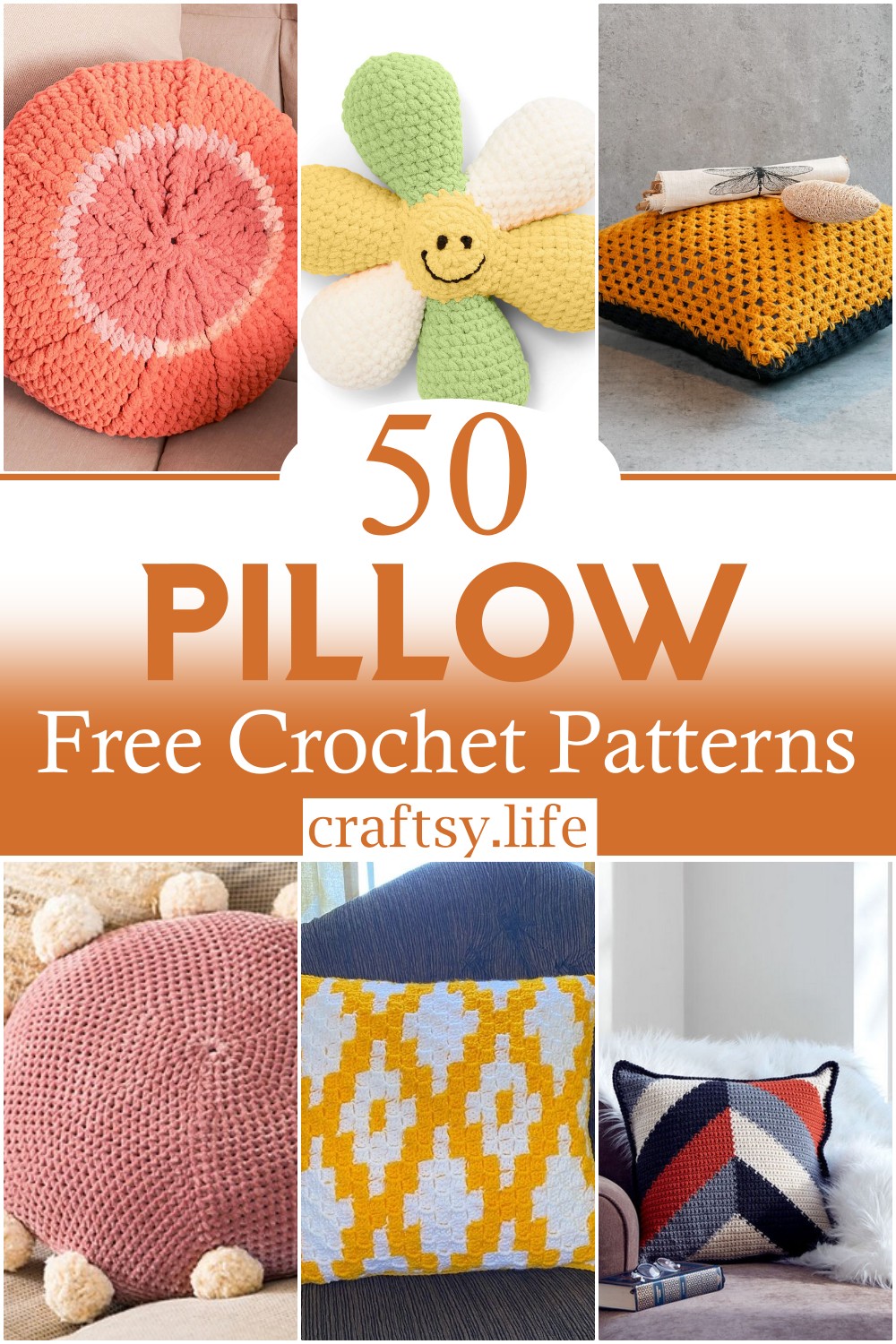 Crochet pillow patterns are a great way to stretch your crochet skills and add some pretty new pillows to your home decor. These patterns work up quickly, so they're also great for learning new stitches and working on fundamental color changes without worrying about the size of a finished item. These free crochet pillow patterns are super easy to make and look fantastic. They're sure to add a new touch of style to your room, whether you choose cozy and traditional or bold in vibrant colors. You'll find plenty of pillows with traditional and modern flair for any style décor — whether you want a classic understated pillow in one color or a bold geometric pattern with several colors.
These 50 creative crochet pillow patterns will add a special touch to your home; use them to make the perfect accent pillow or decorate a bed with fun.
You Can See: 25 Free Crochet Rainbow Patterns
 Purcell Pillow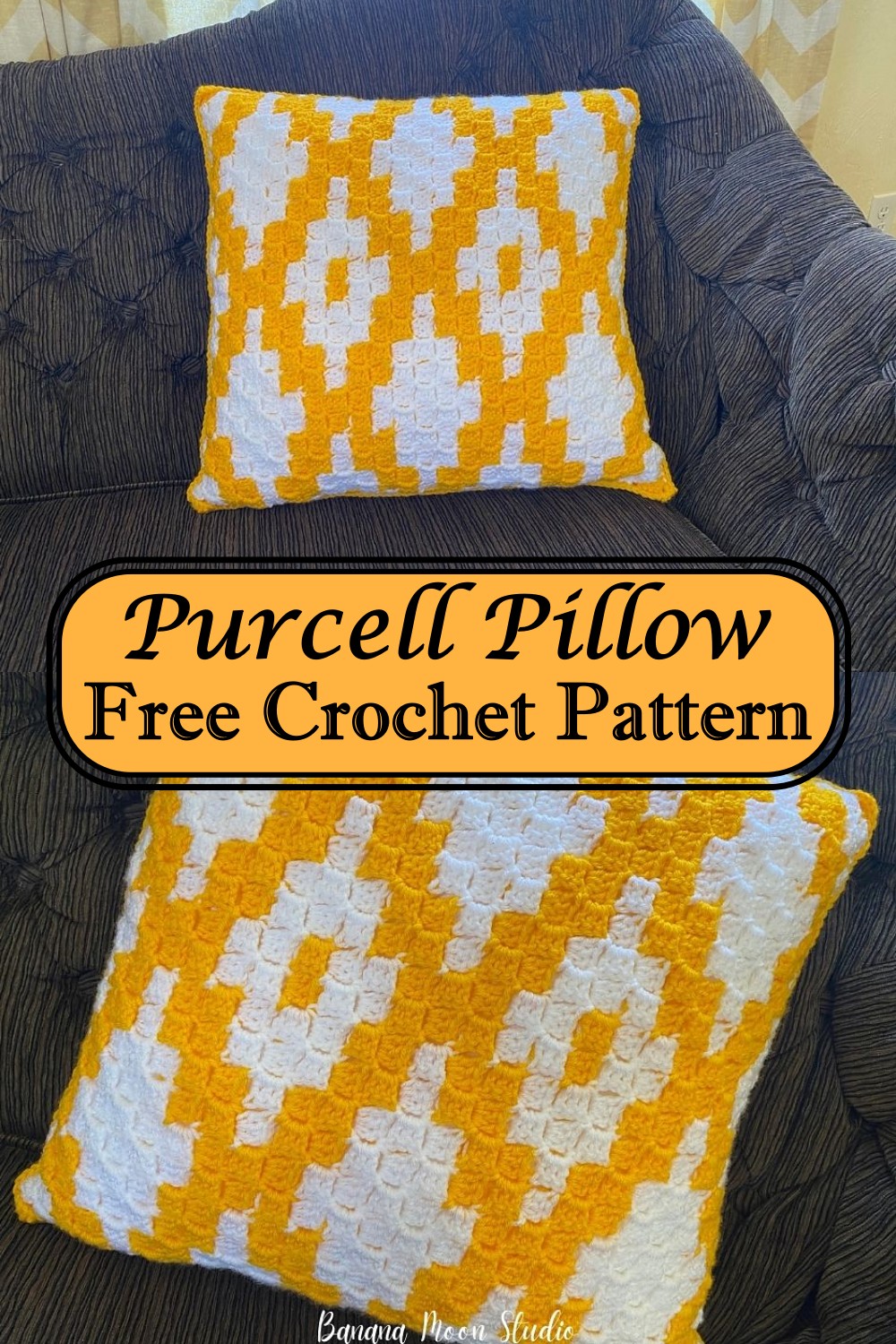 Whether you are looking for a handmade gift or something to add a bit of personality to your home, this crochet pillow pattern is perfect! You can make it out of 100% cotton for ultimate comfort. The easy-to-follow written design allows crafters to make this pillow themselves in no time. The final result looks like a vase full of flowers, sure to give you an elegant look in your living room, bedroom, or guest room.
Radiant Ridges Pillow
When you can't get enough of this squishy pillow, your neck will thank you! Worked in the round from the bottom up, this pattern features radiating double crochet to wake up a room! It's perfect for everyone who loves to snuggle in a comfy spot with a book and a cup of tea. This pillow is the ideal squishy texture for your sofa, bed, or anywhere in your home. The pillow is worked round and round, creating many ridges to make a perfectly squishy pillow.
Sonne&meer Kissen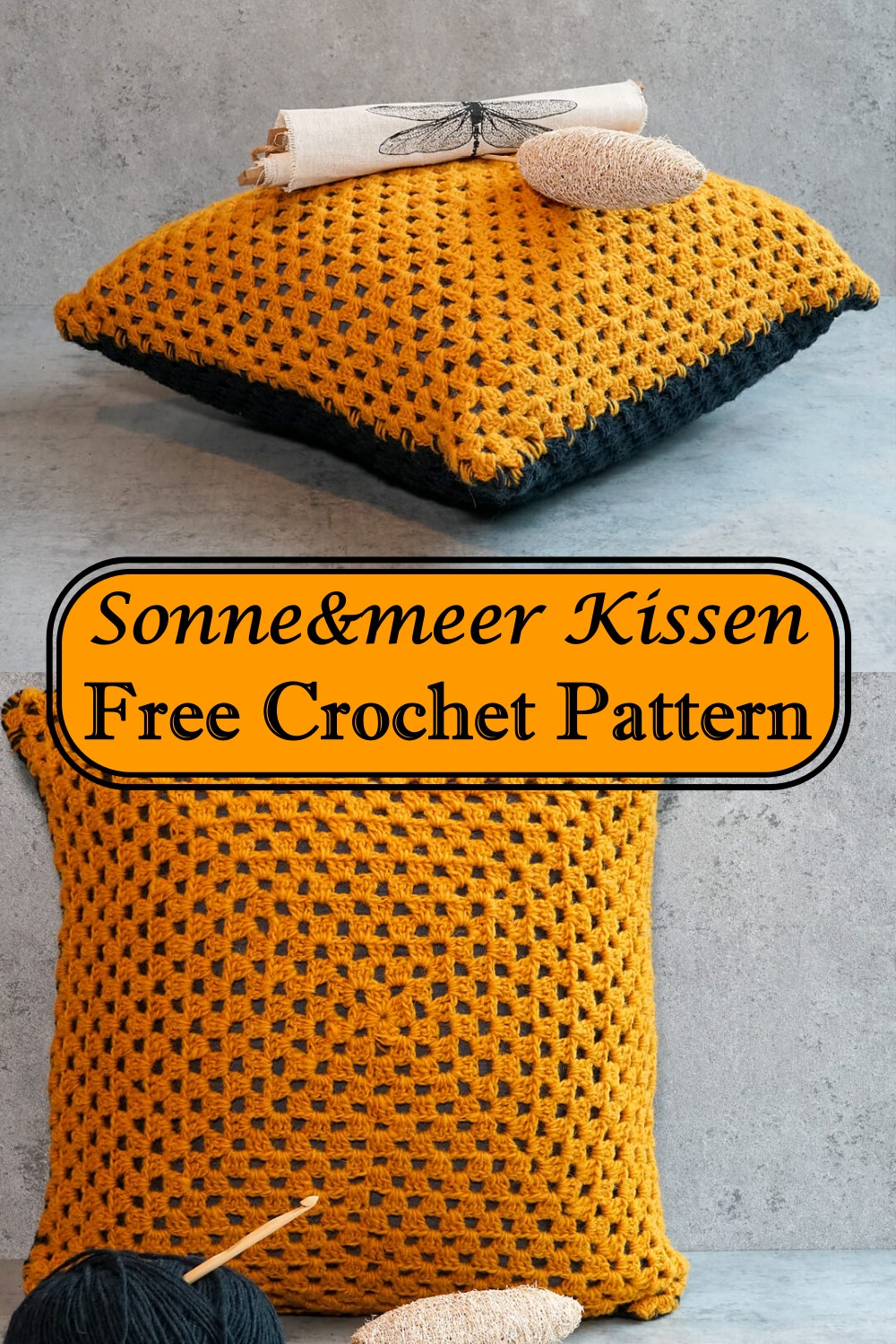 This beautiful crochet pillow pattern comes from the famous German brand Sonne & Meer (sun & sea). The pillow features a flower-filled garland and a shell border. You can stitch it together using the mattress stitch or whip stitch. It's perfect for any room that needs a pop of color, and both the front and back are worked in the same way, so it's easy to make two at the same time. This is a true summer classic and an ideal gift for anyone who loves the beach.
Strandblume Kissen
This free crochet pattern is for a beautiful vintage-inspired Strandblume Kissen. It features intricate crochet work and a gorgeous striped design, adding a sophisticated twist to any living room or bedroom. Combine different colors to create an entirely new look! You will enjoy this pattern for the Strandblume Kissen Crochet Pillow Pattern. This crochet pillow pattern is perfect for handmade and unique gifts. Make this beautiful strand pillow for yourself or as a present!
Daisy Pillow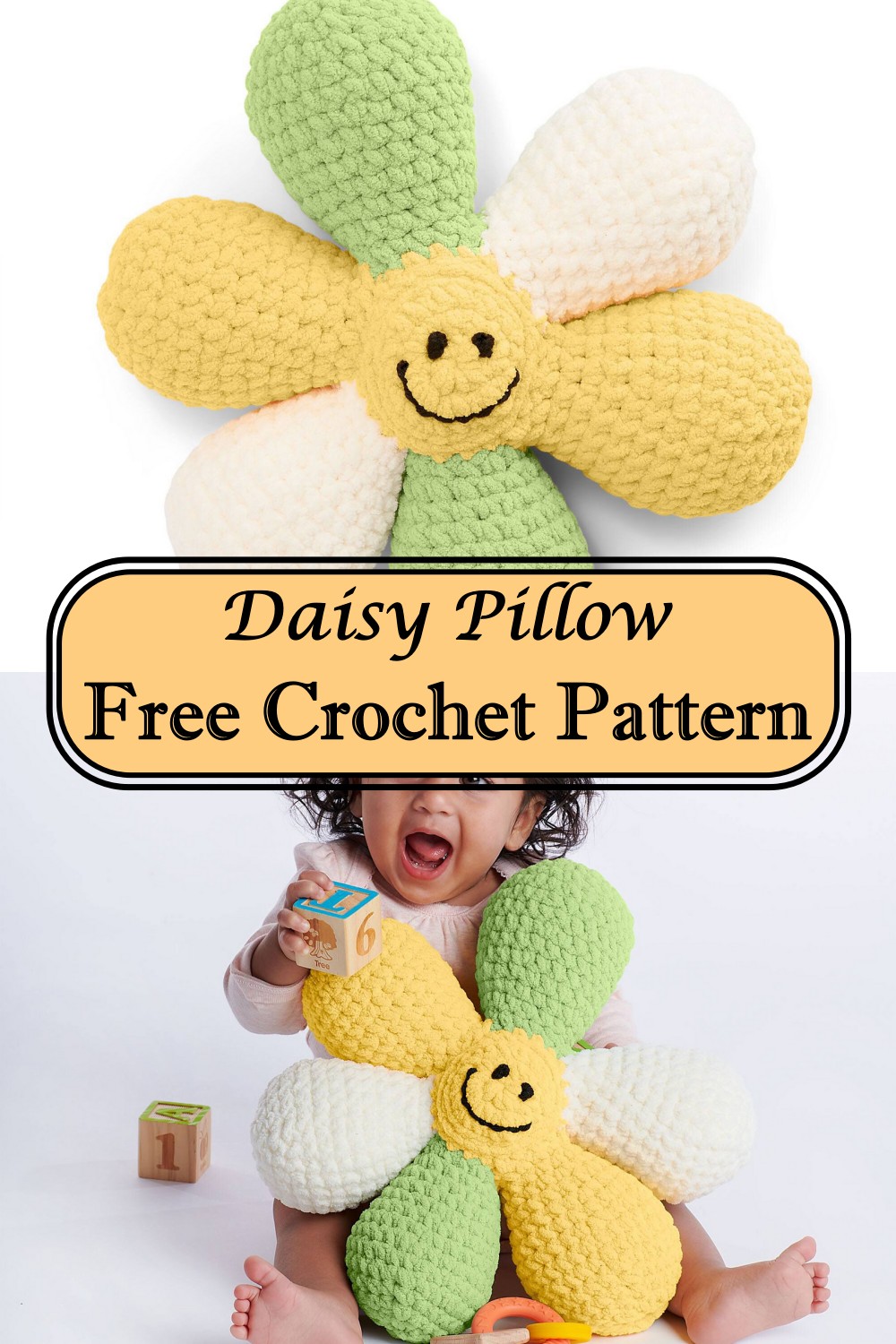 This lovely little pillow would make a great addition to any room. It's perfect for brightening up your space and adding a touch of handmade charm. Whether you make it for yourself or give it as a gift, this pillow will surely be cherished for many years. This crochet pillow will be a great addition to an end table, sofa, or on top of your favorite chair. The daisy pattern is just the right amount of flair while remaining simple enough that it won't overpower the other items in the room. It's also small enough that it can fit almost anywhere!
Free Crochet Pillow Pro Pattern: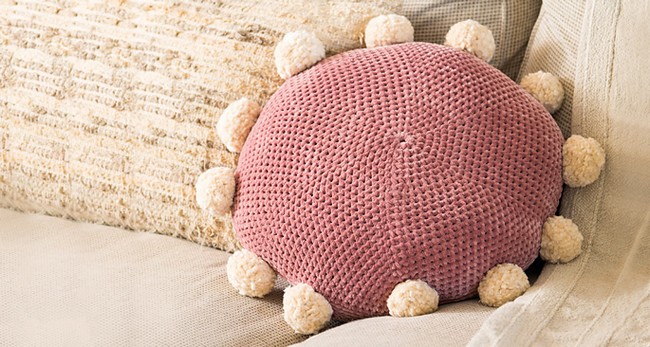 This crochet pillow pro pattern is a quick and easy way to finish any project. Make a couple of chains, slip stitch to the end, and put a single crochet border on all sides. This free crochet pillow pro pattern uses basic stitches that are beginner friendly. This is the pattern for a super easy and relaxing crochet pillow. With this pattern, you can crochet a new decoration for your living room, bedroom or patio. The pad can customize in size, color, and decoration!
Free Crochet Brioche Stitch Ombre Pillow Pattern: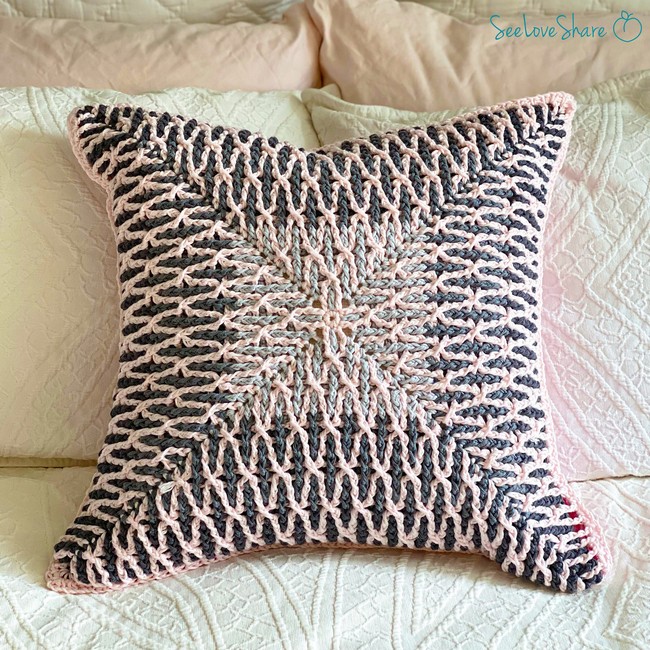 The Brioche Stitch creates a beautiful, intricate texture that is sure to impress. You'll learn to create different colors by only changing yarn colors at critical points in your project! The pattern uses a half-double crochet stitch in rows of solid and multi-colored yarns to create a beautiful ombre look. This pillow will look fabulous in any room but is especially perfect as an ombre accent pillow or accent pillow. It is a straightforward crochet project so that beginners can try the brioche stitch out quickly.
Bold Angles Crochet Pillow: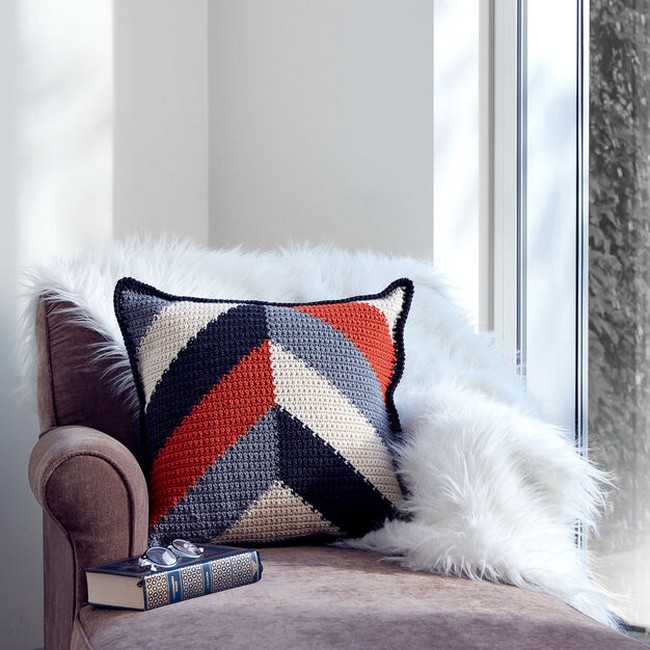 The Bold Angles Crochet Pillow is a festive, bohemian-inspired pillow to brighten any space. The bold angles and thick stripes of color make it the perfect statement piece in any living space. This pillow is ideal for organizing your home into beautiful and functional areas. Great for living room decor, this pillow is great for a chair or sofa. This handmade crochet pillow is an excellent addition to any room in your home. This pattern includes easy-to-follow instructions on how to create this unique crochet pillow.
Crochet Polka Time Pillow: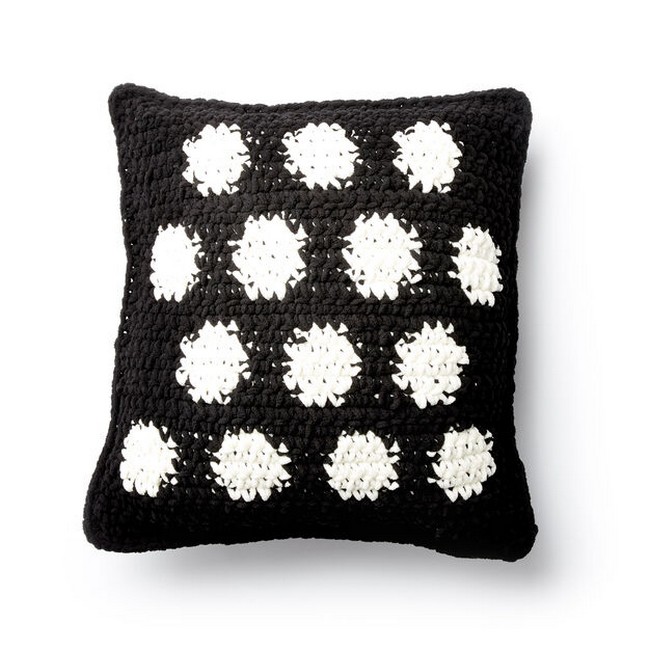 Are you looking for an accent pillow with a vibrant and fun vibe? This pillow is fun to make and even more fun to decorate your home. With a colorful graphic pattern and easy construction, this pillow pattern is perfect for someone who loves colorwork projects. This design features 12 rows of colorwork that are easy to memorize and quick to work up. The fabric will stack when finished, making it a perfect addition to any room in your home. Plus, with Bernat Blanket Brights yarn, you can add some extra excitement by choosing a bright hue or two!
Circle Motif Pillow: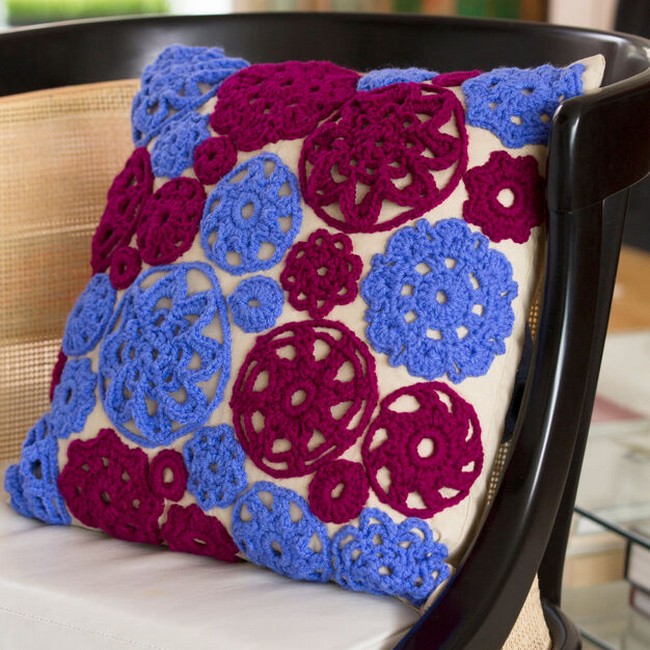 This pillow is a beautiful way to add elegance and style to your favorite couch, bed, or chair. The pattern includes tips on creating different size motifs, which can combine in any way you wish to customize the look. The pillow is big enough to cover most purchased pillows. It is simple designs that are easy to crochet and have a clean, modern feel, so they work well with many decorating styles. This pillow is the perfect accent for any room in your home. Its simple beauty is easily embellished to match your style.
Crochet Emoji Pillows:
For some, Emojis are part of their everyday life. Make it easy to crochet this pattern in your favorite colors, and make a square pillow to match any personality. Covering a couch or chair in these colorful pillows is a fun way to decorate your home or office. These stylish and fun pillows will make everyone smile. This project is quick, easy to make, great for couch cuddling or sleepovers, and a fantastic homemade gift idea!
Graphic Step Crochet Pillow: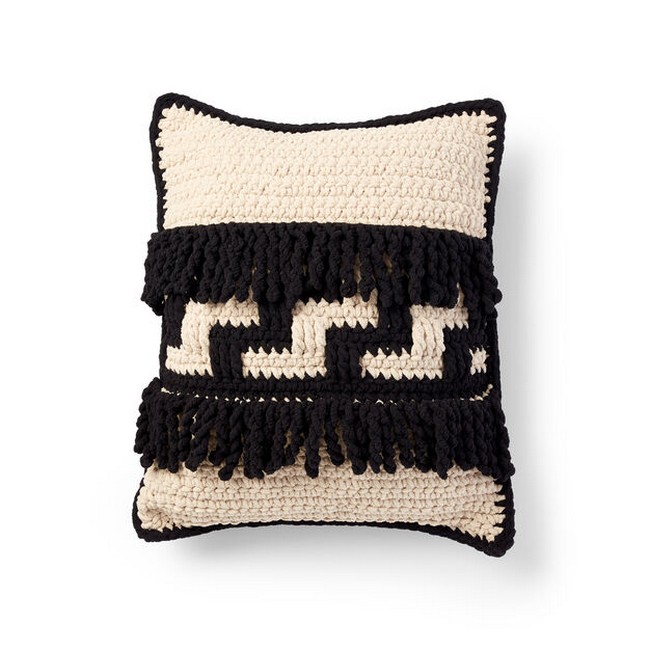 Keep your living room cozy with this cozy crochet pillow made from the Bernat Blanket yarn. This design works quickly and uses only double crochets to create a textured look. Whether you're looking for patterns to make new décor pieces or want to try something new, this free crochet pattern is a great starting point. This is the perfect crochet pillow for your living room, couch, or chair. The unique graphic stitch and cozy chenille yarn make it ideal for snuggling up in front of the TV. Make one or a few to match your décor or give as a gift to friends and family!
Bobble Go Round Crochet Pillow: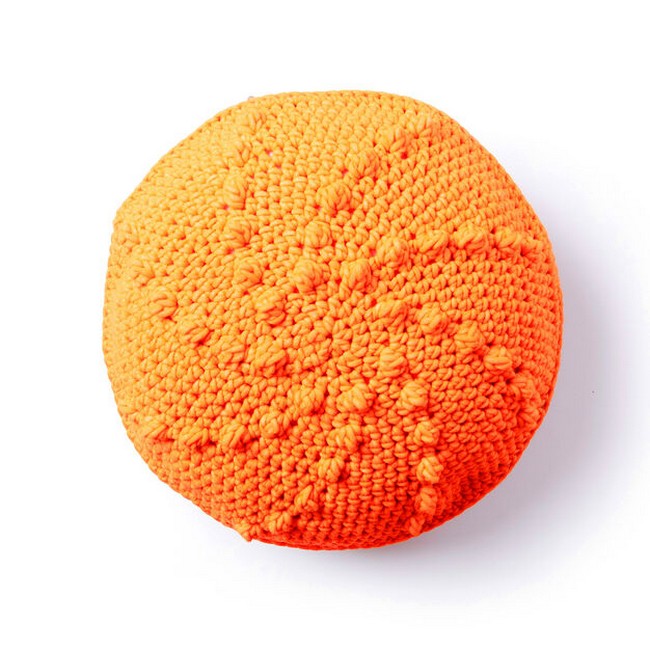 Are you looking for a new project for the patio or other outdoor spaces? This circular crochet pillow is just what you need. The tubular beaded yarn does durable projects that stand up to the elements and last through years of use. The round shape features beautiful bobble detail, while the color blocks make it easy to customize with your favorite color combinations. This pattern is perfect for beginners and improvers alike and can be made in an afternoon!
Removable C2c Bunny Pillow Case Free Crochet Pattern: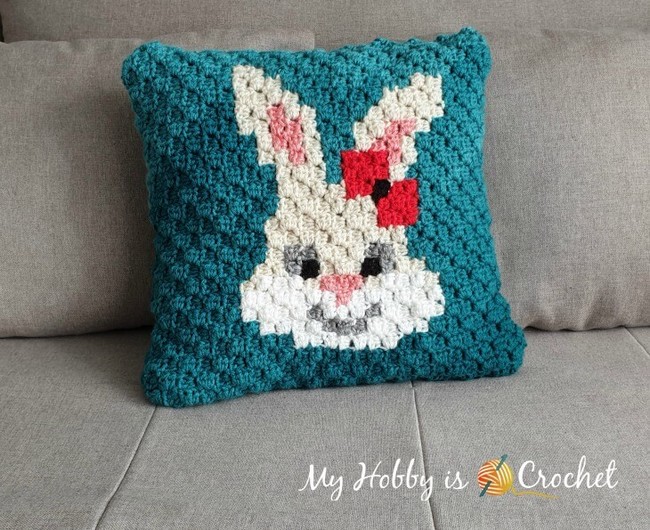 Congratulations! You have found the best baby gift pattern for your friend or family member who is expecting a new baby. This C2C pillow case design will be the base for all other baby animal designs in this book. Thanks to its simple construction, complete with photos, even beginners can crochet this elegant blanket for their favorite baby. This bunny design will teach you to crochet a removable C2C pillow case that can easily remove for washing or changing.
Crochet Timber Pillows: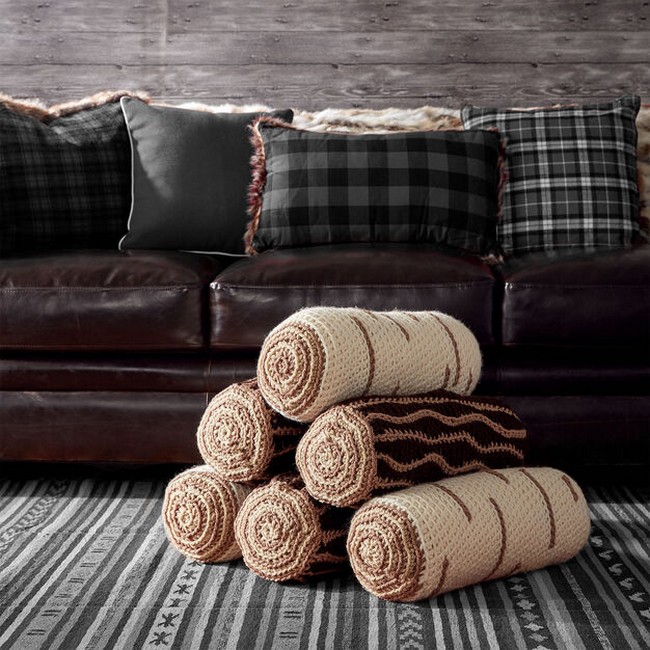 Cuddle up with these crochet pillows for a touch of country charm. Crochet these pillows with an expert touch and create a cozy and inviting feel to your home. Please choose your favorite wood tone to complete the look of your sofa, or use them anywhere around the house. You will get great results with an easy-to-follow pattern and excellent stitch definition. You'll also find that it has a great stitch definition, which makes it suitable for many different home decor projects!
Bobble Licious Pillows: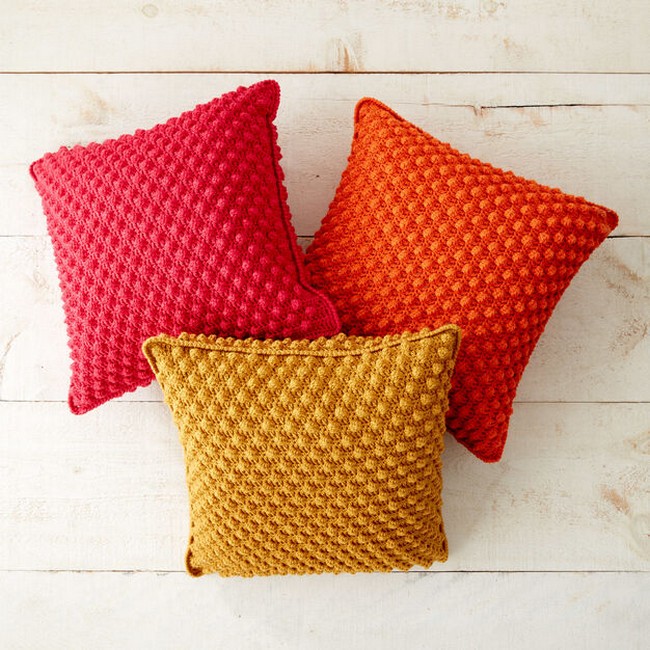 Make your home feel comfier, a little more you with these Crochet Bobble Pillows. This pattern is perfect whether you're looking for an accent pillow to bring some life to the family room or bedroom or a fresh start in the guest room. Choose from many solid shades and bright colors to spice up any new design. And with crocheting skills required, everyone can get involved in making these beautiful pillows! Scatter them around the family room or mix and match in the bedroom.
Crochet Cactus Pillow Pattern: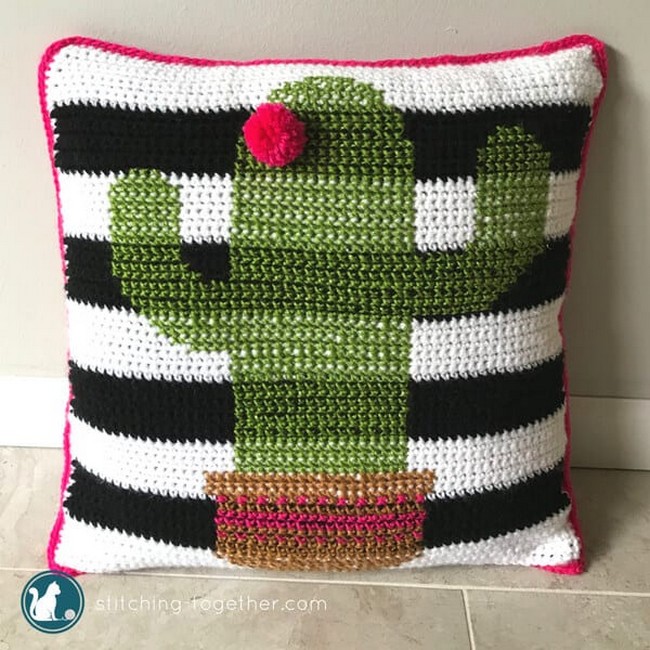 This pillow pattern is ideal for beginners. The single crochets of this pillow cover are perfect for use as a cross stitch fabric. Made with easily attainable yarns in your favorite colors, you can crochet any size pillow you like. The crochet design allows the pad to be reshaped into different shapes. Make sure you put an insert or filler inside, as it will keep its form better. This pillow has a modern and unique look and can be used as an accent pillow or even as a bean bag.
Crochet Love Pillow Cover: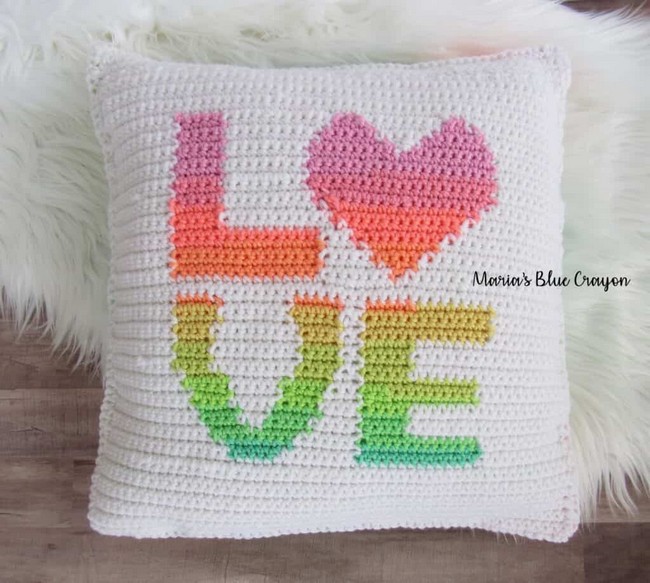 You'll love the uniqueness and beauty of this crochet Love Pillow Cover! You can choose between three pillow cover sizes to fit your needs and decor. This pattern is designed using Anchor embroidery thread, but any brand of 100% cotton threads can use it. Whether you're looking for a Valentine's Day gift, a wedding or anniversary gift, a housewarming present, or just a statement piece for your home – this crochet Love Pillow Cover will not disappoint!
Twinkle Little Stars Pillow Free Crochet Pattern: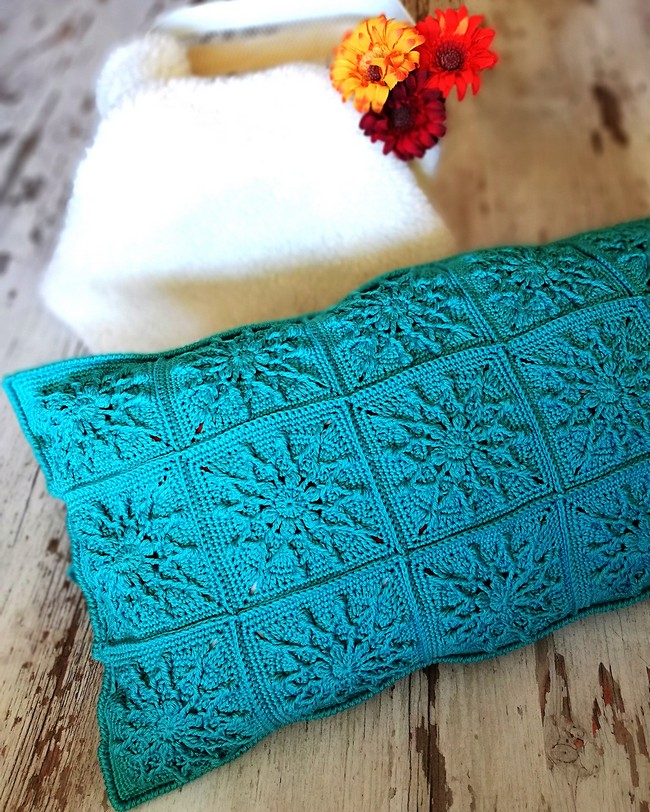 Make the Twinkle Little Stars Pillow Free Crochet Pattern and crochet a beautiful cushion cover with a star motif. The pattern includes instructions for making 36 squares of different colors, which are then connected at the end to form a solid piece. This free crochet pattern for Twinkle Little Stars Pillow is a beautiful and luxurious cushion cover that can match a pillow insert. It has an opening side to insert the pillow, which makes cleaning easy.
Retro Granny Square Pillow: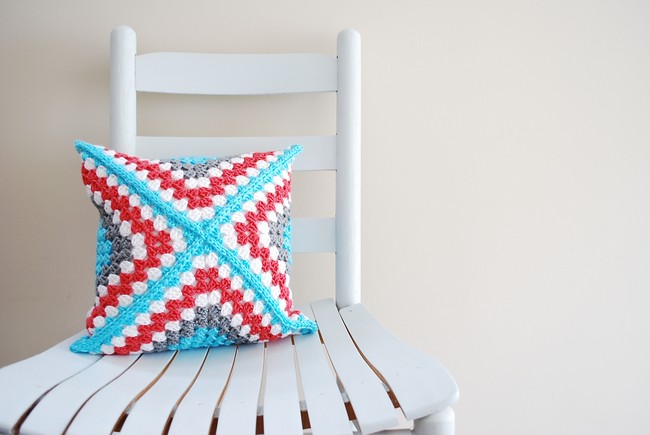 If you love granny squares, you'll enjoy this versatile pattern for making a pillow cover like no other. This fun project allows you to experiment with color while relying on tried-and-true granny square techniques. Once you're done with this project, consider using it as a blueprint for future projects that use crochet granny squares. With just four granny squares, you can create a unique look that's both stylish and comfortable for your bedroom or living room.
Pinewood Pillow Free Crochet Pattern: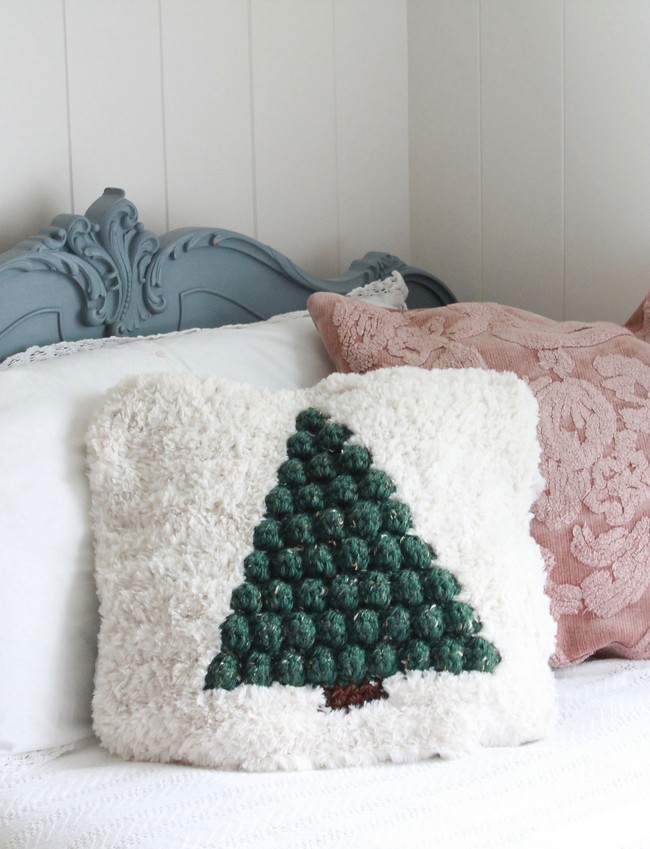 Crochet your own Pinewood Pillow using this free crochet pattern. This woodland-inspired pillow is made using Faux Fur yarn and beautiful green tweed bobbles, so it's a great addition to your home. This is a great way to add texture and natural elements to your living room or bedroom. You can easily make this crochet pillow in just an afternoon, and it only requires a few simple crochet stitches, so anyone can do it!
Crochet Pleated Pillow: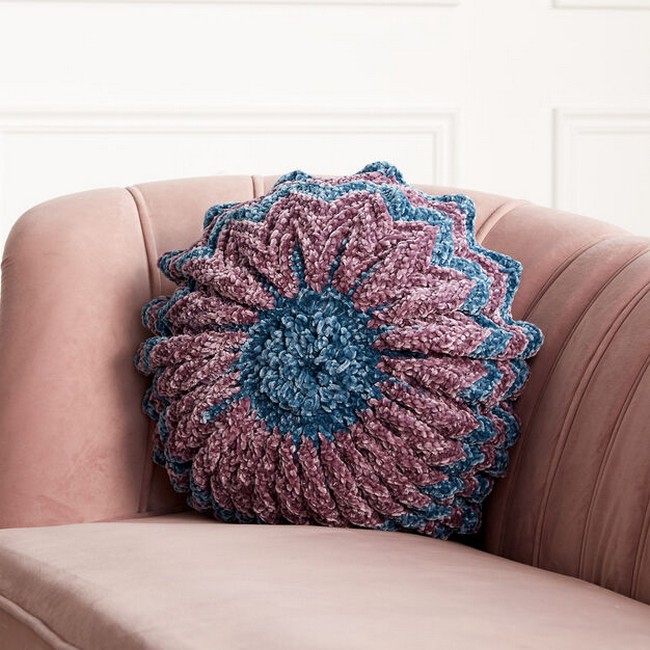 This little pillow is the perfect "al fresco" companion, whether you enjoy a drink on your patio or lounging at the beach. It has a slightly pleated construction that creates an interesting texture pillow and design, which pairs perfectly with our Vintage Cotton yarn. This handmade crochet pillow is hand-crocheted in cotton yarn and pleated for a contemporary look. The geometric pattern is easy to do, making it an excellent project for beginners. Perfect for adding color, texture, and comfort to any room in your home!
Phases Throw Pillow Free Crochet Pattern: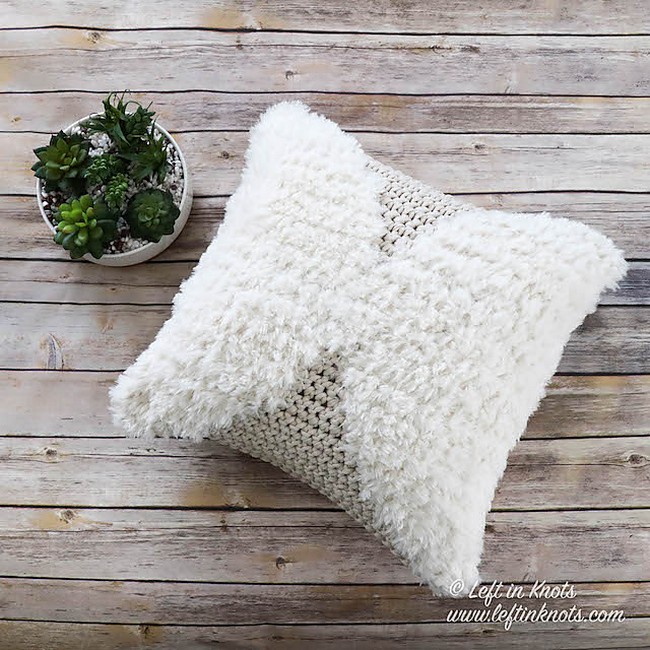 This pillow is an excellent project for any level of a crocheter; this pattern is straightforward and fast to work up. The practice produces a lovely plush throw pillow with a bold graphic design. Use it as a decorative accent piece in your home or as inspiration for a larger afghan project by adding to the length of each phase repeat section. This pillow is suitable for all ages and genders, so why not make several for yourself, friends and family? It is super easy to make, so you can enjoy your favorite hobby while gifting your home something beautiful. It's also a great way to use up any leftover yarn.
Sandy Bobble Throw Pillow Free Crochet Pattern: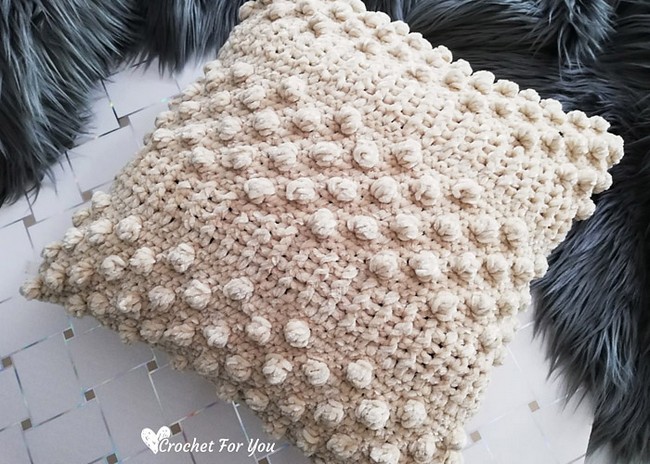 This free crochet pattern is for a Sandy Bobble Throw Pillow. You will love the texture and softness of this pillow. The design is perfect for home decor, gift giving, and more! This is a must-have for any collection. The Sandy Bobble Throw Pillow is an excellent pattern for beginners. The pillow is crocheted in the round and uses just basic crochet stitches. It has a beautiful texture that adds so much interest to this simple project. This throw pillow would be an excellent gift for any family member. If you make one for yourself, you could also use it on the end of your couch or a chair next to your bed.
Shark Pillow Free Crochet Pattern: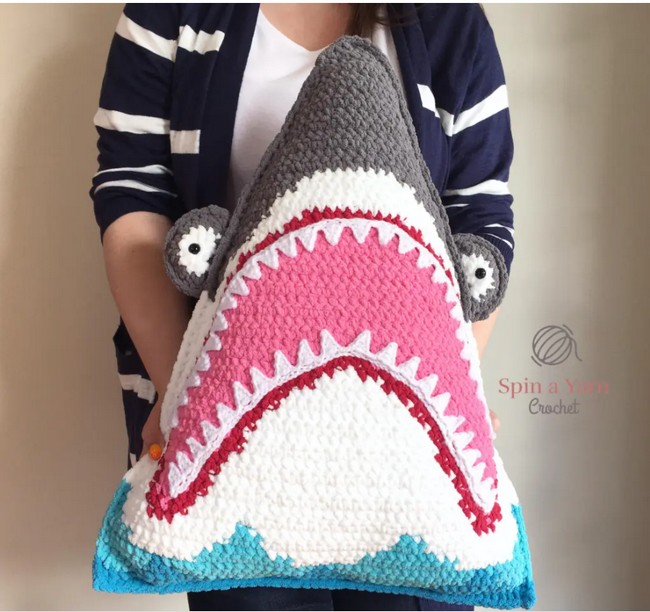 This Shark Pillow Free Crochet Pattern makes the perfect gift! It is quick to make, only requiring a couple of skeins of yarn and some stuffing to finish. If you have never used felt before, this is a great project to start with. Your recipient will enjoy sinking their teeth into this fun shark pillow! You can customize the glance by using different color combinations. Try using fun, bright colors or keep it neutral with subtle tones. The pattern calls for worsted weight yarn, but you could easily use any string and hook size to create a unique pillow that matches your decor!
Crochet Fun Floor Pillow Free Crochet Pattern: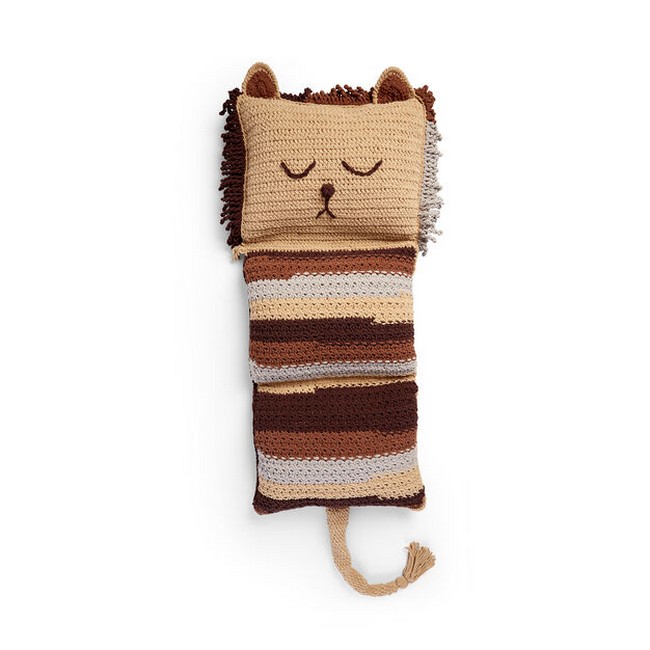 This Crochet Fun Floor Pillow is an excellent addition to any room. Make them for every room in the house or as gifts! They are quick and easy and easy to customize however you'd like. With so many colors available, this Pillow is super versatile. Naptime? Reading Time? Watching TV? Decorating the family room or even the kitchen (for those who love cooking)? This pattern is perfect for so many uses! This lovely floor pillow is the perfect accent in any space. Featuring a un and bright chevron pattern, this easy crochet project is sure to add charm to any room!
Buttery Soft Waffle Pillow: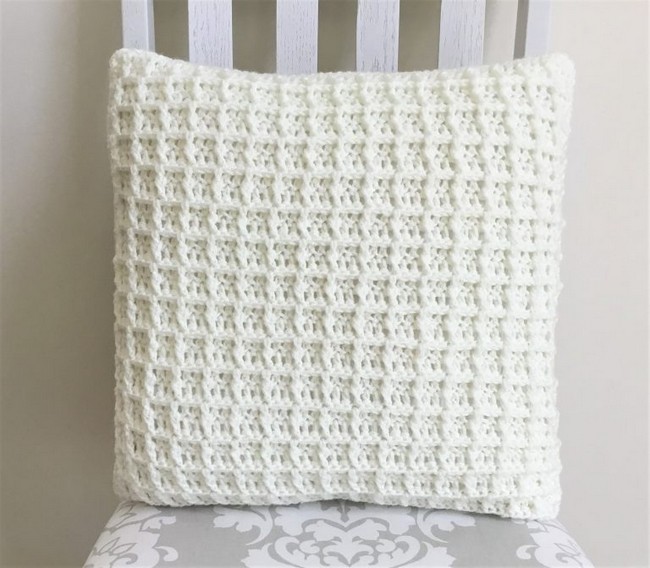 Give your bedroom a modern look with crochet pillows. You will love the texture and feel of this buttery soft waffle pillow design, made through single-stitch methods. The pillow cover is crocheted using a single or double stitch method, depending on your preference. If you want to give your room a makeover, follow these instructions to create this innovative pillow cover. The light color of the EVA foam against the white background makes it stand out while also keeping it modern and sophisticated.
Cool Crochet Color Block Pillow: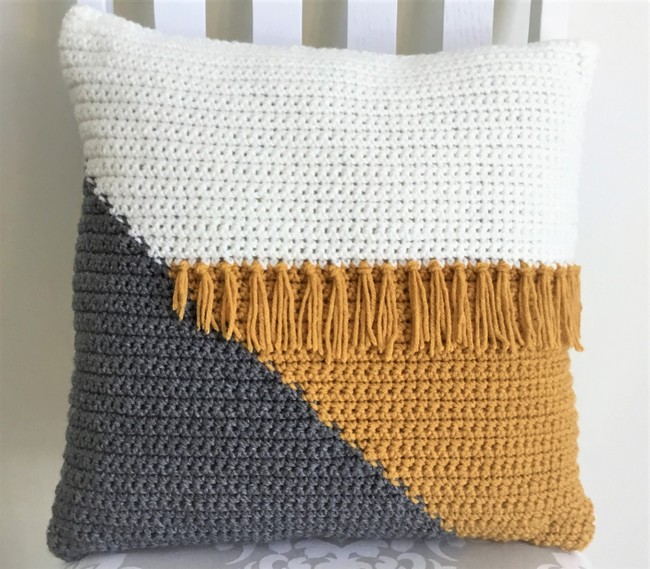 This unique crochet color block pillow takes your home from ordinary to extraordinary. The cover is crocheted in mustard yarn, so it looks like a cozy accent for your sofa or bed. Once you learn the simple design, you can crochet this project repeatedly. This gorgeous color block pillow cover is easy to make, and you can change the color according to your choice. This design is quite beautiful; you can see mustard black and white color in this pattern. It'sIt's a great beginner project because it uses only one stitch — single crochet — but there are lots of opportunities for practice.
Cable Diamond Pillow Free Crochet Pattern: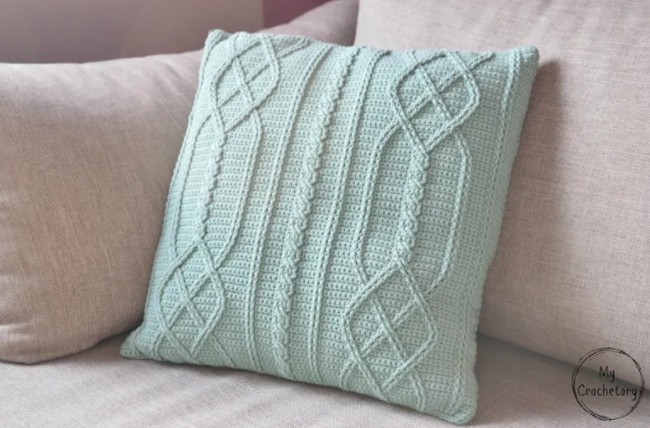 A cable diamond pillow crochet-free pattern is the best project for you. You can make this in any season, and it suits winter, spring, and summer seasons. This will work with every home furnishing. The cable diamond pillow goes well with a neutral or bright color scheme. This is a cable diamond pillow crochet-free pattern. It is easy to make, and you can choose the colors according to your home furnishing. If you are interested in crocheting and want to crochet something special for your baby and loved ones at home, then you can do it using cotton yarn.
Bobble Throw Pillow Free Crochet Pattern:
This easy throw pillow is quick and fun to make using acrylic yarn. The bobble stitch adds visual interest and texture to the pillow cover while keeping it square. This Pillow takes just one skein of yarn! It'sIt's an excellent choice for adding a pop of color to your living room and makes a great gift idea. Excellent addition to brighten up your home, this bobble throw pillow is perfect for a couch, chair or bed. This free crochet pattern is simple and easy to follow to create a one-of-a-kind pillow for your home. It is the perfect addition to any couch or bed. This quick little project will significantly impact you and make you feel like a crocheting pro!
Crazy Freaky Fringe Pillow: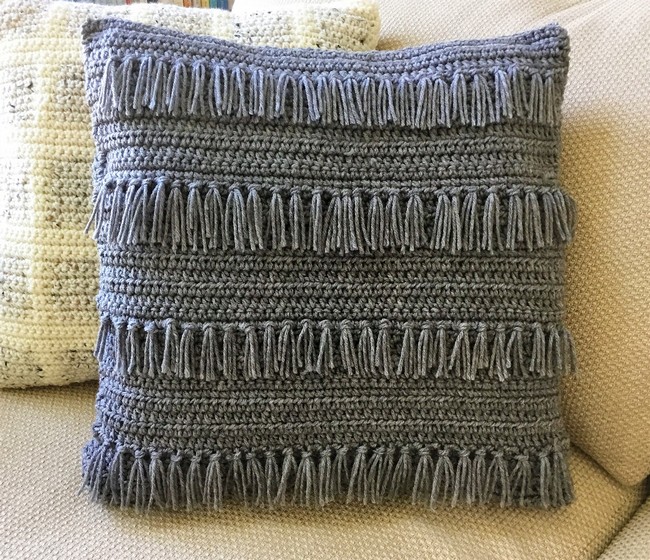 This fringe pillow is one of the best home decor products. You can use this product from both sides and make your room more decorative. This is an ideal gift for your loved ones as well. It helps to enhance the beauty of your place. This pillow cover is a perfect gift to your loved ones because its design gives an attractive look to your house. The fringes of this pillow cover can be changed easily according to the color and style. You need to use cotton yarn to make it. It'sIt's a great craft project that lets you create something unique and personalized.
Free Pattern For The Crochet Cottage Pillow: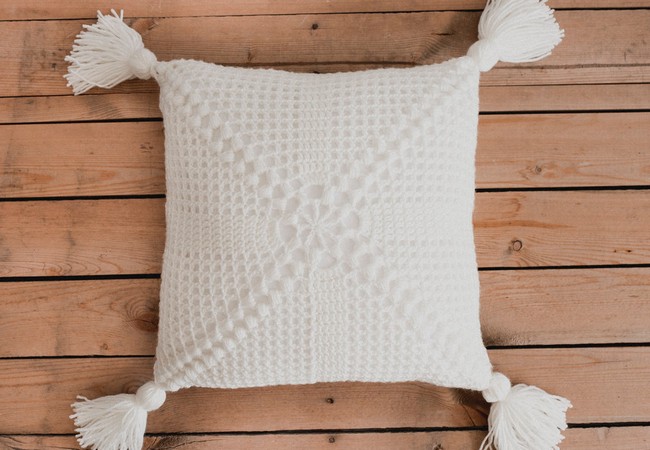 Free Cottage Pillow Crochet Pattern is a fun project to make and perfect to use as a decorative accent. You can assemble it in any color you like, and it would look great in an assortment of colors. Make this crochet cottage pillow a gift for someone, or keep it for yourself! This easy pattern is great for a beginner. You can change the color to match your decor and customize it with buttons, doilies, or bows. It's washable, so no worries about lint or dust collecting on it. This free crochet cottage pillow will become your favorite room decoration.
Crafty Boho Pillow Free Crochet Pattern:
Are you looking for a crochet crafty boho pattern that is easy to make and has a vintage look? This artful boho pillow crochet pattern is just what you need. This crochet pillow is easy to crochet, and the beautiful combo of white and black color is stunning. You can use cotton yarn for crocheting this colorful Pillow. This crafty boho crochet pillow will add beauty to your home and give a comfortable touch to your sofa. This Pillow is a perfect way to decorate your home or baby nursery!
Free Crochet Chick Pillow Pattern: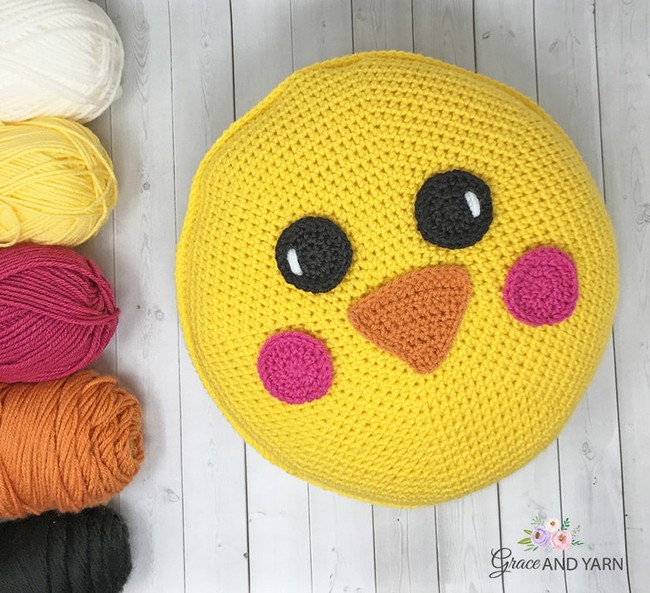 A pillow is of great use to add comfort to any room. So, a handmade throw pillow can be used as a perfect wedding gift or on any other occasion. This free crochet chick pillow pattern will show you how to make a unique one but is not difficult. The main feature of this Pillow is a resemblance to the chick. You can also crochet it for your baby and your drawing room. It is straightforward to make, and you can finish it in no time. Beginners will also love this pattern since it's a specific project that doesn't take more than a couple of hours to complete.
Beach Glass Throw Pillow A Free Crochet Pattern: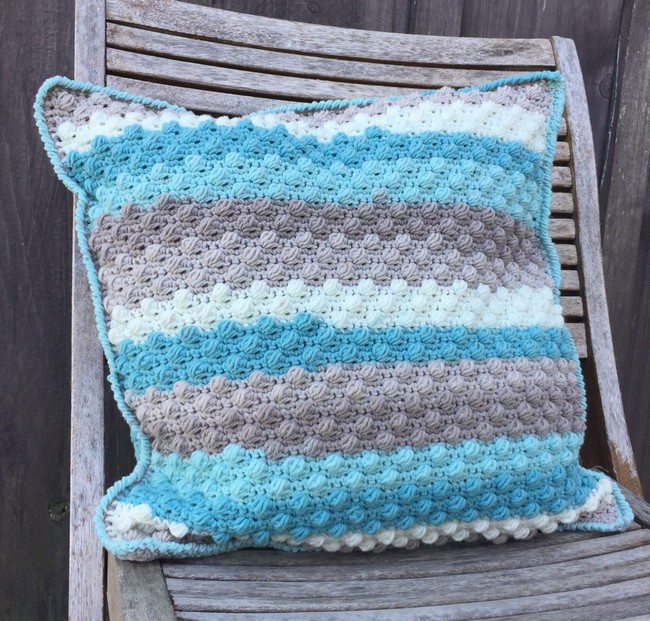 If you are looking for a project that's easy to make and will look great on a sofa or chair, keep reading! This beach glass throw pillow is the perfect free crochet pattern. It'sIt's quick to create and has a pretty design. This throw pillow crochet pattern is the ideal way to welcome spring! You will adore how comfortable it is to crochet. The beautiful colors and neutral fringes give this beach glass crochet pillow a classic feel that will go with most decor styles. It is right up your alley if you're looking for a quick and easy project, but it's also sophisticated enough to be displayed in your home or sold at a craft fair.
Waffle Stitch Throw Pillow Free Crochet Pattern: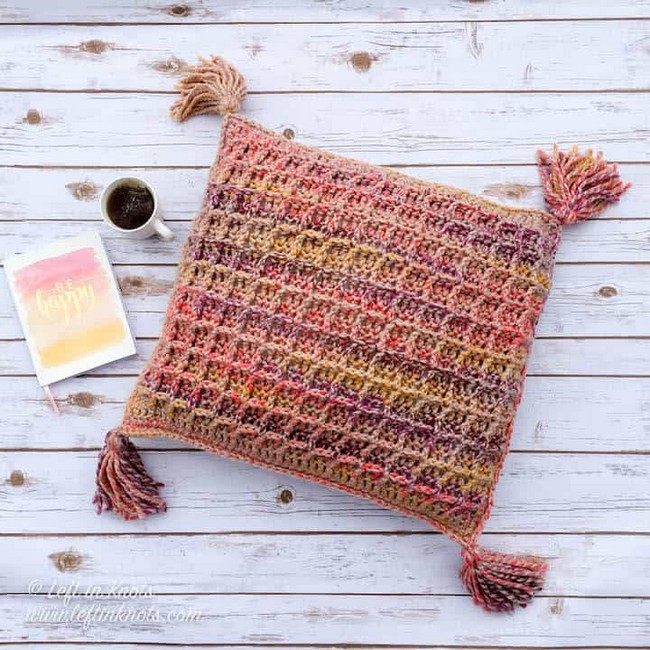 Create this colorful crochet pillow using the blanket stitch, a reversible and rustic stitch. This pattern is suitable for beginners and seasoned crocheters alike. This crochet pattern is straightforward to understand and follow. You can use this as a beautiful gift or an accent to your bedding or sofa. The best thing is that it isn't expensive to make and that you can start with just one skein of yarn! This colorful Pillow makes your room and drawing room more decorative and splendid. You can crochet this by using the trick of double stitching method.
Fringe Pillow Free Crochet Pattern: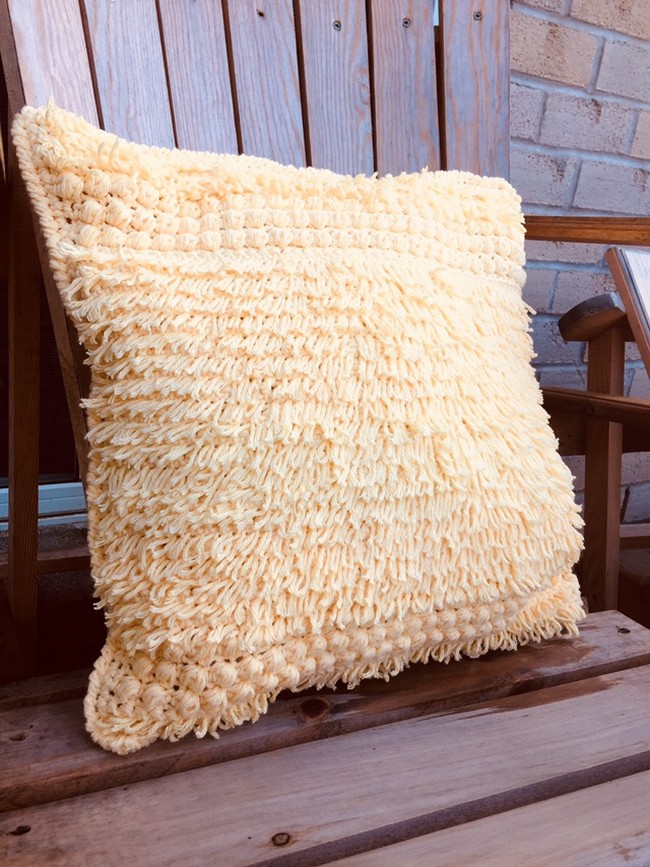 This is a very easy-to-make and quick project. This project would be great for home decor, gifts, or as an afghan for a baby or toddler! You can create this unique Pillow to fit any decor style. The finished Pillow is soft and has many uses. The fringe adds a lot of textural interest. Everyone will love playing with this Pillow. It is fun to be used as a chair pad or ottoman cover too! This fringe pillow is so soft and can be used to add comfort to your living room. The fringe that is attached to this Pillow gives it a glamorous look.
Bloom Pillow Free Crochet Pattern: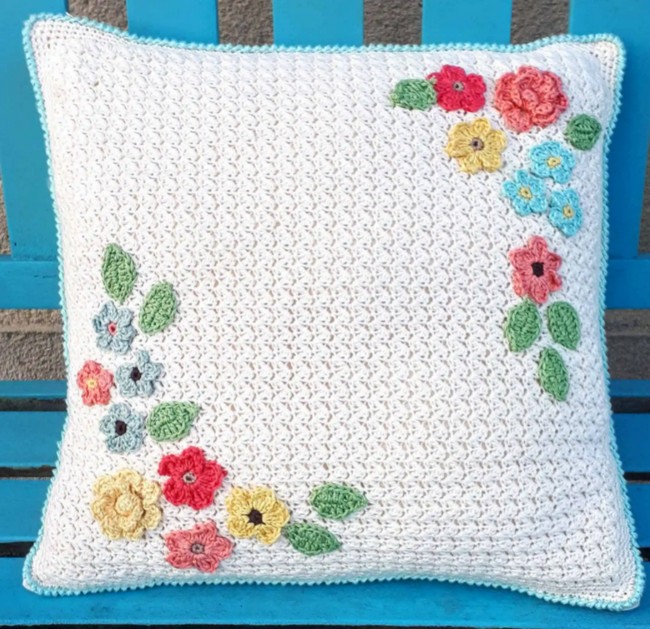 Are you looking for a crochet pattern that is quick and easy to make? Then this bloom pillow-free crochet pattern is the best option. It is perfect for small items you can give your family and friends gifts. This Pillow has a beautiful pattern that looks amazing on any sofa or bed. The colors are great, and there are many options, which means you can make more than one piece. This is a great spring project that uses just one skein of yarn in all different colors. This Pillow will add warmth and beauty to your home with a pretty flower design.
Free Crochet Pattern Parallel Pillow: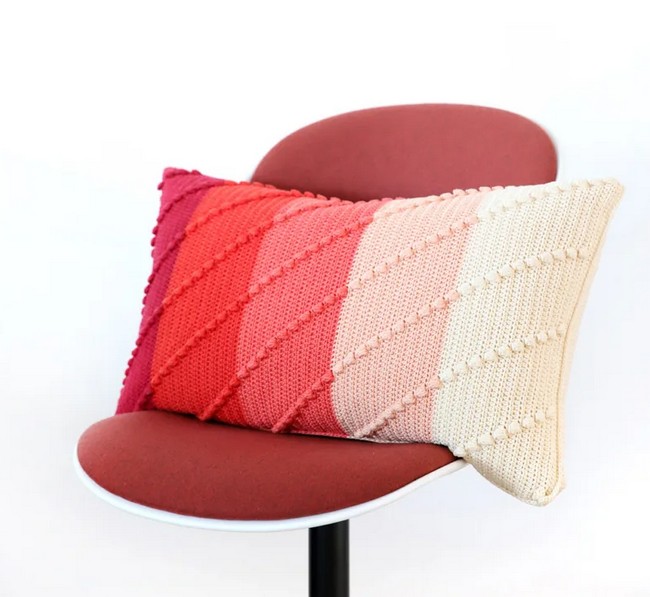 Parallel Pillow is an excellent package for increasing the beauty of your home. This Pillow is easily made from all your favorite colors, using a popcorn stitch, which gives it an exciting look. It will make a playful addition to any room in your house. This would make the perfect gift for a hostess or anyone on your holiday shopping list. The Pillow is smooth and squishy with a fun ombre color combination of cotton yarn. A button makes it easy to throw over any chair or couch in your home – if you can keep it there long enough before giving it away!
Candy Heart Pillow Crochet Pattern: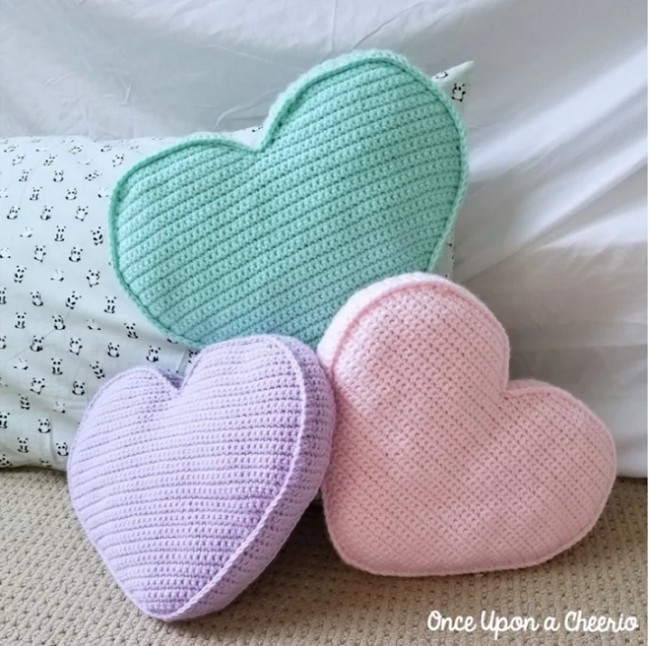 Make this sweet Valentine'sValentine's Day cotton heart pillow for your favorite person. You can make it using a cross stitch method of stitching. It uses cotton yarn, and you can change the color. But if you were especially crocheting for valentines, you need a red color! These candy-themed pillows can be used anywhere; place them on a chair or couch, lean them against the wall, use as napkin rings or scatter them across a coffee table or dressing table – you can't have too many of these sweet treat-inspired pillows around. You'llYou'll love this adorable crochet pattern for a super-sweet way to say "I Love You" to someone special.
Round Super Chunky Crochet Pillow: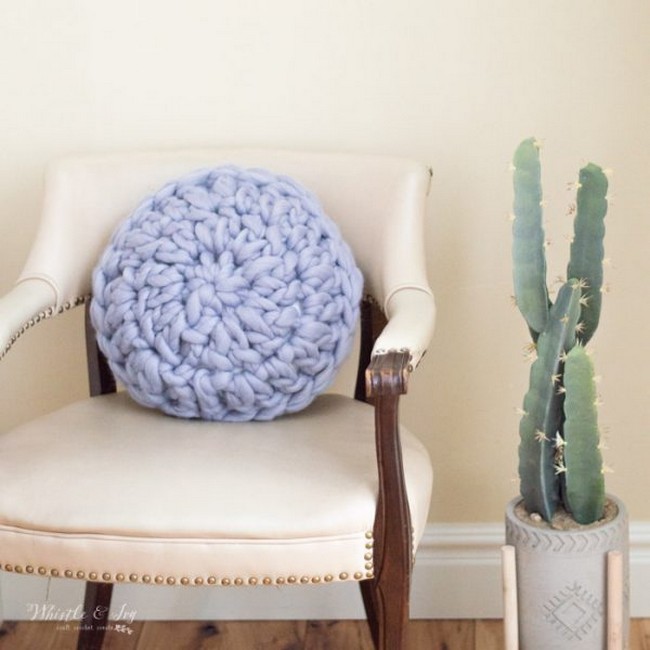 To complete any room, you need the perfect Pillow. Super Chunky Crochet Pillow is a quick project to make and a great addition to any room décor. This round geometric Pillow is worked up in two colors and looks fantastic in any living room or couch. Perfect for decorating your home! Make extra gifts for family, friends, and teachers. This Round Super Chunky Crochet Pillow is made with a super soft and cozy feel that will be perfect for any couch or bed. It is a fun and practical way to add color and style to your home. The ideal addition to any space in your home, this Pillow will add warmth and comfort to your living room and bedroom set.
Travel Pillow Crochet Pattern: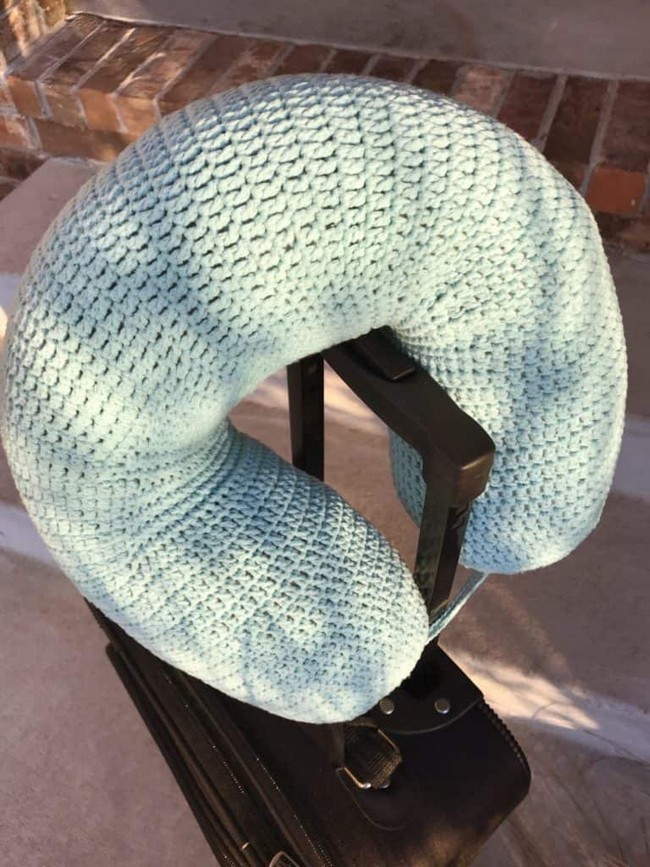 This travel pillow crochet pattern is perfect for anyone on the go! This elegant travel pillow crochet can be used as a bag when you are going out. You can use it as a backpack and back or shoulder bag. It looks beautiful while traveling and comfortable with the buttons attached. The travel pillow is big enough to be used as a decorative throw pillow and small enough to fit even the tiniest purses. This is a great project to make yourself and give as a gift.
Marie Pillow Crochet Pattern: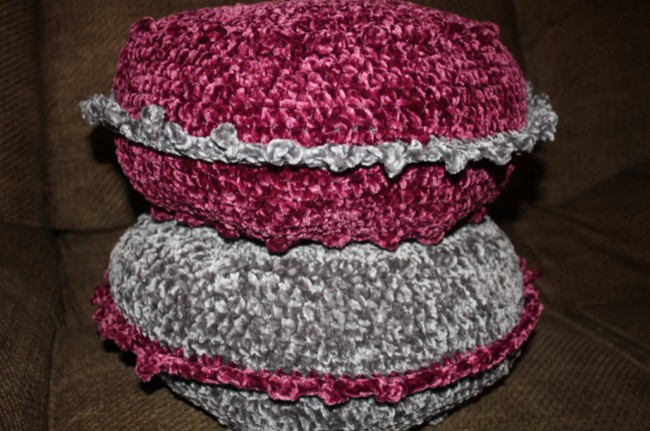 Marie is a lovely pillow with a beautiful scalloped border and a satin edge. It is a beautiful pillow crochet pattern that adorns a corner of your living room with elegance. The texture of this entire body makes it look worthy and sophisticated. This pattern is excellent for using up scraps of yarn and works with any weight of yarn. It would be perfect as an addition to any room or to make as a gift! This crochet pattern is an excellent addition to any home decor. You will love making this Pillow, and when you are done, it will be the center of attention in any room of your house.
Free Crochet Pattern Twin Textures Pillow: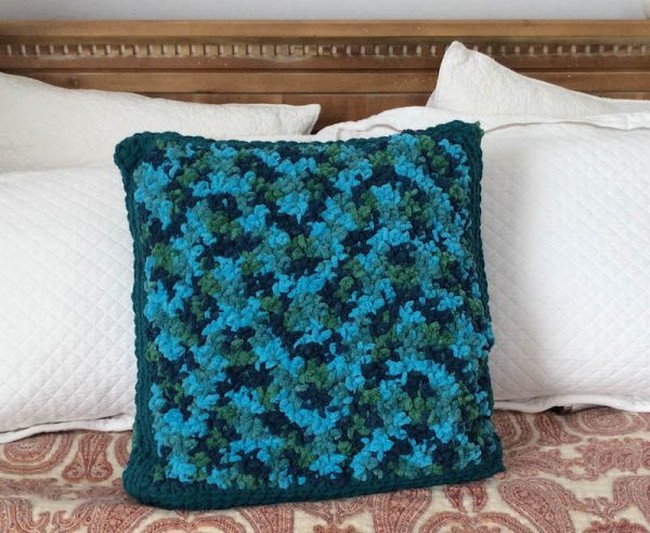 This crochet pattern was designed to show the different textures and colors you can use for Lace patterns. This is a great starter project for a beginner who wants to try their hand at Lace Crochet. It has been designed using two colors: one light and one dark. You can create this beautiful pillow cover using any colors you prefer. All you need is some bulky weight yarn and a size G crochet hook! This pillow cover uses bulky-weight acrylic yarn and creates a beautiful texture using different stitches. This pillow cover can be used for your sofa or bed. It is easy to make, and the best part is that you don't need to follow any particular stitch pattern.
Gorgeous Free Round Crochet Pillow Pattern: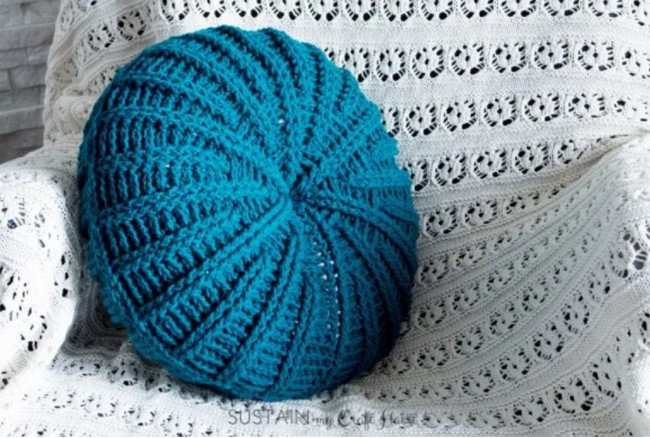 Are you looking for a simple, beautiful, trendy crochet pillow pattern? Then this project is for you. This free round crochet pillow is easy to make. You can crochet this in your home in a short time. The color has used blue, but you can change the color according to your choice. It'sIt's a beautiful and trendy pillow for your home decor. You can crochet this in a short time. It uses cotton yarn of colors blue, but you can change the colors too. This pattern is easy for beginners as well.
Mesa Pillow Free Crochet Pattern: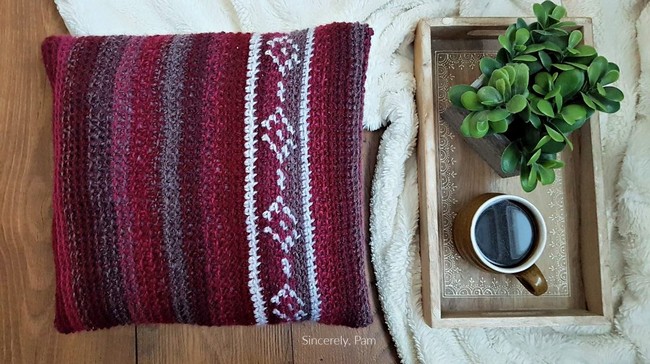 The Mesa Pillow is a free crochet pattern that allows you to create a pillowed cushion to brighten up your home or add some flair to someone's style. It uses cotton yarn and is easy to follow, so all beginners will feel confident in making this pad for their home! This is a classic pillow project and perfect for those who have never crocheted. The seamless construction makes it ideal for a beginner, but you can make anything of your own in any color with the pattern. It'sIt's an excellent gift for all occasions, such as Christmas, Valentine's Day, Mother'sMother's Day, and many other events.
Good Vibes Pillow Free Crochet Pattern: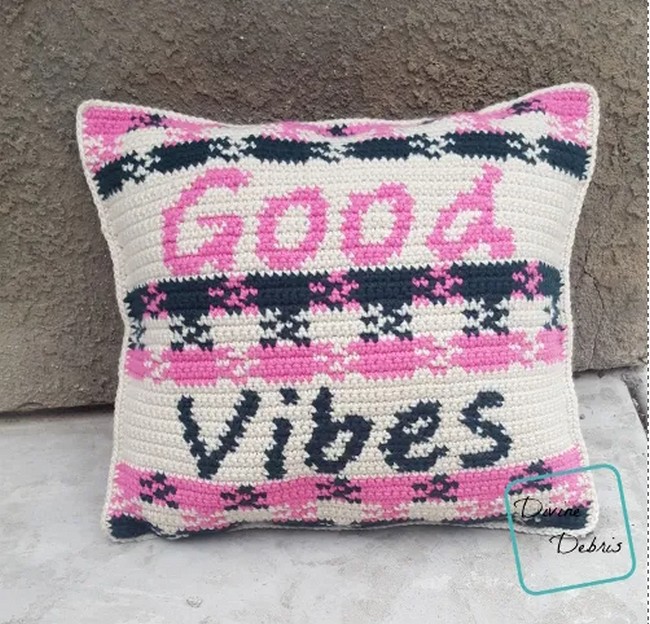 This is the desire of every lady to decorate her home according to the trend and fashion. It will be a good project if you are a beginner. It will increase the beauty of your home. This Good Vibes Pillow Free Crochet Pattern is an easy project to make for anyone interested in learning how to crochet. You can use it anywhere in your home – on a sofa, bed, or chair. Crochet this pillow cover to add a pop of color to your room or as an accent for your bed. This is a free pattern and uses cotton yarn. Easy to make, you can efficiently work on it, just like the other crochet patterns we shared earlier.
Crochet Pillow Cover Free Pattern: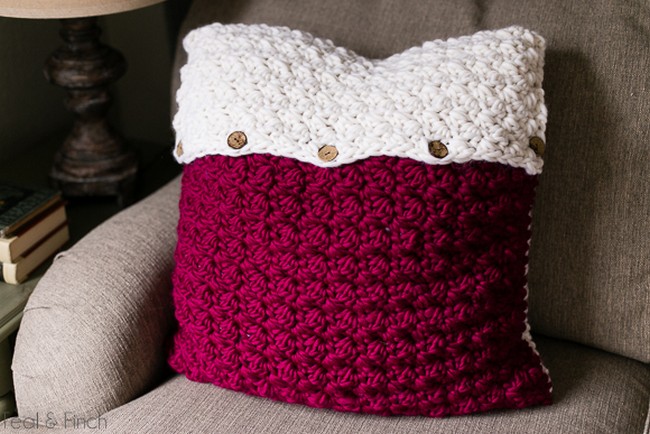 Crochet Pillow Cover Free Pattern is an easy crochet pattern for making a beautiful pillow cover for your favorite throw pillow. This easy project works up super fast and makes the perfect weekend project. This crochet pillow cover pattern is so easy and quick that you can make several of these cute pillows in no time. Make a bright and cheery set for your home or to give away as gifts. Or, use them to replace those ugly throw pillows that take up space on your sofa!
Luxe Pillow Trio Pink & White: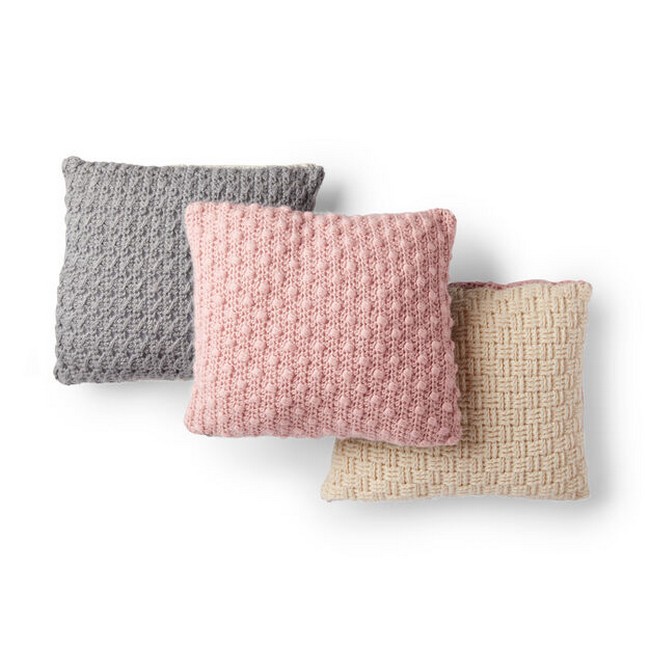 Add a bold color to your bedroom decor with this Luxe Pillow Trio. The set of three pillows features a fun mix of black and white stripes, pink feathers, and white tassels for an elegant yet playful look. The Luxe Pillow Trio is a collection of contrasting pillows that add a touch of color to any room. The soft pink and ivory linen fabric on the front has a two-tone color design accented with white piping for an elegant touch. Choose between three sizes to customize the look depending on your space.
Striped Crochet Pillow Cover: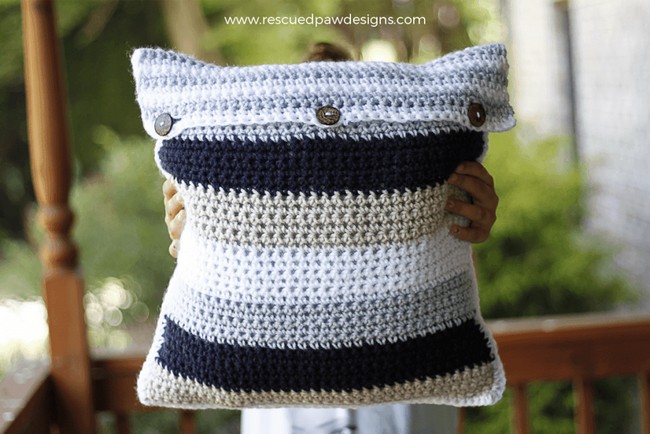 This is a fun and trendy crochet pillow cover. It has a striped design in bright colors and a double stitch. This is great for any room that needs a splash of color. It would even make a fabulous gift! Crochet this striped pillow cover in the evening. It's fun, fast, and perfect for the beginner crocheter. Your unique style will be the envy of all your friends! The stash yarn is easy to find, and there's no need to buy any unique yarn!