The kitchen is the heart of the home, and the countertop is the kitchen's heart. A well-designed countertop can make a home look more expensive, so many homeowners have chosen to upgrade their counters with tiles or granite slabs. But these materials can be expensive, so many people are looking for alternative DIY wood countertops that work well. With creativity and elbow grease, you can save a lot of money by making your custom wood countertop. Here are some DIY wood countertops ideas for all those who want to take on this sweet home improvement project.
How To Make Wood Countertops DIY
There seems to be a trend in building homes, or kitchen remodels based on wood countertops. The great thing about this trend is that it makes it possible for everyone to give their kitchen a fresh look at an affordable price. To help anyone who may be looking for inspiration or wants to get started with this project themselves, we've gathered some gorgeous but simple examples of DIY wood countertops made by people from all over the world.
Best Inexpensive Wood Countertops
DIY wood countertops can be as simple or complex as you want them to be. The first step is choosing the right type of wood, with plenty of options. You can use reclaimed lumber or buy new boards from a local supplier.
Benefits of DIY Wood Countertops Ideas:
You can customize your countertops with color and texture.
Wood countertops are more durable than granite or marble and easier to repair if they do get damaged.
DIY wood countertops are easy to install and save you money on installation fees.
Butcher Block Countertop From Scrap Wood
Building a Butcher Block Countertop can create a nice addition to your kitchen. In this project, you will make one yourself out of scrap wood. This project is geared more toward those who have some woodworking experience. You will love this DIY Butcher Block Countertop From a Scrap Wood project. So whether you are looking for a unique idea for an entertaining space or functional addition to your kitchen, this project is a great option.
Pallet Wood Countertop For Outdoor Kitchen
Are you planning an outdoor kitchen? Need a countertop for your new island? Pallet Wood Countertop For Outdoor Kitchen projects is the best solution for you. Pallet wood is cheap and easy to work with, especially if you like DIY projects. It's a beautiful and cheap way to add a handmade, rustic touch to your space. Not only can they help you save money, but they also add a rustic texture to your house. The result is amazing; stained or painted wooden boards make a beautiful tropical-style island with easy maintenance and less cost.
Build & Install Butcher Block Countertop
This DIY Build & Install Butcher Block Countertop project is for the woodworker who wants to learn how to build and install their butcher block countertop. Butcher block is a durable and versatile choice for kitchen counters, as it can be used as both a cutting board surface and a serving piece. But if you want to create one yourself, you must invest in some proper tools. With a little work and patience, you can have your kitchen made custom-fit just for you.
DIY Butcher Block Countertop
Do-it-yourself projects are the best. If you like to tinker with small projects and make stuff on your own, it is a good idea to keep this DIY butcher block countertop in mind. The project has all the elements you need to transform your bathroom or any other room into something stylish. It is quite easy too. This DIY project is a complete guide to building a butcher block countertop. It's a durable and classy way to update your bathroom, but it's also not too difficult to pull off!
DIY Butcher Block Countertop (Walnut & Maple Long Grain)
Butcher blocks are the most popular choice for countertops that need to be durable and aesthetically pleasing. And now, they're easier to make than ever before! Butcher block countertops bring a new level of luxury and durability to your kitchen or other space. This DIY Butcher Block Countertop (Walnut & Maple Long Grain) video tutorial is easy to follow, affordable, and will make your kitchen look like a million bucks. This butcher block countertop is a great weekend project, making your kitchen look beautiful and unique. You can do this project by using easy-to-find materials.
Farmhouse Style Wooden Countertop DIY
If you love the farmhouse style, this DIY project is for you! It's easy if you have the right tools and will give your kitchen a chic farmhouse feel. It's perfect for your traditional or modern kitchen renovation or if you want a cool new accent piece in your home. Your DIY skills will amaze friends and family! The creator of this farmhouse-style countertop did an amazing job in making it. The instructions are easy enough for even beginner DIYers, and the video is straightforward, showing you how to complete this project step by step.
DIY Reclaimed Wood Countertop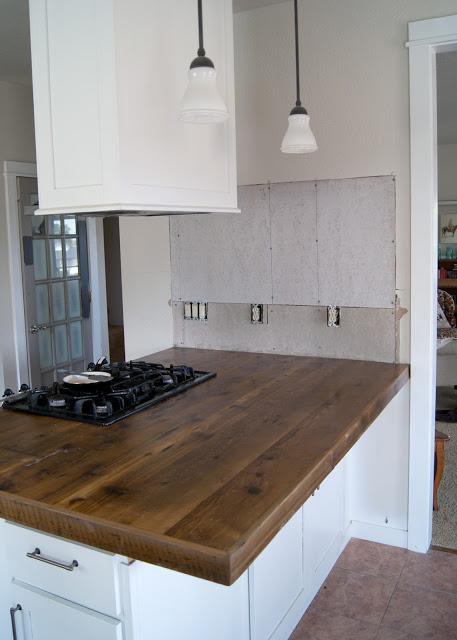 You don't always need to buy new items when making a change in your home. With a little imagination, you can find unique items that may blow the mind of anyone who knows what they are used for. In this DIY Reclaimed Wood Countertop tutorial, you will learn how to transform salvaged wood into a sleek and functional countertop. Following these simple steps, you can create a unique kitchen area that will envy your friends. This project will take you step by step through the process of transforming unraveled wood into a stunning, modern countertop.
Wood Countertop Under $60
Wood countertops are generally used for building tables, chairs, and even cabinets. Great things don't have to cost a lot of money. You can also find cheap but durable materials to create a unique and attractive wooden countertop. This DIY Wood Countertop Under $60 is cheaper than butcher block and is easy to install. It can last for years. It's perfect for a kitchen remodel or just getting started on your new home renovation project
Herringbone Wooden Countertop DIY
This herringbone wooden countertop DIY is a great project for your kitchen. The finished product will add a touch of elegance and warmth to your room that you can be proud of. This herringbone wooden countertop idea is that it can be done with just a few tools and materials. The video tutorial will teach you the steps required to complete this unique countertop, including how to paint the edges to make them look worn and aged.
DIY Wood Countertop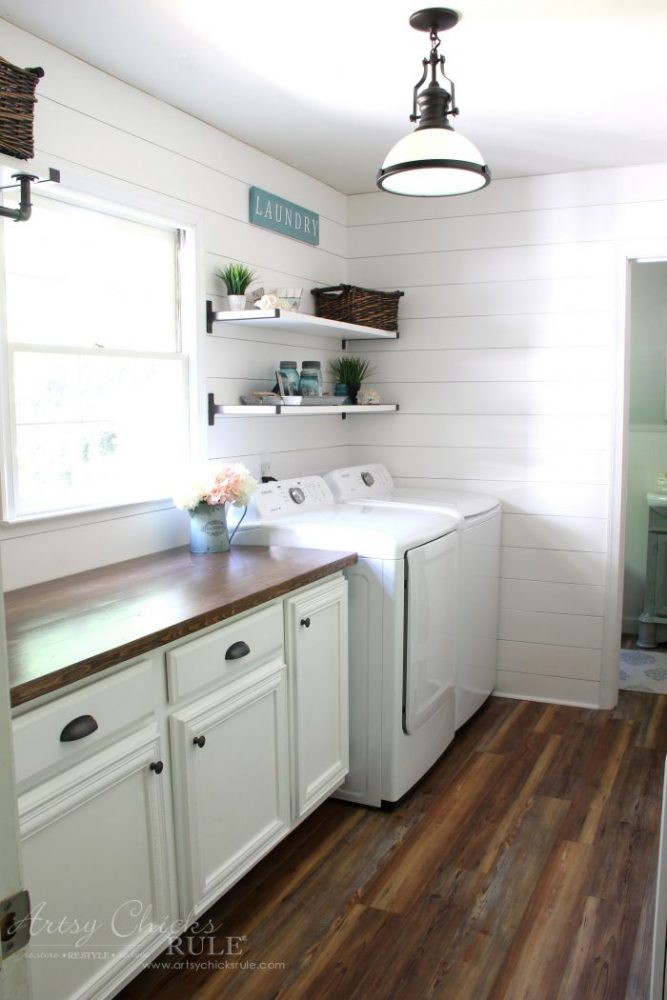 Turn your kitchen area into a space to be proud of with a beautiful wooden countertop. This DIY project shows how to make a wood countertop with a lovely finish out of oak wood and pine wood. It is time-consuming but well worth all the effort because it is not only stunning but also durable and long-lasting. This DIY project will teach you how to build a wooden countertop that can match any style and decor in your home. Laying the wood isn't easy, but you will love the finished work.
Beautiful DIY Wooden Countertop For Bathroom
Wood is a great material for making countertops in your bathroom. It is not as hard as marble, and it has its charm that makes this type of wooden countertop a decorating asset. This DIY project will show you how to build your wooden countertop for the bathroom using simple materials. You don't need to be a professional carpenter to make one of these. You need a little bit of effort and patience and some DIY skills.
DIY Butcher Block Countertop
You'll love to do this DIY Butcher Block Countertop project in your kitchen. It is easy to learn and gives you the satisfaction of knowing that you did it yourself. The materials are easily available, so you don't have to worry about being expensive. It is a good way to give your old kitchen a new facelift and make it more personal. Follow along as you learn how to make a DIY butcher block countertop. You'll be amazed at how easy it is to add this unique look to your kitchen.
DIY Wood Countertop From Plywood And Laminate
This DIY Wood Countertop From Plywood And Laminate project is for you if you want a low-cost yet beautiful way to dress up your kitchen. This countertop was made from laminate and plywood and will make your friends think that you paid hundreds of dollars for it. This wood countertop project can be easily done at home with some basic tools. The process is easy to follow, and if you have a little spare time on your hands this weekend, here's a few hours worth of fun for you.
DIY Torched Wood Counter Under $50
If you are on a budget but want to upgrade your kitchen look, this is the best possible solution. There's no need to spend much money when you can have a beautiful wooden countertop without hassle. It will give your kitchen an instant makeover. This DIY Torched Wood Counter Under $50 is a perfect project for beginners! You will also learn about the tools and materials you need to make this project work.
DIY Wood Countertop Idea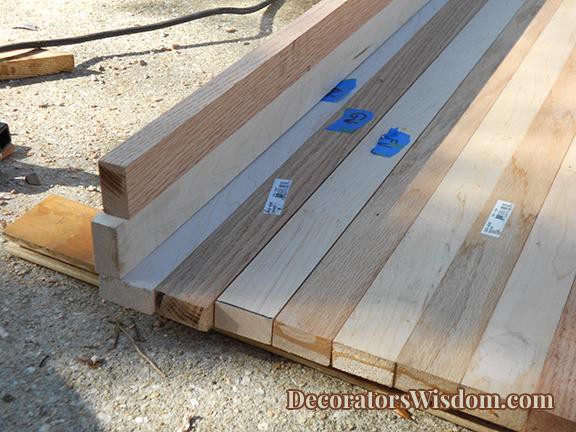 Wood countertops are very popular and great for adding warmth and character to your kitchen. This DIY wood countertop idea gives a great example of why wood countertops are so popular! If you want to learn how to create this amazing wood countertop yourself? Keep reading! With this amazing wood countertop idea, you can have your kitchen look great while saving a lot of money. Instead of paying a lot of money for a new countertop, all you need is some hardwood and tools you probably already own at home!
DIY Wood Countertop To Granite
Granite is one of the most popular countertop materials there is. However, it is also the most expensive due to its quality and resistance qualities. If you want a granite kitchen countertop but your budget does not allow it, this project will help you make your wooden countertop look close to a real granite top. This DIY wood countertop to granite project will show you how to transform your existing wooden kitchen countertop into one that looks like it was made out of natural stone.
DIY Wooden Countertop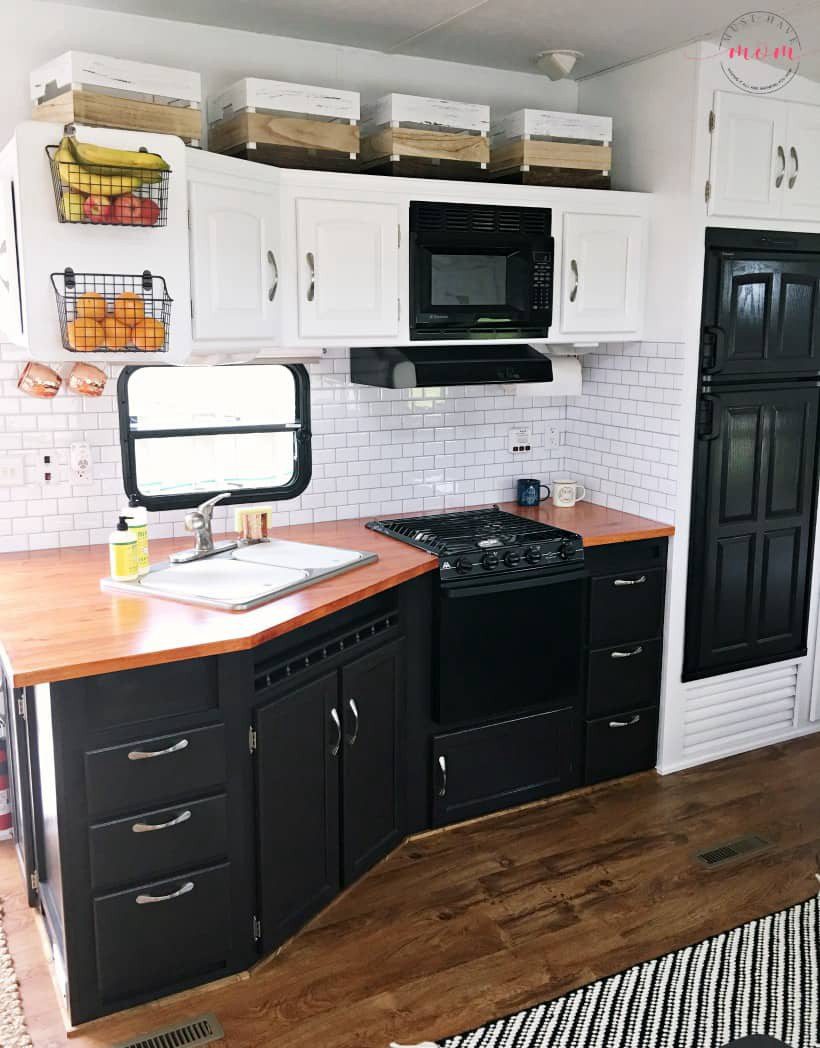 Making a wooden countertop is surprisingly easy and affordable. This DIY project will show you how to make a modern wooden countertop for your kitchen. It will look expensive, but it's affordable and easy to make! The process of making this wooden countertop requires some woodworking skills and tools. The steps are detailed in this article; once you start the project, you will be amazed at how easy it is! You can easily make this piece for your kitchen with the right tools.
DIY Wooden Countertop For $10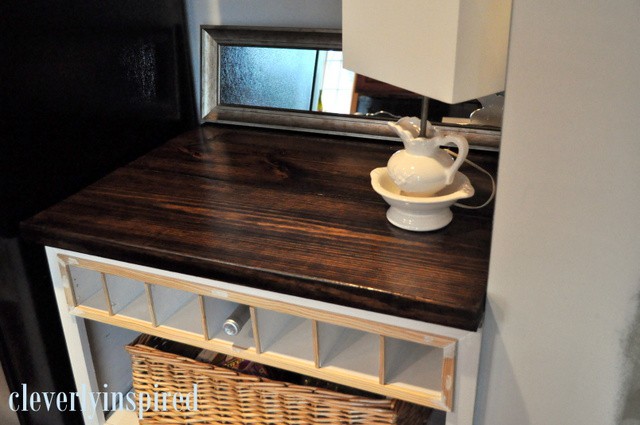 A countertop is a home decor accessory and a functional element in the kitchen. If you are looking for a cheap DIY wooden countertop, this DIY tutorial will walk you through how to create your own. This type of countertop can be made within $10 in materials. In addition, it is quite small, which would be perfect for a kitchen island or small area. The making process is easy to follow, so look and get crafty!
DIY Herringbone Wood Countertop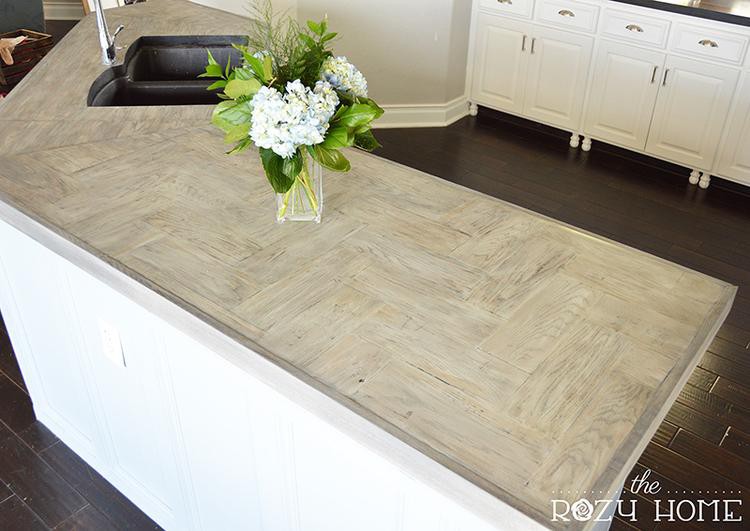 This beautiful DIY Herringbone Wood Countertop project is perfect for anyone looking to do crafty work or make your home more beautiful. You can use the same concept to make tables, chairs, and other items, such as cabinets. You can do this cool project with your kids and use the herringbone pattern in your home. This design creates a unique look, especially with different types of wood. You will be using your router to create this pattern, but you can do it with a sander if you don't have or want to use a router.
Herringbone Wood Countertop DIY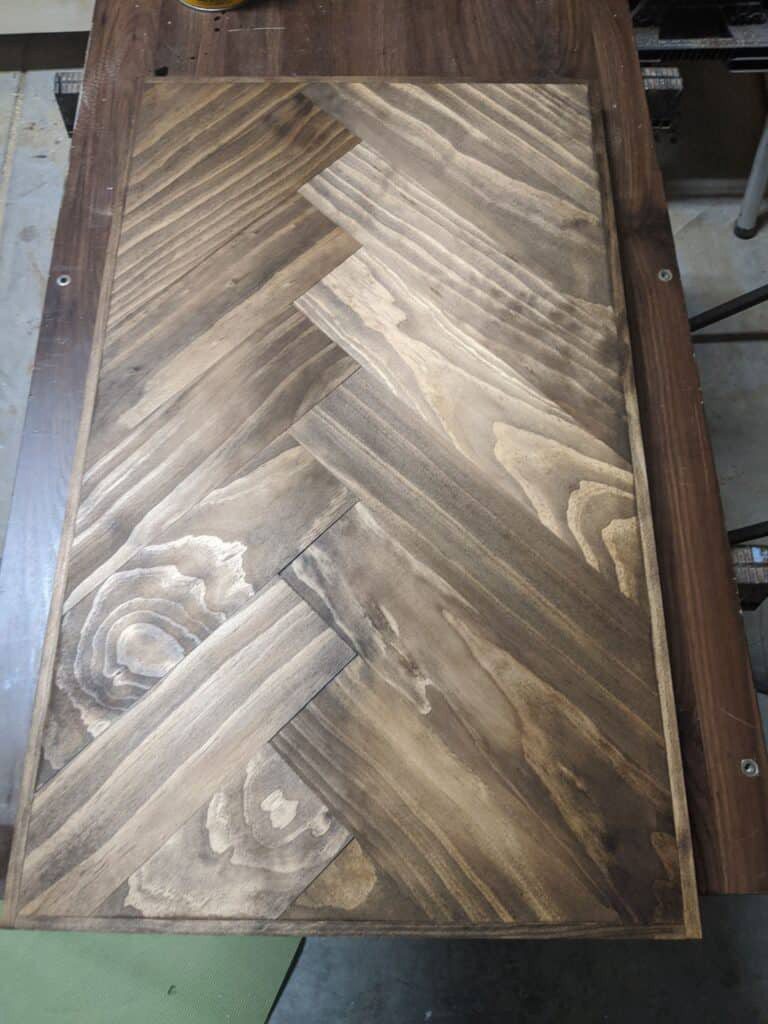 This herringbone wood countertop DIY is a perfect opportunity for you to show off your creativity. With just a few basic tools and materials, you can create your beautiful wood countertop with this pattern. You can choose various kinds of wood and create different layouts for your countertop design. This project is considered easy since all you need to do is cut the wood into strips and glue them on each other to create the design of your choice.
Shiny Wooden Countertop DIY
Do you want to make a shiny wooden countertop but don't know how? Here's the answer to your question. This Shiny Wooden Countertop DIY video tutorial is meant to help you make it in your house. If you have been looking for this kind of project, then this tutorial is just what you need. Learn how to make a shiny wooden countertop that can be completed in your home garage. It is also a creative way to add value and beauty to your home.
DIY White Oak Epoxy Countertop
Want the look of granite or marble without the cost? This project will teach you how to make your white oak countertop with epoxy, and it's so easy! Use this easy tutorial to recreate this look in your home. This is the perfect project for that oak countertop you have wanted to do something with. The DIY White Oak Epoxy Countertop is quick and easy, and once finished, it will add a beautiful new look to your kitchen or dining area.
Faux Wood Countertop DIY
Beautify your kitchen with this faux wood countertop DIY. Watch this video to learn how to apply the faux finish and create a new look for your countertops. Learn how to make your faux wood countertop for a fraction of the price. This DIY project is perfect for renters or if you want a unique look in your kitchen. This video will show you how to utilize basic tools and materials to create a stunning faux wood countertop that will turn heads.
DIY Salvage Wood Countertop Therapy
This DIY fix is filled with salvaged wood, but it's not your typical recycling project. Salvage wood is often used to give a dated kitchen a charming character, but it also has many practical applications. Watch this video to see how the creator rescued an outdated kitchen countertop and made it brand new again with reclaimed lumber. All you have to do is choose your salvaged wood and apply the finish of your choice.