If you want inspiration to spice up your bedroom, this article on DIY bed tent ideas is for you. A DIY bed tent can be a great addition to any bedroom, and the best thing about it is that it's easy to make. Bed tents are best to cover your entire bed. Most of them come with windows so that light can come through, and some even have small doors so you can still access your bed without having to crawl over the tent. Some people use them as playhouses for children, but they can also be a great way to add a layer of privacy to your bedroom. Additionally, you will love being able to shut out the rest of the world and spend quality time with yourself.
DIY Bed Tent Canopy Ideas

If you love the idea of a bed tent but don't want to spend the money on one, or if you want to get crafty and try your hand at some DIY projects, this post is for you! As a bonus, these are all easy enough that even kids could help with them. If your little one loves to read books in bed or wants to keep their stuffed animals safe from evil monsters, a bed tent could be the perfect DIY project for you! You can also use this post as inspiration for a fun family craft night!
Benefits of DIY Bed Tent Ideas
You do not need much money to make one of these tents; most can be made using items you already own or things you can find at the dollar store.
You don't need special skills or tools to make one of these tents. All you need is some tape, eyelets, imagination, and creativity!
Kids love having their own space where they can do whatever they want without being disturbed by anyone else!
Teens can use them as a place to study or relax by themselves or with friends.
Adults can get some much-needed privacy from kids who won't stop asking questions or bugging them when trying to get some rest!
Homemade Truck DIY Bed Tent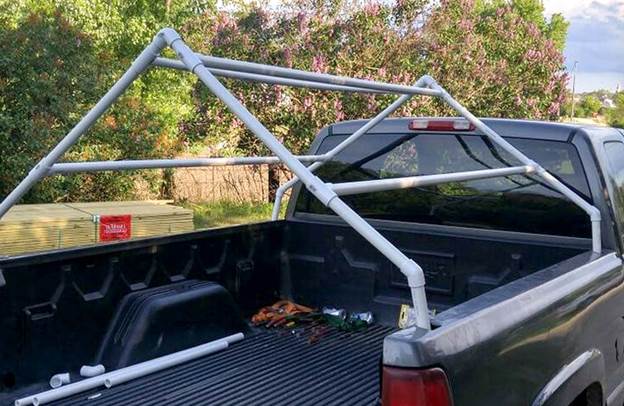 Are you tired of sleeping on the cold hard floor in your old tent? This DIY truck bed tent is just what you need to afford some great nights in the wilderness. And best of all, it's easy to make! This DIY Truck Bed Tent is a great way to get out there and enjoy the great outdoors. A cover and durable framework protect from the elements but still allow for ventilation and a clear sightline for star-gazing.
Easy To Build DIY Bed Tent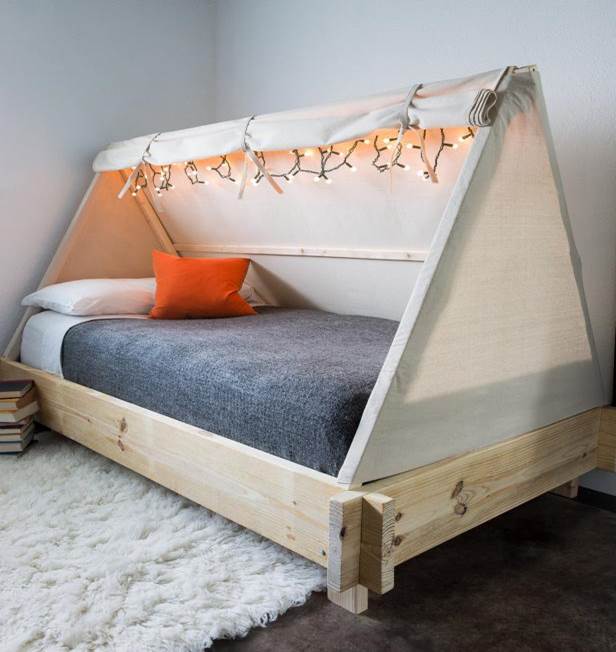 The Easy To Build DIY Bed Tent is an easy solution for anyone that loves a comfortable bed. This bed tent with a cover makes it easy to create the ultimate hideout. The frame is simple to assemble using standard wood and canvas materials at any home improvement store. Once assembled, add the cover, then secure it to your bed frame using screws. Designed to be quick and easy to set up and take down, this tent can be used anywhere.
Curtain Rod DIY Bed Tent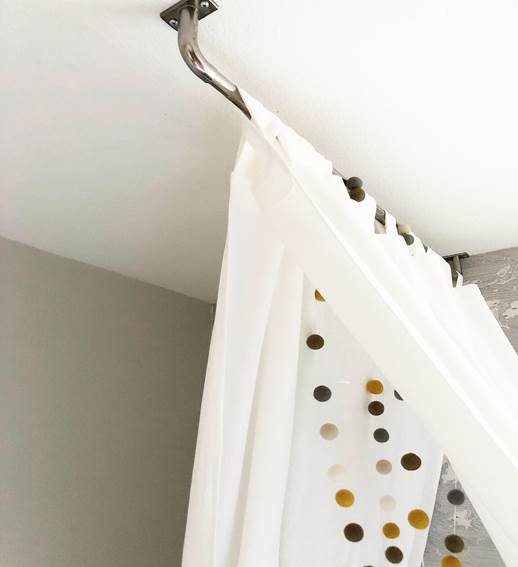 If you love to be in a tent, but don't have the space or budget to buy one, then this Curtain Rod DIY Bed Tent plan is perfect. It's inexpensive, stylish, and easy to make! This bed tent looks great and works well in any room of your house. This bed tent is a great temporary fix for those who want something easy and affordable. All you need is your curtain rod, either metal or plastic, some mounting hooks, and a drill or hammer.
The Raged Wren DIY Bed Tent
This Raged Wren DIY Bed Tent will help keep you comfortable and cozy while you sleep. The tent can be made in all sizes so that this tent will fit no matter your bed size. You can also choose your fabric or use a ready-made tent, once again, depending on the size of your requirements. This bed tent to decorate the bedroom is designed to make any bed safer and more fun for you. It's easy to install, so you won't have to worry about complicated setups or professional installation.
Old Ladder Re-Purposed DIY Bed Tent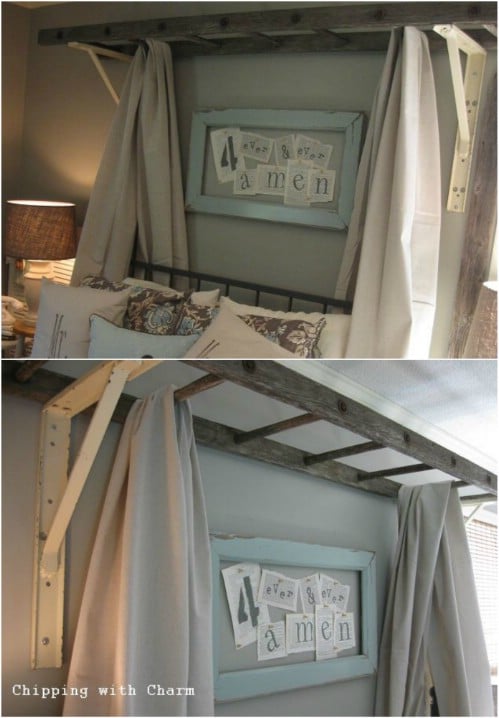 DIY Ladder Bed Tent provides the ultimate space for a child's imagination and playtime. A great way to help your kids get out of the distractions of modern electronics, this bed tent will provide hours of entertainment. When you have an old ladder, you don't have to throw it away. Instead, create a comfortable bed tent with it. This DIY project is done by screwing the brackets to the wall and then attaching drop cloths on top of the brackets.
Hula Hoop DIY Bed Tent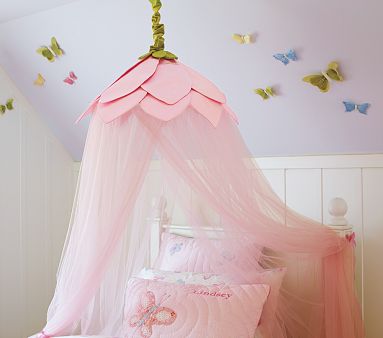 Who needs an expensive canopy when you could make your own? This easy tutorial will turn old hula hoops, ribbon, and glitter into a fancy bed canopy. Try this amazing DIY project to create a hula hoop tent that you can set up anywhere in your home. It will give you a private space to relax, read, sleep, or even nap! This easy-to-make DIY hula hoop tent can add fun and dimension to your bedroom!
Rainbow For Your Kid's DIY Bed Tent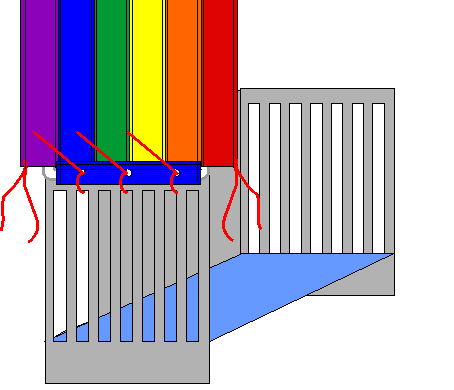 Are your kids always sneaking into your bed at night? Have no fear; this DIY bed tent will solve all their problems! Easy to make and super inexpensive. They'll love it, and you'll love them spending more time in their room. Learn how to sew a bed tent for your child without wasting money buying one. This great project uses fabric remnants to make something practical, warm, and cute.
Teepee DIY Bed Tent
Do you love your kids and want them to have fun with their friends? This teepee Bed Tent is the perfect addition to their bedroom. The tent is made from soft cotton canvas and comes in various colors that can match any child's room. It folds up nicely to be stored when not used or takes up very little space when put in a playroom or living area. If you were looking for an adorable and easy-to-assemble teepee tent, this Teepee DIY Bed Tent is exactly what you need! The project takes no more than two hours as the pitch is unfolded and attached to the bedpost.
Galvanized Pipes and Pipes DIY Bed Tent
Galvanized Pipes and Pipes DIY Bed Tent is a great project for anyone wanting to do something fun and creative with their time. This bed has many benefits: it requires no power tools, expensive lumber, and very little investment. This video will teach you how to make a bed tent out of galvanized pipes and pipes. This is a diy bed tent that kids will love to sleep in! This galvanized pipes and pipes DIY bed tent is an easy-to-build tent, which makes the perfect place for your kids to play, read and sleep while the adults are having fun in the main tent. You'll have them climbing inside from morning till night! The instructor shows you how to install the parts so you can easily put them together on your own.
PVC Pipe DIY Bed Tent
PVC pipe is a versatile material used to create storage units, shelving, and other structures in your home. Using PVC pipes as the base to build your bed tent is simple and requires a few tools. The effect is durable and beautiful. This pipe tent will transport your child's imagination to a world of adventure. Its easy assembly lets you create a fun, cozy space for them to sleep, read or play. This bed tent is easy to paint so that it matches their favorite theme. You can add LED lighting on top if you wish.
Cat DIY Bed Tent
Have you ever wanted to create a cozy bed for your cat? Now you can make your pet their own comfy home using the easy-to-follow step-by-step tutorial and materials provided. Feline fort building is a time-honored tradition, but sometimes your cat wants to be inside. Enter the Cat DIY Bed Tent. Just grab some cardboard and wire hangers to create a cozy spot where your little furball can relax and play. The Cat DIY Bed Tent makes the perfect space for your feline friend. With this project, you can create a comfortable space for her at home.