Do you want a desk that can be moved from room to room? Are you tired of your desk being in the way or taking up so much floor space? Turn any wall in your home or office into a workstation with these 24 easy-to-build DIY wooden desk ideas. Some are simple, basic tables on wheels that you can move away from the wall when you're not using them. Others are more robust and feature top drawers to store supplies. These DIY Wall Mounted Desk Plans are inexpensive, easy to build, and can be made from recycled materials. These plans are designed to help you build your very own wall-mountable desk!
DIY Wall Mounted Desks To Build A Custom Workstation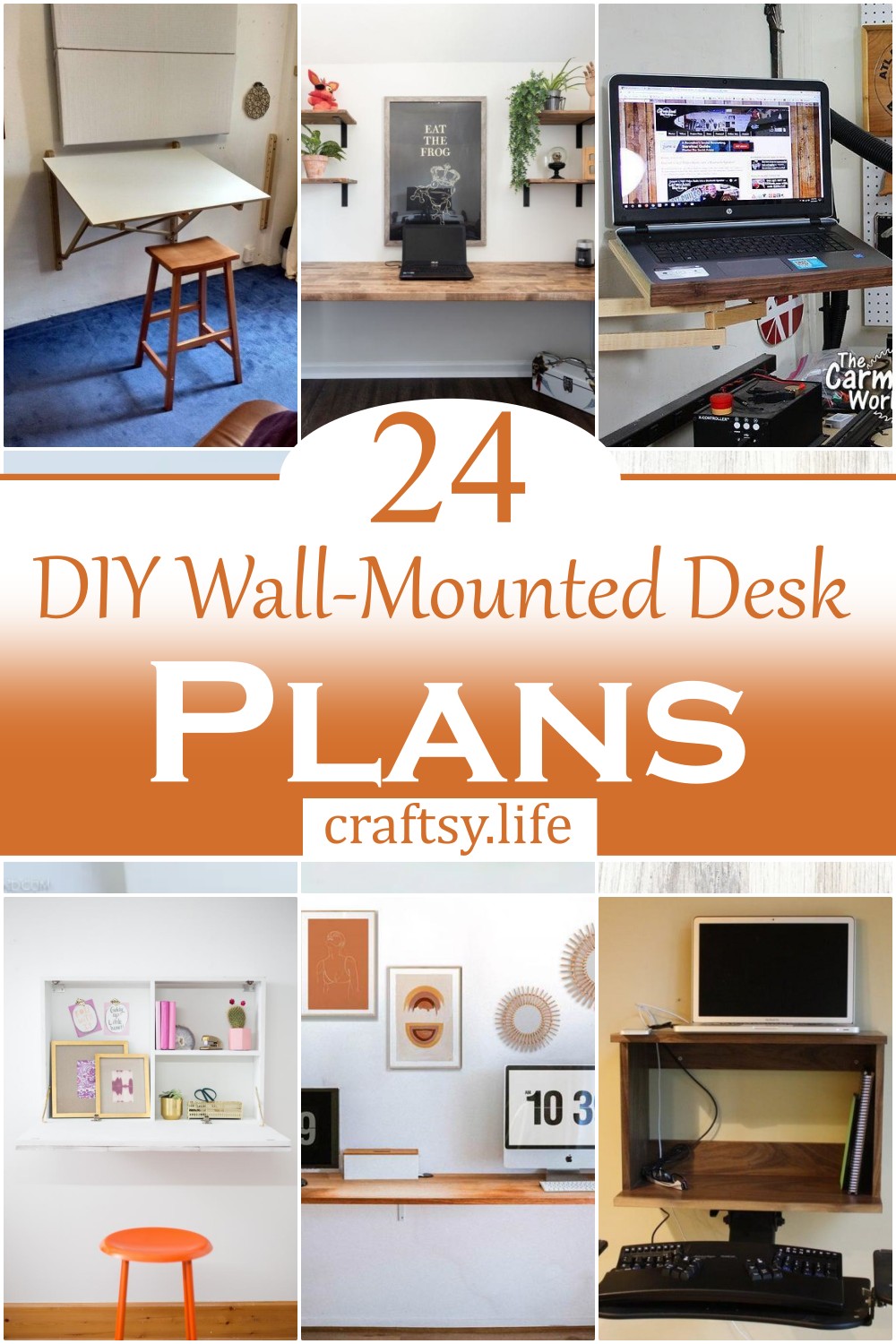 A wall-mounted desk is a perfect place to get organized, do your homework, or plan a dream house. Use these easy diy plans for building a desk on a wall; you'll never want to take it down! Discover all the best free plans for building your own custom wall-mounted workstation. Wall-mounted desks are the perfect solution for small spaces and people who enjoy working on their feet. These awesome DIY Wall Mounted Desk Plans will make your space practical and more organized. Easy to DIY at home with simple materials, you can create your own unique wall-mounted desk to fit your space!
With these 24 DIY Wall Mounted Desk Plans, you'll be able to build a highly functional and stylish piece of furniture that's perfect for any space.
Uses Of DIY Wall-Mounted Desk Plans
Wall-mounted desks are a great way to create a home office or study space. They are also extremely versatile and can be used in the living room, dining room, or even your bedroom.
The following is a list of the many uses of DIY wall-mounted desk plans:
Home Office Desk - If you work from home, creating a home office with wall-mounted desks is a great way to have a dedicated work area that doesn't take up any floor space. You can easily add shelves for storage and keep all your supplies close at hand.
Crafting Station - Wall-mounted desks are perfect for crafting stations because they allow you to store all your craft supplies in one place while freeing up the floor space for you to use as needed during your crafting session.
Office Space - If you're looking for an alternative to having an actual office space in your home, then wall-mounted desks can also be a good solution. They offer plenty of space for writing, reading, and working on projects while keeping everything else out of sight when not needed.
How To Build A Wall-Mounted Fold-Down Desk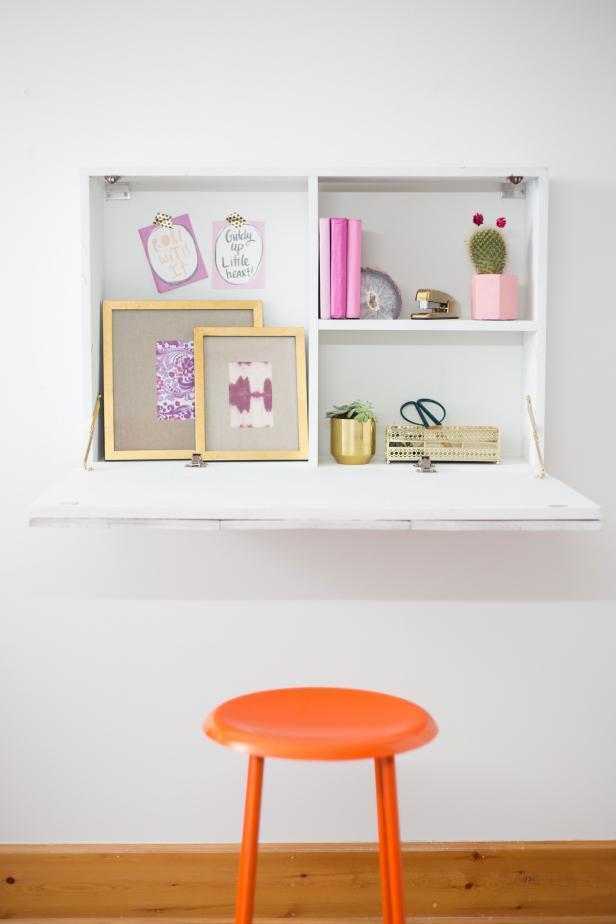 Decorate a bookshelf or wall with this stylish desk. It's easy to make and folds down for easy storage when not in use. Made with wood, decorative panels, and cabinet hinges, this desk is easy to assemble and paint in any color. It's easy to build this desk. Start by making the frame for the desk. Pre-drill holes on the four pieces that will make up the frame, then join them with wood screws. Attach decorative panels, paint the desk and install cabinet hinges so it folds down easily when not in use.
DIY Simple Wall Desk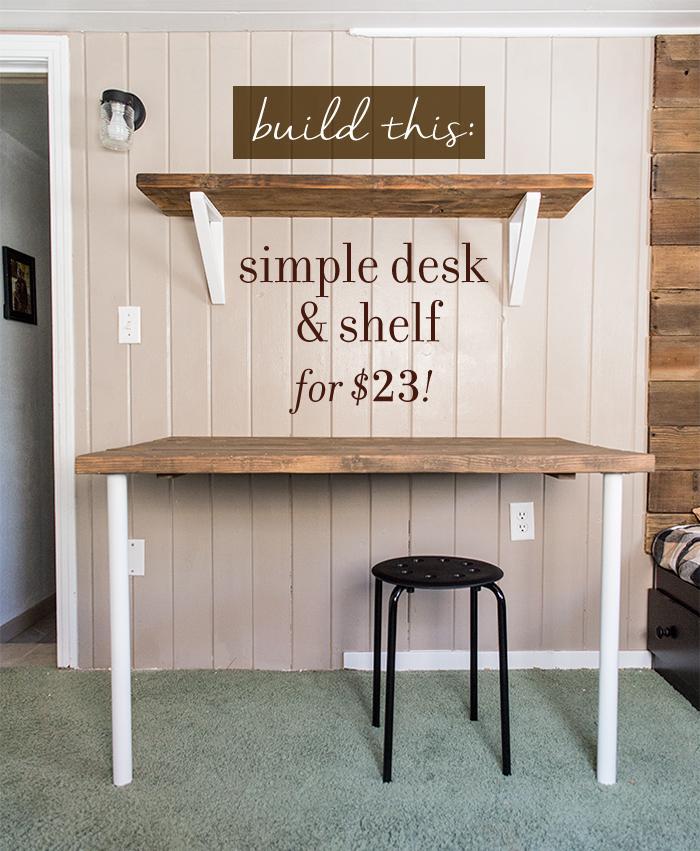 This floating desk is a great addition to any home office. It's small, simple, and gives you more room to move around in your space. This DIY project is inexpensive and easy to make with just a few materials. With this wall desk DIY project, you can have a practical piece that's both stylish and useful. The table design provides a large work surface and floating aesthetic, while the support panels on the edges of the tabletop help minimize any potential wobble. It's also handy as a writing surface when you need to sit on the couch or in front of the tv.
How To Build A Fold-Down Wall Desk
Look professional while working at home with the help of this DIY wall-mounted desk. The foldable top easily closes when not in use and can be opened up to write or type on your computer. The dimensions are perfect for small spaces and will also fit large-sized monitors or laptops. It is easy to build; choose the material that best suits your needs, measure and cut the wood according to dimension specifications, mount it on the wall, and you are ready to go. It's easy to make and will provide an extra workstation without taking up any space in your living room, bedroom, or dining room.
DIY Wall Mounted Dream Desk
This wall-mounted desk is the solution for those with limited space who need to maximize their workspace. The cup holder and flush-mounted outlets perfectly suit your modern office style. It also has a wireless charging spot, so you can leave your phone on it while it charges. This desk is everything you could've hoped for. It has a cup holder on the arm attached to the side, flush-mounted outlets that can charge your devices, and even a wireless charging spot. This is the perfect desk for someone with everything!
How To Build A Wall-Mounted Desk
Easy to build and easy on the eyes, this desk is made from a single sheet of plywood and an array of casters. The simple structure means that it can be easily built without having any prior experience in carpentry. Building a wall-mounted desk is a fun and rewarding DIY project that can be completed in a matter of hours. This project will look great in your home office and serve as an excellent storage solution for your books, artwork, or anything else you collect along the way.
How To Build A DIY Floating Desk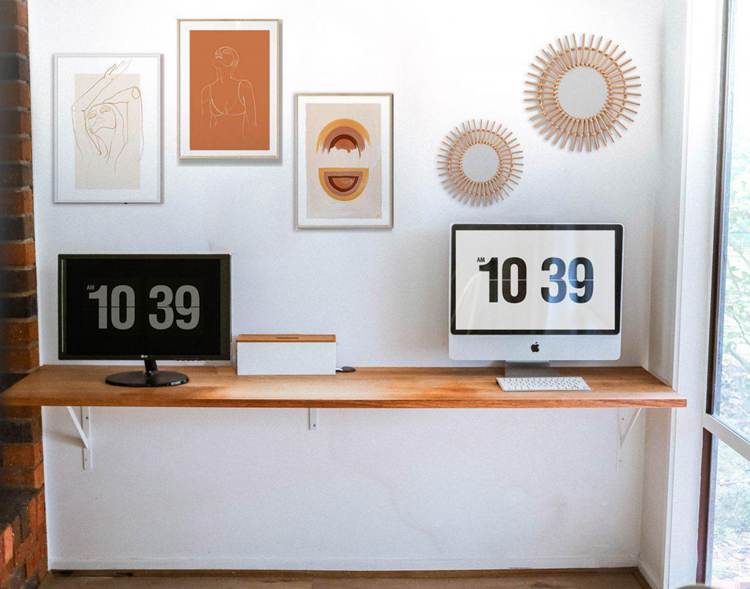 This floating desk is easy and affordable to build, but it's also packed with great features like a built-in power strip and a headphone cable organizer. For this project, you'll need a desktop and some brackets. The desktop should be durable, with no sharp edges or protrusions that may damage the cables running through it. The brackets should be strong enough to support the weight of your desk but easy enough to screw into existing studs in your wall. You can use any bracket you like. If you're unsure how many brackets you'll need or where they should go, consult an electrician before making any purchases!
Cheap Wall Mounted Floating Desk
If you need the convenience of a floating desk but don't have the space, consider making your own! This DIY Wall Mounted Floating Desk solution is easy to set up, affordable, and sturdy. It is a fun and easy project but will be incredibly useful to your home office. With this tutorial, you'll be able to make your own wall-mounted desk in no time! This floating desk is the perfect solution to a cluttered workspace. It's made from a stud finder and other hardware, making it easy to assemble and mount to the wall. The best part is that it doesn't cost much money either.
DIY Floating Desk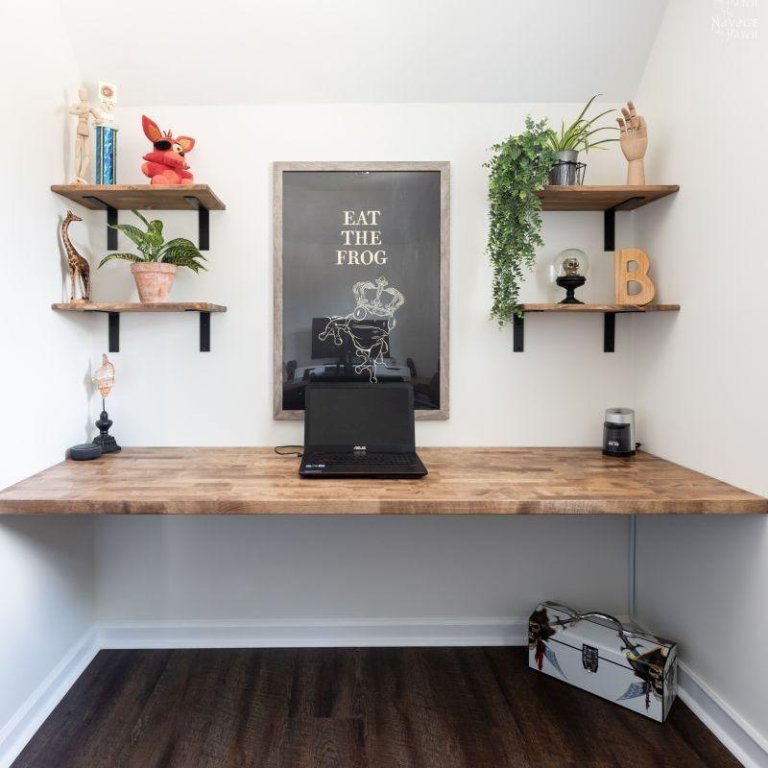 This floating desk is easy to make and the materials needed are simple. The instructions will walk you through the steps to create what you can imagine for your home or office. You can build your own floating desk using butcher block countertops, wood stain, and some hardware. Start by applying stain to your countertop with an applicator pad, leaving it to dry. Then, apply a coat of polyurethane the same way. Screw the 2×4 piece against the wall and then place your countertop on top of it.
DIY Wall Mounted Desk
The best way to save space in your home or office is to mount your desk on the wall. The DIY Wall Mounted Desk is super easy to install and doesn't take up any floor space. It is a great idea for those who don't have much space. Each two folding shelf bracket screws into your wall, and then you attach the desktop of your choice. That makes it perfect for any room, whether it's your home, office, or dorm. It is easy to create and can be customized for any size workspace. It's an ideal space for reading, writing, and organizing that fits into any house room.
Space Saving Murphy Desk
This DIY Murphy desk is a space saver. People can do it without help from anyone else. It takes several hours to build, but it's worth it in the end. The desk has enough room for your laptop and anything else you need to keep close at hand. Owning your desktop that can be folded away when not in use can be a great and space-saving addition to any room. The Murphy Desk is a perfect solution for this need. Here, you will learn how to make a small desk out of two simple pieces that fold from the wall.
DIY Wall Mounted Standing Desk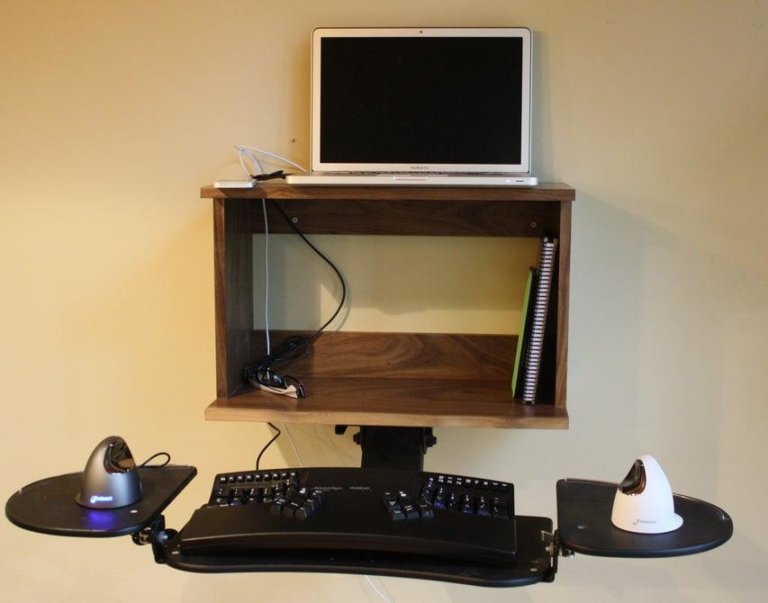 Do you prefer standing while working? Then this wall-mounted desk is for you. Made from pieces of walnut wood, it can be easily assembled in just a few minutes. Its simple and stylish design will add a modern touch to your room while providing additional storage space for your computer, papers, and other personal items. It's made from walnut, with a light stain to bring out the grain and color. Using simple tools of a miter box and saw, you can cut the pieces and assemble them into a wall-mounted desk, which is sturdy and secure when mounted to your wall.
CNC Wall Mounted Desk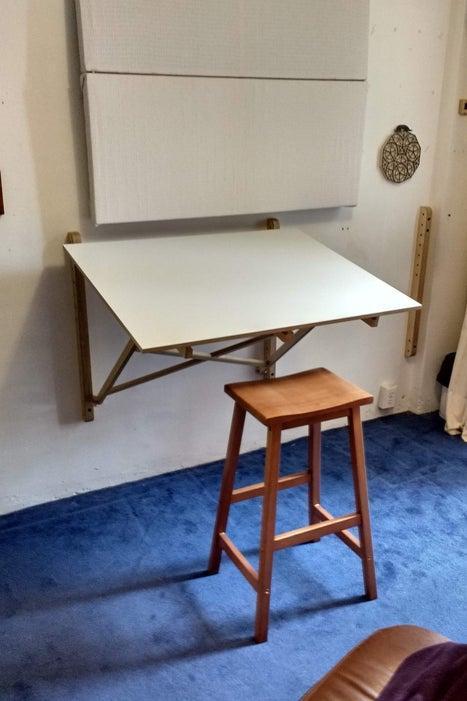 Are you looking for a desk that will care for your needs and wants? This is the perfect desk for you. It has a CNC base with a beautiful drawer. The most wonderful thing about this project is that while it looks like an easy project, it takes time and effort to make this happen. This small space desk is both highly functional and stylish, increasing your desk space while keeping things looking clean. Once you've completed the project, it's sure to be the envy of everyone in the room.
DIY Wall Mounted Desk
This is an amazing project if you like to write, draw or do other things at the desk during your free time. You can make a desk of your own by using pieces of wood that suit your needs. It's easy and fun to make if you follow all the steps. After making it, you will learn how to mount it on the wall so that it doesn't take up much space in your room. This project is perfect for anyone who likes woodworking and DIY. It's a great beginner project, but making your own desk design is still fun and challenging. The desk can also be used as a display piece, making holes in the wallboard to accommodate mounting brackets that hold the desktop easily.
How To Make A Wall-Mounted Desk With Secret Compartments
Are you tired of your clutter and looking for a way to keep it from all over the place? You are at the right place. This wall-mounted desk is perfect for anyone with limited space who would like to have a functional workstation just for their home office. It uses wood, screws, dowels, and other materials commonly found in hardware stores. The secret compartments will surely surprise you when you open them to store your stuff. The design of this desk is simple yet elegant. Use plywood for its construction, then stain it with your favorite color. The secret compartments appeal to many people because everyone has things to hide from time to time.
DIY Floating Wall Desk
You'll love this DIY Floating Wall Desk for a desk you can customize and make your own. Made of birch plywood, it comes with LED strip kits to add light to the surface, so it's perfect for any room in the house, from your bedroom to the kitchen! Start by cutting all the pieces of plywood needed, then assemble them and secure them together with glue and wood screws. This great-looking home office project will enhance the appearance of your home, making it an ideal addition to your living room, primary bedroom, or office.
DIY Wall Mounted Desk Plans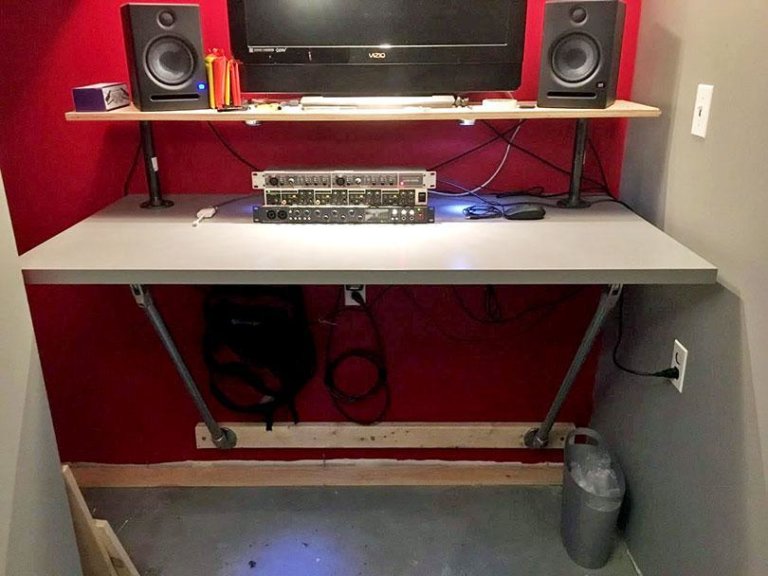 Are you looking for a small, simple desk in your spare room or office? These DIY wall-mounted desk plans can help you build exactly what you need. The frame is easy to build, and support connects the top deck to the lower deck. The entire desk then gets attached to the wall with swivel flanges, making it easy to move around as needed. This wall-mounted desk is adjustable, allowing you to slide the top deck forward or backward so you can use it at your most comfortable level while seated.
DIY Laptop Wall Mount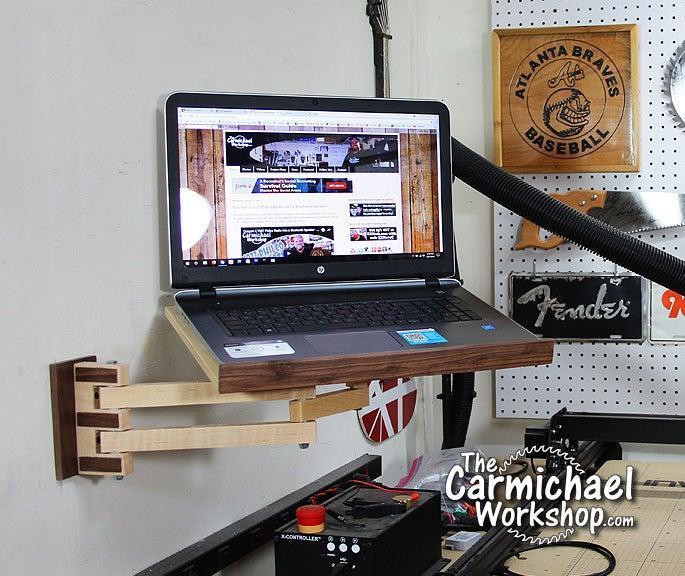 With this easy DIY laptop wall mount, you can turn a $20 tool cabinet into a beautiful and unique laptop stand. This project is perfect for mounting a small TV or monitor. A strong, durable laptop stand that's quick and easy to build. This portable table is adjustable for the perfect viewing angle and folds up for storage when not in use. The laptop platform sits firmly on the frame so that you can use it as a desk or counter. This project requires a smaller budget and is perfect for DIYers who are handy around the house.
Wall Mounted Folding Work Desk
Don't let your feet hang in the air and get in the way of your work. This DIY Wall Mounted Folding Work Desk will not distract you from your daily routine because it allows you to fold up and go away. This great DIY project converts any wall into a work surface. The workbench is foldable, which means both surfaces will be visible. Create your own DIY Wall Mounted Folding Work Desk from Pegboard and Butcher Paper. This desk is an easy project to do in a very short time frame. It makes for a great gift or home office addition.
DIY Wall Mounted Desk Tutorial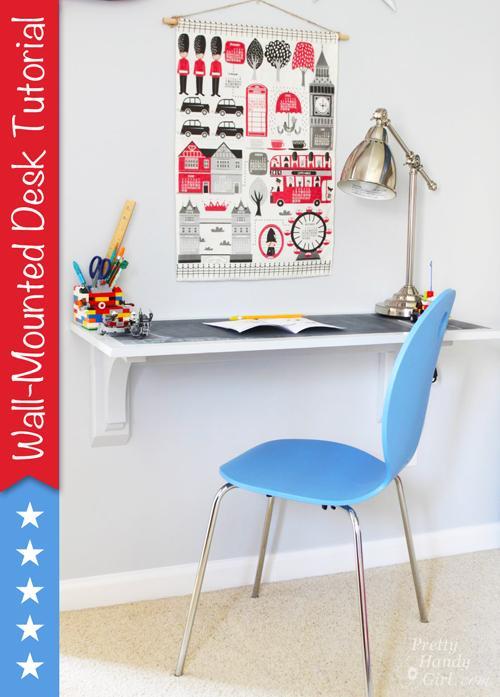 Get organized with this DIY wall-mounted desk. It's easy to assemble, and all materials cost less than $50. The project will take about two hours and make your home feel like a quiet workspace. Mount your desk vertically on the wall, and add extra space while making your room look elegant. This project will help you, especially if you love DIY things and want to save money. All you need is a simple idea and a drill for it.
DIY Wall Mounted Fold Out Desk
A lovely fold-out desk with a strong and sturdy look requires the right materials and measurements. The height is adjustable according to the user's needs, for instance, for someone who's multi-tasking or working on several projects at once. This fold-out desk is perfect for your home or office, allowing you to have a workspace anywhere. The DIY design is easy to create, and all the materials needed are available in your local hardware store.
DIY Wall Desk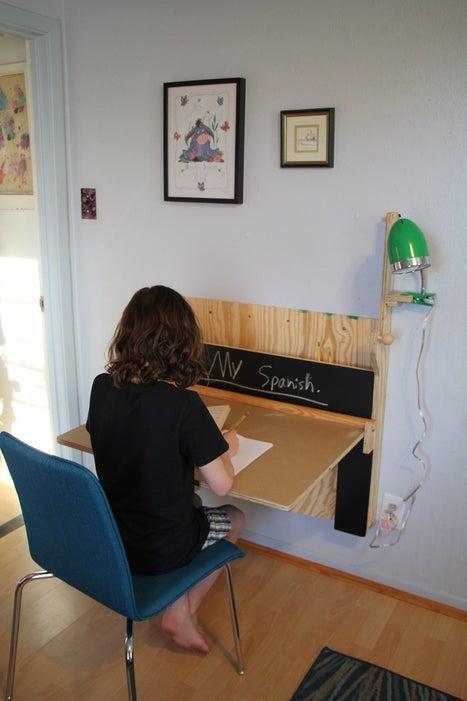 This DIY wall desk is the quintessential multipurpose desk for your kids to study. It has many features that make it perfect for studying; the book rack for the books when the desk is down can also be folded up when not in use, providing a large surface to do other activities on. This desk is perfect for studying. It has a book rack when the desk is down and can easily be folded up anytime it's not used. The desk is made of wood and has raw wood veneer to give it a natural look.
DIY Floating L Desk
The L-shaped desk can be put together easily and quickly. The countertop brackets that hold the desk together provide a perfect fit, allowing you to assemble two pieces of plywood to form an L shape and mount them on a corner where the shape will fit properly. This is a great furniture piece, and it looks amazing sitting in the corner of your room. It can be used as an L-shaped desk, vanity table, or display stand. This project is not only fun but also rewarding.
DIY Wall Mounted Desk
A DIY wall-mounted desk is the perfect space-saving solution for those who live in small apartments or houses. It's easy to build, and you can even personalize it with your stamp. This is a DIY project that requires only the basic tools. All you need is to prepare the wood for your desktop and assemble it with glue, after which you stain it. After drying, you can mount your desktop on the wall. You can make a beautiful and practical desk for your office as a DIY project. Use the materials needed, cut and assemble them, stain them, and put them together. It's just that simple!
How To Make A Floating Desk
If you want a floating desk, all you need is some wood, screws, and some glue. This tutorial will show you how to easily make a floating desk that is sturdy and functional. It is simple, high-quality, functional furniture that fits perfectly into any office environment. The main point is the floating effect of the desk's top part, allowing it to slide easily without disturbing other things around. Now you can eliminate the cluttered mess your desk leaves behind. Keep your stuff and desk organized with this handy floating desk feature.