24 Cool DIY Bathtub Trays That Will Give Your Bathroom a New Look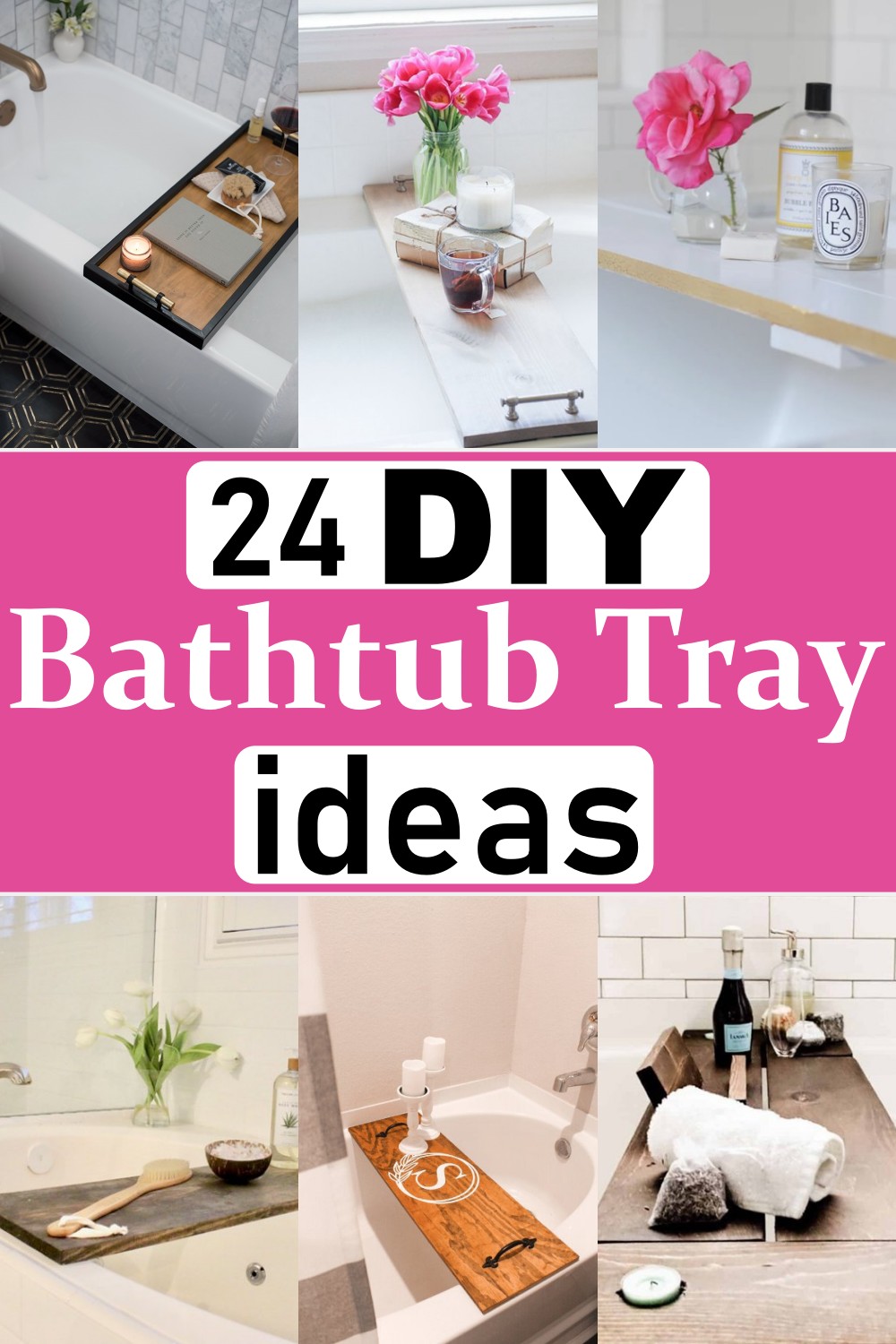 Bathtubs are a great resource for relaxation, but they can also make your bathroom look like a cluttered mess. Bathtub trays are a simple way to fix this problem and add a little extra comfort to your bathing experience. These trays are useful for resting your feet during baths or showers, and they're also great for holding all of the things you need in one place: from keeping rings from rolling off the side of the tub to keeping your iPad close at hand during a fascinating show. You can also use them as small tables or places to set up your laptop or tablet when you need to do some work or surf the web. There are so many DIY bathtub tray ideas and projects to choose from, and it doesn't matter how big or small your bathroom space is.
DIY Bathtub Tray Ideas For Upgrade Your Bathroom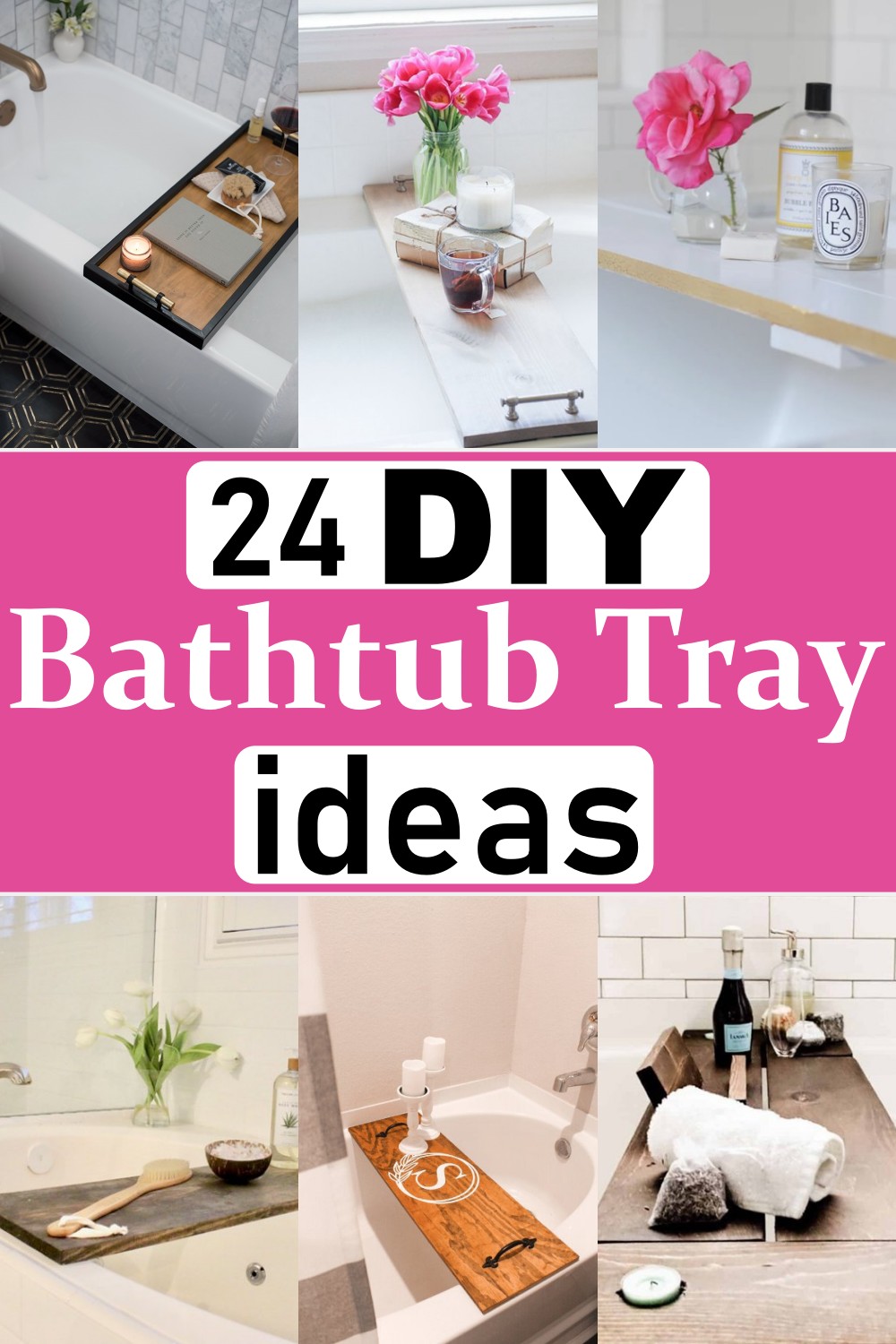 DIY bathtub tray ideas are fairly easy to come by; there are plenty of ways to get something that works for you. The hardest part is deciding which option is most appealing to you—there's no right answer, so go with whatever fits your style. Some of these options involve much more work than others, so what might be worth it depends on how busy you are and how much time you have to make one of these trays. See our favorite DIY bathtub tray ideas below and see if they work for you!
Here are 24 DIY bathtub tray ideas that can be created easily using items you may already have around the house!
DIY Bathtub Tray Ideas
Bathtubs are one of the most luxurious parts of your bathroom. They are an essential feature for relaxing and unwinding after a long day. However, the bathtub is also where you can store all sorts of things while bathing. Bathroom accessories such as bath oils, creams, and soaps can be stored in these trays. A simple tray is easy to make and will enhance the look of your bathroom.
The following are some benefits of DIY Bathtub Tray Ideas:
1) Adding a tray to your bathtub makes it look more attractive
2) It helps organize all your bathtime accessories in one place
3) They come in different sizes and shapes that can suit every need and style
4) You can customize them according to your taste
Making A Stunning Bathtub Tray
This wooden bathtub tray is stunning and easy to make. Even if you are not a woodworker, it's an effortless project you can complete in just 4 hours. This caddy will provide ample room for your toiletries, but it can also double as a tray to drink your morning coffee while bathing. This is a lovely wooden bath tray with plenty of space for your phone, magazines, and books. This makes reading relaxing and enjoyable.
How To Make A Bath Caddy
A bath caddy can help keep your shampoo, soap, and other wash items organized, but you don't have to leave it hanging on the shower wall. Learn how to make a bath caddy that fits into your bathroom decor. In addition to being functional, this project will be an attractive way to use leftover spray paint from other projects. It will keep everything you need close by, so you don't have to get up or hunt for items in the dark.
DIY Bathtub Tray
This bathtub tray is great for anywhere in the house! You can use it as an iPad holder in the bathroom or kitchen or as a footrest in front of your bed. This bathtub tray is great for people who want to relax and watch the end of a movie in the tub or people who struggle with getting up after sitting down for long periods. It's made from simple materials and can be assembled in about 30 minutes. This bathtub tray is also perfect for relaxing with a cup of tea or your favorite book.
Bathtub Tray DIY Build
This is the perfect project for you if you want to make a bathtub tray for your bathroom. This bath tray is perfect for your bathroom essentials. Cut the walnut wood pieces to size, then join them with the hinges, screws, and glue. Simple steps, great results! This bathtub tray is easy to make and will be a great addition to any home. Watch this video tutorial to learn more!
DIY Bathtub Tray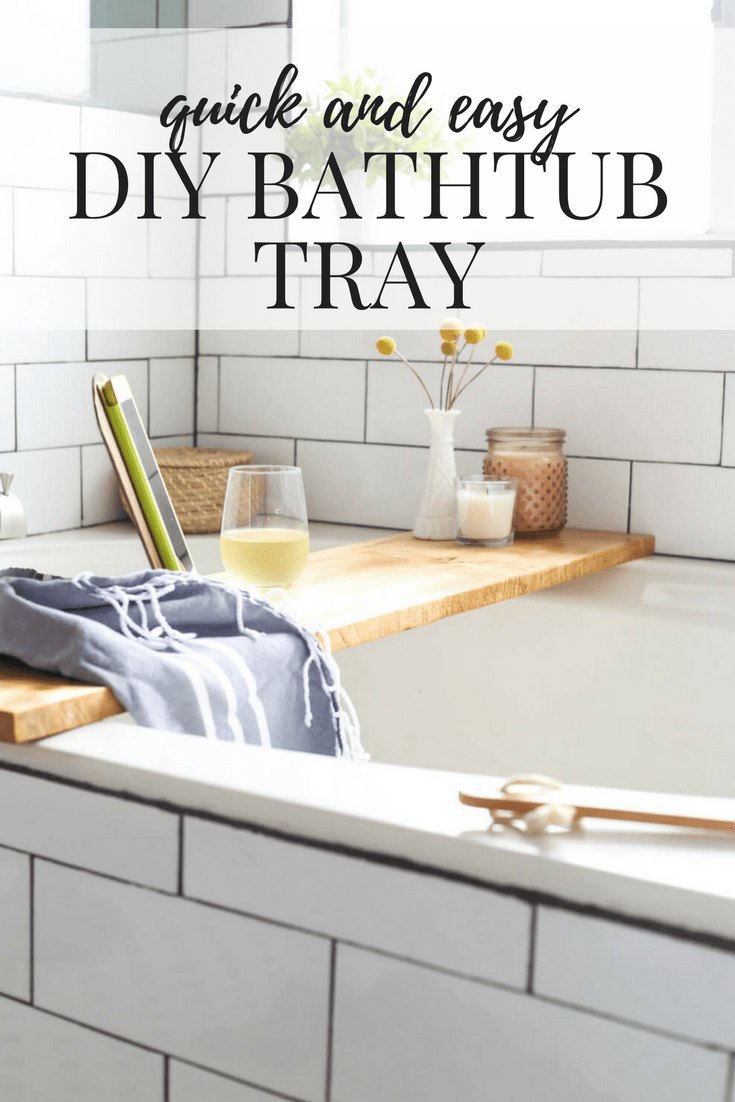 This DIY bathtub tray was made with curly maple wood. You can make any bathtub tray out of wood and stain or paint it any color you like. This project may take some time, but it is well worth the effort when you see your finished project. This fun, easy project is an excellent way to put your woodworking skills to the test. This is an ideal beginner project if you have never tried making anything with wood.
DIY Bathtub Tray Using Scrap Wood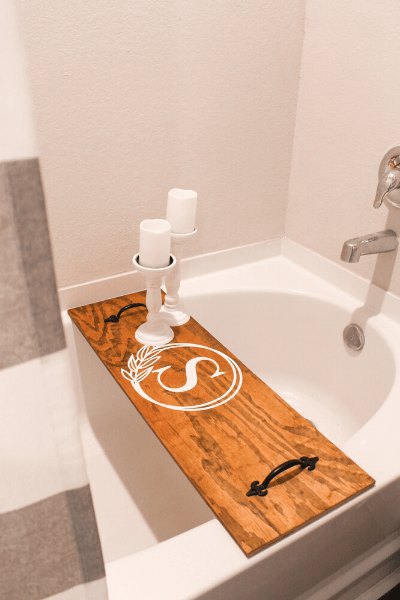 Scrap wood has been used in many DIY projects, but not many people think it is used for making bathtubs. This is a great idea, though! Scrap wood is easy to come by and affordable, so you can make this awesome tub tray without breaking your budget. This will make your bathroom look fantastic without breaking the bank. The process is straightforward. Start by gathering your materials and tools to begin your DIY project. To make this project come together, you'll need some scrap wood, paint, wood stain, and a little elbow grease.
DIY Bath Caddy
This simple caddy is easy to make and looks like furniture. With just a few materials, it also saves you some money! The result is a beautiful handmade bathroom caddy that will be a great addition to your home. This DIY home project is to keep all your essentials in one place. Add a splash of color and make this bath caddy customized for your bathroom by choosing colors that fit your style. Plus, you can stain it to match the rest of your bathroom space.
DIY Bath Caddy Tray
Build a DIY bath caddy for your bathroom or to give as a gift. This project is great for beginners and advanced woodworkers alike. You can customize the size of your tray to fit your needs and decorate it with any finishes you'd like after building it! This DIY bath caddy is easy to make and can have the features you need. The tray holds accessories such as soap, lotion, and shampoo.
Easy Bathtub Tray DIY
If you've been wondering how to install a backrest in the bathtub or how to prop up your phone or iPad in the tub, then this DIY project is for you! A bathtub tray can be very handy for keeping stuff you need in the bathroom, like a phone, iPad, or book. You can use it as a notebook holder or just place your favorite drink there, so you always have it within reach. This project is also a great place to store your bathroom beauty products.
DIY Acrylic Bathtub Tray
This acrylic bathtub tray is a simple project that's perfect for beginners. The best part about this DIY bathtub tray is that it makes it easier and safer to get in and out of the tub, so you'll be able to access every bit of your shampoo bottle! You can also use them as trays for soaking your feet or to put a cup of tea or coffee on! Watch this video tutorial to learn more!
DIY Walnut Bath Caddy
People usually put a lot of stuff next to their bathtub, like shampoo, soap, etc. If you want an easy way of storing all these items, DIY a walnut bath caddy is what you need. This project is not difficult to make and can be used in your bathroom to make it look cozy. This simple walnut bath caddy is a great DIY project for beginners and intermediate woodworkers. The entire project can be completed in a weekend with basic tools, including a bandsaw, jigsaw, and drill.
DIY Bathtub Tray No Tools Needed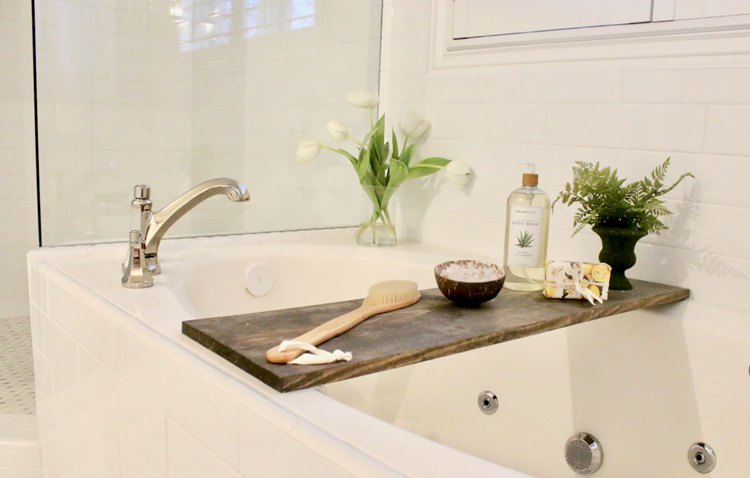 Are you getting tired of using your bathroom floor as a bathtub tray? Then this tutorial is for you. This project will help you create your own personalized DIY bathtub tray. This simple and easy DIY project is perfect for your bathroom, with a nice finish that looks great in both contemporary and traditional spaces. The finished product makes a great gift, or use it to organize your bathroom!
DIY Bathtub Caddy
Have you ever had a long soak in the bathtub and enjoyed a glass of wine, but you had to hold it at all times? This simple DIY project will help you do just that. All you need is a few basic materials like a wooden board, glue, and rope. You can then display it in the bathroom or store it away when not in use. The design is simple and easy, so everyone can make one for themselves.
DIY Tub Tray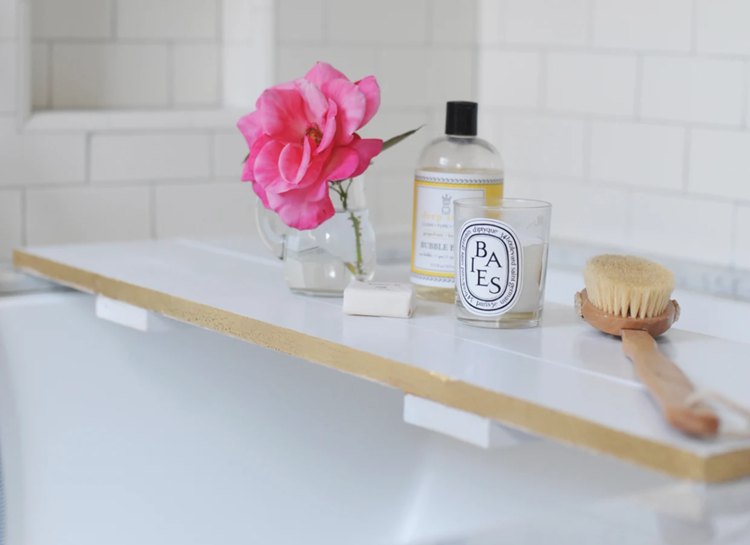 If you love the classic feel of a tub tray, this is the bathtub tray for you. This traditional option is perfect for those who want a simpler arrangement with a more modern twist. This simple but elegant bathtub tray is the best option if you want something simple and durable. It's the perfect place to set your glass of wine while you soak in the tub after a long day.
DIY Bathtub Tray With Reclaimed Wood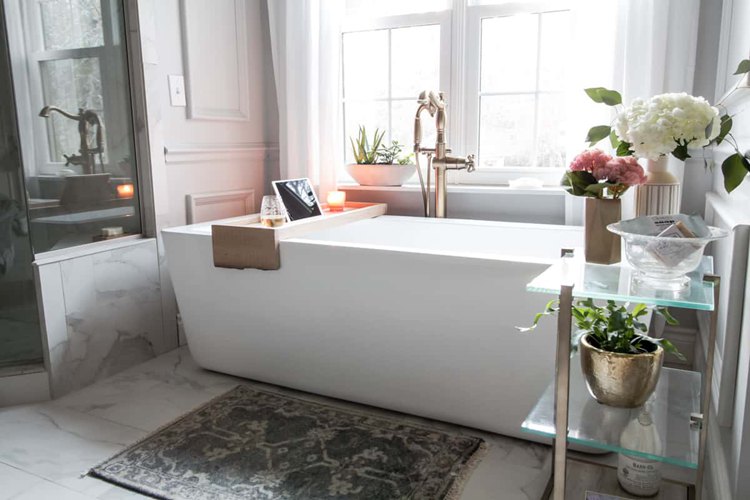 Are you tired of drying your bathtub after you take a bath? Or Tired of keeping an eye on your iPad while taking a bath? Then this DIY reclaimed wood bathtub tray is perfect for you. It has a tablet holder so that you don't have to hold the iPad in your hand while you're relaxing in the tub. You can also put your candle and hand on it. This bathtub tray is made from reclaimed wood and is perfect for resting all your bathing essentials.
DIY Bathtub Tray With Book Holder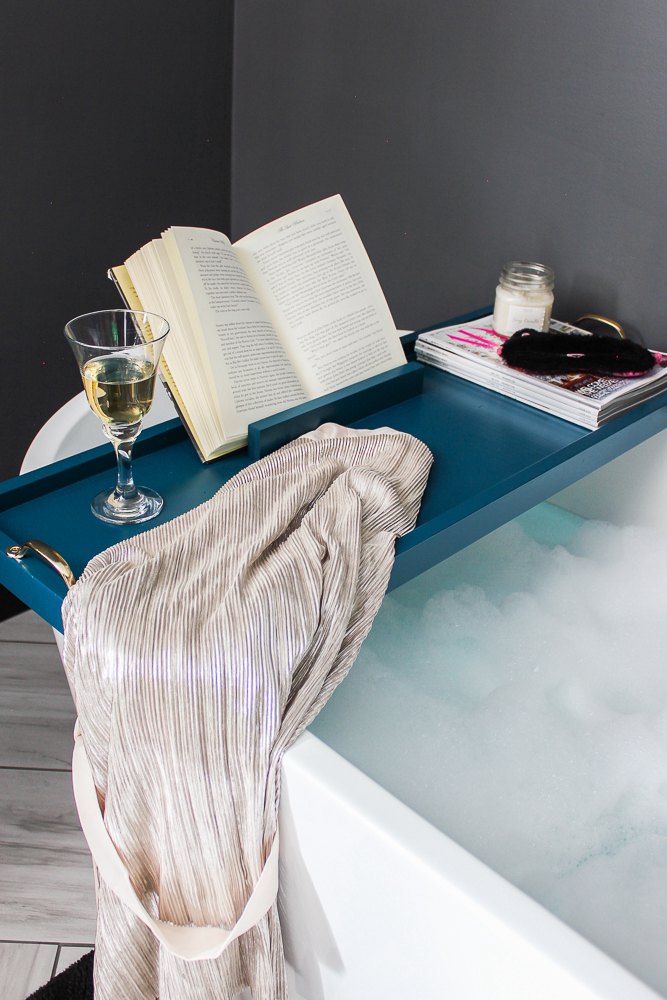 There's nothing better than relaxing in a hot bath while reading your favorite book. If you love to read and enjoy a good soak in the tub, then this DIY bathtub tray with a book holder is just what you need. It will turn your tub into an oasis of relaxation while keeping your book or magazines at the perfect angle. You can finally combine your love of bathing and reading with this simple DIY project.
How To DIY A Bathtub Tray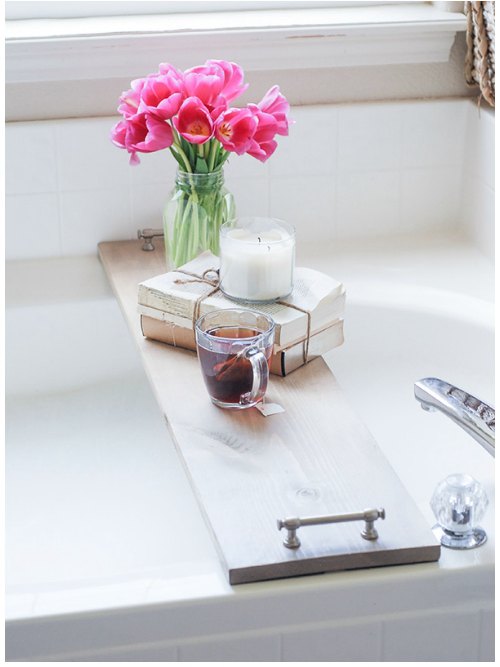 If you're looking for a gift idea for the woman in your life, bath trays are the way to go. It is best used on the first day of the month and Mother's day. You can customize them to suit the receiver's personality or even give away a customized message. This guide will show you the complete step-by-step instructions and follow-up steps.
DIY Bath Caddy Tray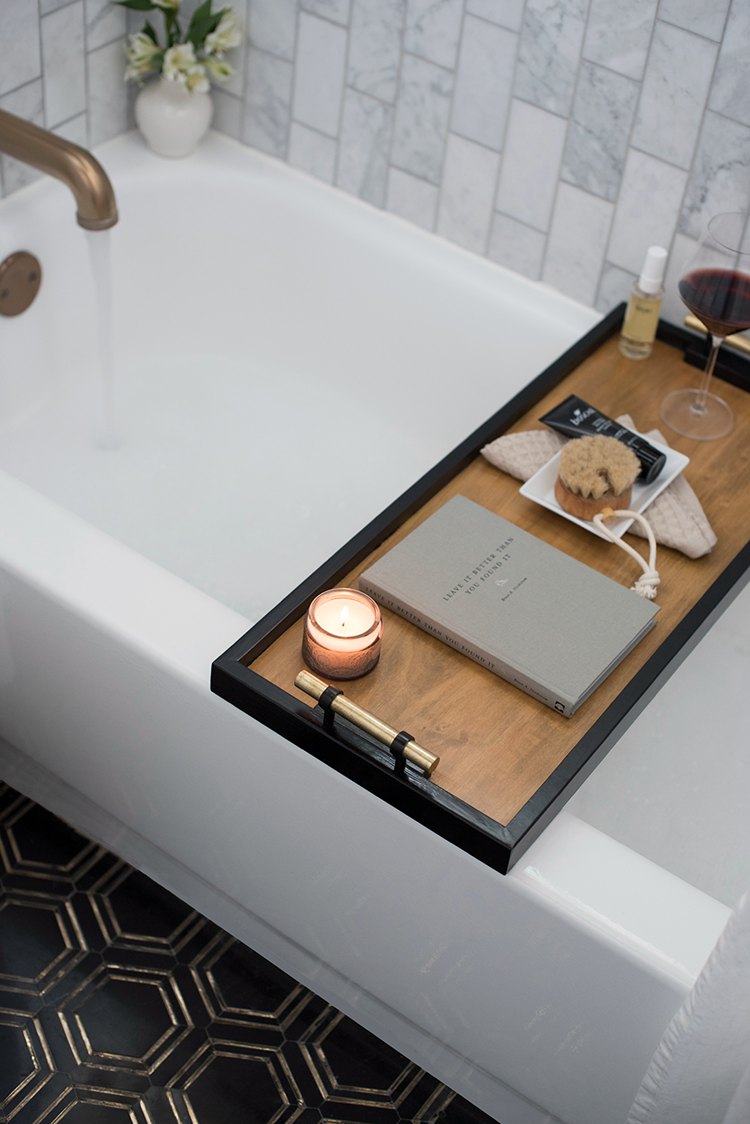 A bath caddy tray is a must-have for every person who loves to take long baths. With this, you can sit or soak in your tub with peace of mind because everything you need is in one place. You no longer have to get out of your bathtub to fetch your phone, magazine, and maybe even book. This DIY project is an inexpensive way to make life easier when you're in the tub.
DIY Bath Table
This bath tray is the perfect gift for anyone! Whether it's for yourself or someone else, this rustic wood tray will transform your bathroom into a relaxing spa-like atmosphere. Use it as a phone holder, iPad holder with backrest, wine glass holder, and candlelight holder. The choices are endless! This tray is so easy to use; just slide it under the faucet, and water flows out from it, providing you with all the comfort needed for your bubble bath.
How To Build A Bath Caddy
This project will show you how to build a simple but functional bath caddy. The basic idea is to have the ability to sit and have your phone/iPad ready for your reading pleasure in the caddy while at the same time having a wine glass holder, candle holder, and finally, a wine bottle holder. Learn how to build a simple bath caddy; This project is easy to make and can be customized for any space or size.
Making A Bathtub Tray
If you are a wood lover, there is something very satisfying about turning an old, rusting piece of wood into something beautiful. Making bathtub trays from old wood is a great way to save money and give the old wood a second life in your home. You don't have to spend a fortune on bathtub trays. Use reclaimed wood to make one that's just as good as the expensive ones at the store.
How To Make A Bath Caddy For $10
You will be surprised at how easy it is to make this bath caddy. It's small, light, and durable. The best part is that it costs just $10. This easy-to-make bath caddy is the perfect addition to your tub at home. Perfect for candles and other bathroom essentials, you will want this in your bathroom. Once you try it out, you'll probably want to make another for your guest bathroom!
How To Make A Bath Caddy
Create a customized bath caddy for you and your family by adding a few items to a basic bathroom organizer. This simple DIY project gives you access to all the modern bath storage materials you could ask for. A sturdy but stylish bath caddy is a catch-all for all these necessities, ensuring that you always have your shampoo, soap, and other toiletries visible and within reach.