15 DIY Walk-In Closet Ideas For Storage Options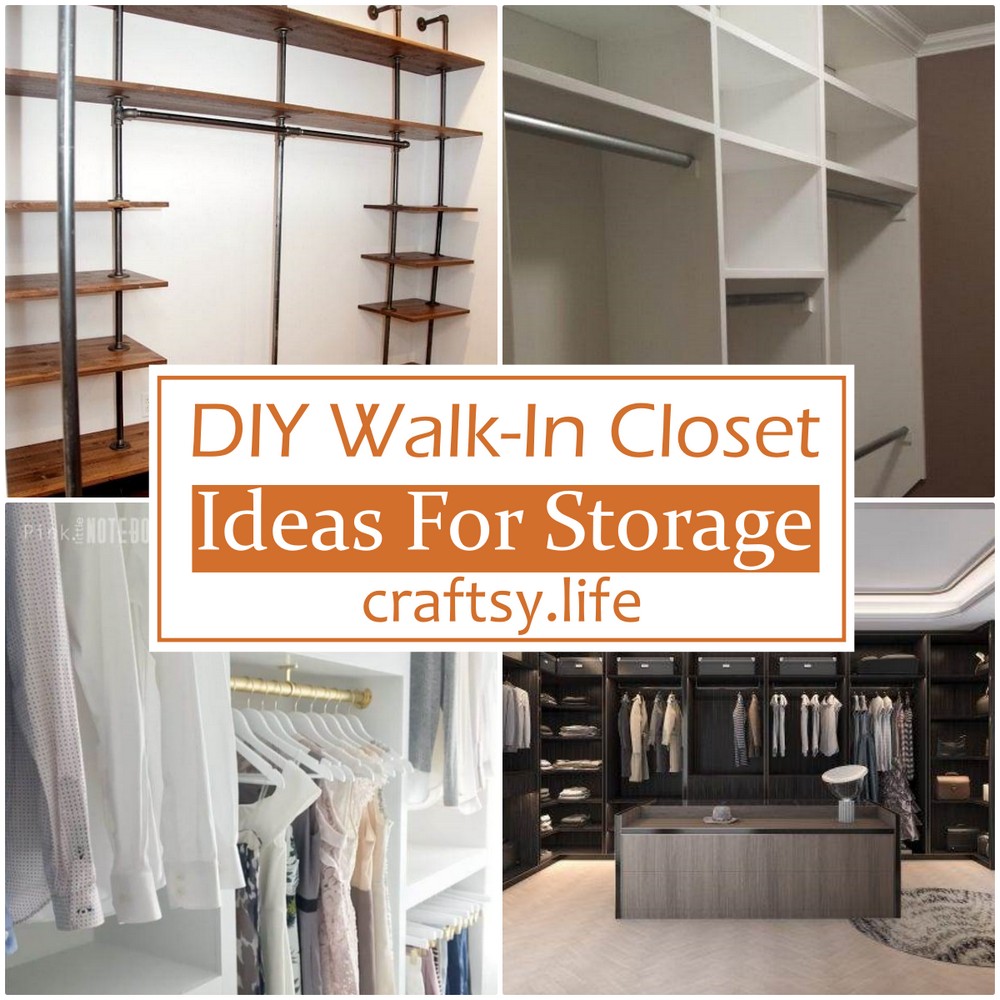 A walk-in closet is the best place to organize all your clothes and accessories, especially if you need space for shoes, bags, and scarves. But if you're a busy person with little time on your hands, here are some easy do-it-yourself projects that will help you create a walk-in closet that fits into any corner of your home. These DIY Walks-In Closets Ideas are designed to accommodate the higher level and more spacious walk-in closets; they're perfect for those interested in installing the best closet organizers.
DIY Walk-In Closet Ideas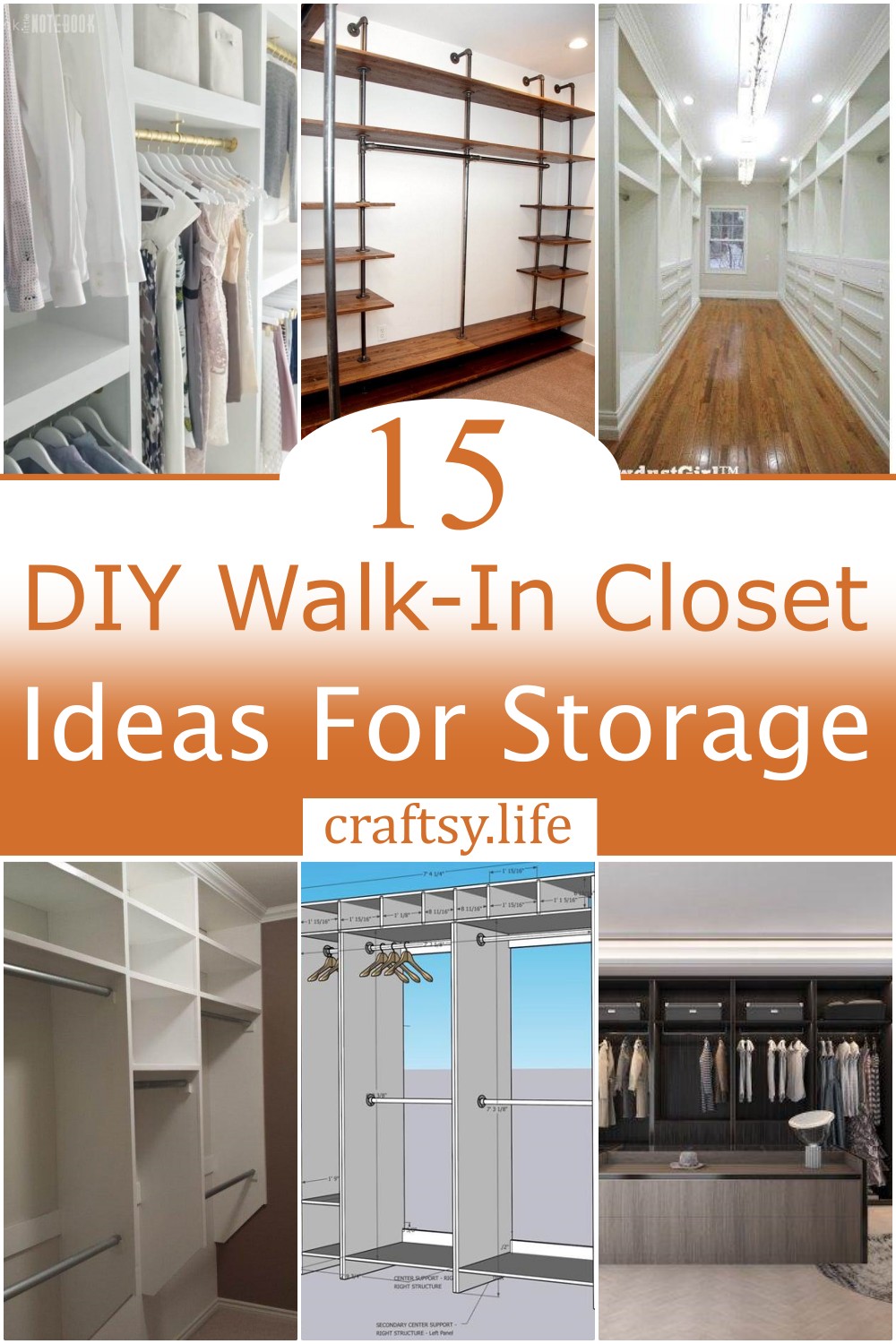 Every girl deserves a walk-in closet. Want to make your own walk-in closet? There are plenty of DIY walk-in closet ideas to fit your space, style, and budget. Make a freestanding closet where you can hang clothes on door-style closets and store shoes right under. This is the best system for small spaces where space is tight. Start with a DIY clothing rack or wardrobe system that has plenty of storage options so you can get organized today! With these DIY walk-in closet Ideas, you can make your dream closet at home. You'll learn how to build floating, wall and grid shelves while making your space function better than expected.
How To Make A Walk-In Closet
A walk-in closet is one of your home's most useful storage spaces. It keeps your shoes and clothes organized, prevents odors from entering the room, and allows you to find items quickly. Here is how to build a walk-in closet with 2×4 boards, masonite panels, and other materials you can buy from the nearest Home Depot store. Easily follow the simple steps, and learn how to build a great-looking walk-in closet that any home would be proud of.
DIY Walk-In Closet Idea
If you want a private space and room to store your clothes but don't have enough space in the house, then a walk-in closet may be what you need. Watch this video and learn how to design one yourself. The designs are spacious and come with well-organized compartments where you can find your clothes instantly. All you need to do is follow the steps shown in the video and apply them to your own space. With just several supplies and a little know-how, the room can be redecorated in only a few hours.
Walk-In Closet Makeover
A walk-in closet is the best thing you can have. It's a dream space where you can put all your clothes, shoes, and accessories in one place and organize them in style. Transform your traditional closet into a walk-in that's effortless to use and filled with hidden storage options. This walk-in closet makeover is a complete renovation that will take a lot of time and effort. The fun part about this project is that you'll get to change the look and feel of your closet completely, so it may just be worth it in the end!
DIY Walk-In Closet Design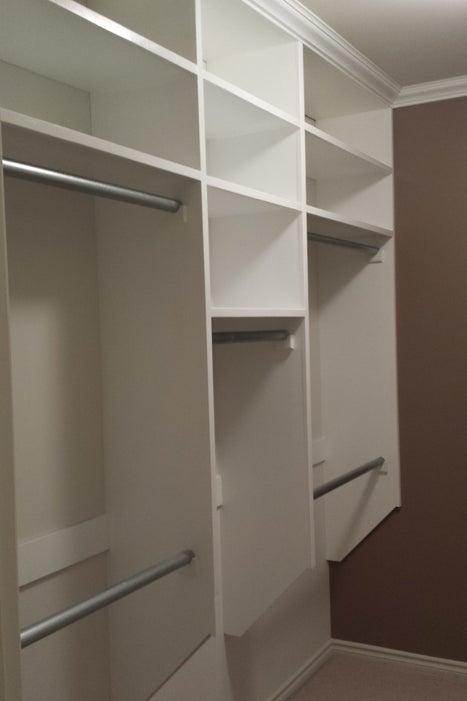 Are you tired of your old and boring walk-in closet? Do you want to transform it into something new and extraordinary? This tutorial will show you how to build a DIY walk-in closet. First, the organizer made some sketches on paper before starting anything else. This was very useful because it helped him figure out how much material he would need and what tools he needed. Create a walk-in closet that you will love with these easy-to-understand instructions from the DIY experts.
How To Make Walk-In Closet Shelf
Installing closet shelves is a great way to use the space in your closet. The shelf will provide plenty of storage for all items, from clothing and shoes to towels, books, and papers. You might also want to create narrower spaces for small items such as hairbrushes or makeup brushes. You won't need additional tools, and the instructions are easy to follow. This guide will help you install the DIY frame for your new shelf.
Island For Walk-In Closet Plan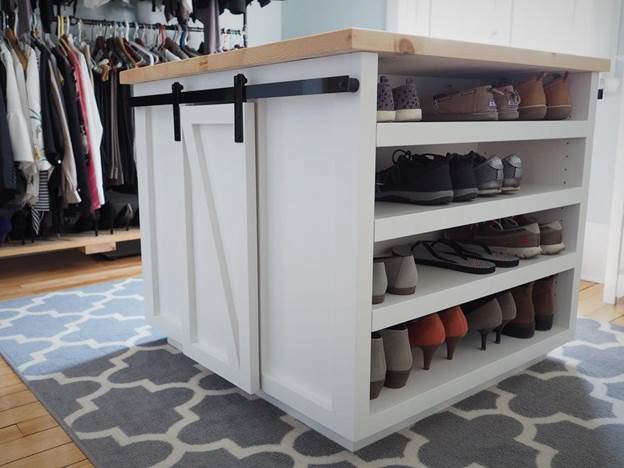 Do you want to create a walk-in closet island with the least possible effort and save money? Here is a plan to guide you through creating a beautiful piece of furniture that will house all your clothes and other accessories neatly. The process is simple and takes only 13 steps to get done. You will need to ensure that all measurements are precise so that your island fits well and is sturdy.
How To Make A Walk-In Closet Systems
Building a Walk-In Closet can be easy, and most projects take a weekend. This walk-in closet is perfect for anyone looking to start a project on a budget. Some of the materials used are cheap and can easily be found in your local hardware store, while others may need to be ordered online. This is a small but stylish closet, and You can use this to store your winter clothes and all those clothes you don't wear regularly.
DIY Walk-In Closet Shelves
This DIY walk-in closet is perfect for anyone that wants to create the ideal home organization. It's not just the design and organization of the cabinet, but it helps maximize your use of space efficiently! Building the walk-in closet yourself is a great way to save money, but it can also help improve the overall design of your room. This is a super simple project that can complete in less than a day, and you can use leftover materials to make it as beautiful as you want.
How To DIY A Walk-In Closet
Walk-in closets are incredibly handy to have in your home. This video is a great tutorial to follow if you want a walk-in closet but don't have room for one. The video starts with the original closet space and then goes through each step of adding a door. You'll see how he built the actual closet and then attached the door frame with hinges so that it could swing open into the closet.
DIY Walk-In Closet Remodel
This DIY walk-in closet remodels shows how easy it is to transform a conventional closet space into a stylish walk-in with the help of wire racks. You'll be ready to make your dream walk-in closet come true with some essential tools, hack saws, and grommets. Remodeling your walk-in closet and making it a comfortable, appealing, and enjoyable environment. Take a look at some essential tips and tricks on how to remodel your walk-in closet so you will be able to receive a better look as well as functionality.
How To Plan And Design A Walk-In Closet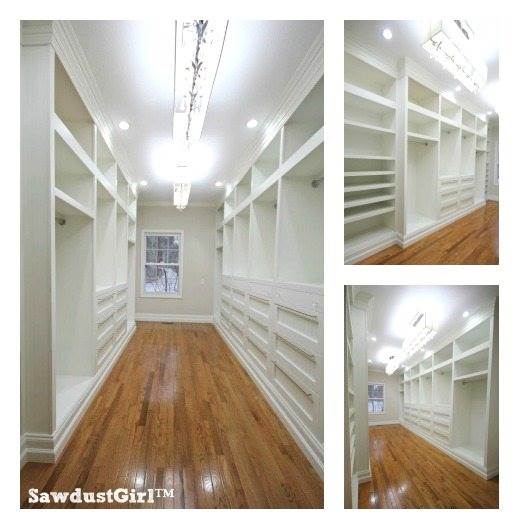 A walk-in closet can be the ultimate luxury to a homeowner. This is a great guide for building an amazing walk-in closet. With so much space to work with, you can make it as large or small as you want – perfect for the extra storage a home needs. This tutorial is a great guide for planning and designing a walk-in closet. It features tips on creating an elegant and gorgeous closet, even for those with limited space.
DIY Bedroom Closet Organizers
Let's get real. You want to build a DIY bedroom closet, but you're daunted by the thought of taking on this project. This video shows you how to plan your projects and keep them simple with some basic wood, hardware, and paint. By following this guide, you'll be able to create a custom-built closet that will last for years—all for a fraction of what having someone else do it would cost. The DIY cabinet can be sized to fit properly in any room of your home, especially in a small space like the one featured here.
How To Make A DIY Walk-In Closet Organizer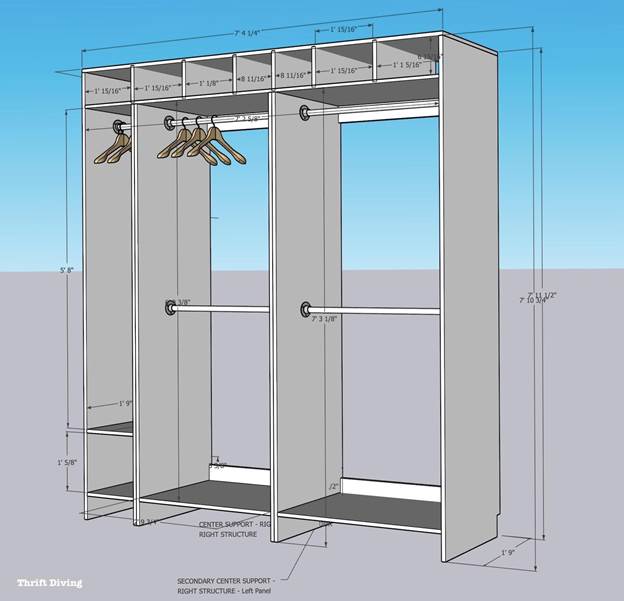 The walk-in closet DIY project is not just about how to build a closet organizer. It's also about how to organize your closet. The tutorial will guide you through the steps for this project, guiding you into a walk-in closet that you can set up in different ways, depending on your needs. A truly walk-in closet should be your ultimate goal if you're one to collect clothes, shoes, and accessories. A DIY closet organizer like this one is the perfect way to make sure you can store them all in style.
DIY Closet Organizer Plan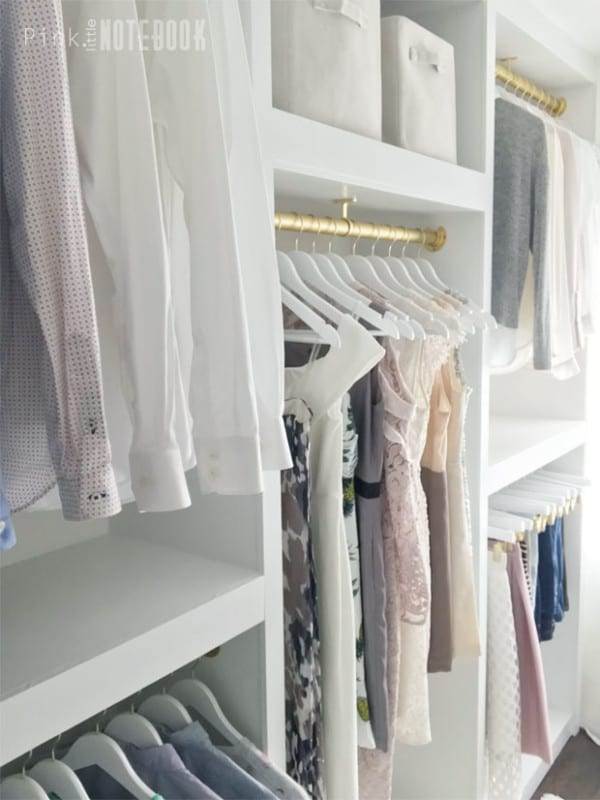 Are you tired of clothing falling over on the floor and getting lost in your closet? This DIY closet organizer is a great solution. It is easy to make, even for beginners, and the materials are cheap. The design is also very space-saving and allows you to store things with ease. So if you want to solve this problem once and for all, this project is worth doing! The idea is to organize with a space-saving custom closet organizer that fits your budget.
Industrial Pipe Walk-In Closet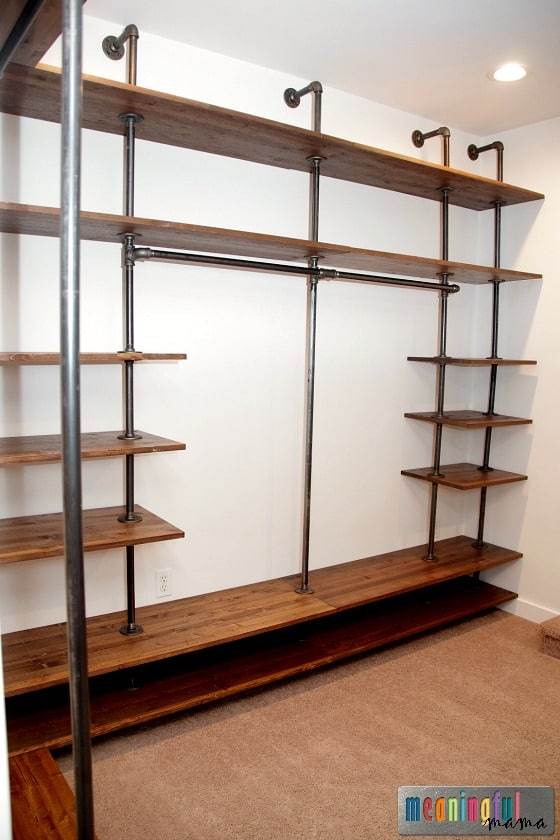 Are you looking for a cheap alternative to your old walk-in closet? Then it's time to say goodbye to the boring cabinets dampening your home's mood. This article will give you some fresh ideas for making your walk-in closet sturdy and stylish. No one wants to look at timber sheets hung all over their closets, nor do they want to replace them every once in a while as they cannot withstand the weight of clothes and accessories. So please look at this ingenious DIY, which will leave everybody wondering how you built them without messing up the entire house!