When it comes to home organization, the key is to ensure all of your things have a place and everything has its place. You must be able to find what you need when you need it, so you don't waste time searching for things or looking around in drawers and cupboards. When you're staying on budget and trying to get organized, it's useful to know that many great DIY storage ideas can help keep things in order without breaking the bank. While some people might think they need to spend money on fancy shelving units or cabinets, this is not the case! Plenty of clever ways to organize your space without spending a dime. Here are some unique and smart DIY storage ideas that will give you inspiration for making the most of your space.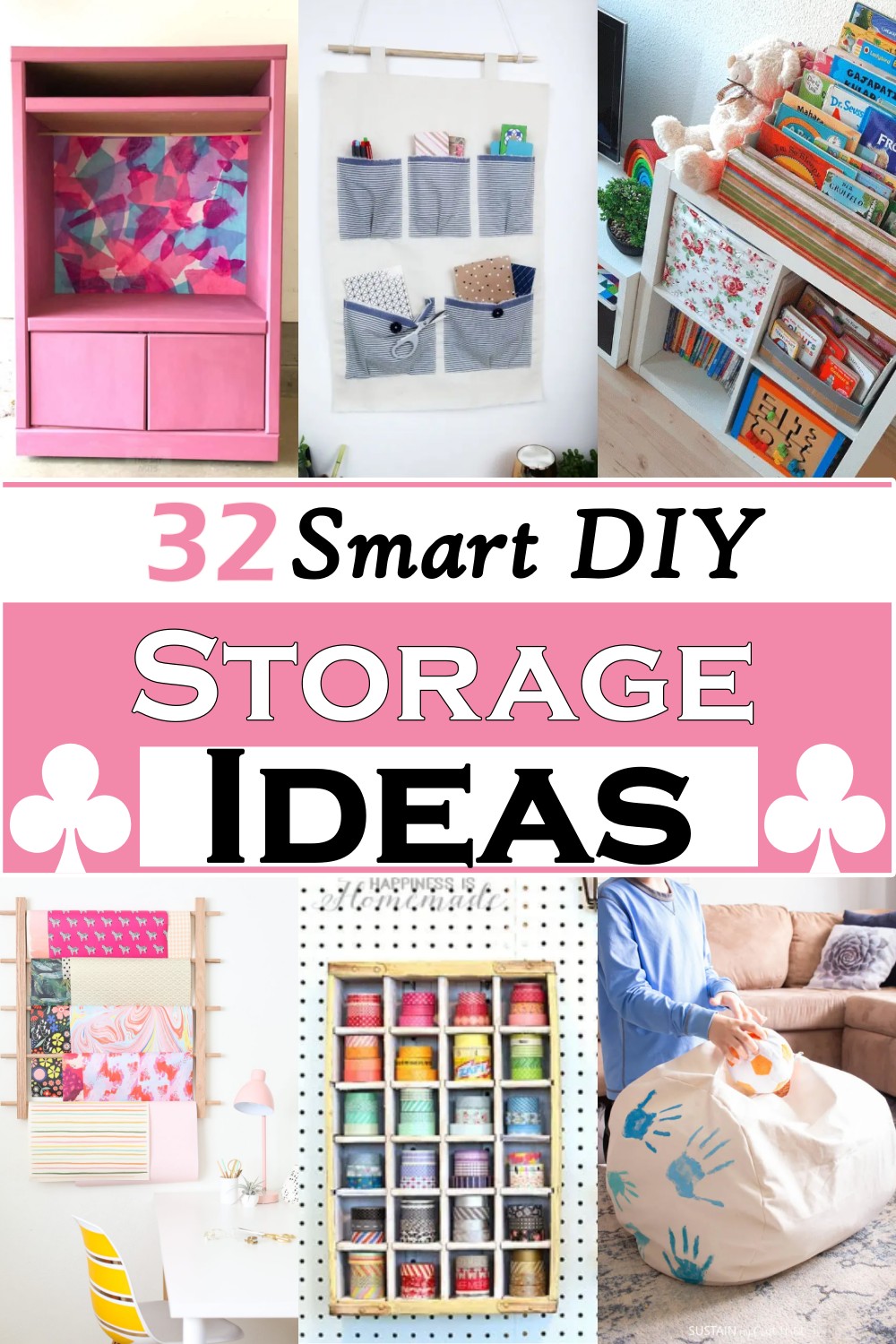 If you've ever wanted to make your home more organized but don't feel like you have enough money to buy new furniture or storage units, this list is for you. We will cover 32 clever DIY storage ideas that are fun, creative, and inexpensive. They will help you get a handle on everything that keeps piling up in your living room and kitchen. These ideas will inspire you and give you some great new inspiration for making the most of your space.
We have collected 32 clever DIY storage ideas to help you keep your small home organized and clean.
You Can See: 15 Free DIY Tool Box Plans For Woodworkers
Dress Up Clothes Storage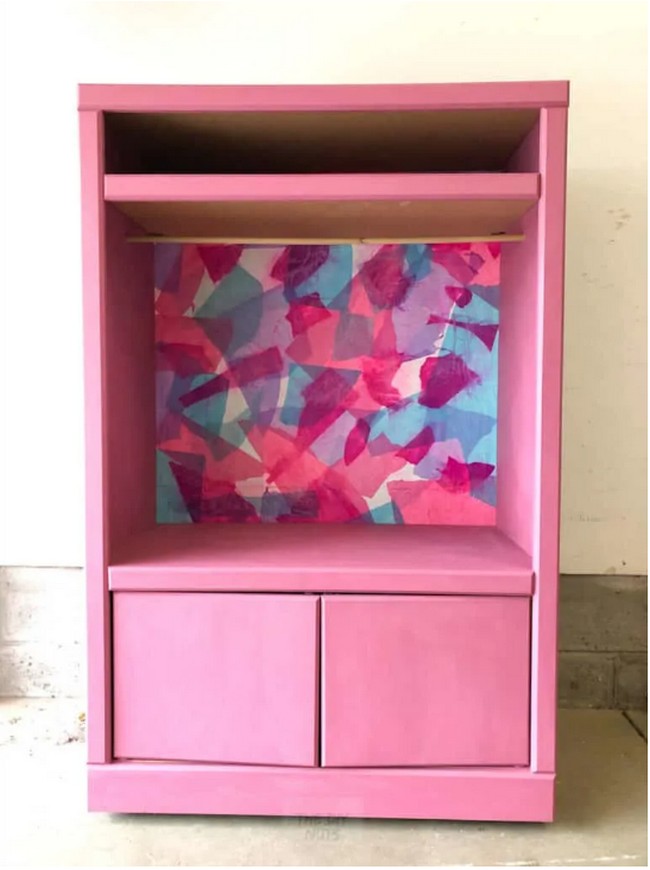 Source: thediynuts.com
Kids love to play dress-up, but that can become a chaotic mess of outfits. Invest in a self-contained, DIY toy closet or wardrobe to keep things organized! You don't have to spend much on materials for this project; just an old dresser or cabinet and some paint should do the trick! Pick up these items at your local hardware store and get painting. When your kids are ready for something more mature and grown-up, repurpose the dresser or cabinet for another use.
Desk Magazine Organizer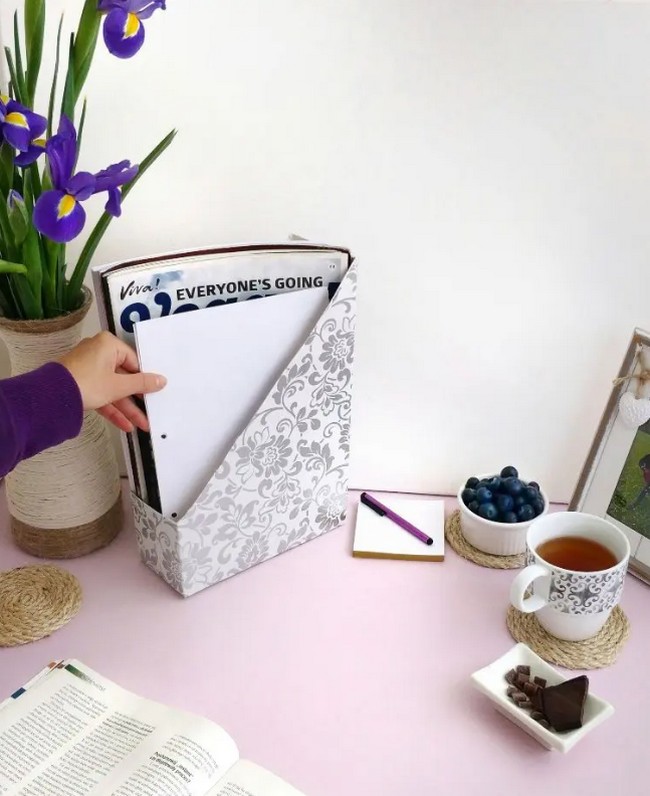 Source: craftsyhacks.com
You will love this simple DIY! It's not hard to make, and you probably already have all the necessary materials. Just look at what you already have in your house and get to work. The best thing about this project is that you can change it to fit your style at any time without feeling guilty about throwing away scraps because it's made of paper and cardboard. This is a great project for beginners. It's easy, cheap, and fun to make – and once again, all you need is an empty cereal box!
Wrapping Paper Organizer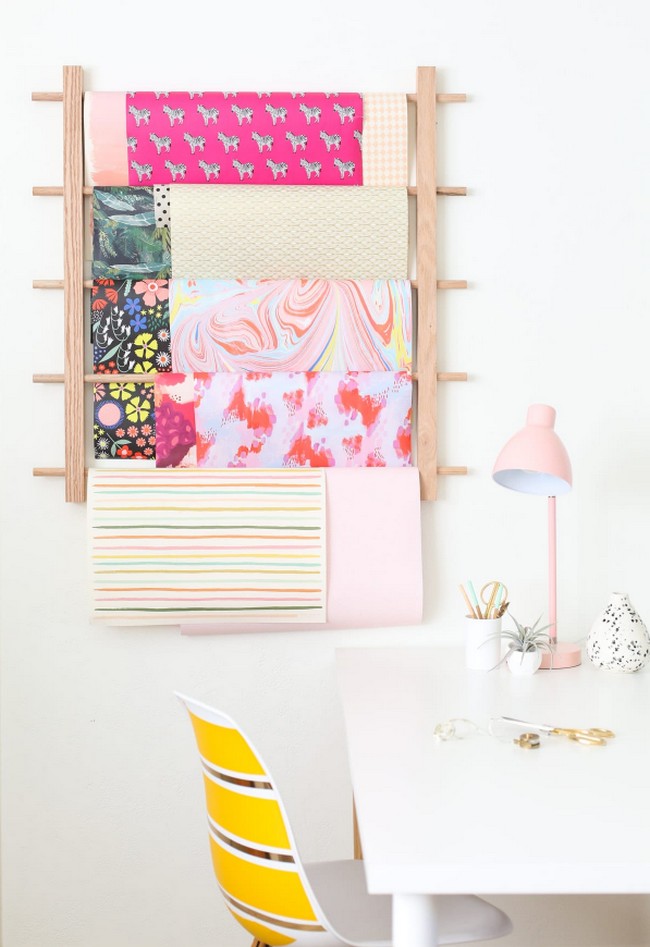 Source: lovelyindeed.com
Tired of your wrapping paper lying in a heap in one corner of your home? If you want to display it but don't want to spend a lot on something that will end up buried under more paper, try this easy DIY wrapping paper organizer. It holds all your sheets of paper and makes them easy to access while waiting to be used. You hang it on the wall, and then you can see all your wrapping paper at a glance, so you know exactly what you need.
Rope Organizer Desk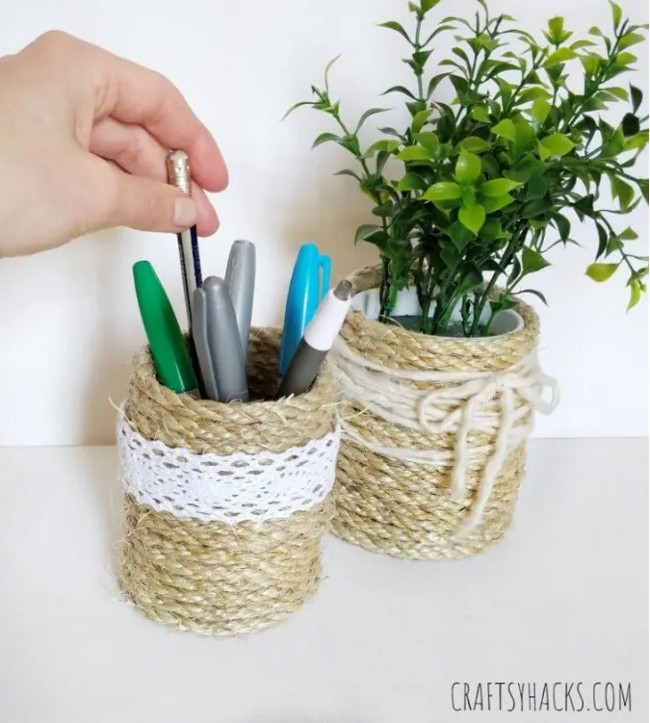 Source: craftsyhacks.com
Messy desk space can affect your productivity and make you feel less than inspired to get things done. Sometimes, it takes a few simple tools to unclutter the tabletop and get organized. This Rope Organizers Desk project is the perfect addition to your office or home study area! It's easy to complete and makes a great accent piece while being functional too! Make it with thick rope, a glue gun, and an old container you wish to upcycle.
Drawer Dividers
Source: craftsyhacks.com
Clutter is the enemy of organization, and it never hurts to have (at least) one drawer in your home as clutter-free and attractively ordered as possible. You can do that by putting some dividers in place! You can make them yourself with a craft knife, cutting mat, foam core board, or cardboard and some adhesive, or you can pick up a set at any craft or office supply store. Drawer dividers will help keep your papers, pencils, markers, and more all in one place.
 Bookshelf
Source: littleladoo.com
A colorful and versatile DIY project, this bookshelf is a great way to spruce up a kids' room. It can use for keeping toys, small trinkets, or children's books at the ready. You need some cardboard or newspaper, a hot glue gun, and duct tape. It can make from cardboard and duct tape; it's sturdy enough to hold heavy items without breaking or collapsing. You can choose your color scheme and decorate it any way you like.
Scissor Pouch
Source: happiestcamper.com
Stash your sewing scissors and blades in this clever pouch, and no one will be able to swipe your special tools away. And it's the perfect size to fit in any bag, making it a portable solution you can take wherever you need. You need some sewing skills, which we'll help you acquire. To start, you'll need to tackle some simple seams and sew on buttons. Just choose your favorite fabrics, a quilting weight batting. Cut up the pieces, put them together, and you are ready to sew!
Denim Storage Bins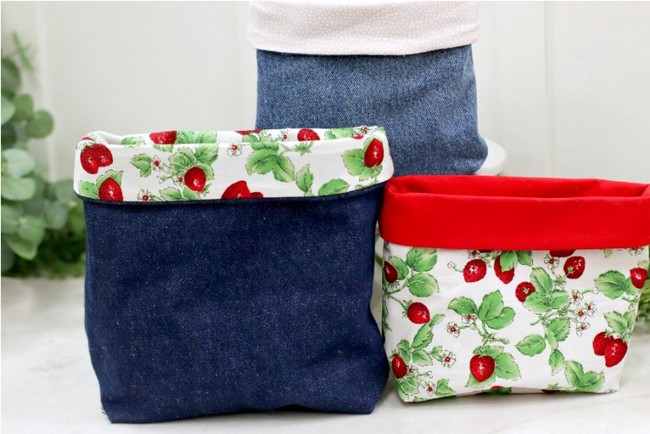 Source: happiestcamper.com
There's something about denim that makes it so versatile. It can turn into purses, duffel bags, and even t-shirts, but now you can use denim fabric to make storage bins for your home. All you need is an old pair of jeans and simple tools to create these DIY denim storage bins for your living room or bedroom. The best part? They're easy enough to whip up a set in 30 minutes or less.
Hanging Organizer
Source: craftsyhacks.com
This hanging organizer from Crafty Nest is a super-easy way to add more storage space to your home. It has a strong design, so it can hang comfortably over the back of doors or even on a wall. Each organizer includes everything you need to customize it yourself - pick your fabric and create the perfect pattern – then sew it all together! These are simple enough that even novice sewers can make them.
Earring Organizer
Source: craftsyhacks.com
Suppose you love all sorts of earrings - from studs to dangles to hoops and everything in between. But when storing them, good luck finding the matching pair for a quick touchup! This easy Earring Organizer will have you organized in no time! All you need is some shelf liner, scissors, and nails. All you need is some shelf liner and a few other supplies to create an organizer that hangs above your dresser door, keeping everything in its place!
Cutting Board Holder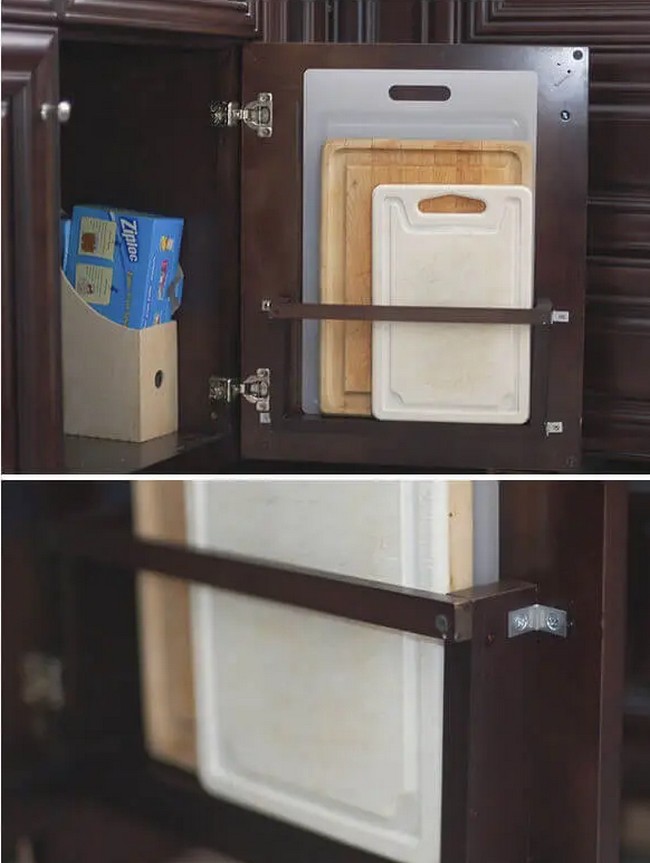 Source: tikkido.com
Slide your cutting board into this simple holder, and you'll be ready to slice and dice in no time. This idea is ideal for people with a small kitchen without a countertop breakfast bar. Make your kitchen a little more organized with a cutting board holder. This simple project will store your knife, cutting board, and food waste together in one place for easy cleanup. It also adds extra workspace in your kitchen, so you can have all the items you need on hand for meal prep right at your fingertips.
Storage Ottoman
Source: sustainmycrafthabit.com
Don't underestimate the power of a simple ottoman to store your kids' mess. With a soft fabric and basic sewing skills, you can create an adorable storage space they won't mind sitting on. Plus, it's big enough to store all their toys, so they'll never forget where they left them. If it gets dirty, clean it with soap and water. The base is water resistant so that it can use both indoors and outdoors.
Holiday Decor Storage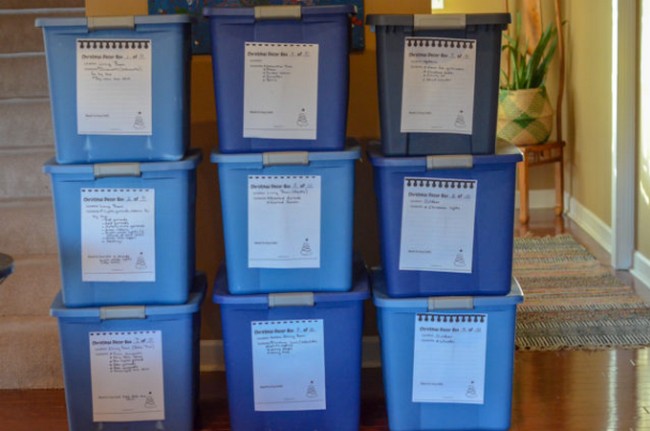 Source: thegiftedgabber.com
Now, you can recycle all the wrap from your gifts and use it to cover your decorative storage tugs. If you're going for an aesthetic look, use different colored or patterned canvas or even fabric to wrap them in. Next, you'll need some baskets of the same size as your totes and an old wallet from any junk drawer you have lying around. You can also use a shoe box and cover it with wrapping paper and ribbon! Finally, fill up each storage tug with holiday decor you won't need until next year (or longer) and place them neatly in a closet or under your bed using the baskets.
Hanging Toy Organizer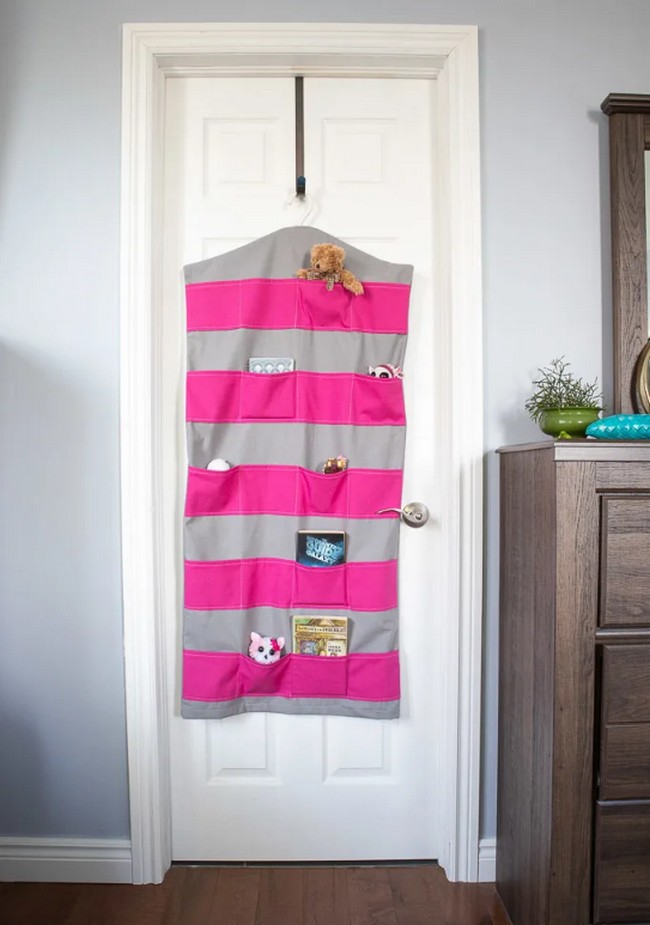 Source: sustainmycrafthabit.com
Look no further if you've searched high and low for a hanging toy organizer! This door-mounted hanging organizer has it all — pockets, slots, and hooks. It recovers your child's toys in one fell swoop so you can return to a clutter-free house. This hanging toy organizer is a great alternative to a large toy box. You won't need to empty everything and make an enormous mess to find one small thing because everything will be in this handy organizer.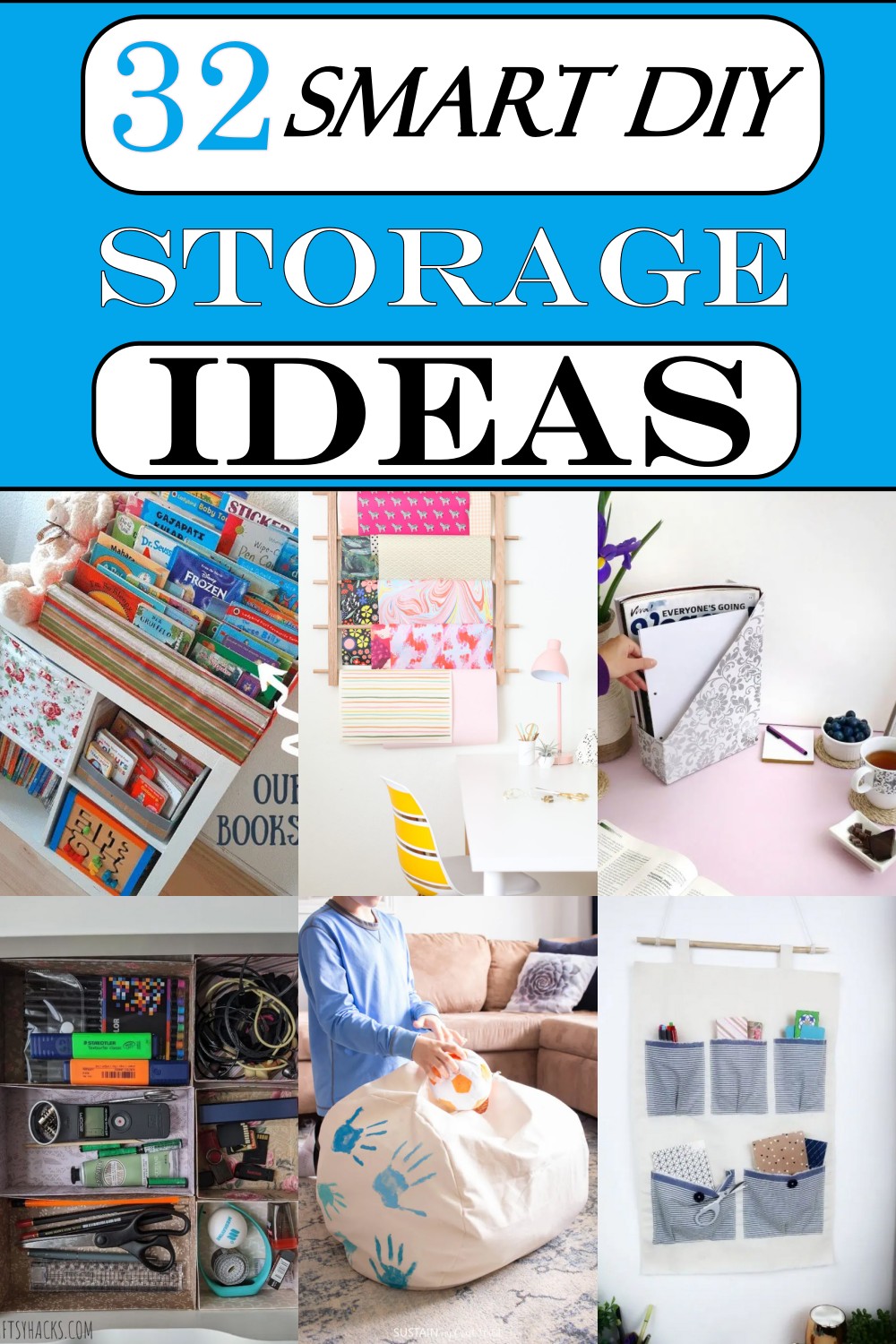 Rolling Storage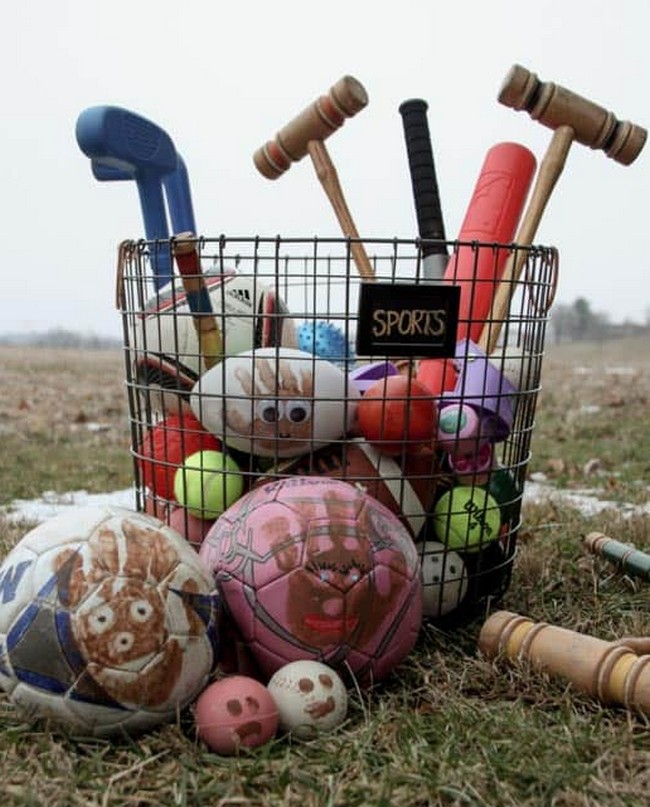 Source: heatherednest.com
Are you tired of digging through drawers to find your craft projects? Are you sick of moving toy bins around whenever you have to move them? The solution is simple. Making your storage units portable is easy with a set of caster swivels. These make it simple to move your craft supplies, toys, or other items around the home in a flash. Attach them to the bottom of any bin or basket, and have fun! They're made from high-quality materials and are both strong and durable.
Paint Storage Shelf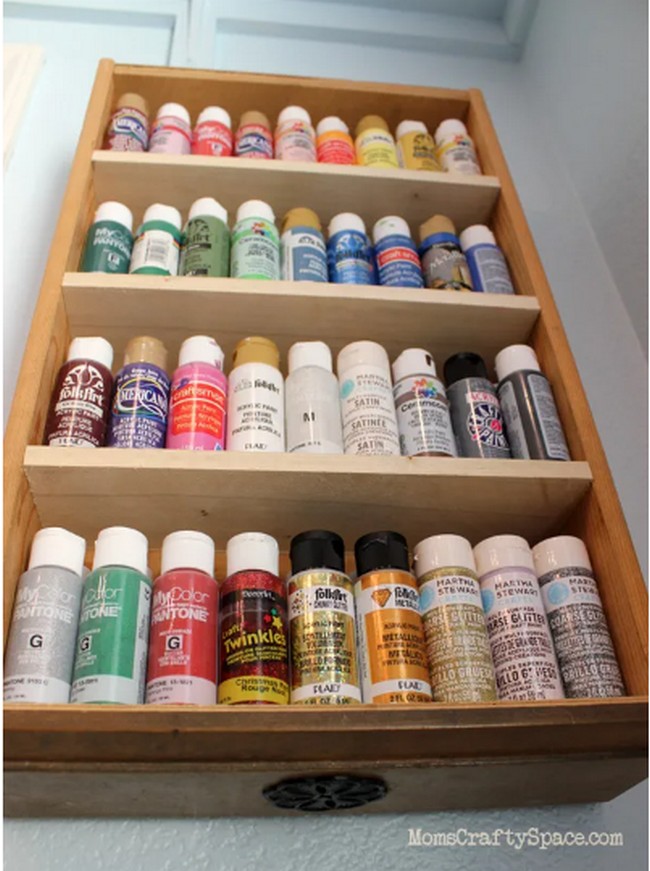 Source: happinessishomemade.net
Do you like to paint but also enjoy the look of an organized space? Then this paint storage shelf is for you. It looks great and makes it easy to keep track of your colors. You could even reduce the space you need for storing things in general! All you need is a few scraps of wood, some screws and nails, and basic tools such as a saw, drill, and screwdriver. It's great for art supplies and craft essentials but will look great in any room in the house.
Ribbon Holder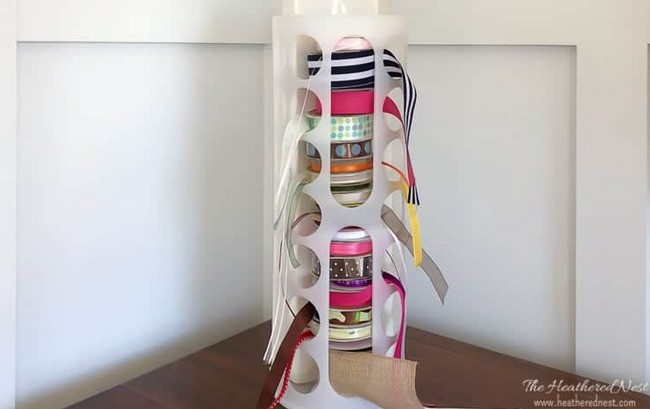 Source: heatherednest.com
Looking for a project that will make your life easier? Look no further! This easy-to-make ribbon dispenser is versatile and can work in your craft space or even laundry room. Make it to your specifications, and create a fun way to store all your ribbons while keeping them close at hand! This one looks great on and holds a variety of different kinds of ribbons. The step-by-step instructions show you how to make your version in just a few minutes!
Hanging Mesh Produce Bag Storage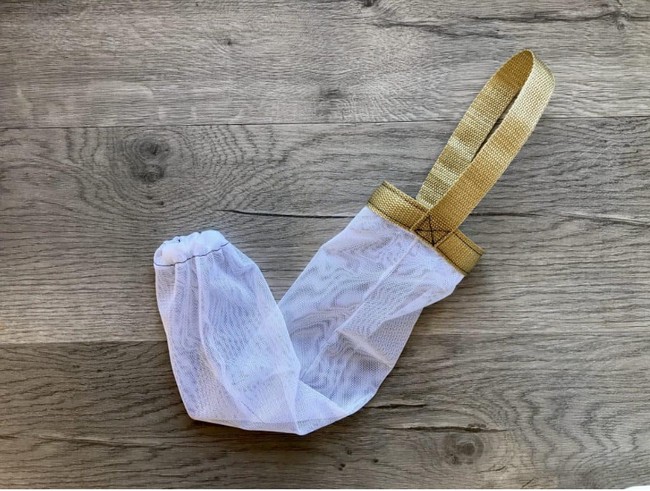 Source: beginnersewingprojects.com
A comfortable and spacious kitchen isn't just about the counter space and wall hangings; it's about having the right tools for efficient cooking. This Hanging Mesh Produce Bag Storage is one of those tools. Organize your fruits and veggies in a way that's fun, practical, and most importantly, accessible. These mesh bags from Open Sky can be hung in your kitchen, pantry or even a cupboard door. The best thing about them is that they're reusable, washable and keep foods fresh. So, make your reusable ones at home by picking up some mesh fabric, some nylon webbing, a strip, and the rest of your sewing essentials.
Washi Tape Storage
Source: happinessishomemade.net
Have you ever been looking for a roll of washi tape while creating your craft masterpiece, only to realize it's not where it should be? Or worse yet, have you spent hours laying out your favorite designs on a project only to realize that you ran out midway through? This DIY washi tape storage is the solution to all of your frustrations and a great way to store all my washi tape that doesn't require any fuss. Follow these easy instructions, and you won't have to roll your tape again!
Dog Food Storage Container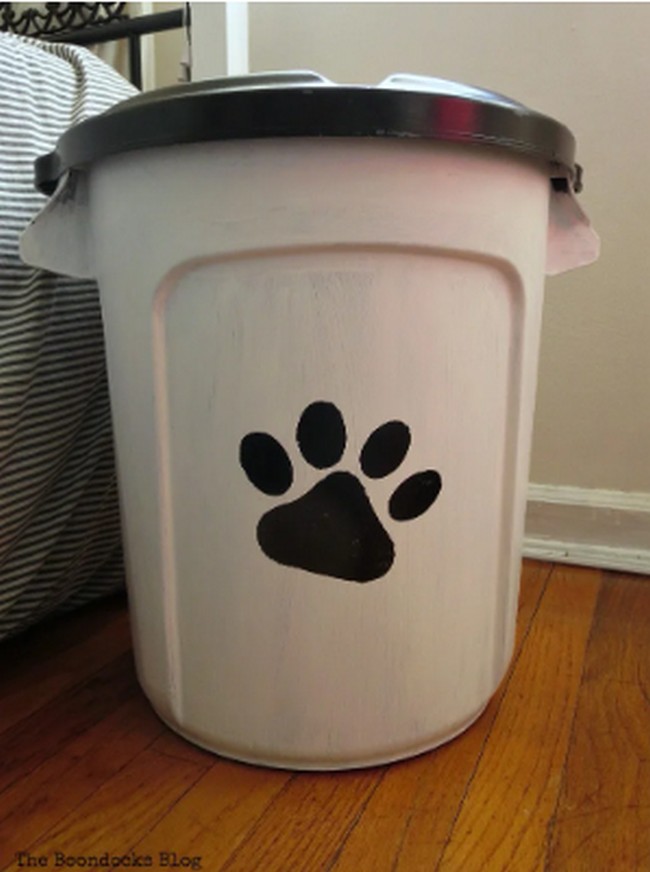 Source: theboondocksblog.com
If you've got a bunch of dog food sitting around in that big bag, you can use it to make food storage containers. All you need is an old plastic container, preferably one with a big lid and handle. You can give it a fresh look by painting or decorating the container yourself. If you don't want to paint, buy stickers or decals to give it some color! Your dog will love his food container. No more lumpy bags, no more mess, no more hassle.
Underbed Storage
Source: heatherednest.com
Underbed storage is perfect for getting things off the floor, outside your bedroom, and out of sight. It's also a great place to store seasonal clothing that you use less often or hobbies that don't have as much space as you might like. You can tidy up your closet and put away toys with our under-bed storage containers. These are perfect for storing glasses, books, winter accessories, and more! Get started now by learning how to make under-bed storage a reality!
Spice Drawer Organizer
Source: loveandrenovations.com
Spice racks and drawers are a great way to organize your spices. They look nice, but that's not even the best part. You can easily find what you need when you need it in this type of storage, especially if you have a lot of different spices. Start by measuring your drawer, so you know how big your drawers will be, then cut the boards accordingly. Once that's done, glue them together, let them dry overnight, then start filling your drawers with spices. This simple creation also allows you to maximize your pantry or kitchen space. Let's get started!
Tea Towel Flatware Holder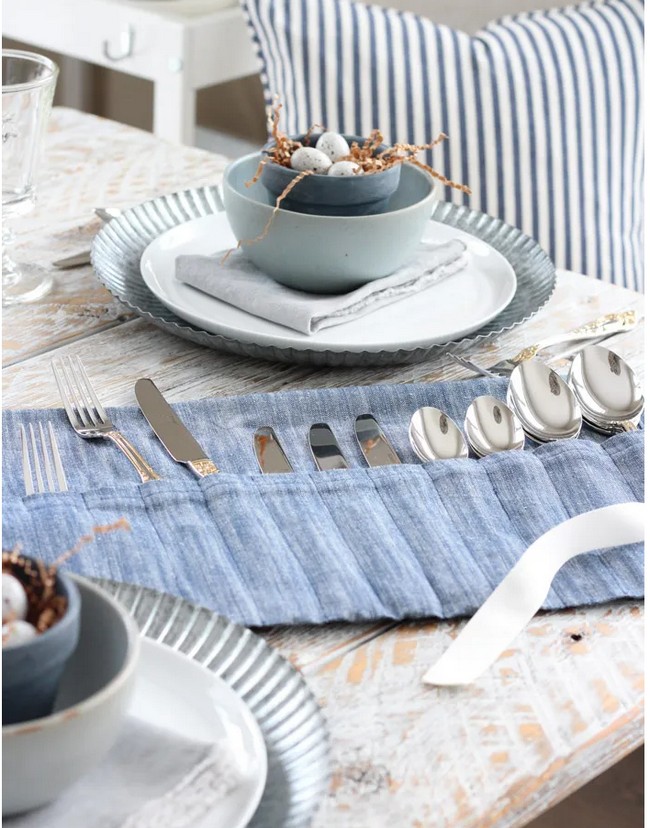 Source: satoridesignforliving.com
Do you have a small flatware set that's too cumbersome to carry around? Do you want to keep your flatware organized and ready at all times? This DIY Tea Towel Flatware Holder is just what you need! This project doesn't require much sewing skills and can be completed in an hour or so. All you need is a tea towel, fabric glue, and scissors. You can do this project in many different ways, depending on your home materials.
Shoebox Storage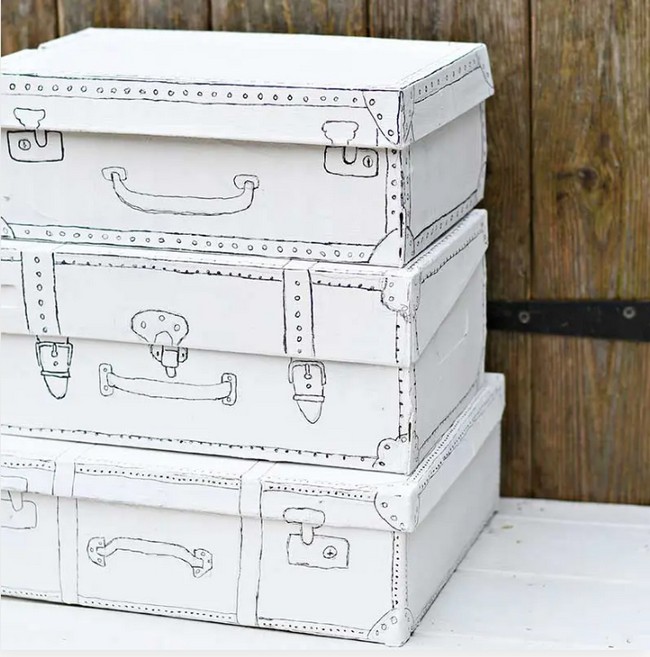 Source: pillarboxblue.com
Most people throw away their old shoe boxes when they get a new pair of shoes. But you can use your discarded shoe boxes by making this nifty storage unit. It's really easy to do, too. The best part is that most have the supplies at home already! Give it a try and see how you can use your unwanted boxes in a newer way! This clever DIY project will help you use the area under your bed or in your room.
Wall Mounted Bookcase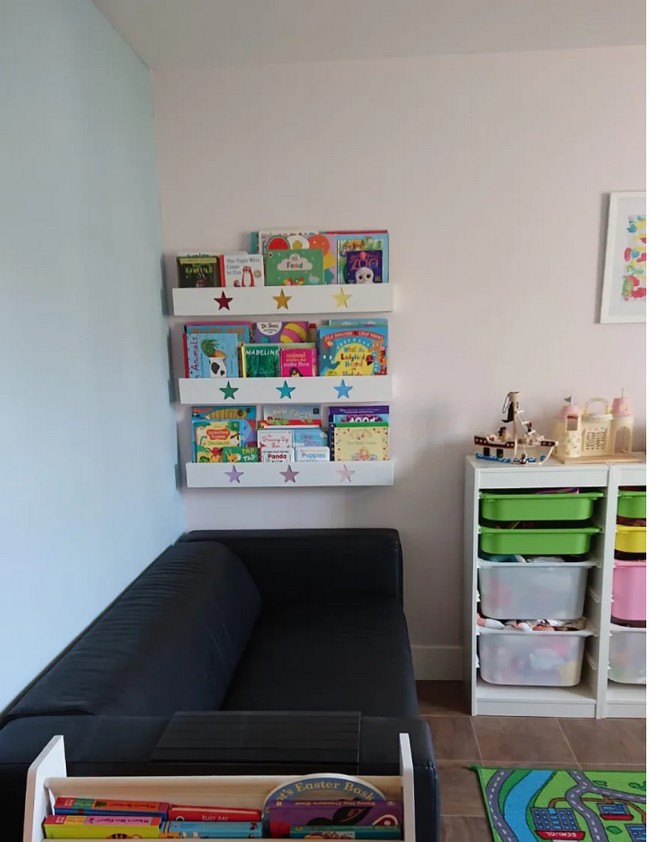 Source: intheplayroom.co.uk
Making shelves for your home is not as difficult as it sounds. All you need is a plan and some space on your wall. Use the right materials, and the bookcase will last a long time. You can customize its design to fit in with the other décor items in your house. The DIY Wall Mounted Bookcase would be a great addition to any interior, so why not make one? In addition to its ability to be a bedside table, it allows you to have more shelving where you need it most - in and around your bedroom or home office.
Headband Holder
Source: momsandcrafters.com
Add this DIY headband holder to your collection of accessories. Mounted on the wall, it gives you a new way of displaying and organizing your favorite headbands. This storage rack system will allow you to sort and organize all your headbands by color, the fabric used, or any other category. You need a wooden pallet, some cup hooks, and glue, and you're ready to go! You'll never wonder where your favorite bands are again.
Fabric Bins
Source: mindymakes.com
There are so many methods to use fabric bins. With some basic sewing skills and a little time, you can make these fabric bins in no time. Planters, cosmetic bags, yarn storage, baby toys--the options for fabric bins are endless. Pair these practical fabric bins with your favorite colors and patterns for a truly personalized look. The best part? They don't cost any more than a set of plain plastic containers. And the bonus: Everyone will be asking you where you got them!
Tin Pencil Holder
Source: shimmeringstrings.com
Don't throw out your tin cans! Transform them into a chic, colorful, textured pencil holder that takes just minutes to make. This Tin Pencil Holder will help you to finally make good use of all those old tin cans you've been piling up in your recycling bin. This one is super chic, textured, and colorful. Get started with these step-by-step instructions and grab those old tin cans while they still have some use left in them.
Pantry Labels
Source: acountrygirlslife.com
If you don't know where to start when organizing all that's in your kitchen, don't panic! So many pantry organizing ideas can make all the difference in how your space looks and functions. Turn boring cereal boxes and containers into cute pantry labels. You can make them yourself, using design software or a simple label maker. Either way, they are great for identifying items in your kitchen and organizing your pantry. Keep reading for tips on organizing your pantry like a pro, removing unnecessary clutter, and using every inch.
Coat Closet Organizer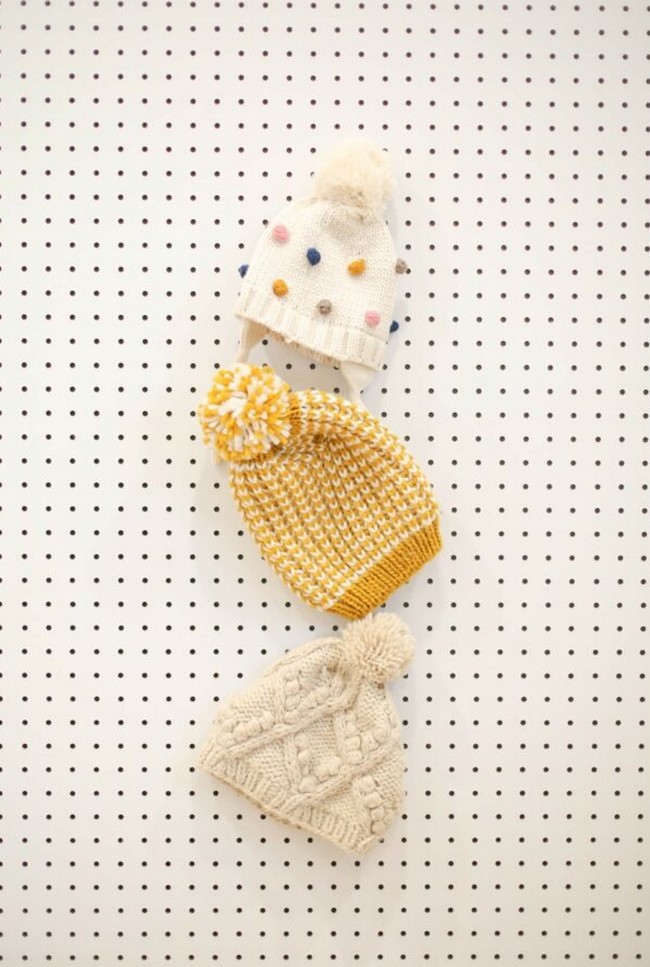 Source: lovelyindeed.com
You know those racks you see at the department store? You can replicate that organizational masterpiece by doing a few simple things with wire coat hangers, command hooks, and string. A few minutes of your time will save you plenty of frustration in the future when you want to grab your hat or scarf on your way out of the house. Try this hack using Clothespins, Command hooks, and twine to make your closet more organized and functional.
Upcycled Cardboard Box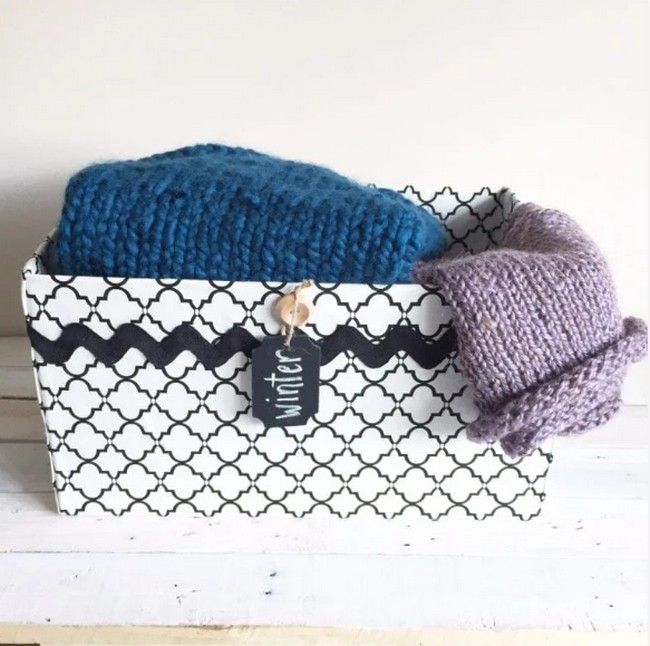 Source: sustainmycrafthabit.com
Get yourself organized and simplify your life with these chic upcycling cardboard boxes. These are perfect for under-the-bed clothing or bed linen storage or as a lining for drawers to hide clutter. You can also use them in the bathroom to hold makeup, toiletries, and craft supplies. They're easy to make and require only a few supplies you might already have at home! Plus, there's a bonus: these gorgeous little boxes can serve as a decor piece in any room!
Storage Ottoman and Stool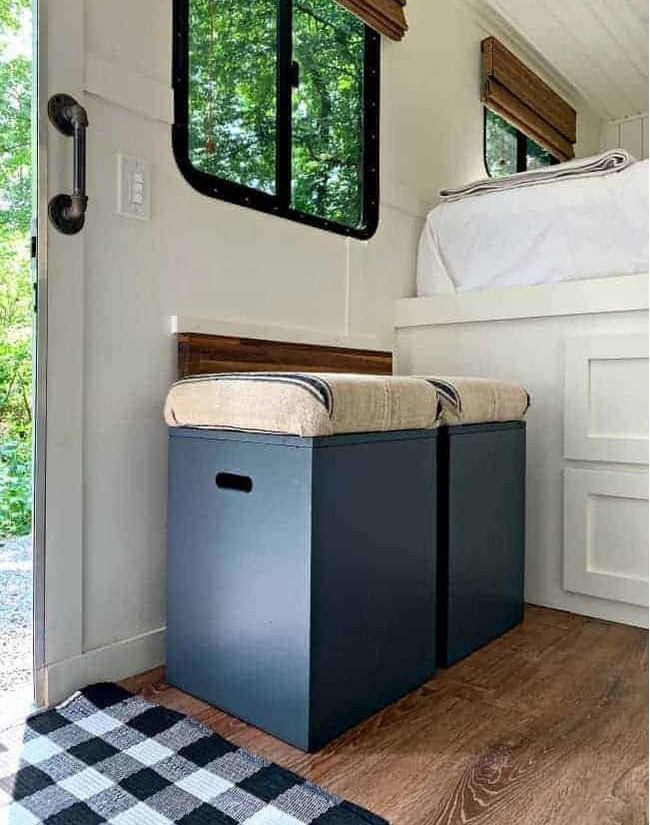 Source: chatfieldcourt.com
This versatile storage ottoman doubles as a step stool and extra seating when you need it. It's made from a wooden frame and upcycled leather, so you can feel comfortable adding it to your home. It's also specially designed to fit under low-lying furniture and works as a small space saver. This versatile storage ottoman can be used as a stool, storage space, and table. You can even use it as a side table when playing games or having a snack in front of your TV.