Vanity mirrors are a great addition to your dressing table or walk-in closet. They help you get ready faster and make you look more polished when they are professionally done. A DIY vanity mirror is a cheaper alternative to their store-bought counterparts. It also allows you to customize it according to your quirks and can be an excellent skill to use in making extra cash. Here are some DIY vanity mirror projects with different lights that you can try out: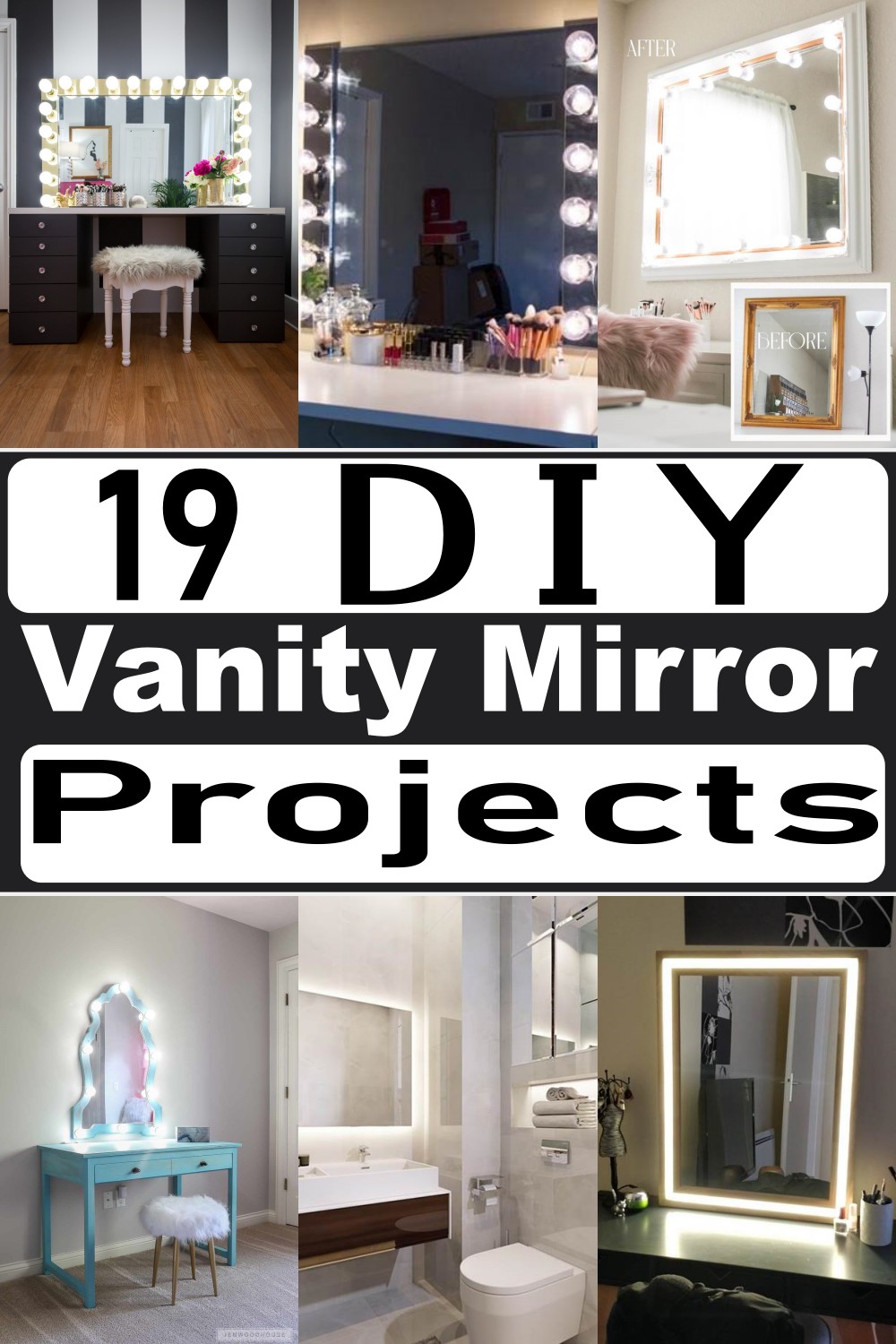 These DIY vanity mirror projects are perfect for beginners and can be completed in a couple of hours. The good thing about these projects is that you can make them with different lights. Some of them have LED lights, while others use regular bulbs. So, choose which one you like and start making your own vanity mirror today! No matter where you intend to put it, a DIY vanity mirror is easy enough for anyone to make on their own. You just need some essential tools, materials and ideas. Here are some great DIY vanity mirror projects with lights that you can use as inspiration:
Below are 19 DIY Vanity Mirror Projects with different lights That are simple, creative and beautiful; Each project has an in-depth guide to teach you step-by-step'.
You Can See: 30 DIY Vanity Table Ideas
How To Build A Vanity Mirror With LED light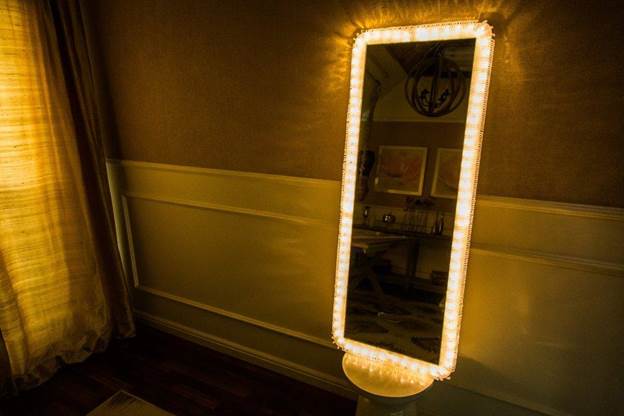 This tutorial shows how to build a vanity mirror with LED lights using a mirror, plywood, rope light/clips, glue, shower curtain rings and paint. Along with the supplies, you will need several tools - a jigsaw, drill and router. This easy project is perfect for anyone who wants to update their bathroom decor but not spend a lot of money! The end result will look like you had it professionally made.
DIY Vanity Mirror With Lights And Dimmer
This DIY vanity mirror with lights and dimmer is perfect for the one who wants something above the regular. It's a huge mirror (imagine a full-length dressing mirror but sideways), made out of 20 bulbs, making the dimmer really important. This mirror with lights and dimmer is the perfect way to upgrade your bathroom! It's easy to install, and you can do it for a fraction of the price of other vanity mirrors with lights.
DIY Light Up Vanity Mirror
If you love the idea of a custom vanity light up a mirror but don't know where to start or don't want to spend hundreds of dollars on one, this DIY is for you! The light-up vanity mirror is easier than it looks, and although it still requires some electrical and woodworking knowledge, the result will undoubtedly be worth it. This project is perfect for anyone who loves crafty DIY projects and enjoys spending time in the garage working on their latest gadgets.
DIY LED And Wood Vanity Mirror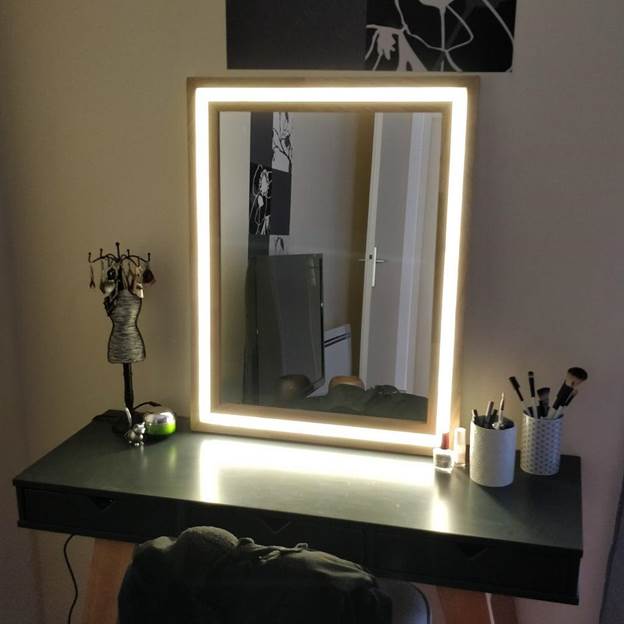 Do you want to create your own vanity mirror at home? Do you want to make it with the best lighting possible? If your answer to both questions is yes, take a look at this DIY LED and wood vanity mirror. Inspired by the luxurious beauty of mirrors (not to mention those of your favorite celebrities' bathrooms), this easy-to-follow tutorial will have you enjoying your own version in no time.
DIY LED Vanity Mirror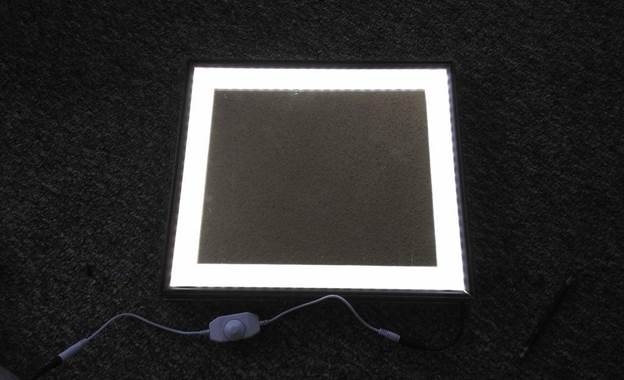 This DIY LED vanity mirror is an absolute DIY masterclass. The finished product is beautiful, but it takes time and effort to get there. If you are somewhat technical and have the patience to go through each step, you will be rewarded with one of the best looking ones. Make a wooden frame, and connect your own LEDs to the frame. It can be tricky, but when you're finished, you'll have a fantastic vanity mirror that you built yourself.
DIY LED Strips For Mirror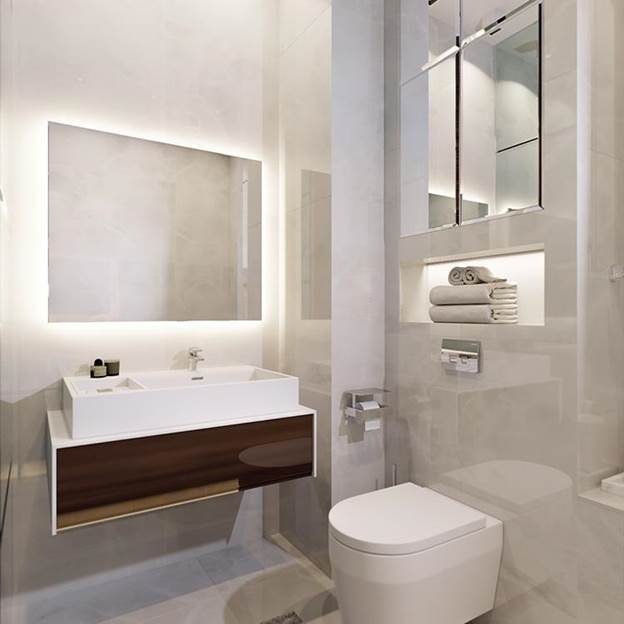 If you already have a mirror hanging up and want to add lighting, this project is for you. It's a very affordable way to start your DIY vanity mirror crafting. The best part is that it only takes a few minutes! Pick an LED strip with the right colour temperature and brightness, position it in a way that fits your mirror frame, and attach it with adhesive foam pads. It's one of the cheapest ways to engage in DIY vanity mirror crafting and is perfect even for full-length mirrors.
DIY Vanity Mirror with Lights
Do you want to make your own vanity mirror table with stylish mirrors with a lighting feature? And if you love having the option of looking at your face before walking out the door and don't want to spend a lot of money, follow this tutorial to make your own vanity mirror. This is relatively easy to do as long as you have the right tools and materials. This tutorial will show you exactly how to go about it.
$20 Vanity Mirror
Have you ever wanted a vanity mirror for your bedroom? Did you know that you can easily make one yourself? Learn how in this easy to follow tutorial that involves no special skills and very little time commitment. All in all, this project costs less than $20 to make and comes out looking like a beauty! This mirror style is classy and elegant, perfect for bringing that touch of glamour to your dressing table.
DIY Vanity Mirror WIth Lighting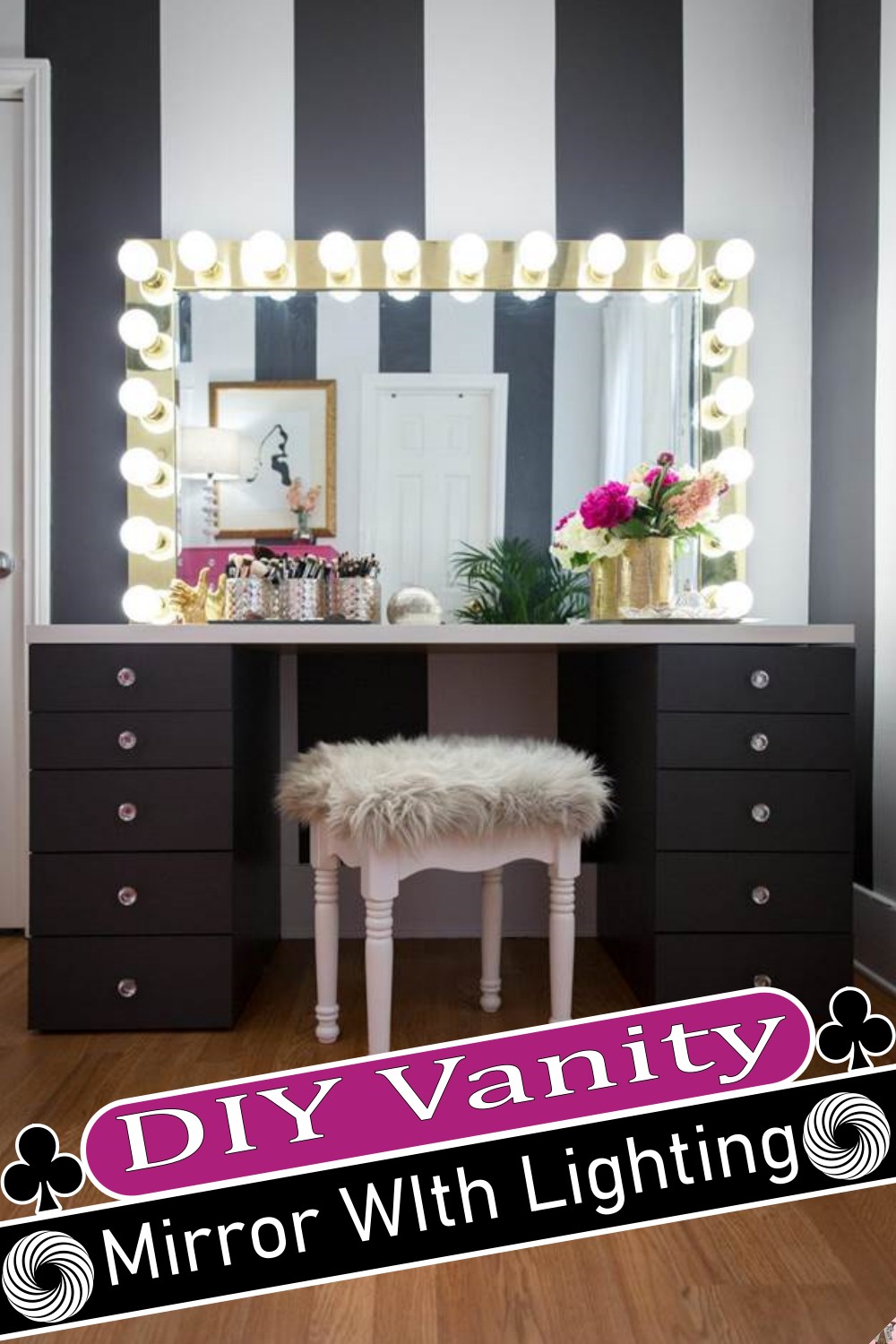 This DIY vanity mirror is simple to assemble and will be the perfect addition to any room. Using a frameless mirror and vanity light strips, you can create this piece of functional art for yourself or as an exciting gift for the bride or housewarming party. The materials are easy to find at your local hardware store and come together in easy steps, but the wiring requires some technical know-how; you should seek a professional electrician for this part.
How To Build A Vanity Mirror Step By Step
This tutorial will show you how to build a classic vanity mirror with electric socket outlets for your hairdryer, hot combs, and any other electrical beauty tools you need to use before a mirror. The material list includes PVC trim, a mirror, electrical supplies, and tools. If needed, the dimensions can be customized to fit your needs if you desire a different vanity mirror size from what is available. This Vanity Mirror is a very affordable project you can complete in one day.
How To Make A LED Vanity Mirror Under $20
Suppose you need a vanity mirror that not only looks good but also brightens up your face; here's how to make one under $20 in no time at all. First, a wooden frame is made and painted to match the decor of your bathroom or bedroom. Electrical connections are then made before attaching the mirror. This DIY project only requires essential tools and supplies, but it's important to note that knowledge of electrical connections is required.
DIY Vanity Mirror And Desk
If you love a good DIY project and are on a budget, this vanity mirror and desk will be perfect for you. It's great for creating your dream corner without breaking the bank. You'll love this DIY vanity mirror and desk! It's the perfect space for getting ready, as you can see yourself clearly, and organize your makeup and hair accessories. All you need is some plywood sheets, lights and a mirror.
DIY Makeup Vanity With Lights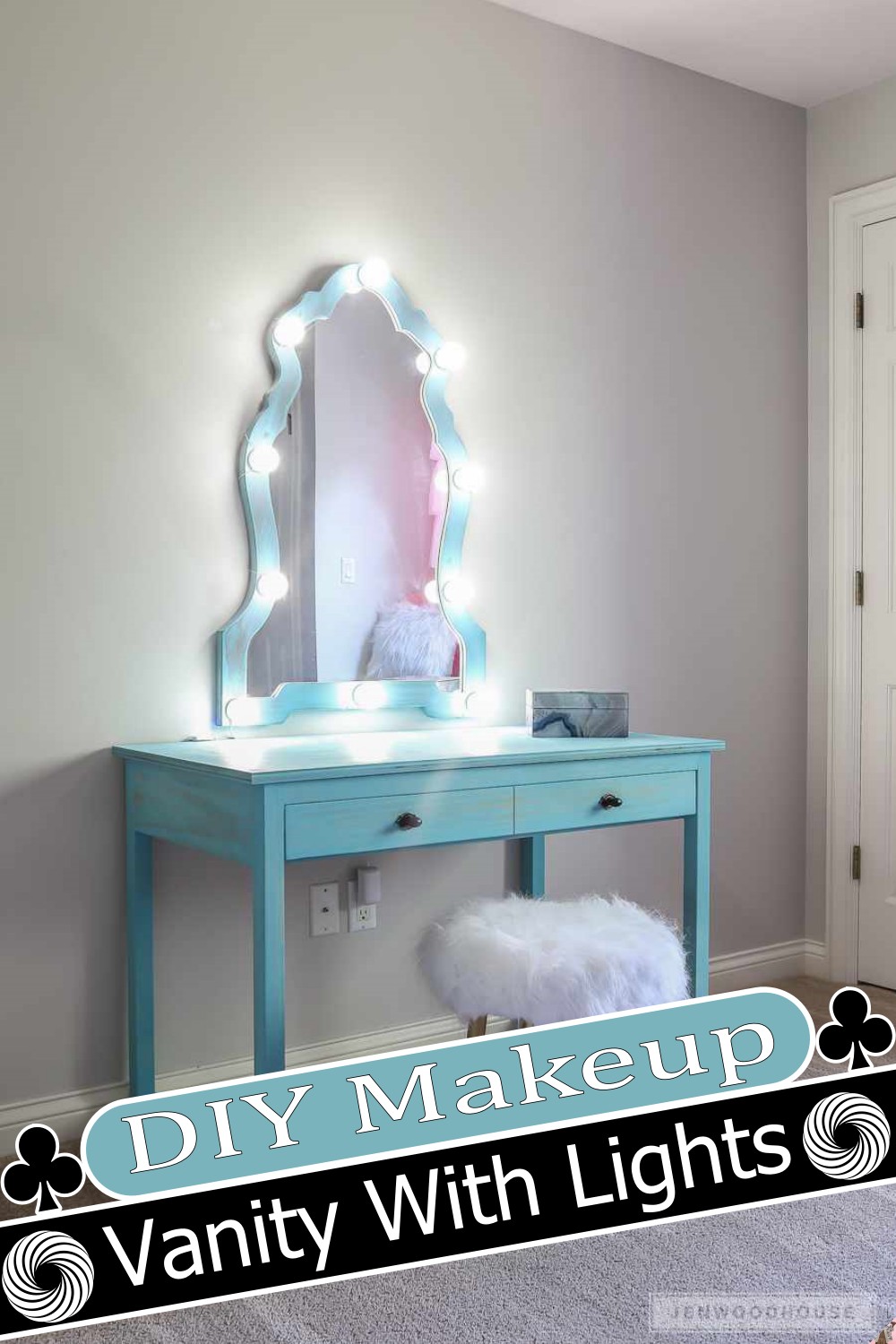 This DIY makeup vanity with lights is a project that will add some style to your room while making it the perfect place to do your makeup. The table is just an ordinary wooden frame painted, but the mirror is separate and hangs directly above it. LED bulbs help create some ambiance as well as highlight your face—this easy-to-make makeup mirror can work well in any room or bedroom.
DIY Vanity Mirror With Light Step By Step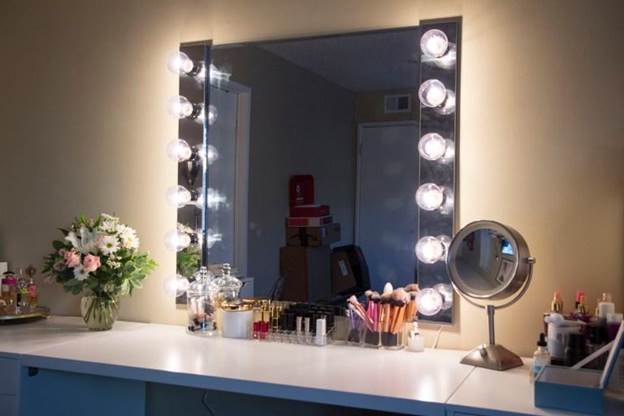 A vanity mirror is an excellent addition to your room, so make one today with this easy and fun DIY. All you need is a mirror, vanity light bars and bulbs, screws, screwdrivers, extension cords and tools. First, attach your mirror to the wall and wire the light bars. Finally, fix the bulbs and attach them to your mirror using screws or another form of adhesive support. If you follow the steps and keep safety in mind, you'll soon have your very own DIY vanity mirror customized for how you want it.
DIY Concrete Vanity Mirror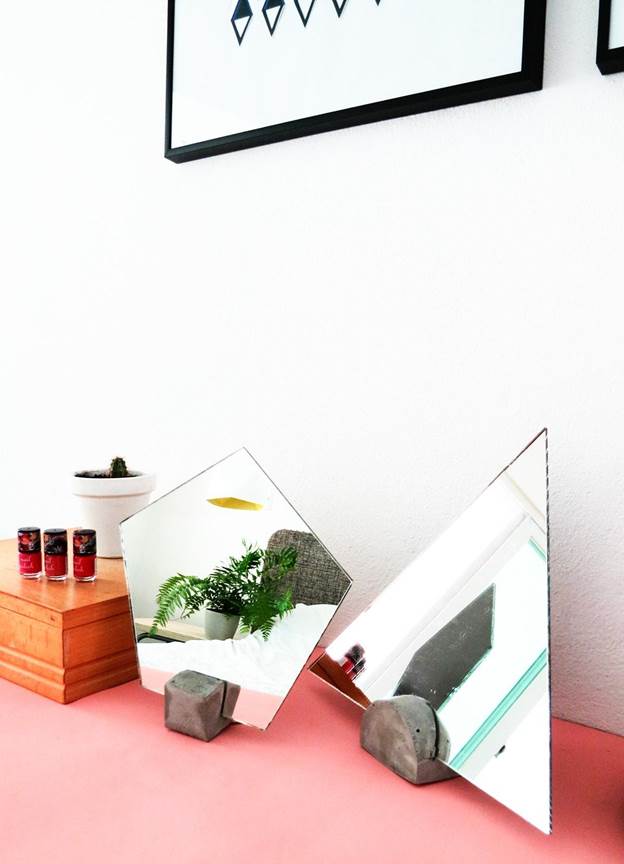 Love having a mirror at the vanity, but need more space? This DIY concrete furniture piece will help you achieve the same look with the bonus of not taking up too much space. It's also easy to build and requires no special tools to create your own original design. You may choose your design and colour so that it will perfectly match the rest of your house's décor. Make this Concrete Vanity mirror yourself and add some style to your home décor.
DIY Vanity Mirror With Dimmable Light
This DIY vanity mirror project is the perfect way to add light and style to your bathroom or vanity area. The best DIY vanity mirror with dimmable lights takes just a couple of hours to build and brighten up your space. You'll need a mirror, LED bulbs, and a dimmer switch, but you can find all that at your local hardware store. It's also one of the most affordable ways to add lighting to your space.
Cheap DIY Vanity Mirror
Have you ever wanted to do your makeup in bed or on the couch? Well, here's an excellent solution for those who are short on space, don't have extra rooms for vanity tables and need something cheap. With just a few simple materials (mirror, light bulbs, bulb sockets, phlox, plywood and extension wire stock), you can make your own shiny DIY vanity mirror for a fraction of the price. You could even use this DIY project as a source of inspiration for your next home renovation project.
Vanity Mirror Tutorial
Almost everyone loves looking at themselves in the mirror. Whether you're doing your makeup, applying your favourite face cream, or just admiring yourself, many people need a vanity mirror. This video is straightforward to follow. It will show you how to create a vanity mirror yourself. You'll be needing plywood, sandpaper, light bulbs, wood lumber, tape measure, glossy wood paint and other paint supplies, nails, a hammer, and a saw. Happy building!
DIY Vanity Mirror
This mirror is exceptionally versatile and can be used as a standalone piece. The adjustable arms, height and width make it extremely practical for use in a home theatre room or bathroom as you prefer. Assembling instructions make it easy for you to follow along, and once it's completed, you will have a simple vanity mirror that can be moved around depending on your needs. This project is easy and quick to complete, making it a perfect weekend project.