You don't want to miss out on your favorite makeup and beauty routine, but you may not have the counter space or a place at home where you can finish it up. If that sounds familiar, check out these DIY vanity table ideas and see what you can do. You can also go through our step-by-step tutorials or follow expert advice on building your makeup vanity table. There are multiple options depending on what you are looking for when choosing your own DIY Makeup Vanity Table. If you use your table as a dressing table, then it will be important that the dimensions of your table match the size of your mirror. You can also follow the pro tips below to make your vanity table more useful and admirable.
DIY Vanity Table Ideas
Your vanity table should be not just functional but also fashionable. So you can combine your fashion sense and make-up knowledge while decorating the table. The most popular DIY vanity table ideas come from creating drawer units. You can choose between many different patterns and styles. The article lists DIY vanity table ideas that you can use to build your makeup storage and make it look like a cheaper version of the high-end display tabled.
Building your own DIY Makeup Vanity Table is best to ensure that you have everything exactly how you want. You'll love sitting down at your new vanity, especially if you're a makeup artist or fashionista. Ensure you have a good mirror and a lighted mirror to do your makeup at home.  Without these, applying your makeup correctly every day won't be easy. You'll also need a stool for your customers so they can sit down and let you do their hair and nails without having to stand up or balance on one foot!
DIY Makeup Vanity Table: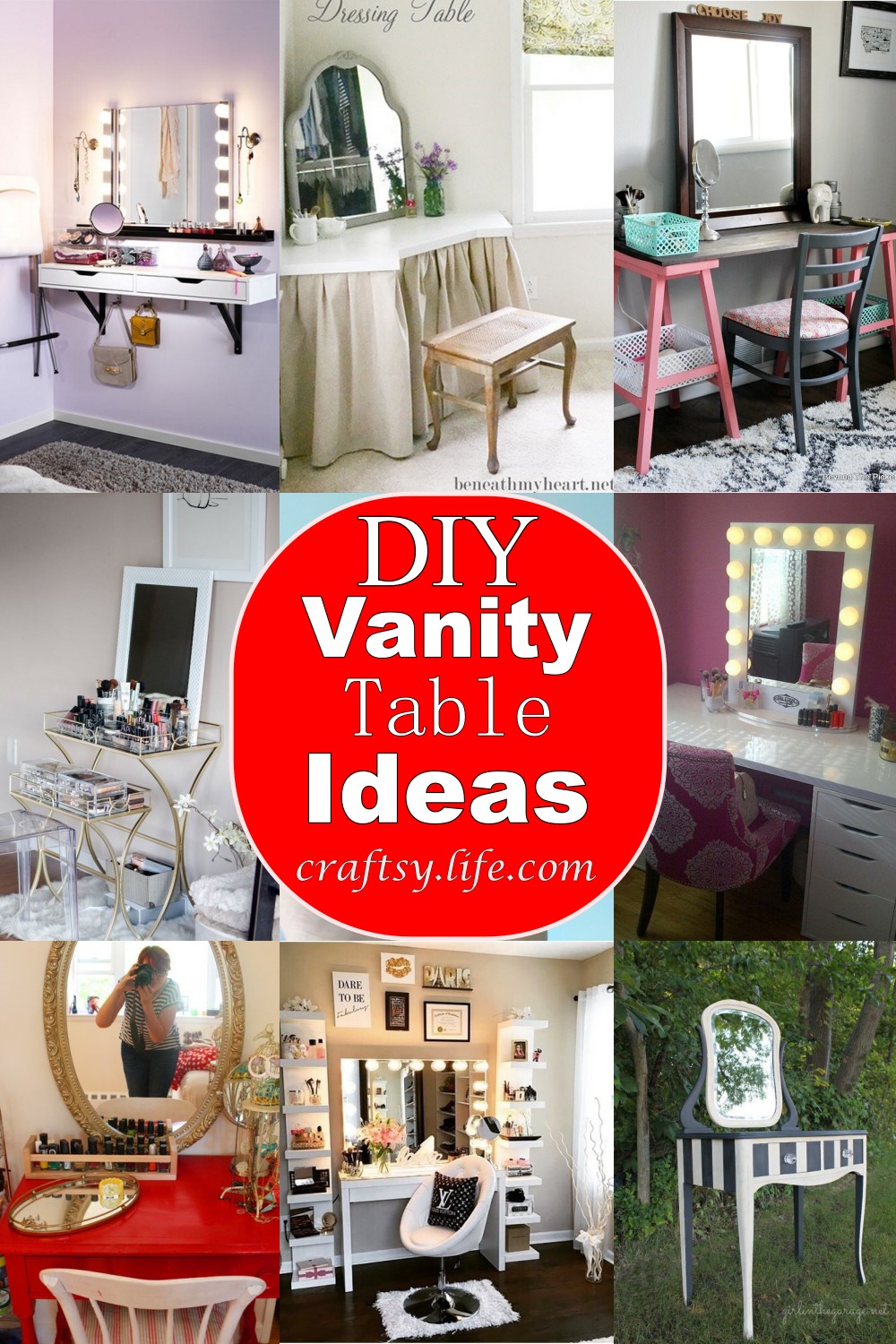 As makeup vanities are expensive, it does not mean that you cannot have a makeup vanity in your bedroom. The best thing about them is that they come with different features, such as lighting and storage space, which are not found in any other furniture like them. Almost all of them are multifunctional and can be used outside the bathroom, as home decor, or as an extra desk while working from home.
See here: 24 DIY Lemonade Stand Ideas
How To DIY Vanity desk
A Pottery Barn-inspired vanity desk can be an affordable DIY project. This tutorial, by one of our readers, will show you how to make a diy vanity desk easily and cheaply. Follow along as she shows you how to create a duplicate of the Pottery Barn's design within a few hours. This vanity desk is a perfect little piece of furniture to pair with a dresser, add to an entryway, or place on a staircase. Its simple design makes it easy to store away when not needed.
DIY Vanity Table Made Of Storage Bins
Are you looking for a unique vanity table that allows you to store your makeup collection and have a cool space to do your makeup? You can have both with this DIY Vanity table Made Of Storage Bins. It's easy to clean and super convenient, made from a collection of Storage Bins and Baskets in different colors. You can dress it up any way you want to make it truly original - use stencils, paint, or embellishments to make this piece stand out in your bedroom or bathroom. This very simple project requires minimal skills and time to complete. It is easy to make and will look amazing when done.
Cheap Makeup Vanity Table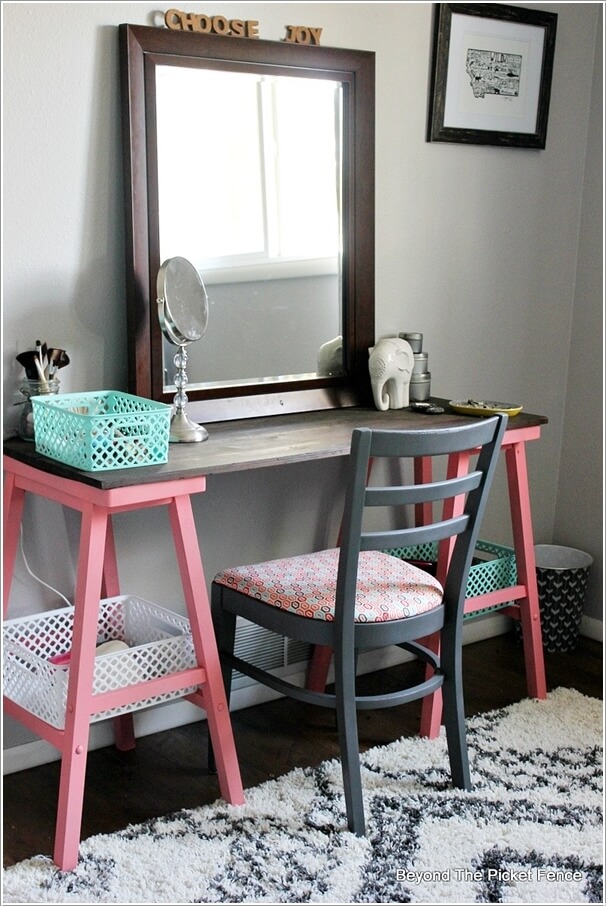 This wonderful and lovely Easy And Cheap DIY Makeup Vanity Table is a great way to make your teenager feel more special, excited, and happy. It's a great way to help them open up about their feelings and desires or make their room more lively. This vanity table can also be used for other purposes, such as jewelry storage, bookshelf, etc. Its sturdy melamine surfaces make it perfect for long-term use, and its modern design will fit any decor. With various storage options, this table offers plenty of space for all your makeup needs. The shelf below the mirror allows for easy access to your beauty products, while the drawer keeps everything close at hand.
Image via: beyond the picket fence
How To Build A Glass Top Makeup Vanity Table
Create the perfect getaway for daily grooming, luxurious spa-like treatments, or a romantic date night in bed with this gorgeous glass-top vanity table. With its chic design and useful storage compartments, it will become your favorite spot in the house. This Glass Top Makeup Vanity Table is an ideal furniture piece for your bedroom based on its modern design and contemporary style. It offers so much space to put the accessories like perfume bottles, jewelry, and other things systematically. It comprises high-quality materials that utilize advanced technology, making this table durable, sturdy, and rust-free. In addition to this, it has been polished with many coats of paint to make it look more attractive.
Image via: liz marie blog
How To Make Makeup Vanity On A Budget
Today, we will share a new DIY makeup vanity table for your bedroom. The idea is to provide you with How To Make DIY Makeup Vanity Table On A Budget. This simple and easy way to make your house or room look different. You can create this fantastic work using simple tools and a few ideas for your place decoration. Your interior decorator must be amazed at the concept of using this amazing design using easy items from the market. Its creation will be quite fun and easy; you can follow the video tutorial to help you make this vanity table.
Vanity Mirror With Lights Under $150
This DIY Vanity Mirror With Lights Under $150 is a creative and stimulating solution for your home décor. This affordable, stylish and functional mirror will surely double the beauty of your space. It has ample storage space in case you need to keep your items. This vanity table is made up of different modular parts that you can easily get from the hardware store. It even has lights so you can see yourself clearly when you apply makeup or do other things. You can also add a mantle over it to make it look amazing.
Build A Makeup Vanity Table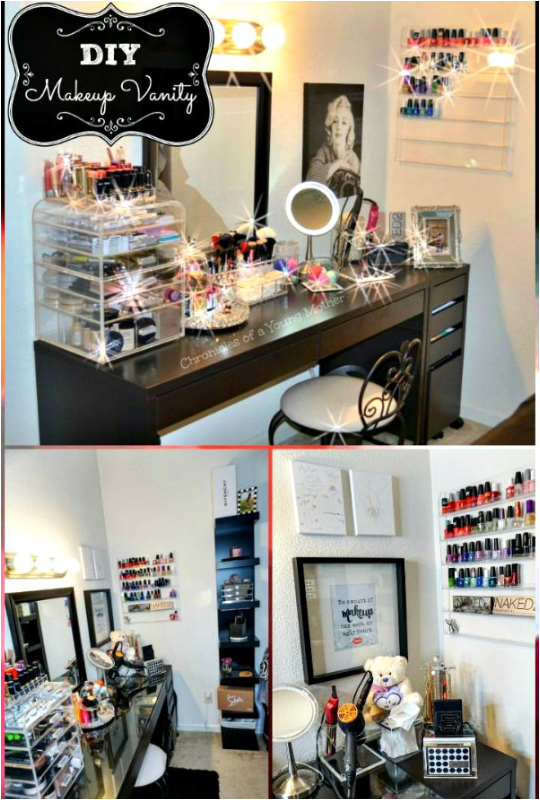 If you are looking for a cheap and easy DIY project idea, this Build A Makeup Vanity Table is made just for you. You will be able to make this on a budget, and it will give a classic look to your home. This cute table is good for small bedrooms as well. It will help you in making your room look more presentable and attractive. As it can hold cosmetic products, everyone will like this furniture masterpiece. It doesn't need any particular skills to complete the job; it just takes effort and imagination. The valuable outcome of your efforts is an elegant and classic look that you want to see standing in your vanity table project. This means you will get all these things on a low budget. So, keep working with all your heart if you want to make something extraordinary for yourself or someone else.
Vanity Mirror With Lights | ONLY $40
Make your life easier with this DIY Vanity plan. This Vanity Mirror With Lights is a great addition to making any makeup area look more special. This elegant vanity mirror is ideal for women looking for space-saving design ideas. The lights above the mirror provide sufficient light for makeup application, and its side cabinets help store the things you need during your morning routine. The great thing about this DIY Vanity Mirror With Lights plan is that it is functional, has a lot of drawers and side cabins, and solves your problem of shortage of storage space.
Homemade Vanity Table Makeover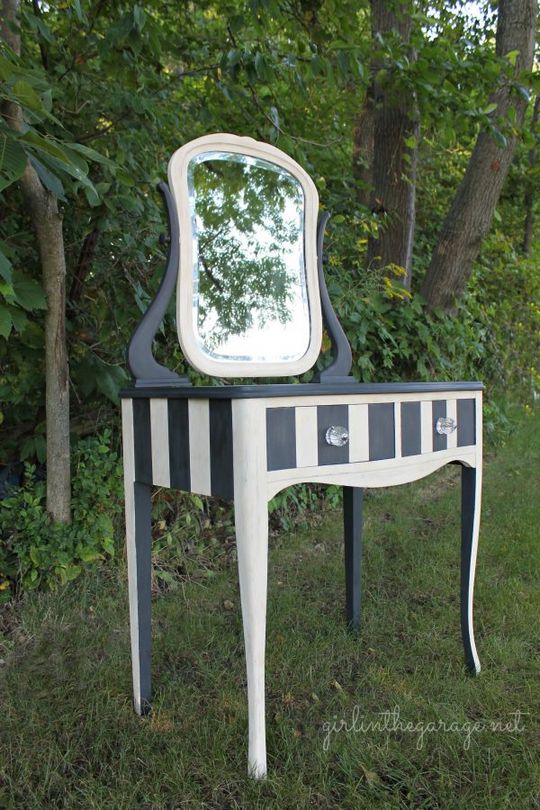 Turn your old dressing table into a beautiful and unique vanity by following these simple steps. It's a great way to give your bedroom, living room, or garden an elegant touch without costing money. Work on the surface and cover it with primer to ensure it doesn't get messy due to the repainting. Apply two coats of paint which will give a glossy look. After applying this step, you completed your vanity table's first work. It will be a decent alternative to the store-bought vanity tables, and I hope you'll fall in love with its useabilties and try to add it to your dressing room.
image via:girl-Inthe garage
Hairpin Makeup Vanity Table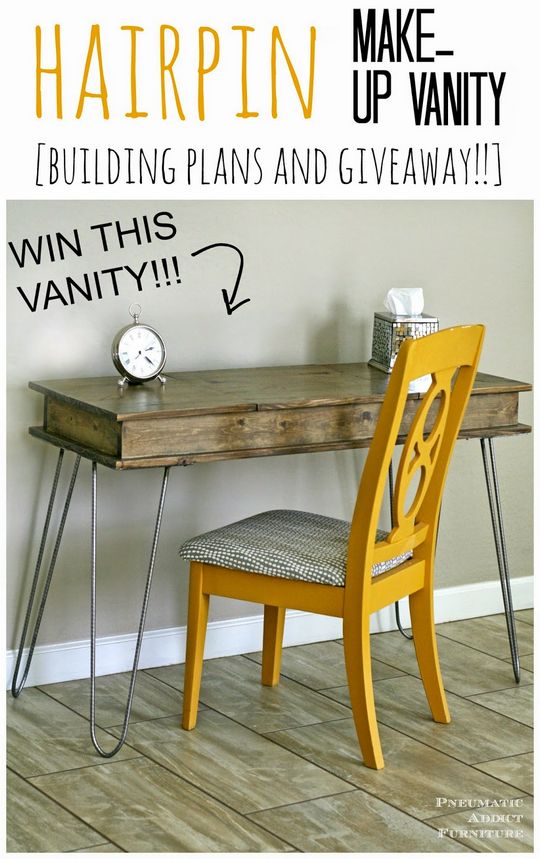 Give your bedroom a stylish touch with this wood makeup vanity table that features an all-wood frame, hairpin legs, and an antique white finish. It features one drawer and three spacious drawers, ideal for storing brushes, perfumes, and other makeup products. It's easier to make, and you will need only a few tools to make this vanity table with hairpin legs. The steps mentioned in the tutorial are simple and easy to follow, so anyone can do this DIY project at home.
image via:pneumaticaddict
Do It Yourself Makeup Vanity Table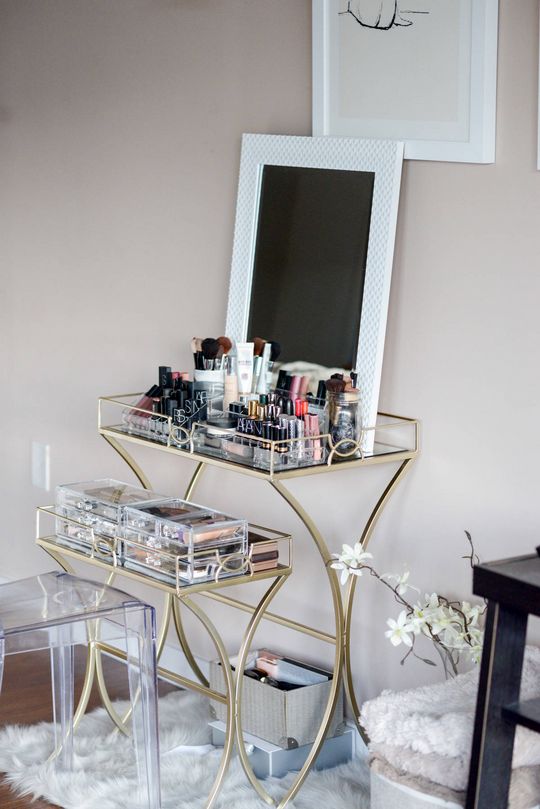 Do It Yourself Makeup Vanity Table is a fantastic idea. You can make this by using cheap and easy things that will prove not too expensive for you. This vanity table is a spacious closet and can be used as a dressing table. This is a well-organized dressing table with all the dressing accessories and cosmetics items in order, making it easy for you to find what you need. The popular design of the vanity table is a perfect fit for your small space that is perfect for makeup and dressing accessories. This beautiful dressing table can be made with inexpensive materials and will not cost much money.
image via: fashionablylo
Building A Makeup Vanity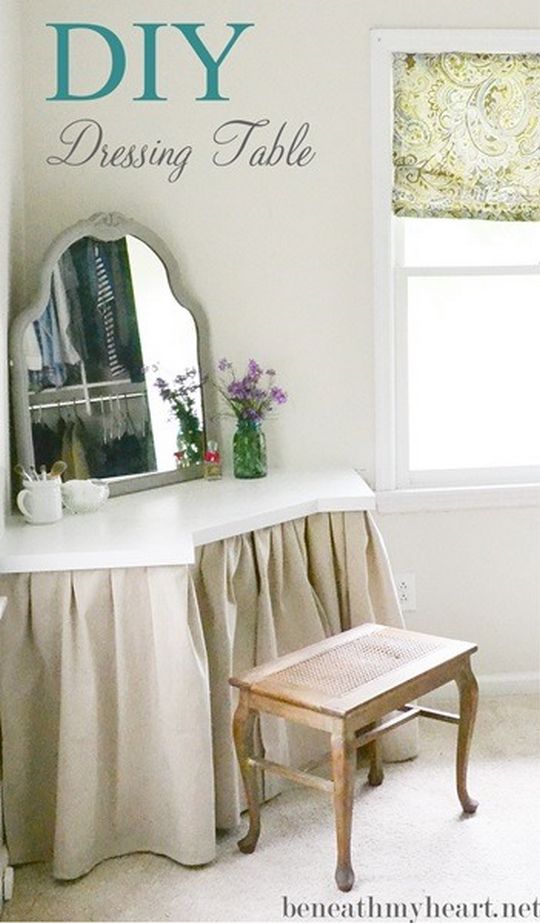 Makeup mirrors in the bedroom of your house can prove to be a real-time saver by providing you with all the right lighting to remove the clutter and make up your face faster. An adequately lit vanity table gives you a better view of your makeup than any handheld mirror. This DIY idea is here for your assistance; building this makeup vanity is still easy if you follow the instructions properly. When planning, it is wise to distinguish which room in your house you want to place the makeup vanity. Make sure that you measure the space where you want this vanity put so that everything will fit perfectly, just like in this article.
How To Make A Makeup Vanity: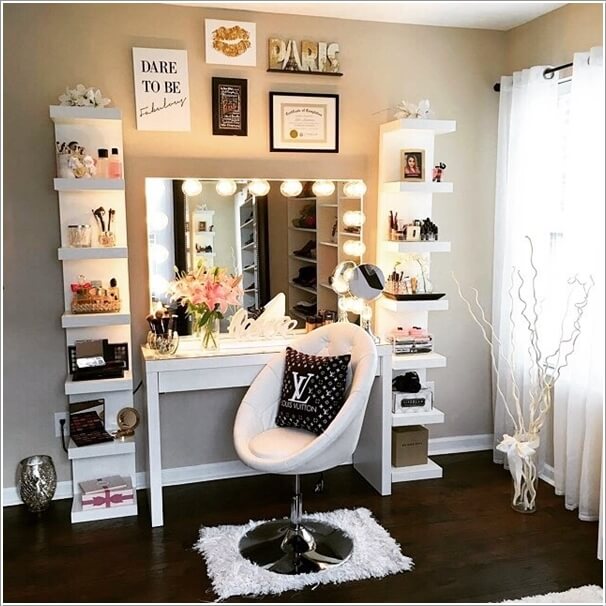 Are you planning to organize your cosmetics and beauty products in your room? Then, this makeup vanity table is the perfect choice for you. This DIY makeover does not require a lot of money and will give you an elegant look while saving space. By making this DIY makeup vanity, you can save money as it does not require investing a lot of money. You can also see all your cosmetics items properly organized. This is a perfect gift idea for your girlfriend or mother, which is easy to make and affordable too.
Vanity with Dimmable lights for under $250 (50 Inch Vanity)
This mid-century vanity table would make a great addition to your modern home. Add a touch of uniqueness and stylization to your home decor with this under $250 vanity table. This classic piece features intricate bronze detailing, unique drawer handles, and soft-close drawers. It's the perfect place to put on your makeup, do makeovers or stash odds and ends (like jewelry). It is made of natural wood, featuring glass panels and drawers in the front, and topped by an oval mirror that lights up on its own! The sleek design will add style to your bedroom or dressing room.
Build A DIY Makeup Vanity Table Brilliant Setup:

Building a DIY makeup vanity table is not hard as long as you have some basic DIY skills and tools. A few materials and basic tools are what you need to create this vanity table. This is a brilliant idea to save space and make your room more attractive at the same time. A DIY project usually requires a lot of money and effort, but this one will not make you feel like that. You can build this vanity table creatively with spray paint and other cheap things. You will have to turn the clock backward, and you're good to go!
source
Makeup Vanity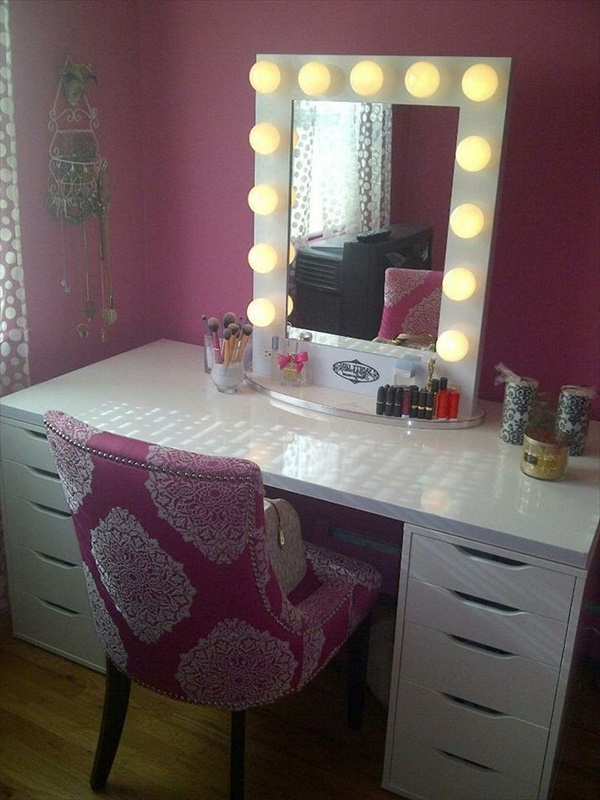 A dressing table with a vanity mirror is a must-have in every girl's room because it provides an opportunity to indulge in all things related to self-image and beauty. It will keep your makeup tools and cosmetics accessible, organized, and ready for touch-ups. From self-care routines to beauty grooming habits and fashion choices, this bench can take you from start to finish with help from your favorite beauty products or cosmetics. Using this piece's attached cushioned seat, you can sit, stand, or even lay down for extra comfort.
image source
Light Up Vanity Mirror (HOLLYWOOD STYLE):
This easy-to-make DIY Light Up Vanity Mirror is perfect for turning a boring table into a chic vanity table. You can easily make this light-up mirror for your room with a few simple steps. You can use wood or metal to construct the frame in any design you like and then stitch in lights to give it a sleek modern look. The centerpiece of this mirror is that it uses LED bulbs and dimmable light switches, making it less of an eye sore when used in bedrooms or bathrooms with dim lights.
Do It Yourself Makeup Vanity Table with Lights: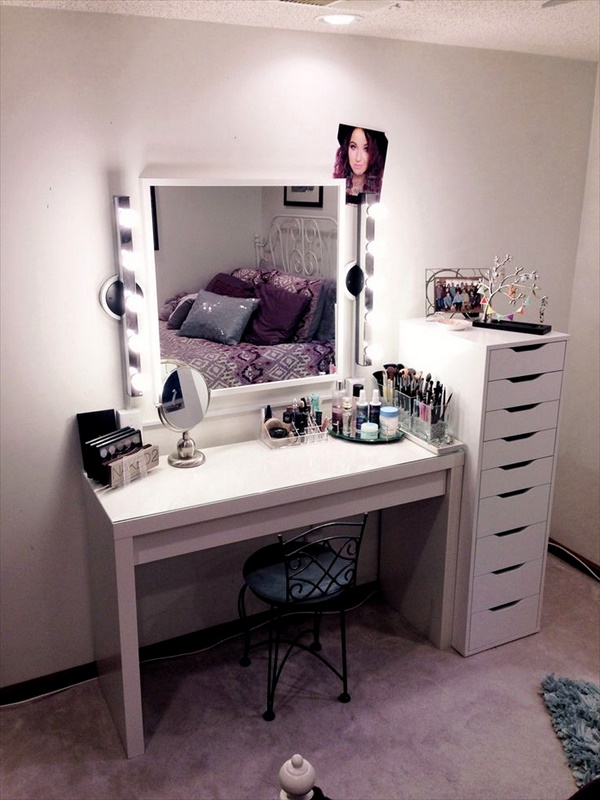 Adding a Makeup table with lights will enhance the beauty of a girl's bedroom to another level and make it look fantastic. You can use some leftovers and cheap things for completion. So, building this Do It Yourself Makeup Vanity Table with Lights will be a great idea that can enhance your room design and add glamour to your home. It is an inexpensive material that can make your bedroom look luxurious while you try on makeup or style your hair. Making this vanity light is very easy, so you don't have to go through any hassles in getting started.
image source
Corner Vanity Table
Don't you love this beautiful Corner Vanity Table? It can be appropriate for any room in your home but incredibly charming in your bedroom. This is perfect for you if you are looking for a cheap, less space occupying vanity table. This is a lovely and brilliant DIY vanity table with great storage, and it will look great in your bedroom. The color scheme and comfortable fur chair make this idea more interesting. But you can replace the paint color according to your choice to match the decor in your room.
image source
Makeup Vanity Table in Bedroom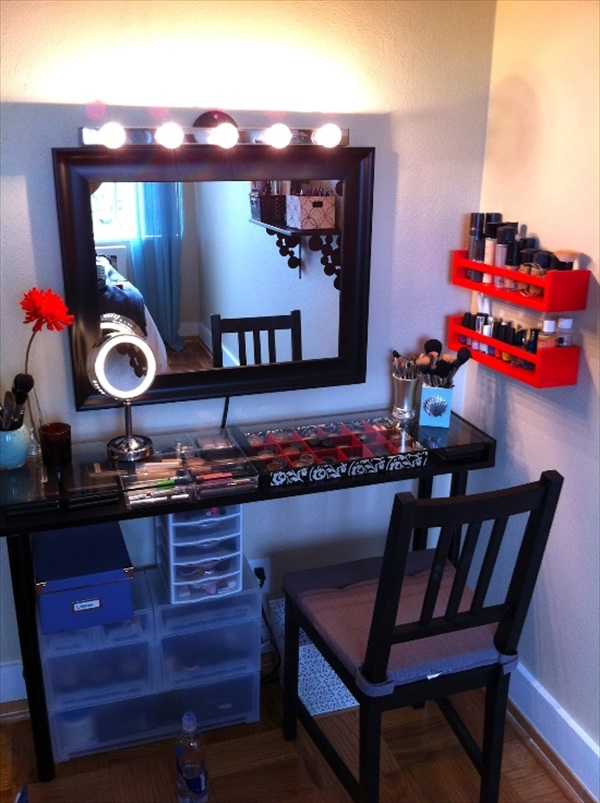 Creating a unique vanity table for your bedroom is a great way to add personality to your space with minimal effort and lower cost. Creating a DIY makeup vanity in the bedroom makes one perfect for your needs and tastes. This DIY Makeup Vanity Table in Bedroom is perfect for any girl wanting a beautiful piece of furniture that she can use to do her makeup before heading out the door or even just as a place to set her jewelry. This table is easy to make and only takes a few items.
image ultimatehomeideas
Dreamy Vanity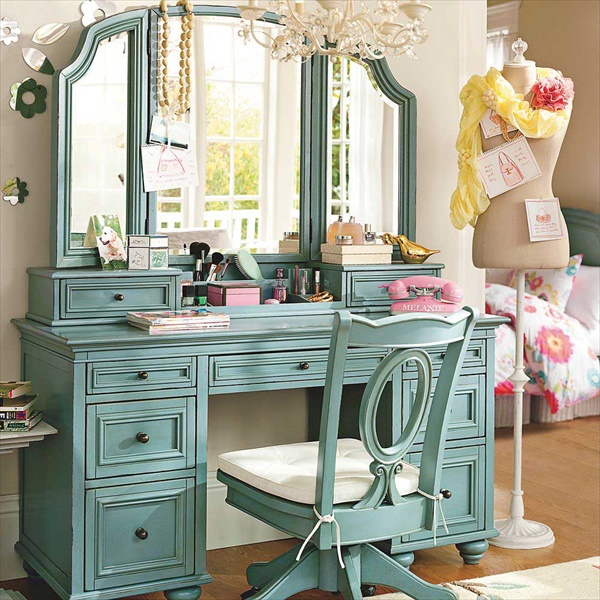 Get ready to smile as you see your mirror shine. This vanity table comes in a vintage style and will give you a gorgeous look you've dreamed of. It includes a double sink and two drawers that are perfect for storing all your makeup and other personal items. Thanks to the antique white finish and an alluring dark stain on the legs, it has a retro feel. The best thing is that it can easily be built by any handy amateur, thanks to our detailed instructions and easy-to-follow instructions. So, wait no more and get this project started using the power tools in your garage!
vanessatransbordandoinspiracoes
Built a Makeup Vanity
This beautiful and versatile vanity will work in any room of your home. It's perfect for that hard-to-find space in the hallway, living room, or bathroom. A wide drawer and three open shelves make organizing cosmetics and other personal items easy. With this Makeup Vanity, you can organize all your cosmetics in drawers or on their top, with a nice mirror to do your makeup. It's easy to build and super versatile - use it as a dressing table, console table, or workstation for your laptop and desktop computer.
Lavish White Makeup Vanity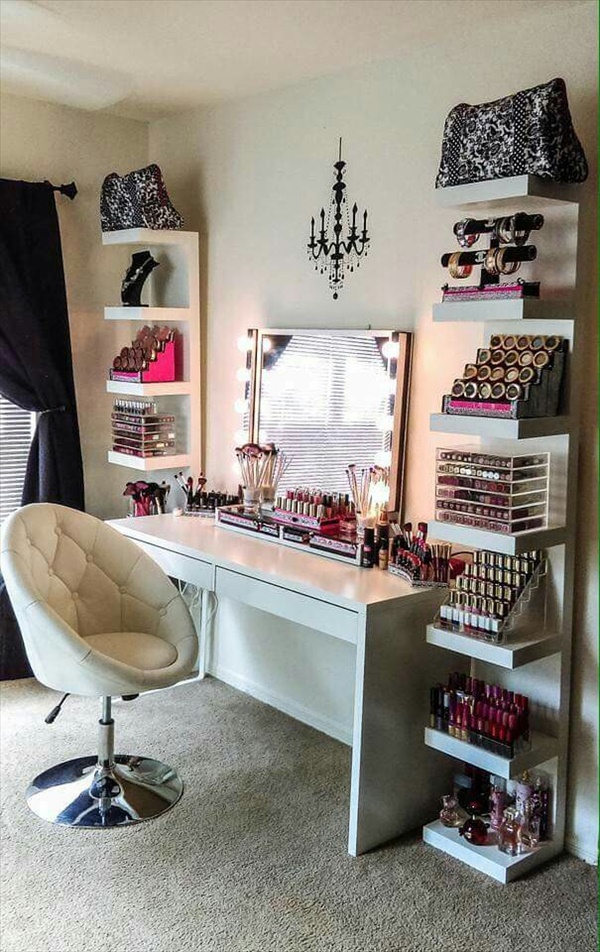 This makeup vanity table is a dream for every fashionista! To make your room more spacious, this side shelf has been added. It will become easier for you to find all your things from the side shelf. There are also drawers and doors on both sides, which can be used as storage space. The mirror attached to the table will let you see yourself from different angles and provide flexibility in your dressing style that helps you feel confident about your appearance throughout the day. The tabletop is spacious and can hold all your essential makeup products, while the side shelves provide convenient storage for more oversized items. Use this vanity table to organize your beauty regime and prepare yourself for any social gathering!
How To Build Makeup Vanity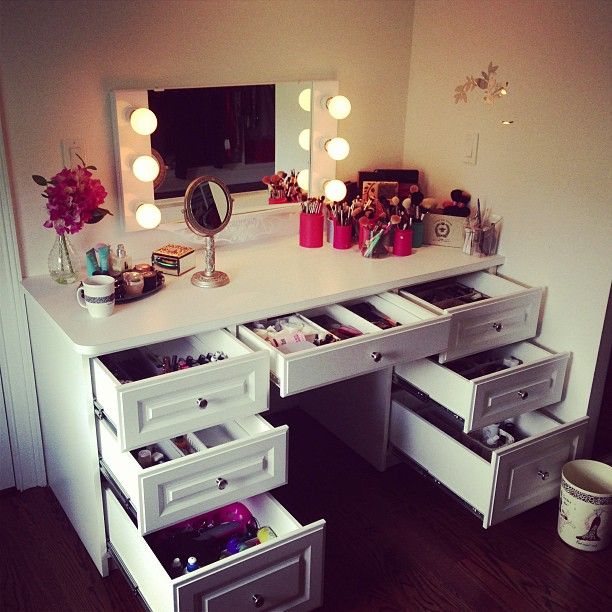 Makeup vanity can be a very important part of your dressing room. If you are looking for a way to maximize space in your room and give it a rustic and vintage look, this project is worth trying. The project features a custom-made, fully-functional makeup vanity built into a vintage suitcase. The piece is fully customizable to suit any style preference, whether modern and minimal or rustic and romantic. This amazing makeup vanity is perfect for getting ready before an event or date night with your significant other.
Image via: homedit
Minimalist Corner Makeup Vanity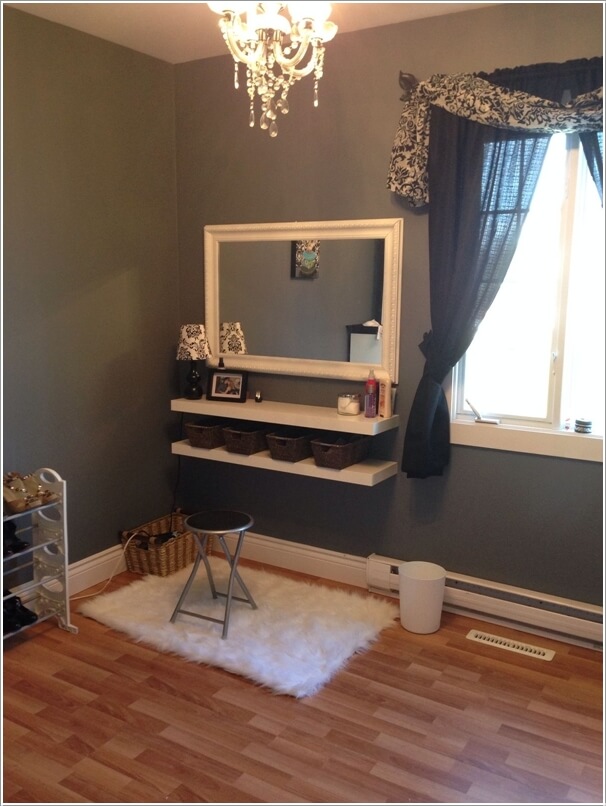 The Minimalist Corner Makeup Vanity Table is a multipurpose furniture piece that can serve as a vanity table, desk, and even an additional storage area. This significantly builds up the space; you can use it without occupying your living room or bedroom space. Adding shelves and mirrors to the wall makes this vanity table more creative and sophisticated. One of the most important results of this plan is that you can get a personalized vanity table by buying drawers instead of storage baskets for placing cosmetics and other items on it.
Image via: voce precisa decor
Glass Top Makeup Vanity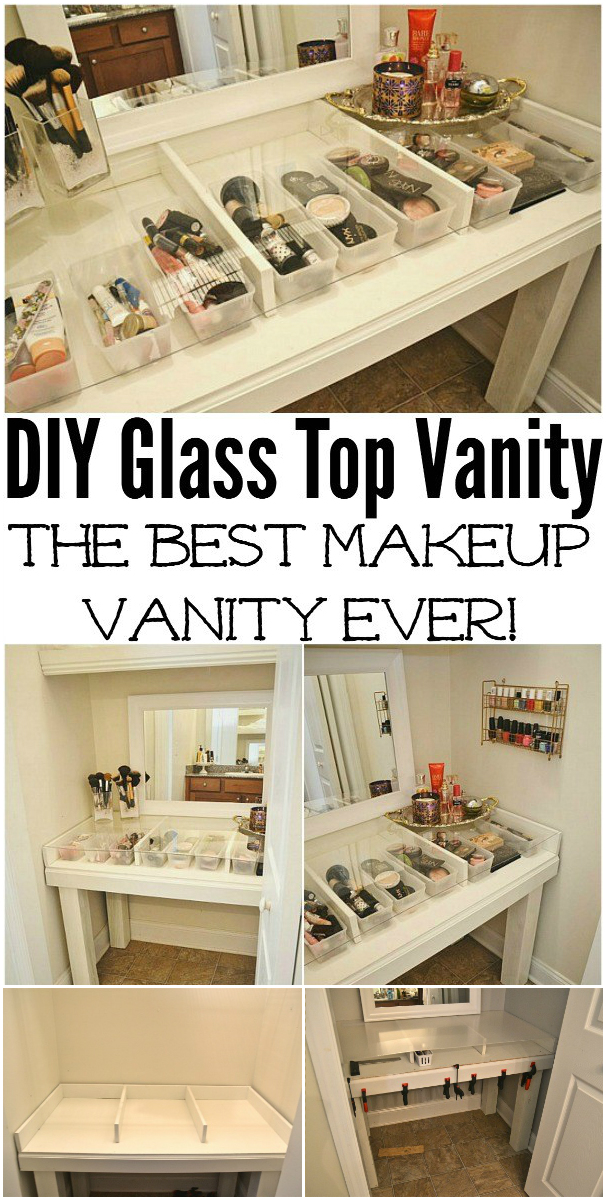 This easy-to-build DIY Glass Top Makeup Vanity Table adds glamorous and royal style to your home. Its beautiful glass top is large enough to store all of your makeup essentials yet lightweight enough that you can easily move it around your home as you need. You can store plenty of stuff in this classy, trendy DIY Glass Top Makeup Vanity Table. You will take your style to another level with it! This design will serve you for years and years, so buy the materials and plan a weekend free to build this DIY Vanity Table today!
image via: Liz Marie
Makeup Vanity Makeover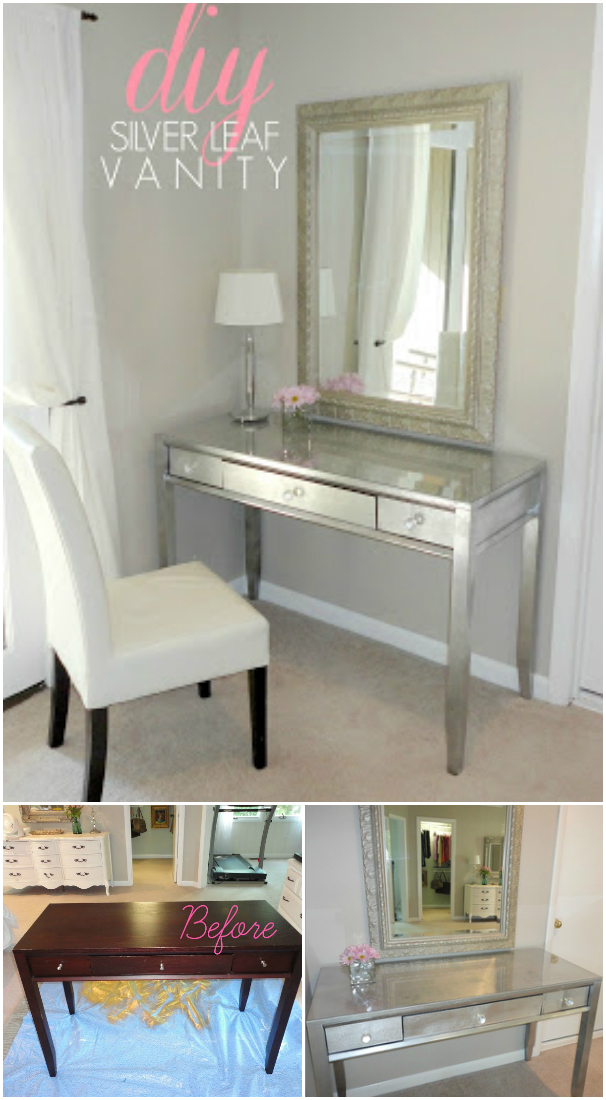 Are you looking for a simple yet sophisticated vanity? Then this admirable vanity will be the best choice for you. The Makeup Vanity Makeover Table has been built up from an old table that was left wasting in my basement. The table is finished in a darkened walnut stain, which helps frame the piece's beautiful t-molding. The base of the table is constructed from pine plywood and stained in liquid lacquer darker, allowing the silver leaf to shine through. The finish looks amazing and gives this piece a glam edge."
image via: live loveday
Makeup Vanity Table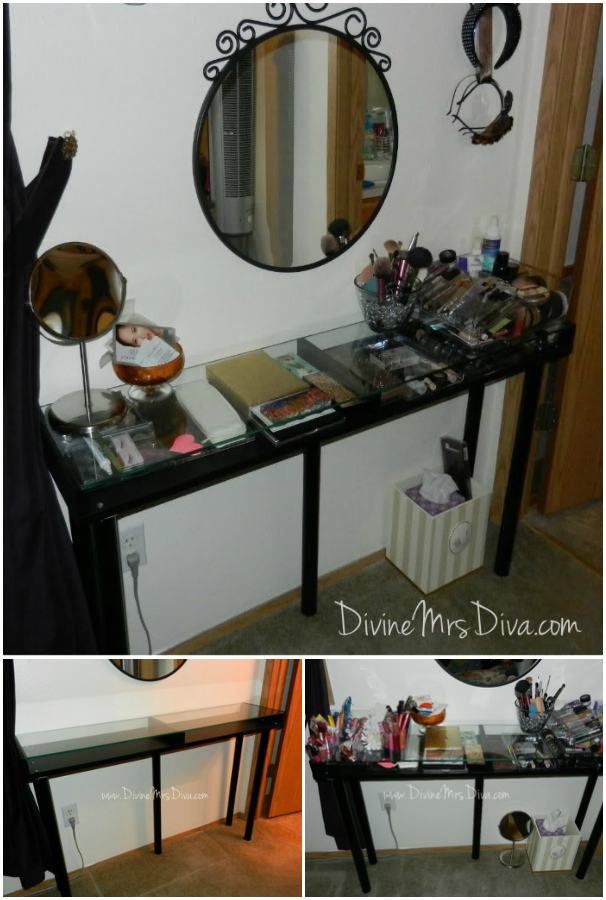 This DIY Vanity Table will be a good addition to your bedroom furniture, and it's easy to do with little effort. Your bedroom can be one of the most attractive areas of your home, but getting ready in your bathroom is often a chore. Makeup in the morning is more fun when you have your vanity table to keep all your supplies organized and add a decorative touch to your bedroom. Build this modern makeup station with an angled mirror and makeover bench — perfect for applying your eyeliner, blush, and lipstick.
image via: diviners diva
Ikea Alex Makeup Vanity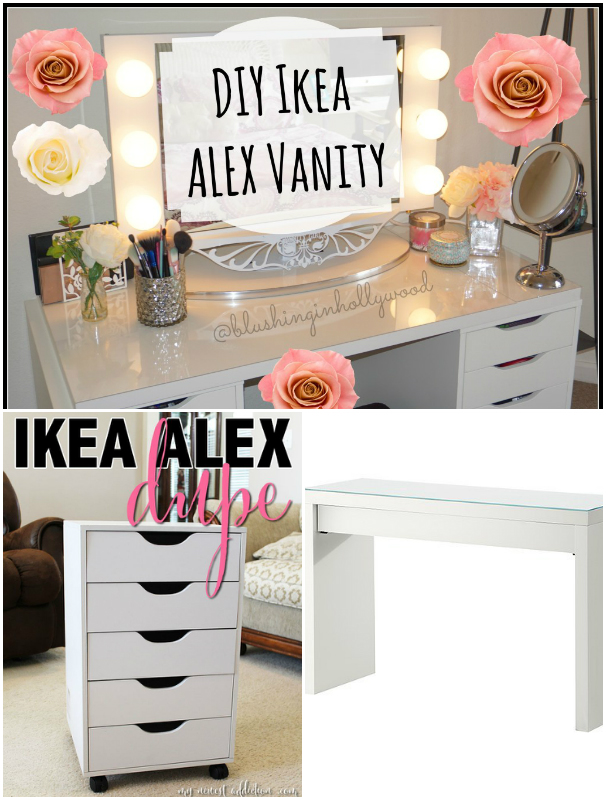 If you love your makeup and the style of designer furnishings, then this is the perfect makeup vanity table for you. This stylish Alex makeup vanity table from Ikea will complete your room. It has a large storage drawer and a small shelf for organizing your cosmetics and brushes. And its mirror can be illuminated by LED lights as you work on your look in the mornings or before going out at night. Its convenient drawers and shelves give you plenty of space to store your favorite products and accessories.
image via:blushinginhollywood