DIY Plant stands can add style and function to any room in your home. You can use them to display plants and flowers or decorate books, lamps, or small vases. There are endless possibilities for using plant stands; they're perfect for helping make your garden area more elegant, beautiful, and organized. These decorating ideas are not only simple but also super economical to build. Add a DIY plant stand to your home and take advantage of the earthy, calming energy plants emit. Completely customizable, you can make them any size or style to suit your decor, so pick a fun one and get started today!
DIY Plant Stands
Turn your house into a tropical paradise with these adorable DIY plant stands. Anyone can build their own frame with a few basic materials and tools, no matter if you're a novice or an expert. Whether looking for an easy centerpiece for your next party or inspiration for your next DIY project, these 36 plant stand ideas will help you create a stylish setting for any occasion. These DIY plants stand ideas range from comprehensive to tall and include simple, modern units that are perfect for showcasing a single potted plant to rustic cradles that can hold several smaller containers. So whether you want to incorporate a garden accent into your home or add a bit of greenery, these DIYs are bound to inspire.
Whether you're looking to add some plants to your space or want to organize them better, these 36 plant stand ideas are an easy and inexpensive way to do it.
Advantages Of DIY Plant Stand Ideas
DIY plant stand ideas are gaining popularity as the demand for organic products increases. People are looking for ways to add more green to their homes, and a DIY plant stand is excellent. Here are some advantages of DIY plant stand ideas:
1) They're easy to make. You don't need special skills or tools to build your plant stand. All you need is wood, screws, glue, and paint if you want it painted.
2) They're inexpensive. You can buy all the materials you need for less than $50, much less than what you'd pay for a similar product at a store.
3) They're customizable! You can make your plant stand in any shape or size that suits your needs and taste!
West Elm Inspired Plant Stand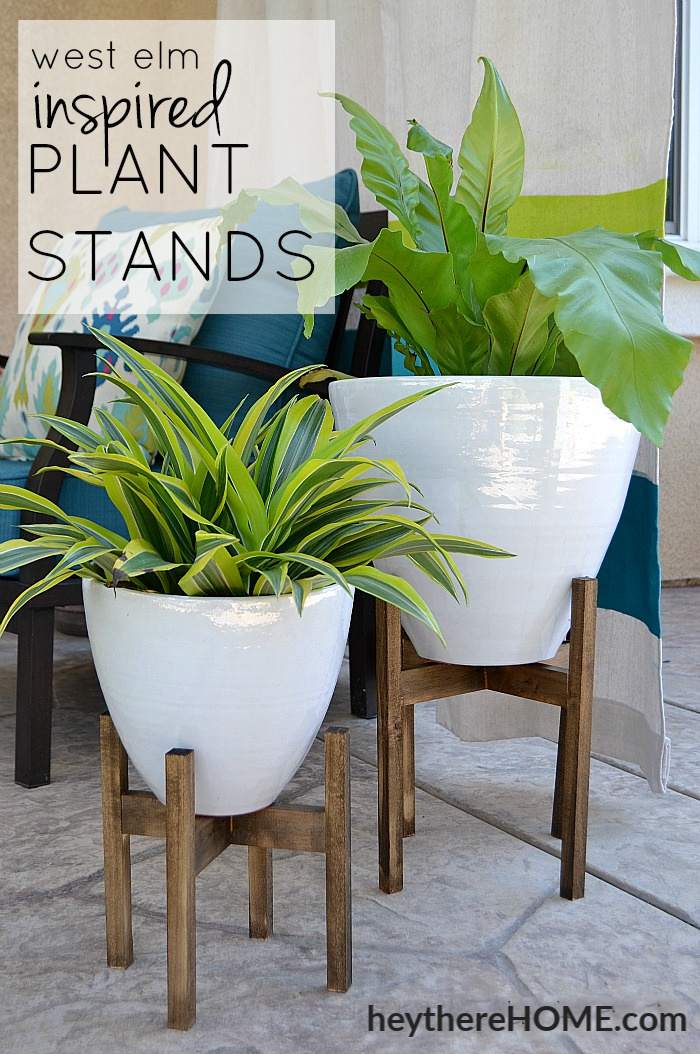 Love your plants but have a challenged green thumb? This West Elm Inspired Plant Stand is a quick, inexpensive way to add some greenery to your home. Create a stunning plant display with this simple wood stand. It's easy to make and uncomplicated, but the design is sleek enough to provide a dramatic focal point or elegant accents in any space. Save the money on a store-bought plant stand and create your own with this DIY plant stand project. It is just as easy to make and is much more custom than anything you could buy at a craft store.
DIY Plant Shelf
There are many ways to include plants into your life, making them timeless and beautiful accessories that everyone can enjoy. Now you can make your plant shelf with this easy guide that only requires a few simple tools and materials. Even if you are inexperienced, you can follow these instructions by utilizing the detailed video. An excellent solution for anyone looking for an affordable and eco-friendly way to bring life into their home
See More: 25 DIY Window Plant Shelf Ideas
Zero Cost Plant Stand DIY
This DIY plant stand is an excellent example of what can be done with a bit of imagination and ingenuity. This project will only cost you time and materials, as you reuse materials you might have at home or purchase cheaply from the store. Its simple design makes it easy to create your own, while the lack of costs makes it even better. Cement, sand, and some wire hangers are all you need to make this simple yet stylish stand!
DIY Cheap Plant Stand
If you want to add style and individuality to your home yet don't have time to search for the perfect plant stand, this project is ideal. It works as fine art in any room. This is a DIY plant stand that you can make in minutes. It's sturdy, and it looks great! However, the best thing about this plant stand is the price—it's cheap and easy to create! Using just a few tools and items you probably already have around the house, you'll have a nice place to put your plants and flowers in any area of your home.
DIY Copper Round Plant Stand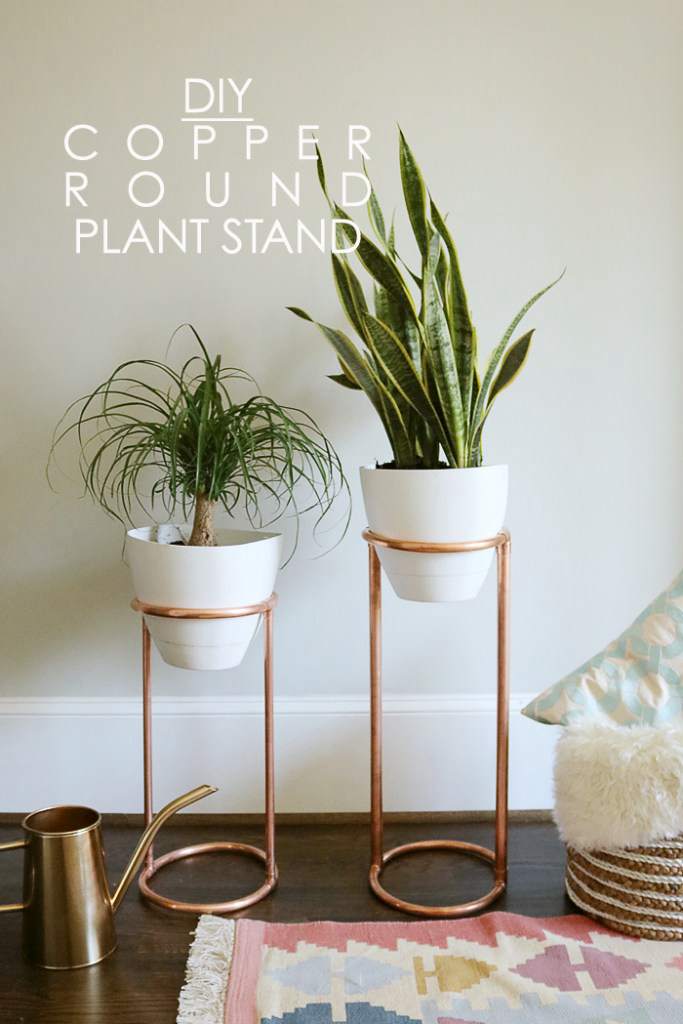 Copper is an accessible material to work with and pretty to look at, so make this DIY Copper Round Plant Stand for yourself or as a gift. For more homemade plans, check out our round plant stand made from this darling DIY metallic planter. For a rustic-chic plant stand project, you don't want to miss, try making this DIY copper round plant stand. It is easy and inexpensive to put together and versatile in vertical and horizontal plants!
DIY Modern Wood Plant Stands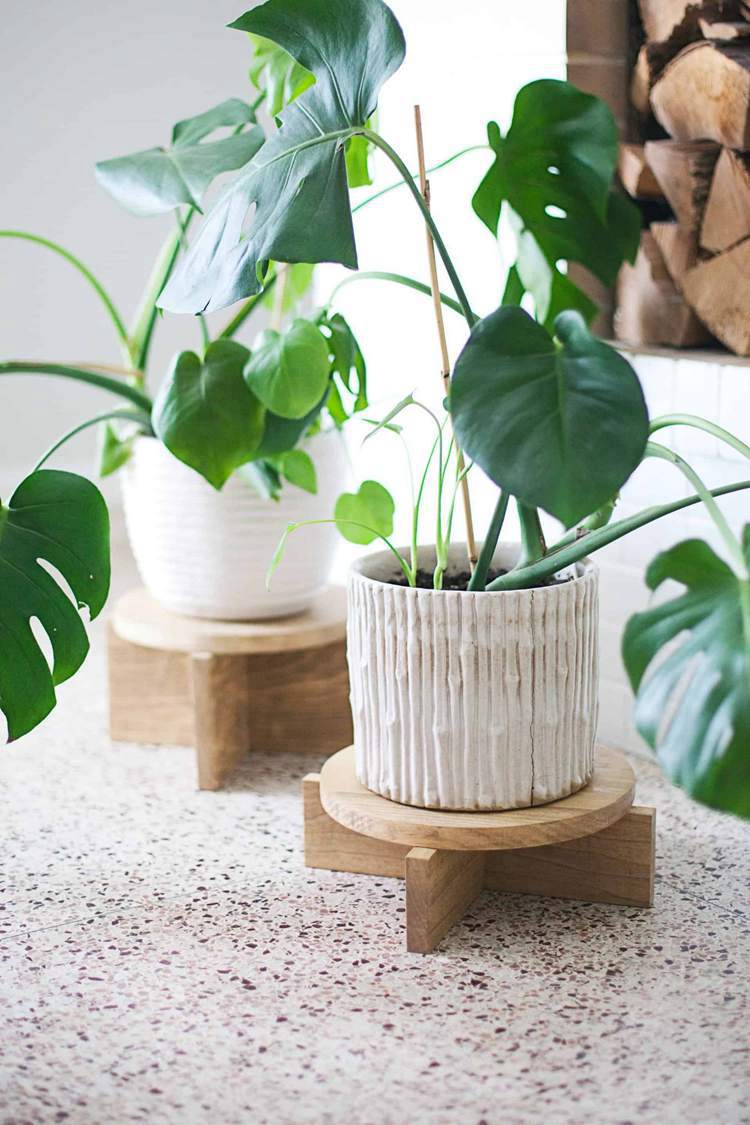 DIY Modern Wood Plant Stands are the answer if you're looking for a way to add a little greenery to your home without spending too much. Wood plant stands are easy to spruce up an indoor or outdoor space. This DIY project allows you to create your design with various materials, from repurposed items like crates and wooden planks to new lumber and iron-on veneer edgebanding. These easy-to-make plant stands can be customized to work with any space and style.
DIY Floating Plant Shelf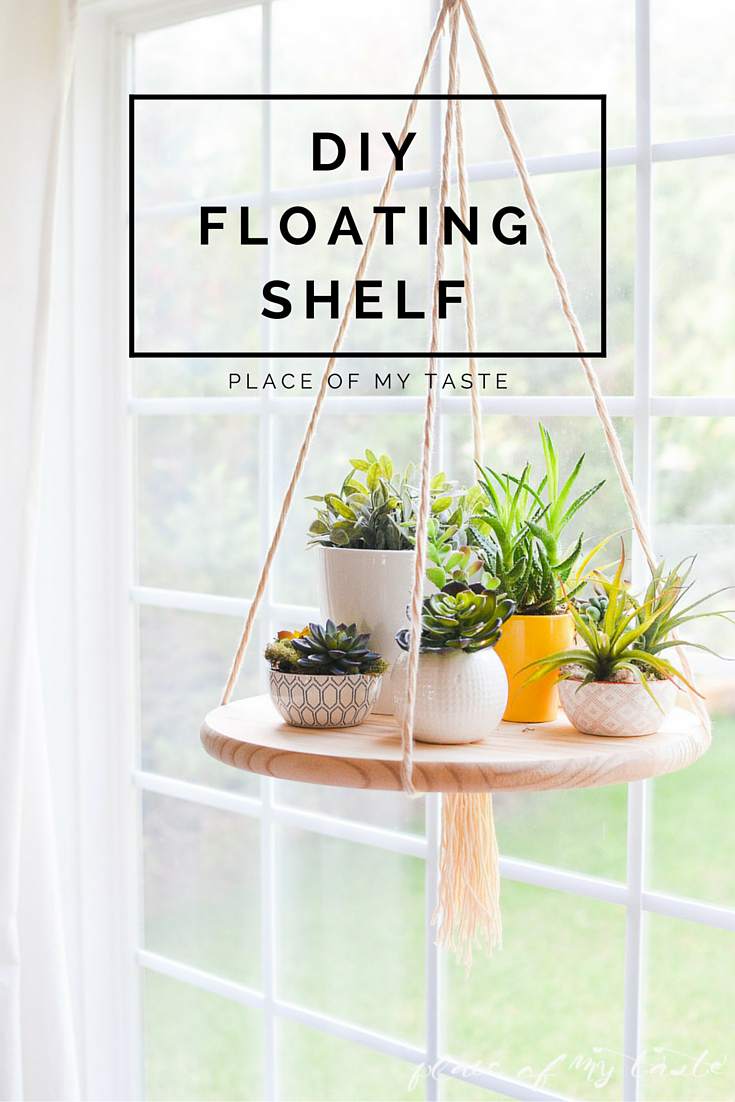 This floating plant shelf is a quick and easy DIY to make your home more beautiful. It's perfect for adding a touch of nature to a space where you're short on options or adding a bit of greenery over a window or a fireplace. This guide shows you how to create a chic, inexpensive floating plant shelf. The steps are simple, yet the result is an eye-catching decor piece that your guests will love. It's perfect for beginners but can also be customized by adding or removing the knots.
DIY Plant Stand Plans
Are you looking for simple and easy DIY plans to make a plant stand? If so, then you have come to the right place. This video tutorial will show you how to make a unique plant stand that doubles as a shelf below for decorative objects such as vases or pictures. Learn how to build a planter stand in this easy-to-follow woodworking project tutorial. It's a great beginner project and makes a beautiful addition to any room or patio.
DIY White Plant Stand
Nowadays, the white plant stand is a top-rated product in the marketplace. This stand is a perfect product to add more color to your home. It adds more style and personality to the house, making it look beautiful and attractive. The methods of making this kind of plant stand are varied. However, these steps are all simple and easy to understand. So if you have enough time, making one for your home is not a big deal.
Wooden Plants Stand Ideas
Wooden plant stands are the perfect accessory to compliment the shade of your home. This DIY Wood Plant Stand will add a touch of class to any room and make your home feel warmer and inviting while giving your plant that little extra attention it deserves. Make your own tall, unique wooden plants stand out of wood in an hour. A few tools are all you need to create a personalized planter that's easy on the eyes and space-saving, versatile, and sturdy.
Dollar Tree Plant Stand DIY
If you love green plants and want some new small pieces of furniture, then this DIY dollar tree plant stand is perfect for you. Using materials from your local store, you can create this beautiful and easy-to-build item in just a few minutes. All you need is a plastic tray, decoration rope, two waste bins, and gloves. This DIY project will save time and money and improve your home decor! Make one for yourself! Don't miss this video tutorial showing exactly what you need to do.
DIY Plant Shelf
If you love plants and are looking for a large plant shelf, here is an amazing one you can try. With this DIY Plant Shelf, you can grow a garden of your own and decorate your home at the same time! With its beautiful design, it is sure to turn heads. It is super long, which makes it perfect for hanging large plants. If you are looking for such a large plant shelf, you should grab this one as soon as possible!
How To Build A Simple Plant Stand
Tired of digging through the dirt to find your plants? Here's a great way to keep your beloved plants in sight while they grow! Build a simple plant stand for your indoor plants with just a few pieces of wood, the help of concrete blocks, and some screws. This is the perfect place to show off your plants in style on your coffee table, desk, or wherever else you can put these.
How To Build A Modern Plant Stand
The plant stand is the perfect piece of furniture on your patio, in your bedroom, or the corner of your living room. It looks modern, and it would fit into any decor. It can hold many different types of plants and flowers, depending on the size of its base. This mid-century modern plant stand is the perfect addition to your home. This video shows you the steps needed to build your own plant stand in just 60 minutes, using materials that cost less than $3. This easy-to-follow video tutorial will teach you how to make a modern plant stand.
DIY Modern Plant Stand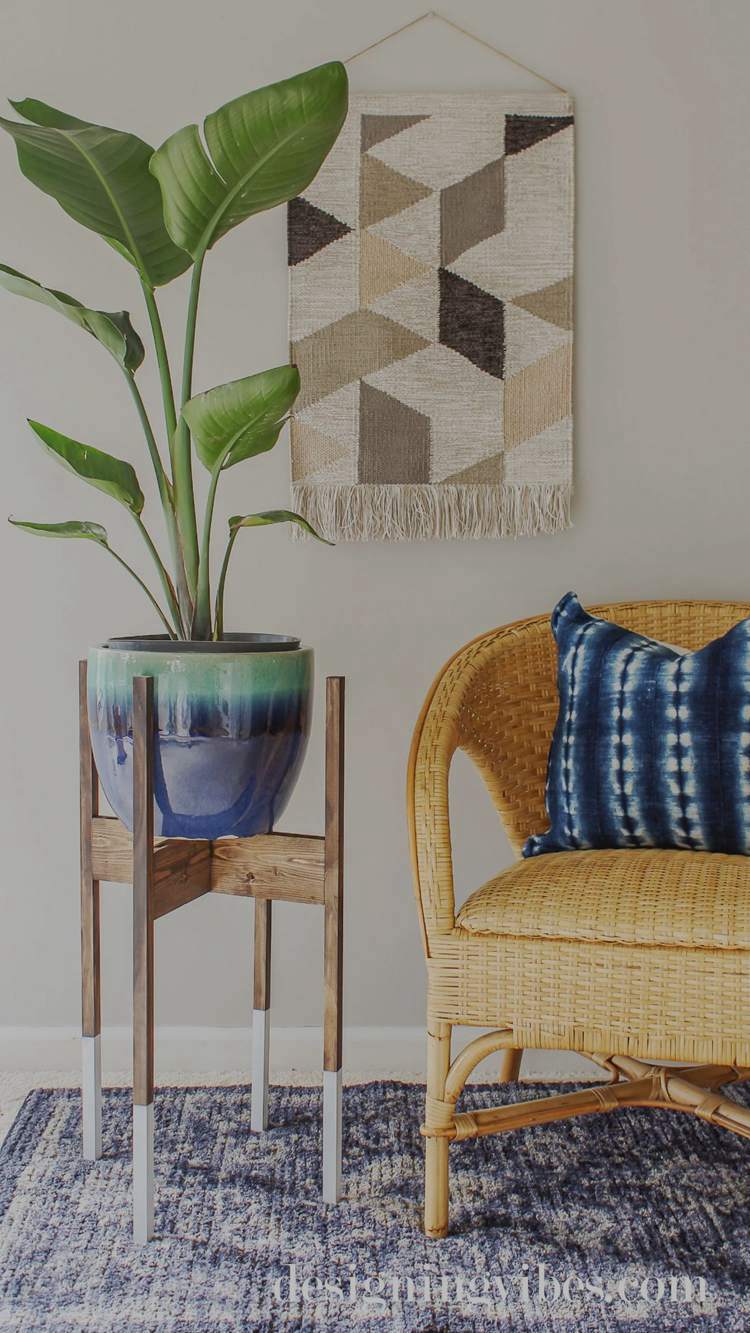 With this easy DIY plant stand project, you can completely transform an unused home corner into a great spot to add some greenery. This tutorial will show you how to make a modern wood stand by drilling pockets and hanging it on oak dowels. The design is simple but sturdy to hold all types of plants, large or small, indoors or outdoors. Follow this step-by-step instruction to make a functional and sturdy DIY modern plant stand.
How To Make Planter Stand
Easy and fun to make, this DIY plant stand is a great way to start your furniture-making journey. The materials are simple, and many of them are found in your house! It is so easy to make this planter stand that you will be amazed at your DIY skills. This project is stunning and looks great in any home. Plant stands are perfect accent pieces that add beauty and culture to your decor while serving a functional purpose!
DIY Plant Hanger
This DIY plant hanger is the perfect way to hang your plants, whether you want to decorate an outdoor living space or give your indoor plants some natural light. The creator of this project used materials like jute rope, plastic buckets, and hooks to make a beautiful hanging plant container that's also easy on the eyes. You don't have to purchase an expensive plant stand to make your potted plants look gorgeous. You can make your own plant hanger at home, which will be accessible to the eyes and good for the environment too!
DIY Plant Stand
This plant stand is perfect for a big, beautiful houseplant. It's sturdy and stylish - it will be one of your favorite home pieces! This plant stand is built like the last stand on this life before this one, but it's higher and carries more weight. It features a new design that makes it easy to assemble with just two screws. The recycled plastic color is restrained and classy. With its raw beauty, it will work well in any home or office environment. you can make your own by using this guide.
Raw Edge Concrete Plant Stand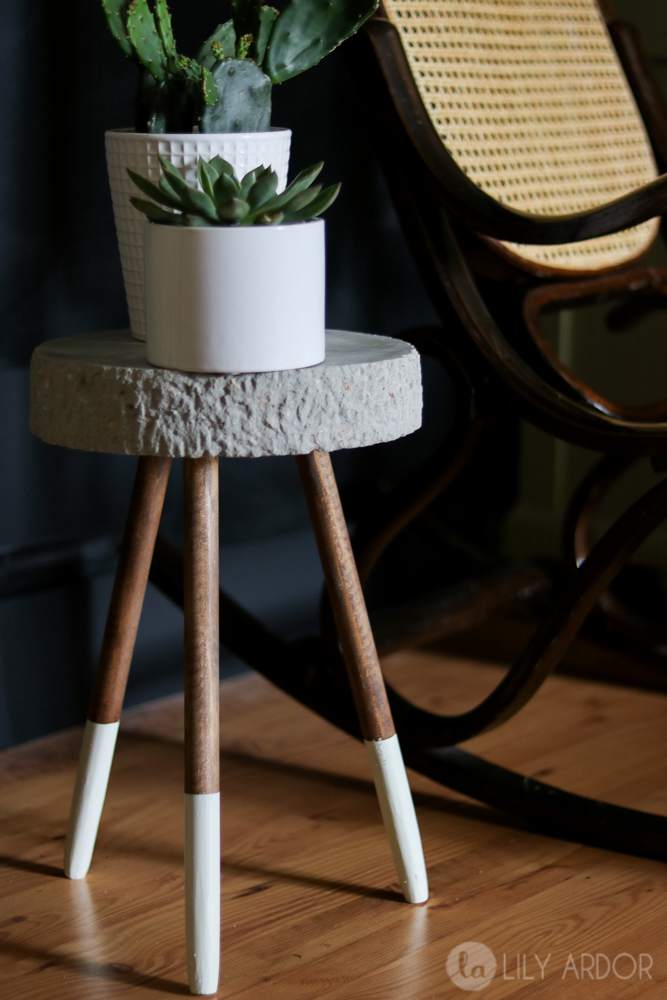 Consider this unique planter if you want to add some instant appeal to your patio or deck. Each of these sturdy, sculptural planters is handmade from concrete, a form of cement that dries hard as a rock—a perfect material for outdoor furniture and other projects that stand up to weather. You can recreate this plant stand using concrete and wood dowels. The step-by-step instructions make it easy to follow, and the finished product is stylish and functional.
DIY Plant Stand
Here's a great DIY project for those more advanced in the woodworking world. This plan is great because it's simple to make and looks good. If you're a beginner woodworker, this DIY plant stand is the perfect project to help you master the art of woodworking. The supplies are simple and easy to find. Look no further than your local hardware store or big box retailer. You can also build it with pine or cedar lumber if you're willing to pay a little more. It's all about choice!
DIY Japanese Plant Stand
This DIY Japanese Plant Stand is quite simple to make. All you need are pieces of wood, a saw, and hammer, a vice, and screws for assembly. The result is a beautiful plant stand that you can use at home or in the office. This stand is perfect for your plants that need a bit of visual interest. If you want to save some money and want to make a Japanese, minimalist-style plant stand all by yourself...then this DIY project is for you! Just follow my tutorial, and you'll be done in no time!
How To Build A Plant Stand
This plant stand is one of the simplest things you can make, but it has a bit of a wow factor when you see it in person. This is a good project for beginners if you have some woodworking skills. It uses materials that are readily available and inexpensive. Use this step-by-step tutorial to build your own plant stand. It's super easy and affordable so you can make one for every room in the house!
DIY Plant Stands
DIY plant stands offer a variety of design options. If you love plants but don't have a lot of space for them, or your home has different floor levels, these DIY plant stands will be perfect. They're cheap and easy to make, plus they're super cute. This video guide will show you several ways you can quickly turn any common, recycled home item into a plant stand. So you can have a pick and see which one you prefer. This project is cheap and fun to build.
DIY Plant Iron Railing Stand Idea
Plant stands come in different shapes and sizes. They can be round, square, or rectangular and are made of wood, metal, or other non-wood material. With an easy installation process and minimal maintenance, these stands provide a place to place your plants. Whether you want to spruce up your house or garden, this guide will teach you how to make a plant stand. This project is effortless to do and doesn't require any special skills.
DIY Ladder Plant Stand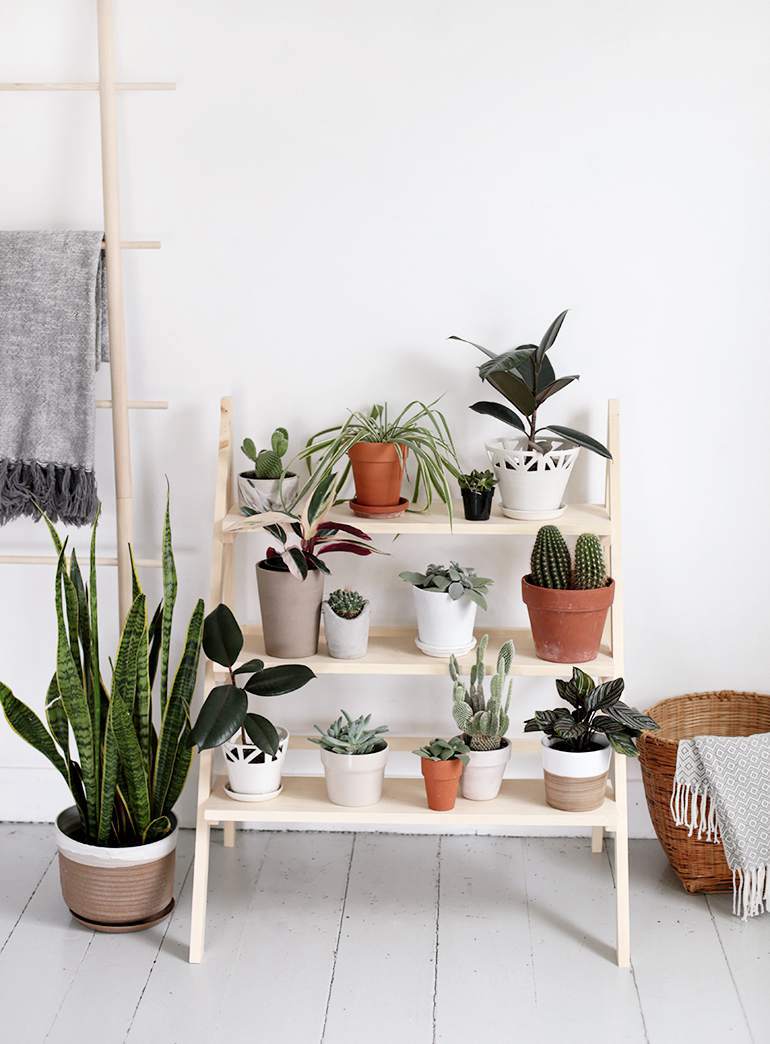 Suppose you're looking for a simple and beautiful way to display your plants; look no further than this DIY Ladder Plant Stand! It takes just a few hours to build and doesn't require any power tools. Ladders are a helpful storage tool, but they can also look fantastic. If you want to use this ladder in your home, then it's time to make one. Follow these steps to create the perfect DIY Ladder Plant Stand out of a few simple items you can easily find while at Home Depot.
DIY Modern Marble Plant Stand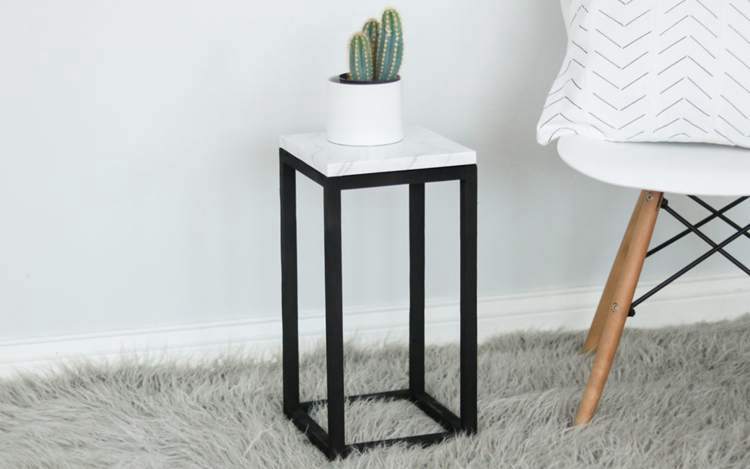 Add a little modern style to your home with this DIY Modern Marble Plant Stand. It's perfect for hanging plants or displaying objects that add some warmth and personality to your space. This plant stand is super easy to make; every step has an image to show you how it was done. It's the perfect project for a beginner DIYer, and you can use your leftover wood pieces from other projects.
DIY Pallet Plant Stand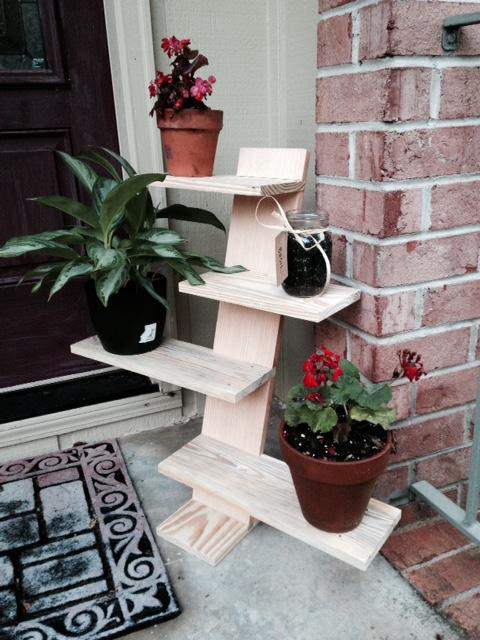 Plant stands are so easy to make, and you can give your plants a little spot of personality. You can Save money and time with this DIY pallet plant stand that can be used anywhere in the house, from your kitchen to your bedroom. The whole stand is made from regular wood, but it looks like a gorgeous pallet stand. It's super solid and durable for easy mobility, and it can hold all types of plants. This is an incredible addition to any home.
DIY Plant Stand For Balcony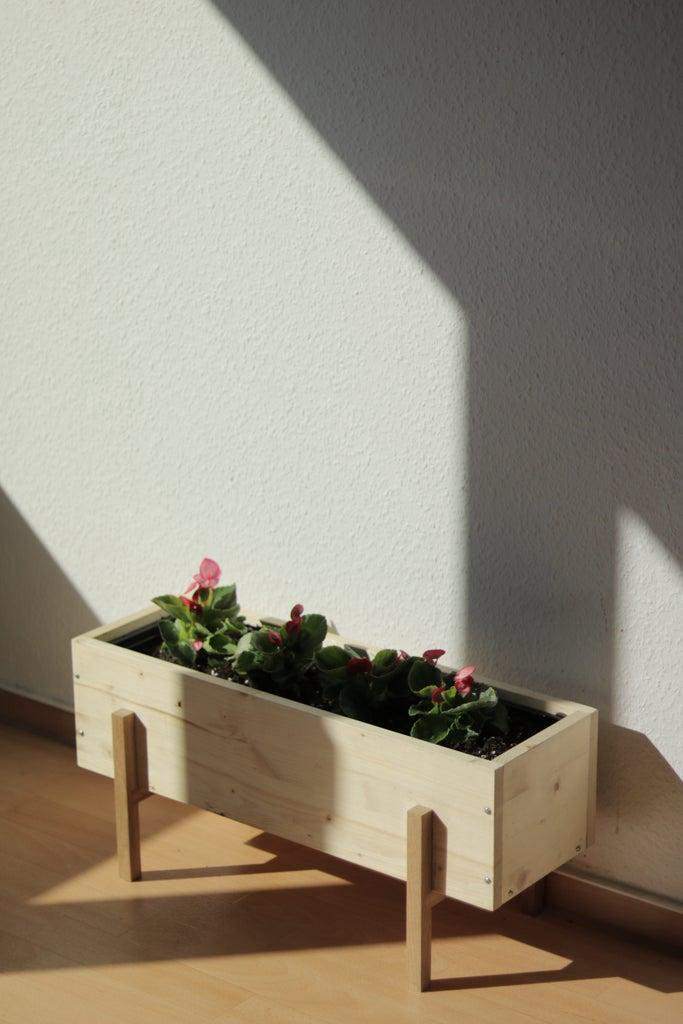 When you have limited space, making the most of what you have is essential. This plant stand is an elegant way to add greenery and life to your outdoor living space. Made from cedar (or any other hardwood), the planter can be made with traditional hand tools, or if you have access to a power tool, you could use that too. This DIY plant stand is super easy to make and can be used for many things. It's excellent for indoor use but works outside on the porch or balcony. All you need for this project is wood, screws, paint, and plants.
DIY Plant Stand Thrones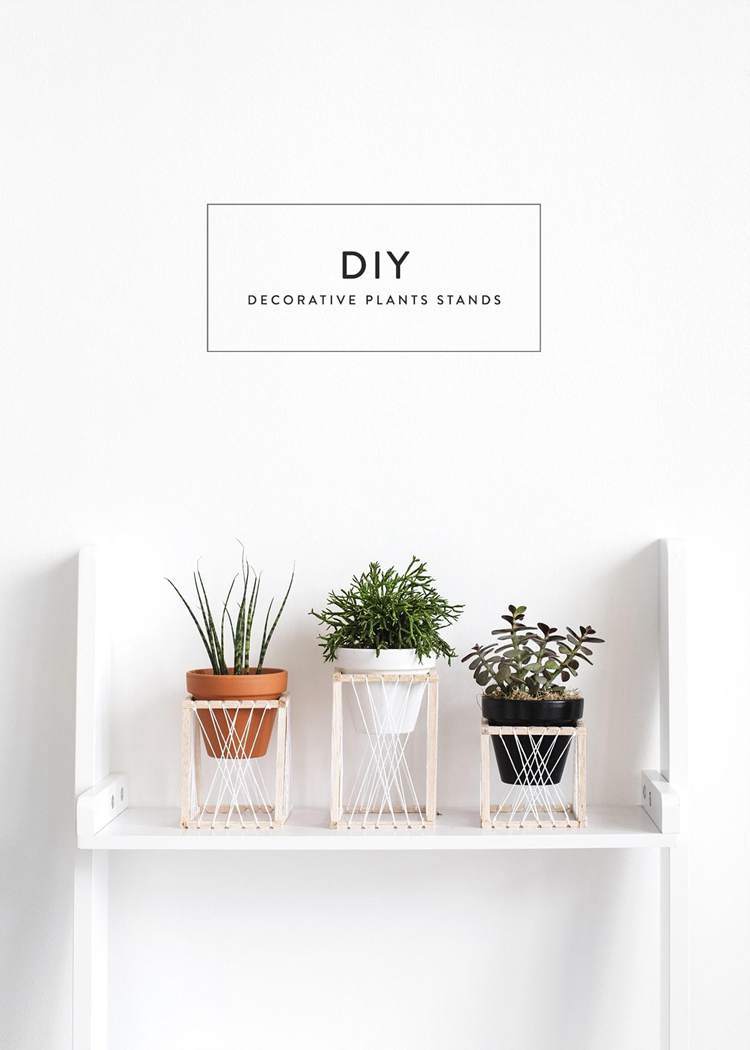 If you love having plants but do not have many options to display them, look no further: this guide will show you how to make these tremendous DIY plant thrones that keep your plants high off the ground so they can breathe. Plant stands are a great way to show off your house plants and provide a handy place to keep them stable. By making your own plant stand, you can create one that fits the room perfectly and meets your needs. This guide will help you build two different styles of plant stands that are functional, beautiful, and practical.
How To Build Plant Shelves
This is a simple video tutorial above on how to build plant shelves step-by-step. It's the best way to add some character and style to your home while saving money by increasing the efficiency of your space. Make your home more comfortable, attractive, and efficient by sticking with these awesome DIYs. This plant stand is one of the best furniture pieces for your home. It will look great in any room, especially a dining room or kitchen.
DIY PVC Plant Stand
If plants are a part of your home décor, you will love this DIY PVC Plant Stand. Whether you want to grow herbs, succulents, or cacti, this plant stand will keep your plants standing tall and looking beautiful. Do-it-yourself PVC Plant Stand is an easy-to-make and inexpensive way of elevating your plants. While the materials required are actually very little, you can make use of the recycled ones. Watch the video above to learn more!
DIY Plant Stand
Looking for an easy DIY plant stand idea? This DIY plant stand is simple enough for anyone with limited woodworking tools and experience. It takes one weekend to make this functional, beautiful piece of furniture. It is a great project to take on if you're starting in woodworking or if you'd like to make someone who does it as a hobby some beautiful gifts this holiday season. Whether a beginner woodworker or an expert, this stand can be created easily with limited tools.
DIY Low Plant Stand
This low plant stand is a creative way to display your plants and flowers. It will add a bit of ambiance to any room you decide to place it in by giving the atmosphere of nature -- perfect for those who love being surrounded by plants. It's also an excellent way to save space and decorative touches when you have limited floor space. You can easily customize its size and style to suit any space. Make this DIY contemporary low plant stand for your indoor plants. It's a no-brainer to make and costs practically nothing. Here is the list of materials below that you need:
DIY Wood Plant Stand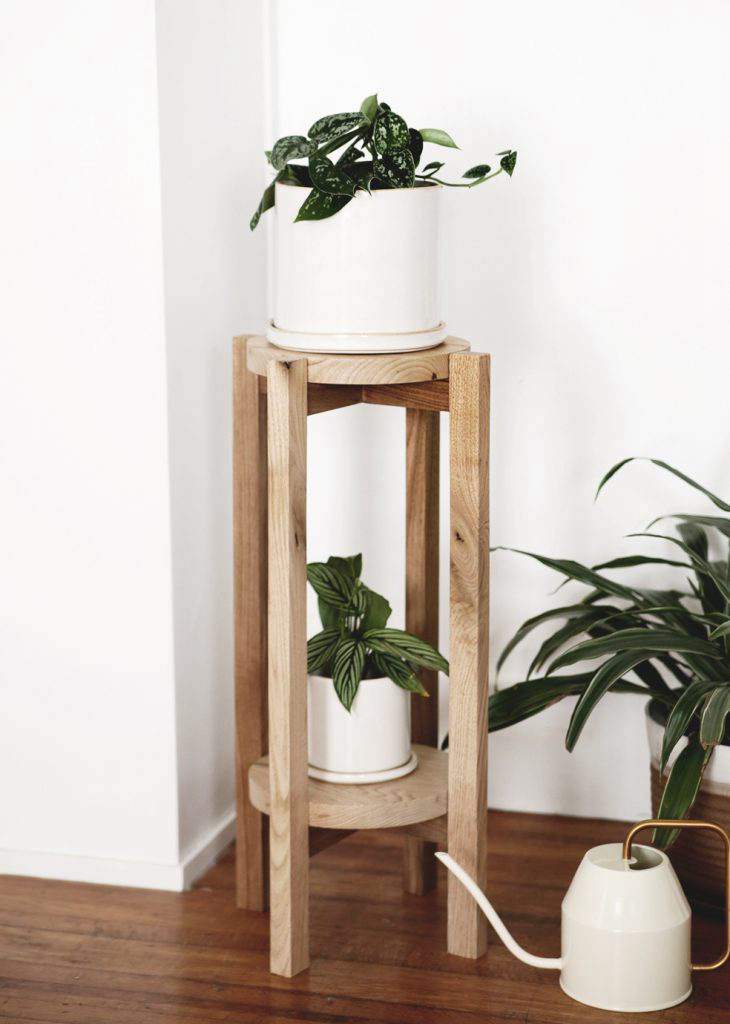 This project is a terrific way to bring greenery and personality into your home. This guide will make it easy if you've ever considered putting together a plant stand. You'll learn how to use woodworking tools such as the miter saw, and table saw efficiently, so you'll be able to create a beautifully finished project in no time. It's also inexpensive, so anyone on a budget can create this functional piece of furniture for their home.