Coffee tables are a much-used yet often-neglected element of interior design, but they are an essential part of setting the tone of a room. Every coffee table has the potential to become a focal point, whether it's in your living room or it's the one you use primarily when you eat dinner at home. Fortunately, you can do a million things to customize them to your style and needs. Here are 25 DIY coffee table ideas to help you find the perfect fit for any room in your house or even outside it!
DIY Coffee Table Ideas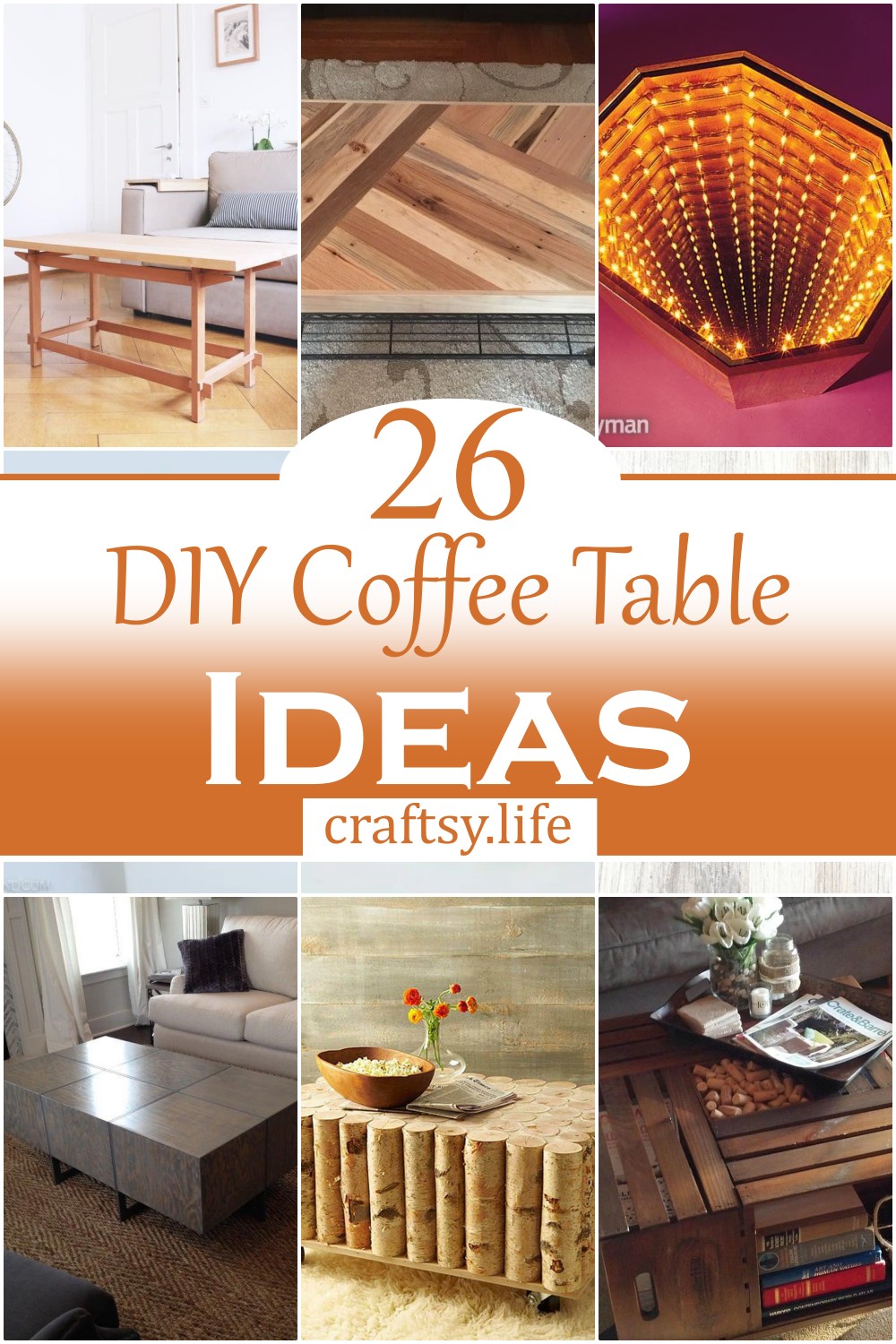 These DIY coffee table ideas are a great place to start if you're ready to spruce up your home for spring. Whether an indoor or outdoor project, you can make your coffee table in just a few hours, and it'll be uniquely yours. Plus, some of them are real head-turners! Coffee tables are often overlooked as decorative pieces, but they're the first thing to catch your eye when entering a room, so why not make them something special? Here's a quick list of ways to turn a coffee table into an eye-catching decoration that you can use in any room, and you don't need to be an experienced woodworker to do it!
Characteristics Of DIY Coffee Table Ideas
DIY coffee table ideas are great for several reasons. First, you can customize them to fit your needs and personal style. Second, they are inexpensive to make and easy to find the materials for. Third, they can be made in just a few hours and last a lifetime.
Here are some characteristics of DIY coffee table ideas:
Easy To Make: You don't need specialized tools or skills to make a DIY coffee table project. Most projects can be completed with simple hand tools like a hammer and saw. Once you have the materials gathered together, it's just a matter of laying out your design and putting everything together.
Affordable: It doesn't cost much money to make your furniture at home. You can often find everything you need at local hardware stores or home stores like Ikea or Home Depot. If you need something specific like wood or metal, you may need to order online from an online supplier like Amazon or eBay.
Customizable: DIY coffee table ideas allow you to customize your furniture pieces to fit into any room decor you want to use them in. You can choose different colors for different parts of the work or even create multiple styles within one piece so that it looks unique.
DIY Wine Crate Table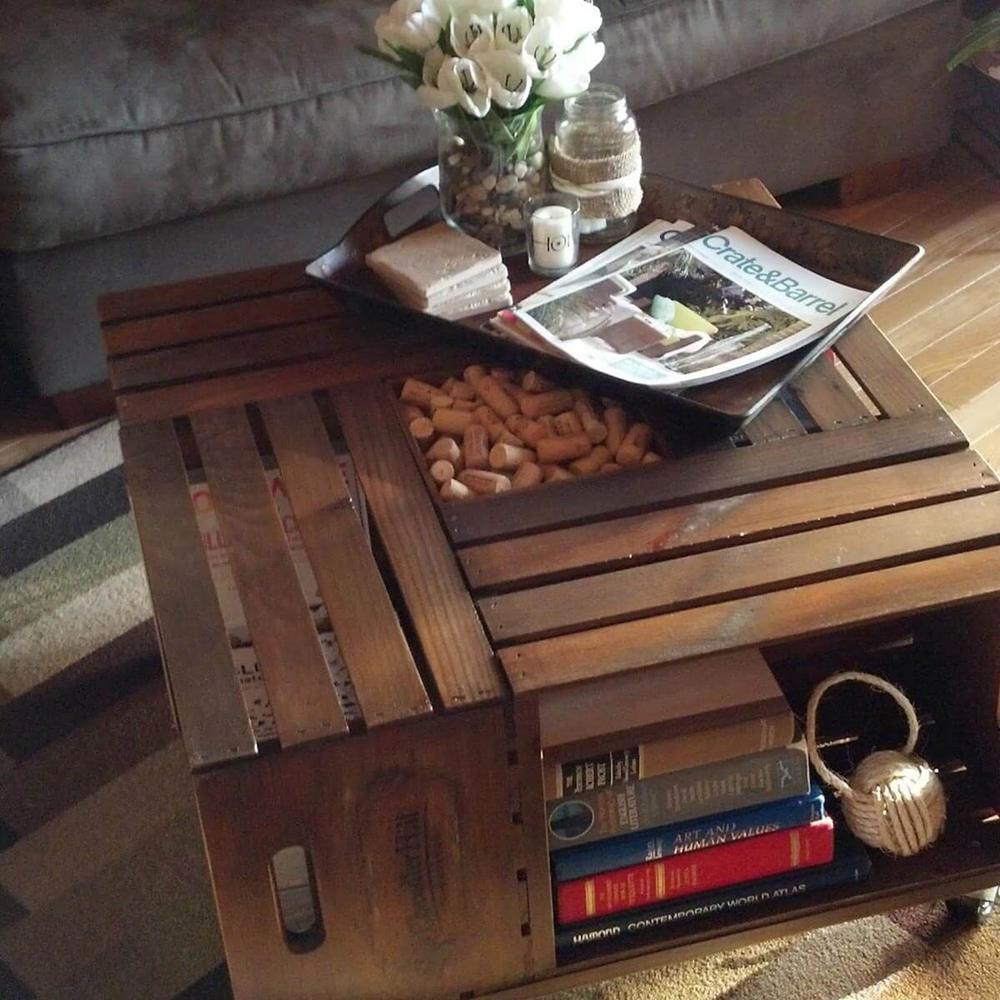 This DIY wooden crate table will be perfect for your kitchen. The making process of this coffee table is easier on your wallet if you have crates laying around from the previous furniture or are able to find them in the attic. This is a perfect space-saving idea because you get a lot of storage space out of one piece of wood! This rustic coffee table isn't just for the kitchen; they also make great accent tables or nightstands."
Log Coffee Table DIY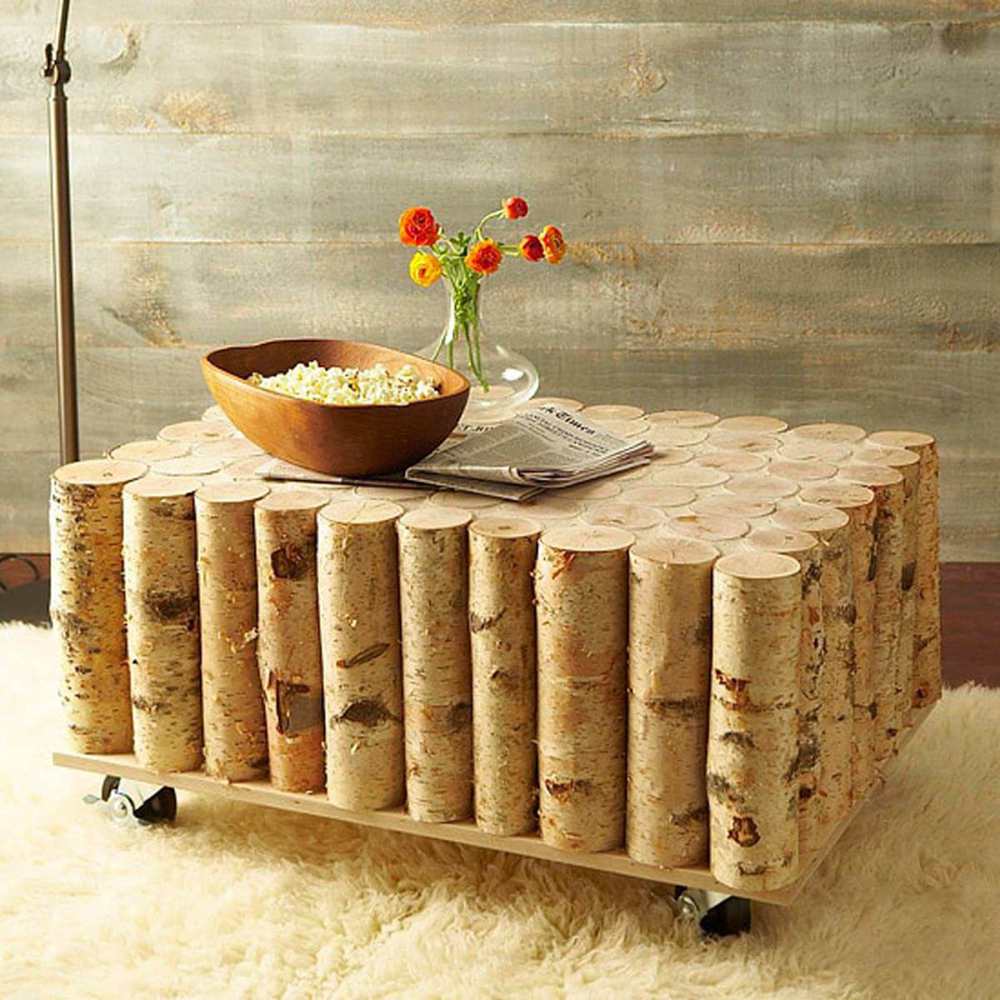 This DIY Coffee Table is like a little piece of the forest. It's made from a bunch of logs and has wheels so that you can move it around. This could be a great accent to any living room or office! This DIY project is sure to be a conversation starter. The table can get heavy, so it might take some time to put together and move around but the final result is beautiful and functional – So, what more could you ask for?
Patterned Pallet Coffee Table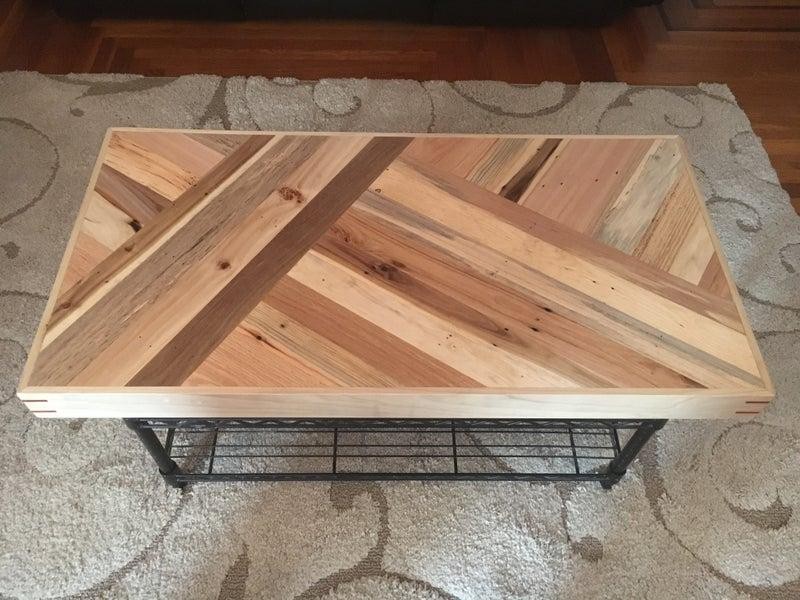 This patterned pallet wood coffee table is an excellent addition to any living room. It features one storage compartment that you can use to store your magazines or even some little books when not in use. You can make this pallet coffee table with just simple tools and some pieces of pallet wood. This is an ideal project for beginners and kids interested in DIY projects or to help you around the house.
Infinity Coffee Table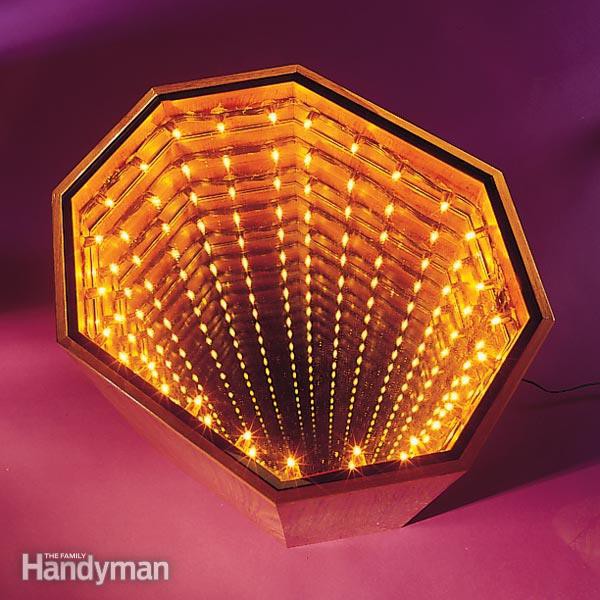 This coffee table is perfect for a modern home. It features sleek, clean lines and a look that will make your guests feel like they are standing in an infinity tunnel. This DIY project will take about a day to complete, but adding a bit of zen to your living room or bedroom is worth it. It will be sure to impress your guests, and you'll have a one-of-a-kind piece of furniture in your home.
DIY Caradonna Coffee Table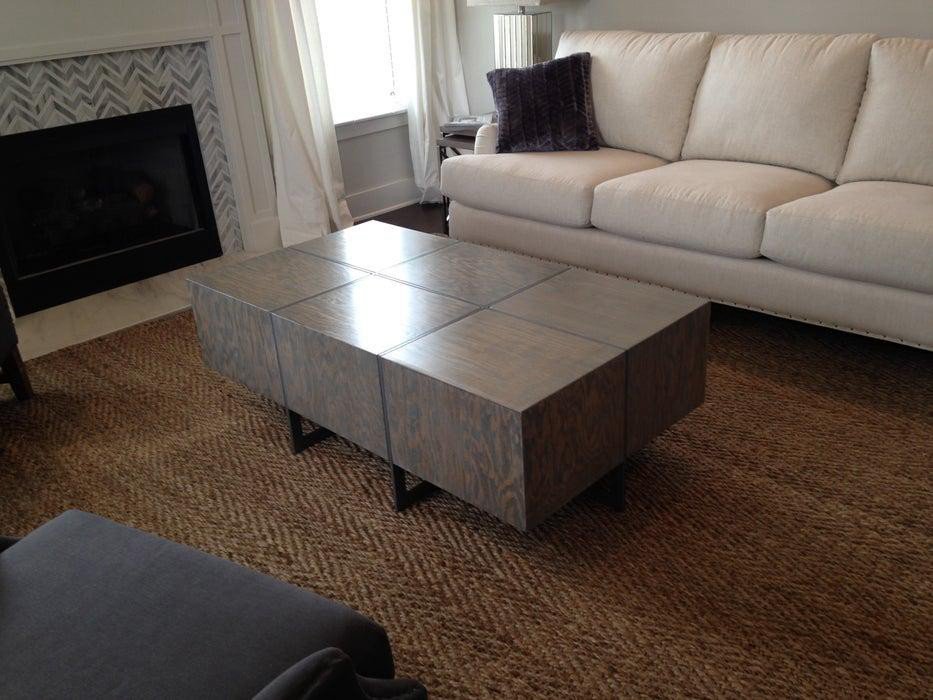 The Caradonna Coffee table has been designed with a beautiful and unique wood top. The base of this coffee table can stand on its own, but if you'd like to save space, you could use the base as a storage unit under the table. There's nothing better than a centerpiece that can double as a place to rest your feet or set down your cup of coffee. With this versatile DIY Caradonna coffee table, you don't have to choose between function and style. This table is simple enough for any beginner yet complex enough to make your crafty friends jealous!
Reclaimed Wood Coffee Table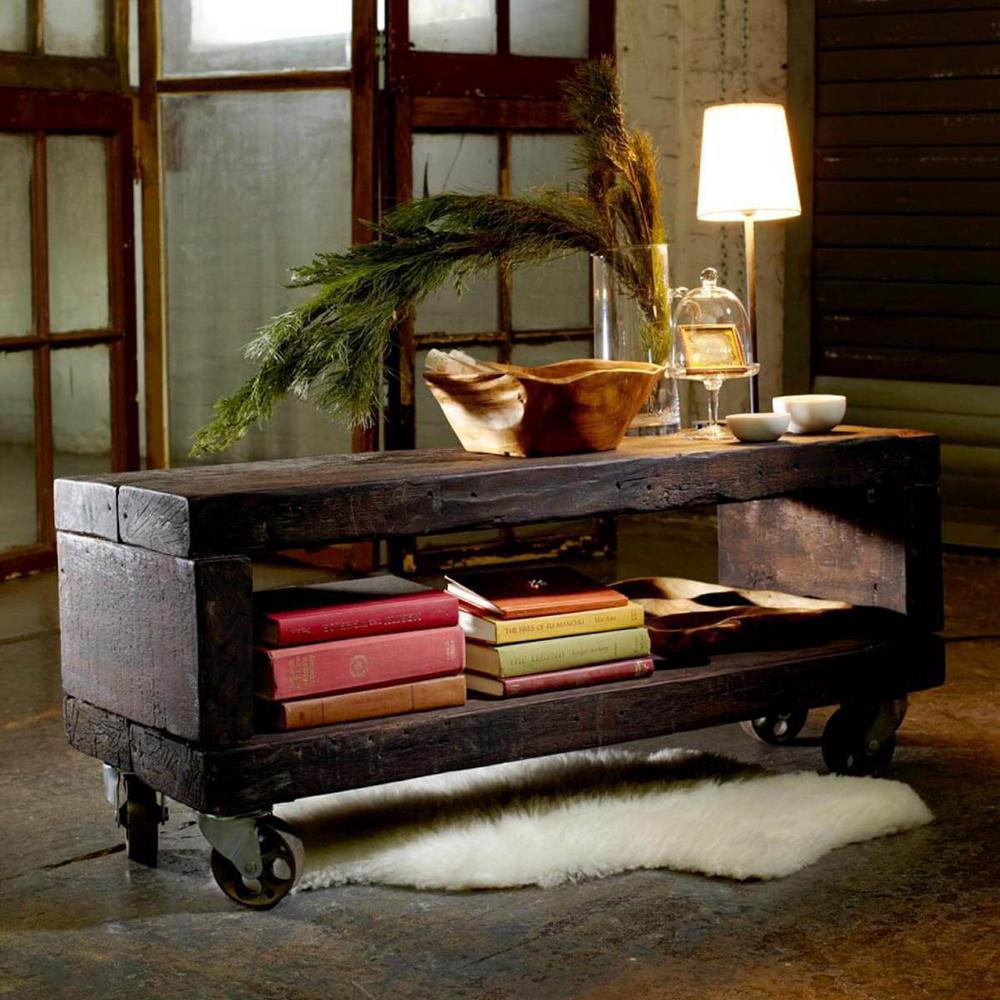 Bring a bit of rustic charm to your room with this beautiful table. It has tires that make it easy to move around and a shelf where you can place your favorite books or just about whatever you want. Ideal for a farmhouse-themed home, it will be sure to fit in any style. This functional piece is made of reclaimed wood and has a shelf for storage, making it ideal for offices or living rooms.
Simple Coffee Table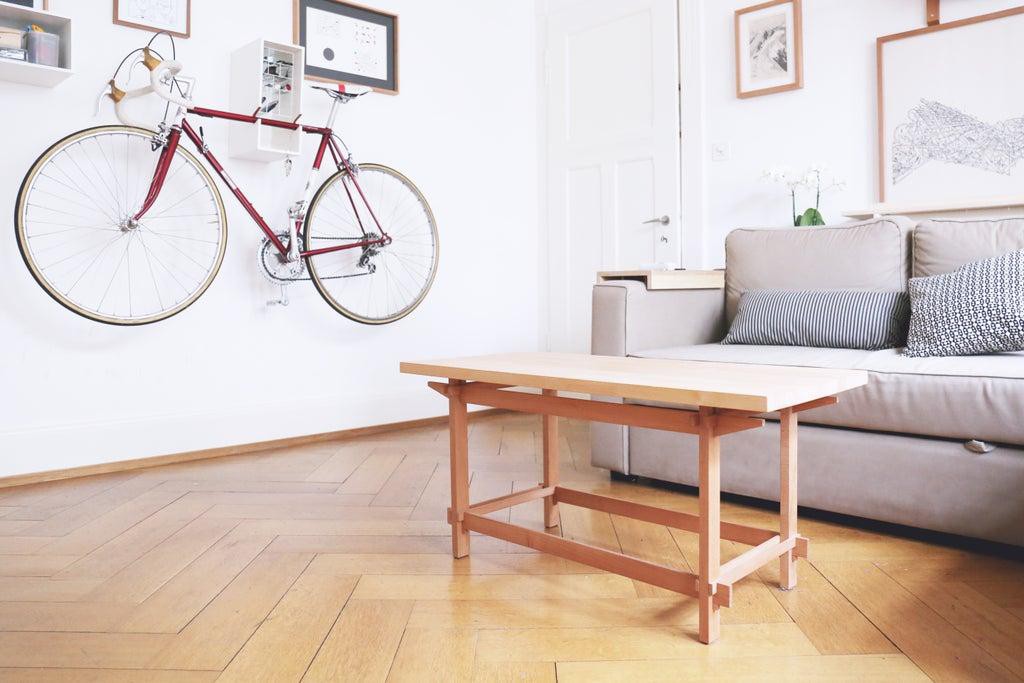 This simple coffee table design is made from solid wood. It's simple yet classy and will look great in your living room. With some woodworking skills, you can build this yourself. You need to have some woodworking skills to be able to make it, but it will look fabulous in any home decor. Build this simple coffee table, and you'll add some character to your home! The plans are easy to understand and will have you building this project in no time!
Black Coffee Table DIY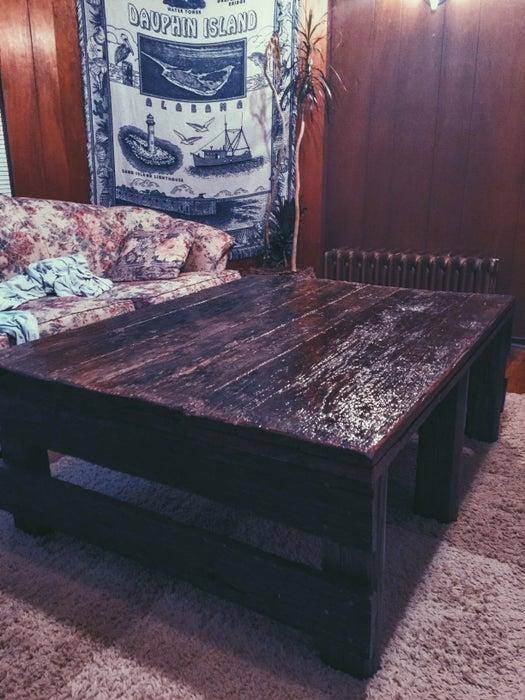 Do you love black? Then this coffee table is for you! Making this black coffee table DIY is a great way to add a little bit of style to your home without spending a fortune. This simple coffee table has an elegant and minimalist design that will look great in any living room. It has a sturdy construction can hold anything from books and magazines to snacks. This table can be used in large rooms or spaces, so it's versatile enough to work with most living areas.
Hybrid Coffee Table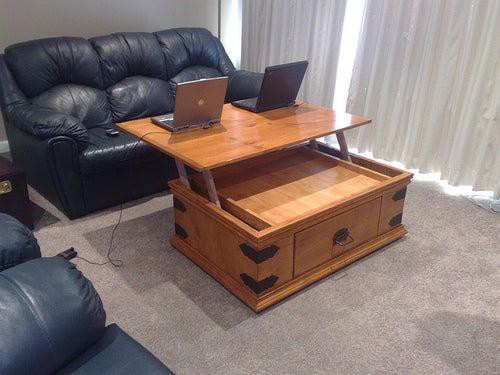 This gorgeous hybrid coffee table adds a beautiful, functional touch to your living room. This unique piece has ample surface area for your drink and snack setups and hidden storage space for commonly used items like magazines, coasters, and more. This project is the perfect combination of convenience and stylish! The integrated handle makes it easy to move around when you need to clean up the area. This guide shows you the complete procedure.
Old Door Coffee Table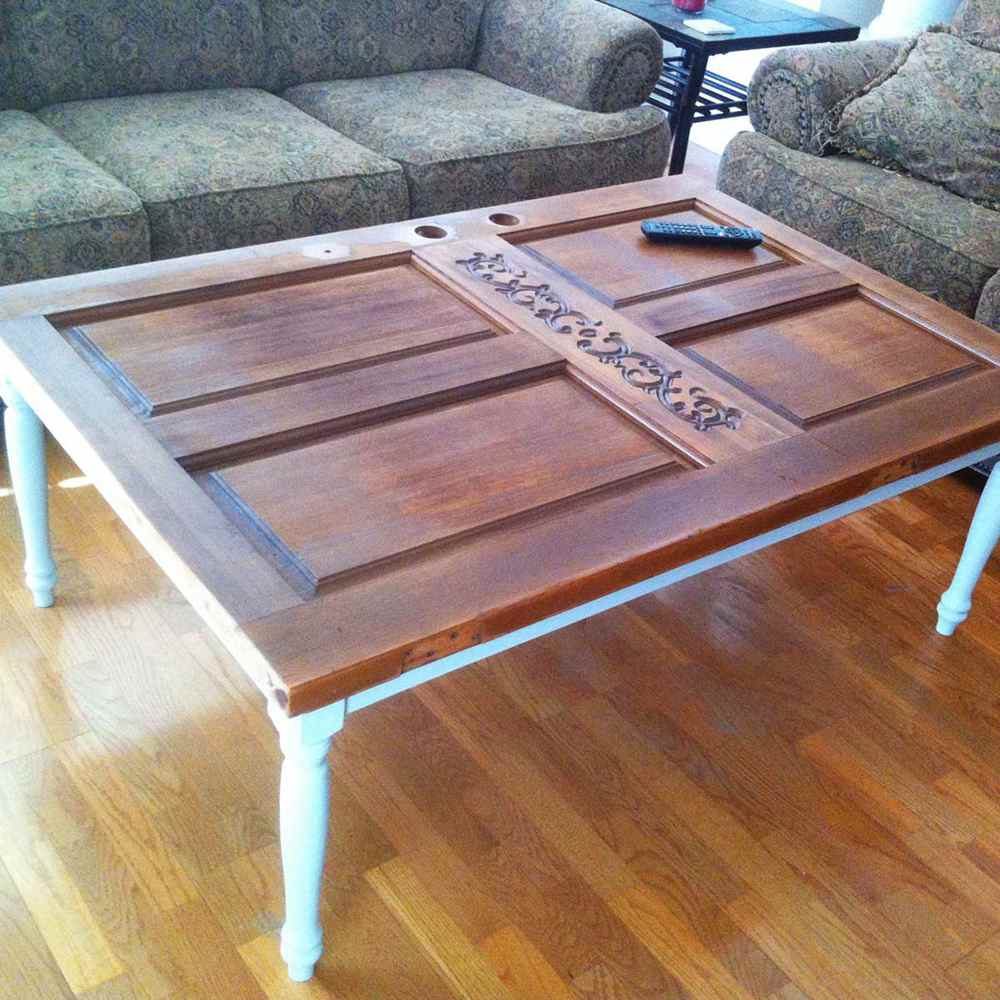 Has an old door lain around? Don't worry; you can use it as a coffee table. Though this idea might be a little challenging, you can proudly show it off to your friends and family once you get it done. This Old Door Coffee Table offers a rustic aesthetic and has room for storage, making it a practical choice. In fact, a person who loves to entertain guests would want to own one of these. This offers a unique and nostalgic aesthetic that can be easily incorporated into any room, providing a piece that feels at home in both modern and contemporary settings.
Concrete Coffee Table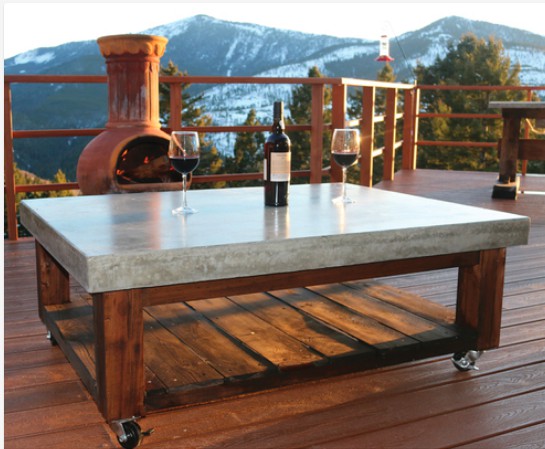 This beautiful concrete coffee table is another excellent piece for your home. Made to look similar to stone, it would be perfect in an outdoor space. It's very sturdy and durable with its thick concrete top and solid frame, so it won't blow away if you get caught in a storm. Everyone will want to come over for a hot cup of coffee! Making one isn't so complicated and doesn't take much time. The finished product looks fantastic in your home for many years to come.
 A Bit Extra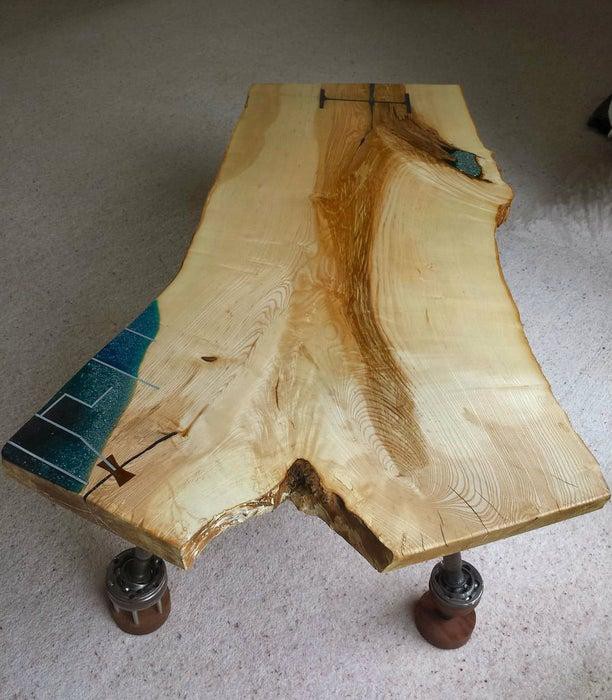 This unique and creative coffee table idea features a delightful mix of wood and metal construction, making it a conversation piece and a great addition to your home. This is a unique coffee table idea you can make yourself home. It's not like the regular coffee table. This is the one if you're looking for a unique coffee table with very cool designs. Go through this guide to learn more!
DIY Coffee Table With Flower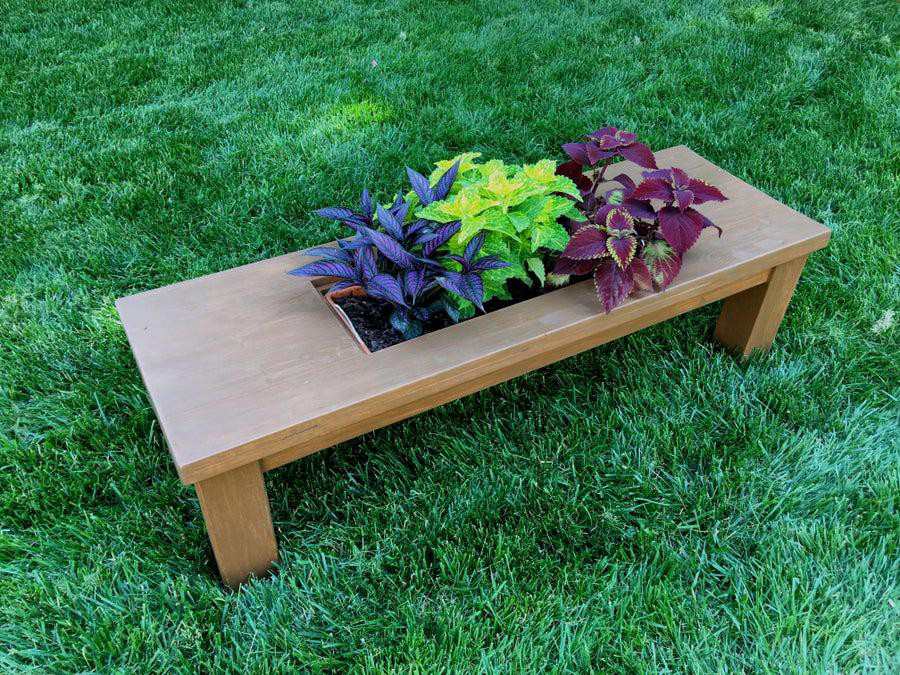 This quick and effortless project will help you bring your outdoor decor to the next level. The best part? It's made from items you already have in your home. This DIY Coffee Table with Flower will fit in just about any setting, from being placed next to a deck chair or on its own as a focal point. This beautiful DIY coffee table is easy to make and a great addition to any backyard; this sturdy table is sure to be a hit at your next summer party or family gathering.
DIY Barrel Coffee Table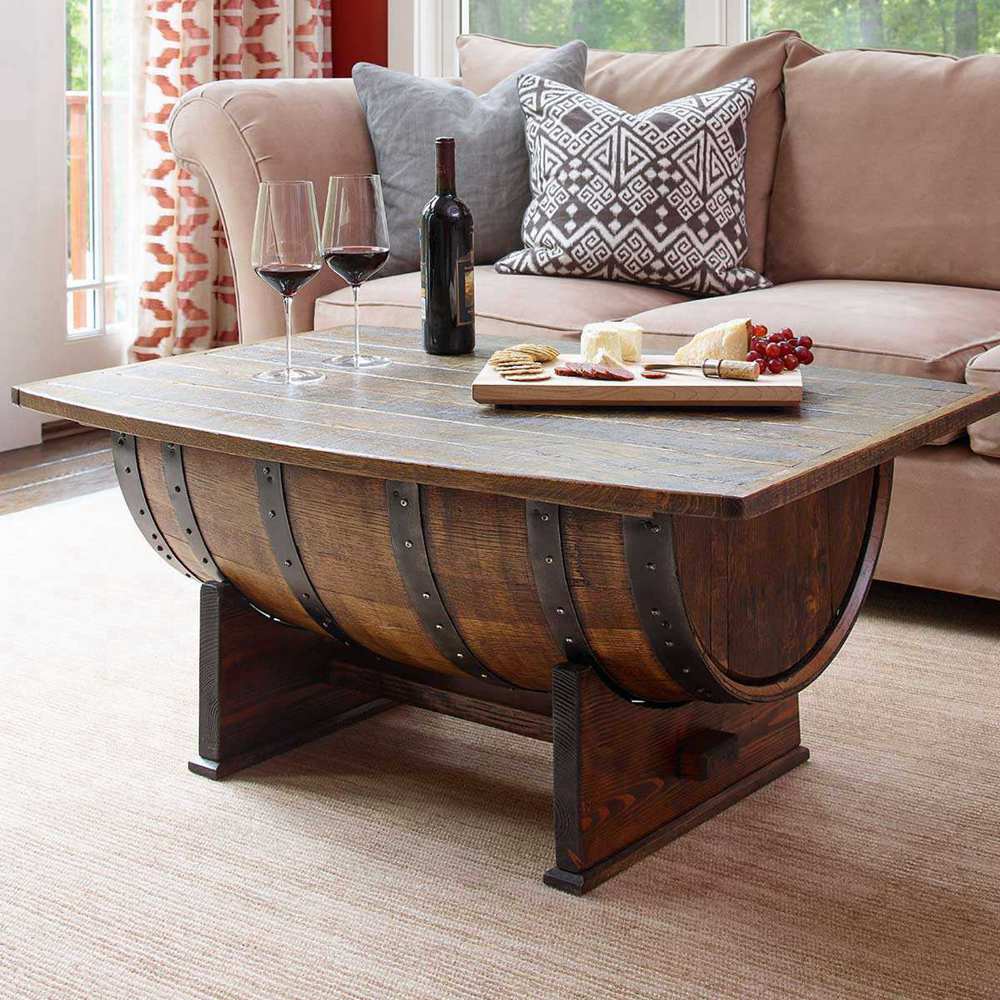 Are you looking for an excellent coffee table that makes your room look glamorous? Then this DIY Barrel Coffee Table will be the best option for you. You can make it with significantly less effort, and you need to spend only a few bucks on it. It is not too expensive, but it will require some skills to make it look presentable. Even so, if you succeed in making this table, your friends and guests will definitely admire it because of its uniqueness. This is not just an excellent piece of furniture but adds a lot of beauty to your home interiors.
Sudoku Coffee Table DIY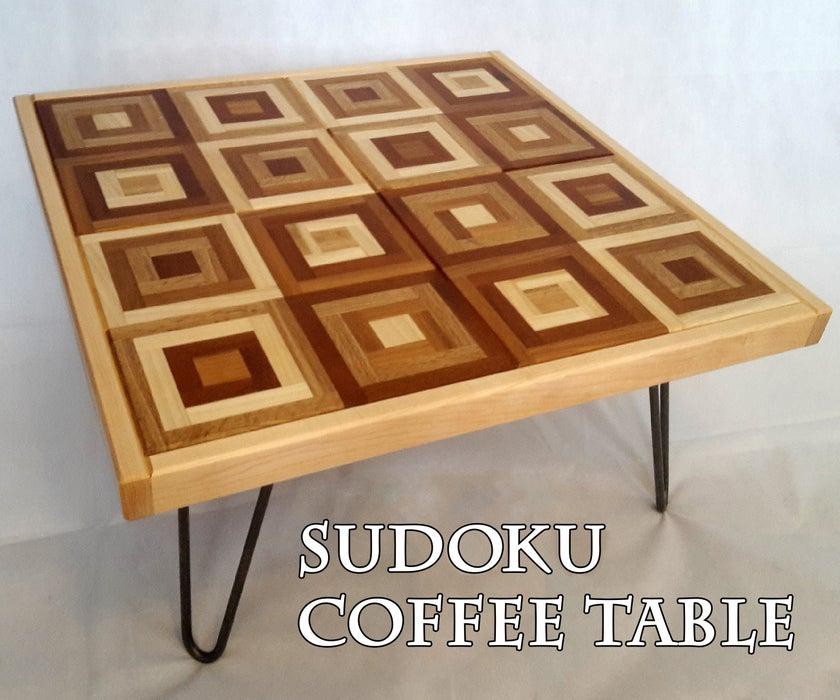 This sudoku coffee table DIY project is a great way to be inspired by the classic game and add your own twist to it. Plus, you can use the finished product in any room of the house, not just where your coffee cups are safe! The tabletop is easy to make and fun for the whole family. Just follow the instructions below, and you're on your way to making a table that matches any décor.
DIY Piano Coffee Table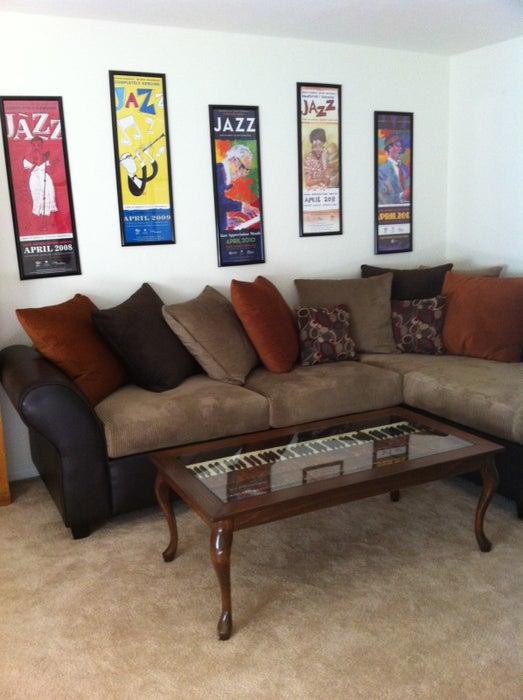 If you are a piano fan, this DIY project is right here. This package has all the materials needed to build a beautiful coffee table. Whether you play piano or not, this DIY piano coffee table project is a great way to bring the beauty of grand pianos into your home. All you need to do is follow the step-by-step instructions, and your work will be done within an hour or two. Once completed, your coffee table could be the talk of the town!
DIY Tree Stump Coffee Table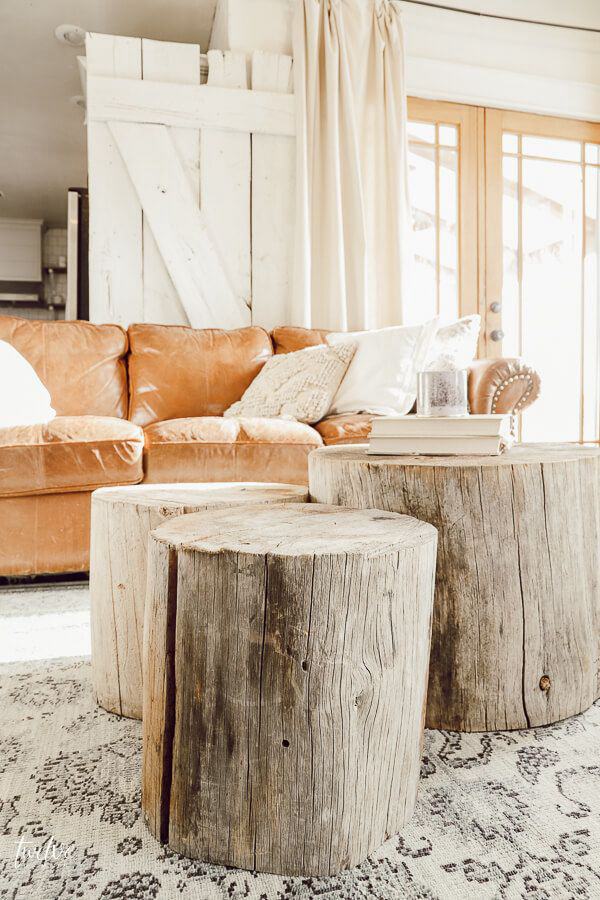 Do you have a few old tree stumps lying around that are just taking up space in your backyard? Why not create a stunning coffee table from them? This DIY project is simple and super budget-friendly. So, Add an extra level of personalization to your house with this DIY tree stump coffee table. It's a fun and original way to recycle a piece of wood, and you can finish it however you want—using paint or staining. The cool thing about this project is that you can rearrange your stumps whenever possible!
Balustrade Coffee Table DIY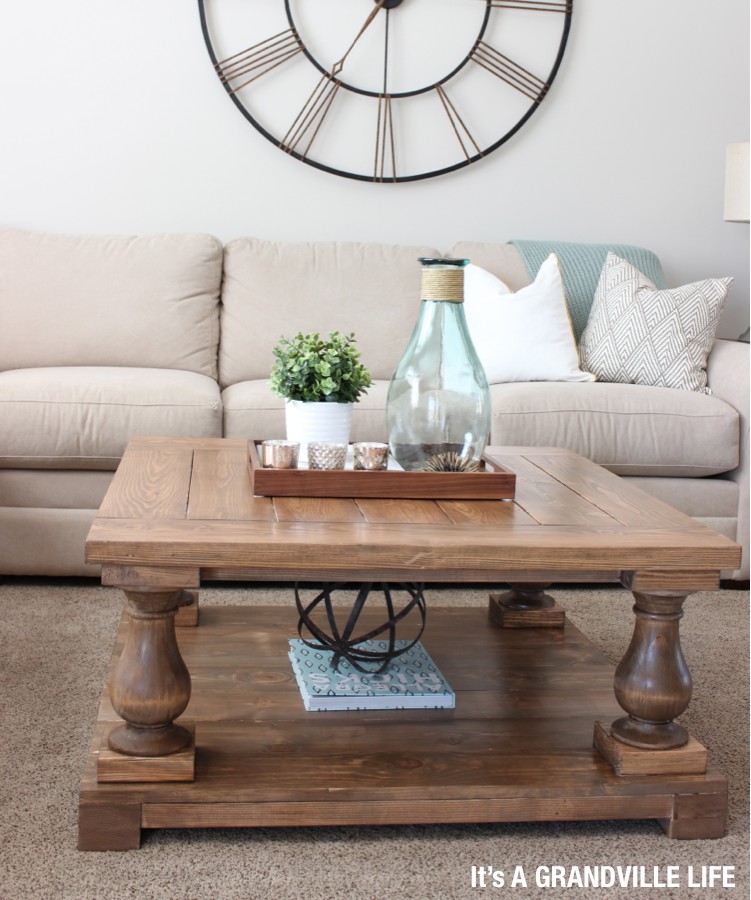 This coffee table is perfect for you if you want to transform your living space into an elegant and cozy place. The best part of this table is that it doesn't take much money to make it so. In fact, all you need are some materials that can be found around your house and they will help you make this coffee table. This coffee table is strong, beautiful, and sturdy. It shows off your personality and tastes without breaking the bank.
DIY Chicken Crate Coffee Table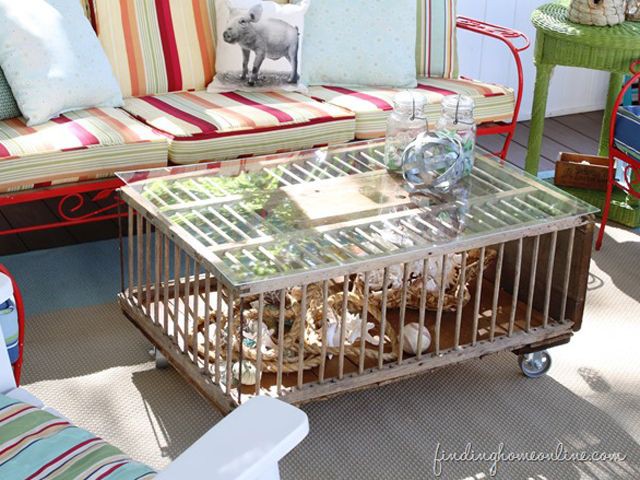 This project is an excellent alternative for the average coffee table. This coffee table is made from a chicken crate and a glass top; it has wheels to make moving it more accessible and is designed to look beautiful in any room in your home. The easy instructions will show you how to turn that ugly crate into a beautiful coffee table, perfect for gatherings and entertaining guests! So, If you are looking for a DIY chicken crate coffee table with wheels and a glass top, this is the guide.
DIY Minecraft Coffee Table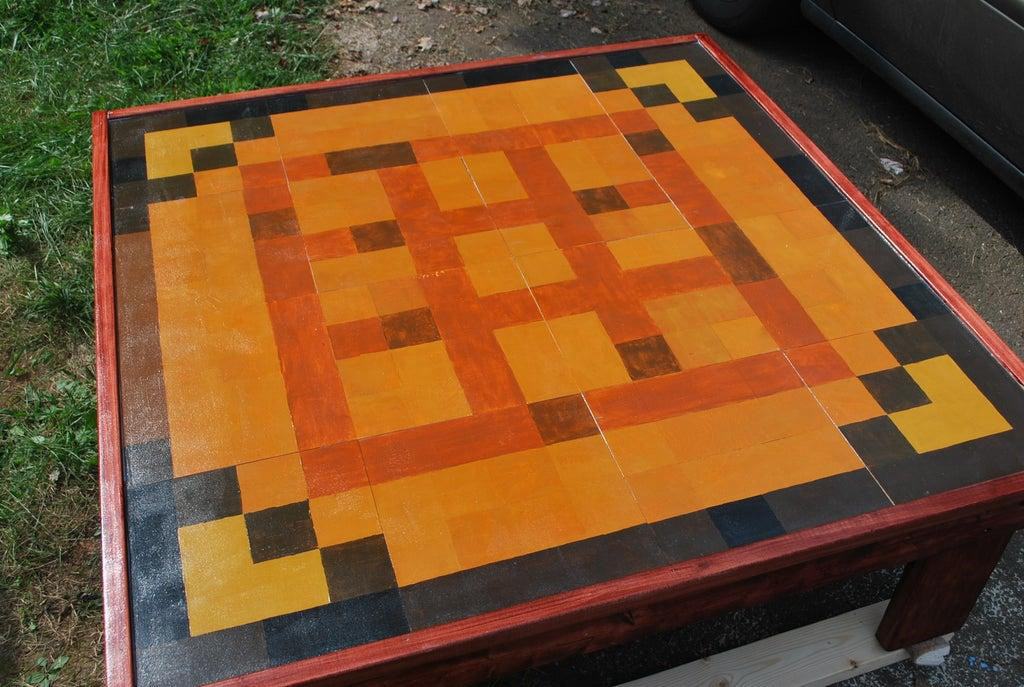 Minecraft is a fun game, and this DIY Minecraft Coffee Table is an excellent way to show your love for the game while also having a functional table. It is easy to make, and all you need is some wood that you can buy at any hardware store. The cut is simple, and you don't have to be a pro carpenter for this project! This project requires some work, but if you are willing to put in the time and effort this table will be worth it. This is an easy project and, with some care, can last a long time.
DIY Wood Slab Table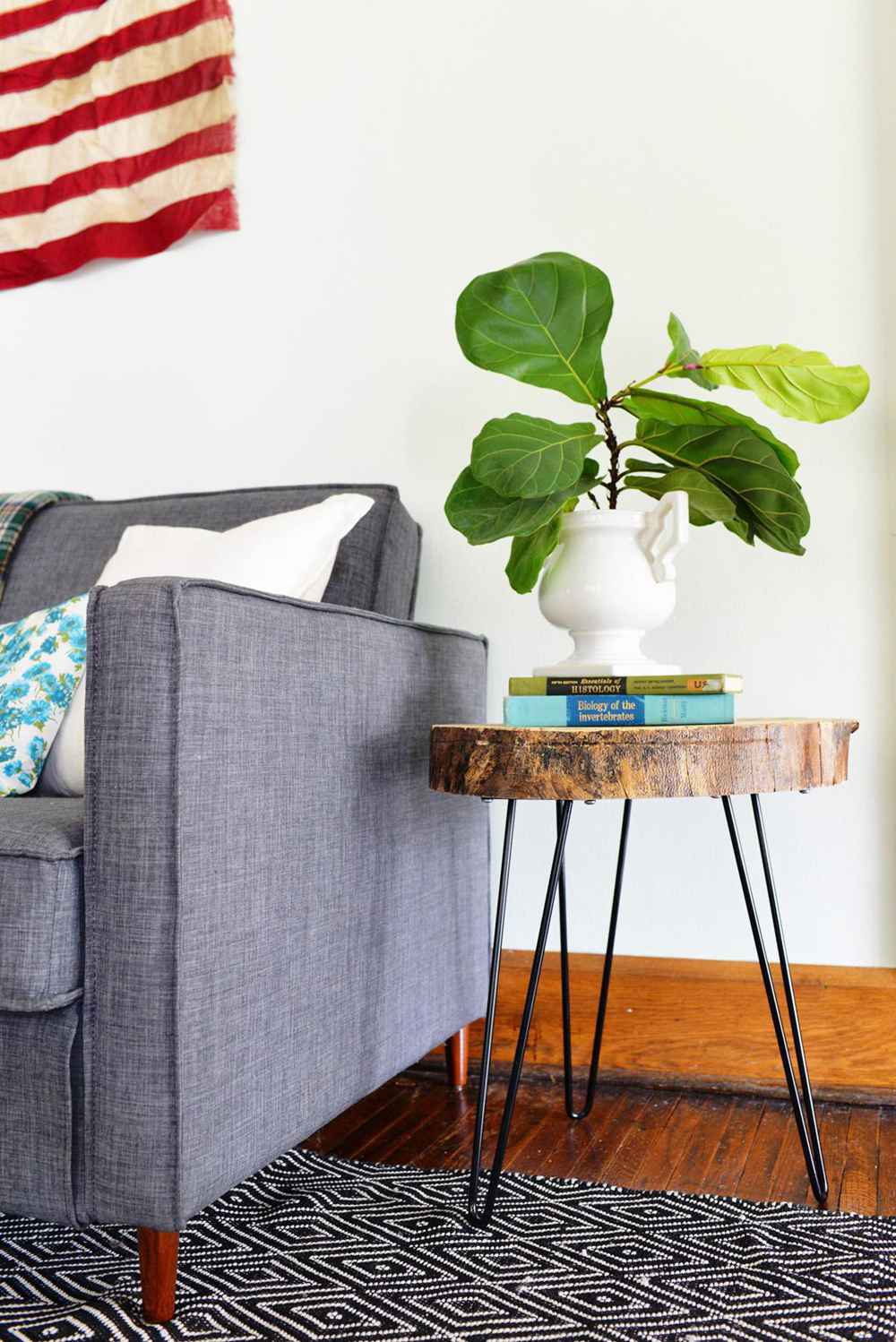 This coffee table is perfect for anyone who wants a lovely and rustic coffee table in their living room. The sleek design of this table is very appealing. The finished product makes it look more professional. This project is simple and elegant. It's perfect for a small apartment or condominium but will also look great in your home office or den. You do not need a professional home improvement guy to build this coffee table. All you need is some wood material and some tools, and you are ready to go.
Simple DIY Coffee Table Ideas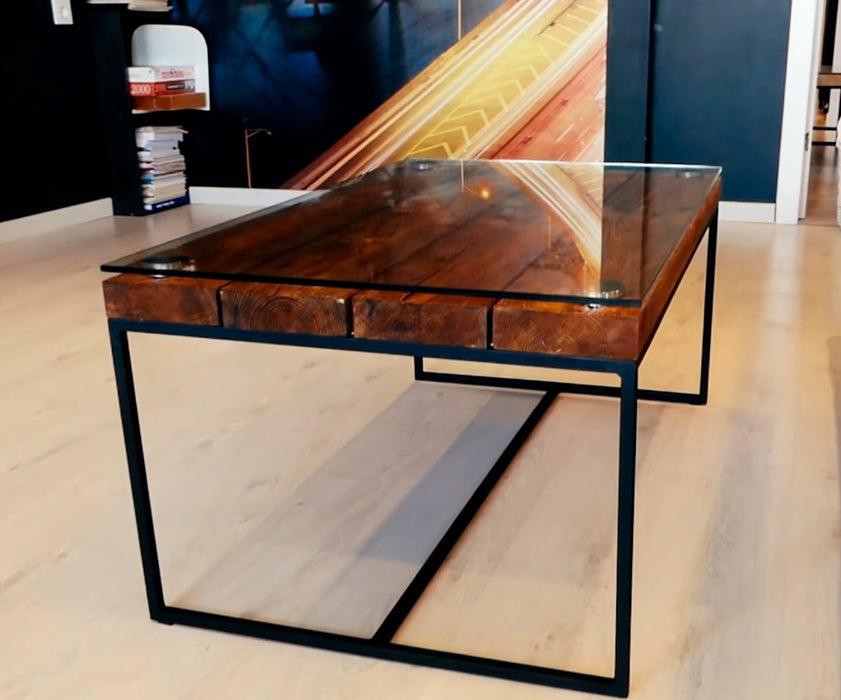 Are you looking for a DIY coffee table that is simple yet functional? If yes, well, then this tutorial is perfect for you! This simple DIY coffee table might be all you need. The table is made of glass, wood, and metal, creating a gorgeous design that almost anyone can recreate at home. Building your own tables may seem intimidating, but with this tutorial, the process is simple, easy to follow, and even fun!
Cute Coffee Table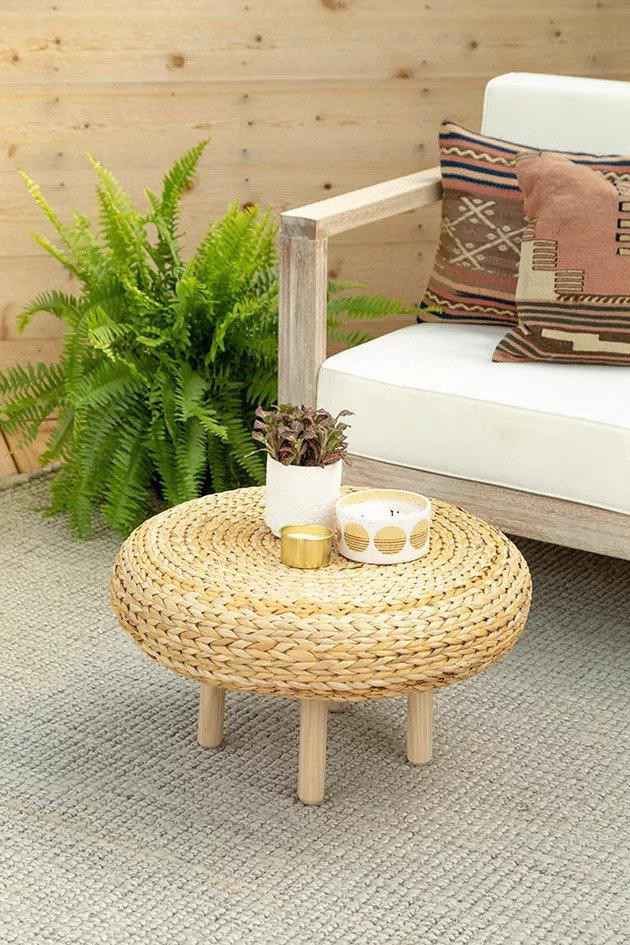 Whether you're hosting a small party at home or simply having coffee with friends, this wooden tabletop coffee table is the perfect addition to your living space. Its simple yet sturdy design can easily be added to almost any favorite room in your home; this Cute Coffee Table is a quick, easy, and budget-friendly DIY project for your home. The creator of this table was able to transform IKEA's Lack table into an outstanding piece of furniture that's also sturdy and long-lasting! This versatile piece can be used in your living room, entryway, or as a side table by the bed.
DIY Round Coffee Table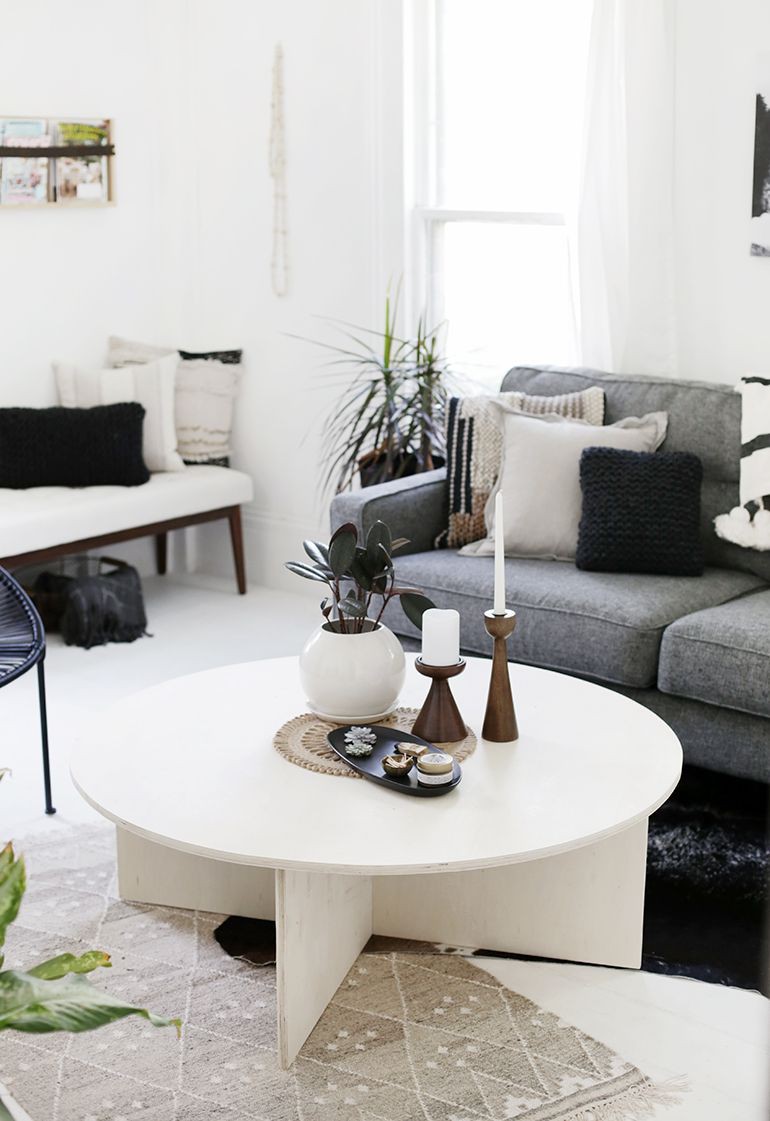 Get the most out of your living room space with this DIY Round Coffee Table. This well-constructed table is made from high-quality wood and features a bold espresso finish that can fit any decor style. You can create a unique coffee table that you can call your own. It is effortless to assemble and requires no special tools, making it simple and fun. The raw wood looks great in any decor, so you don't have to worry about suddenly changing your mind later on.
You can also see: DIY Changing Table Plans 
DIY Storage Coffee Table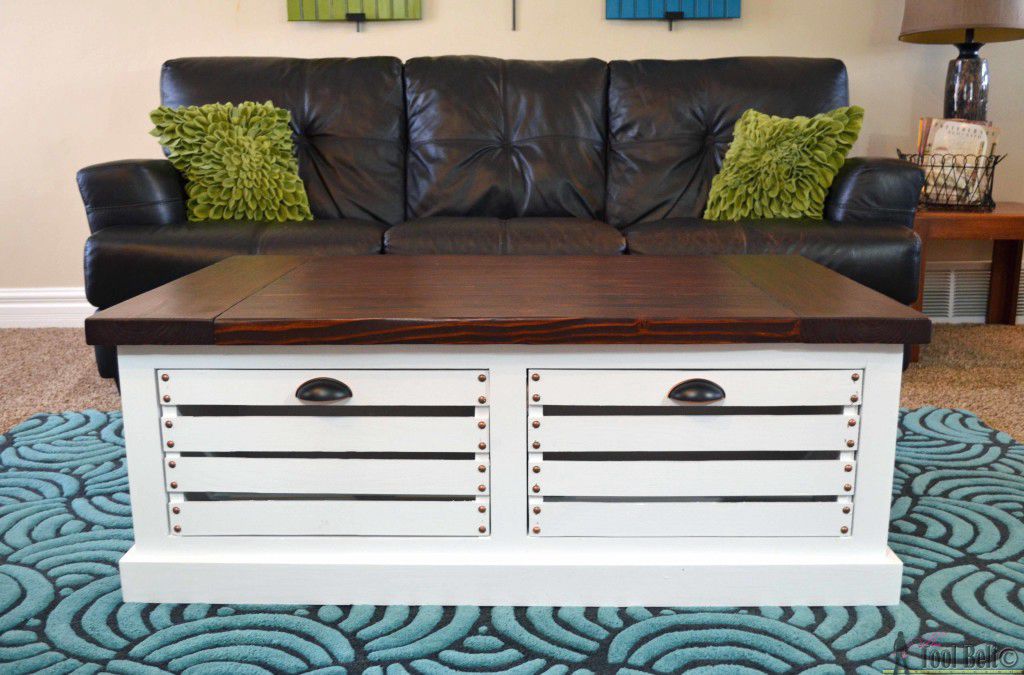 This DIY storage coffee table is a great way to add more storage space to your home. It's perfect for displaying beautiful decor and accessories while providing storage space. This is a straightforward and inexpensive DIY. You can use old pallets to build this. Then paint your table and add any wooden elements you need: magnets, hooks, compartments... It's all up to you! Use this guide to learn more!
DIY Checker Coffee Table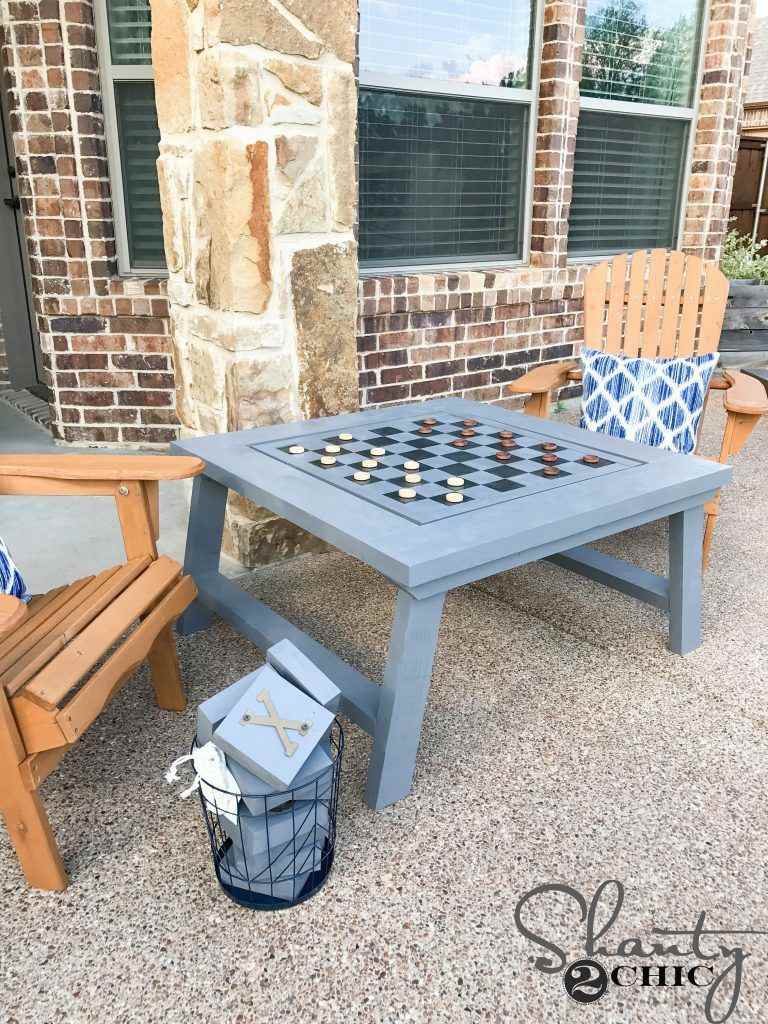 This DIY checker coffee table is the perfect solution for board game playing on your couch, and it will look great in any living room. You can challenge your friends to a game of chess or checkers while having your coffee. This is one coffee table that all should have. Not only will you be able to challenge your friends to a game of chess, but the board may also become a place to play with your children or sibling. You'll never get bored!