Pigs love to eat and will eat almost anything they can get their hands on, including garbage, if they are not given enough food or if they aren't properly fed. Therefore, you must provide them with plenty of fresh food, so they do not become overweight or underweight from lack of nutrition. These DIY Pig Feeder Plans will show you how to build a simple wooden pig feeder that is sturdy and inexpensive. If you are looking for a cheap way to feed your pigs, Here are some DIY Pig Feeder Plans that are perfect for young and mature adults.
Homemade DIY Pig Feeder Plans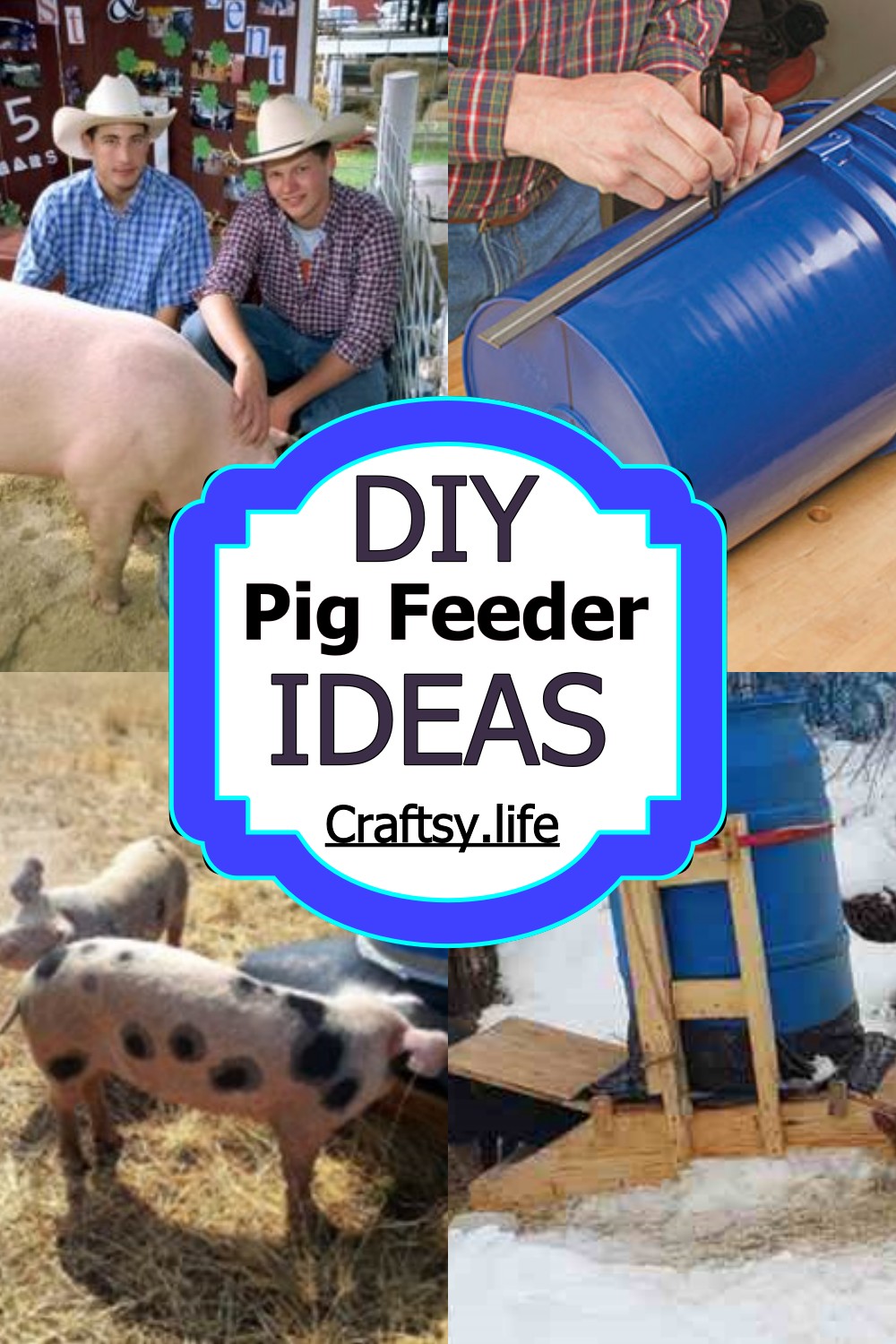 Pig feeders are a great way to keep your pigs happy, healthy, and well-fed. This simple DIY feeder is an excellent addition to your homestead, but it's not just for pigs. You can use it for sheep, goats, chickens, and more! The best part is if something happens to your pig feeder, you can quickly repair or replace it without spending much money! Here are some unique DIY pig feeder plans to help you build your own feeders. Build your pig feeder with these easy-to-follow 10 DIY Pig Feeder Plans! Includes ideas for indoor and outdoor solutions and the ability to feed multiple pigs at once.
See More: DIY Bird Feeder Plans To Help Birds This Summer
DIY Pig Feeder Plans
Pig feeders are easy to make and keep your piggies happy and healthy. Pig feeders are easy to make and keep your piggies happy and healthy. These DIY pig feeder plans will have you building up your pig feeder in no time!
There are many benefits to having a pig feeder in your backyard:
It's more humane than using commercial feeders with troughs, which can be messy and unsanitary.
The pigs can eat while standing up, which is more natural since they don't sit down to eat like cows or other grazing animals.
You can make it any size you want to fit in more pigs or less space if needed.
Portable DIY Hog Feeder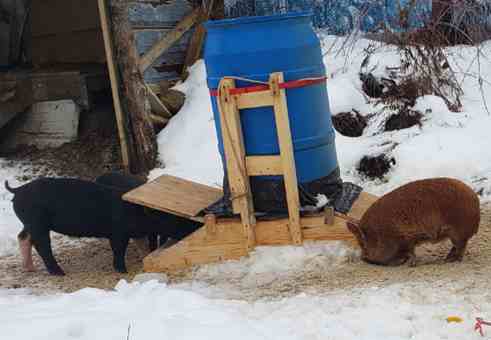 Feed your hogs on the go! This convenient DIY portable feeder is made from an old plastic barrel, which means it's inexpensive and environmentally friendly. It can be used as a basic feeder or add additional features, such as a pig water feature at the bottom. The diy hog feeder also doubles as a holding tank. Build this easy-to-use mobile feeder for your hogs with just a few simple tools and a plastic food-grade drum. The DIY hog feeder is robust and convenient and should last for years if you follow the tutorial.
Pig Trough Buildup
This trough feeder is designed to make feeding easier. It has a lid, pop-up grate, and optional pallet planter box. The containers are 5-gallon buckets that are notched together to create a trough shape. The buckets can be easily cut with a skill saw or hack saw. All you need are two standard 5-gallon buckets, one to make your structure and the other to fill with water, so the pigs don't get thirsty while eating.
Easy Pig Feeder Plan
Get ready for a taste of complete satisfaction in feeding your pet pig when you get this DIY easy pig feeder plan. It is a homemade woodworking project primarily written for making one sturdy and convenient pig feeder that helps keep the expenditure low. You are going to learn to make a pig feeder easily and quickly. This DIY project is not difficult to build and doesn't require special tools or skills. It is simple, inexpensive, and very sturdy. The feeder will save time, money, labor, and effort!
Homemade Feeder for Pigs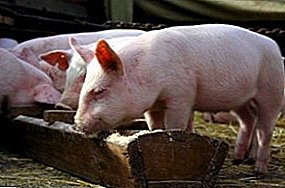 If you are a farmer and have raised pigs, you know how difficult it is to feed the pigs properly. In researching feeding the pigs, the problem is not in growing the feeder but in its shape and other aspects that configure it with the daily routine of a pig. You can make a pig feeder yourself with the help of a few basic materials and common tools. Various designs and methods exist, but this tutorial focuses on three ways to create a new, durable home-made feeder.
Automated Wooden Feeder
The project is designed to create a feeding system that automatically dispenses food at predetermined intervals. The storage space will be made of a customized box, and the food supply will be controlled automatically. You can now create your own automated feeder in just a few minutes and with a fraction of the cost. It's perfect for cats, dogs, or any other pet that needs regular feeding. The box features to feed and water compartments, so you don't have to worry about much else.
Adjustable DIY Feeder
Make a one-of-a-kind feeder unlike any other with this DIY kit! Creating your own is easy; no measuring or cutting is required. Just sketch the outline of your creature, then finish it off with a coat of cardboard paper and start feeding. The Adjustable DIY Pig Feeder is a creative and simple way to make an original pig feeder. You can adjust the size of your feeder opening and move it around independently without requiring precise measurements or tools.
Plastic Barrel Pig Feeder
Are you looking for a practical and economical way to feed your pig? The plastic barrel pig feeder is an easy DIY project to help you feed your pigs conveniently and save time. You can use this feeder for domestic or wild pigs. Pig feeders can be ridiculously expensive, but this DIY barrel pig feeder is easy to build using an ordinary food-grade plastic barrel. The video demonstration is simple in detail but leaves enough steps to keep pace.
Waste-Free Feeder Platform
This feeder is a very simple design and works well with your small animals. It will allow you to provide food to your buffalo, rabbits, or chickens without overloading their waste bins. You can set this up on your property in a couple of minutes and provide an outstanding way to save money while ensuring that your pigs or chickens are properly eating. Learn how to build a waste-free feeder platform that is easy to maintain and keep clean. This design requires no power tools so it can be built with the help of your children.
Upgraded Feeder Design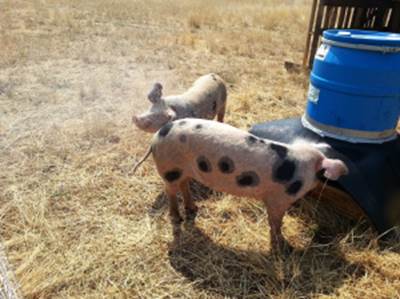 The DIY Upgraded Feeder is your solution to feed and care for your pigs at home. This innovative design will keep your pigs happy and healthy in the best way possible, with no leakages or spillages. This feeder is a great DIY project to protect you and your family from being scratched. A bale of hay or grain protects the feeding area, even if the pigs get aggressive. Here's a DIY upgraded feeder design that you can easily build with a few simple carpentry tools and materials. Filled with food and water, the four-legged troughs attract happy pigs that can rest easy in their new home.
Automated Feeder with Waterer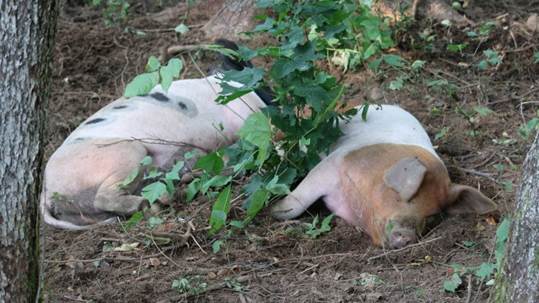 It's a simple feeder that you can set on a timer to deliver food to your pigs. It can work in any weather conditions and is made from durable supplies that are easily obtained. With these plans, you can build your own automated feeder (with water) for raising pastured hogs. It's a great way to feed pigs and other animals efficiently and with little labor required! This design uses a worm-gear powered feeder door with a weight-activated latch that only opens when an animal activates."