DIY bird feeder plans are an excellent way to get your children excited about nature and the environment. You can make these designs at home, using items you probably already have around the house. Bird Feeder Plans is a perfect gift for the bird lover in your home. These DIY Bird Feeder Plans are easy to make and will feed birds throughout the winter months. You can also use these DIY bird feeders as a gift idea if you want to give something special to someone who loves birds.
DIY Bird Feeder Plans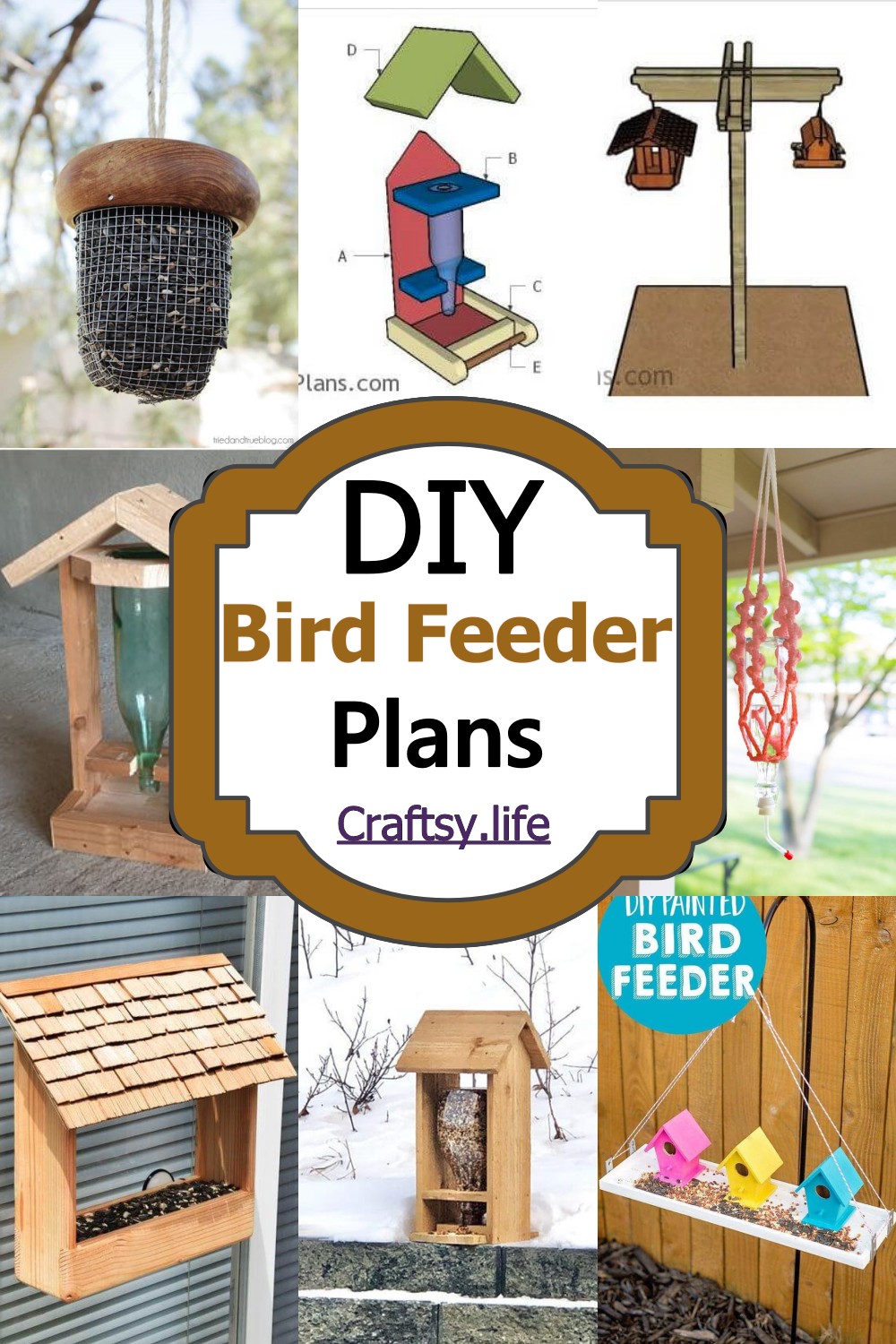 Handmade Bird feeders are some of the best options to attract birds and other wildlife to your yard or garden. They are also a fun project and an excellent way to introduce kids to the joys of birding! Here, you'll find DIY bird feeder plans you can make from everyday household items. You should try making your bird feeder if you like birds. It is not difficult to do, and it will give you the satisfaction of being able to provide food for wild animals.
Imagine attracting millions of birds in the summer. Do you think it's too difficult? No. Make some impressive-looking and unique DIY Bird Feeder Plans to attract the birds in your garden or a roof; their hiring sound will give you a soothing and relaxing effect and is also helpful for them to find water easily in this extra hottest season of summer.
How To Make A Bird Feeder
The bird feeder is a perfect way to feed the birds and enjoy their chirping. There are many feeders, but this one is made using two plastic bottles. Start with a plate and make holes in it for placing the bottles. On opposite sides of the bottle, cut out a square and take off the top part of the bottle. Glue the first bottle to the plate, work on the second bottle and achieve your feeder. This tutorial will show you how to build a simple hanging bird feeder using items you may already have available in your home.
How To Make A Bird Water Feeder
This bird water feeder is a great way to help birds stay hydrated and healthy during the colder months of winter. Homemade feeders can be fun and easy to make. It is an effortless DIY project you can make at home without wasting much time. You need a wood strip, rope, plastic bottle, bowl, and a screw—glue bottle cap to the bowl and add a hole in it where you can place your bird feeder. Then attach the wood strip to the bowl and hang it somewhere near your garden where birds can down water. This bird water feeder is a super quick and easy project that your feathered friends will enjoy.
DIY Automatic Bird Feeder
The DIY Automatic Bird Feeder is a simple solution for feeding your birds, and it is easy to make and fun to build but still manages to look good when you're finished. Feeding birds is a great hobby that many people enjoy. There are different ways to feed them, and all have their benefits. This DIY bird feeder can be made in under an hour with minimal materials and tools required! Make this simple automatic bird feeder with the materials you probably already have lying around your house. It's easy to build and will help keep your favorite songbirds well-fed.
Easy DIY Bird Feeder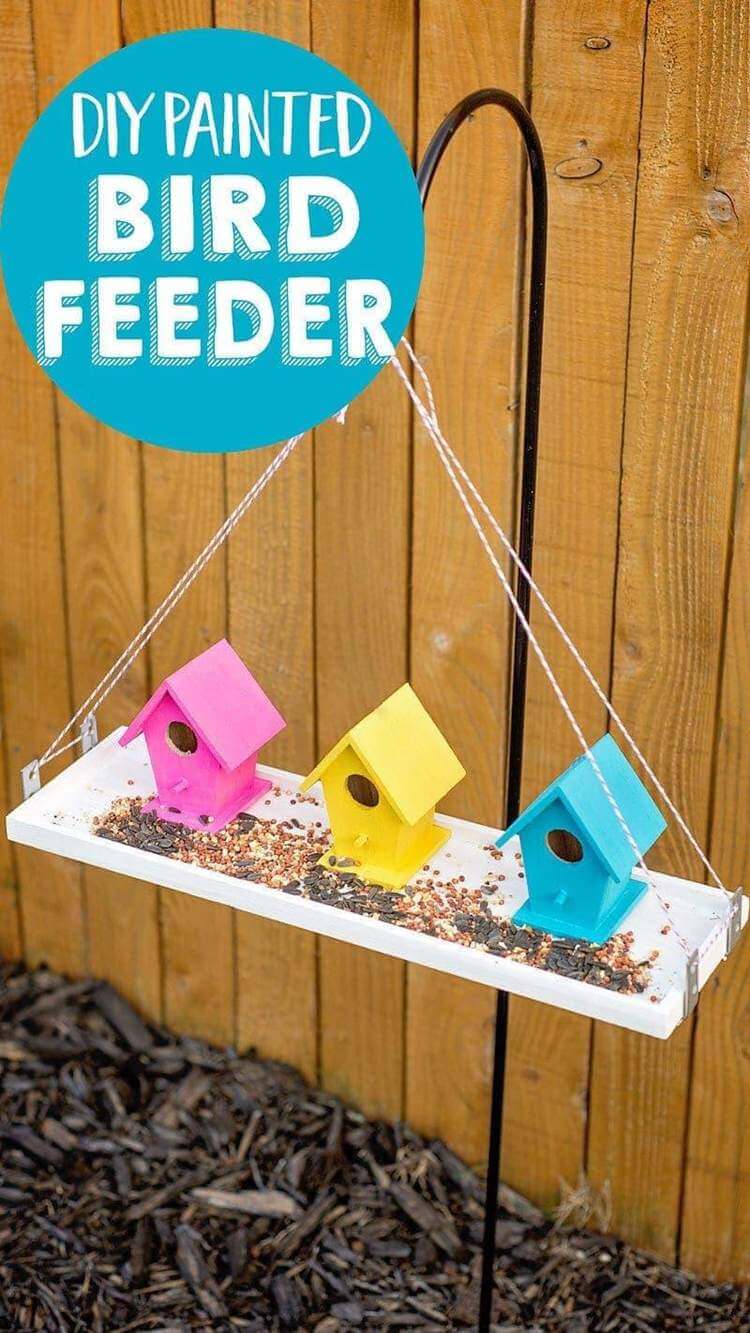 The DIY bird feeder is easy to make and will keep your feathered friends coming back for more through winter. The clear gorilla glue ensures a tight hold, so you get the best shot of seeing all types of birds. This bird feeder is not only fun but also very unique and adorable that you can hang it in front of your window or your garden. You can even paint the birdhouse with designs to are more attractive than the original. The supplies you need are easy to find around at home; all you need is your creativity and time to do this project.
DIY Acorn Bird Feeder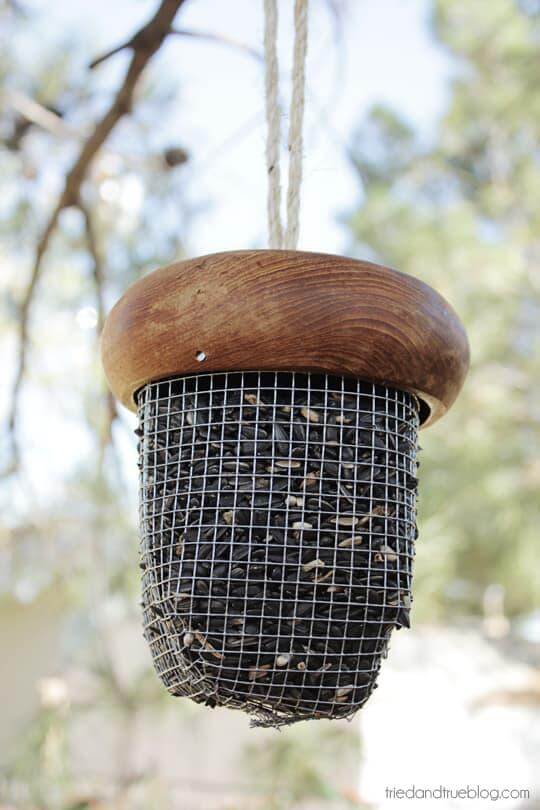 This acorn bird feeder is a fun project that will show off your craftsman skills and be appreciated by the birds. Metal mesh is an inexpensive addition to your project supplies. It is available in various sizes and colors, so you can match it to your décor or add color. The metal mesh has a self-seal feature whereby you fold opposite ends together and twist the opening closed with pliers, creating a seamless look. You can use mesh metal repeatedly for many of your future crafts projects. The DIY acorn bird feeder is a fun craft that allows you to create your personal touch on a bird feeder.
How To Build A DIY Bird Feeder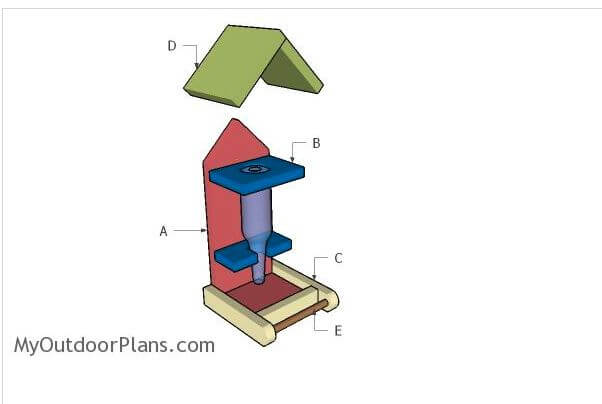 The DIY bird feeder is a fun way to build your bird feeders, and it's simple enough for kids of all ages to help with. Use these plans and easy-to-follow patterns to make your bird feeders. The bird feeder is made of wood, acrylic, and metal. The primary material of this project is thick plywood and hard plastic. As you know, birds are magnificent, or you can say that birds are loaded with colors. The birds have their characteristics, some species of birds are colorful, and some are not so colorful, but all attract human beings in one way or another. Not just because of the dazzling colors on them but also because of their notes and songs that resemble your heartbeat.
DIY Bird Feeding Station Plans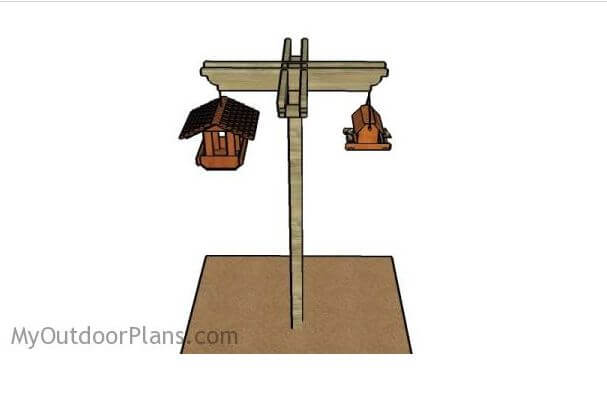 A bird feeder can be the best way to attract birds for your pleasure and entertainment. With this DIY bird feeder plan, you will discover all the secrets you need to know to create a functional bird feeding station that will provide your feathered friends with a cozy place. This DIY project can turn a small and poorly designed bird feeder into an elegant piece of art that all the birds in the area will enjoy. The design allows you to use materials you already have at home, so there is no need to go out and purchase new ones.
DIY Low-Cost PVC Bird Feeder
This is a simple diy project to make your own low-cost PVC bird feeder. It is incredibly cheap and fun to make, and you can use any durable birdseed. Birds will love it, and if they don't like it, have fun making it! This is a simple homemade bird feeding station that you can build in your backyard. The design is based on the traditional PVC pipe bird feeder, but it adds a non-stick pizza pan under the roof to catch falling seeds and other materials. This makes easy cleaning vital because unsanitary debris may attract pests or spread disease.
How To Make Easy Bird Feeder
Bird feeders are a big way to attract birds to your yard, but they can be expensive to buy. Instead, make a DIY bird feeder of your own by getting materials from around the house. Making a bird feeder is easy with a plastic bottle and everyday household items. Make sure to choose a bottle with a wide mouth opening so the birds can eat comfortably. Cut holes in the cup, bowl, and tray, secure them with a screw, and add seeds. Place this hung on your tree and watch as birds come to enjoy their meal!
DIY Bird Feeder From Plastic Bottle
The DIY bird feeder from a plastic bottle is an excellent way of attracting birds to your garden without spending money on expensive commercial food or relying on seeds scattered over the ground. This DIY bird feeder is made using readily available tools and supplies, making it easy for anyone who wants to have their homemade place to attract birds. It offers birds a safe place to eat food, which is safer than eating food that threw on the ground or floor. You can easily and quickly make a bird feeder for your garden as well as in your backyard.
How To Make A Bird Feeder
This bird feeder is easy to make, lasts long, and attracts a lot of birds. You will love watching them eat from your feeder; most people love birds. You never stop yourself before craving to feed them some treats. They usually hang a feeder in the backyard or put a bowl with seeds near their windows. However, suppose you are a person who loves using cookie cutters. In that case, there is another way to feed your birds without wasting money on all those unnecessary things like birdseed and various accessories. This project will not just help them to get food but also entertain them with beautiful shapes.
How To Make A Bird Feeder With Glass Bottle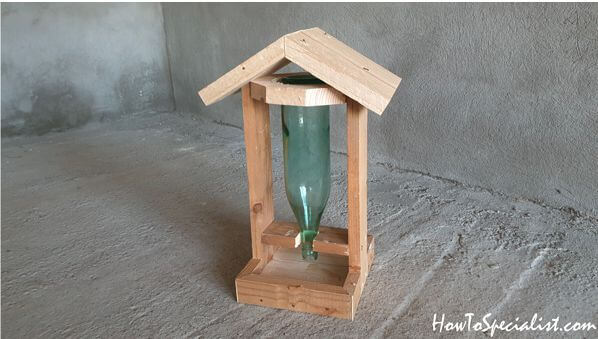 This feeder is made from wood and glass bottles, so it's both stylish and functional at the same time. This beautiful bird feeder you can make with your own hands. This project takes some time because it involves woodwork, but it is something you will appreciate for years. It will also provide an excellent way to get outdoors and enjoy yourself. This tutorial will teach how to make an excellent bird feeder with a glass bottle. It's ideal for backyard bird lovers who want a unique and beautiful way to attract birds to their yards.
How To Build A Platform Bird Feeder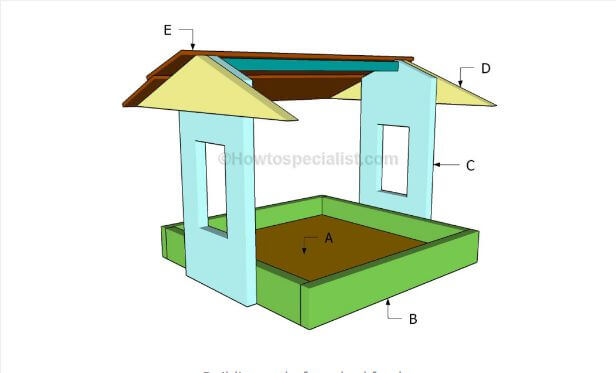 A Platform bird feeder is the most popular type of bird feeder you can make at home. It is simple to build and easy to maintain. This feeder design has a modern look and can be built out of either wood or metal. It will keep the food fresh and dry without attracting unwanted pests. Try this design today if you want to attract bluebirds, chickadees, flickers, finches, nuthatches, titmice, and other small birds to your backyard. The platform bird feeder is a popular and exciting way to attract birds. The blend of perching and feeding makes it very comfortable for the birds to feed on.
DIY Bird Feeder
This is a mini hut for random birds if you enjoy listening to singing birds, and it is a basic and quick one that doesn't require any particular skill. It is made of scrap ply pieces and dry grass where water and seeds are kept for the birds in a small container. It has an opening on one side where a bird can come in and fly out, providing a hanger to hang in front of your window where you can enjoy watching them closely. Here is a simple and easy DIY bird feeder that can make out of plywood scrap. This is the best way to enjoy birds singing and chirping in your garden.
DIY Easy Bird Feeder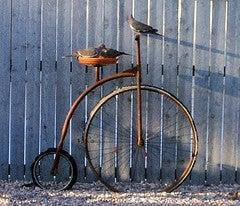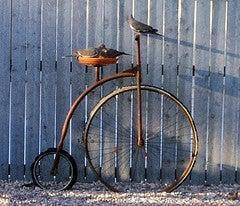 This DIY Easy Bird Feeder is the perfect project for summer, and it is also simple and easy to build yet will provide hours of entertainment for your family and guests. It is a great idea to make a bird feeder in your backyard so that you can be amazed by nature and wildlife. You don't need to build any complex thing but use an old bike. Look at this DIY Easy Bird Feeder made of an old bike and other stuff. This is a simple DIY project that you can set up with helpful tips and tricks. You'll have a functional bird feeder in no time!
How To Make A Bird Feeder
This bird feeder is made so it will attract birds who love to feast on food, and it has a beautiful design crafted out of cedarwood and glass. A strategically designed stand keeps your feathered friends coming back for more. It's easy to make and perfect for the first-time carpentry enthusiast. This is the easiest way to build a bird feeder with no skill and a beautiful look. You need some cedarwood and some glass items, one or two pieces of metal rods, and some screws that will cut the rest according to the needs of your design.
DIY Bird Feeder From Plastic Bottle
A bird feeder is a superb way to interact with nature and help local birds survive during the winter, and it is made out of a plastic bottle. It can last for months and provide your yard entertainment all year long. Start by cutting the bottleneck from its top and then use your wire and make a hole on one side of the backup using the pliers. Next, put a CD/DVD marker around its base to give it a steady surface while you also create more holes in it. After making enough holes, remove the marker and fill each space with four plastic caps. Lastly, attach a screw to the top of your bottle where you've just created the last hole and place them on top of each other.
Homemade Bird Feeder DIY
This homemade bird feeder is pretty fun and easy to make, and you can also make this at home by using an empty water bottle and a pair of plastic spoons. This DIY project requires only a few supplies, and you don't need any tools. This simple yet innovative way to feed birds using things available in your home. You'll only need plastic and spoons as your materials, but creating the seeds' holes will be the trickiest part. It has been placed in the perfect location, attracting various birds. It has six spoons that are easy to use and fill, so adding food will be no problem.
How To Make A Bird Feeder With 1 Board
A bird feeder is a must for anyone who loves nature and birds, and it can be a simple woodwork project that children can do with the help of an adult. Making a bird feeder is not all that hard to do if you have the right tools and know-how. Here are all of the steps involved in creating your very own feeder. Making this bird feeder with a board is a great project to learn the art of woodworking. Since the tutorial will provide details on making one, It is always beyond an individual's imagination to process in a single thought how to do one thing with just one board.
How To Build A Wine Bottle Bird Feeder
Bird feeders are great ways to attract wild birds to your yard, and one of the easiest to make is a wine bottle bird feeder. You need a few basic supplies, and you can enjoy watching birds at your feeder. This bird feeder is simple to make and will attract many beautiful birds to your backyard. Make it out of an old wine bottle and a few other items you might already have around the house. There are lots of different ways in which you could feed birds. However, they can be tricky to keep up with, not to mention expensive when it comes to buying seeds and suet cakes.
DIY Wooden Bird Feeder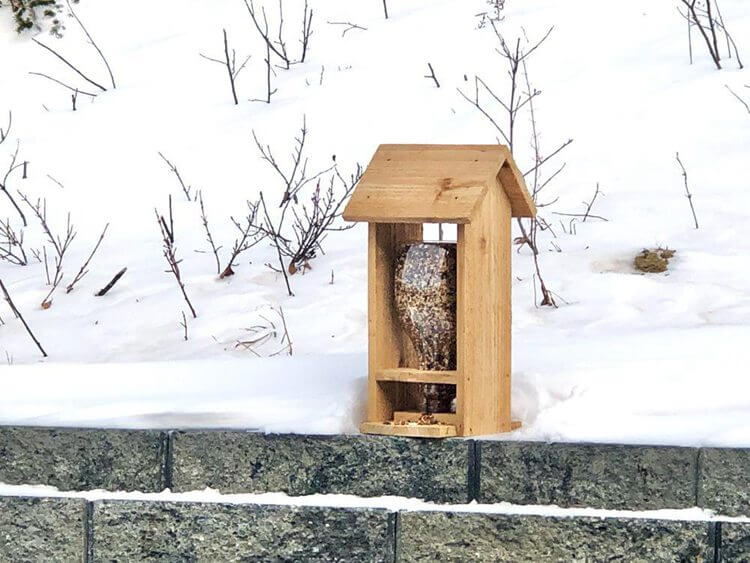 This wooden bird feeder is a fun weekend project; you can build one for next to nothing. Best of all, it's sturdy and attractive enough to be a unique addition to your yard or garden. It works like a typical squirrel-proof feeder; place it where you want birds to visit and watch them flock to it. This DIY wooden bird feeder is perfect for bringing nature to your home or garden. This house-shaped feeder made from cedar is easy to create and makes an inexpensive addition to your yard. Our DIY Wooden Bird Feeder is the perfect way to have birds around your home. Made using cedar, it's affordable and straightforward.
DIY Window Bird Feeder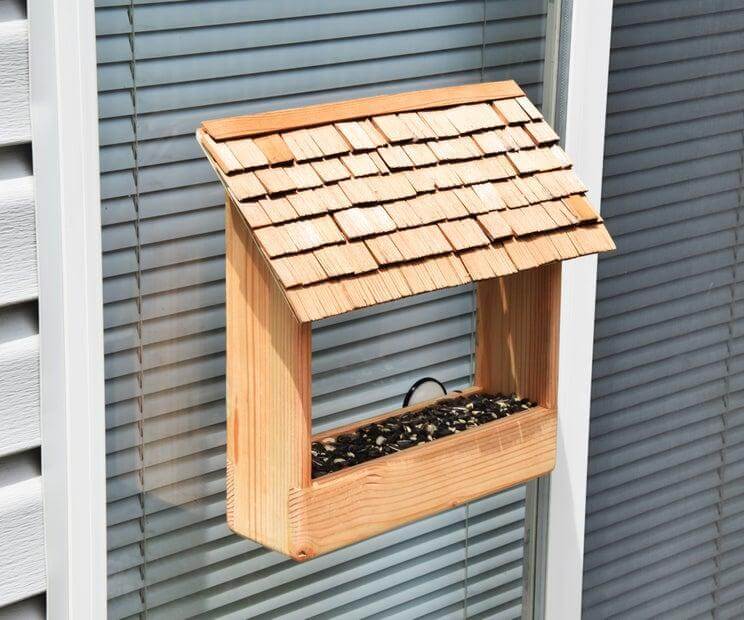 This DIY Window Bird Feeder craft is easy to make, and all it requires is scrap pine, some vacuum suction cups, and a few other everyday items. As this is attached to the window rather than hanging on the tree or lying on the ground, it effectively keeps squirrels away. This makes it even more suitable for those who love birds but are not fond of squirrels. Feed your favorite birds without doing much work. You will need a cut-out for the window, vacuum cups and screws, a pinewood sheet, and feeders that can fill with seed or suet. The window bird feeder will be attached to the window using four vacuum cups.
DIY Macrame Hummingbird Feeder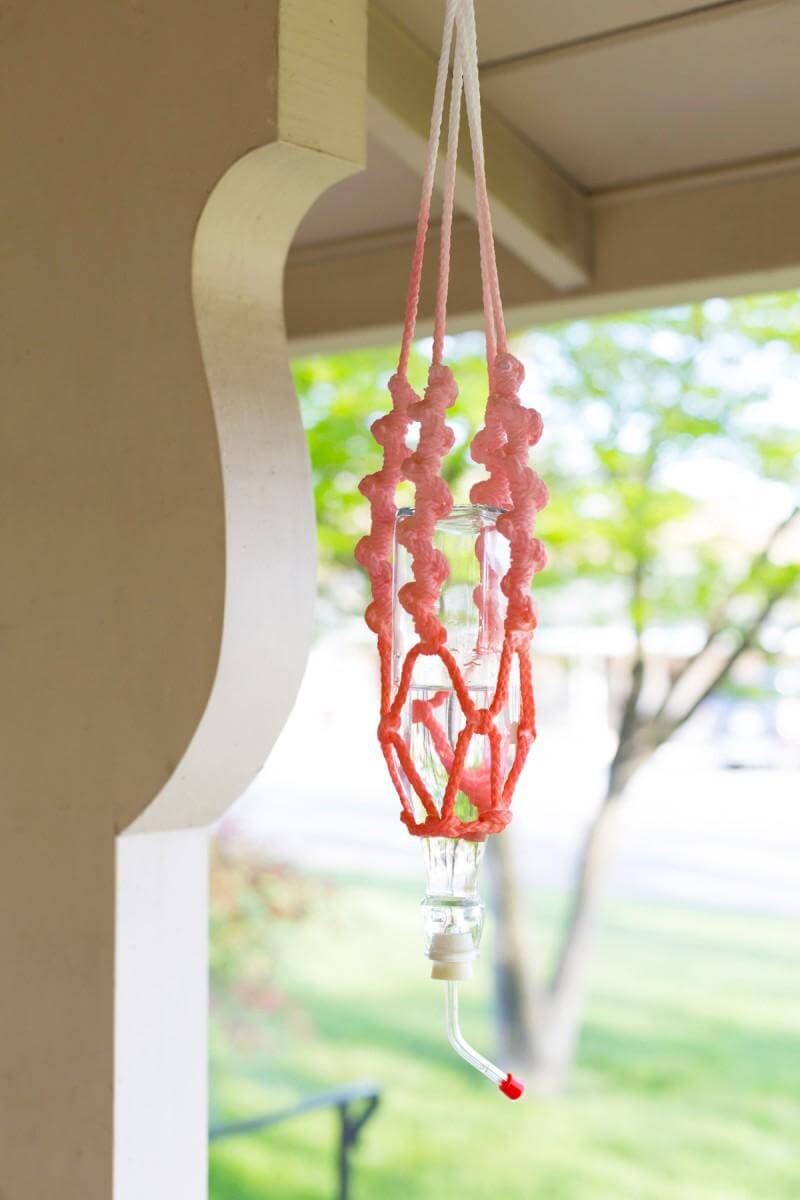 DIY macrame hummingbird feeder kits have everything you need to hang at the perfect spot for viewing. The transparent bottle makes it easy for guests to see the birds at work and rest. The hanging macrame cord allows for easy placement and mobility while also allowing you to watch from inside as these tiny creatures come to feed. You can customize this feeder by using your decorative touches or leave it as is for a unique look. Create a DIY macrame hummingbird feeder with a clear bottle, macrame cord, scissors, and Command Outdoor Wire Hook.
DIY Wine Bottle Bird Feeder
A DIY Wine Bottle Bird Feeder is a great place to start your journey into the wonderful world of bird feeding. This project introduces you to some basic carpentry skills and gives you the confidence to build more complex birdhouses from scratch. Crafted in an antique style, this DIY wine bottle bird feeder is great for any yard or garden. Can make this feeder out of any recycled food-grade glass bottles, but here are recommend using an empty wine bottle. Make your own beautiful DIY bird feeder just the way you want. Get a wine bottle, glass cutter, wood, cutting saw, glue, and screw. Move on, make your beautiful bird feeder, and that's it!
Conclusion
These DIY Bird Feeder plan ideas are among the most significant and widespread projects. They're fun, easy to make and provide hours of entertainment. With so many different bird feeders available on the market, it's easy to get overwhelmed by the choices. Here is this guide to help you find the best DIY bird feeder plans for your needs. DIY bird feeder plans can help you create your unique bird feeders at home. There is a wide range of DIY bird feeders that you can make yourself, and all of them are very easy to make.