The Easter Bunny is a wonderful symbol of spring, which is the perfect time to go all out with some Easter-themed crafts. This year, instead of buying decorations and gifts for your loved ones, show them how much you love them by making them yourself! The bunnies you can create in these DIYs are so adorable that they'll surely be the topic of conversation when your friends visit. Choose one of these 30 DIY Easter Bunny Ideas to create a special memento for someone you love. Whether you're looking to add a little fun to breakfast or are eager to surprise neighborhood children with a gift, these DIY bunny ideas will bring a new purpose to your hopping friend this spring.
DIY Easter Bunny Ideas For Holiday Season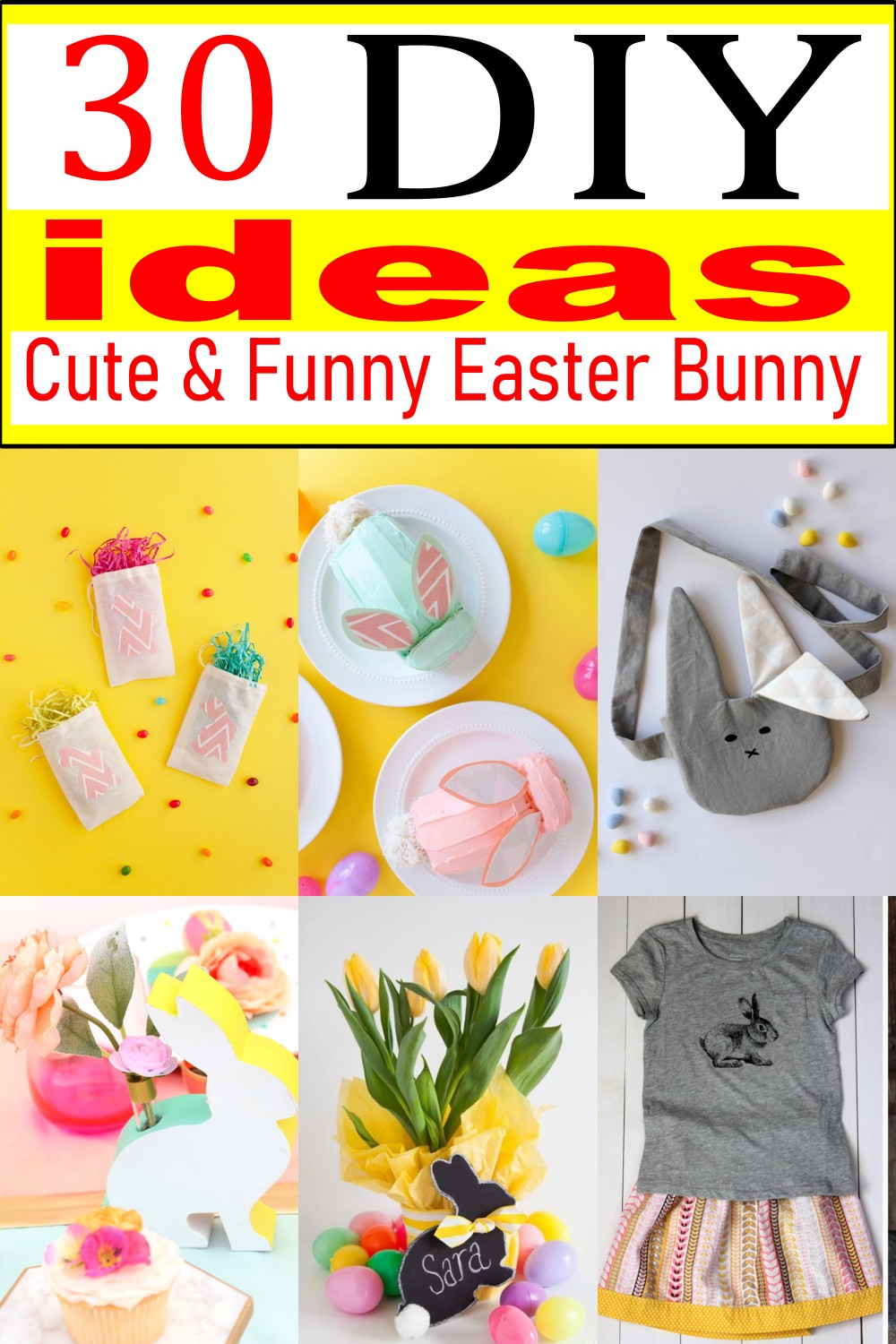 If you're a fan of decorating your home for the holidays, you probably enjoy coming up with creative ways to express your holiday spirit. When it's Easter time, traditions abound: the Easter Bunny leaves treats in colorful baskets, kids get to hunt for candy, and families come together to celebrate spring. But all of these Easter traditions have to start somewhere—with a basket, a candy store, and a family. Here are 30 DIY Easter bunny ideas to help you make your traditions for the future! If you want to give your home that special Easter touch, check out these ideas for DIY Easter bunnies!
How To Make Easter Bunny
Here are some characteristics that you should know about DIY Easter bunny ideas:
It gives you something to do: Easter bunny ideas are perfect for you if you want something to do on a free weekend. They will keep you busy and help you spend quality time with your children, friends, or whoever else may be involved in making these adorable bunnies.
They are fun: Making your own DIY Easter bunny will be enjoyable. You will get the chance to relax and enjoy yourself while working on these cute bunnies. They are also not difficult to make, so even if you have never done anything like this, it will not take long before you master this art form and start creating beautiful works that everyone will love.
They're Affordable: One of the best things about Easter bunny ideas is that they're affordable. You can use inexpensive materials to create some wonderful decorations for your home or presents for friends and family members. The best part about this is that you don't have to spend much money on these projects, so if you're on a budget, this is worth considering.
Giant Origami Easter bunny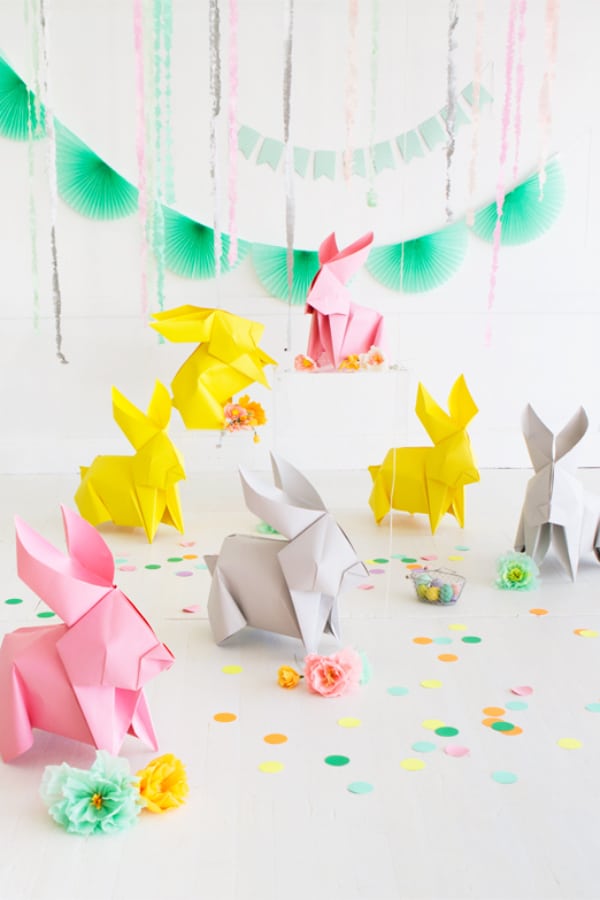 The Origami Easter bunny is perfect for an egg hunt after breakfast. It's quick, easy, and fun to make; your child will love it! You can easily make a few bunnies before Easter morning by using a traditional Japanese folding technique, Origami. Use them as decoration and photo props during the traditional Easter egg hunt. After that, take a photo of your kid surrounded by colorful paper bunnies. It can be quite funny, especially if your child is smaller than these photo props. These colorful bunnies are easy to make and will quickly become a permanent part of the room's design. After all, they look very pretty in a photo after Easter egg hunting or hanging on the wall.
Easter Bunny cookies
Whether you're putting together an Easter-themed party or want to make a few Easter treats for your kids, these bunny cookies are an excellent choice. Not only are they festive and fun, but they're also easy to make. You can even use them as cupcakes with delicious frosting and gum drops. This is going to be such a great holiday! Make Easter egg cookies that are both delicious and fun! This is a simple recipe with an ingredient called Marshmallow Fluff. It is whipped with butter, sugar, and vanilla then cut into shapes and decorated with mini chocolate eggs.
Easter Bunny Cake
Your child will be thrilled with this adorable Easter cake. To make the bunny, you will cover a round cake in white frosting. Then, cut off the top part of the carrot and place it on top of your child's cake at an angle to make it look like a carrot lying on its side. Finally, you will finish this fabulous Easter dessert using candy eggs as eyes. This is an awesome idea to make your Easter Bunny cake! You'll need a carrot, two eggs, a cupcake pan, and some frosting. It's simple enough that even young children can help.
Easter Bunny Banner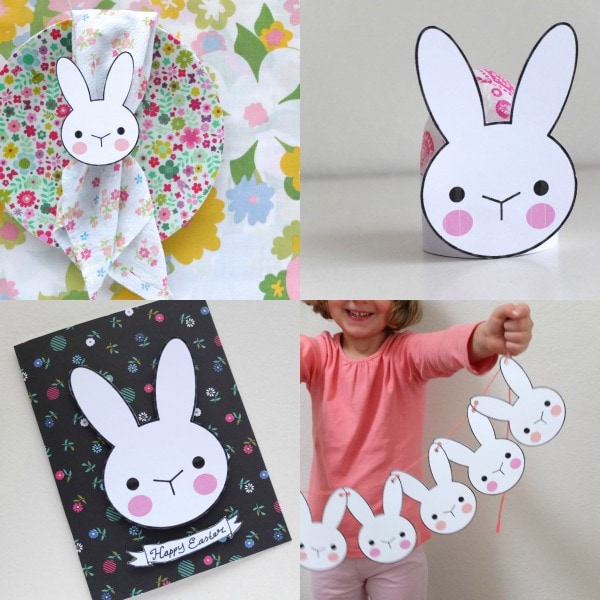 If you love creating DIY decorations, you can make an Easter Bunny banner yourself. This spring craft is very easy to make and suitable for all ages. All you need to do is print the bunny template, cut it out and tie or glue it together. You can put your banner in different spots around your home – on the wall, doors, windows, or entrance. Easter bunny banners are a fun decoration for your home. You can use a rabbit template you like the most and make a banner as a decoration for your home. These are great craft ideas for kids, even if they're just about to start preschool. Kids will have a lot of fun creating these stuffed rabbits that look adorable in any house room!
Easter Bunny Vase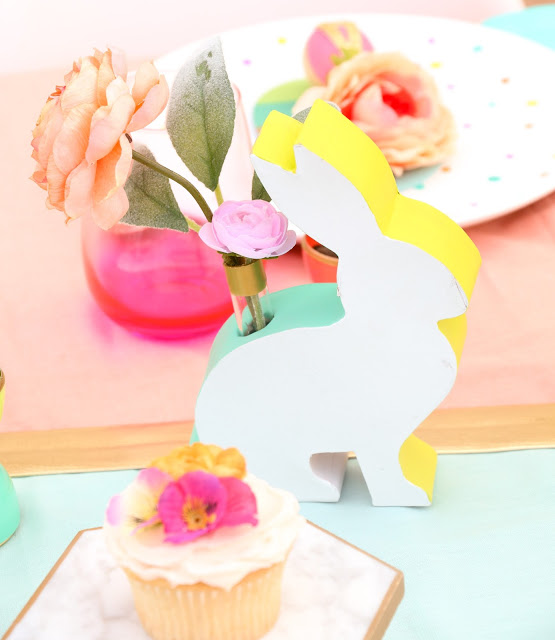 Want to make a special Easter bunny vase? Well, we've got something that's just right for you. This simple project will have a very eye-catching decoration on your table! Add joy and delight to your Easter table. Make a simple paper bunny vase and fill it with your favorite flowers, such as tulips, roses, and hydrangeas. It is sure to look cheerful, cute, and charming. You can easily turn a boring, everyday vase into a cute Easter vase. Paper and people of all ages will enjoy this craft project.
Easter Bunny Gift Tag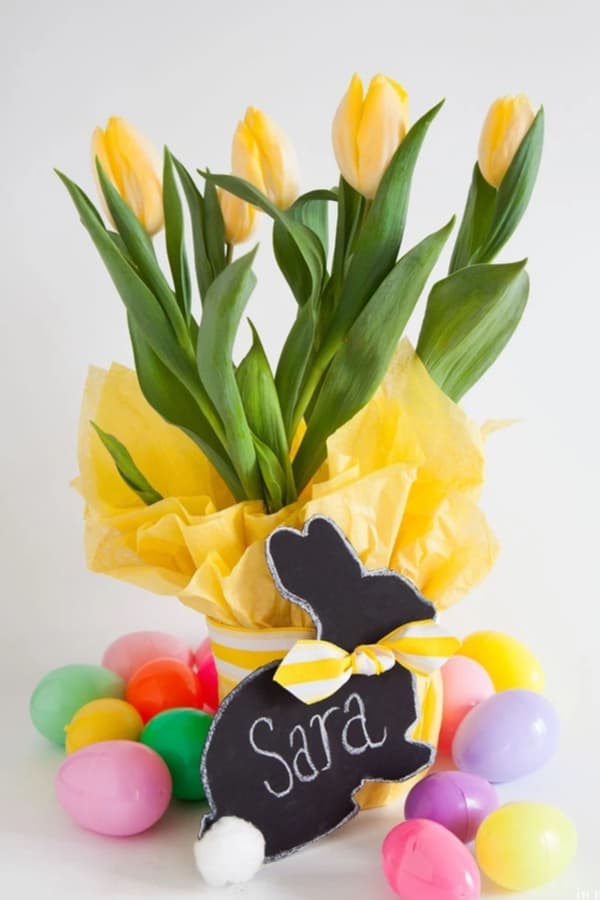 Do you remember when you were a child and put Easter baskets on the table? Cut a sweet bunny from colorful paper, write the person's name, and attach the tag. Attach it to your favorite package with strong adhesive tape, or stick it in your handbag for next year. What an easy way to personalize your Easter gifts! Just cut a fun bunny out of colorful paper, and write the recipient's name on it. You can also make similar holders for cards to have a set.
Easter Bunny Cake Stand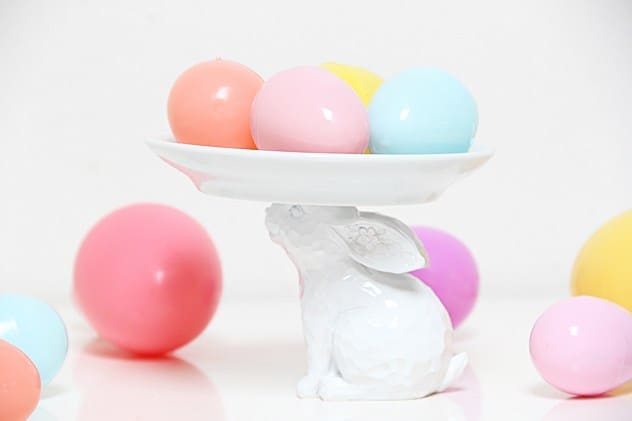 It's easy to create this cute bunny cake stand. Glue a bunny figurine to a glass or ceramic plate, paint it in the same colors as your gift tags and card holders for added effect, and you are ready to go. Creative people like you can wear their creativity in the Easter bunny cake stand. For example, you can paint it the same color as your gift tags and cardholders. You can also create this excellent Easter bunny idea as an ideal centerpiece for your dinner table. This cake stand is easy to make and will be a fantastic addition to your Easter decor!
Easter Bunny Fold-Over Clutch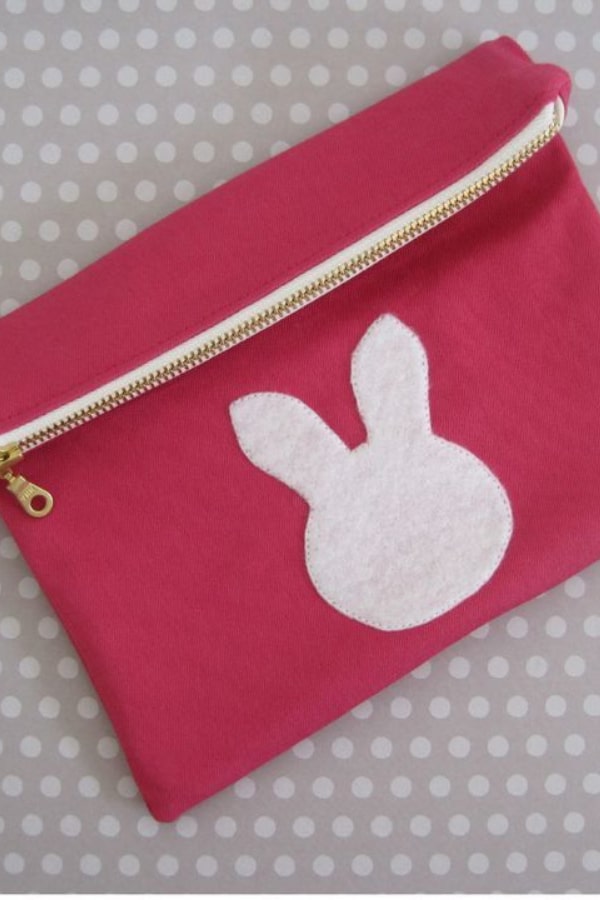 If you love making high-quality handmade items, this DIY Easter Bunny fold-over clutch is the best for you. This project will teach you how to make an authentic bunny clutch through sewing and appliqué. The great thing about it is that you can make a unique clutch that has its own unique design, color, or pattern. You can use any fabric or even recycle outdated clothes and bed sheets! This DIY Easter Bunny Fold-over clutch is easy to make, even for beginners, because all steps are described in detail, and step-by-step pictures are included. You will be surprised how a simple bag can improve your mood!
Easter Bunny Mini Treat Bag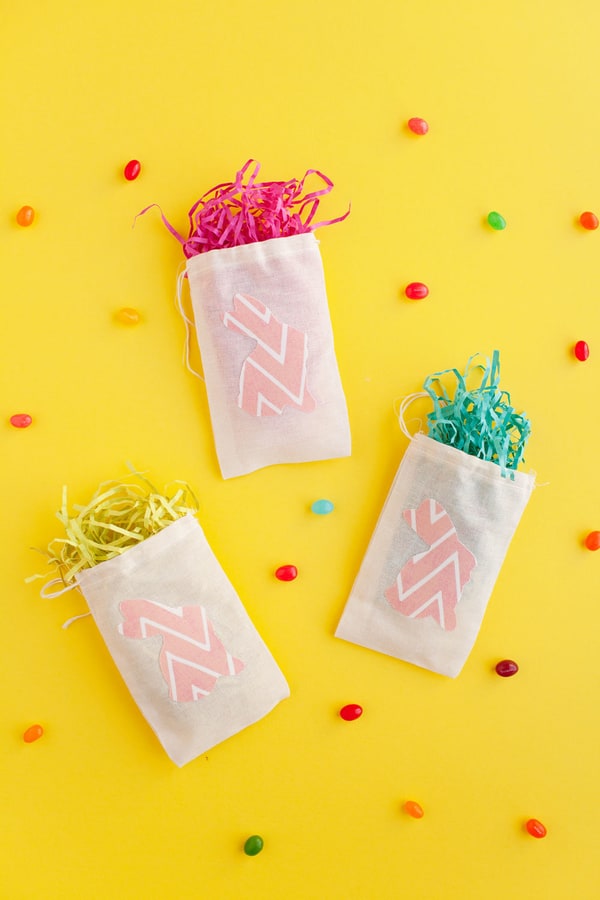 The best part about this project is that it doesn't take much effort, and you can make as many of them as you like. Everyone will be happy to receive a surprise gift from you, so don't hesitate and start making it now! These Easter Bunny mini treat bags are the sweetest way to say happy birthday or happy holiday. Gather your favorite candy and place it into the bag. Once you're done filling each bag, tie a colorful ribbon around it to indicate it's been filled. Let your guests keep these gifts in their room as a reminder of how special your event was!
Easter Bunny Chalk
This is one of those Easter bunny ideas that will be easy, but your kids will enjoy playing immensely over the years. These are great for a little DIY Easter Bunny chalk idea that is super easy to put together and makes for fun afternoons outside. The kids will love playing with them! Make this Easter bunny-shaped chalk for a little fun in the sun. Purchase a simple silicone bunny mold, tempera, plaster of Paris, a few paper cups, and a spoon to get started. Your kids will love playing with these adorable crafts!
Easter Bunny muffins and cupcake wrapper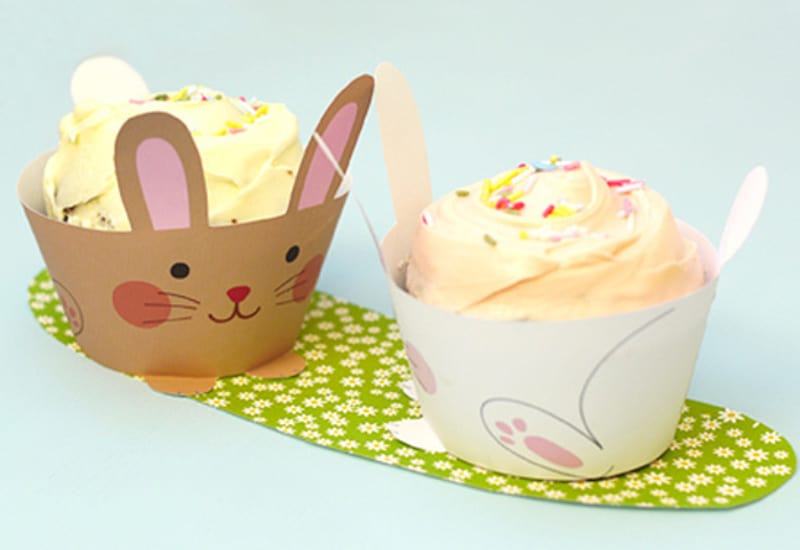 Cupcakes and muffins are a beloved dessert among children and adults at Easter. To make these sweets unique and create in the spirit of the holidays, you can cut bunny-shaped wrappers from paper and add your cakes to them. Then decorate with cotton ribbons or mini pom-poms if you like. Make your Easter party unique with these delicious treats. You can bake muffins and cupcakes and then cut paper bunny-shaped wrappers to put them in. Add cotton ribbons or mini pom-poms to decorate them if you like.
Easter Bunny T-shirt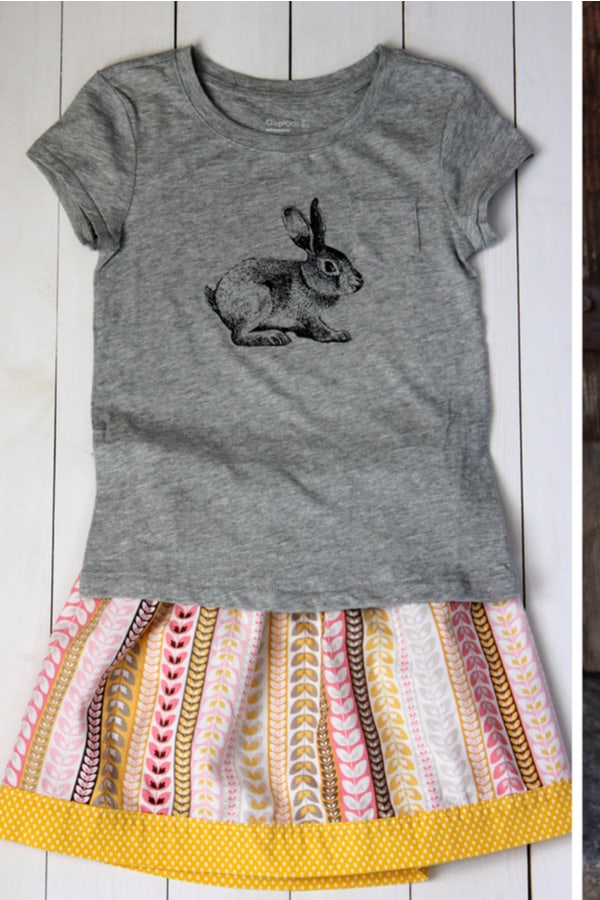 If you are a mother, there is every reason to think about it as an Easter bunny idea for your teenage son or daughter. It is super easy to make, and it's so much fun! You don't have to be able to sew; use some fabric glue or iron-on (depending on the fabric) to attach the bunny face onto the T-shirt. Turn your plain t-shirt into a bunny one with the help of this DIY project. It is easy to stitch and fast too. All you need is a plain t-shirt and some embroidery floss. Attach bunny ears, a bell collar, and big googly eyes with safety pins or fabric glue. Use foam stickers to make the mouth and nose look more realistic.
Easter Bunny Purse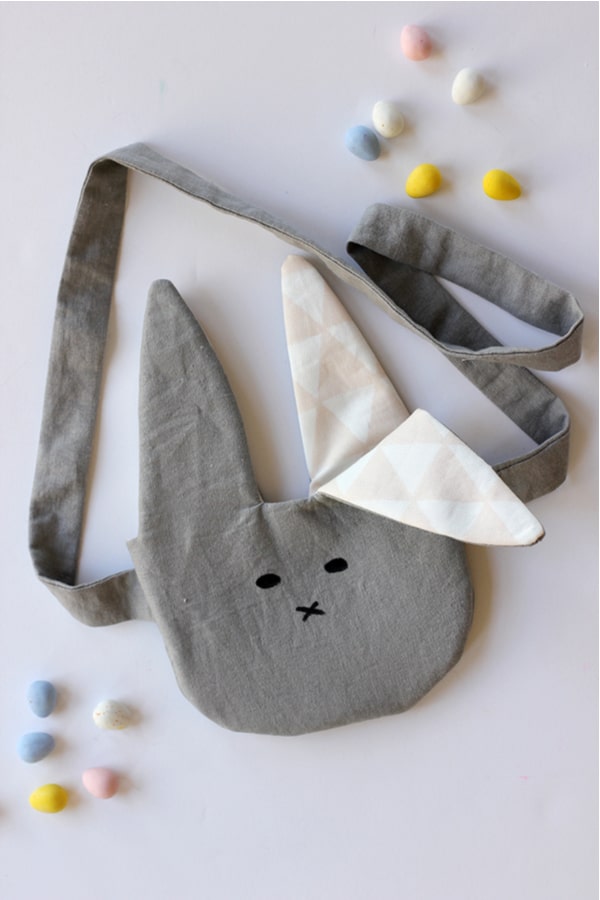 Sunday mornings are family time. What better way to celebrate than making a bunny bag or purse for your kids to collect and carry Easter eggs? The kids will have fun picking out all their favorite colors, ribbons, and bunnies for their purses, and you'll be happy when they decide it's time to hang up their baskets and don't want to put that cute bunny purse down! Bunnies are adorable creatures that make everyone smile. So, why not sew a purse or bag in the shape of a bunny to adorn your kid's shoulder when searching for Easter eggs? You can use colorful ribbons and balloons to decorate the bag and give it a happy look.
You can also see: DIY Balloon Arch Ideas
Easter Bunny Bowl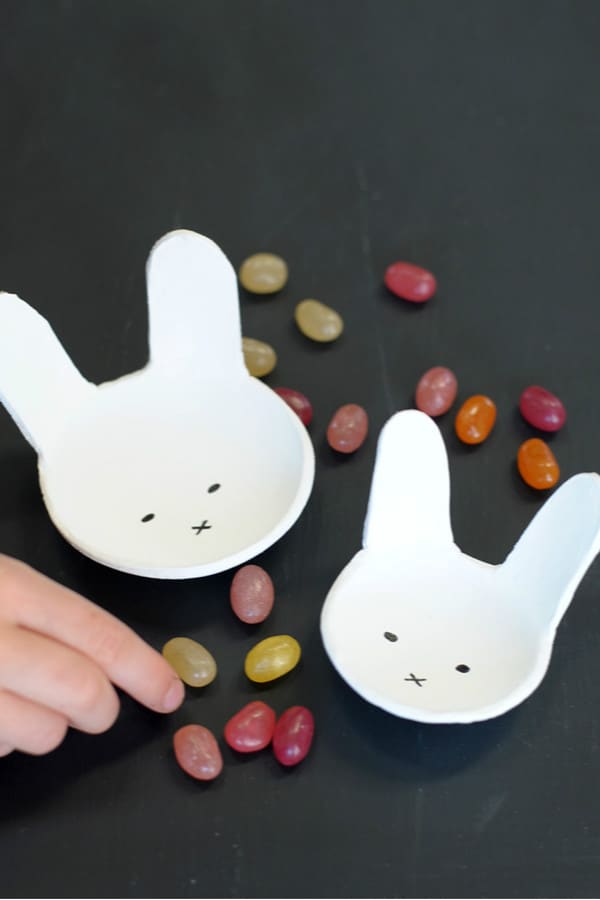 This is an Easter Bunny bowl that you can make with your children. It is a great way to spend time together, have fun and explore their creativity. Let them paint the bowl in bright colors, and for the base coat, you can use white or black paint. They will decorate any decorations from the house, so make sure that there are wide varieties of materials available for painting. After it dries, fill in with Easter decorations like eggs and bunnies to make a unique decorative piece for your home.
Easter Bunny Wreath
This DIY Easter Bunny wreath is a snap to make. If you're like me, you probably have a good stash of large decorative eggs at home, or you can find some at the store. This Easter Bunny wreath would be a great addition to your front or back door. This Easter Bunny wreath can be made of moss or any other material. You can do this ahead of time or even make it on Easter morning. It is also nice to have a bunch of moss on hand for other decorations, so it's worth keeping a bit around.
You can also see: DIY Christmas Wreath Ideas
Easter Bunny Flower Pot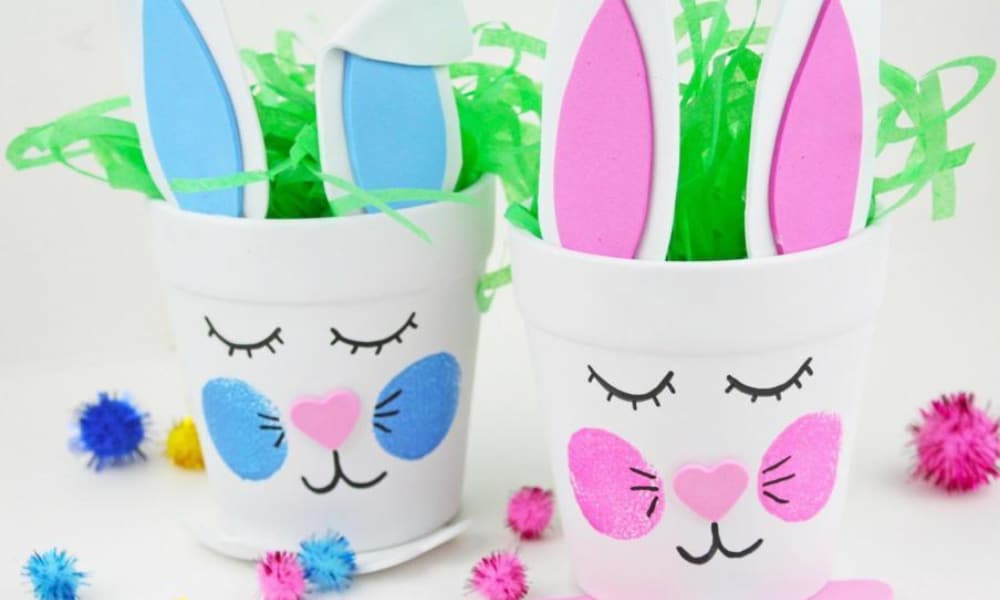 Are you looking for unique Easter bunny ideas? Why not have your kids make flower pots with the bunnies on them? Pick a few of your own ceramic pots and decorate them with colorful rabbits, Easter eggs, satin bands, and flowers. A great way to use up some old gloves or fabrics is to wrap your pots in tissue paper grass for added bling! Kids will have a blast decorating these colorful ceramic pots and turning them into bunny flower pots. Wrap your pots with tissue paper grass, tie on some Easter eggs, add a cottontail tail, and place bunny ears and satin bands. This craft is especially exciting for kids to learn about nature, plants, seeds, and gardening.
Easter Bunny Game
The Bunny egg hunt game gets your kids moving, thinking, and laughing. With each successful move, they get to pull over a prize hidden under the Easter eggs. The best part is your little ones will have fun playing this game for hours. Eggs have always been one of the fascinating objects in our lives. They symbolize fertility, warmth, and new beginnings, a beautiful sight for everyone! This Easter Bunny game is perfect for your kids. They will be able to sort and separate different colored eggs, expanding their logical thinking skills. They also get to enjoy prizes for every smart move they make.
Easter Bunny Recipes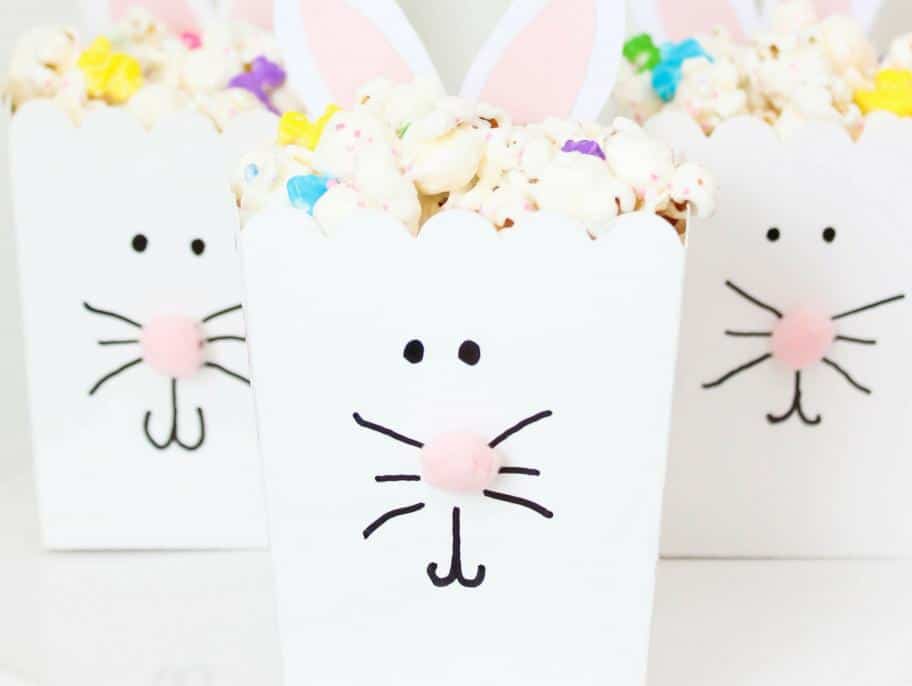 Try one of these cute edible Easter bunnies if you want to make more from your Easter dessert table than traditional desserts and cookies. Easter is a special holiday when you get together with your family and friends and share the season's joy, love, and happiness. It's also a time when you typically feast on good food, so why not try a new recipe (or two) this year? Below you'll find some delicious ideas for Easter Bunny recipes that will make your holiday taste even better!
Easter Bunny Headband
There is no better way to share our love for Easter than with a handmade headband. It's adorable, comfortable, and versatile; your little one can wear it all day long. So cut these out, stick them together and enjoy the pretty bunny on top of your sweet girl's head as you celebrate this special holiday. Making your own Easter bunny headband is a great way to get festive while saving money. Get your girls involved with this DIY by crafting the ears and assembling them on a headband. Your little one will feel like the cutest bunny around with this bright and playful festive look!
Easter Bunny Pillow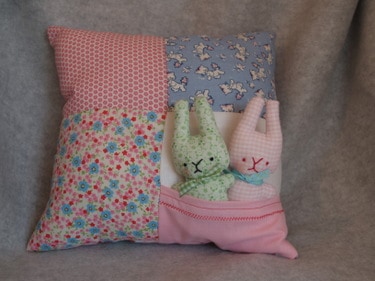 Create this pillow with hand embroidery or needlework, and you'll have a lovely Easter gift for your child. It will remind them of their fun making this bunny decoration. You can give it as a present to another children's mother on her birthday, during the Easter holiday or at Christmas time. This Easter pillow is a lovely decoration for kids. You can make it at home using simple materials. First, you must cut out all the ears and glue them onto the bunny's face. Then, place some bunny balloons on each ear and in front of the pillow. Finally, add Easter eggs to your lovely rabbit's face, nose, and paws!
Easter Bunny Bottom Pops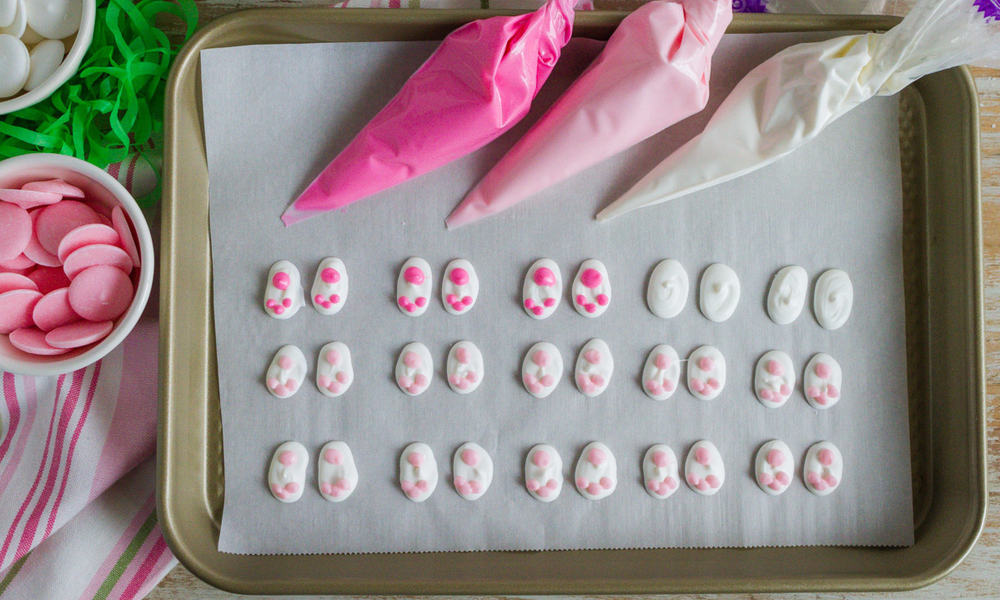 This recipe is for all those who want to give their children a truly delicious treat. You can choose from various flavors and add anything to the popsicle sticks. Bunny bottoms are the best treats for kids and are the funniest pops in the world. They melt slowly, which makes them even more desirable. The combination of creamy milkshake chocolate fillings and crispy waffles on top makes a dessert so lovable. Since every child loves bunnies, this Easter treat will be loved by every kid around you.
Easter Bunny Canvas Art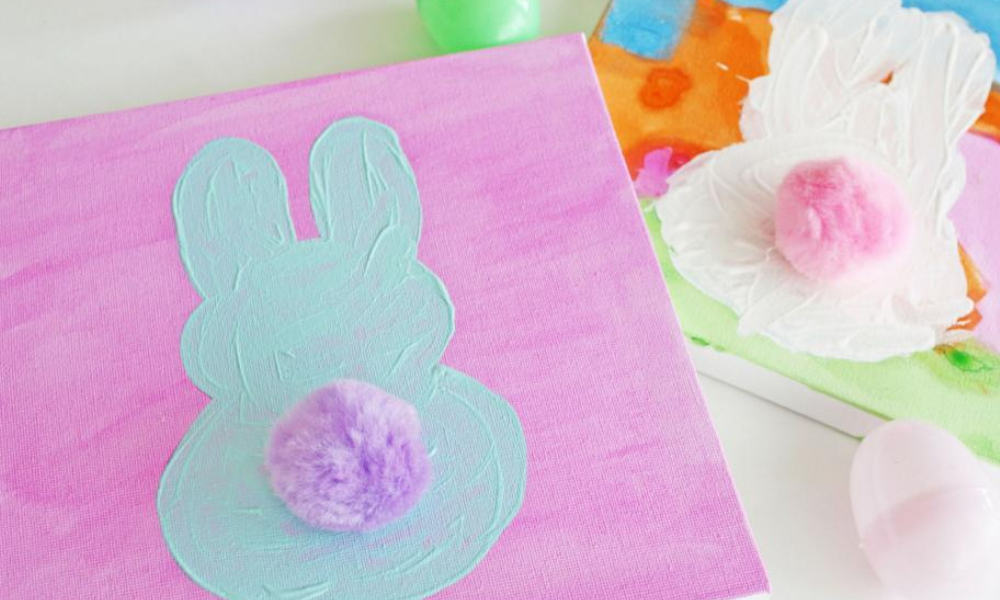 Whether you're into painting or not, you can make this easy DIY Easter Bunny canvas and add a pop of color to your home. This Easter Bunny canvas art project is easy, fun, and inexpensive! This would be a great Easter decoration on a mantle or kitchen table, plus it will bring smiles to everyone's faces. This easy crafts project will turn your kid's strange-looking rabbits into pretty bunnies. With simple supplies and creativity, you can use these free templates to make a fun Easter decoration that can be displayed at home or taken out to parties.
Easter Bunny Paper Mask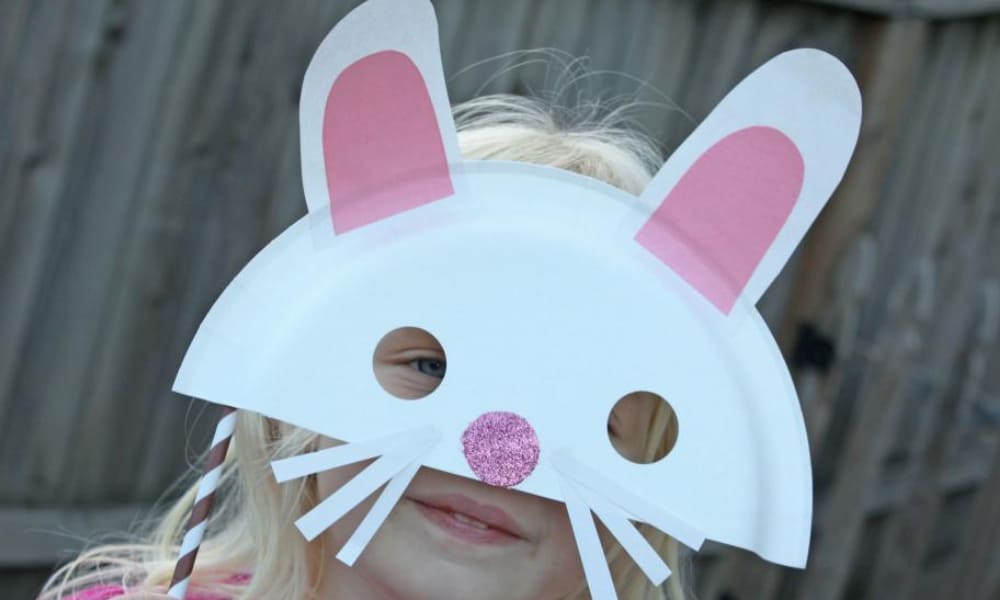 Keep your kids' smiles bright and show their creativity at the same time by making Easter bunny masks. These are easy to make, inexpensive, and fun to make. Use your kid's photos, ribbons, glitter, and paints to create the perfect bunny mask they can wear on their faces during the Easter celebration. Show your kids your love with handmade bunny masks this Easter. Decorate them with glitter, ribbons, and other supplies for an extra special touch. Kids will love the adorable bunny faces, and you'll have an extra gift to give them at the end of the day.
Easter Bunny Chair Backer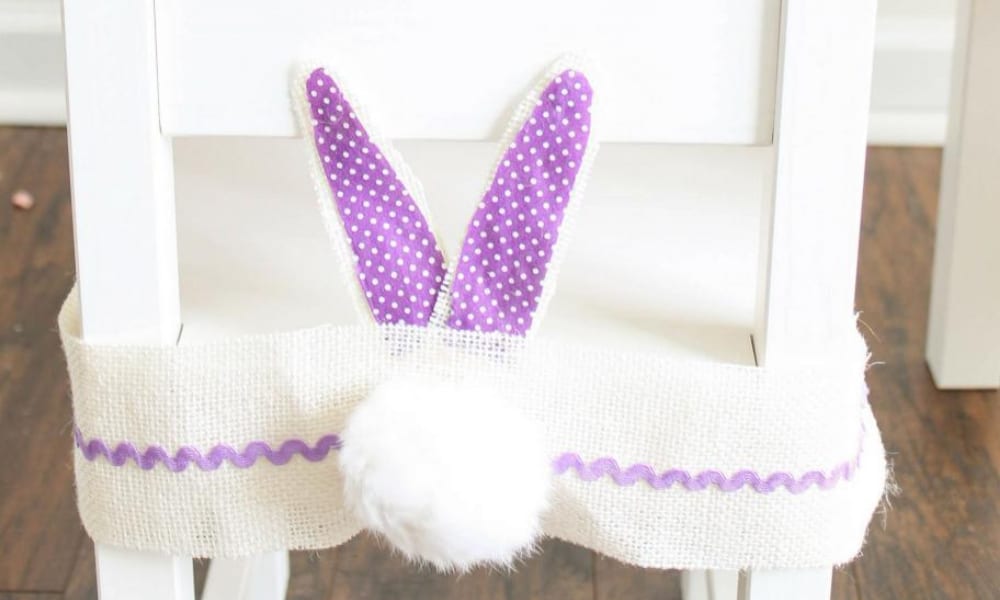 This DIY project will allow you to make a bunny chair backer that instantly turns your regular chairs into a festive Easter decoration. What's more, you can use vinyl for other purposes. Choose any of the patterns and create your own funny chair backer! The easiest way to make your old chair beautiful is to decorate it with this decorative DIY Easter bunny chair backer. It's easy to do, and you only need a few supplies you can easily get at a craft or art store. This will make an otherwise boring piece of furniture fun and festive!
Easter Bunny Egg Ornament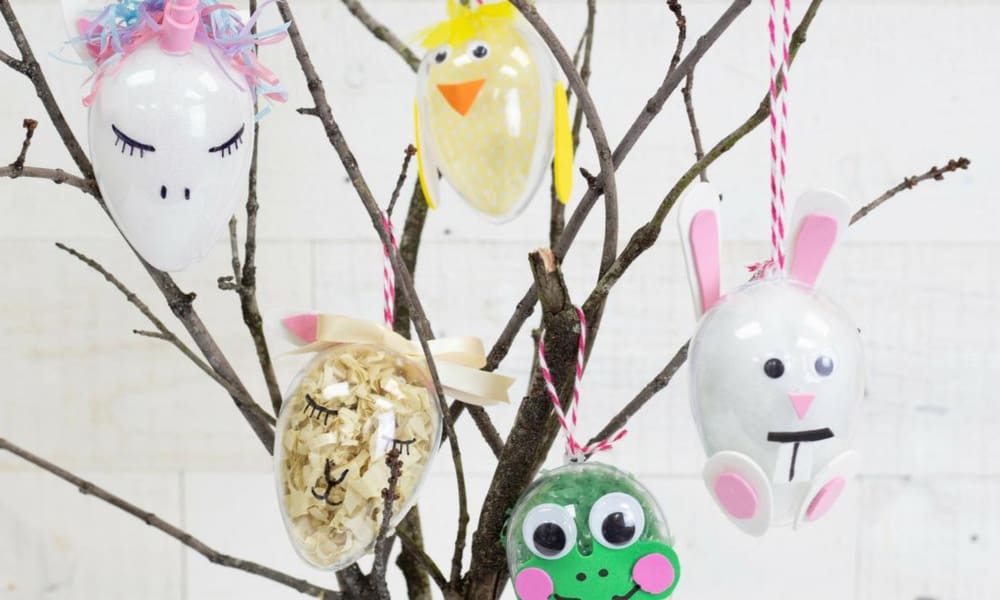 This is it if you want a fun Easter craft for your kids! They will love the process of designing their own Easter Bunny face with the help of a template. They can participate in Easter celebrations together and make beautiful decorations each year. The kids will love this project, and you will love seeing kids enjoy it. This is a great way to encourage them to start a new tradition and let them contribute with their own ornaments. These bunny and chick cutouts are perfect for painting fun summery colors, then decorating with glittering stickers and Easter grass to create a special keepsake.
Easter Bunny Napkins
Bring your family and friends closer together with these Easter bunny napkins. They are a great way to celebrate the holiday season. Its design is festive, and the fabric we use for them is high quality, making them strong and resistant. The cute little bunnies on these napkins are very easy to make and will decorate any table. You can make the napkin either with the help of photos or draw your own design on them. Make sure you have enough materials (paper, linen napkins) to make many of these cuties so you won't run out of craft material during Easter dinner.
Easter Bunny Pencil Holder
When doing new things, it is not necessary to be an artist. Using the ordinary things around you is a great way to start creating interesting and useful art pieces. This project is ideal for a preschooler's Easter basket or a fun addition to a teacher's desk on that special holiday. The bunny can be made from scratch or recycled from an old plastic bottle or cup. Wrap the finished pencil box with ribbon and add some plastic eggs filled with small candies or trinkets to fill the bunnies' nests.
Easter Bunny Balloons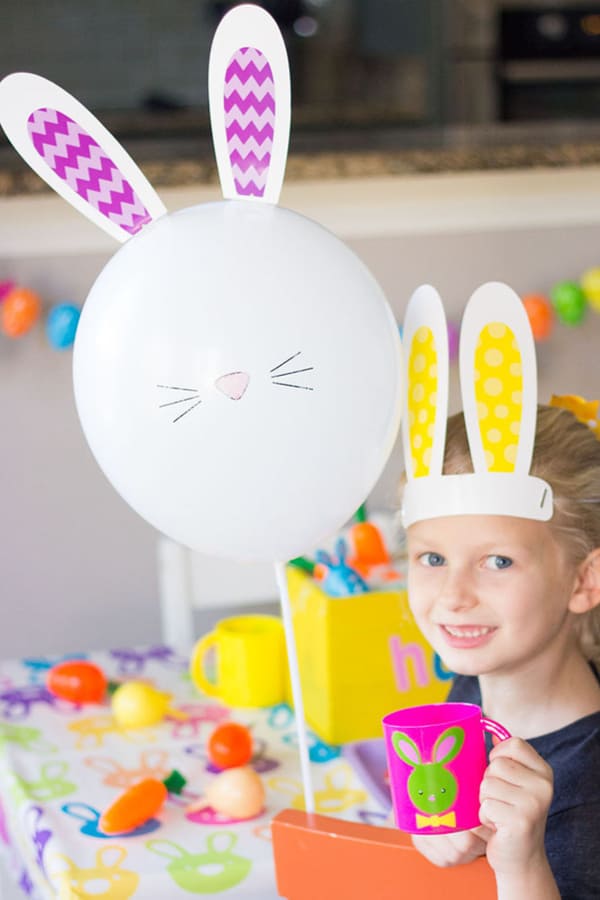 Get creative and make Easter balloons for Easter. They are easy to make, even for kids! And bunny balloons can also be used for a birthday party or baby shower. Light up your Easter celebration with these DIY Bunny Balloons! Your kids will love creating this adorable bunny balloon to bring spring cheer. It's a great activity for a fun family spring centerpiece or a perfect homemade gift idea. Twist balloons into shape and tape them together to get that cute bunny look.
Easter Bunny Door Hanger
Why not create a cute bunny door hanger from scratch? It is not as easy as it might seem, but kids love it. You could use cardboard or paper to make it and then paint it. Not only will this look fabulous, but it will also serve as extra motivation for your little ones to decorate their rooms! Make a lovely bunny door hanger to welcome guests on Easter! This project is easy and can be done with children in a few steps.
Easter Bunny Bookmarks
Easter is just around the corner, so making some lovely bookmarks for Easter might be a great idea. The best thing about them is that you can customize them to your heart's content! Get ready for Easter and make your own DIY Easter Bunny bookmarks! Everyone loves these sweet little things! This is a DIY tutorial on how to make bookmarks with an Easter bunny theme. There are many tutorials for making different bookmarks, but you can never have too many. Why not make some for yourself and then share them with your friends?