While it's always a good idea to keep your bathroom stocked with plenty of toilet paper and towels, there are a few ways you can upgrade your bathroom and make it feel more organized with DIY bathroom shelves. These can be as simple as an inexpensive bookshelf lying around the house, or they could be something you build out of wood specifically for the job. The options are endless! There are tons of different designs to choose from depending on what you're looking for in terms of style, so scroll down for a list of DIY bathroom shelves for you to try!
DIY Bathroom Shelves Ideas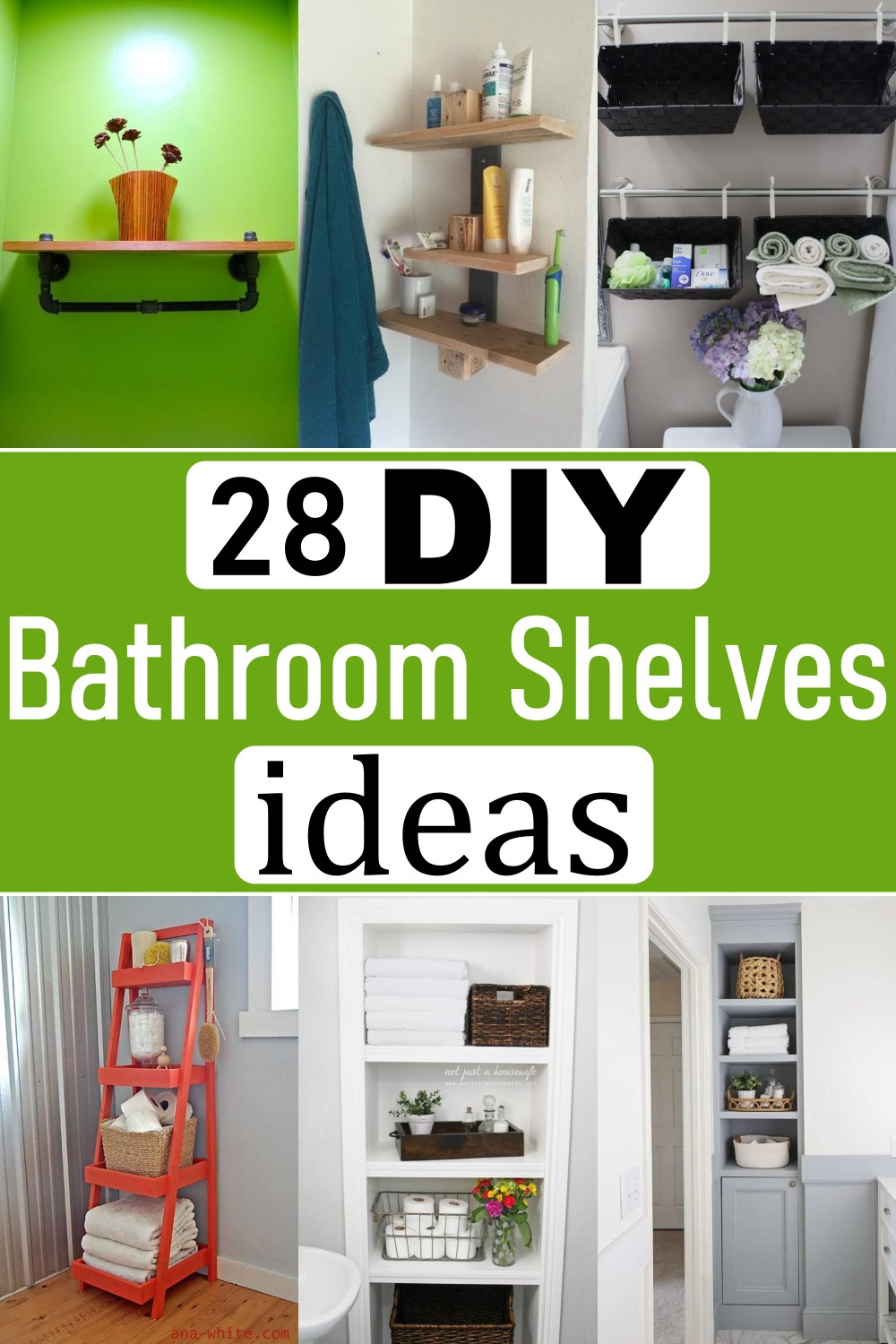 Bathroom storage is a significant concern for most homeowners, who must figure out a way to organize all the necessities and luxuries in the bathroom. Bathroom storage can be almost as big of an issue as the bathroom itself, especially if you live in a small space—but with these DIY bathroom shelves, you can transform your bathroom from cluttered to classy and organized. Most options are either too minimalistic or not sturdy enough to hold all your toiletries and books. DIY bathroom shelves are a perfect way to upgrade a bathroom on a budget.
Uses Of DIY Bathroom Shelves
DIY bathroom shelves are an easy solution for adding storage to your bathroom. You can use them to store towels, toiletries, and other items you need within reach while you're in the shower or bath. If you don't have a lot of space in your bathroom, DIY shelves are a great way to add extra storage without taking up too much room.
Here are some ways that DIY bathroom shelves can be used:
Toiletries storage:

 This is one of the most popular uses for DIY bathroom shelves. Using a hanging rack, you can keep all your toiletries in one place and easily reach them while bathing or showering.

Towel storage:

 Hanging shelves are also great for storing towels in your bathroom. They're easy to reach when you need a towel and don't take up much space on the wall.

Shower accessories:

 A hanging shelf is another way to store all those extras that go with a shower, such as loofahs, soap dispensers, and hand towels.

Linen closet storage:

 If extra linens are stored in a linen closet, consider hanging flat shelves above them so that everything stays organized and accessible without taking up any floor space.
DIY Bathroom Shelf | No Nails or Screws
This DIY bathroom shelf is a budget-friendly and stylish shelving unit solution for your bathroom. Whether you're renovating a new home or need to add storage space for your toiletry needs, this elegant shelf was made with you in mind. This DIY bathroom shelf is handy because it has no nails or screws, making it easy to assemble and disassemble. With a few simple steps and inexpensive materials, you can create an attractive shelf that adds function to your room while helping to keep everything organized and within reach.
See also: 26 DIY Bathroom Cabinets
How To Make Bathroom Shelves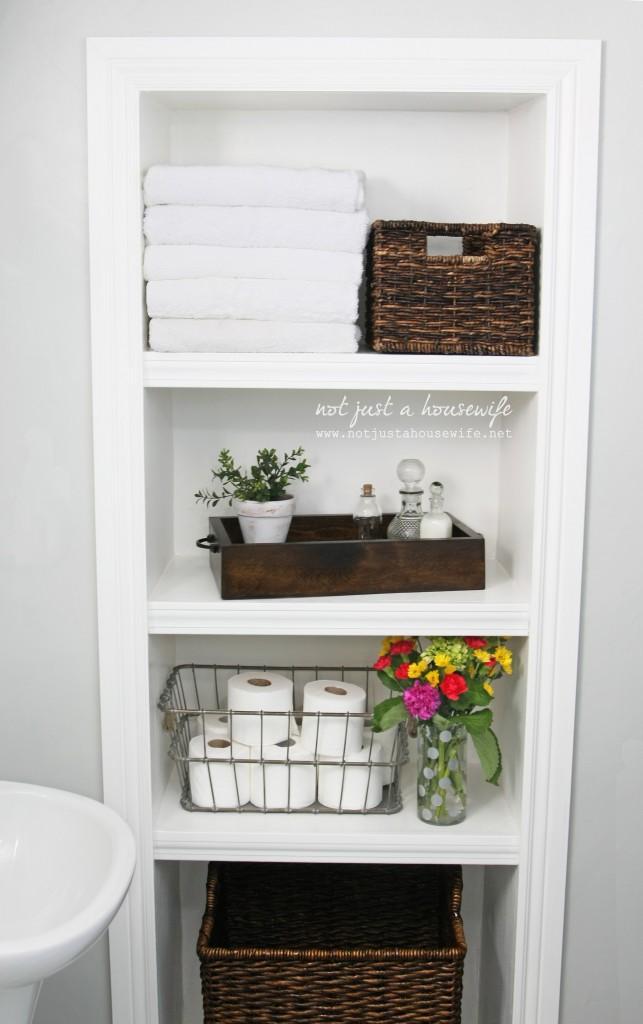 When space is a premium, you'll need to get creative with how to fit everything in. This project is designed for a very narrow bathroom with limited shelf options. This is an important project that anyone with the right tools can quickly complete. Using a minimal amount of materials, you can save money on the cost of this project. Install the shelves in your bathroom without any significant construction effort required.
DIY Bathroom Corner Shelves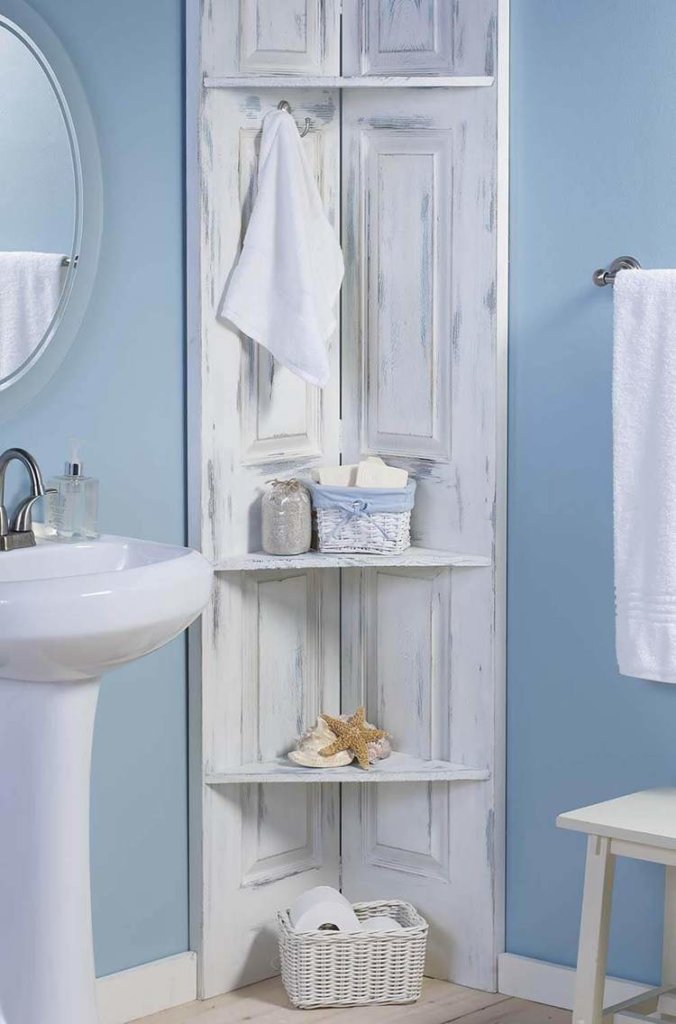 If you're looking to add storage space to your bathroom, try this DIY corner shelf project. This is an easy project to make yourself. You will need a bi-fold door, which you can get at most big box stores and homeowners' supply stores. Remove the hinges from the door and place it on the floor, then take another similar-sized exit and place it at an angle against the first. Putt screws through the small holes in the top of your first door, then through each side of your second door at an angle so that they meet in the middle. From there, cut two pieces of triangle boards that will fit snugly into each corner and secure them with screws.
$20 DIY Bathroom Shelf
A DIY Bathroom Shelf is a great way to add extra storage space in your bathroom. This project also adds style and class to your area. Built from simple materials, it will make any room more functional. All you need to make this shelf is a drill, nail gun, paint, and glue! The DIY instructions and step-by-step instructions will guide you through the building process. It can help you store everything you need in this small room, such as towels and lotions.
Easy Floating Bathroom Shelves DIY
If you're searching for a fun, simple, and inexpensive way to upgrade your bathroom, you won't want to miss this DIY Floating Shelf project. With a few power tools and plywood, you can make a set of floating shelves for your bathroom. This project can be completed in a weekend, but you should allow yourself enough time to stain the wood and let it dry thoroughly before mounting. This shelf is perfect for small bathrooms that need extra space to store items like toiletries or fluffy towels. Create bathroom storage with these easy DIY Floating Bathroom Shelves.
Cheap DIY Bathroom Wooden Shelving
This Cheap DIY Bathroom Wooden Shelving is it if you are looking for a cheap and efficient storage solution for your bathrooms. These wooden shelves will store all your bathroom items in one place so that every time you need something, it's right there, making your mornings easier! This is a cheap and easy-to-make bathroom shelf that you can make with 2×4s, plywood, and brackets. The great thing about this wooden shelf is that it can be customized to fit your bathroom perfectly by customizing the length of the shelving.
DIY Bathroom Shelves
Shelves can be handy for holding extra towels, toiletries, and other bathroom essentials. This project provides directions for building a simple shelf that you can install above a bathroom sink. A bathroom has limited shelf space, so you must make the most of your space. This tutorial will show you how to add extra storage to your bathroom by putting up a DIY shelf hanging above the toilet. The making process is straightforward and should take less than 2 hours once you have all of your materials ready.
DIY Bathroom Shelf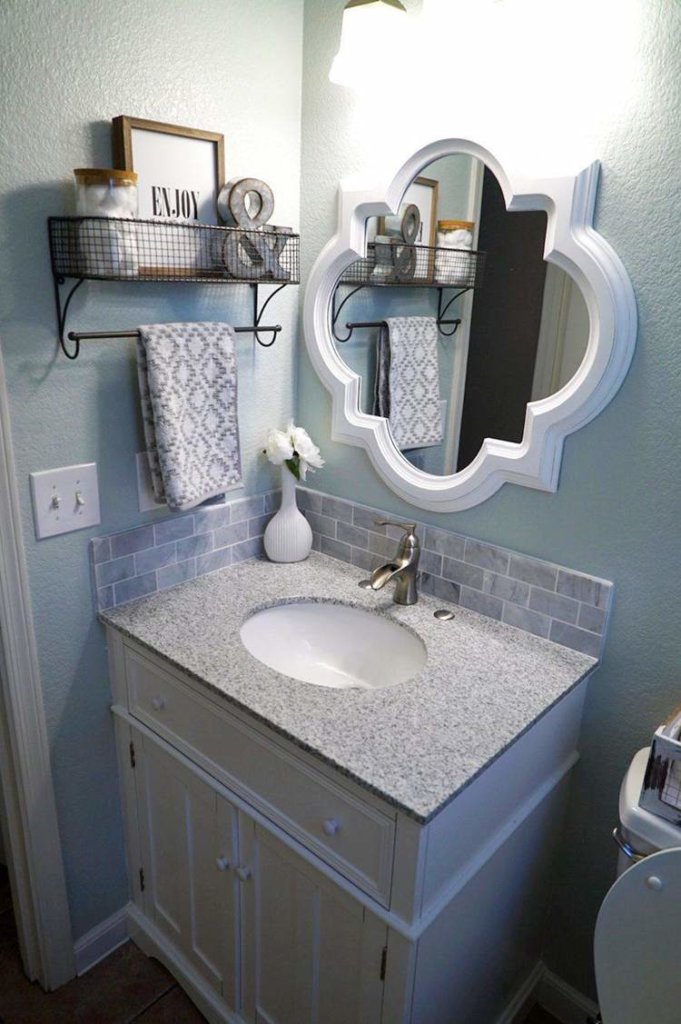 This DIY Shelf is a simple yet stylish piece that will add immensely to any bathroom's aesthetic. By adding this Shelf to your bathroom, you can store towels and toiletries in an easy-to-manage and accessible way. Always follow the instructions carefully so you can put everything up yourself without any problems. It is easy to install with some simple tools in a few hours. It will also add visual interest to your bathroom décor with its clean lines and white finish.
DIY Recessed Bathroom Shelves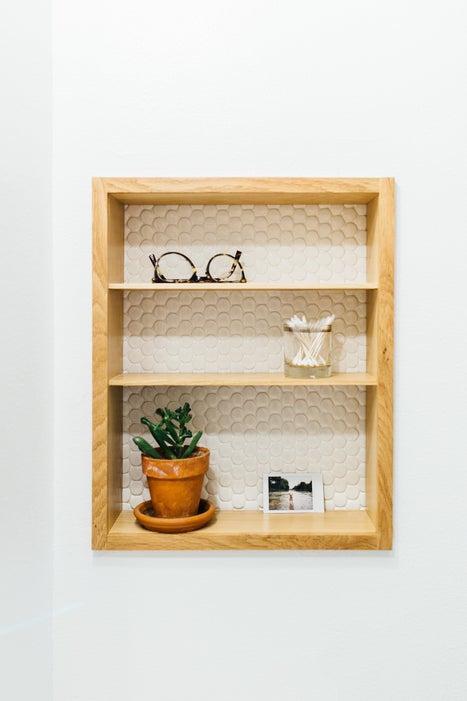 The DIY Recessed Bathroom Shelf is a fun, fast, and easy project that will make your bathroom look great. This wall-mounted recessed shelving solution adds extra storage space where you need it most. The idea is simple and affordable, and the results are excellent. You can build this lasting storage solution by yourself on the weekend. It's made from oak wood, penny tile, and milled edge shelving - all materials you can buy at your local home improvement store.
DIY PVC Bathroom Shelf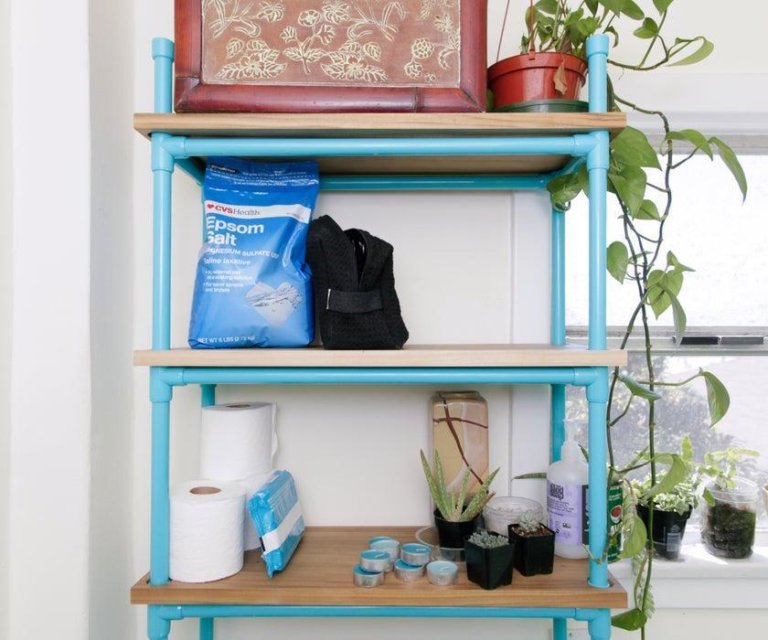 The bathroom shelf is a great idea to modernize your bathroom storage. You can use it to store toiletries and other stuff like towels, clothes, and personal care items. PVC pipe is sturdy yet light and easy to work with, making this project cost-effective. This DIY project adds an extra touch of elegance to your home décor. The tutorial will guide you through the procedure of making your PVC-pipe bathroom shelf, so you can add a little more storage to your bathroom without needing to spend a fortune on it.
DIY Bathroom Shelves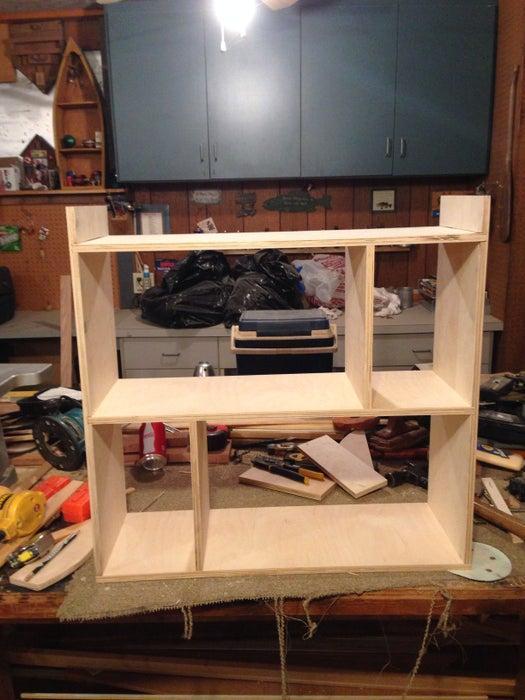 The DIY Handmade Bathroom Shelves are an excellent project for any woodworker. After gathering the materials and tools (simple tools like a drill and circular saw will do), you can make the wooden shelving unit yourself. Cut the wood into appropriate sections and round the edges, making them nice and smooth. Then make the shelving assembly, cut grooves where shelves will be installed, sand them, stain or paint them, install shelves, and attach brackets to walls. It is easy to do this project by yourself if you have some basic carpentry skills and the proper tools at home
DIY Industrial Shelves For Bathroom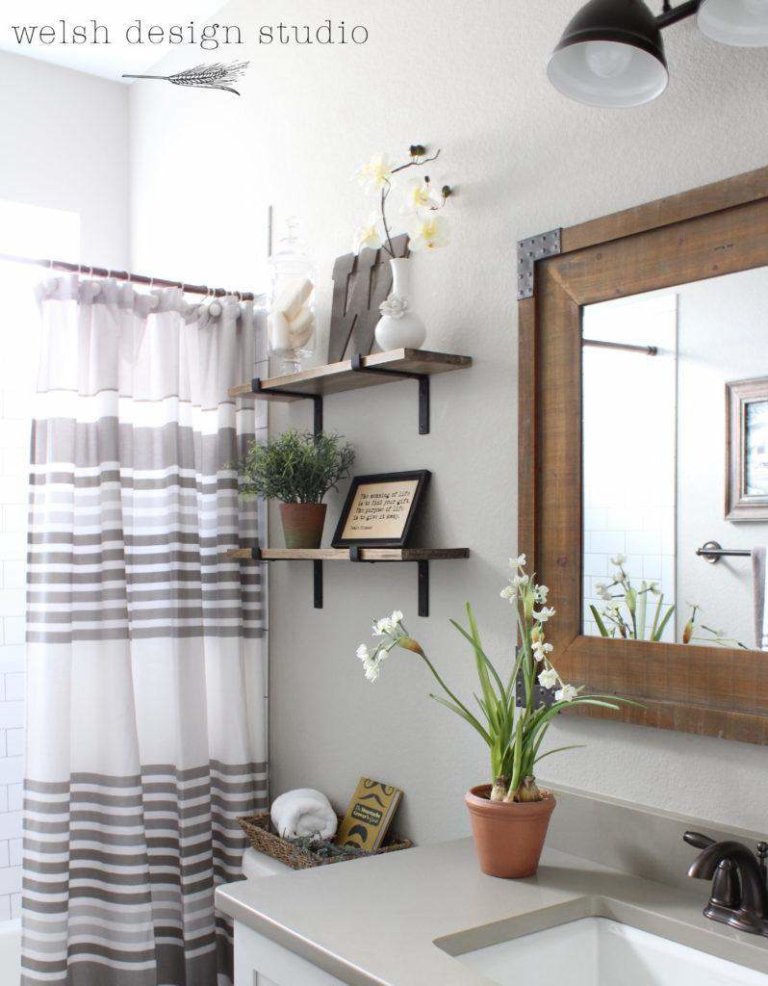 Simple bathroom shelves made from industrial brackets and wooden boards are the perfect storage solution for a small bathroom. The industrial shelves allow you to display your products without looking cluttered for a modern bathroom look. This project is simple, inexpensive, and easy to do. You only need some wooden boards, industrial brackets, and screws or nails. Mount the brackets on the wall with screws and mount the wood boards on the brackets. This DIY project is simple and inexpensive, yet strong enough to hold heavy items.
DIY Basket Shelves For Bathroom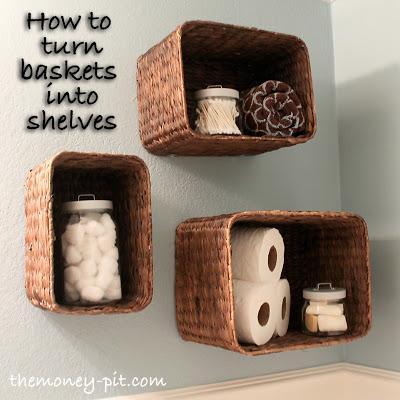 This project features a simple, modern design that will add a punch of color to any room. Perfect for upgrading your mudroom, entryway, or bathroom. The process is not complicated, with only a few tools required to assemble this shelf. For this project, you'll need baskets, drywall anchors, and L brackets. This DIY basket shelf is the perfect solution for hiding clutter and displaying your decorative items. This project is trendy in small spaces as it creates a lot of storage on a wall that would otherwise remain unused.
DIY Rustic Bathroom Cabinet
Add character to your bathroom with this simple DIY rustic bathroom cabinet. Featuring a rough-hewn pegboard, a distressed finish, and a wrought iron towel holder, this piece is sure to dress up your space and any piece you might find at the local pottery shop. Create the ultimate rustic bathroom cabinet with this step-by-step guide. This project is easy on you and your wallet while crafting a one-of-a-kind addition to your home.
DIY Floating Bathroom Shelves
Floating bathroom shelves are a great way to create extra storage and counter space for your bathroom. These stylish, floating shelves can be made from materials you already have around the house and only take a few minutes to build. This step-by-step tutorial is a fun weekend project that's perfect for those who love how it looks and clean, simple lines. It's easy to do, and it'll make your bathroom look like it belongs in a high-end hotel.
DIY Cheap Bathroom Shelves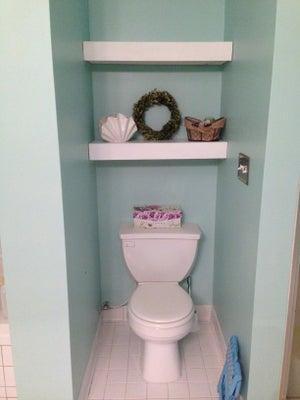 Everyone knows that no house is complete without a spot for towels and bath supplies. And indeed, if you're renting your home, you don't want to leave permanent holes for towel bars in the bathroom vanity. Not to worry – we have a cheap and easy solution that won't leave behind any damage! Use your preferred amount of shelves, creating an organizer that suits your bathroom needs. You can even paint the board to match any interior colors you want. Use these easy instructions to create DIY shelves on any wall or in any part of your home.
DIY Bathroom Shelf From Pallet Wood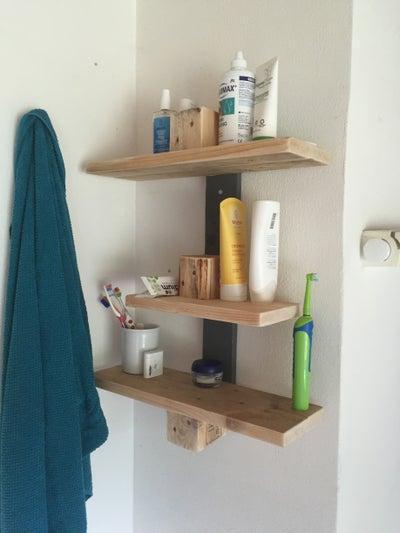 A modern, rustic-inspired bathroom shelf above the toilet is a great way to add extra storage space to your bathroom. This DIY Bathroom Shelf from Pallet Wood will add rustic charm to any bathroom. This woodworking project is made possible by pallet wood, a versatile, inexpensive material that makes for some of the most unique-looking DIY furniture pieces. This bathroom shelf is also easy to make and can be customized in any way you'd like. To see how this piece was made, check out the instructions below!
DIY Ladder Shelf For Bathroom
Add some style to your bathroom with the DIY Ladder Shelf For Bathroom. Are you tired of having half a dozen bottles of body wash and shampoo scattered around your bathtub or shower? Now you can have them all in one place, right within reach. This simple project can be done in one afternoon and will give you years of use. It gets excellent reviews, uses recycled wood, and can be done anywhere!
$7 Floating Shelf For Bathroom
A Floating Shelf is a way to make your bathroom look more classy and keep things organized. You can buy one and install it yourself or create one with wood, screws, and glue. In the video, the DIY guy shows you how to make a floating shelf for the bathroom using just a few tools. The materials required are; raw pine board(or any other kind of wood), spacers and screws that are as long as the width of your board, sandpaper (to finish off edges), gloss paint(any color), primer paint(any color), spray lacquer(for finishing).
Shower Corner Shelf Mount DIY
This corner shelf is designed to be easy to install and remove. You can mount it in about an hour with a simple drill, the shelf, and a few hand tools. Place the shelf in any corner space of your shower and add extra storage for your favorite shampoo, soap, razor, and more. To install the shelf, first, you must measure and mark the corner where the shower will be placed. Clean it well with alcohol before applying a layer of epoxy at the clean angle to ensure it is correctly attached to the tile base.
DIY Bathroom Corner Shelf
This DIY Bathroom Corner Shelf is a cheap, easy, and fast project. It's perfect for adding organizational storage to your tiny bathroom without space. It's also a great adornment that spruces up the bathroom décor and adds some character to the room. The corner shelf is easy to make with materials you probably already have at home, such as cardboard, ribbon, and tape; you need good craftsmanship.
How To Make Wood Floating Shelves For Bathroom
Floating shelves can make your bathroom feel more extensive, and they can be custom-built to fit in any space. Here we show you how to build floating shelves for a bathroom using inexpensive materials and simple tools. With a little bit of planning on where you'll place them in the room and how much weight they need to hold, you'll soon have these sturdy pieces of home decorating up and looking great!
DIY Bathroom Shelves
DIY Bathroom Shelves This is a great project for those who already have a pallet they want to recover or dispose of. This tutorial demonstrates how to make them using simple materials. All you need are a pallet, tape measure, tin snips, and drill for this project. Once you have the correct size pallet and cut the wooden boards, it's straightforward to assemble them in the right places to create the shelves.
DIY Rustic Bathroom Shelves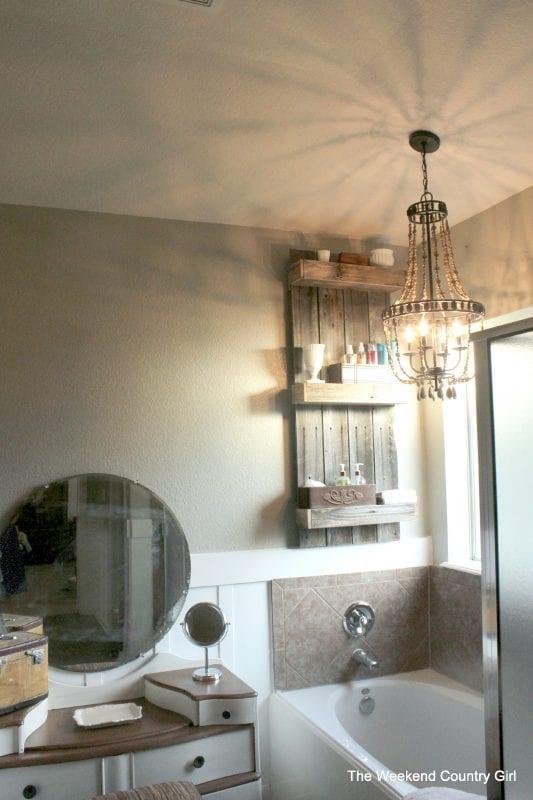 Try adding these rustic shelves if your bathroom is missing a décor element. The project is fast and easy and will be a much less expensive alternative to store-bought versions. The design features multiple tiers that make it easy to store towels and hand soaps and storage space for spare toilet paper rolls and other essentials. The shelves are made with wood scrap materials and have an antique finish that blends well with your bathroom's decor. This rustic DIY project will make an excellent addition to any bathroom and only takes a little time.
DIY Over The Toilet Storage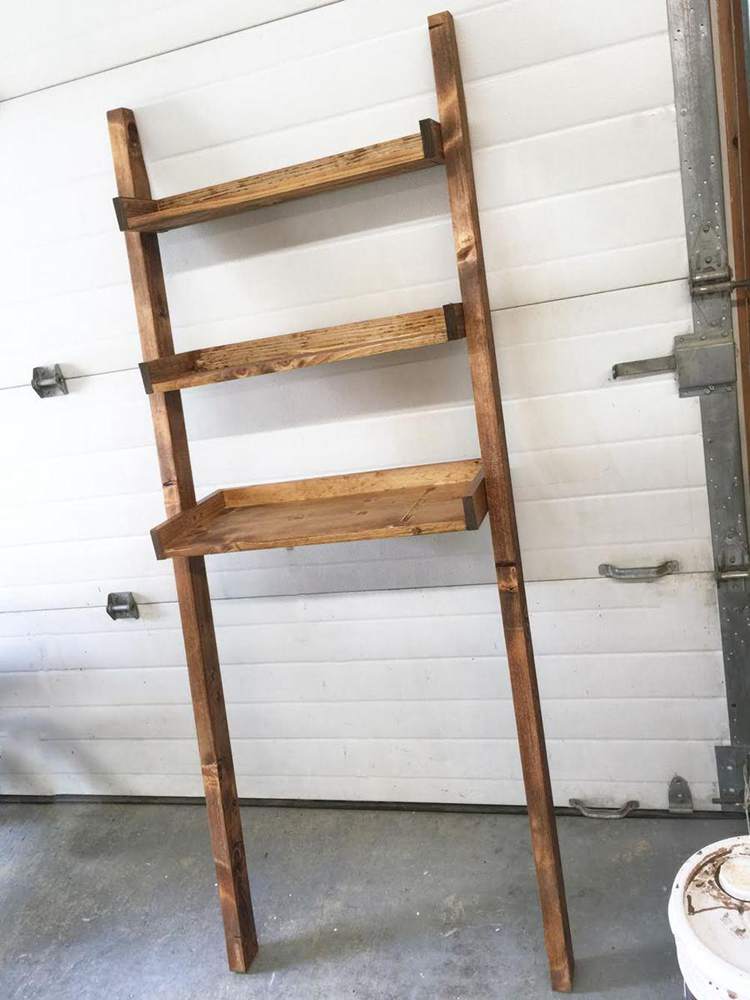 This over-the-toilet shelf is ideal for storing cleaning products, toiletries, and other bathroom essentials. This simple and easy DIY project will give you an intelligent way to organize your bathroom and can be easy to assemble. This project teaches you how to make a simple shelf over the toilet. You can use this idea to add space anywhere in your home if you need to store items in an organized manner.
DIY Bathroom Shelf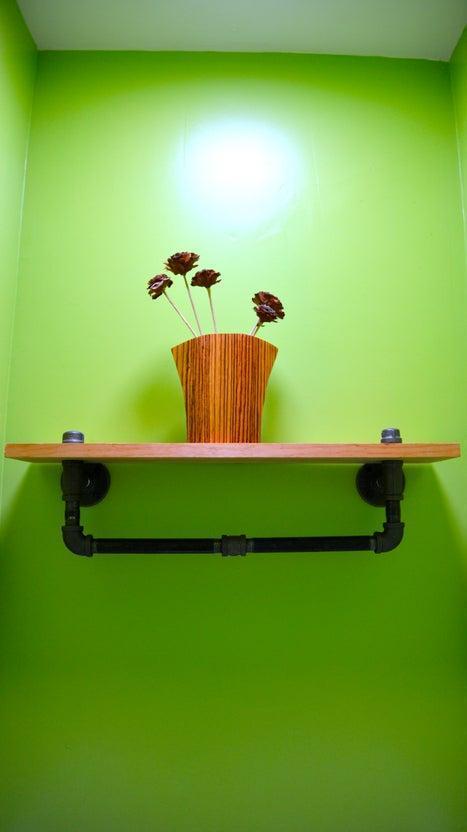 If you are tired of the traditional bathroom vanity and want to bring a rustic, handmade touch to your bathroom interior, why not create DIY Bathroom Shelves? They're effortless yet effective, and you will be able to find matching accessories as well. They are well-made, sturdy, and can be customized to fit any bathroom style. They're effortless yet effective, and you will be able to find matching accessories as well.
DIY Bathroom Shelves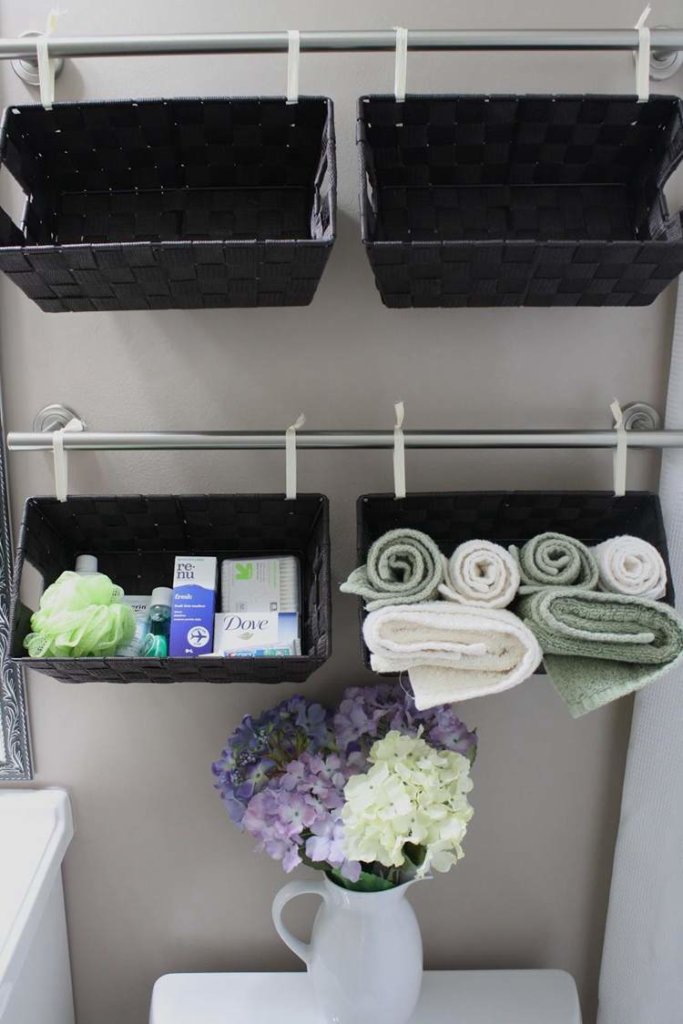 Building your shelves is a great option when searching for an affordable, functional, and easy DIY project. It takes just a few supplies, can be completed in a couple of hours, and lets you put your personal touch on each project! Below is an overview of the steps to making your bathroom shelf. This DIY Bathroom Shelves project is perfect for those who want to remove the ugly towel bar. All you need to do is reinstall a new towel bar, patch up the holes, then paint and attach ribbons.
DIY Bathroom Shelves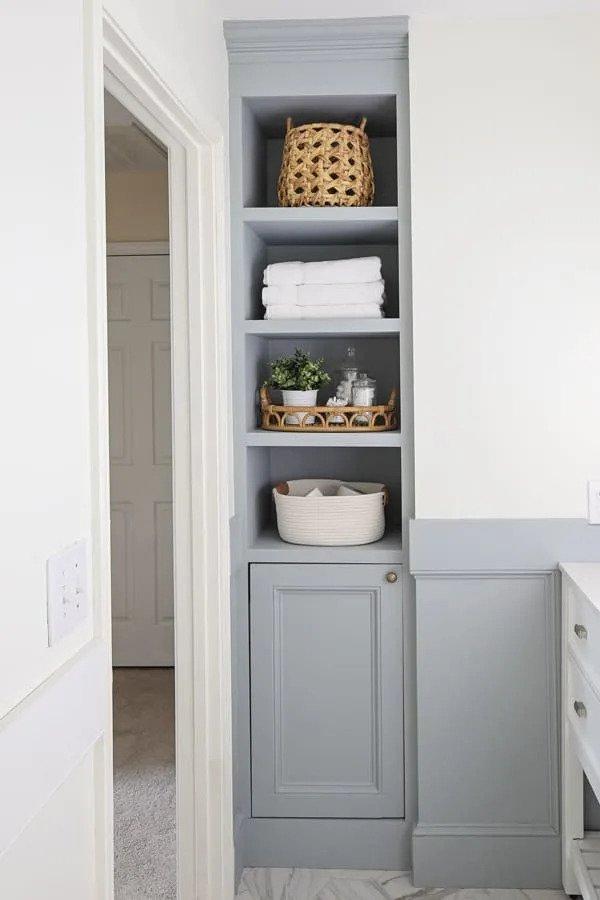 This DIY Bathroom Shelves project will show you how to make your floating shelves for the bathroom. The beauty lies in the simplicity of it all: these unique shelf brackets stand alone and don't need any support, unlike other types of shelves. So if you're looking for some storage space but don't have enough room for shelving - this is something to consider. Building a shelf may be easier than you think. All you need is some wood, brackets, and a little paint.