Children's bathroom decor can quickly get out of hand, especially if you have a lot of decorative energy to burn. They're small rooms, so they tend to be targeted for overloading with too many toys, stickers, and other clutter. Bath time can be one of the most fun parts of being a kid, but to some little ones, it can also be a scary and stressful experience. Some kids may suffer from anxiety or fear of the dark, while others may just not like the idea of leaving their toys behind while they're in the bath. There are various ways to make bath time more exciting and enjoyable for your child. Here are 27 examples of kids' bathroom ideas that will make your little one look forward to getting clean!
Kids Bathroom Ideas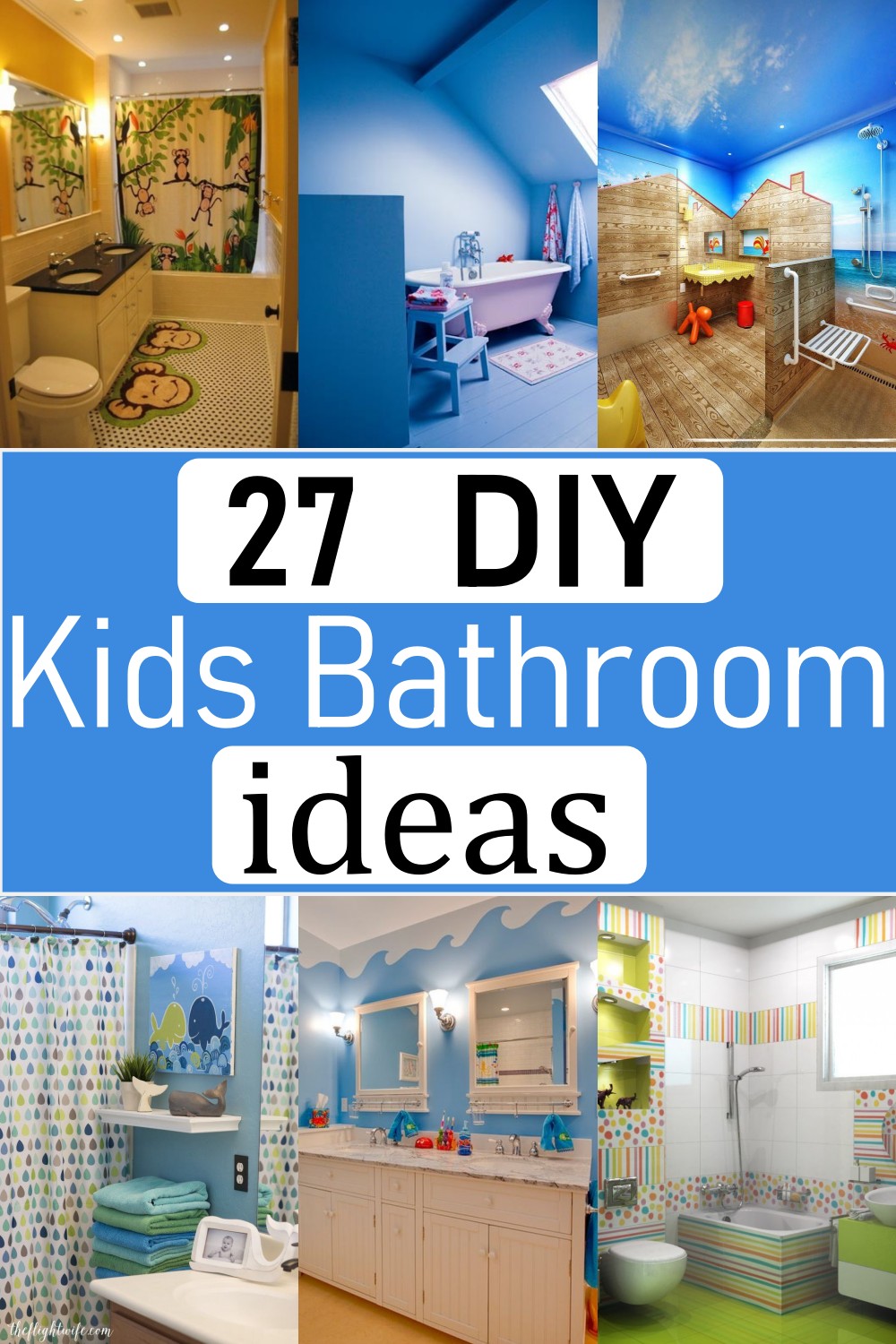 If you're a parent, you probably feel the need to give your child's bathroom a makeover. The best kids' bathroom ideas are not only functional, but they also encourage creativity and make being a parent just a little bit easier. Kids' bathrooms are great because they are easy to decorate and customize to reflect your child's personality. If you have a little girl, think of all the different princesses and fairies that can incorporate into the design theme. Sports equipment and cars can be used for the design theme for boys. The best part about these kid's bathroom ideas is that they are cheap! No more arguing over who gets control of the main bathroom; your children will love their bathrooms!
Tips For DIY Kids Bathroom Ideas
Bathrooms are often the smallest room in the house, meaning you need to make the most of your space. If you are renovating or building a new bathroom for your kids, here are some DIY tips to help you get the most out of your new bathroom.
Use soft colors: Kids like bright colors and designs, but if you want to keep the room bright and cheerful, choose gentle pastel colors that won't interfere with sleep.
Add storage space: The more space in a bathroom, the better it is for everyone! Add shelves under the sink and over the toilet so they can store their toothbrushes and other items they need daily when they get out of bed in the morning.
Counterspace should be used efficiently: Install multiple towel racks on one countertop, so there are no wasted spaces between them! This way, each kid has a spot to hang up their towel after taking a shower or bath while keeping countertops clear of clutter at all times!
The Idea Behind Designing A Good Kids Bathroom
Kids are bubbly and fun, the ultimate inspiration for you to design your kid's bathroom accordingly! A fun color scheme and an interplay of attractive accessories do the trick. Stay tuned as we introduce you to some exciting kids' bathroom ideas that everyone in your family will dote on!
1. Holographic Rainbows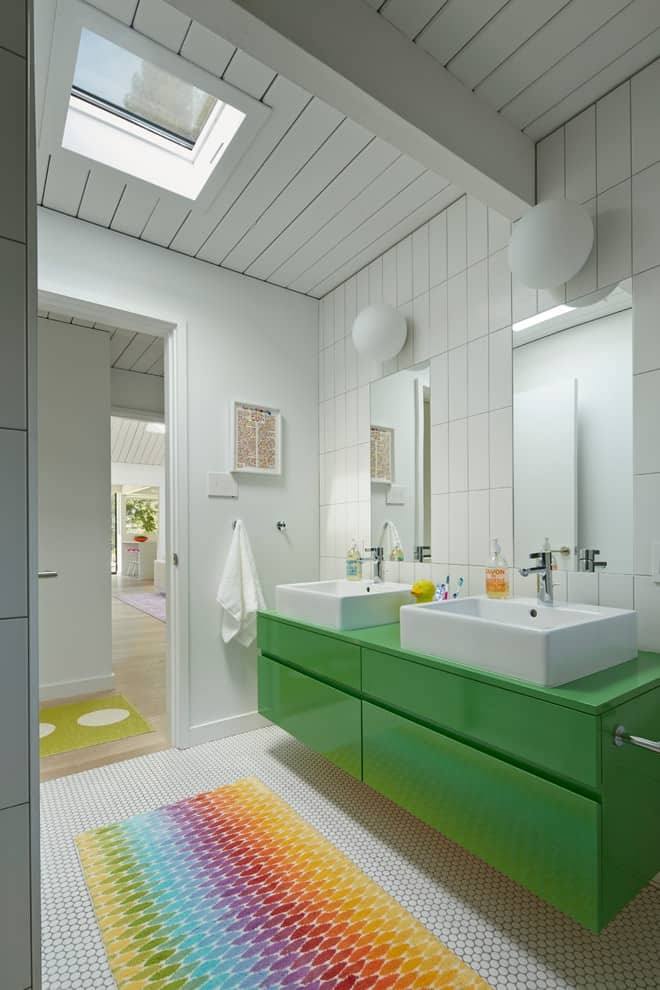 Light up your little one's day with the help of this holographic rainbow floor mat! This crazy concept was inspired by their love of rainbows and rippling water. And because holographic colors have many different hues, you can create an aesthetic that is fun for every mood and personality. Whether you're looking for a calming splash of color or an exciting burst of light - this floor mat will bring some joy into your child's life.
2. We Love Lilac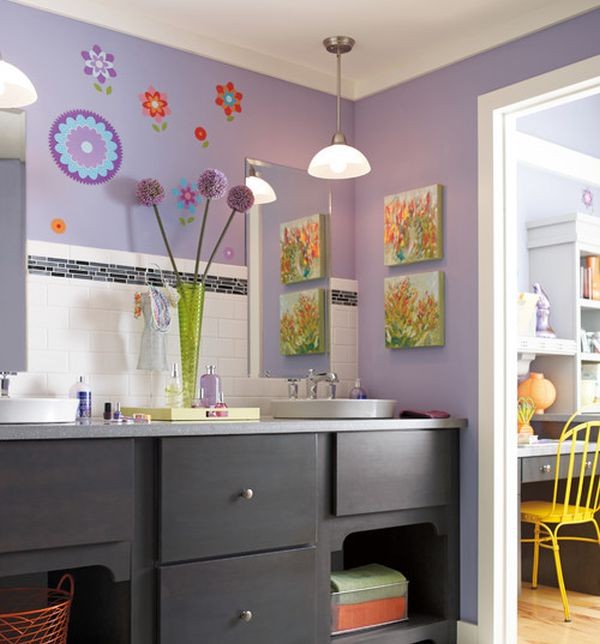 You will Love Lilac; take the scenario with a sense of fun and beauty that will make your kid's dreams come true. A colorful bathroom is a way to amp up any kid's bedroom or play area, or even their bathroom. But you will love the framed flowers hanging over the tub and the stickers around the room. The bathroom would be a fun place to hang out! The lilac color scheme is excellent, especially with the yellow chairs that pop against it.
3. Dazzling Lights
The bathroom is usually the most smallish room in the house, so any available space should be utilized to its fullest. Double-stacked vanities, with their two independent areas for the sink and washstand, allow you to create a roomy, gorgeous bathroom. The double-stack vanity fills your kid's room with light while bringing out the beauty in your kid's bathroom! A spectacular circular mirror will add artistic flair to your child's space and make taking care of their appearance a pleasure.
4. One Two Buckle My Shoe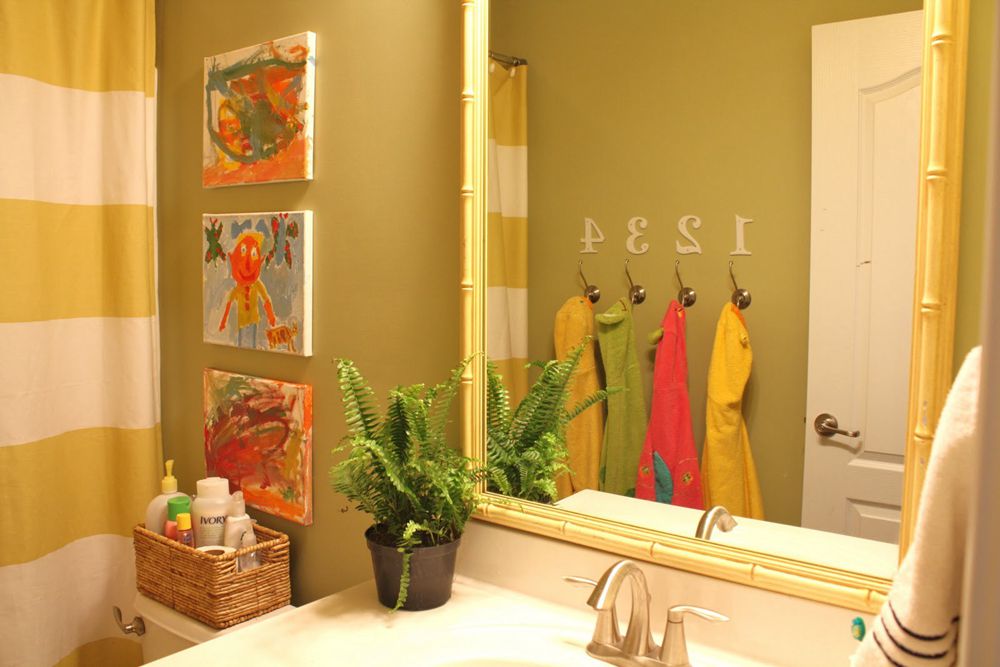 The bathroom is an integral part of the home to get ready for work or school and spend time relaxing and unwinding from a long day. They're a fun way to help children learn and feel encouraged by their artwork. This is a perfect idea to incorporate into your kid's bathroom! Modernize your child's bathroom by placing a DIY One Two Buckle My Shoe canvas painting as the focal point of their room. This will make your kid feel like they have their own gallery space and give them a sense of pride in their work.
5. The Benchmark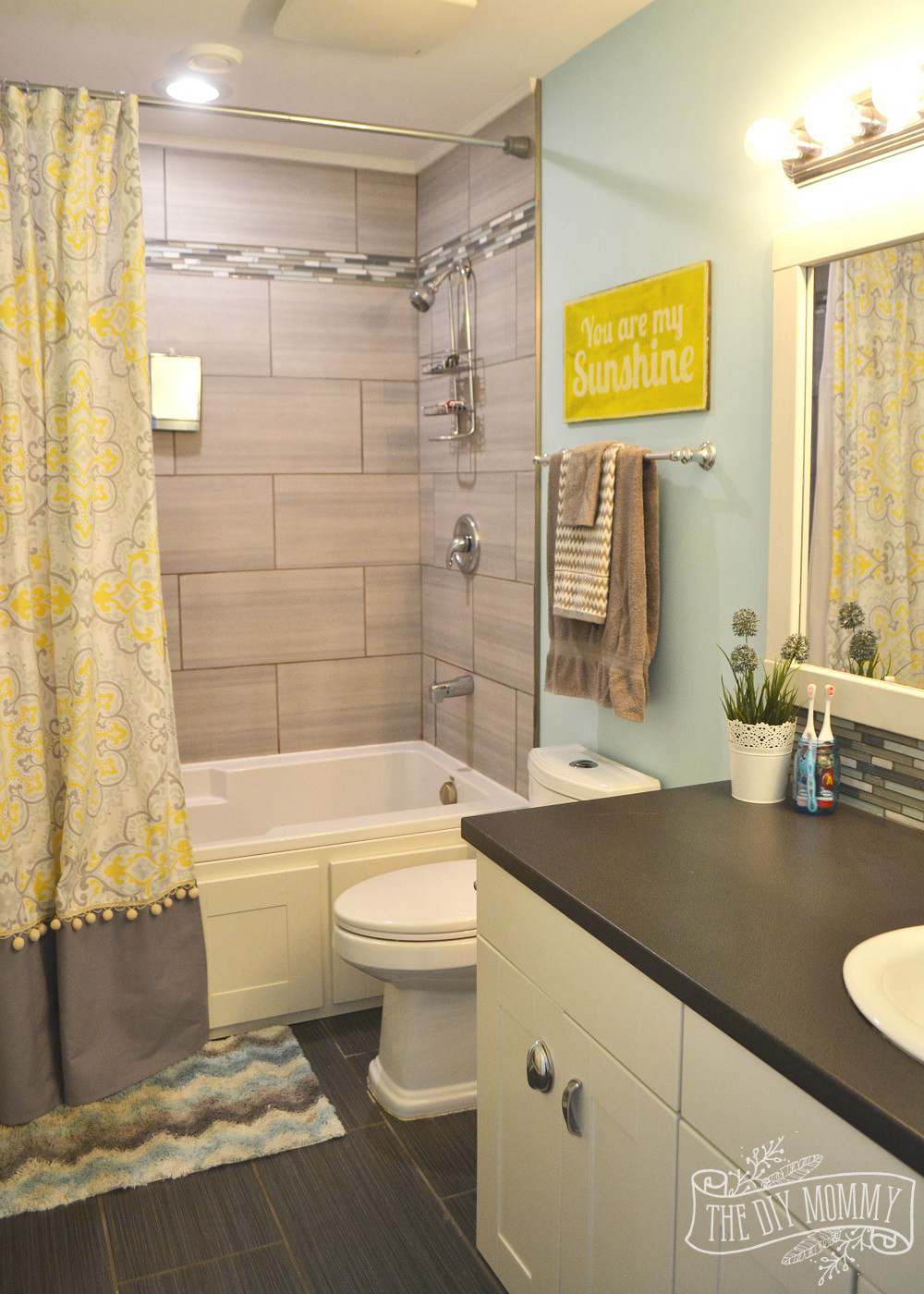 A bench is a perfect addition to any bathroom while giving your child ample space to sit and wash. Kids love helping in the bathroom, and a bench makes reaching things like the tub faucet and soap dispenser easier without asking for help. This fun bathroom idea will help you make clean-up a breeze. With rubber duckies and ocean blue paint, there's no question your kids will be thrilled to step in for a morning bath.
6. You Are My Sunshine
Kids love bathroom decorating ideas that feel like a home away from home. You Are My Sunshine decorations can add the warmth, fun, and color you want to your children's bathroom, so they feel like they are on vacation every time they go to the washroom. Place new curtains on the windows and install unique lights to create a feeling of intimacy. They feel safe surrounding themselves with safety shouldn't go unnoticed either!
7. My Little One
Everyone needs a kid's bathroom that is fun, bright, and cheery – My Little One is one of the favorite ways to improve the everyday living space for kids. With its incredibly low-set profile and clever design, it's easy for small children to reach and clean themselves without needing someone else holding them up or watching over them. This kid's bathroom design will surely bring excitement and joy to your child's unique place in the house.
8. The Winner's Den
Winner's Den is a beautiful bathroom with bright white walls and red lights to create the perfect motivational space. What sets this apart are the quotation frames with inspirational quotations that bring the entire room together. The wall art helps kids to be motivated, determined, and focused - all elements of a champion! It's so important to give your children what they need to be successful. Don't let the mess in the bathroom distract them from their goals. It will bring brightness and joy to your child's bathroom!
9. Zig Zag!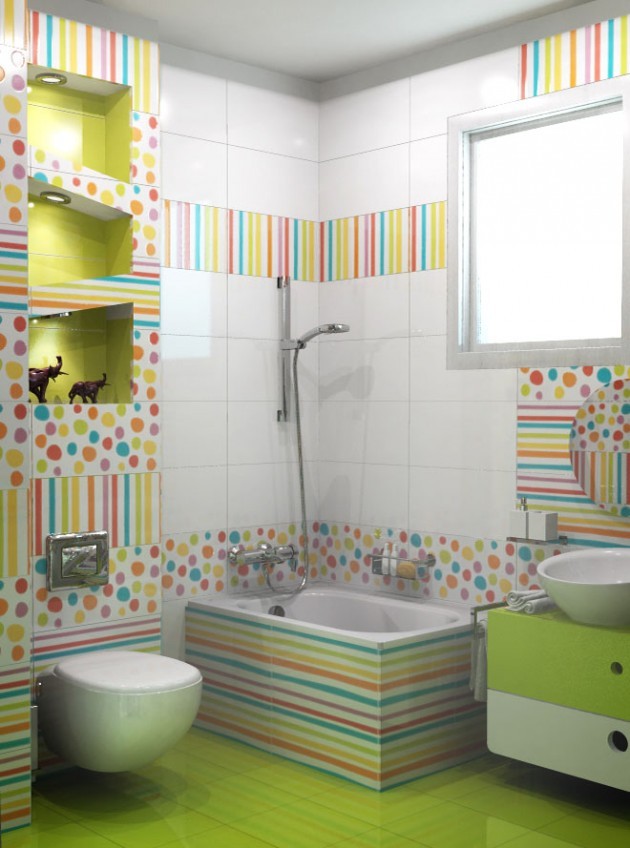 Give your bathroom a makeover with this fun and colorful Zig Zag! The shelves have multiple stripes, polka dots, and zig-zag designs. Not only does this bathroom look like a blast, but it's also stylish. The zig-zag shelf comprises thick tiles with bold black and white stripes and zig-zag patterns. This modern bath is practical with a polished look, too: the height-adjustable shower head and pull-down sprayer make it easy to clean your whole body under the shower. Adding mirrors for vanity use also creates a fun atmosphere!
10. A Monkey Business
If you are looking for a kid's bathroom that looks lively, fun, and full of mischief, then the Monkey Business Bathroom Theme is perfect. This theme comes in two variations – one with a banana-themed design with yellow walls and floor mats and the other with green leaves on a light blue background. The bright colors and funny monkey wall stickers will create an atmosphere of joy and playfulness.
11. Under The Sea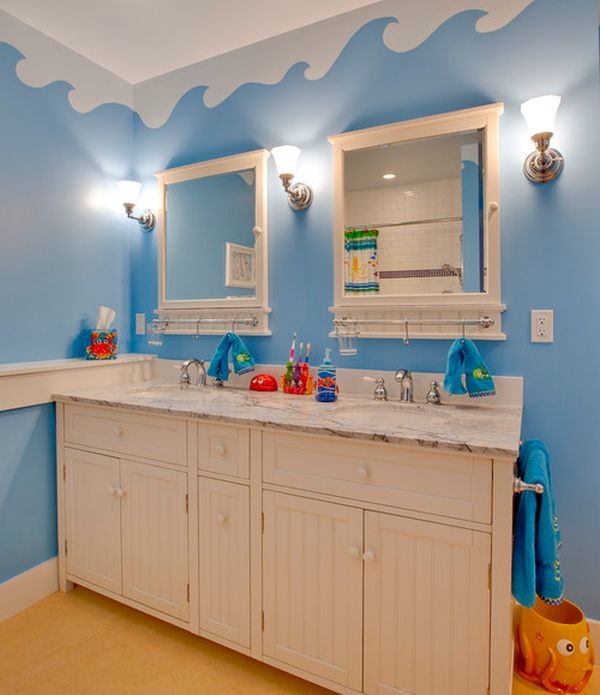 The Under the Sea bathroom theme is a unique idea for your kid's bathroom. The best part is that it can be done quickly and in little time. For example, paint the wall baby blue and add art to create splashes and waves on the wall. Also, use light colors such as white vanity mirrors and cabinets. Who said that all street lamps have to be green? Decorate these wall hangings with white paint!
12. Hop Hop!
This bathroom features a green and white color scheme ideal for a frog-themed bathroom. Multiple circular mirrors give it a unique look, while the frog-themed curtains and floor mat tremendously influence the vibe of this fun bathroom! Multiple circular mirrors give this space its distinctive look, while the frog walls and even matching floor mats make it perfect for your child to explore!
13. The Classical Ocean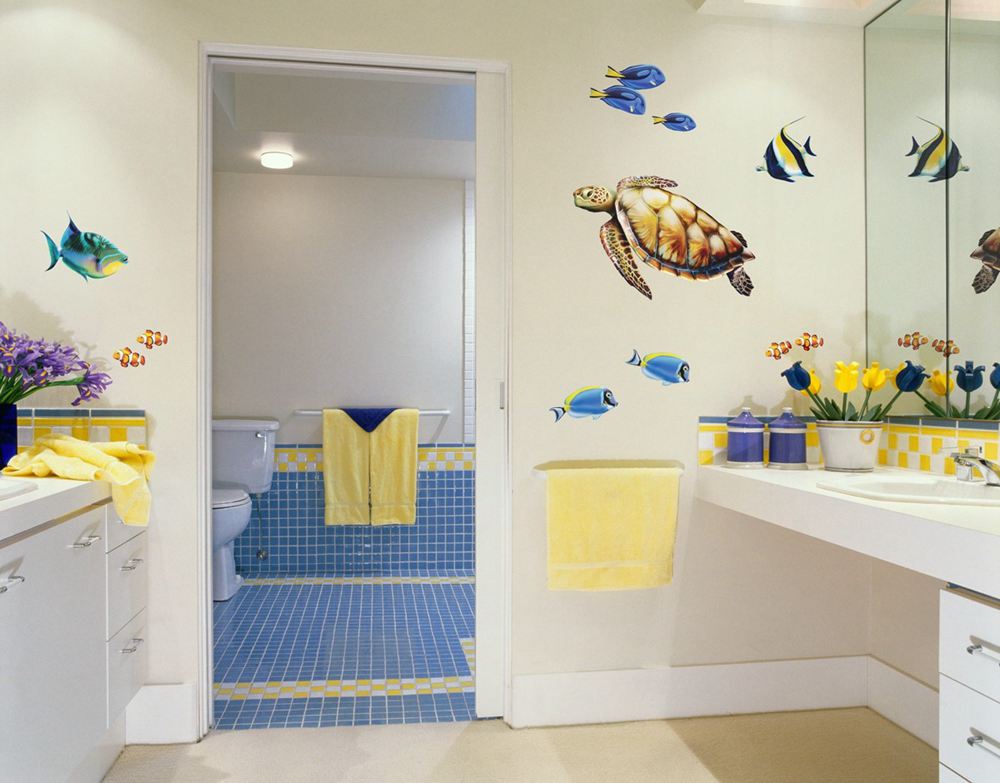 White and blue are classic colors in kids' bathrooms, but you can still make them more interesting by separating the shower and washing area. Perfect for kids, this bathroom is designed to be calming. It features a classic blue-and-white palette that's easy on the eyes, but highlights and accents throughout help add personality. Add a mural of fish or ocean scenes to create an interesting focal point.
14. Pink For My Princess
This baby pink is a lovely color choice for the bathroom. If you are looking for some way to bring a touch of femininity, white or peach vanities, and mirror frames will add an extra layer of charm to your little one's room. The proper color of a room can give a fascinating aura to your baby girl. The best colors for your bathroom are pastel pink, white, and peach. The vanity should be white or any shade of peach, and the mirror frame can be in a pastel pink hue. You can choose bunny rabbit pink curtains if you want to bring some cuteness into the bathroom!
15. The Square Trio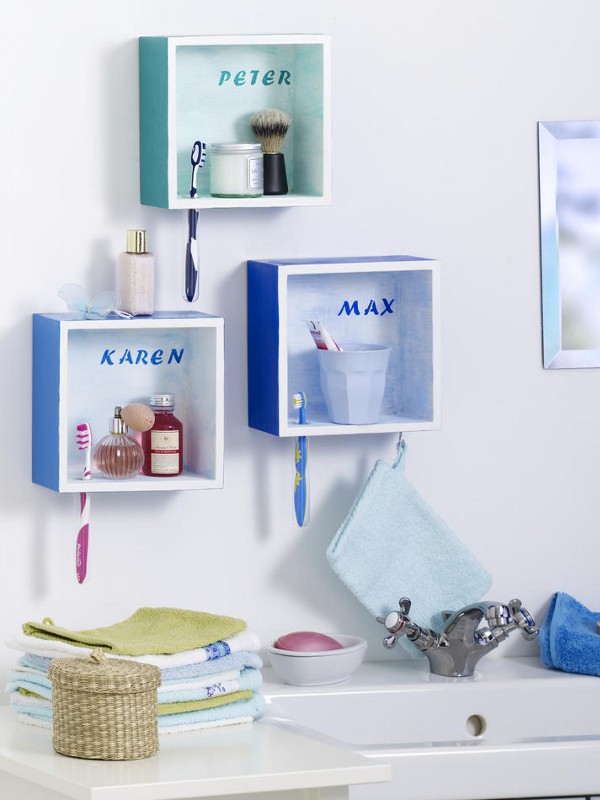 The Square Trio is a modern, fun, and exciting new way of hanging your toiletries. The trio combines three square-shaped floating shelves that allow you to display your bathroom essentials stylishly yet functionally. A bathroom can get very exciting with these shelves. They look like a classic shelf but come in an innovative square shape. Your child will have to organize their toys and belongings in different compartments, which is learning fun!
16. Three Little Musketeers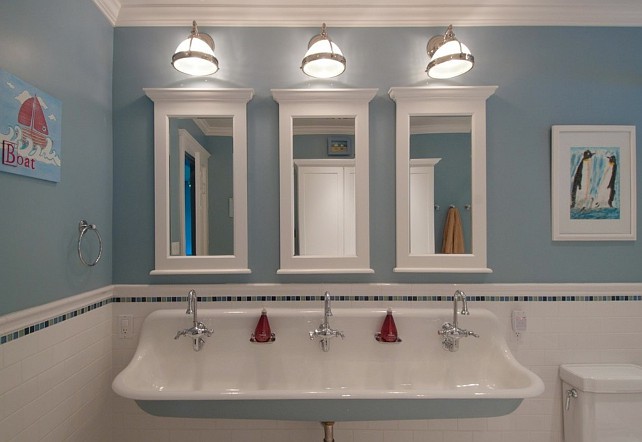 There's nothing more adorable than siblings sharing a bathroom. This sink is beautifully designed in the shape of three musketeers that make the bathroom fun for your little ones! The shallow water depth makes it safe for children, and its unique shape allows the water to be easily kept clean. With this three-person sink, your little ones can wash up simultaneously using the same water. Adding stools makes it even easier for them to climb up and get ready for the day.
17. Tiny Toons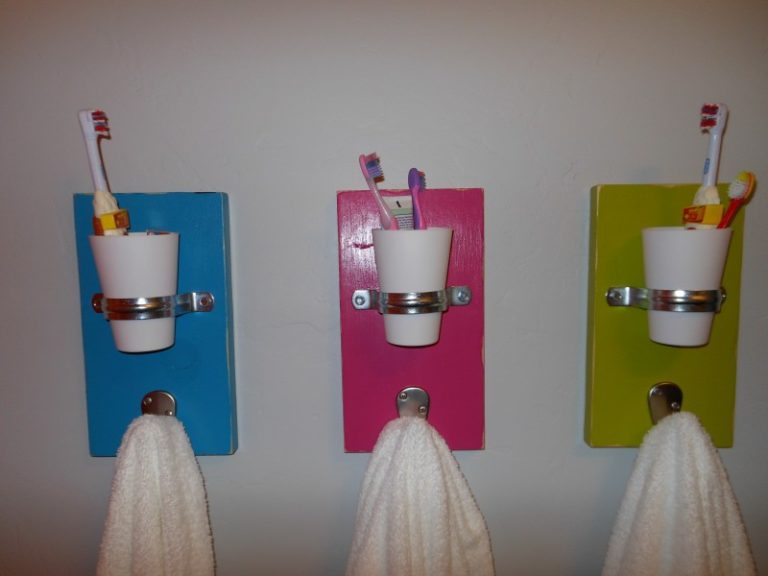 Brushing teeth is quite an essential ritual for all children. But you are, getting them to brush their teeth can be a considerable challenge. To make this process easier, get them the perfect toothbrush holder to help your kids keep their toothbrushes clean and safe! This fun Tiny Toon toothbrush stand will motivate and encourage your little ones to brush regularly. Your children will love these new toothbrush stands, specially designed to suit your bathroom perfectly. It's straightforward to make sure your kids put their toothbrushes back once they are finished using them.
18. Whale Obsession
Children love whales, and this obsession can be the center of the theme in their bathroom. Picture frames with whales are a great asset to such a bathroom. They can hang laminated cards or pictures of their favorite species on a bulletin board. You can also get them a whale's tooth, which will look great on display in their bathroom. This bathroom could be a destination for any kid obsessed with whales, dolphins, and other aquatic animals. The framed pictures of whales have a rustic feel that would fit perfectly with any bathroom.
19. Doll House!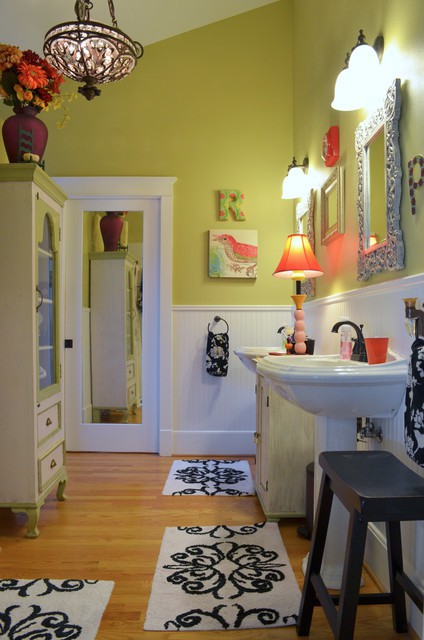 Dollhouse décor is a fun way to get inspiration and commit to a more imaginative childhood in your home! This DIY dollhouse bathroom was designed with young kids in mind, including themed paint colors and fixtures that look like miniature accessories. This is also an excellent idea for kids too young to use the bathroom alone. Adding a shelf and an embedded mirror creates a multi-functional storage area that saves space!
20. Cute But Chic