17 Free Crochet Starfish Patterns For The Beach Lover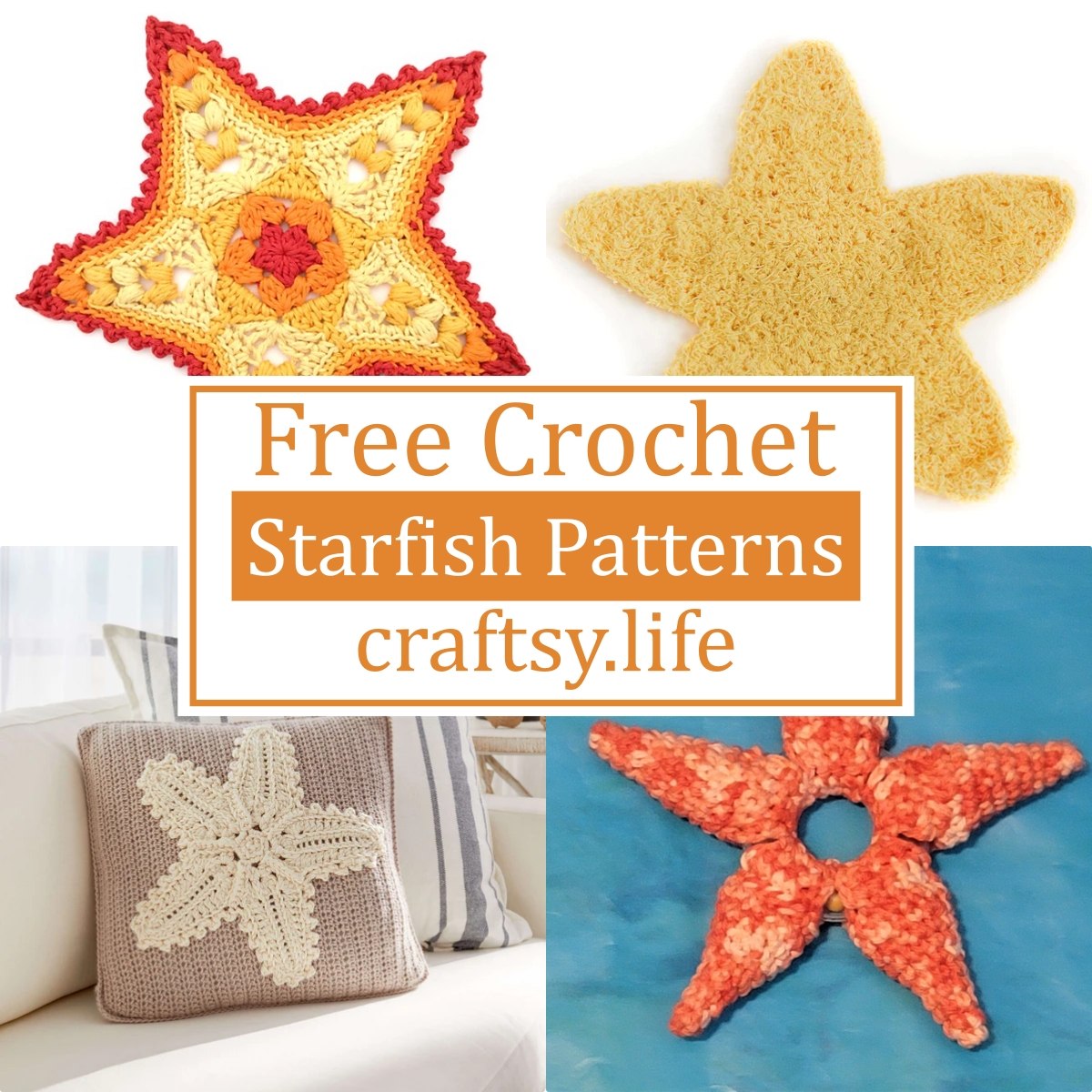 If you're a fan of the ocean and want to add some of its charm and whimsy to your home, consider making a crochet starfish! These little guys are adorable, and they're surprisingly easy to make. They're also a great way to start your next amigurumi project, so now is the perfect time to start if you've never crocheted before! These Crochet starfish can be made with simple stitches and worked up in just a few hours. They make great decorations for the wall or refrigerator or gifts for friends and family! There are many different styles and techniques, so you can find one that fits your taste. We've gathered some of our favorite Crochet Starfish Patterns to enjoy.
Starfish Crochet Patterns To Make You Shine
Crochet starfish make for some of the most adorable, whimsical decorations. Whether you're looking to make a splash at your home or add a little nautical flair to your beach-themed wedding, these crochet starfish patterns will surely be a hit. Crochet starfish are great for decorating your decor! So, These items can be used as decorations or serve as wonderful gifts for any occasion! We've compiled a list of some fantastic crochet starfish patterns that will surely please any sea fanatics.
Whether you're looking to crochet a sea star amigurumi or a more whimsical starfish pattern, these 8 crochet starfish patterns will have you covered!
See More: 15 Easy Free Crochet Beach Bag Patterns
Advantages of Crochet Starfish Patterns
The crochet starfish patterns are not just for the summer. They can be made with any yarn and hook size, so you can make them in any season and color you want.
The crochet starfish pattern is very simple to follow, so this project is perfect for you if you are a beginner and have never crocheted before.
You can use this pattern as a decoration or even as an accessory. They look great in baskets or bowls on your coffee table or on top of your dresser in the bedroom.
The best thing about these crochet starfish patterns is that they are versatile and fun! You can make them as big or small as you want; you can use different colors and even add beads if you want something more colorful.
Crochet Mosaic Goldfish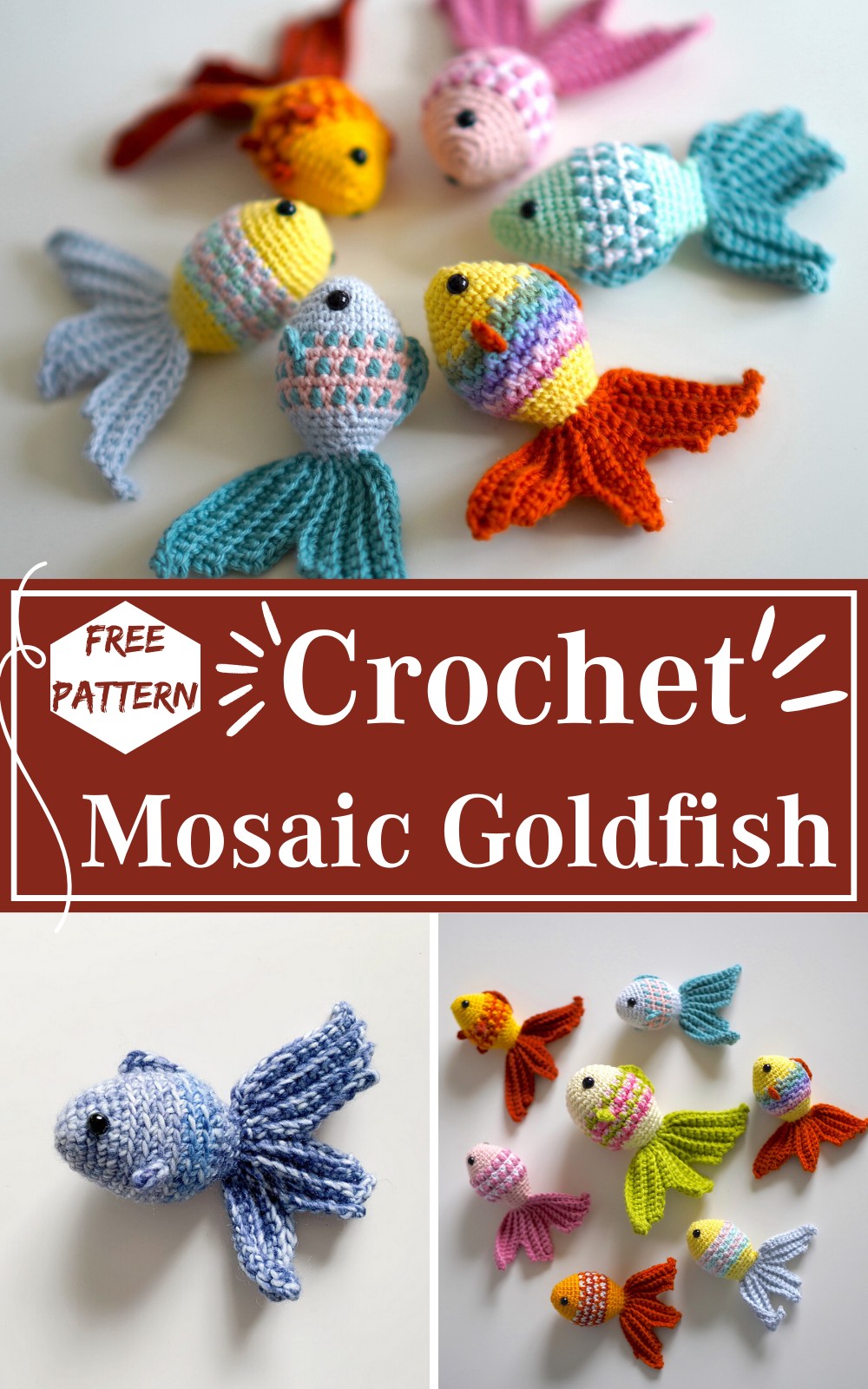 This Crochet Mosaic Goldfish is a darling sea companion! Despite their small size, these charming fishes are uncomplicated to construct, featuring a broad tail, petite fins, glossy black eyes, and a cushioned body. The adorable amigurumi is versatile; use it as a bag zipper charm, a car hanging decoration, or a precious, handmade gift for children. With its mosaic motif, mixing and matching yarn colors to make it distinctively yours is an enjoyable task.
Crochet Fish Keychain
The Fish Keychain is a fun and cute add-on for any set of keys. Its unique features include a 3D spiral design, endearing eyes, small lips, and an attractive tail. It uses a sot plushy yarn that makes it incredibly soft and completes this pattern within minutes.  Although it's primarily a stuffed keychain with a metal hook, an unstuffed one can also serve as a soft scrubby.
Crochet Clownfish Potholder
The Crochet Clownfish Potholder serves utility, and a style flourish in your kitchen. Made with insulating cotton and displaying a delightful fish pattern in two contrasting tones, this potholder protects your hands from hot utensils while adding a pop of color. Additionally, a ring attached to it allows for timely hanging on the wall. The crochet creation uses single stitches for a distinct, firm stitch pattern, and it can be used to store items.
Crochet Sunny The Puffer Fish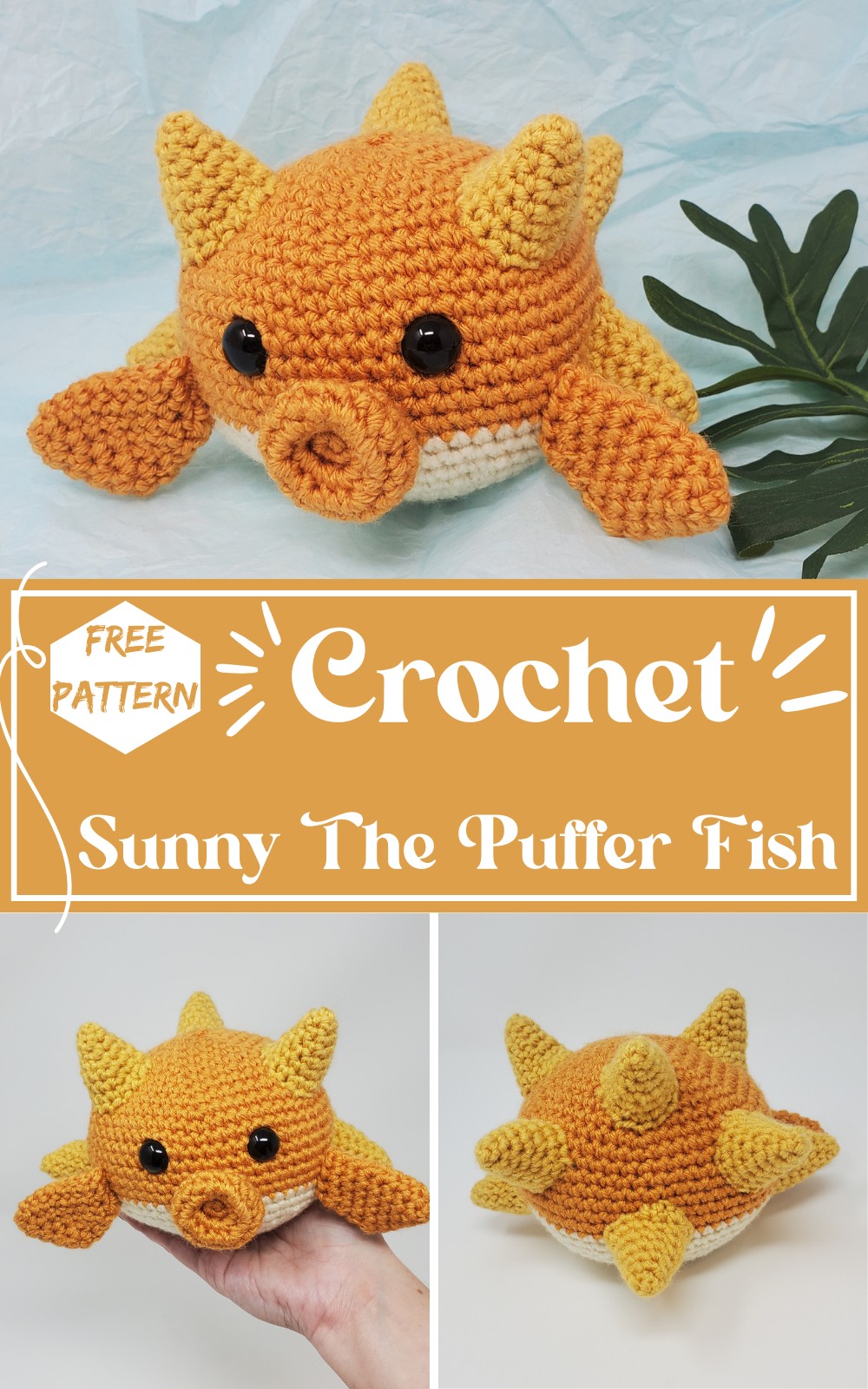 Meet Sunny, the cuddly Puffer Fish plushie for your little one. Despite his spiky exterior, he's all fluffy and lovable. He's essentially a round shape with lips, fins, and spines; all parts are crocheted separately and joined at the end. These adorable little creatures can be made in record time using simple crochet techniques.
Crochet Easy Striped Fish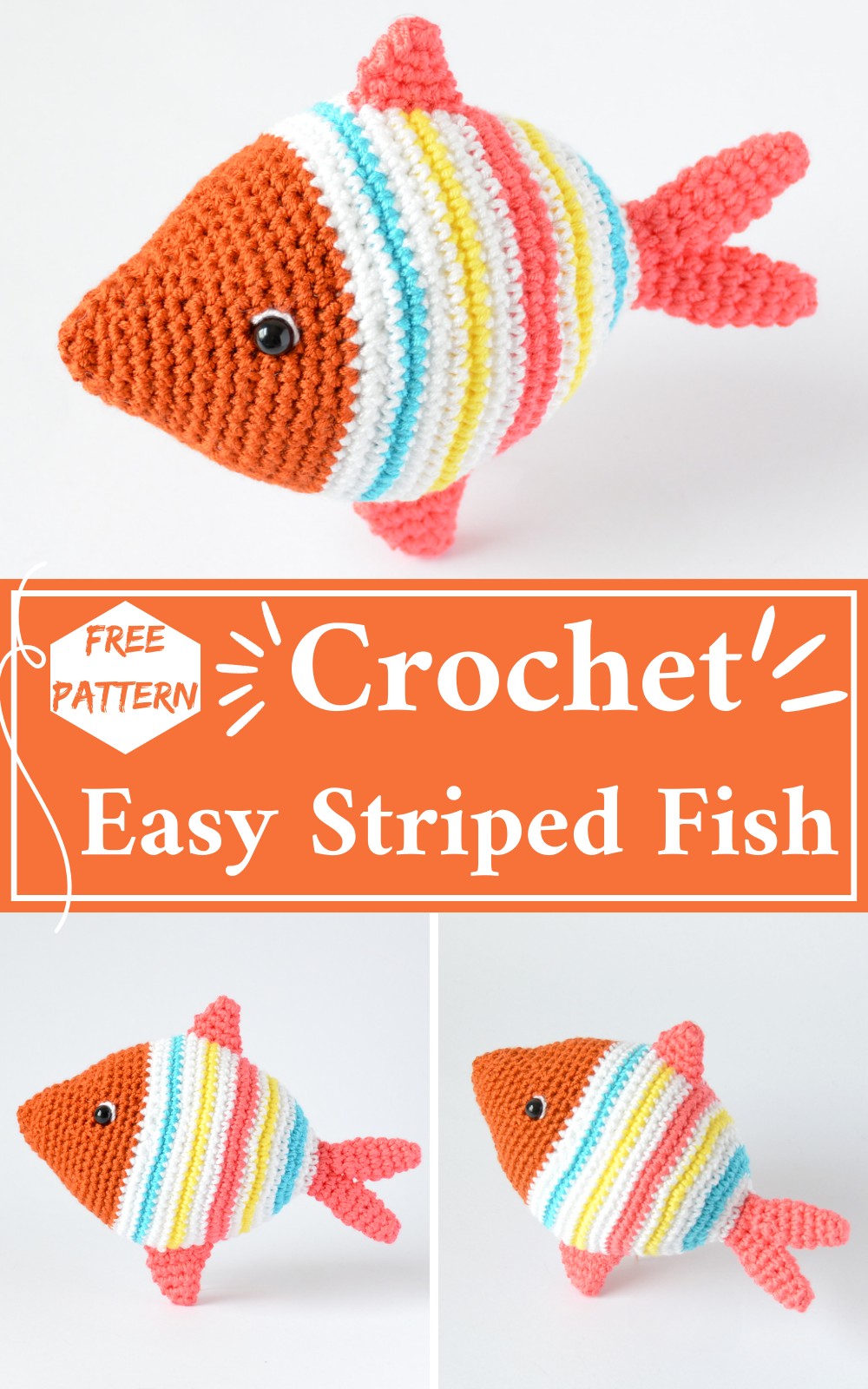 This adorable crochet toy is a quick-to-make pattern perfect for gifting to any marine lover, young or old! With bursts of vibrant stripes and a unique design, this delightful exudes a charm. They can be easily transformed into an on-the-go keychain or a cuddly toy for a unique child in your life.  If you fancy making a school of these crochet fishes, they could make a beautiful decoration for a charming crib mobile!
Crochet Starfish Pillow
Produce the serenity of the ocean in your space with this beautifully crocheted pillow. The sewn-on starfish adds a chic, beachy style, while the Red Heart Soft is perfect for a comforting cuddle. Explore various soothing shades for a unique touch. Whether on the sofa or highlighting your bed linens, this delightful design injects a  joyful aura into any space.
Crochet Starfish Baby Rattle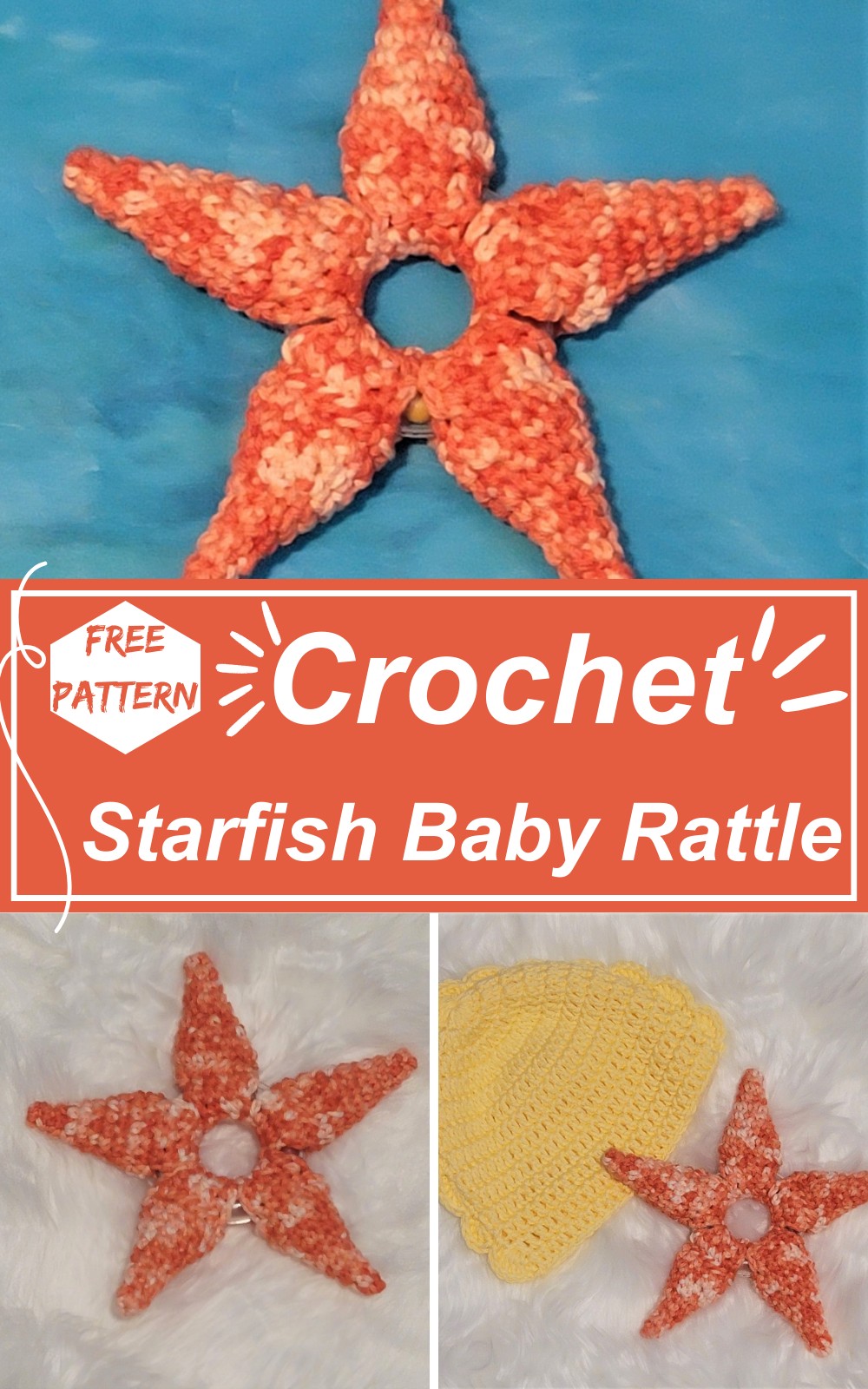 Made with love, this charming Baby Rattle delivers tactile stimulation and a soft, soothing sound to intrigue your little one. It's an excellent homemade toy that adds a nautical twist to playtime. The starfish shape provides a natural, easy-to-grasp form for tiny hands. This crochet pattern uses subtle shades of colors to ensure a visual treat and playful functionality.
Crochet Starfish Scrubby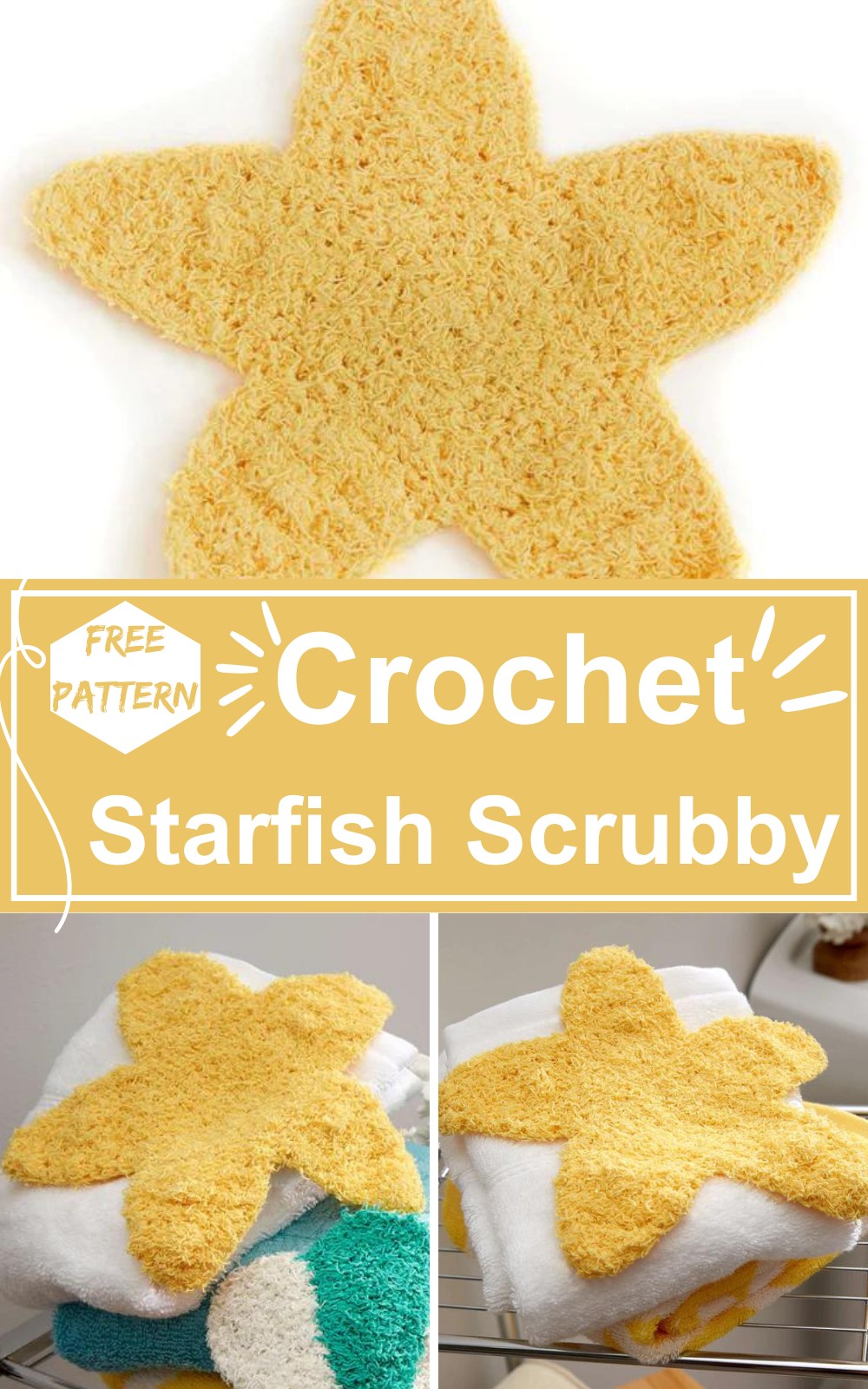 Infuse coastal charm into your kitchen routine with this adorable Crochet Starfish Scrubby! Its rough and abrasive texture makes it perfect for scrubbing stubborn dirt, stains, and grime. The large size provides a better grip and greater coverage for efficient cleaning. However, its use isn't limited to cleaning; it can also be a handy accessory for drying dishes in your kitchen.
Crochet Starfish Applique
This applique's vibrant colors and detailed design lend a charming marine twist. Add to your beach bags, summer hats, baby blankets, or on the headband as done in the above picture.  You can curate an ideal baby shower gift for your dear little one by pairing a crochet starfish headband with the mermaid pattern given in the below link:
Starfish Granny Square: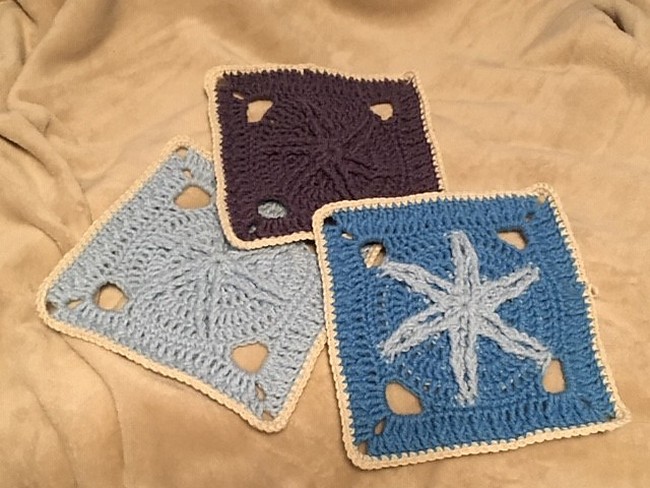 Looking for a different crochet pattern? This starfish granny square is perfect for those who love animals! Crochet it in the style of your choice and mix different color combinations. Your little ones will love this sweet crochet starfish – make several for a whole sea-inspired blanket! This pattern makes a great baby blanket, Christmas ornament, and more. All you need is a few basic crochet stitches for your square's edges and inside. The rest of this project is worked in simple single crochet stitches.
Materials
Worsted Weight (4) yarn in three colors (I used RedHeart brand)
5 mm crochet hook
Scissors
Darning Needle (for the ends)
Stitch Markers (optional)
Abbreviations
Chain = CH
Slip Stitch = SLST
Single Crochet = SC
Half Double Crochet = HDC
Double Crochet = DC
Front Post Double Crochet = FPDC
Front Post Double Trebel = FPDT
Starfish Softie:
This crochet starfish pattern is perfect for summer fun, and it makes a great stocking stuffer or gift for people like surfers, beach bums, and anyone who loves the beach! This Starfish Pattern is a really easy and simple project if you are starting with amigurumi. So, Now you can crochet your cuddly little starfish, just like the ones from the beach! This pattern includes step-by-step instructions, a stitch diagram, and pictures of all steps. It is easy to follow and works quickly. The perfect gift for your favorite ocean lover.
Materials
Any weight of yarn will work – remember that your yarn and hook choice will determine your starfish's finished size. Since this is a toy, I highly recommend choosing a durable yarn that will wash easily.
Crochet Hook – Choose a hook size that gives you a tight single crochet fabric with the yarn you use.
Yarn Needle.
Scissors.
Stuffing.
Lil Starfish:
The perfect gift for baby showers, holidays, and birthdays is these Crochet Starfish Patterns: Lil Starfish because they are super fun & can be used in many ways! Put the starfish on a shelf with other sea life decor, or hang it in the nursery! Here is a quick and easy crochet starfish pattern to make. It's a fun little project perfect if you are learning to crochet or want to whip up some cute summer decor!
Materials
Worsted Weight Yarn
Size E hook (3.50mm)
2 Poney Beads for Eyes (optional)
Poly-fil (for stuffing)
Yarn needle (to weave in ends)
Stella Starfish Amigurumi: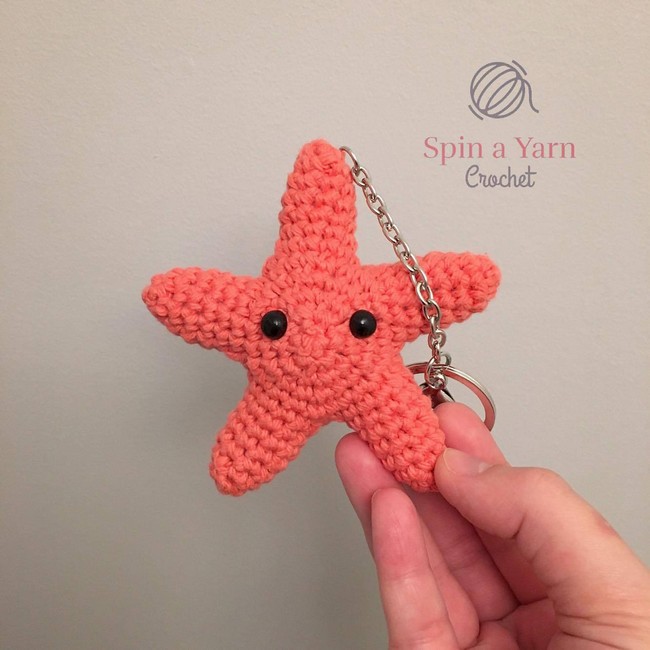 This crochet starfish pattern is perfect for beginners and experienced crocheters alike. The Stella Starfish Amigurumi will surely be a hit with your children and loved ones as it makes a great gift, decoration, or party favor. You'll have fun working on this easy crochet project! This crochet starfish pattern is a great addition to decorating your home, vacation home, and more! Use this crocheted starfish pattern to make any other fish by changing the color of the yarn.
Materials
We used worsted weight Bernat Handicrafter Cotton in Tangerine;
3.5mm hook (I use THESE hooks!);
Tapestry needle;
Safety eyes (optional);
Stuffing;
Keychain ring (optional).
Abbreviations
MR – Magic Ring
Ch – Chain
Slst – Slipstitch
Sc – Single Crochet
Inc – Increase. Work 2 sc into the same st.
Dec – Decrease. Work 2 sc together (when decreasing in the round, I use the invisible decrease).
Starfish Applique – Crocheted: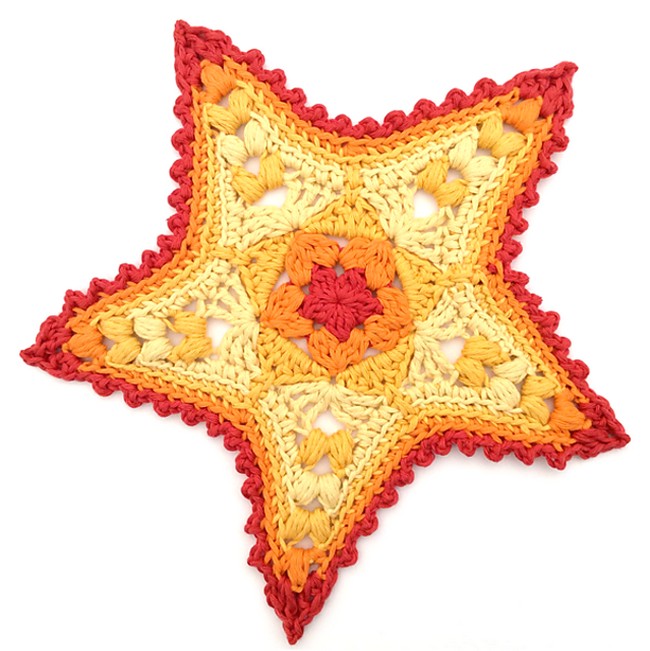 This crochet pattern is an easy way to decorate your summer home. The starfish in this pattern is super easy and looks great because the colors are warm, while the rest of the beach house is cool. Crocheted with soft and colorful acrylic yarn, this Starfish applique makes a wonderful gift for anyone who loves sea creatures and has a passion for beach living! This project works so quickly that you will want to keep making more of them as gifts or just for yourself!
Materials
red
orange
strong yellow
35 vanilla
 Hook Size: 5mm
Abbreviations
ch   chain
ch sp   chain space
cl   cluster
dc   double crochet
dtr   double treble
3dctog   three double crochet together
htr   half treble crochet
tr   treble crochet
2tr cl   two treble cluster
3tr cl   three treble cluster
6tr cl   six treble cluster
ss   slip stitch
sts   stitches
yo   yarn over
* *   repeat instructions between the two asterix
( )   brackets outline a group of stitches, they often all go in the same place
Starfish Buddy: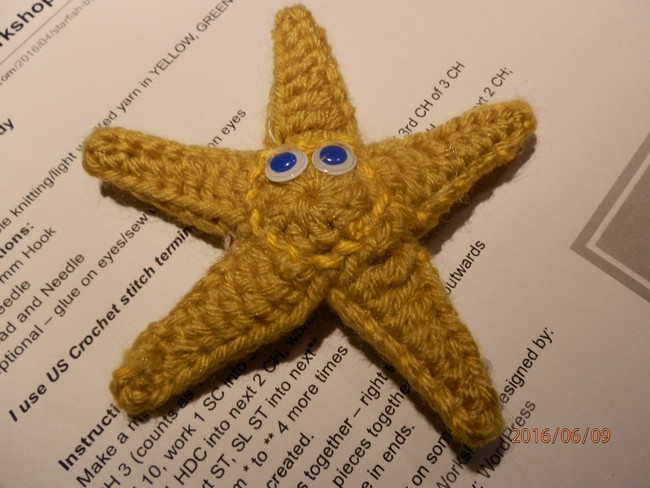 Whether a beginner or an experienced crocheter, you'll love this easy crochet pattern for stars. They make perfect nursery decor or handmade gifts for birthdays, weddings, housewarming parties, holidays, and more! So, Crochet this cute starfish buddy and create a cool coastal decor to add life to your home! You can use it as a prop on a shelf, in a garden as seating, or leave it as a decoration in your house.
Materials
Yarns:
-Scraps of double knitting/light worsted yarn in YELLOW, GREEN OR ANY COLOR!
Hooks & Notions: 
-Size 3.50 mm Hook
-Yarn Needle
-Thread and Needle
– optional – glue on eyes/sew on eyes/button eyes
Starfish Hexi Motif: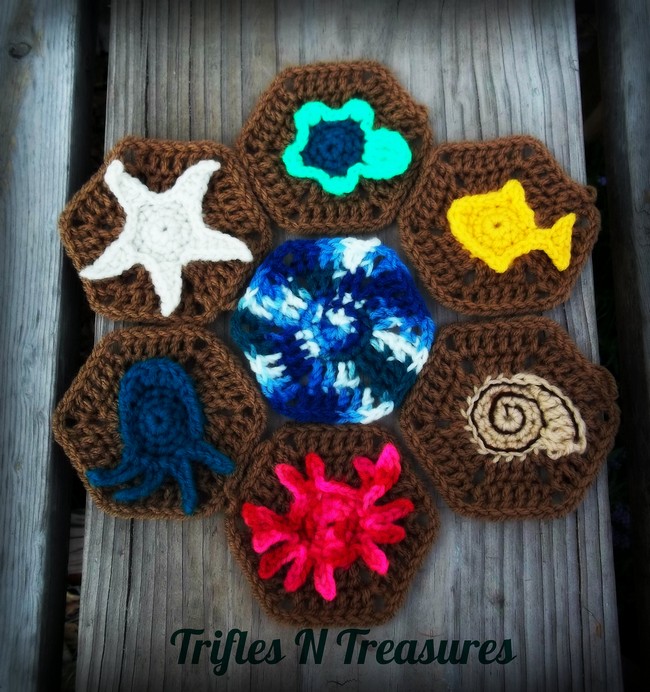 This amigurumi crochet pattern is perfect for the beach! The starfish Hexi motif is a complex shape that's surprisingly simple to make. Make a bunch of these starfish shapes and create an entire beach scene in your living room! This is a fun summer crochet pattern. You can use this as a coaster or embellishment for any project. This is also a perfect small gift for your favorite ocean lover. This starfish makes up very quickly, and its cute silhouette will surely please any age group.
Materials
Worsted weight yarn, in your choice of colors
Size G/6 (4.25mm) crochet hook
Abbreviations
Ch-chain
Rnd-round
Sc-single crochet
Hdc-half double crochet
Dc-double crochet
Trc-triple (or treble) crochet
BLO-work in back loops only of indicated stitch(es)
FLO-work in front loops only of indicated stitch(es)
Sl st-slip stitch
Starfish:
Crochet starfish is an easy crochet pattern for beginners. You can make this lovely starfish decoration for summer beach-themed parties, summertime decor, wedding decorations, or baby nursery crafts! This free crochet pattern will help you make this adorable starfish in no time. It makes a great summery addition to your home or beach bag, but if you want to be make-a-difference-and-give, this is a beautiful handmade gift for someone special. This adorable starfish pattern is perfect for all ages. Use it as a decoration, or use it as a toy for your little ones!
Materials
Worsted Weight Cotton
Crochet Hook: Size H