The koala bear is a beloved animal in Australia and the rest of the world, where it is often found depicted in drawings and statues. It has become a part of popular culture and is often seen as a symbol of cuteness and love. One look at these creatures, with their soft brown fur and pudgy faces, confirms that we are all deeply attracted to them. They are completely non-threatening and irresistibly cute. This is why people love crocheting koala bears—it makes them feel like they are creating a little piece of the world that is happy and peaceful. If you have been looking for free crochet koala patterns, you will be happy to find out that this article includes 15 of them.
Easy Crochet Koala Patterns

Crochet enthusiasts can make their own little koalas using any of these 15 free patterns, ranging from beginner-friendly to intermediate-level. This collection of 15 Free Crochet Koala Patterns is a great place to start crocheting koalas; these little cuties are delightful additions to any home. From small to large, delicate to bold, you will surely find something that fits your personality. The patterns in this book have been designed by some of the best crochet designers worldwide. They are easy enough for beginners and more experienced crocheters alike.
Tips For Crocheting Koala Patterns
Crocheting koalas is a fun way to use your creativity and imagination. They're also a great way to promote the conservation of endangered species. Koala crochet patterns are easy to find online. You can even find free patterns to print and create crocheted koala toys.
Here are some tips for crocheting koala patterns:
Use yarns with good stitch definition, such as cotton or wool blends. These will help your stitches stand out when sewn together instead of being hidden in the fabric.
Choose a color you love or match the recipient's favorite color. Koalas come in many colors, so you can pick something that suits their personality perfectly!
Remember accessories like hats, scarves, and sweaters when making your toy. This will make it look more realistic and give it more depth and personality!
Bear & Koala Backpack Buddies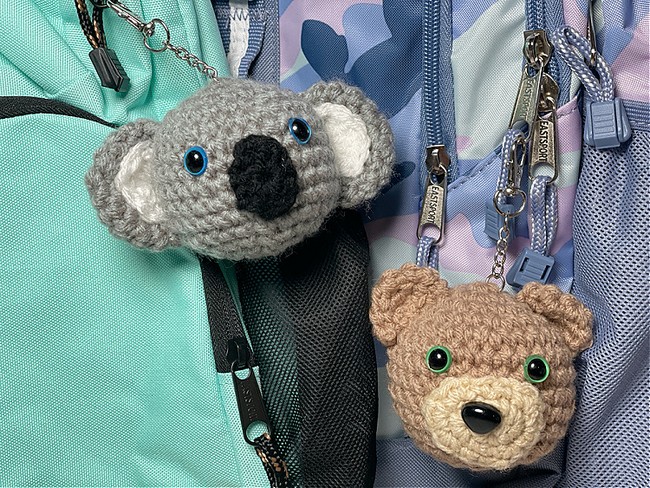 Handmade crochet animal backpack buddies are the perfect fit for any child, young and old! They are adorable and functional, with a large front zippered pocket, interior zipper pocket, and adjustable shoulder straps. A must-have for school or care for your little ones! These easy-to-follow DIY crochet kits are fun and educational, with a helpful guide to the basics of crocheting included. Add your personal touches to build your skills and create a one-of-a-kind backpack buddy for you or someone you love!
Materials
G crochet hook (4.25 mm)
Fiberfill Stuffing
2- 10 mm Safety Eyes
13 mm Safety Nose (for bear)
Yarn Needle
Keychain Hardware
Jewelry Pliers
Kira The Koala
Crochet Kira the Koala is a sweet little koala who enjoys the simple things in life: cuddling, cuddling, and more cuddling! This pattern is great for beginners who want to try their hand at amigurumi and more experienced crocheters looking for a new challenge. After all, everyone needs an adorable little friend! Crochet Kira the Koala is a cuddly soft toy made in Peru using 100% cotton. This sweet little velvety kitty is machine washable, making it perfect for little hands; your little one will love to snuggle with this sweet Koala as you read together and dreams away.
Materials
Crochet hook: 2.5 mm (US C/2)
Stuffing
Needle
Scissors
Pins
2 Stitch markers
Safety eyes 6 mm (Option 1)
Black embroidery thread (Option 2 if you'd like to embroider the eyes)
Abbreviations
R# - Row/round number
st - Stitch
ch - Chain
sl st - Slip stitch
mc - Magic circle
sc - Single crochet
inc - Increase
dec - Decrease
FLO - Front loop only
BLO - Back loop only
sk - Skip
[...] x ... - Repeat the sequence of stitches in brackets x-times
(...) - Total number of stitches at the end of each row/round
You can also see: Crochet Frankenstein Pattern 
Easy Koala Mati
This Crochet a koala mati is ideal for any child who loves to crochet, beginner or expert. This set contains everything you need to get started. The patterns are easy to follow and require only basic crochet experience; it also has tutorials for extra help. Your child will love to have this cute koala mati as a friend. Crochet with your child, and then put it on the shelf in her room. With this tutorial, you and your child can learn how to crochet such toys that are beautiful and functional at the same time!
Materials
crochet hook 3.0mm
Gray, blue cotton yarn
white acrylic yarn
18mm safety eyes
silicone cotton
2 decorative buttons
wool needle
Koala Sleep Mask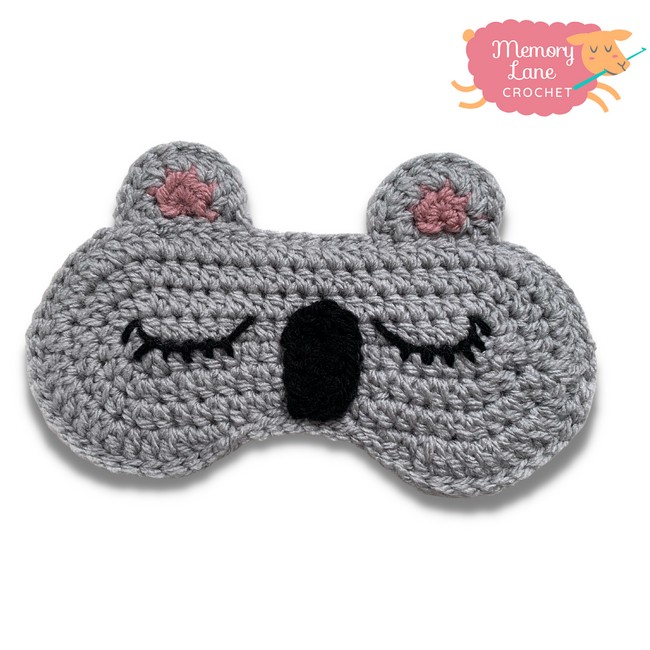 Have you ever wanted to be a koala for sleep? Okay, maybe not. But our crochet koala sleep mask is just what you need. With super soft faux fur and an elastic band, it will keep your eyes from opening while you are trying to sleep. The Crochet Koala sleep mask is great for a friend or loved one who likes cozy. The softness of the coziest yarn and the joy of this adorable koala character will make you feel relaxed, cozy, and ready for bed! It is super soft, lightweight, and comfortable. It's perfect for blocking light when you want to nap or relax.
Materials
5mm crochet hook
Worsted yarn
32cm elastic
Sewing needle
Scissors
Abbreviations
ch – Chain
dc – Double crochet
2dc – 2 dc in 1 space (increase)
hdc – Half double crochet
2hdc / 3hdc / 5hdc – 2 / 3 / 5 hdc in 1 space (increase)
sc – Single crochet
sl st – Slip stitch
st/sts – Stitch/Stitches
Koala Granny Square
The Crochet Koala Granny Square is a cute little toy for your toddler. This granny square features adorable koalas that will please any little ones! It is easy to make and a fun blank canvas for your creativity. Use your favorite colors and yarn to create something cute and cuddly for yourself or a gift. This crochet pattern is a wonderful gift for someone special in your life or yourself! It makes for a great ornament on your tree, table, or window hanging from your window in the spring and summer.
Materials
Yarn: any cotton yarn in the following colors and quantities: one gray skein, one light green skein, and a few yards/meters of off-white, black, brown, and green. Suggested yarn: DMC Happy Cotton, 0.7 oz (20 g), 47 yards (43 m).
Crochet hook, size E/4 (3.5 mm).
Tapestry needle.
Abbreviations
ch: chain.
st: stitch.
sts: stitches.
sl st: slip stitch.
sc: single crochet.
hdc: half double crochet.
dc: double crochet.
tr: treble crochet.
Koala C2C Blanket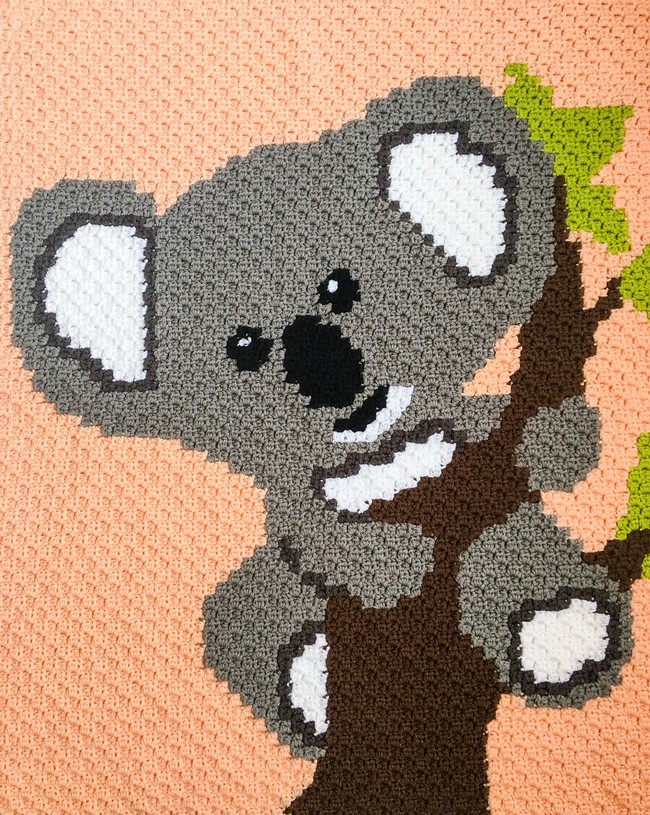 This adorably cuddly Koala is the perfect companion for your little one. Crochet using the C2C (corner to corner) technique; this blanket quickly works up and looks great in any color combination. With this pattern, you can get as energetic as you like, and it will always look as good. This easy-to-make kawaii Koala C2C blanket is perfect for anyone! Its simple design makes it a relatively fast project, and the finished product can be used for any occasion. Make it a gift for someone special, or just lay it out in your living room! In just one hour, you will have mastered the basic stitches, creating a beautiful blanket to be admired by friends and family!
Materials
Size I/9 (5.5 mm) crochet hook
Tapestry needle
Scissors
Abbreviations
P = peach
BR = brown
LG = light grey
W = white
DG = dark grey
G = green
BL = black
RS = right side
WS = wrong side
hdc = half double crochet
ch = chain
sc = single crochet
sl st = slip stitch
Crochet Koala Keychain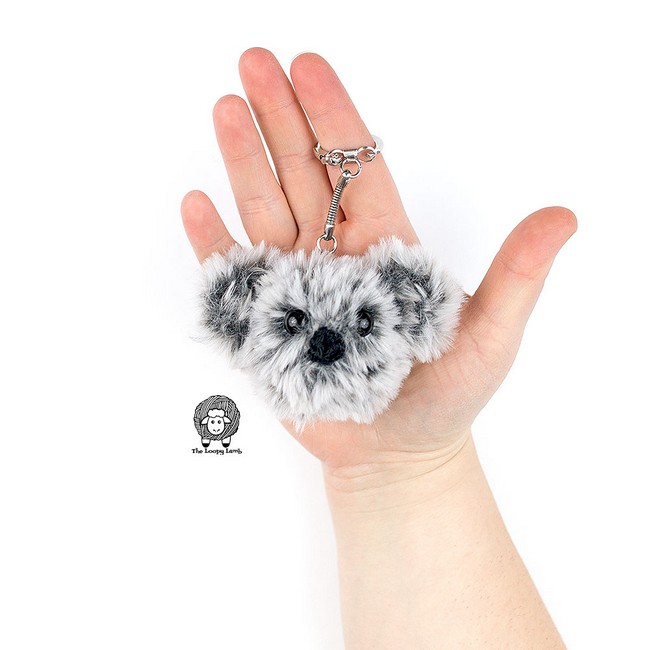 Warm up your keys with a crochet koala keychain. This adorable embellished Koala will ensure your keys don't slip away, and he makes the perfect gift for anyone on the go! Keep your keys organized with the adorable Crochet Koala Keychain. With a simple but fun design, it features a koala in its natural habitat of eucalyptus trees. This keychain can help you take this charismatic creature home wherever you go! This easy crochet koala keychain is a great way to add a little whimsy and color to your keys.
Materials
5.5 mm Furls Crochet Hook <– Save 15% on Furls Crochet by shopping through this link and using the code LOOPYLAMB15 at the checkout
3.5mm Furls Crochet Hook
14 yards/13 m (11g/0.4oz) of Fable Fur in Kuma
0.7 yards/0.6m of Knitpicks Brava Worsted in Black
2 – 10mm Black Safety Eyes
Polyester Stuffing
Tapestry Needle
Scissors
Stitch Marker
1 – 12mm Split Ring
1 – Keychain
Abbreviations
CH = Chain
ST = Stitch
SL ST = Slip Stitch
MC = Magic Circle
SC = Single Crochet
SCINC = Single Crochet Increase
SCDEC = Single Crochet Decrease
FO = Finish Off
Kaya the Koala
Kaya the Koala is a beautifully designed crochet koala designed to look just like the real thing. It is made in bright, cheerful shades that are perfect for children to play with and enjoy. This makes a great toy for a little one but also has educational benefits. From her adorable little nose to her fuzzy ears, you'll fall head over heels for this cute little Koala! It is a cute amigurumi pattern that makes an adorable gift for kids of all ages. It can be used as a decoration for your home, for a baby shower, or for your children's playroom.
Materials
5.5 mm Furls Crochet Hook <– Save 15% on Furls Crochet by shopping through this link and using the code LOOPYLAMB15 at checkout
3.5 mm Furls Crochet Hook
1 – 71 yard/100g skein of Fable Fur in Kuma
4 yards/3.7m (0.03 oz/1g) of Knitpicks Brava Worsted in Black
2 – 18mm Safety Eyes
Polyester Stuffing
Tapestry Needle
Scissors
Stitch Marker
Abbreviations
CH = Chain
ST = Stitch
SL ST = Slip Stitch
SC = Single Crochet
SCINC = Single Crochet Increase
SCDEC = Single Crochet Decrease
MC = Magic Circle
FO = Finish Off
Koala Keychain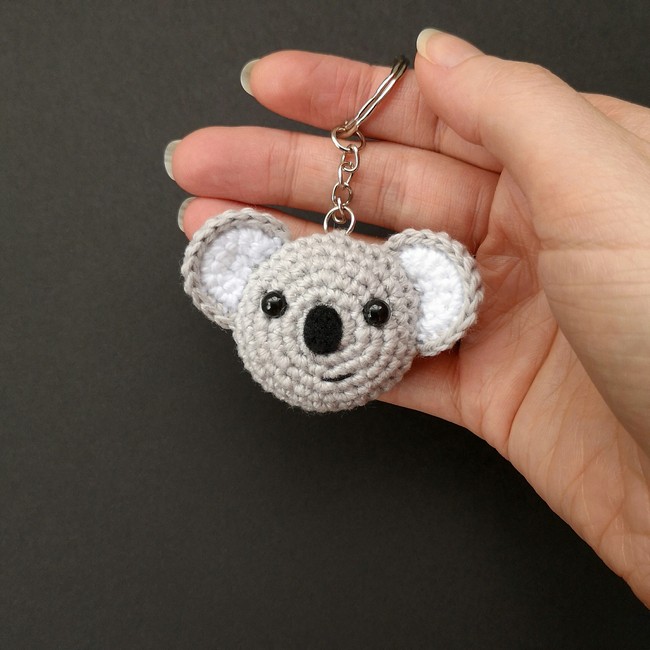 This cute crochet koala keychain is a perfect gift for the animal lover. This little guy is sure to be your best friend, a fashionable and functional addition to any set of keys. This crochet koala keychain brings a little of the great outdoors into your home. This handmade crochet koala keychain is made with a perfect blend of premium acrylic and wool and stuffed with polyfill to make it soft and cuddly. It hangs on any keyhole, so you can use it as a zipper pull or attach it to your backpack – however you like!
Materials
Paintbox Yarns Cotton DK

 in Stormy Grey and Paper White
2.5mm hook
6mm safety eyes
Polyester fiberfill
A small piece of black felt
Black embroidery floss
Keychain
Yarn needle, stitch marker, scissors
Abbreviations
ch – chain
sc – single crochet
inc – increase
invdec – invisible decrease
FLO – front loop only
st/s – stitch/es
[…] – repeat the instructions in brackets
(…) – indicates stitch count at end of round
Koala Amigurumi Keychain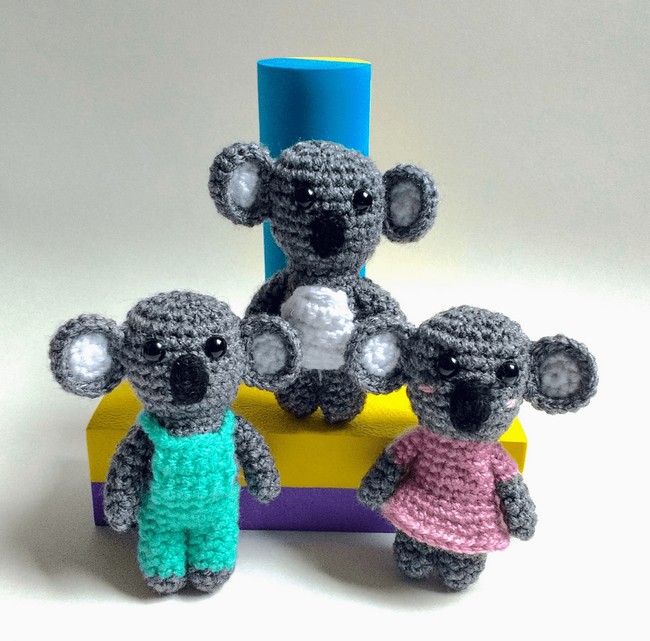 This little crochet koala amigurumi keychain is cute and the perfect accessory. This crochet koala amigurumi keychain is the perfect gift for any animal lover. Adorable and easy to make, this keychain will put a smile on your face every time you use it! This cute little keychain is a great gift for any animal lover or enthusiast. Crochet koala keychains are perfect for friends, family, colleagues, and teachers! These cute little koalas are perfect for your keys, backpack, or purse!
Materials
For the Koala and the clothes: yarn calling for 5,5 mm hook in grey and white for the Koala without clothes; grey and green for the male or grey and pink for the female.
Size 3.25 mm (D) crochet hook
A small amount of black yarn for the nose and white yarn for the ears
2 black safety eyes (7.5 mm)
Poly-Fil Fiberfill stuffing
Stitch markers
Tapestry needle
Abbreviations
chain (ch)
magic ring (mr)
single crochet (sc)
increase (inc)
invisible decrease (dec)
slip stitch (sl st)
half double crochet (hdc)
double crochet (dc)
Crochet Koala
This little crochet koala is the perfect gift for animal lovers. This handmade stuffed animal's life-like, polyester fiber details make it very realistic. This Crochet Koala Applique is a sweet addition to any project. The Koala can be used as an applique or look great made out of felt and sewn on. This adorable crochet koala applique is a great addition to any shirt, hat, or anything else you can think of! It will give your project a unique, fun, and cuddly touch that everyone will love!
Materials
Grey, white, and black worsted weight yarn. Only a small amount of each.
Size G/4.0 crochet hook
2 safety eyes
Tapestry needle to weave in ends
Koala Coin Purse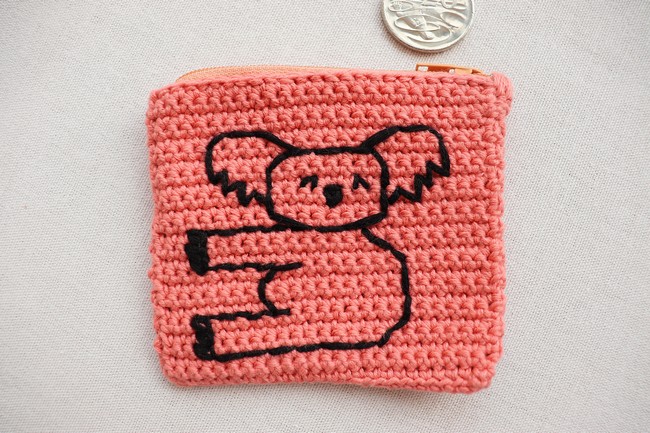 Koala Coin Purse is a perfect place to store your coins. A small flap at the top of the head closes tightly with a snap so you can keep everything safe inside. This little kangaroo is made with super soft yarn and is the perfect addition to any handbag or backpack! The original Koala Coin Purse is back—thank goodness! It's still perfectly sized for coins, but with a new and improved closure that's easier to use than before. They make a great gift idea for someone who needs to keep track of their stuff.
Materials
1 skein Drops Safran in Mauve Uni Color 57 (175 yd/160 m) for Color A
1 skein Drops Safran in Black Uni Color 16 (175 yd/160 m) for Color B
US size C-2 (2.5 mm) crochet hook
4''/ 10 cm zipper in similar yarn color
Sewing needle, scissors
Abbreviations
ch: chain
sc:  single crochet
sl st: slip stitch
st(s): stitch(es)
Koala Hand Puppet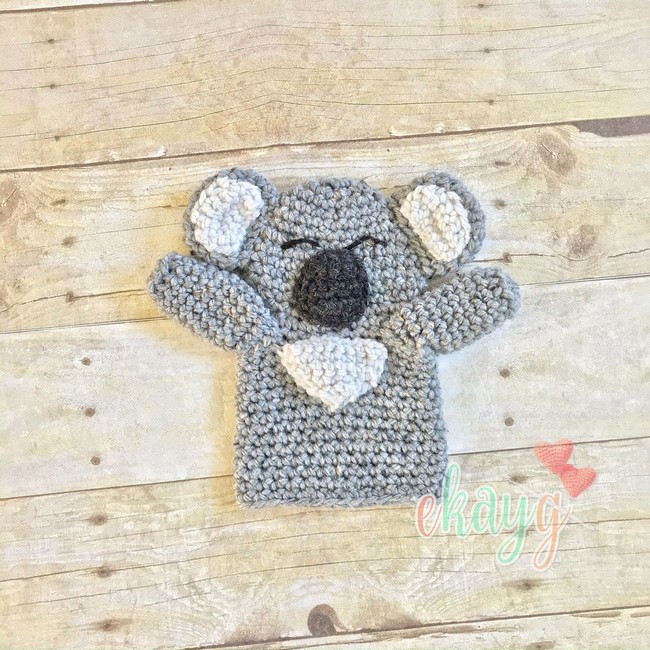 This lifelike Crochet Koala Hand Puppet is so cute and soft! Clear, easy-to-follow instructions make creating this adorable hand puppet a simple and fun task for children and adults alike. Crochet Koala is the perfect companion for lovers of all things cute. This little guy will be your new favorite puppet, especially if you love koalas. With his cuteness, you won't even care that he's mainly used for picking up random things off the floor. His fluffy fur makes him comfortable to hold and play with 🙂
Materials
Bulky Weight 5 Yarn:
The Hook Nook, Yummy Tweed – Precious Metals (A) approximately 90 yds
The Hook Nook, Yummy – Like a Dove (B) approximately 8 yds
The Hook Nook, Yummy – Charcoal Toothpaste (C) approximately 4 yds
DK Weight 3 Yarn:
The Hook Nook, Small Stuff – Tattoo Ink
Crochet Hook, size H – 5mm I love the Interchangeable Designer Hook set from The Hook Nook!)
Stitch marker
Tapestry needle
Scissors
Abbreviations
Magic ring
Rnd, rnds – round, rounds
St, sts – stitch, stitches
Sl st – slip stitch
Sk – skip
Sc – single crochet
Inc – increase, 2 sts in same st
Dec – decrease, combine 2 sts to make 1 st
BLO – back loop only
Koala C2C Square
Crochet a cuddly koala square with this free pattern. It's fun to make and would look great hanging in your home (or on the back of your handbag!). Make something special for yourself or a loved one. This Koala C2C Square is made in colors that are designed to blend nicely if you want to add more colors and make it into your work of art. You can do this by using a few different colors, making some beaded flowers on top, or adding other things you think look good.
Materials
yarn: Red Heart Super Saver (yarn weight: Medium 4) in 8 colors:
Light Blue for the background approx. 153.1 yds (140 m)
Soft White approx. 42.1 yds (38.5 m)
Oatmeal approx. 39.91 yds (36.5 m)
Aran approx. 7.65 yds (7 m)
Baby Pink approx. 1.09 yds (1 m)
Dusty Gray: approx. 55.22 yds (50.5 m)
Gray Heather approx. 18.59 yds (17 m)
Black approx. 24.06 yds (22 m)
5.5 mm crochet hook (I have used Furls Wooden Hook, Cocobolo)
Tapestry needle
Scissors
Abbreviations
- RS: right side
- WS: wrong side
Kozy the Koala
Bring a little of the great outdoors home with Crochet Kozy the Koala. This adorable, huggable stuffed animal is hand-crocheted using soft mohair yarn. His classic koala features are easy to love and appreciate, including his little ears, spotted body, and cute baby hands and feet. Whether you love koalas or love to Crochet, this Crochet Kozy the Koala is your new best friend. The pattern has been written with the beginner in mind, and all steps have detailed photos to walk you through each pattern step. To complete this project, you will need knowledge of single, half-double, and double crochet stitches.
Materials
- Worsted weight yarn (4 ply) in gray and black (U.K. equivalent is Aran & AUS/NZ is 8 ply.)
- G (4.00 mm) crochet hook
- 15mm black safety eyes
- Fiberfill (or your stuffing of choice)
- Yarn needle
- Scissors
- Stitch marker