Cute and creepy, free crochet Frankenstein patterns will make an adorable addition to your Halloween decorations. Crochet them in different sizes, in easy-to-read charts, and with clear instructions. These Crochet Frankenstein Patterns are perfect for gifts, party favors, decorations, or craft fair items. These patterns will help you get started with the basics, like a beanie and a scarf. Once you've mastered those techniques, move on to more advanced skills like color work and fancier stitches. This collection of fifteen patterns will inspire you to create your own Frankenstein or someone close. These amazing amigurumi patterns include everything from the basics, such as amigurumi and voodoo dolls, to unique costumes, such as an armadillo and Terminator-inspired creations!
Crochet Frankenstein Patterns For Halloween

Crocheters are crafty, but sometimes they take their talents to the next level. Crocheted versions of Hollywood movie characters, inanimate objects, and even people are all possible with the right yarn and pattern. If you're looking for a new way to use your crochet skills or want to add some unique Christmas decorations to your collection, check out this list of 15 crocheted Frankensteins. These patterns come from different designers, but they all show amazing skills and imagination if you're looking for a fun challenge. Enjoy!
Tips And Tricks For Crochet Frankenstein Patterns
Crochet is a fantastic and rewarding hobby, but sometimes some tricky techniques can be frustrating. Here are some tips and tricks for getting started on a crochet Frankenstein pattern.
Learning to read patterns
Counting stitches
Crocheting in rounds
Working in the round with multiple colors
Frankenstein zu Halloween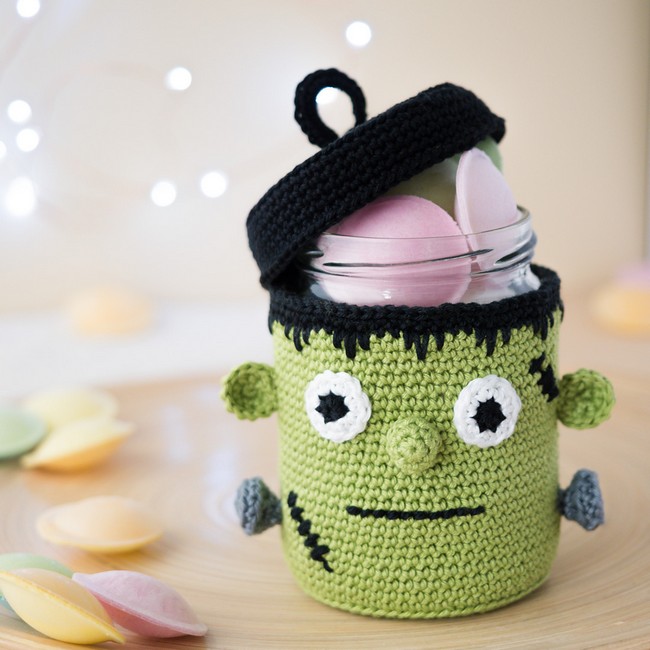 Slide this crocheted Frankenstein into a jar and add some spooky charm to your desk or nightstand. Halloween may be the scariest day of the year, but it's no reason not to have a little fun! This quick stitch Frankenstein is a great way to get into the Halloween spirit and is perfect for storing small candies, pens, or crochet hooks. This cute little Frankenstein is a great gift for kids and adults alike. This can be a great project if you want to recycle old jars and cans or start with the new fresh yarn. It's quick, easy, and fun to make
Materials
Cotton yarn with 125 m/ 50 g

E.g. Catania by Schachenmayr in the colors 205 (green, 1 ball), 242 (grey, remainder), 106 (white, remainder) and 110 (black, 1 ball)

addiNature walnut crochet hook 2.5 mm
an empty straight-mouth jar, we used a 350g peanut butter jar - but cardboard rolled into a roll works just as well
Stitch marker (optional)
wool needle
scissors
Abbreviations
dc = single crochet/s
follow = following
Km = slip stitch/s
Ch = chain stitch/n
M = stitch/s
MR = Magic Ring
R = row/s
Rd = round/s
rep = repeat
Friendly Baby Frankenstein's Monster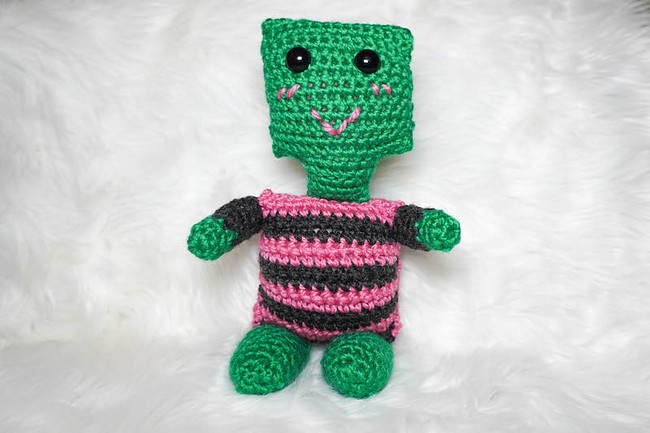 Meet the Friendly Baby Frankenstein's Monster! This lovable friend has arms reached out for hugs and friendship, making them an essential addition to any child's toy collection. This friendly little monster features an adorable face, big button eyes, and soft textured skin stitches. This perfect pattern adds energy and fun to a baby's room. Crochet your own Frankenstein monster, which is sure to steal your heart! Baby Frankenstein's Monster is eager to be friends with your little one and keeps their hands busy playing the friendly monster.
Materials
King Cole Big Value Chunky yarn (100% acrylic, 3.5 oz/100 g, 167 yd/152 m) – 1 skein each in 833 Green (CA), 1542 Rose (CB), and 3281 Charcoal (CC), or approximately 80 yd (73 m) in CA, 40 yd (36.5 m) in CB, and 35 yd (32 m) in CC in any bulky weight yarn.
Big Value Chunky is available from your local yarn shop or online at LoveCrafts or Wool Warehouse UK.
US Size H-8/5 mm crochet hook, or size needed to obtain gauge.
Fairfield World Poly-Fil Premium Polyester Fiber Fill – 12 oz. bag.
Clover Quick Locking Stitch Markers.
Clover bent-tip yarn needle.
15 mm black safety eyes – 1 pair.
Abbreviations
BL – back loop only –
CA – Color A
CB – Color B
CC – Color C
ch – chain
pm – place stitch marker
rep – repeat
Rnd(s) – Round(s)
sc – single crochet
sl st – slip stitch
st(s) – stitch(es)
yo – yarn over
Mini Frank Amigurumi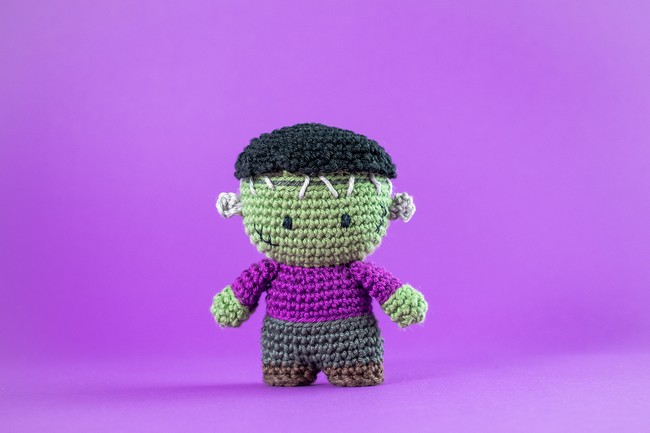 This is a cute crochet Mini Frank amigurumi. This little guy makes a great companion for around the house or can be your new pet! Meet Mini Frank, everyone's favorite little pink piggy, with a happy smile and a very snuggly personality. Mini Frank amigurumi is easy to take along on your daily adventures; stuff him in your bag or carry bag. Mini Frank is ready to be adopted by his new home, which will surely love him as much as we do! This mini amigurumi comes just right in your hand. Perfect toy for kids to play with and will give you a good time. The pattern is simple and easy to follow.
Materials
2mm crochet hook
Light worsted (or DK) yarn color of your preference (I used 100% acrylic for this pattern) colors: brown, dark gray, purple, light gray, black and green
Stuffing material
Scissors
Embroidering needle for the eyes
Or, you can use safety eyes!
Frankenstein's Monster Kitchen Towel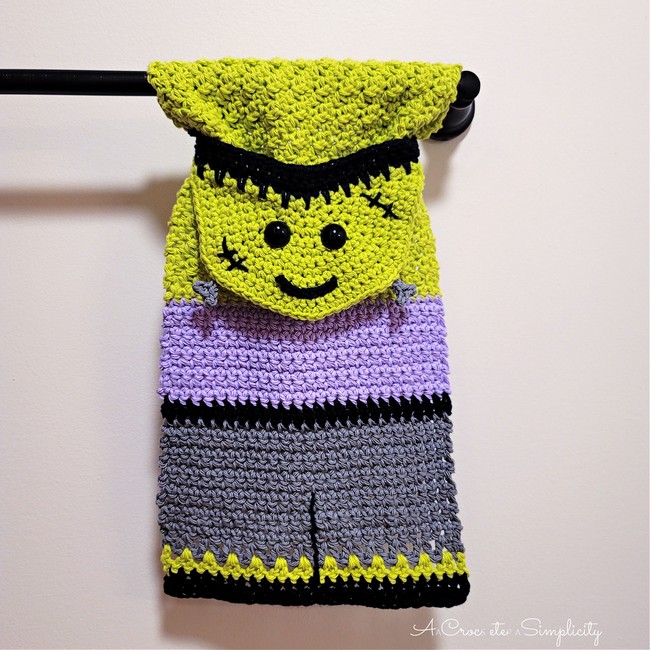 This crochet Frankenstein's monster kitchen towel is a great addition to any kitchen. It is made of cotton for superior absorption and is machine washable. It's perfect for hanging over your kitchen sink or as a gift for someone who loves creepiness and crochet! Add a little fright to your kitchen with this crochet Frankenstein's monster towel, perfect for any horror movie lover! This crochet monster towel features the Frankenstein monster's face and is made with 100% cotton yarn.
Materials
Yarn: Yarn I used for my sample is Lily Sugar n' Cream; 4 / Worsted Weight Cotton Yarn; (100% cotton / 120 yards / 70.9 g / 109 m / 2.5 oz )
Crochet Hooks: H/8/5.00mm;  J/10/6.00mm; G/6/4.00mm (my favorite hooks are Clover Amour Hooks, I've never had an ache in my hand since switching)
Measuring Tape
(2) 18mm Black Safety Eye
Scissors
Tapestry Needle
Abbreviations
ch(s): chain
st(s): stitch(es)
sl st(s): slip stitch(es)
sc: single crochet
hdc: half double crochet
dc: double crochet
spike st: spike stitch
Alt-dc: alternate double crochet
Join with a standing sc:
Join with a standing hdc:
Join with a standing dc:
RS: right side
Rep: repeat
Lil Monsters Frankenstein Pumpkin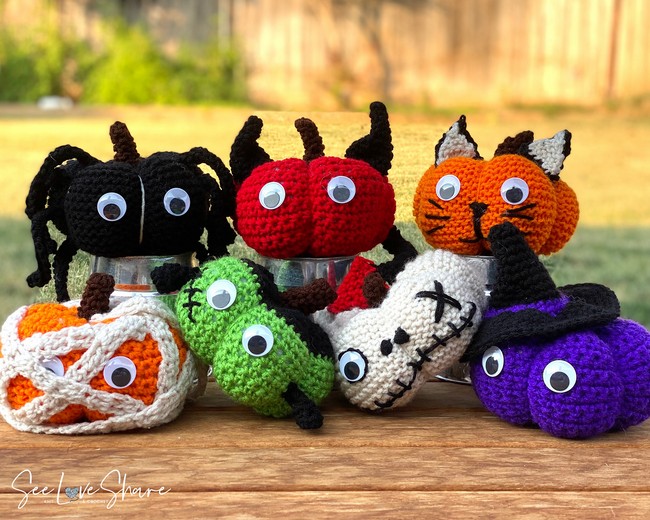 Lovely yet sinister looking, this cute crochet Lil monsters Frankenstein pumpkin will add a little fright to your Halloween decor. A fun conversation starter! Great as a gift or even to add to your own collection of handmade items. The crochet yarn makes the pumpkin soft and enjoyable to play with. Light enough for little hands to carry around or snuggle up at night. Celebrate your favorite spooky holiday with this crocheted pumpkin. It comes ready to wipe down and includes a removable stuffing tube for easy cleaning.
Materials
Crochet Hook: 6.0mm
Knitting Needles: 6.00mm
Tapestry needle
Polyfill stuffing
Floral Wire
Googly Eyes (7 sets) – AKA Wobbly Eyes in 25mm
Abbreviations
SC: Single crochet
DC: Double crochet
Ch: Chain
Sts : Stitches
Slst : Slip Stitch
Rnd: Round
Frankenstein Scrubby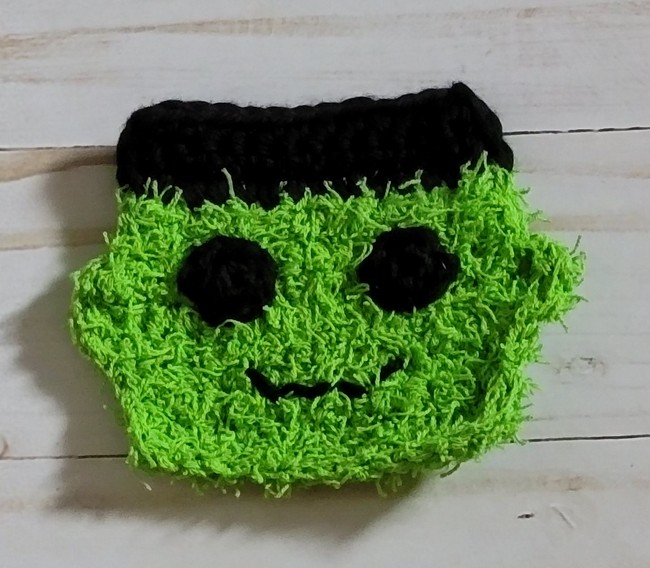 Crochet the Frankenstein Scrubby for a stunningly spooky Halloween decoration. It comes in two sizes for a relatively large voodoo doll look or something small enough to use as a pendant or bag charm. Made with worsted weight yarn and an appropriate size hook, this would also be fabulous, made up of thicker yarn and thread or embroidery floss. This unisex scrubby makes a great addition to any kitchen. Crochet this Frankenstein scrubby with cotton yarn, and use it to clean your sink, countertops, and more.
Materials
Yarn Bee Scrub-ology cotton yarn – 15 yards green
Cotton worsted yarn – 5 yards black
Size G (4.0 mm) crochet hook
Yarn needle
Frankenstein Amigurumi
Crochet Frankenstein will be your little monster's friend. Your little monster can now sleep holding the crochet, Frankenstein. The size is perfect for small hands to grab onto! Crochet Frankenstein will also be a great decoration for any room in your house, office/school. This crochet pattern includes instructions on how to make his head, arms, and body, as well as a chart for his eyes, buttons, and stitches in various colors. You can even create your own Frankenstein!
Materials
Crochet hook: 3mm (US D-3) and 2mm (US B-1)
Scissors,
Stitch markers,
Toy stuffing, (Note: if you wish to explore some more options, including eco alternatives, then have a look at my Stuffing for Toys blog post),
Tapestry needle,
Sewing needle,
2 small black buttons.
Abbreviations
Mr – magic ring
Sc – single crochet
Inc – 2 in one
Decr – 2 together
Ch – chain
Slpst – slip stitch
Hdc – half double crochet
Dc – double crochet
Crochet Frankenstein Marshmallow Keychains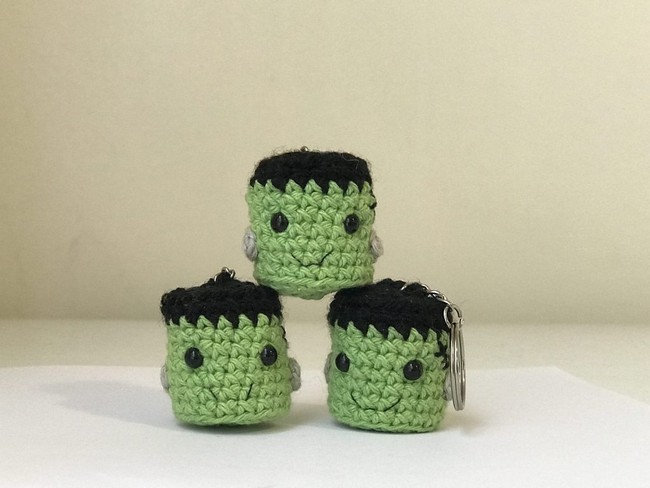 Everyone loves marshmallows! And these Frankenstein Marshmallow Keychains will get you in a festive and fun mood. Crochet the monster, stitch up some brains and make a new friend for your keys. Crochet Frankenstein Marshmallow Keychains are the perfect complement to any keychain and make great gifts. This fun and quirky crochet amigurumi design will be the talk of your next party. These cute crochet Frankenstein marshmallow keychains are the perfect way to express your love of classic horror films! Perfect accessories for anyone with a sense of humor. The perfect edible accessories for the spooky season.
Materials
Black medium weight (4) yarn (I used Red Heart Soft in black)
Green medium weight (4) yarn (I used Lion Brand Re-Up in Lime)
Grey lightweight (3) yarn (I used Patons Grace in clay)
6 mm safety eyes
Black sewing thread
Black embroidery thread
Keyring (optional)
Poly-fil
4.5 mm crochet hook
3mm crochet hook
Scissors
Tapestry Needle
Stitch Marker
Abbreviations
SC – Single Crochet
ST – Stitch
INC – Increase (two single crochet in one stitch)
DEC – Decrease (single crochet decrease aka sc2tog)
FO – Fasten Off
Monster Pillow Pattern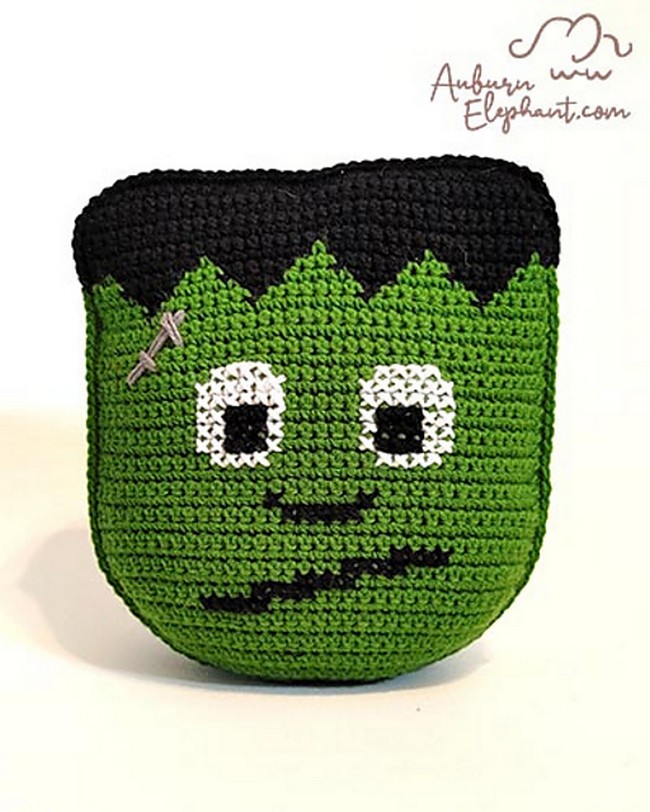 Monster pillows are the perfect gift for kids. You'll never need to worry about finding a friend when you have one on hand to keep you company. Treat yourself to a new friend that's always there when you need them. The Monster Pillow is a great companion for every kid's room, classroom or playroom. Quality 100% cotton pillow case has been stuffed with polyfill, making it soft and comfortable on your face. This adorable crocheted monster pillow is a great addition to any kid's room! It comes with an attached tassel. Great for a gift or to keep for yourself!
Materials
Big Twist Value Yarn, Medium Worsted Weight 4 (100% Acrylic, 371 yds, 6 oz)  Forest Green, 1 skein- approx 200 yds; Black, 1 skein- approx 75 yds; White, approx 5 yds; Medium Grey, small amount for details
G/6 4.25mm hook
Needle
Polyfil stuffing
Abbreviations
FSC- Foundation Single Crochet
Sl st- Slip Stitch
Ch- Chain
St(s)- Stitch(es)
SC- Single Crochet
BPSC- Back Post Single Crochet
Skip- Skip next stitch
Frankenstein Amigurumi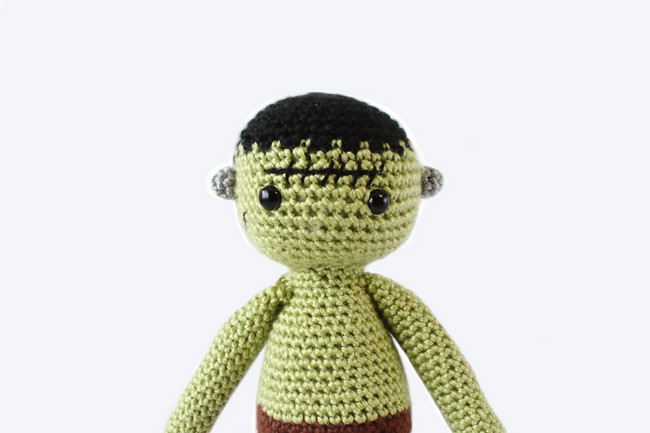 Crocheting the Franken-Stein is easier than pie. Follow our step-by-step instructions, and you'll be ready to introduce this monster to your friends within a few hours! It's the one and only Frankie Stein! This sweet girl loves to show off her brilliant style and loves to be the center of attention. It is a great Halloween decoration and deserves a special place in your home! This crochet doll teaches you the magic art of crocheting and dressing up a monster. It is an easy project, which you can do even if you are a beginner. With practice and repetition, your skills will improve over time.
Materials
3.25mm crochet hook / D hook*

#4 medium weight yarn – I used Yarn Bee Soft Secret in cute Avocado Green, Cocoa, Coal, and Mist

stitch markers*

tapestry needle*

8mm safety eyes*

Polyfill stuffing*
Abbreviations
ch – chain
SC – single crochet
DC – double crochet
HDC – half double crochet
sl – slip stitch
Mini Frankenstein Basket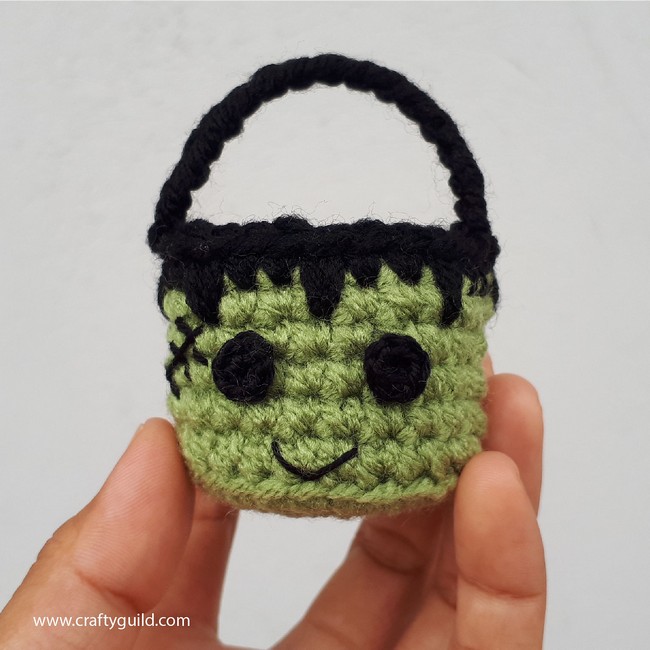 This crochet basket has been designed with a little monster in mind. It will be a perfect addition to any nursery and your favorite coffee shop! This adorable mini Frankenstein basket is the perfect addition to your Frankenstein-themed decor. In a cute and friendly design, this basket makes a great gift. This mini Frankenstein basket makes a great toy holder; add a doll or teddy. Made up of granny stitch squares, this basket is quick to stitch up and can be personalized for boys or girls. It lets you bring home a little monster while keeping your hands free!
Materials
Worsted weight yarn, I used Red Heart with Love in Lettuce and Black color
3.75 mm crochet hook
size 10 black crochet thread for the eyes, mouth, and scar
1.30 mm crochet hook
pair of scissors
needle
Abbreviations
SC = single crochet
Ch = chain
sl st = slip stitch
SC increase = make 2 single crochet in same stitch
HDC = half double crochet
Frankenstein Amigurumi
With this crochet Frankenstein, you can crochet your yarn into a monster. You can even customize it by adding eyes, buttons, and more! The perfect accessory for your next Halloween party, this crochet Frankenstein is adorable and cuddly and will keep you company all year long. He's easy to make, too--crochet stitches are used throughout. It will take you right back to those amazing moments when you were first introduced to the Sandman. With his crazy eyes and crazier hair, he'll add light to your day as he screams his love for Halloween.
Materials
The selected yarn in needed colors

– Crochet hook size 3mm/ US E size

– polifiber fill for stuffing 

cardboard of plastic circle 

tapestry needle

 scissors
Abbreviations
sc– single crochet    dc – double crochet    ch(s) – chain(s)
st(s) – stitch(es) MR – magic ring dec – decrease- sc2tog
inc- increase- 2 sc in next st   BLO – works in back loops only
Frankenstein Candy Bowl
This crochet Frankenstein Candy Bowl is the perfect Halloween addition to your holiday. This bowl is a great gift for kids and adults who don't mind an attitude problem. It is light, cozy, and perfect for Halloween! Crocheted from high-quality materials. You can store candies or use them as a decorative pieces! The bowl will hold quite a bit of candy or be used as a decorative centerpiece to display other decorative items like skeletons or fake bugs around your home.
Materials
Yarn: Yarn used for the sample shown above is Lily Sugar n' Cream; 4 / Worsted Weight Cotton Yarn; (100% cotton / 120 yards / 70.9 g / 109 m / 2.5 oz ) (Hot Green: 270 yards) (Black: 80 yards) (White: 2 yards)  &  Caron Simply Soft; 4 / Worsted Weight 100% Acrylic Yarn (5 oz / 141.7 g / 250 yards / 228 m) (Grey Heather: 6 yards)
Crochet Hooks: H/8/5.00mm; G/6/4.00mm (my favorite hooks are Clover Amour Hooks, I've never had an ache in my hand since switching)
Measuring Tape
Plastic Canvas: 12″ x 18″ (1) 12″x18″ sheet & (1) 8″x10″ sheet
Solid Black Eyes (2) 15mm
Scissors
Tapestry Needle
Candy
Abbreviations
ch(s): chain
st(s): stitch(es)
sl st(s): slip stitch(es)
sc: single crochet
hdc: half double crochet
bpsc: back post single crochet
sc2tog: single crochet decrease
yo: yarn over
SM: stitch marker
FLO: front loop only
BLO: back loop only
RS: right side
WS: wrong side
Rep: repeat
Rnd: round
Frankenstein Ragdoll
This crochet Frankenstein ragdoll is the perfect doll for your little monster. It looks just like the classic movie monsters and is sure to be an instant hit with any kid! The Frankenstein crochet ragdoll pattern includes instructions for making a male and female version of this unique crochet toy. This adorable Frankenstein ragdoll is the perfect companion for your child's playtime and bedtime. They can pretend to be mummies, scare people, or have them as friends. Your kids will love it!
Materials
Worsted weight yarn in the following colors: green, brown, black, white
G/4.00mm hook
Poly-fil stuffing
Tapestry needle and scissors
Abbreviations
Ch = chain, sc = single crochet, dc = double crochet, tr = treble crochet, st = stitch(es)
Frankenstein's Monster Pattern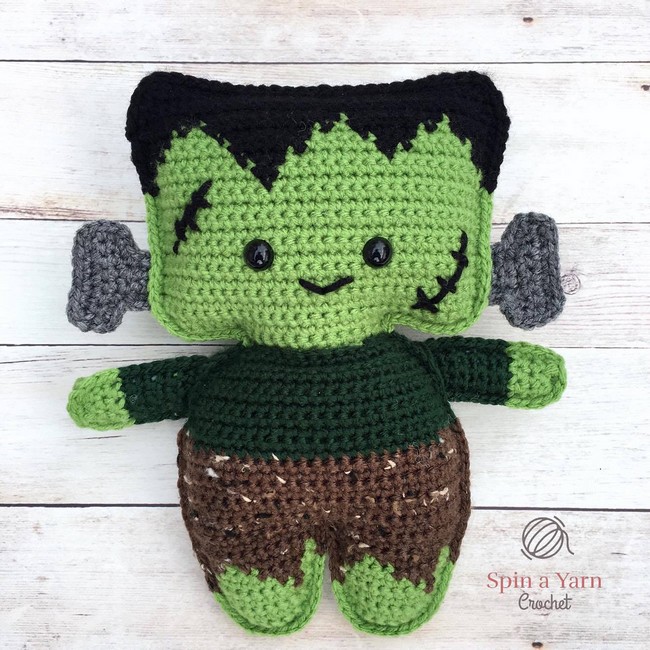 Crochet your way to a new level of monster madness with this crochet Frankenstein's Monster DIY! It is a fun project you will want to start now to have him ready for Halloween! This friendly monster is great for beginners looking to learn the basics of crochet in a fun way. This Frankenstein's Monster crochet pattern will surely be a hit with all the children and adults in your life this Halloween! This amigurumi is easy, quick to finish, and very simple to customize, so you can make it your own.
Materials
3.5mm hook (I use THESE hooks!);
Bernat Super Value in Lush for skin;
Bernat Premium in Chocolate Tweed for pants;
Bernat Premium in Evergreen for shirt;
Red Heart Super Saver in Black for hair, scars and mouth;
Red Heart Super Saver in Grey Heather for bolts;
12mm Safety Eyes;
Stuffing;
Tapestry needle