Crochet monsters are a great way to get creative with your crochet projects. They're fun and easy to make, and they can be made in an endless variety of color combinations. You can also add extra details like a bow or different facial expressions to make your monster unique. Of course, if you prefer, you can also just make them all look the same. Make one of these monsters for a child you know, or make one for yourself! These would be cute in a baby's nursery, or you could even use them as crochet Christmas ornaments. If you really love these little guys, you could even combine two of the patterns below to create your own unique stitch pattern for Crochet Monster Patterns.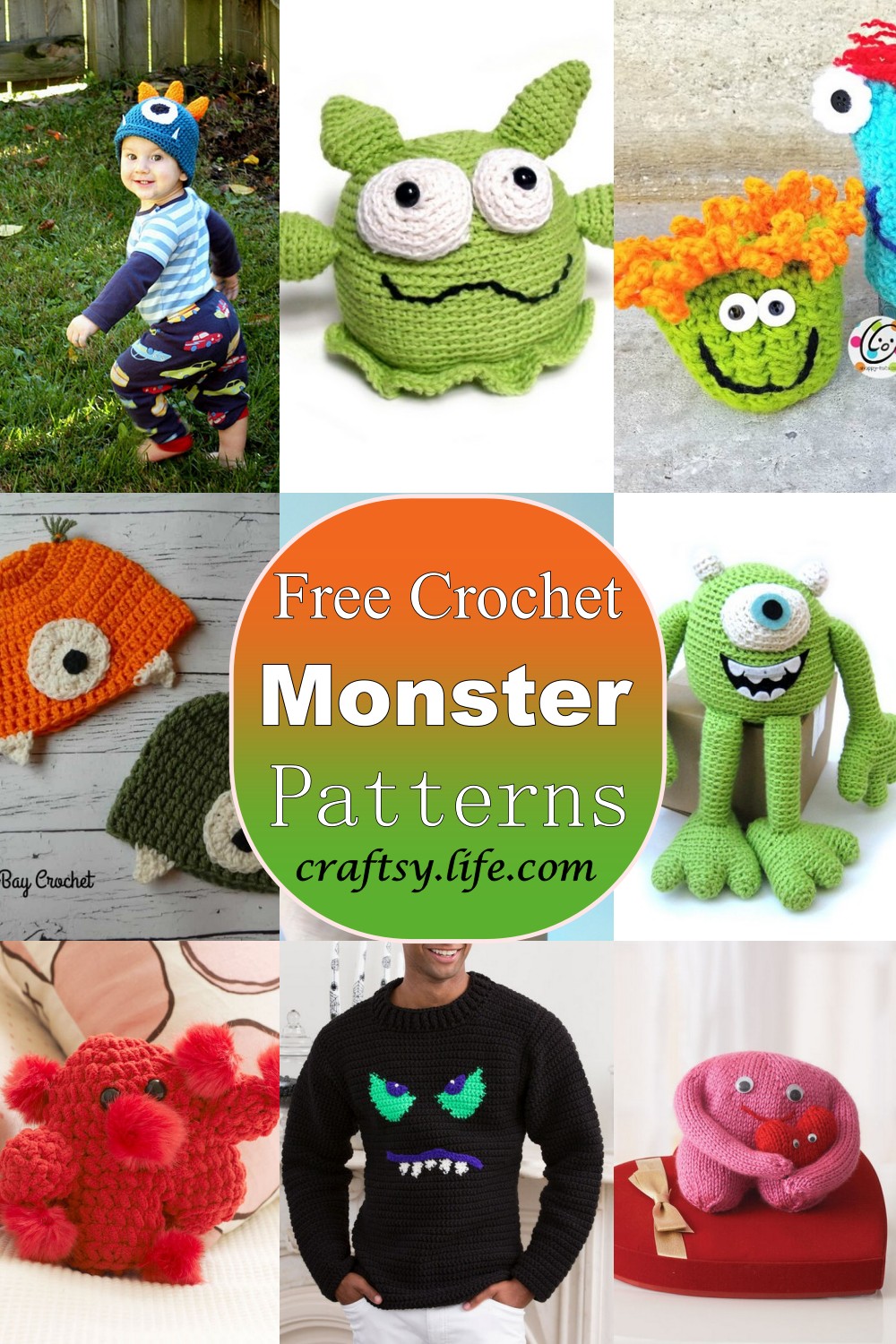 Here are amigurumi patterns as well as appliques that can be sewn onto hats and other items. There is sure to be something here for everyone! If you have some leftover yarns in your stash, then try one of these 25 Free Crochet Monster Patterns to use them up. The best thing about these free crochet monster patterns is that they are not so hard to make and do not require so much time to crochet them up. You can make them by using simple crochet stitches, and they don't require so much effort. These free crochet monster patterns will help you to decorate your home in a unique way.
Who doesn't love crochet monsters these 25 unique patterns are the perfect way to use up your yarn stash and practice your stitches.
How To Crochet A Monster:
When you're ready to try your hand at crochet monster patterns, it's exciting! You want to get right into it and make the cutest, most adorable, most frightening monsters possible.
We want that for you too! And if this is your first time, or if you've been crocheting for a while but never tried a monster pattern before, there are a few tips that will help you get started. So here they are:
To help you get started on creating your own monsters here is a helpful video tutorial:
If you prefer to read instructions instead of watching a video, here is a step-by-step guide:
1) Start with chaining three stitches together and then double crocheting four times into one of those chains. Repeat this process until there are six loops on your hook.
2) Chain two stitches together and then double crochet into each of them again until there are nine loops on your hook.
3) Chain one stitch together before beginning to increase by one stitch per row until there are twelve loops on your hook.
4) Double crochet around the entire piece so that it has an even thickness all around without any visible seams or holes in its sides. This will be what gives our monster its "skin."
5) Stuff your monster with polyfill stuffing material or any other kind of stuffing that works well for soft toys.
Reasons Why You Should Crochet Monster Patterns
Make a gift for a loved one.
You can make a gift for yourself.
Bring them to work and create an office monster battle league.
Create your own crochet monster army and rule the world!
They make great gifts for friends and family.
You can sell them online and make money.
They're perfect for other holidays besides Halloween, like birthdays, Christmas, Valentine's Day, & more!
People will pay you to make one-of-a-kind monsters for their children's rooms or nurseries.
Wittle Wubble Monster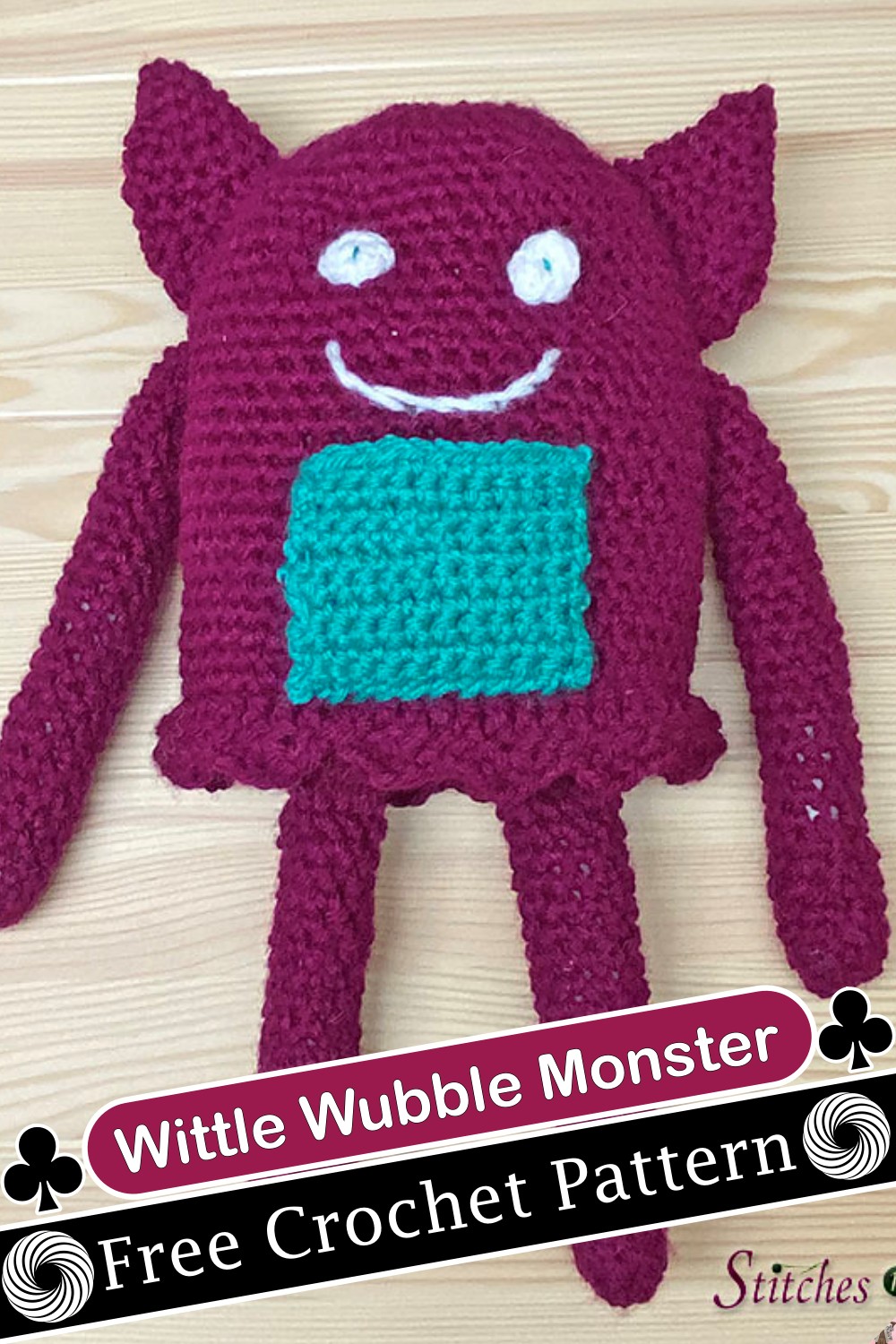 If you or your loved one could use a new friend, meet Wittle Wubble. This friendly crochet monster has long arms for hugging, hanging, and getting into all sorts of mischief. Make a Wittle Wubble friend of your very own, or give one as a gift. This cute crochet monster has long arms for hugging, hanging, and getting into all sorts of mischief. You can even put a secret message in the pocket for someone special. The best thing about these monsters is that no two are alike! Each one is hand-made by me, so you'll have a unique monster friend who's just yours.
Eyes Popping Monster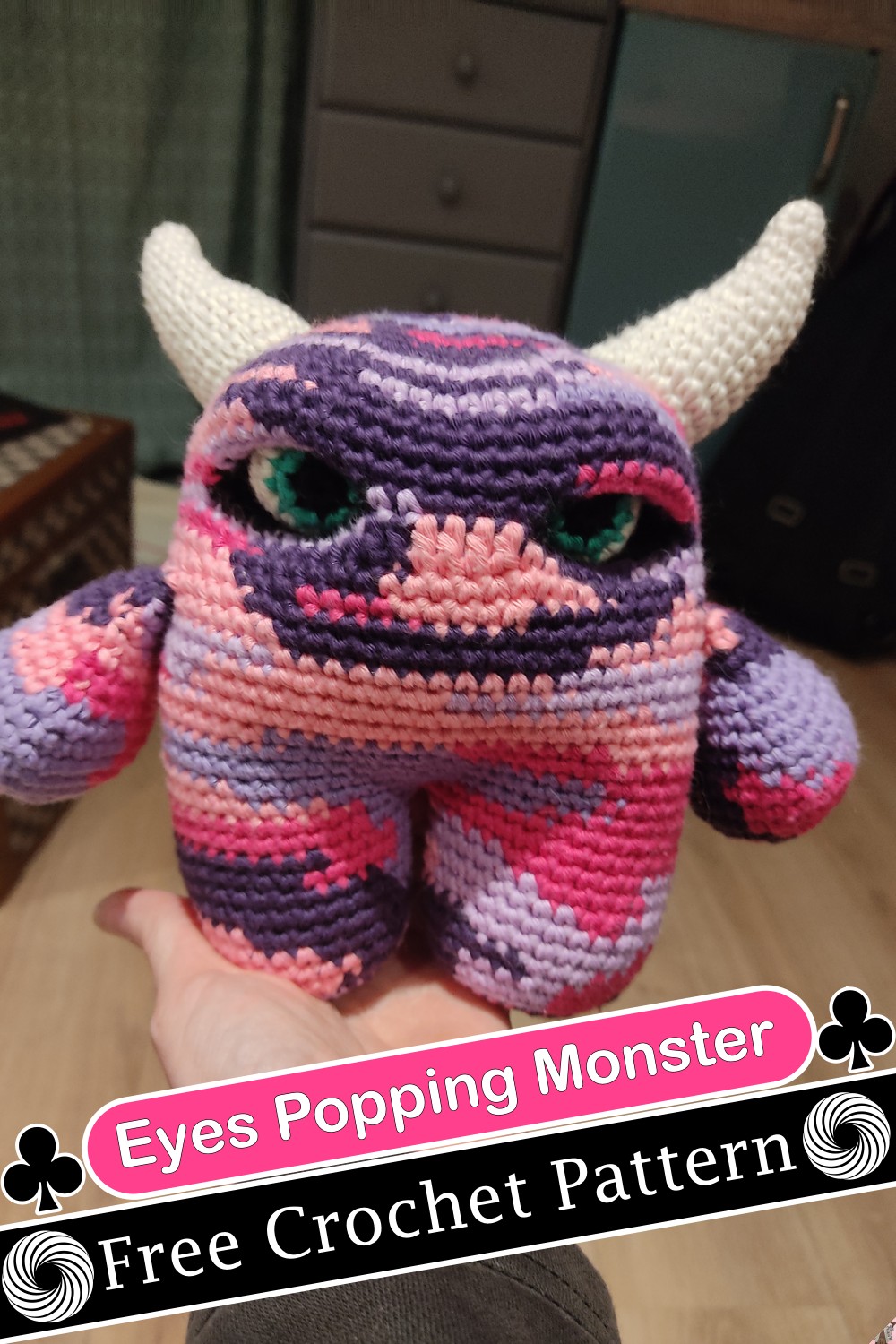 This Crochet Eyes Popping Monster has got big eyes, monster teeth, and a tiny little hat (or headband) to top it off! A great pattern for beginning crocheters who are ready to start shaping. This is the perfect pattern for a crochet beginner. It is perfect for making stuffed animals or other toy crafts, scrapbooks, and gift wrapping. A must-have in your craft materials arsenal. This handmade monster will keep your little one company all day long. Every monster is unique and is handmade with love.
Wally the Worry Monster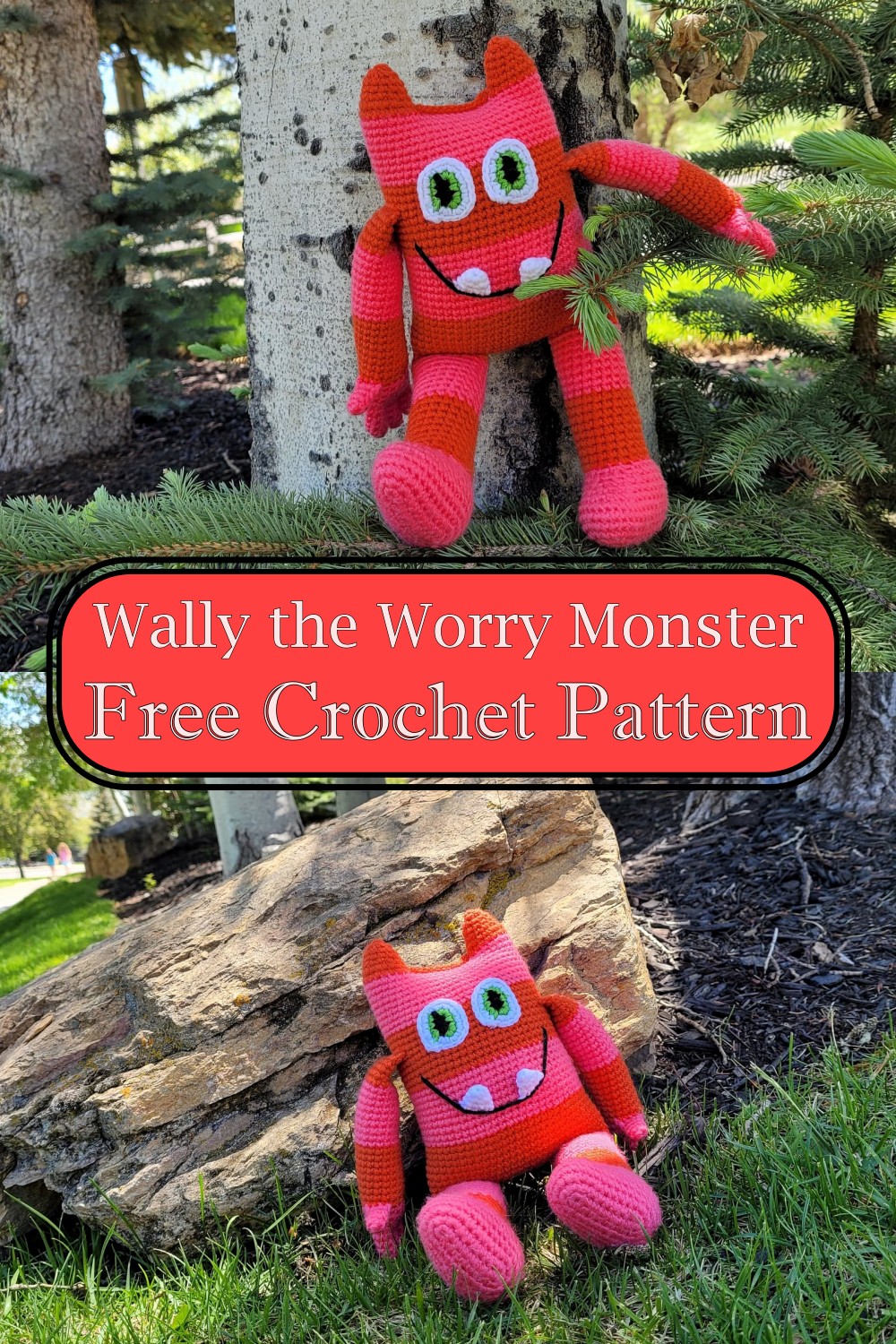 Wally is a Worry Monster that helps take your worries away from you! Here is a super cute crochet pattern for Wally! He is a great monster and will help you with all of your worries, he will listen and help you to feel better. This Monster is a great listener and will listen to all of your troubles. He loves being hugged and kept close so that you can talk with him about everything. He will be a great listener and he can keep your worries away from you until you are ready to deal with them!!
Wibbles the Monster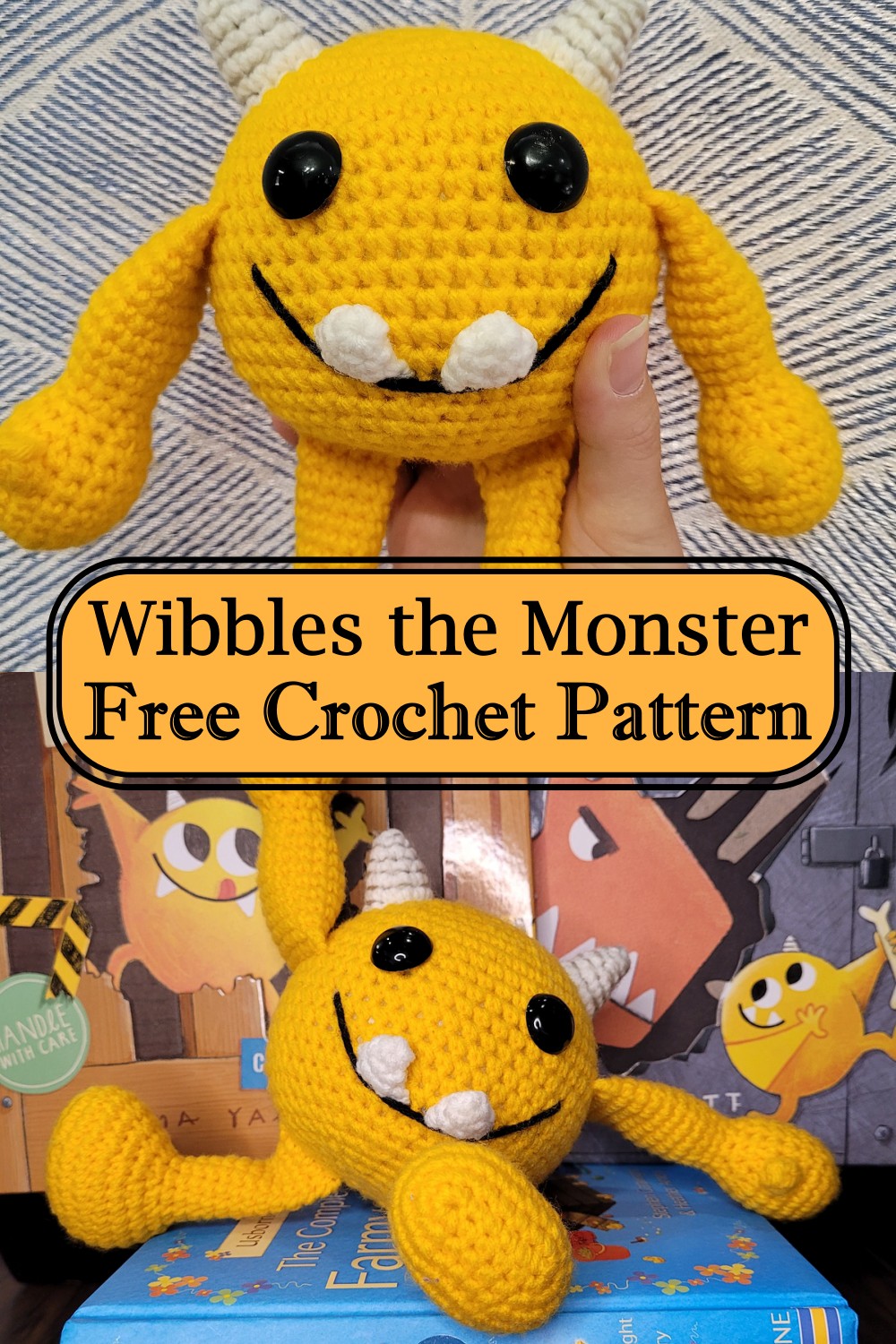 Whether your little monster is two or ten, they'll be begging to cuddle this adorable Wibbles the Monster crochet kit. Keep them amused while you get stuff done at home! Wibbles loves to snuggle up and talk about cars, trains, and other rough and tumble playthings. He'll be the perfect companion for your little one! Wibbles the Monster makes a great gift for anyone who enjoys crafting or needs a little help dealing with anxiety or pain. Its bright colors and smiling eyes provide comfort and inspire imagination and creativity.
Lil Monsters Bumble Bee Pumpkin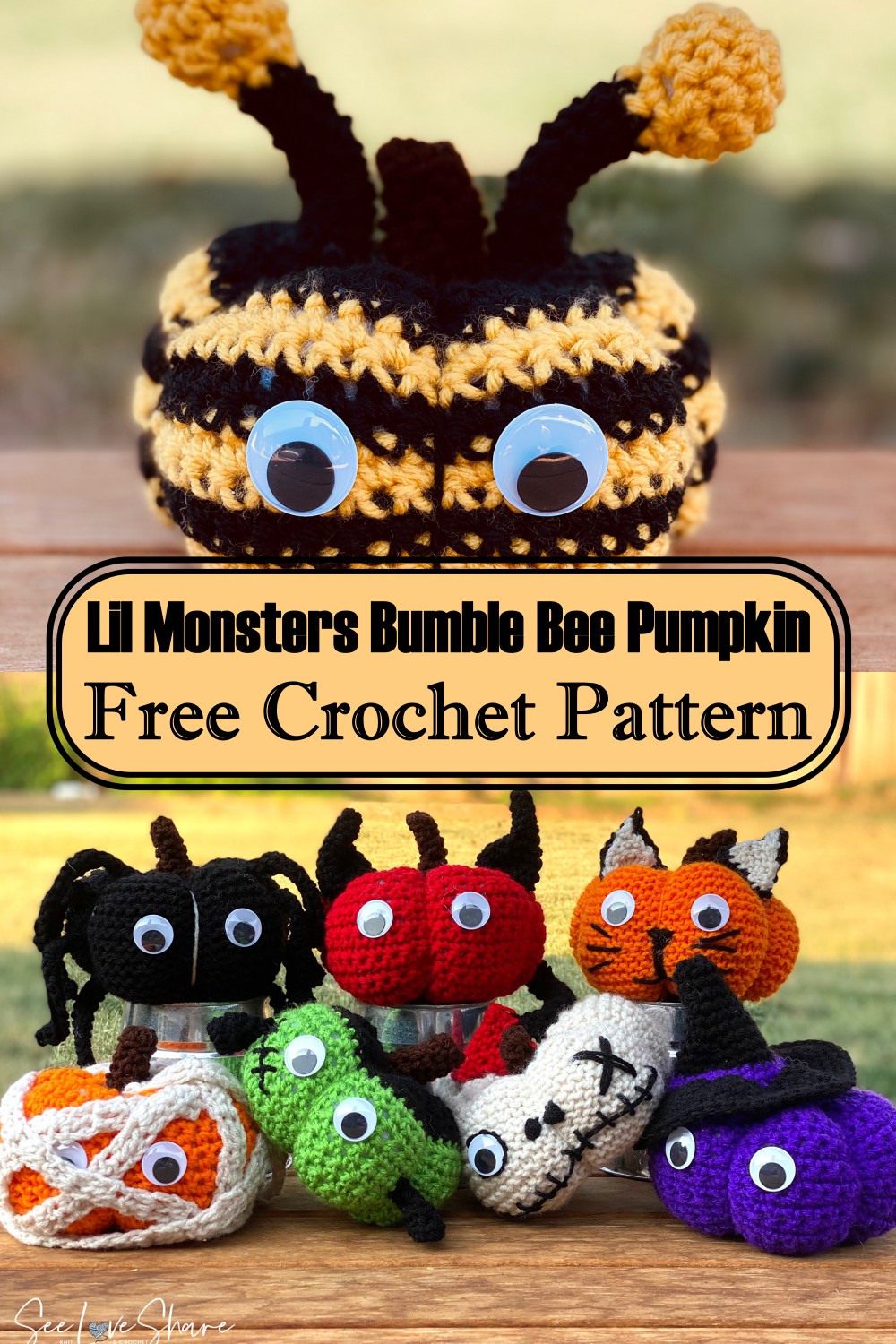 A fun twist on Halloween that any little boy or girl would love. The Lil Monsters have already stung the competition in this one of kind costume and we think your family and friends will be sure to enjoy it, too! The most darling little pet pumpkin pattern for Halloween! Who can deny how utterly cute this little cutie is?! A pieced version of the Bumble Bee, this little monster mini pumpkin is knit in the round! Go ahead and make it with your friends!
Crochet Monster Hat Pattern: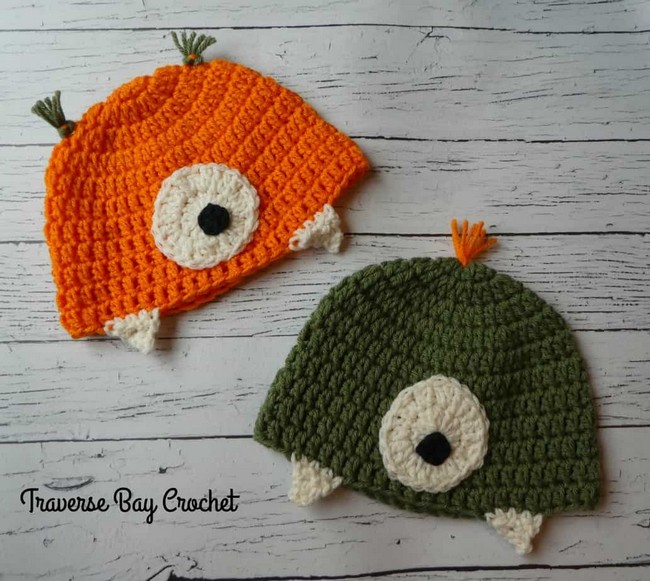 Work up this very cute crochet monster hat pattern in a few different colors and you'll be all set for Halloween. This crochet hat pattern is for the beginner to intermediate crocheter. It works up quickly and you can easily adjust it for any size from newborn to adult men's! The basic stitches are used, but some shaping is required. Pattern includes links to helpful video tutorials. This hat makes a great gift any time of year or just because! Great for photo props or everyday use.
Crochet Monster Mayhem Pattern:
Your child's imagination will be off and running with this adorable crochet monster pattern. This fun and the playful monster pattern is a simple way to add some color and personality to your child's bedroom or playroom. The crochet monster pattern allows you to create your very own creature with three different bodies, eyes, horns, and feet. This pattern is easy enough for beginners and works up quickly. This awesome crochet amigurumi pattern can be used to create a number of different doll-like creatures, including vampires, witches, ghouls, and goblins. A must-have for anyone who wants to spice up their Halloween with some handcrafted love! The possibilities are endless with these peeps!
Yellow Monster Slippers Pattern:
Brighten up the day with these charming slippers. Crocheted in a cheerful shade of yellow, they make a fun addition to your child's wardrobe. Make a fun, outrageous pair of monster slippers! With these classic and comfortable styles, these slippers are great for lounging around the house. Customize your slippers with any color combination for a quick and easy gift. Bring darling little monsters to life with these patterned slippers for the whole family. Using shades they love from Phentex Slipper and Craft, create a durable finish that's comfortable and cozy.'
Monster Pouch Pattern: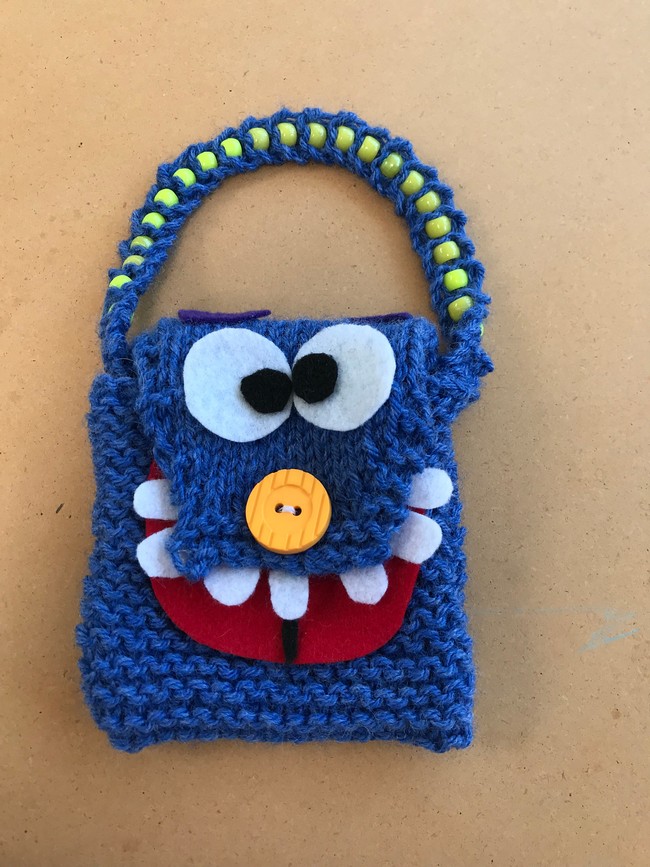 In this crochet pattern, you will make a cute little pouch to put your treasures in. These are great for holding your small knitting notions, pencils, and pens at work, or a spare key when you need one. It's always nice to have a place to put something instead of leaving it in the bottom of your purse seeming very important. This colorful pouch is the perfect place to store small things and keeps them from getting lost. Its bright and cheerful pattern makes for a wonderful gift that any child would love: especially if filled with their favorite snacks or goodies!
Dog Monster Costume: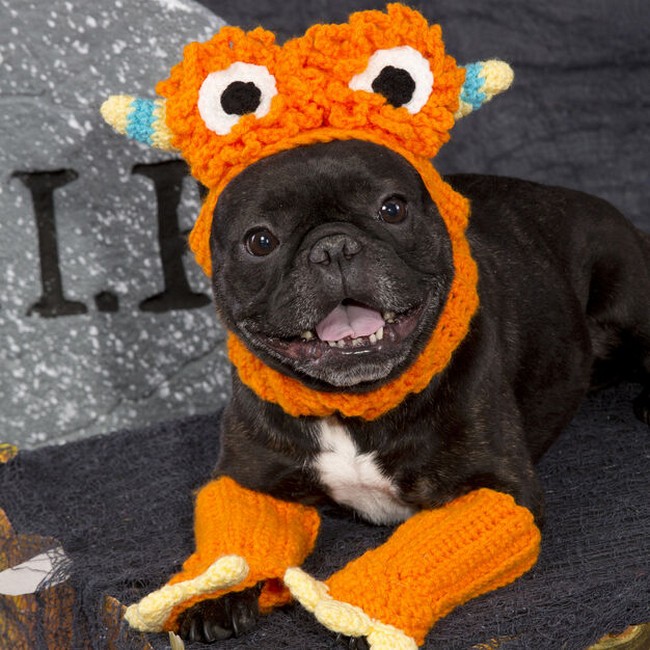 This Dog Monster Costume is sure to garner your little guy a few extra treats this Halloween. Make your pup a ferocious monster for Halloween with this easy-to-crochet dog costume. Your dog costume will be unique since you'll be able to control the size and placement of each add-on piece to make sure it fits your dog just right. This pattern includes three separate add-on pieces: ears, horns, and a tail. The costume has thick felt spikes across the back that meet at the tail, creating a truly monstrous finish.
Monster For Your Love:
Who doesn't love receiving a handmade gift? It's the perfect way to show how much you care. Show your affection with this sweet knit heart. It's easy to make in Bernat Satin, available in many shades to match a special vibe. And whether you're churning out love hearts for Valentine's Day or any occasion, it's fast to work up for when your love is on the way. So, knit this sweet expression of affection and give it to anyone you hold dear. They'll know it's made with love!
Cuddly Bigfoot Monster: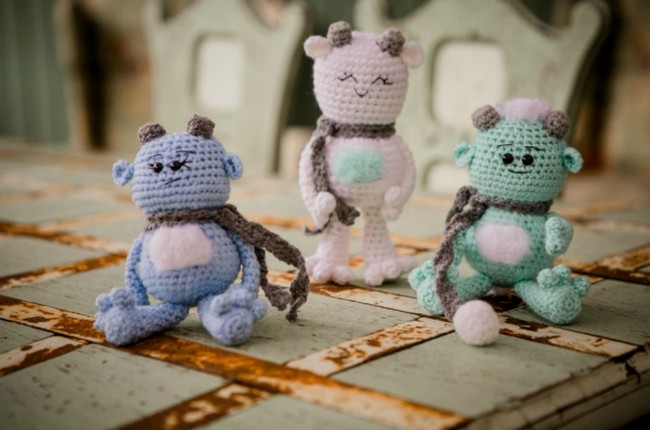 This Bigfoot Monster is perfect for a younger child who might be a bit scared of the Monsters we've had recently. He's super cuddly and wonderfully huggable. The face is made from felt and hand sewed together. You will be able to use your newfound amigurumi skills to create the cutest Crochet Amigurumi ever! The pattern is an ambitious project for the intermediate crocheter who wants to challenge themselves using basic crochet stitches and special stitches that include, spike stitch, bobble stitch, popcorn, and front post stitches.
Hungry Monster Candy Bag: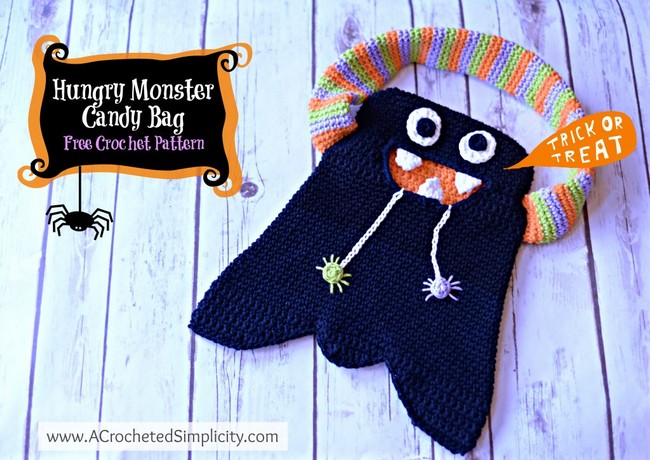 Make trick or treating more exciting for your little ones with the help of this Hungry Monster Candy Bag. Simply grab the monster's hands and drop them in his mouth to fill him up. The mouth features inner seams that allow it to fill up, but still, close tightly. Just pull on one of his tongue straps to open up his mouth. Once filled, set him on top of his belly and feed him more candy! This Hungry Monster Candy Bag will make your child look like a cute monster while they trick or treat. They can load it up with candy and watch their bag slowly eat away at it! Halloween is every child's favorite time of year, and let's be honest, we all know that the best part is the candy!
Monster Face Sweater: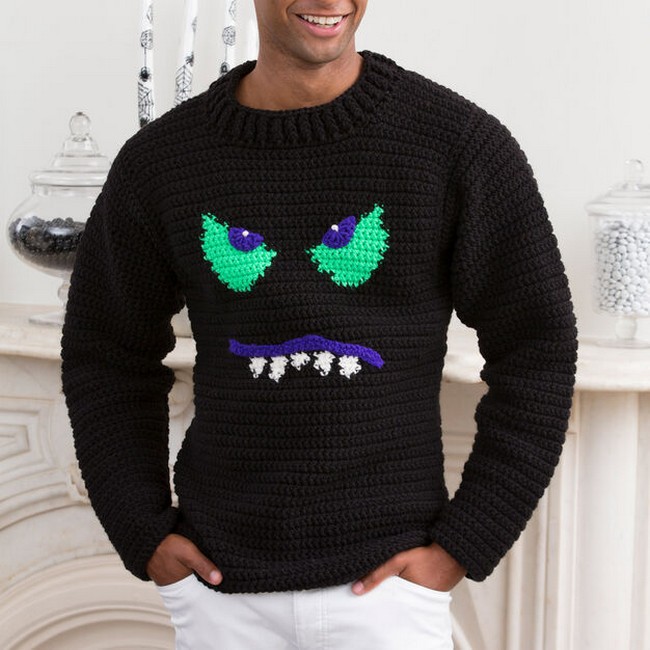 Ghoulish grins, scary stares, and a few mischievous monsters combine to create this Halloween-themed sweater. Made with all-natural cotton, you'll be ready to cast a spell on your friends and family with this one-of-a-kind design. You'll scare your friends and make them laugh in this sweater. Spook up your Halloween night with this sweater! Featuring a collection of ghouls, ghosties, and ghosts, the Monster Face Sweater will help you celebrate Halloween in style
Crochet Pom Monster: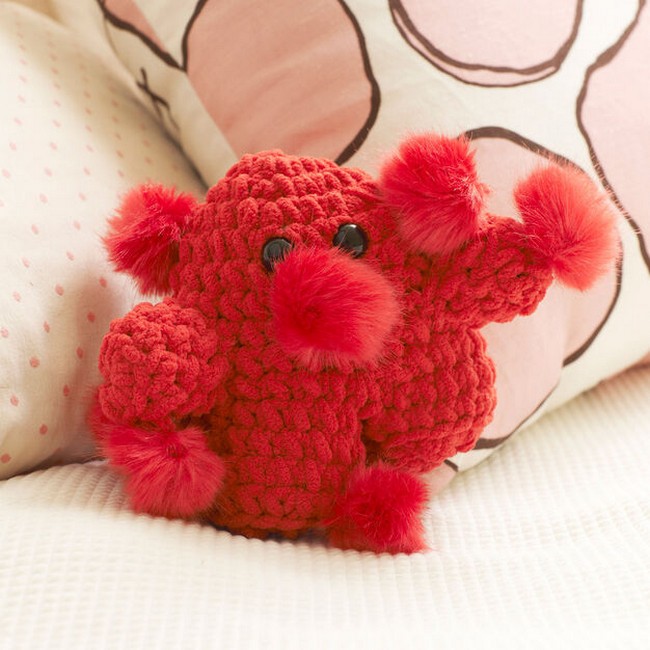 This is a fun and easy pattern that works up really fast! This little monster is so cute you'll want to make a whole family of 'em! They're the perfect size for babies and kids to hold, and have a rattle inside for younger ones to enjoy. You'll love making this amigurumi monster hat, complete with incredible detail and a big personality. This crochet kit is perfect for beginners and is a great gift for crochet fans young and old. Perfect for Christmas, Valentine's Day or any other day! Great for baby's first Christmas! This adorable little monster has a pink nose and cute little yarny hair. The pattern also includes an optional outfit.
Crochet Huggy Monsters: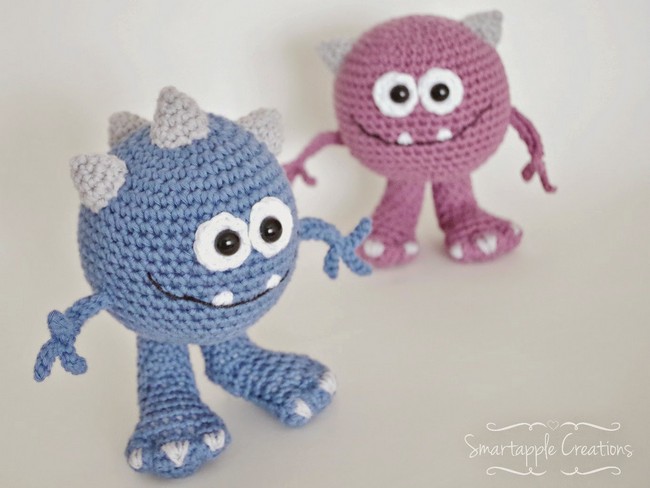 Every kid love monsters, your kids too. So why not give them a crochet monster toy which they can hold while sleeping? They are fun and safe to hold and play with. These monster crochet toys are made in a small size so your kid can play with them easily, the hats can be removed and you can use them as a bag when you go out with your little one. A fun and functional gift for new and expecting parents, these Crochet Huggy Monsters are perfect for a baby's first toy. The crocheted arms and legs make it easy for the baby to grab onto and the body is machine washable.
smartapplecreations.blogspot.com
Crochet Lark The Monster: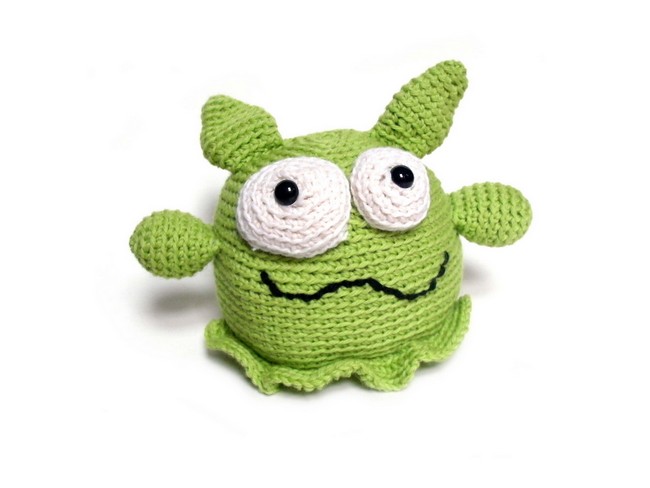 Crochet Lark The Monster is another tiny baby toy. The main feature is the resemblance with a frog. Some babies want to play with frogs and also like jumping off the frog. You can change the color if you want so that you can give a bit of happiness to your baby from this elegant toy. It can be crocheted in a short time by using any color. You can offer a bit of joy to your infant from this refined plaything. You can crochet this in a brief time by utilizing any type of shade.
The Mini Mini Monster: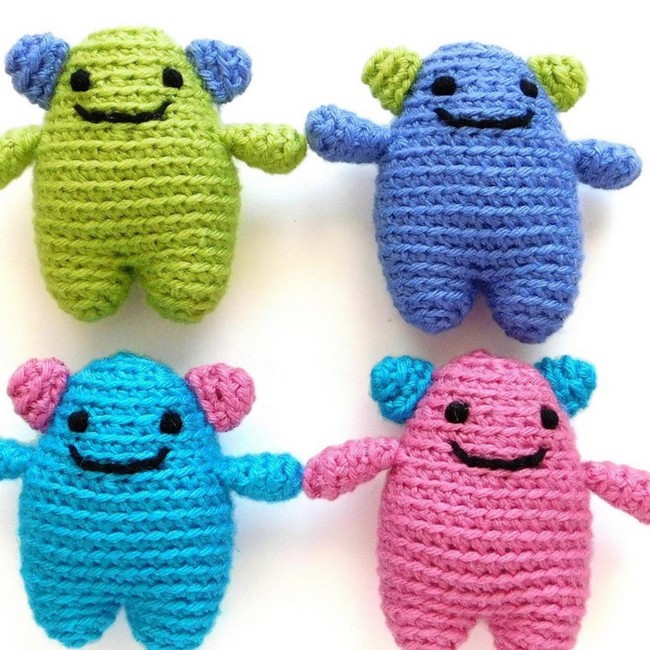 Does your little one need a gargantuan, green guardian at the foot of the bed? Or maybe you just have a blank wall in your home, and you wish to spruce it up with something adorable. The Monster amigurumi is a fun way to quell your creature cravings. You will love this bright cheery crochet pattern. It is really fun to make because you can use all of your scrap yarn from your other projects. Perfect for baby gifting! You can crochet it easily at your home without spending too much time or money. It can also be made in many different colors.
Crochet Hug Monster:
If you want to crochet something special for your babies and you have no time, then you can crochet this elegant hug monster easily at your home at any time. Your baby feels fun by playing with this monster. This makes a special gift for babies. Grab some cotton yarn and a skein of black yarn for the eyes, and you've got everything you need. Crochet one for each of your friends, so many color possibilities! The monster is worked from the top down to include ruffles placed in just the right spot for snuggles and hugs!
Crochet Mike The Monster: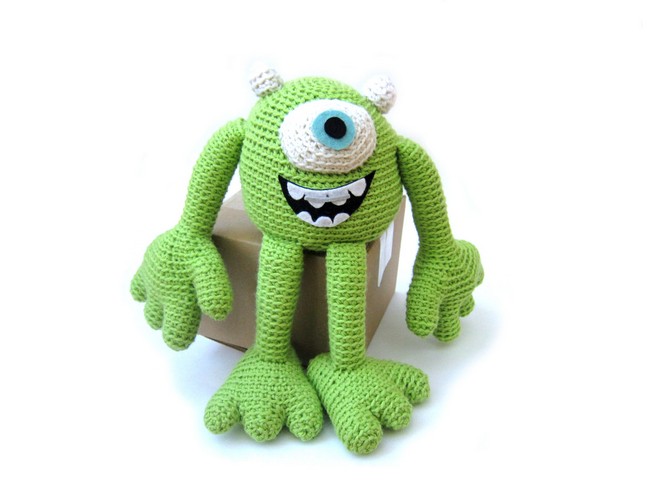 Inspired by children's drawings, Mike the monster is made from the softest Peruvian wool. This is an adorably cute, plush monster crochet pattern that is great for a gift or something to have in your home. He will be sure to put a smile on anyone's face and brighten up any room he is in! Crocheted with a simple overlapping double crochet stitch, and stuffed with hypoallergenic polyester filling, Mike will quickly become a favorite. Each handcrafted doll comes in an organic cotton drawstring bag, making for a wonderful unisex gift for babies, children, and adults alike.
Crochet Monster Hat: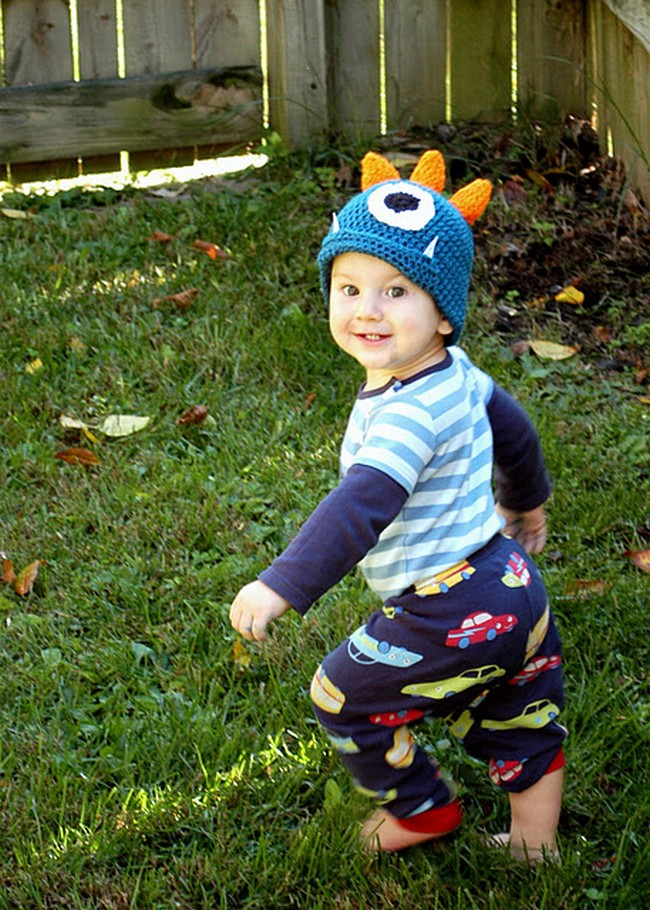 This Crochet Monster Hat is designed for babies, toddlers, and youngsters. The hat color is blue and orange. If you follow this pattern it can be made in different sizes with different color combinations. This hat is specially designed for winter, so your kids will feel warm and comfortable while wearing this hat. All you need to know how to make is a single crochet stitch and a slip stitch, so it's great for a beginner crocheter. The hat is made from cotton yarn, so it's comfortable for your little one to wear all day. Your little one will have so much fun with this adorable crochet monster hat on their head.
Blinky Love Monster Pattern: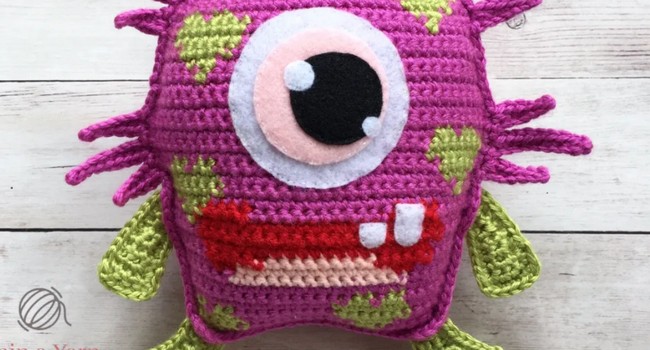 Amigurumi blinky love monster-free crochet pattern, great for practicing Prussian stitch, and amigurumi. Lovely monster is great for little babies to carry around as a friend. This blinky love monster-free crochet pattern is easy to crochet. The color has used pink and green, but you can change the color if you want. You have to need cotton yarn. This is such a cute little monster. You can carry this easily in your pocket. It will be a good toy for your baby." A free crochet pattern, as well as fun.
Mandala Monsters Pattern: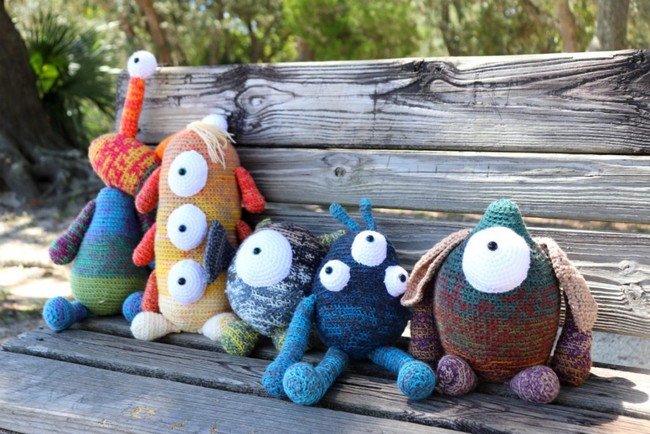 This is another mandala monster that is easy to crochet and you can crochet it in no time if you are a master in crocheting. You need cotton yarn of different colors to make this elegant monster. You can change the colors if you want. It will be a good project if you are a beginner. If you can crochet a circle, you can make this awesome little monster! It's worked in rounds with increases and decreases to create the shape of the monster. The pattern is written for one size with variations for colors, hair, face, and eyes included. You'll love making these cute creatures because you get started quickly and there are lots of fun variations to try.
Crochet Monster Blanket:
Cute, Incredible, and Snuggly. Keep your baby warm and cozy with this handmade Crochet Monsters Blanket. Perfect for bundling up your little one in the stroller, car seat, or just playtime naptime. And it's a great gift for friends who have babies. This crochet monster blanket is a perfect fit for you and your little one to snuggle on the couch. Its soft, warm, and cute character will have them smiling the first time they get their hands on it. They'll be eager to cozy up in this blanket as soon as you make it!
Kelvin Monster Zipper Pouch Pattern: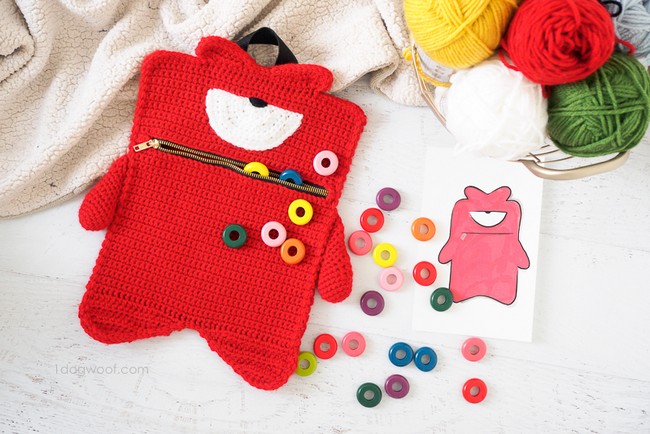 This crochet pattern will be a fantastic gift for your loved ones. You can crochet this for your school-going child. The pouch has a zipper, so it can hold things safely. This is an easy-to-crochet pattern; those who are new to crocheting can also do this. You feel so much fun during crocheting this. The color has used red, but you can change the color if you want; it is totally dependent upon your choice. Added a metal zip to make it more special.