Crochet Beach Bag Patterns are the perfect way to carry all your essentials. Whether going to the beach or pool, you'll want a cute bag that can hold your phone, keys, and other small items. These free crochet bag patterns will help you make one for yourself or as a gift. The best thing about these crochet beach bag patterns is that they are easy to make. You don't need special equipment or yarns, just basic supplies, and a little time and patience. Once you have crocheted your bag, you have to add a few finishing touches, like handles or closures, and you're ready to go!
Best Beach Bag Crochet Patterns

Crochet Beach Bag Patterns are a must-have for every beach lover. These bags are perfect for carrying your personal belongings, whether at the beach or poolside. They're also great for going to the gym or on a trip because they can fit everything you need. The best part about crochet beach bag patterns is that there are so many different styles and designs to choose from! You can make your unique bag that fits your style. The following patterns are easy to follow, but the results are stunning:
Whether you're looking for your next crochet project or are just dreaming of summer, these 15 beach bag patterns will inspire your next beach trip.
Crochet Beach Bag Patterns
The beach bag is the perfect way to show off your crochet skills, and these patterns are the perfect way to do it! These bags are so cute and can be made in any size you like. You can make them in different colours to match your outfits or the occasion!
The supplies needed for these crochet beach bag patterns are as follows:
Size 10 Crochet Thread or Sport Weight Yarn (be sure that you get a long enough ball of yarn for the size of bag you want)
Crochet Hook Size H8/5mm or size needed to obtain gauge.
Tapestry Needle for Weaving In Ends
Arcade Tote Bag:
If you're looking for a crochet beach bag pattern that is cute, functional, and easy to make, then the Arcade Tote is perfect for you. This bag is excellent for carrying all your items to the beach or pool. This is a great bag to take to the beach, pool, or park. This crochet beach bag pattern is excellent for all seasons. Use this crochet pattern when beginning to learn how to crochet this cute bag!
Materials
Worsted - Aran weight cord type yarn, size 4 - medium. I used YarnArt Macrame Cotton - (250 grams / 225 meters) - 80% Cotton, 20% Polyester in color 767 (powder pink). 2 skeins (approx 420 grams / 380 meters) needed for this pattern.
5 mm (H) crochet hook.
Scissors.
Yarn needle.
Abbreviations
st./sts - stitch / stitches
ch - chain
sl st. - slip Stitch
sc - single Crochet
dc - double Crochet
sc2tog - 2 single crochet together
Summer Beach Bag:
The summer beach bag crochet pattern is a perfect companion for any trip to the beach because you can easily pack everything you need in this beautiful beach tote bag! So, Make a summer beach bag for your next vacation. This crochet beach bag pattern provides instructions to create a beach bag with a drawstring closure and can be worked in any yarn and color of your choice.
Materials
2 x We Are Knitters – Pima Cotton in color Mint.
This cotton is 100% Pima Cotton/10g/3.05oz/232 yds/212m.
Use my code – MGM4VHHAT – for ten off on your WAK yarn order.
Hook
5 mm (US H/8) crochet hook.
Scissors.
Darning needle.
Tape measure.
Abbreviations
ch – chain
ch-sp – chain space
dc – double Crochet
sl-st – slip stitch
tr – treble Crochet
RS – right side
Rep – repeat
WS – wrong side
Basic Beach Tote: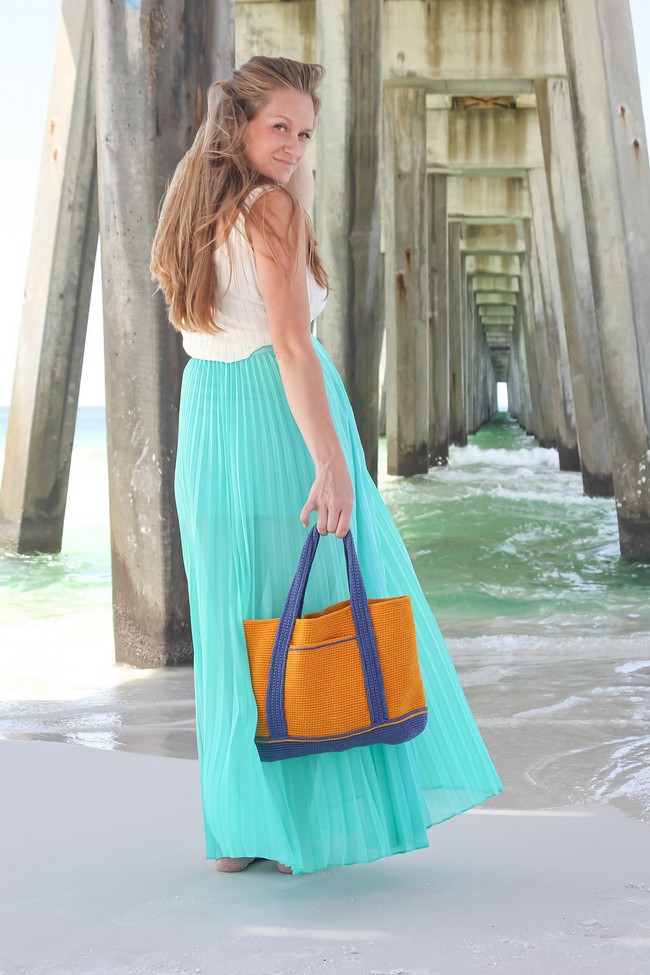 This bag is a must-have for every beach bag. It has roomy space and is lightweight enough to carry on the shoulder. The pattern is easily adjustable to any size, so it can be made big enough to take all your essentials or small enough to pack into an overnight bag! This pattern is a great beginner crochet pattern, as it is worked in single crochet stitches. It's a perfect beach bag for your summer accessories!
Materials
3.25 mm Crochet Hook
2 Skeins of Lion Brand 24/7 Cotton in Denim #761-108G
Color A in Pattern
3 Skeins of Lion Brand 24/7 Cotton in Goldenrod #761-158R
Color B in Pattern
Minimum 5 Stitch Markers
Abbreviations
Chain Stitch – ch
Slip Stitch – sl st
Stitch(es) – st(s)
Skip – SK
Stitch Marker – SM
Single Crochet – sc
Rose's Crossbody Beach Bag: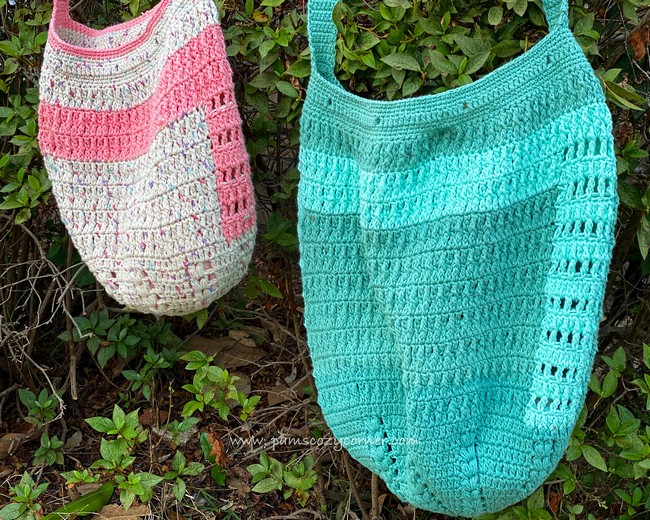 Rose's crossbody beach bag is a great way to carry beach towels, books, and many other items with you on your next trip to the seashore. Its small size makes it perfect for those times when you don't want to carry a large beach bag. The bag can be crocheted in any colour you choose and in any combination of colours. This Beach Bag is a great project for the summer season. You can make this bag for yourself or your family. This pattern is easy to follow, but be sure to read it carefully before you start crocheting.
Materials
Lily Sugar n Cream Super Size 100% Cotton, 190yds (174 m), 4 oz (113 g)
Medium - Medium (Worsted)
Hook Sizes: 4 mm (G) and 2.25 mm (B)
Larger Bag-Main color (MC) - Jade Mist 610 yds/558 m
Contrast Color (CC) - Beach Glass 285 yds/261 m
Smaller Bag-Main Color (MC) -Potpourri 298 yds/273 m
 Contrast Color (CC) -Coral Rose  240 yds 220 m
Scissors
Tapestry Needle
Tape Measure
Abbreviations
Ch(s)- chain(s)
Sl st- slip Stitch
Sc- Single Crochet
Sp- space
Sk-skip
Ch-sp- chain space
Dc- Double Crochet
EDC- extended double Crochet
Fpedc- front post extended double Crochet
Beg- beginning
Rep- repeat
By the way- between
Seaglass Beach Bag: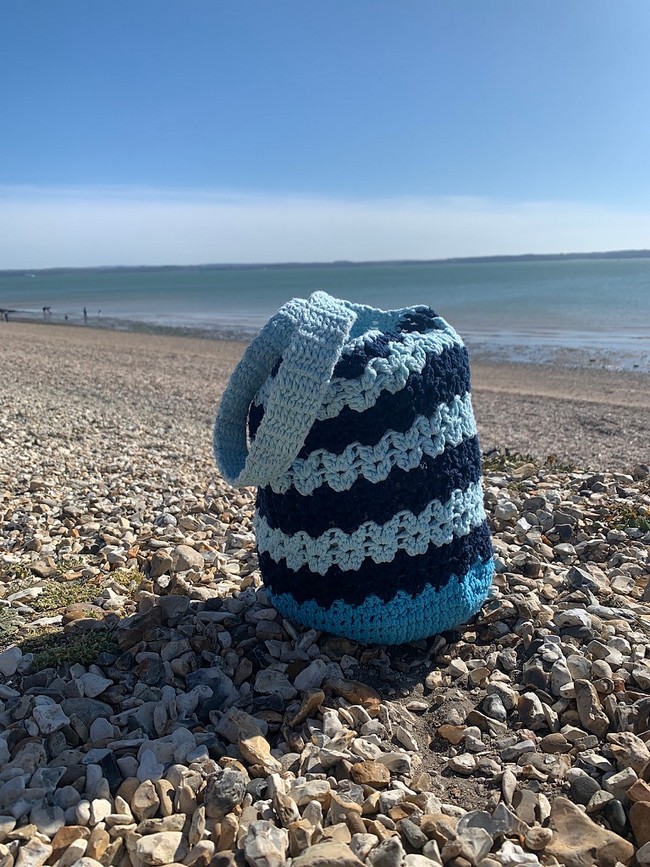 This pattern is for you if you love the idea of a beach bag you can carry on your arm or over your shoulder. The Seaglass Beach Bag pattern features a simple stitch pattern that takes advantage of the Worsted yarn to give it lots of texture. The final product is a beautiful, summery piece perfect for adding a little sea-inspired colour to any outfit.
Materials
~ Lily Sugar n Cream solids – 100% Cotton, 70g (2.5oz), Worsted
1 Ball of each:
Seabreeze (01201) (Yarn A),
Bright Navy (0009) (Yarn B),
Beach Glass (01132) (Yarn C)
~ 6mm  (J/10) hook
~ Scissors
~ Tapestry Needle
~ 4 Stitch markers
Abbreviations
Beg – beginning
BV– Beginning V Stitch
Ch – Chain
Rep – repeat
SC – Single Crochet
Skip – skip
Sp – space
SS – Slip Stitch
St – Stitch
DC – Double Crochet
V – V-Stitch
YO – Yarn over
Also go with: Crochet Macrame Patterns 
La Jolla Beach Bag:
Are you ready for an adventure? This Beach Bag can carry your favourite crochet items or use it for groceries on your way home from work. So, Bring the beach into your home with this adorable La Jolla Beach bag. Easy to make, quick to finish, and prevents you from leaving your favourite swimsuit at home. It's big enough to fit all your belongings yet light enough for a stroll along the coastline.
Materials
eight skeins of Re-up by Lion Brand or approximately 850 yards of worsted weight #4 yarn
Amour Crochet Hook 5mm . (or hook to obtain gauge)
Mini Patchwork Scissors.
Darning Needle Set.
Locking Stitch Markers.
Abbreviations
Blo = back loop only
Ch= Chain
Hdc= half double Crochet
Sc 2 = 1 sc in each of the next two stitches
Two sc = two sc in the same Stitch
Sl st = Slip stitch
St = Stitch
Sts = stitches
Colorful Beach Tote:
If you love to travel with your crochet bag tote and you're always looking for the perfect beach bag, this colourful crochet beach tote is what you've been waiting for. You can make it any colour you like with your favourite yarn colours! It's an excellent project for beginner crocheters who want to learn new techniques or are looking for an easy project to practice their skills. Give this pattern as a gift, or enjoy making it yourself.
Materials
Plain –
That's yarn made from recycled plastic bags and tablecloths – It's easy to recycle the tablecloths after a party – rinse or wipe them off, let them dry and then use them in a crochet project!)(About 20 bags for the base circle and two tablecloths per color (up the sides) – I used five colours for my tote bag – see below for how to make the plan and to get the link to a video tutorial)
Amour Crochet Hook N/P (10 mm) 
Did you know that this is the best hook for crocheting with plarn? The shape of the hook, its smooth plastic make-up, and the large size make working with plants easy and fast – yay!
Scissors
Clover Wonder Clips.
Jumbo Tapestry Needle.
Abbreviations
YO (yarn over)
Hk (hook)
Lp (loop)
Ch (chain)
St (Stitch)
Sl st (slip stitch)
Dc (Double Crochet)
Beach Waves Market Bag: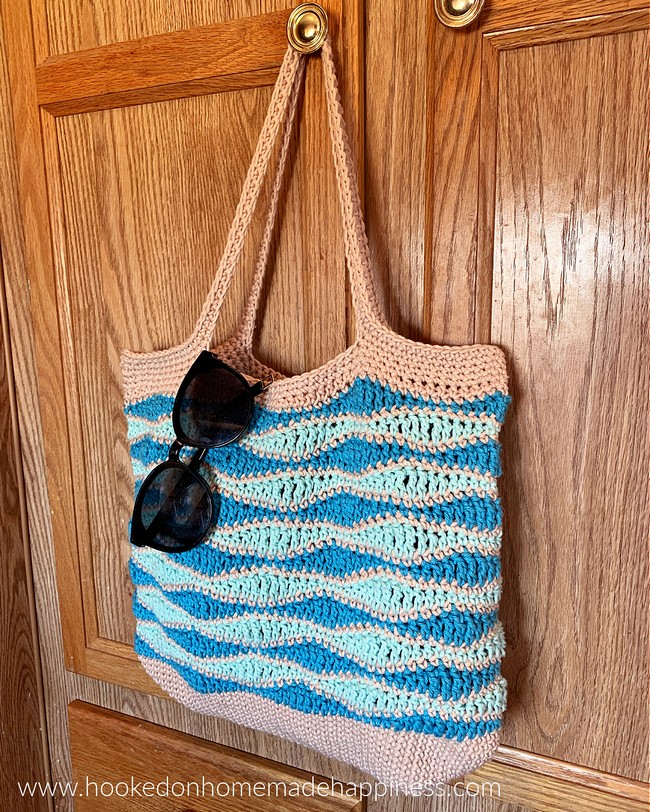 This Beach Waves Market Bag pattern is so pretty! The colors are rich, and the bag looks classic and fashionable. Once you get the hang of this Stitch, it's easy to make. You can even adjust the size of the bag to suit your needs. It transitions effortlessly between the pool and the kitchen, with just enough space to hold all those tasty snacks and drinks.
Materials
crochet Dishie in Azure, Mint, & Linen (1 skein or each color)
H/5.0 mm hook
Yarn needle
Scissors
stitch marker
Abbreviations
ch – chain
sl st – slip Stitch
sc – single Crochet
hdc – half double crochet
dc – double Crochet
tr – treble Crochet
sm – Stitch marker
Summer Stripe Beach Bag: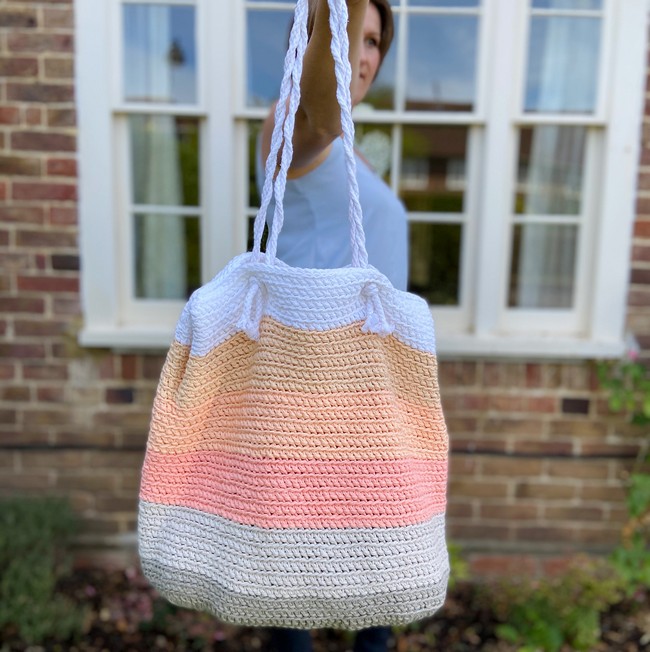 Summer is almost here, and the perfect time for a beach bag! This crochet pattern makes an excellent gift for any woman who appreciates fashionable accessories. This crochet beach bag with a striped pattern is the perfect accessory for any beach trip. It's big enough to hold your towel and other items, yet small and compact enough that it doesn't get in the way. Use this guide to learn more!
Abbreviations
ch(s) – chain(s)
ss – slip stitch
SK – skip
st(s) – stitch (es)
RS – right side
WS – wrong side
rep – repeat
sp – space
beg – beginning
FL – front loop
Marina Tote Beach Bag: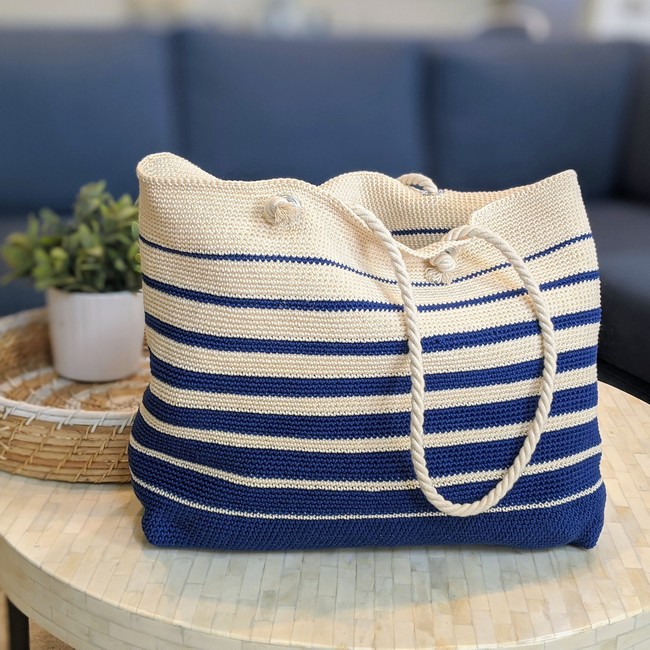 Here is a large beach bag with a cheerful print on the front and a crocheted strap in a contrasting colour that can be worn over your shoulder. The inside is fully lined, so your belongings will not get wet. So, Make this Marina tote bag in any colour and cotton yarn for a beautiful, unique accessory for your trip to the beach. The patterns below will show you the complete procedure.
Materials
Hook: Size E crochet hook. This is my favourite crochet hook and yarn needle set from WooCrafts. The set is affordable and comes with nine different-sized crochet hooks, eight yarn needles, stitch markers, and a cute carrying case.
Yarn: ~3 skeins each colour (6 skeins total) Lion Brand 24/7 Cotton yarn in Navy (A) and ecru (B).
Grommets or eyelets: you need four grommets/eyelets for this project; I recommend buying a kit like this one, which will give you enough grommets for two bags plus two left over. Grommets should be ½" or 7/16" in size - slightly larger than the diameter of your rope handles (see below).
Handles: ~2 yds of ⅜" twisted cord in natural colour (or colour of your choosing). I got mine at Joann's.
Hammer
Yarn or tapestry needle
Scissors
Abbreviations
Ch = chain
Sl st = slip stitch
SC = single crochet
beach bag: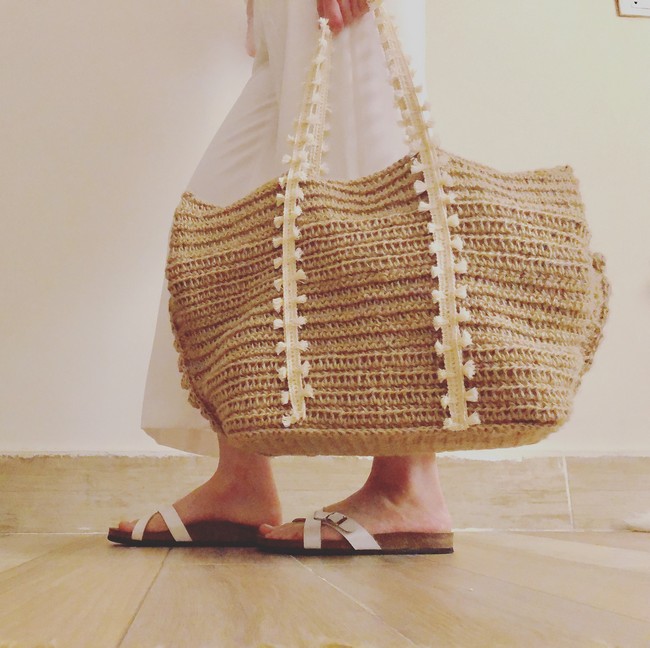 This crochet beach bag pattern is crafted with simple stitches and gorgeous yarn, making a classic crochet beach bag perfect for any beach trip. These free crochet patterns will help you make a beautiful crochet bag in your favourite color, so you can say goodbye to storing your things in plastic bags at the beach while you enjoy sunny days on the sand!
Materials
four rolls (actually, it took three and a half) of natural twine yarn. I bought mine from my local crafts store. However, I Linked a few options that are very similar to the one I used KINGLAKE 300 Feet Natural Jute Twine, Katzco Heavy Duty All Natural Jute Twine, TIAMALL 300 Feet Natural Jute Twine, Natural Jute Twine 2 Pack
Roughly 5 meters of lace trims of your choice. Again mine was from my local store. But I linked you very similar ones that I think would go great with the pattern Hongma Cotton Fringe Tassel Lace Trim, Susuntas 5 Yards 4cm Wide Cotton Lace Trim
4.5 mm hook here is a set with one of my favorite hooks sets along with stitch markers and needles
Stitch markers, sewing needle, matching thread, yarn needle to weave in ends, measuring tape.
Optional cloth for the lining
Abbreviations
ch – chain
sc – single Crochet
ss – slip stitch
hdc- half double crochet
bo – bobble stitch
Double Waves Beach Bag: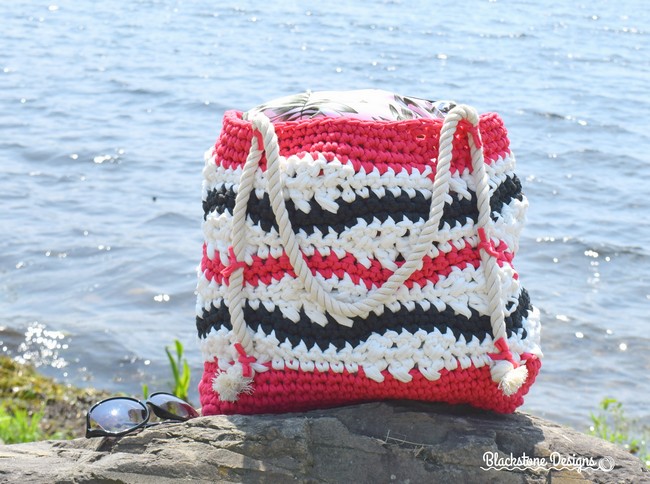 You can't go to the beach without your favourite beach bag! Now with these free crochet patterns, you have a perfect selection of stitches and techniques to make your ideal bag. You'll find traditional, fashionable, and stylish bags for every beach lover. Start creating today! This easy-to-make crochet beach bag will be your favourite summer accessory. Just one skein of yarn is all you need to make it, and it works up fast!
Materials
T-shirt Yarn
Coral (Color A) [60yds]
White (Color B) [60yds]
Gray (Color C) [30 yds]
12mm Crochet Hook
⅜″ x 10′ Craft Rope
Large Eye Needle
Abbreviations
and = around
ch = chain
dc = double crochet
sc = single crochet
sl st(s) = slip stitch(es)
YO = yarn over
Yacht Club Beach Bag: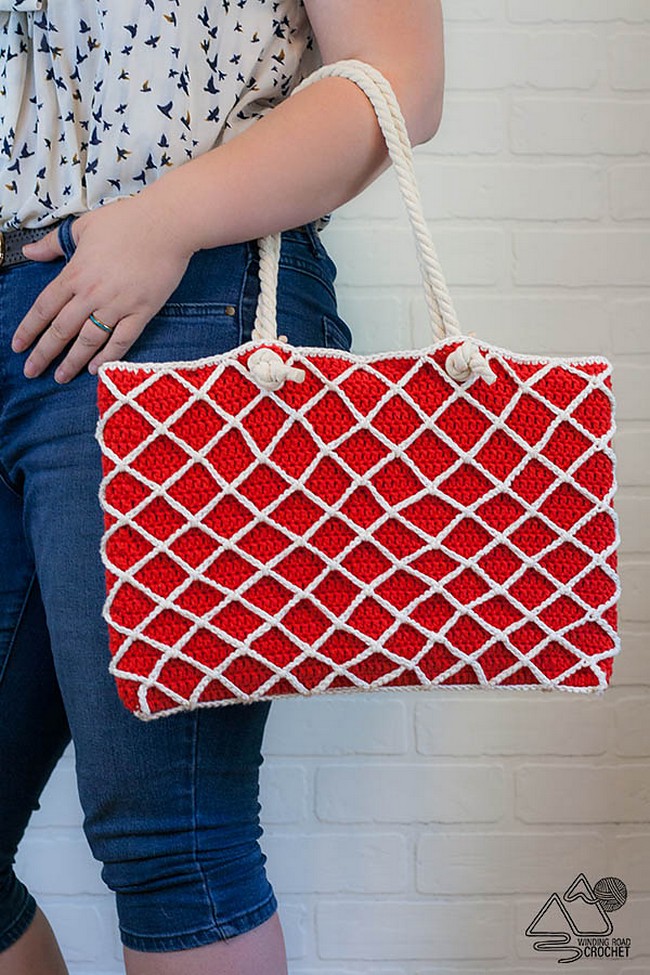 The Yacht Club Beach Bag is cute and practical! Easy to carry, the Yacht Club Beach Bag is perfect for the beach, shopping, or sightseeing. Its simple design makes it easy to customize by changing the colour of yarn and adding custom crochet appliques to your heart's content. This pattern includes clear instructions with charts and photo tutorials. This model is designed to hold your iPod and other small items.
Materials
This post may contain affiliate links. For more information, refer to my Terms and Conditions.
200 yds of  Red Heart Scrubby Smoothie, Cherry Yarn
83 yd  Red Heart Scrubby Smoothie, Loofah
Crochet Hook, Size G, 4.0mm
Scissors
Yarn Needle
66 inches of ½″ Cotton Rope
Stitch Marker
Abbreviations
Ch – Chain
Sc – Single Crochet
Dc – Double Crochet
St(s) – Stitches
Slst – Slip Stitch
Qadir – Quadruple Treble (Instructions further down)
ZigZag Summer Beach Bag: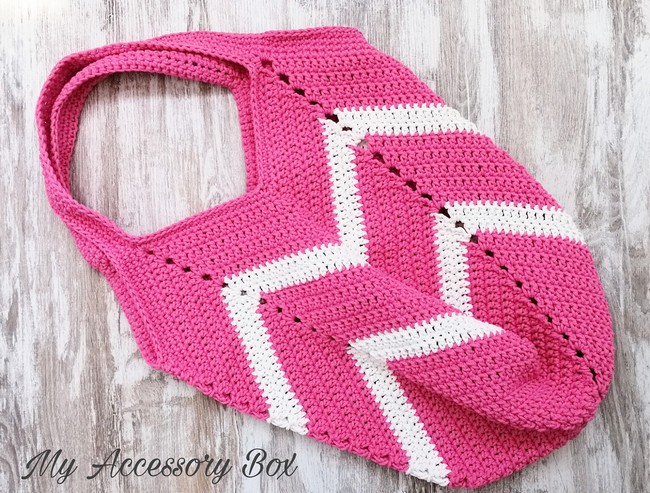 Crochet a fun beach bag with this easy, zigzag crochet pattern. This bag pattern is the perfect size for the beach - it's large enough to carry all your essentials and even room for a towel! This bag is the perfect project for beginners and experienced crocheters alike. It features a long strap that easily fits your shoulder or can be wrapped around your wrist and a secure zipper closure. Plus, this bag has washed up beautifully each season with only primary care!
Materials
Crochet hook: 6 mm/ H in the US
400-500 grams of macrame yarn
Scissors
Tapestry Needle
Stitch Markers (Optional
Abbreviations
st(s) – stitch(es)
ch(s) – chain stitch(es)
sc(s) – single crochet(s)
dc(s) – double crochet(s)
dc2t – double crochet two together
The Coquina Beach Bag: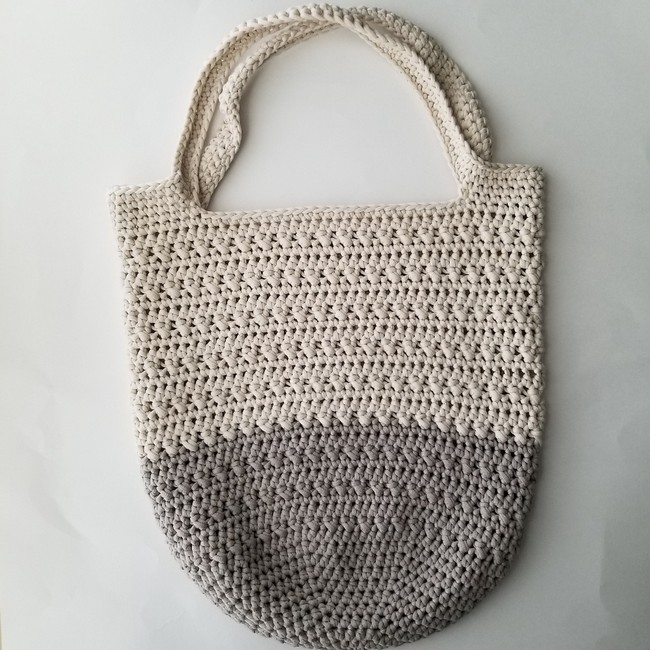 The Coquina Beach Bag is excellent for the beach, a picnic, or any warm day trip. This crochet beach bag pattern is easy to make, and you don't need much yarn to complete it! It's made with high-quality yarn, which acts like cotton but is much easier to care for. The Coquina Beach Bag is quick and easy to make, making it perfect for last-minute gifts or that upcoming trip you need something extra to pack.
Materials
Yarn: Bernat Maker Home Dec yarn (small = 4oz, medium = 6oz, large = 10.5oz )
Hook size: US-J (6mm) If you do not have a 6mm, I would opt for a size slightly larger but make sure you check the gauge!
Stitch markers
Darning needle
Abbreviations
mc = magic circle
ch = chain
ss = slip stitch
SK st = skip Stitch
sc = single crochet
hdc = half double Crochet