Crocheting Santa Claus is a great way to bring Christmas magic into your home. You can hang him on your tree or the wall above your fireplace. You can set him up in the living room to greet guests and receive their wishes. And besides just keeping an eye on all the children, Santa Claus is also known for bringing small gifts and treats wherever he goes. In other words, crochet Santas are perfect for spreading some holiday cheer—and they're easy to make! So, If you want to start crocheting Santa Claus, here are some of the best Crochet Santa Claus Patterns to help you get started.
Amigurumi Crochet Santa Claus Patterns

A crochet Santa Claus pattern can be a fun project for crafters of all levels—from novice to advanced—and there's a wide variety to choose from: some that are cute and simple; some that are complex with a lot of detail; and some that are more traditional. You can easily find patterns that use different yarn weights, stitch counts, and hook sizes, so you should be able to find several that fit your preferences. The right choice might depend on what you have planned for them: Whatever the case, we've rounded up some of our favorite Crochet Santa Claus Patterns here for you!
Why Crochet Santa Claus Patterns?
 Crochet Santa Claus Patterns are the perfect way to add a little more Christmas cheer to your home this holiday season. If you have been searching for new crochet patterns, you will want to check out some of these amazing free crochet Santa Claus patterns.
These crochet Santa Claus patterns can be made as ornaments, wall hangings, and even Christmas tree decorations. They are so easy to make that anyone can do it, and they are also very fun because you get to use your imagination and come up with something unique.
Crochet Santa Claus Patterns have many benefits that, include:
It is a great way for kids to use their imagination.

It teaches them how to follow directions and take pride in their work.

They will help them develop fine motor skills using small hooks and yarns.

It is an inexpensive hobby that doesn't cost much at all.
Mini Santa Claus:
It's the best time of year for making toys for kids, and it is a fun, quick, and easy-to-crochet pattern. A mini Santa Claus decoration to add to your Scandinavian Christmas tree! You will learn how to crochet a mini Santa Claus beard and hat with these crochet patterns. This crochet Santa Claus pattern makes a great gift for any kid or adult who loves to crochet. The design is simple, but the outcome is one incredibly cute mini crochet Santa!
Materials
2mm crochet hook
3ply 100% cotton yarn in 4 different colors (I used red, black, white and beige).
Stuffing material
Scissors
Sewing needles for the eyes.
Or, you can use safety eyes! The position is at the end of this post.
Santa Claus Star: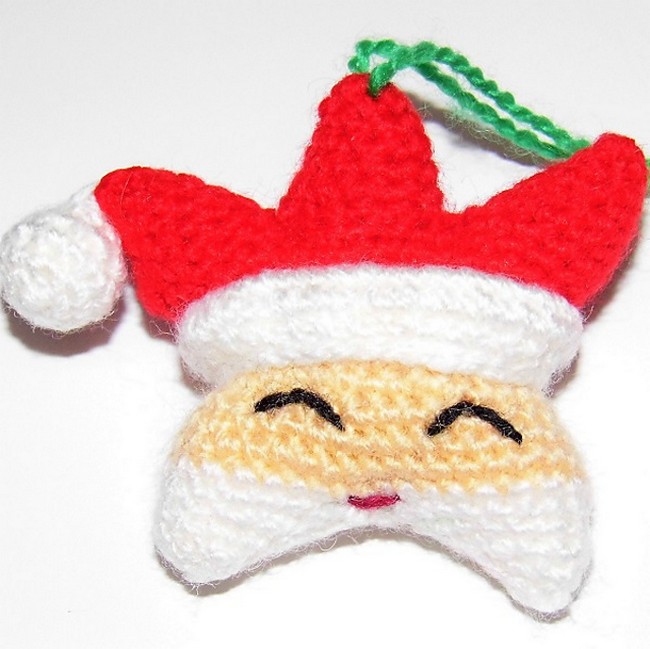 Santa Claus Stars make the perfect Christmas decorations. These stars are easy to make and come in a variety of sizes so that you can choose the perfect one for your tree or mantlepiece. Here you will find an easy crochet Santa Claus Star pattern that makes this wonderful decoration even easier to make! This crochet pattern includes everything you need to make your own cozy and warm Santa Claus Star. It is fun and suitable for anyone who enjoys crocheting!
Materials
Yarn of different colors: white, black, skin color, red, dark red.
Thickness of the yarn: 3 mm.
Hook according to the thickness of the yarn.
Yarn needle.
Fiberfill.
Abbreviations
sc: single crochet
st: stitch
ch: chain
inc: increase
dec: decrease
Fill the doll with fiberfill as you crochet.
Free Santa Claus Amigurumi: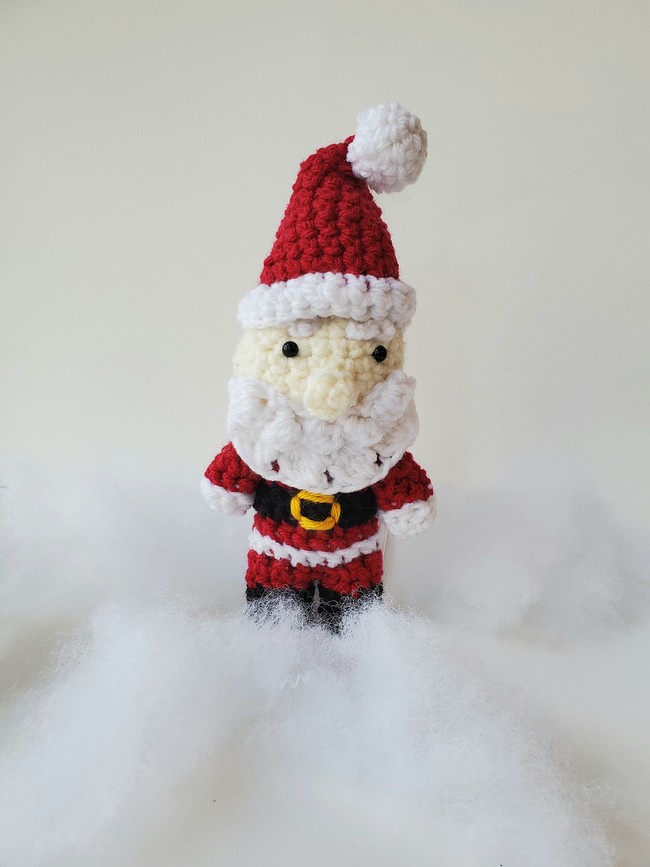 This is a super easy crochet pattern for an amigurumi Santa Claus character. You will need to know basic crochet stitches and have some basic sewing skills. It is a quick and easy pattern that can complete in just a couple of hours. The pattern includes instructions for the hat, beard, bottom, coat, and other details. You can make it in any color you want too! This pattern includes lots of detailed instructions, plus tips on how to stuff your amigurumi.
Materials
Black worsted (4) weight yarn
White worsted (4) weight yarn
Natural worsted (4) weight yarn
Red worsted (4) weight yarn
A small amount of yellow worsted (4) weight yarn
4.00 mm crochet hook
Yarn needle
Stuffing
2 Safety Eyes
Abbreviations
Sc = single crochet, Sc2tog = single crochet 2 together, ss = slip stitch, ch = chain, st = stitch, mc = magic circle,
Santa Claus Coaster: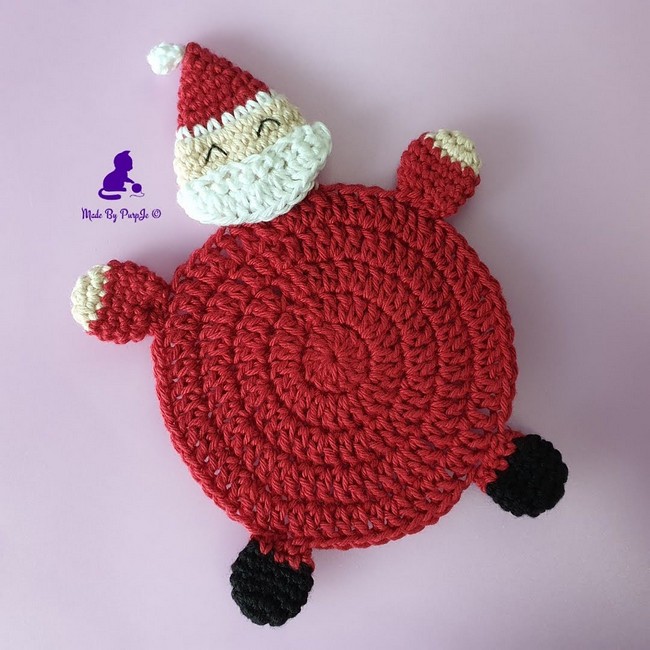 Santa Claus Coaster will be a great gift for your friends and family. It's easy to crochet and only requires basic knitting skills such as double stitch, single slip knot, slip stitch and straight knit, etc. This christmas Coaster is perfect for holiday parties! Make a set for your table and enjoy the fun. This pattern will help you create a unique coaster that would also be great as a gift.
Materials
Size 3.5 mm hook
Yarn needle
Scissors
Glue
Abbreviations
| | |
| --- | --- |
| CH | Chain |
| DC | Double Crochet |
| DEC | Decrease |
| HDC | Half Double Crochet |
| INC | Increase |
| MR | Magic Ring |
| SC | Single Crochet |
| SS | Slip Stitch |
| *A* × B | Repeat "A" for a number of B times |
| ( X ) | Work all of "X" in ONE stitch |
Santa Claus Hat: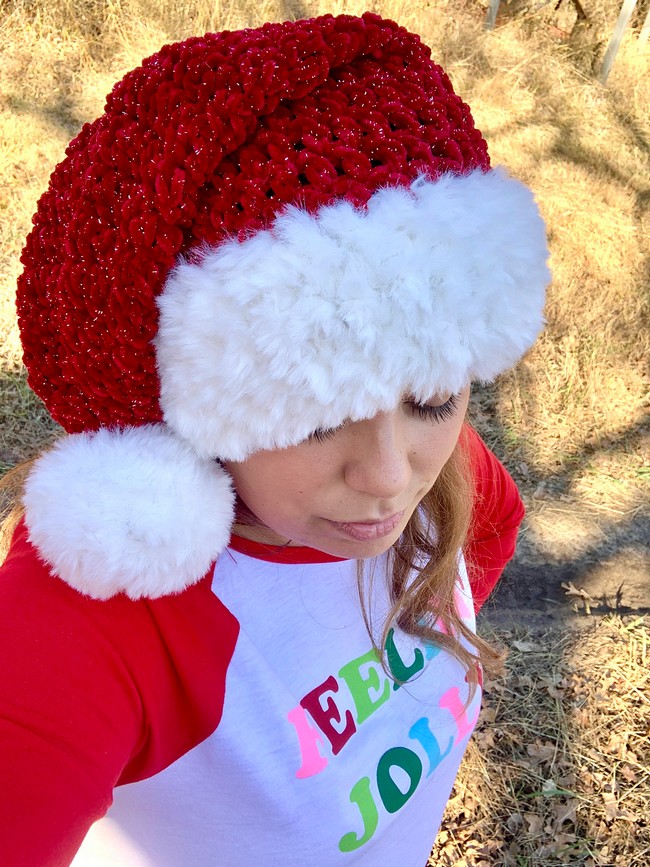 Whether you're looking for a last-minute holiday gift different from your usual winter hats, this crochet hat pattern is a perfect choice. It features a classic Santa Claus hat shape and is made with single and double crochet stitches using worsted-weight yarn. It can be crocheted in any color but looks best if it matches Santa's eyes. This hat will fit most adult heads; sizes are listed in each pattern. This crochet pattern is perfect for beginners who want to try their hand at a baby hat. It's easy to follow and fun to make!
Materials
Yarn Bee 'Fur the Moment' in Cream (1 Skein) & Yarn Bee 'Velvety Smooth Sparkle' in red (1 skein)
Small Amount of Poly – Fil
6.00 mm / J Hook
Yarn Needle
Abbreviations
Ch = chain
Sc = single crochet
Dc = double crochet
Fdc = foundation double crochet
Dc2tog = double crochet 2 stitches together
Sc2tog = single crochet 2 stitches together
Mc = magic circle / ring
St = stitch (es)
Sl st = slip stitch
Santa Claus Gnome:
Warm the heart of someone special with this crochet Santa Claus pattern. The perfect gift for Christmas or Easter, these little gnomes are virtually unbreakable, perfectly adorable, and great fun to make. This Santa Claus Gnome is an easy crochet pattern with all the bells and whistles. Wonderfully decorative, he can stand on his own as a cheerful garden statue or sit on a lit fireplace ledge. This a fun holiday project for beginning and experienced crochet knitters alike!
Materials
Crochet Hook, Size E, 3.5mm
Polyfil
Yarn Needle
Scissors
Small White Pom Pom (Optional)
Locking Stitch Markers
Abbreviations
CH – Chain
SC – Single Crochet
SC2TOG – Single Crochet 2 stitches together
SLST – Slip Stitch
MC – Magic Circle
Santa Claus Applique:
Everyone loves to have a little Christmas in their home; this Santa Claus applique is the perfect way to do that. Handmade with your choice of yarn, this little guy will bring some cheer wherever you place him. Santa Claus Applique is an easy crochet pattern with a Santa hat and mustache. This is the perfect guide to making an applique, Santa Claus. The pattern includes the required materials, step-by-step instructions with pictures, and sweater colors.
Materials
Yarn calling for 5,5 mm hook in red, light pink, white and black (and a very small amount of yellow for the belt).
A very small amount of pearl cotton in black (for the mouth)
Size 3.5 mm crochet hook.
2 black safety eyes (7.5 mm) for the eyes
Stitch markers
Tapestry needle
Abbreviations
chain (ch)
magic ring (mr)
single crochet (sc)
increase (inc)
invisible decrease (dec)
slip stitch (sl st)
half double crochet (hdc)
double crochet (dc)
Santa Claus Ornament:
This crochet pattern is the perfect Christmas gift. All you need is a few skeins of worsted-weight yarn and a size I crochet hook, and you're sure to have a happy family this holiday season. Whether you choose to make your Santa Claus in an adorable Christmas green hat, or a more traditional red one, either way, he'll bring joy to any holiday gathering. The perfect gift for your tree, this Santa Claus Ornament is sure to please everyone this holiday season. The stitch used to make this ornament gives a modern twist to what a traditional Santa looks like.
Materials
G/4.00mm hook
Worsted weight yarn in tan, red, and white
(2) 6mm safety eyes
Tapestry needle
Scissors
Polyfil
Abbreviations
Ch = chain, sc = single crochet, hdc = half double crochet, sc2tog = single crochet two together, hdc2tog = half double crochet two together, st = stitch(es)
Santa Claus:
If you are looking for a crochet Santa Claus pattern, look no further! This pattern is easy to follow and will produce a hardy crochet Santa Claus doll. Finding the right type of yarn to fit your project is the hardest part of making this doll. Once this is done, the rest is easy. Whether this Santa is perched on top of your Christmas tree or making his way down a fireplace, he will add some extra holiday joy to your decorations. Santa is crocheted using worsted-weight yarn and a 2.5mm (US C/2) hook.
Materials
Yarn:
Alize Cotton Gold in red, black, white, skin tone
(This yarn is Cotton 55% / Acrylic 45% blend.)
Yarn weight - Superfine 01.
Full skeins are not needed for the Santa, as scraps of yarn will do - but you will need approx 50g of red.
Gold embroidery thread
Toy stuffing/polyfil
Crochet hook size - 2.5mm (US C/2)
(or size suitable for your own yarn choice)
Scissors
Darning needle
Pins
Cuddly Santa Claus:
What's this? A Santa Claus you can snuggle with? Yes! The Cuddly Santa Claus is a homemade crocheted toy with soft, durable materials. It's easy to make and ready to love. Your kids will love giving him to their friends and relatives for Christmas or keep him for yourself if you're brave enough. You'll find the bright, cuddly Santa Claus your family will love in this crochet pattern. He's a full-size Santa, perfect for indoor and outdoor display. Santa has a simple construction, and all pieces are crocheted in the same way, making him quick and easy to make!
Materials
4.5 mm crochet hook
Tapestry needle
Scissors
Fiber fill
Stitch marker
Eye solution of choice (safety eye, embroidered eye, crocheted eye, etc.- I used blue 10 mm safety eyes, but note that I do not recommend using safety eyes if this will be given to a child under the age of 3, as they are a choking hazard)
Abbreviations
ch           chain
dec         decrease
hs           hair stitch (see below)
inc          increase
MR         magic ring
r              row
rep         repeat
rd            round
sc            single crochet
Friendly Santa Shelf Sitter: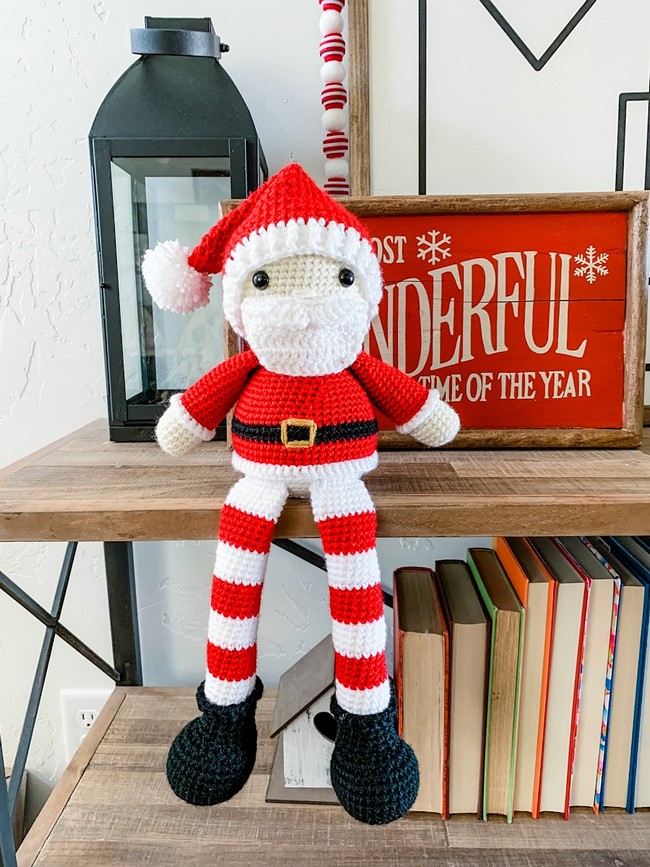 This Crochet Santa Claus Pattern is a great Christmas decoration for your home this holiday season. This tutorial will teach you how to make one; everything you need to know is on it! This cute Santa Claus will spread some holiday cheer as he sits on your mantle or tabletop. This crochet Santa Claus pattern is so easy and cute! This little guy sitting on the shelf will bring warmth to your home. He fits on any shelf, but he looks especially good if you put it in an open dollhouse window.
Materials
About 50g each of Size 4 Worsted weight yarn in skin color, sweater color, stripe colors
(I used Hobby Lobby's I love this yarn for the project in colors ivory, red, white, and black)
12mm safety eyes
Stuffing
3.75mm hook
Needle for sewing
Stitch marker
¾ cup Poly pellets (these are used to weigh down the body so it can sit on the shelf)
Abbreviations
SC- single crochet
SC INC- single crochet increase (2 SC in each stitch)
INV DEC- Invisible decrease (put hook through the FRONT LOOP ONLY of two consecutive stitches [two loops on hook] Yarn over pull through both loops. [two loops on hook] Yarn over pull through two loops)
Magic Circle- Make a loop, leaving a long tail to work with. Insert hook in center of loop, yarn over and draw up a loop. Yarn over, pull through to make the first chain (this does not count as a stitch!). Continue to crochet over the loop and tail with the number of stitches called for. (If you need 6 SC, then crochet 6 SC inside the ring.) Pull the tail to close the circle.
Santa Claus Plushie: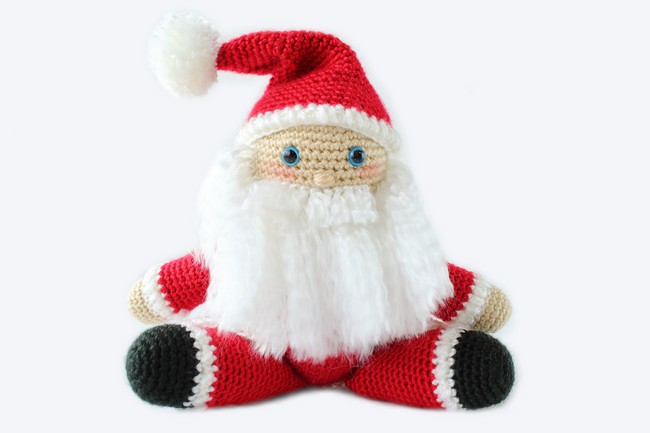 Are you looking for a great project to make for Christmas? If so, this crochet Santa Claus pattern is perfect for you. Making a crochet Santa is not only quick, but it's easy as well! What makes this project so easy is that all you have to know how to do is single crochet and slip stitches. The perfect Toy is one that your child will never get tired of, and even when he grows, the Toy will still be his favorite. This Santa Claus crochet pattern will give you that gift to give to your little darling.
Materials
3.25mm crochet hook / D hook*

#4 medium weight yarn – I used Yarn Bee Soft Secret in Biscuit, Cocoa, White, and Black

stitch markers*

tapestry needle*

8mm safety eyes*

Polyfill stuffing*

Mini pom poms
Hot glue gun
Blush (optional)
Pet brush (optional)
Abbreviations
ch – chain
SC – single crochet
DC – double crochet
HDC – half double crochet
sl – slip stitch
Santa Clause Pillow:
Santa Claus Pillow Pattern is great for decorating your Christmas home. It looks so funny and cute. The Santa Claus pillow is an adorable project that anyone can make, and it can be used in any room of your house, not just the living room. Not only is it a fun project, but it's also easy to complete. Materials used in the pattern: Red yarn, 5.5 mm Hook, White Bernat Pipsqueak yarn, and others. Make this fun Christmas pillow for your home or a great gift idea.
Materials
White Bernat Pipsqueak yarn
#4 Worsted weight yarn in red, white, & flesh tone
5.5 mm Hook
Yarn Cutter
Needle
Polyfil
Abbreviations
Ch- Chain Stitch
Sc- Single crochet
Sc2tog- Single crochet 2 together
Hdc- Half double crochet
Dc- Double crochet
Dc2tog-Double crochet 2 together
Santa Claus ragdoll: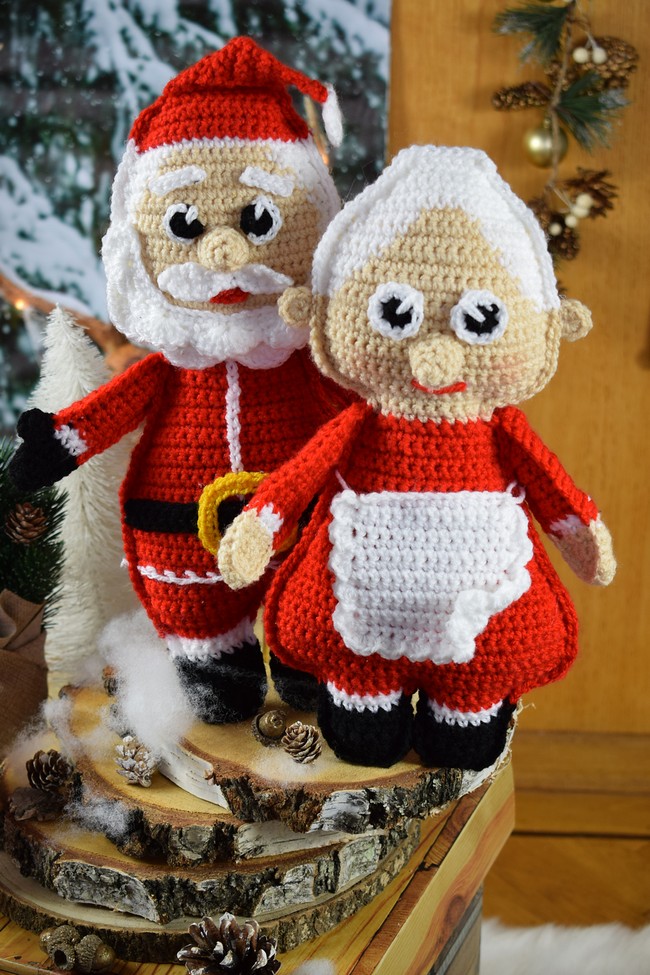 Crochet Santa Claus Pattern – easy instructions for a cute ragdoll crochet Santa Claus. This pattern is great for beginners who want to make amigurumi. Making a Santa Claus ragdoll is an activity that can help you relieve the stress of the holidays. Santa Claus is one of the most beloved Christmas characters. Crafting one would be a wonderful idea because it looks cute, and you can display them throughout Christmas.
Materials
Dk weight yarn – I used Stylecraft Special DK and Paintbox Simply DK yarns in these colors : red – 1123 Claret ; beige – skin color – 1710 – stone ; white – 1001; black – 1002 ; very small amount of yellow to make the clips of belt.
Crochet hook size – 3,5mm – US crochet hook size – E
Safety eyes – 12mm – black color or you can follow the written instructions for crochet ones.
Poly fiber fill for stuffing
Tapestry needle
Abbreviations
dec= sc2tog
sc2tog- single crochet 2 together
sc- single crochet
st(s) stitch(es)
dec- decrease
inc- increase
or ** repeat whatever follows the * or **
inc= make 2 single crochet to the same
stitch
prev- previous
YO- yarn over
Rnd- round
dc- double crochet
sk- skip
ch(s)- chain(s)
MR- magic ring
sl.st- slip stitch
sl. knot- slip knot
dc3tog- double crochet 3 together
rem- remaining
Huggable Santa Claus: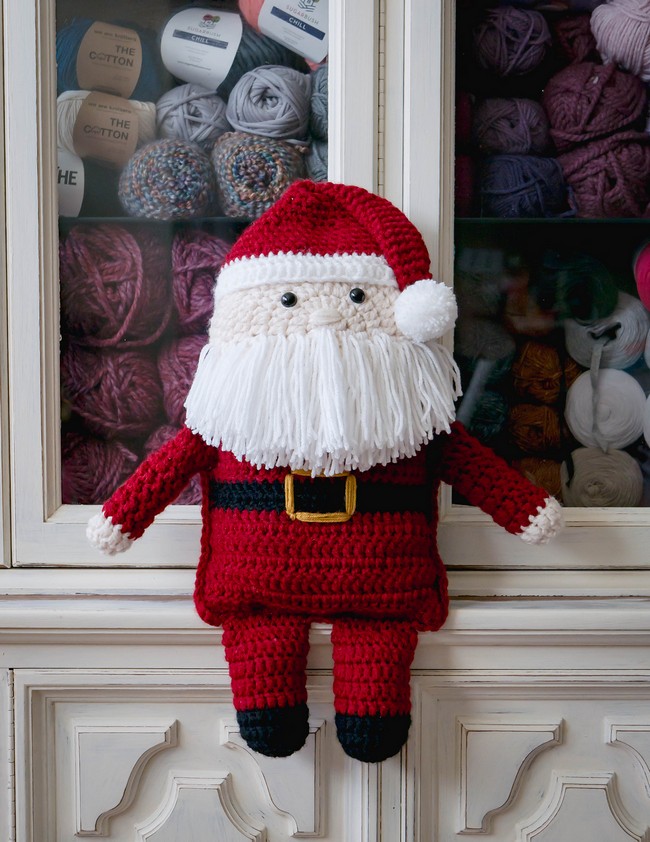 Now you can create your very own huggable crochet Santa Claus. This pattern includes instructions and photos to help you through each step of the process so you can make and give a gift even if you've never crocheted before. The crochet Santa Claus pattern is the perfect present for anyone in your family. Bright red and with a delightful Rudolph nose, Santa Claus will be ready to spread the Christmas spirit with you and all of your friends.
Materials
-Worsted weight yarn (I used Lion Brand Vanna's Choice)
2 skeins Cranberry
2 skeins Fisherman
1 skein White
1 skein Black
small amount of gold or mustard (2 yrds)
-Size I 5.5mm crochet hook
-12mm safety eyes
-Polyfil stuffing
-Large eye tapestry needle
-Very sharp scissors (for trimming the beard)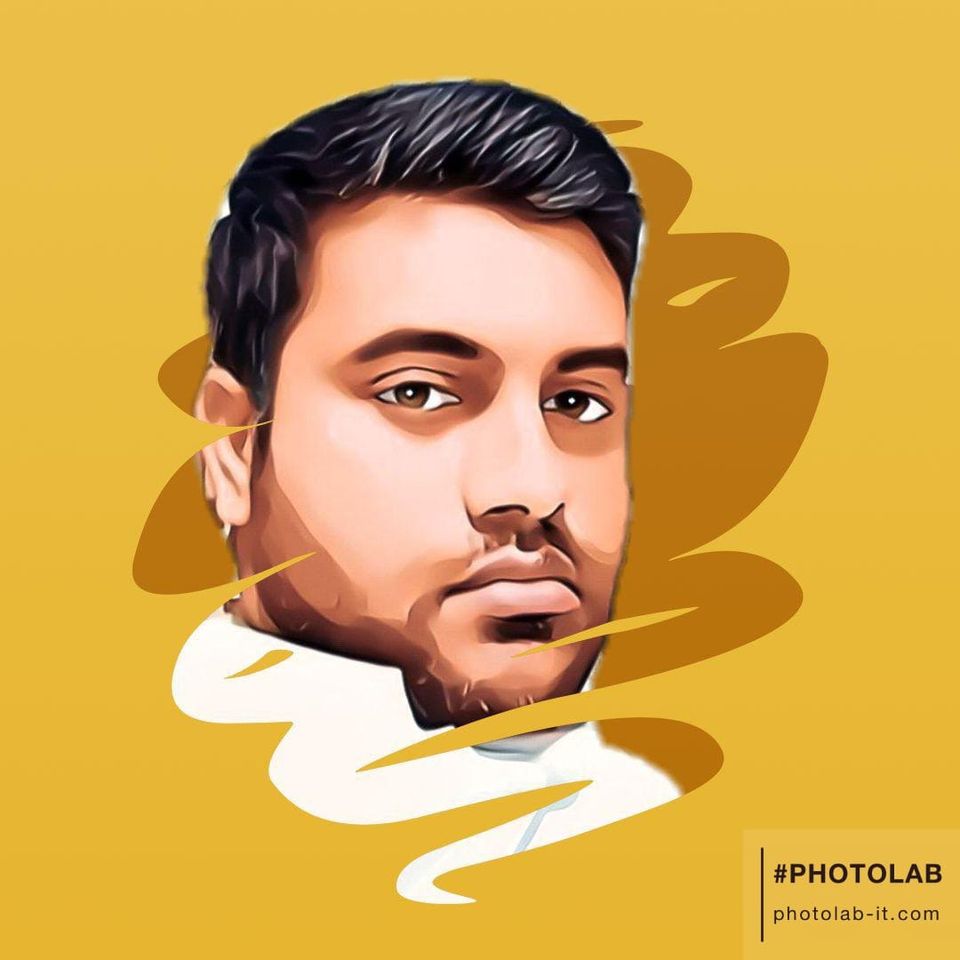 I am Raza, a crafts expert with 6 years of experience. I run this site for DIY lovers to provide the most exciting projects and ideas for your home, office, and everyday life. See More