These 10 Squirtle Drawing Ideas blog post offers a wealth of inspiration for those looking to bring the beloved Pokemon character to life on paper. From action scenes to cute and cuddly portrayals, the ideas presented provide a starting point for artists of all skill levels. Whether you are a seasoned artist or just starting, drawing Squirtle can be a fun and rewarding experience. These Squirtle drawing ideas are perfect for letting your creativity run wild. Whether a beginner or an expert artist, these ideas will get you to the best start possible.
Squirtle Drawing Easy Ideas

Drawing Squirtle allows artists to tap into their love for the Pokemon franchise and unleash their creativity. The versatility of the character, combined with the limitless artistic possibilities, makes drawing Squirtle a delightful experience. So, whether you prefer to draw in pencil, charcoal, or watercolor, grab your supplies and start exploring the world of Squirtle. Don't be afraid to make mistakes; remember to have fun with it! The result will surely be a work of art you can be proud of.
Tips And Tricks For Squirtle Drawing Ideas
Study reference images of Squirtle to get a feel for its anatomy and proportions.
Start with basic shapes and gradually add details, such as its eyes, tail, and shell.
Experiment with different poses and expressions to bring life to your drawing.
Consider incorporating elements of its environment, such as water or foliage.
Use shading techniques to add depth and dimension to your drawing.
Consider incorporating your unique style and interpretations into your Squirtle drawing.
Take breaks and step back from your work to gain a fresh perspective.
Don't be afraid to make mistakes, and embrace the process of trial and error.
Use references and tracing as needed, but challenge yourself to draw Squirtle freehand.
Have fun, and let your imagination run wild when drawing Squirtle!
Draw Squirtle Tutorial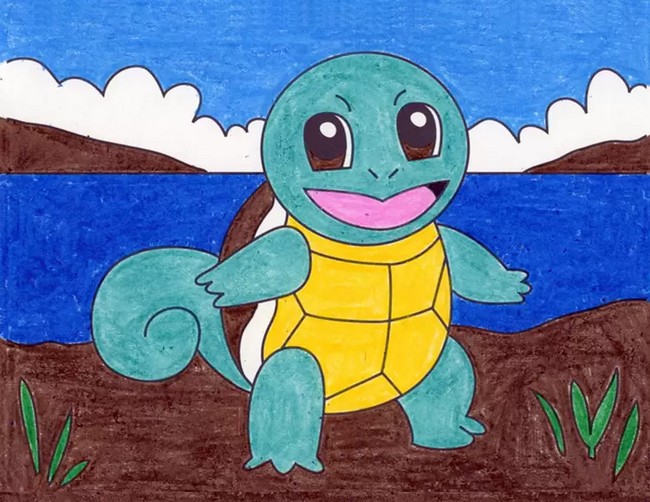 Squirtle has always been my all-time favorite Pokemon. It's so cute, and I love how its size is just right for a high-five or a fist bump. If you want to draw Squirtle, check out the step-by-step tutorial below. You don't have to be a professional artist to draw a Squirtle! Follow this step-by-step tutorial, and you'll be creating your original Pokemon artwork.
How To Draw Squirtle
Squirtle is a small Pokémon with a shell on its back known as a carapace. It has large hind legs, arms, and two front paws. Under each arm is a jet that can propel Squirtle in short bursts. However, each jet uses up some of Squirtle's supply of water. Squirtle can withdraw into its shell to avoid attacks that would harm it seriously." This easy tutorial will help you understand how to draw the cartoon on a cartoon.
You can also see: Easy Witch Drawing Ideas 
Fun And Easy Tutorial Of Squirtle Drawing
Squirtle Drawing is an easy way of drawing Squirtle the Water Type Pokémon. If you are a beginner and want to explore more about drawing, this tutorial is for you. This tutorial will take you through each step so you can enjoy every bit of it. It's super easy to follow and features step-by-step instructions that are perfect for beginners. This fantastic project is perfect for all ages, teens or grown-ups.
Squirtle Drawing From Pokemon
In this Squirtle drawing tutorial, you will learn how to draw a cute Pokemon from the inside out. It is simple but needs to be more challenging for a child. If you are an adult who likes to doodle or create designs, this is a great drawing to add to your collection! This tutorial will teach you to draw Squirtle from Pokemon step by step with this easy-to-follow tutorial.
Squirtle Pokemon Drawing
You'll start with a beginner's guide to the essential techniques and knowledge needed to draw Squirtle. From there, you'll dive into how to create a great drawing with tips on line quality and shading for perfectly Pokemon-worthy results. Once you've mastered the basics of drawing Squirtle, you can move on to more advanced techniques like adding shadows and highlights to your drawing.
Step By Step Guide To Draw Squirtle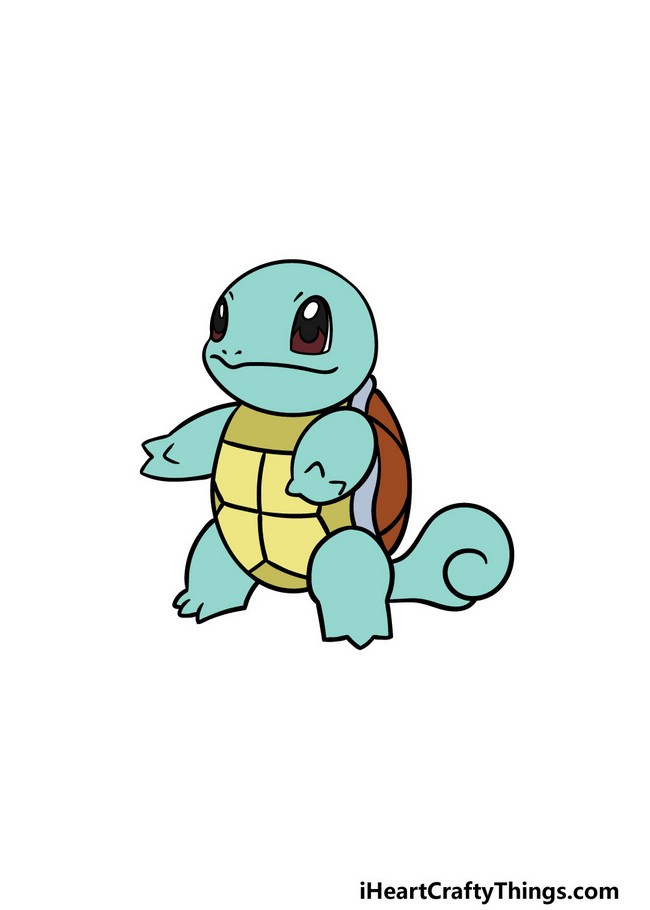 If you are asking yourself "how to draw Squirtle," well you are not alone! Drawing is a fun and enjoyable pastime many people enjoy as a hobby. If you want to learn how to draw, you have come to the right place. This How To Draw Squirtle (Pokemon) tutorial will show you how to draw Squirtle, the turtle Pokemon from the hit video game series!
Also, see: Pikachu Drawing Ideas For Kids And Easy Jigglypuff Drawing Ideas 
Squirtle Drawing Instructions
The Squirtle Drawing is a small, friendly and charming beginner drawing. If you're starting, get your feet wet with this adorable little guy first! Its skin is light blue with dark blue patches and traits resembling a swimming cap. The end of Squirtle's tail curls inward to resemble a finger, much like Wartortle.
Draw Squirtle From Pokemon For Kids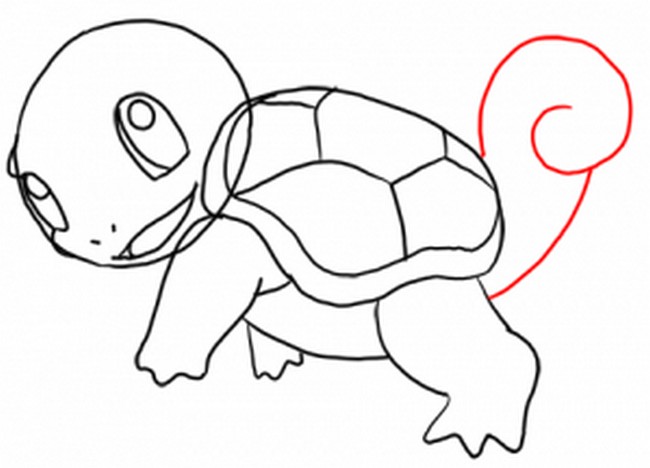 Come on kids, and this is not an easy task. You should follow each step very carefully. Squirtle from Pokémon is so cute and easy to draw; it even works for kids. He's one of the original Starter Pokemon and has a great line about his shell or trunk (he grows it back each time). Try drawing him in your style - get creative!
Drawing A Pokemon Squirtle
Here's a super easy step-by-step drawing tutorial on how to draw Pokemon Squirtle. It's a really fun and simple coloring page that anyone can enjoy. This tutorial helps you draw Squirtle's face; learn how to draw this Pokemon character in these simple steps.
Squirtle Cartoon To Draw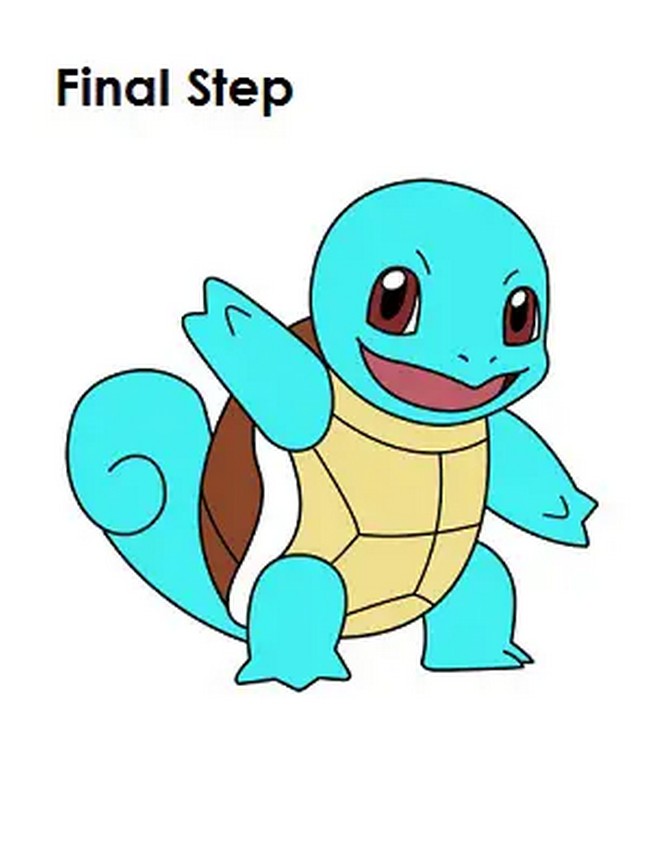 If your young child has a Squirtle obsession, but you're concerned about the mess that the drawing of Squirtle could cause, then this Squirtle Cartoon To Draw is an excellent compromise. Drawing Squirtle is a simple and fun activity that anyone can do, even if you're not an artist. You can draw this cartoon turtle with just a pencil and paper.