Fruit is one of the best things to draw. It can be used to make funny cartoons and cute images. Different fruits have different shapes and colors, which make them look more attractive and exciting. Fruit Drawing Ideas is a great way to learn how to draw! Fruit Drawing is one of the most popular things you can do now. It doesn't matter if there's a formal course or voluntary group where you live; take advantage of the opportunity to learn about drawing and improve your skills. Learn an excellent drawing method with 16 Easy Fruit Drawing Ideas.
Cute Fruit Drawing Ideas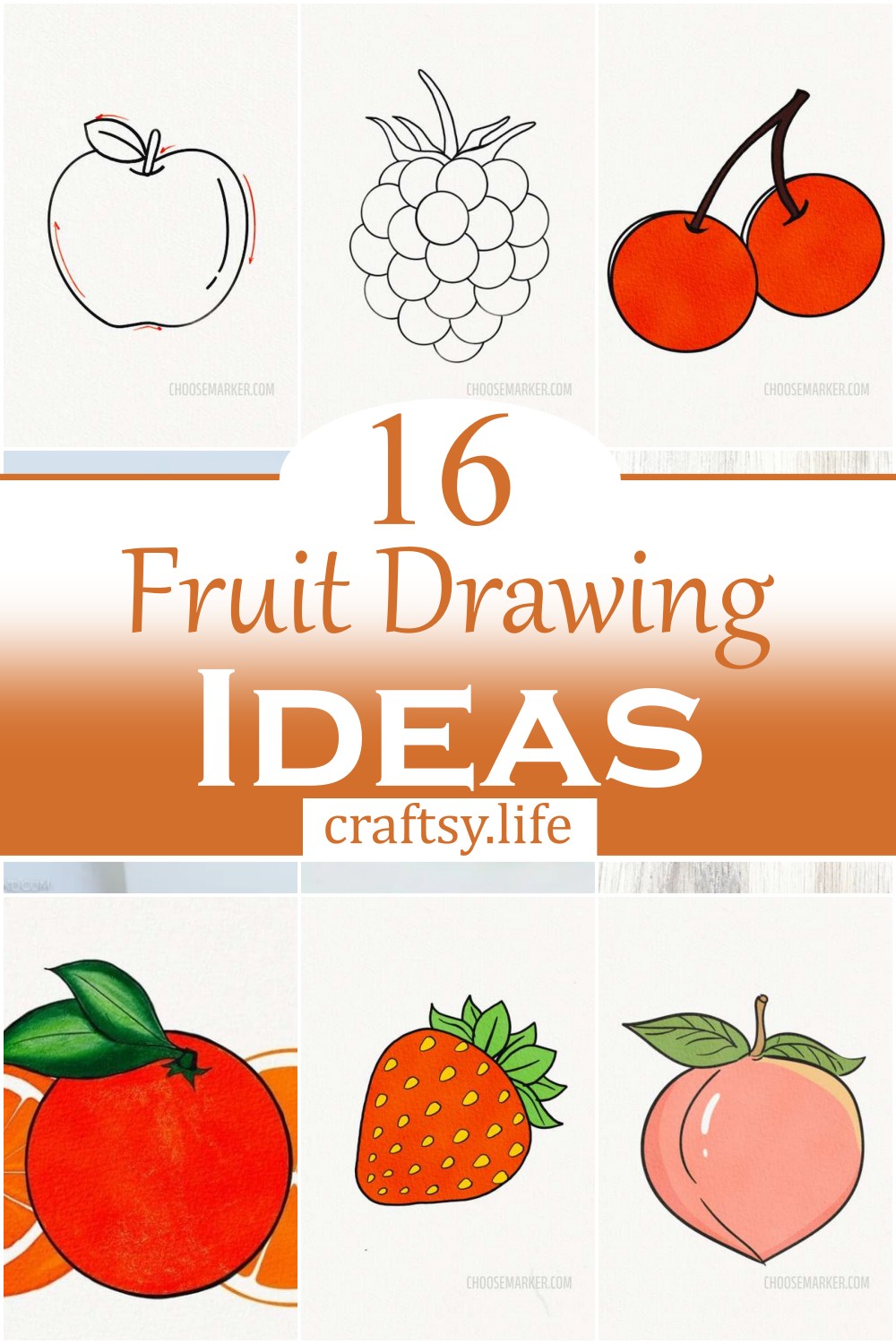 Drawing fruit is a great way to practice your drawing skills. There are many different types of fruit, so this is a good project for artists of all levels. If you've never tried drawing fruit before, some simple methods make it easy to start. Fruit drawings can be imperfect or involve details like leaves and stems. The main focus should be getting the shape just right. These 16 fruit drawing ideas are a fun way to practice your drawing skills. Learn how to draw various fruits and some techniques that can be added to any drawing.
Tips For Fruit Drawing Ideas
Fruit drawing ideas are a great way to get your creative juices flowing. We love fruit drawings because they're colorful, fun, and easy to do! Here are some tips for drawing fruit:
Use bold lines and bright colors
Try different angles for your drawings
Try different color schemes
Apple Drawing 
Orange Drawing
How easy is it to draw oranges? It's even easier than eating them! All you need for this one is a circle and a few other details. Try it out with your favorite crayons or colored pencils, and see if you have an artistic side hidden somewhere. Step-by-step instructions show you how to draw this orange fruit using simple, easy-to-follow steps. Learn how to draw and paint like the pros!
Strawberry Drawing
This strawberry is so easy to draw and looks just great. It's a must-have for all children, so try it out! You can learn how to draw it with a single stroke or two. This fun strawberry is simple to draw and the perfect introduction to drawing. It's the perfect way to practice your skills or a great gift for kids.
Tomato Drawing
This is a tomato drawing. A tomato is a juicy fruit that is round in shape, red in color and has many seeds. Depending on who you ask, Tomato can be a fruit or a vegetable. It's technically a fruit because it has seeds, but it's mainly used as a vegetable in cooking. But here I have shown the tomato drawing as a delicious fruit.
Pineapple Drawing
Kiwi Drawing
Kiwis are a fun fruit to draw; the result will be a delicious addition to your next salad. The shape of the fruit is easy to replicate, but the color is where things get interesting. The kiwi fruit is a bright and beautiful fruit that draws the eye with its light green skin and rich, juicy interior. Kiwis are also great for easy fruit drawings because they are small and uniquely shaped. They make a great addition to any dish, including desserts!
Cherry Drawing
Stem and all the edible parts are included in the drawing. The drawing appears realistic and cute to look at. You can draw it simply using a pencil mark and then fill it with paint or colored pencils. Cherries are sweet and juicy that can be used as drawing material. Cherry drawing is an easy idea for kids and adults who have never drawn before. In this post, we have illustrated an accurate drawing of the cherry and its stem to make it look more appealing.
You can also see: Tree Drawing Ideas
Melon Drawing
This is the perfect tutorial to learn how to draw a melon. You can draw a whole melon or a slice; it will always look good. Melon drawing isn't as much of a challenge as some other drawings. It's easy to understand and very pleasant to do. You need to draw some simple shapes and add some details. Add leaves and vines if you want!
Papaya Drawing
Papaya is the most straightforward fruit drawing because the shape, lines and color are easy to emulate. To draw papaya, you only have to trace an oval shape, curved lines, and small circles for the seeds and shading. This is a simple papaya drawing to try out your skills. It's easy to draw an oval and fill it with curved lines. You can add some shading or different colors to make it pop.
Peach Drawing
This drawing is great for beginners. Leave the drawing as is to keep an innocent, cute vibe and let the peach stand out from the background. Add leaves and stems if you want, or change the color of the peach; this could also be great for an art project about what a peach looks like depending on its ripeness!
Grape Drawing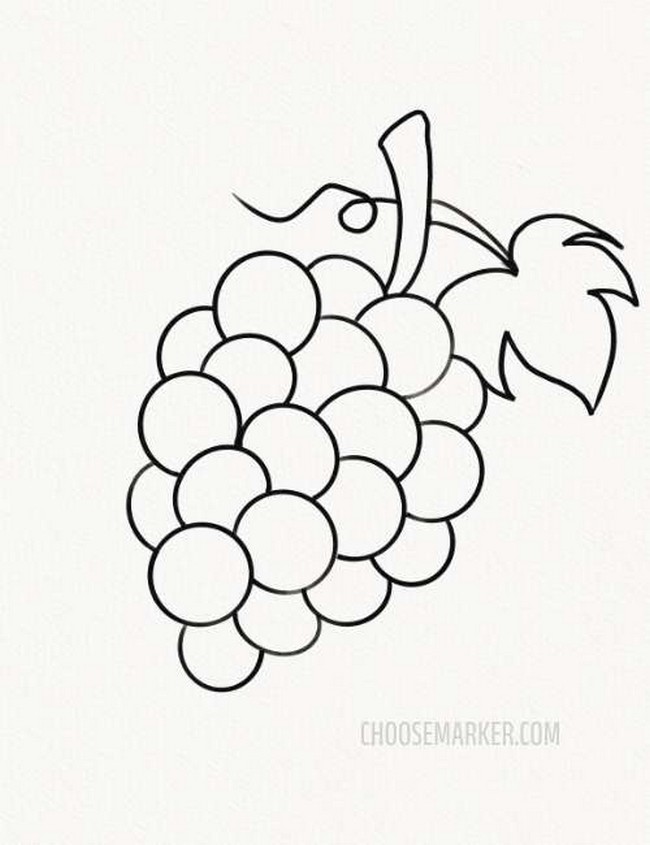 A grape is a fleshy fruit that grows in clusters on vines. Grapes do not have seeds but instead have many indentations called pits. These pits hold the seeds and contain the pulp of the grapes. Drawing a grape is one of the simplest things you can do when learning to draw fruit, but it can be challenging to get it just right. Take your time and follow the simple steps in this guide, and you'll have a realistic-looking grape.
Apricot Drawing
The Apricot is a fruit that is native to China. The Apricot is a small, round fruit with smooth, velvety skin. It is such a fruit that can be easily made through doodling. This drawing of an Apricot is simple and easy to make. The fruit is round, with a smooth and velvety skin, so it can be quickly drawn through doodling. It also makes an excellent project for kids who want to practice their drawing skills.
Pear Drawing
This easy fruit drawing tutorial turns a bland pear into a little cartoon character. If you want to make this drawing much more fun, cut the top of the pear and stack your kid's hands in there while holding their little friend. Fruit drawing is a fun and easy way to practice your drawing skills. The following is an easy fruit drawing tutorial on drawing and coloring pears. These fruits are delicious, juicy, and full of fiber – what's not to love about this fruit of the plant family Rosaceae?
Blackberry Drawing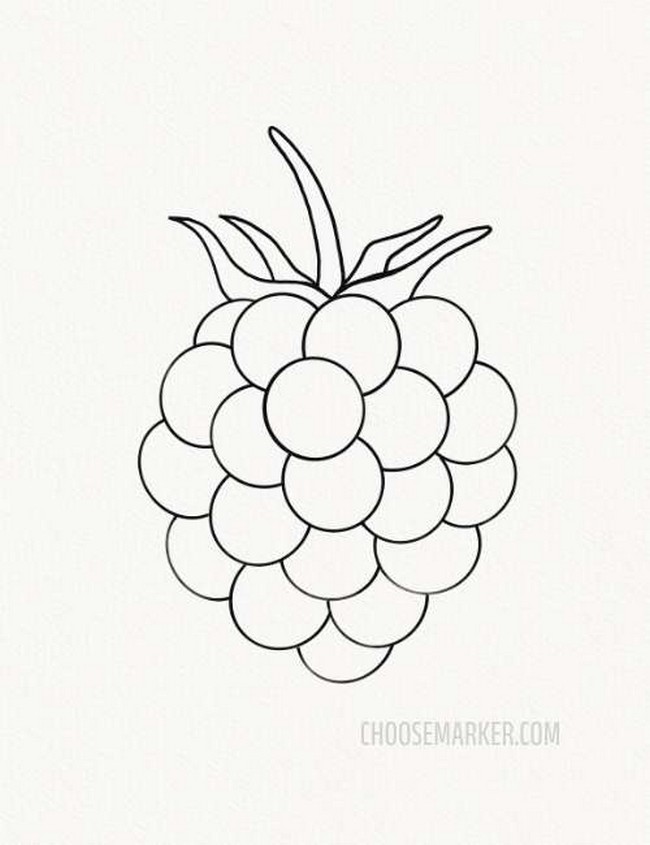 Drawing blackberries is as simple as 1-2-3! You'll surely be proud of your drawing if you can capture every detail, including shiny leaves. Drawing a blackberry is a beautiful way to practice shading and brush strokes. Making berries adds color to your dessert table or kitchen is also fun. The object of focus is that you are drawing and not trying to make it perfect. The more fun you have, the better the drawing will be.
Guava Drawing
Guava is a fruit that comes in many different shapes and sizes. This fruit can be green or yellow, but it is most commonly found in tropical regions. Guava has white fleshy pulp with tiny seeds. People worldwide eat guava daily as a snack or to accompany their meals. Draw and color your favorite guava illustration today!
Dragon Fruit Drawing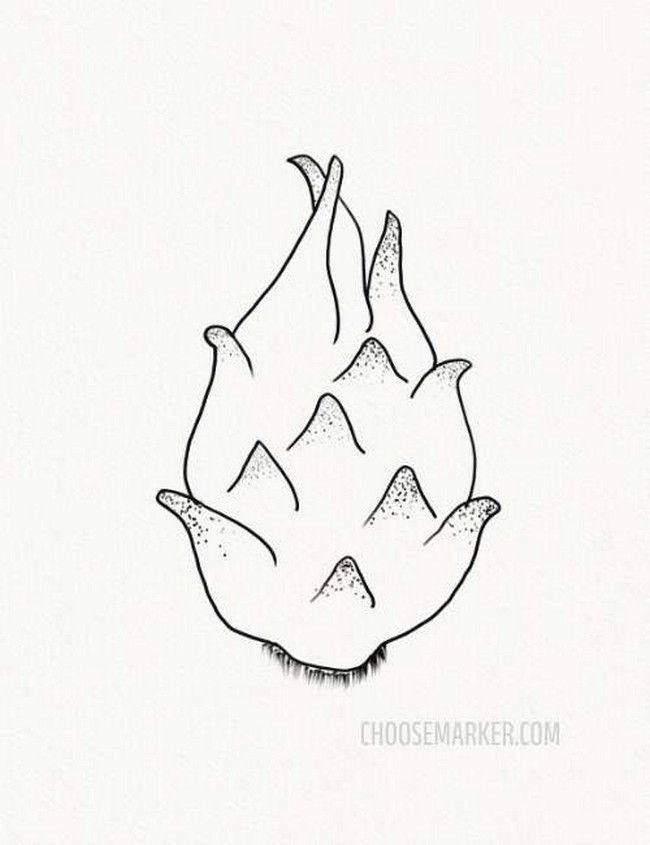 Drawing dragon fruit is easy once you know how to draw it. The hardest part would be getting your hand to create the scales on the outside. A fruit with a unique appearance in the shape of a dragon! This fruit is so pretty and delicious.