Building a treehouse is a great way to get the whole family involved. It's an enjoyable activity, either in the fresh air or inside on rainy days. As you gain experience building treehouses, you can include other features to make this space more than just a playhouse: roosting perches for sleeping, a lookout platform perched high in the trees, or even a zip line for racing back down from your treetop hideaway. Whether you are an experienced carpenter or a first-timer, we have all the tips for you to learn about construction, follow these impressive DIY treehouse for kids' ideas and explore a new world of fun with your kiddos.
DIY Treehouse Plans

DIY treehouse projects for kids aren't just about building something for them; it's about building something with them. Making plans and then doing all the actual work together can teach your child valuable life skills in a fun way. It's a great excuse to spend time together. Many DIY treehouse projects involve using recycled materials like pallets or old windows. Still, you should note that these are not necessarily safe materials to have around your children or pets, so ensure that you keep safety in mind when planning these kinds of projects. When planning to build a DIY treehouse project for your kid, there are several things to consider: tools, location, size, and material.
Tips To DIY Treehouse projects For Kids
Building a treehouse for kids is an excellent project for you and your little ones. You can learn how to build a treehouse together, and when it's done, you'll have something that will last for years! Here are some tips for DIY treehouse projects for kids:
Get Permission
That's right, we said it! You need to get permission from your local government before starting any DIY treehouse projects for kids.
Don't Forget The Safety First.
Safety is always a priority for kids, and DIY tree house projects for kids are no exception. Be sure to use the proper safety equipment and follow all safety precautions recommended by your local government before you begin your DIY treehouse projects for kids!
Choose Your Materials Wisely
If you're going to be doing any woodworking or painting, make sure that all of your materials are certified safe for use around children. Never use anything that could cause harm or irritation because it's not worth taking the risk to your children's health!
Make sure the tree is healthy.
Choose the right trees.
Consider building on an existing platform or platform of your design.
How To Make A Treehouse For Kids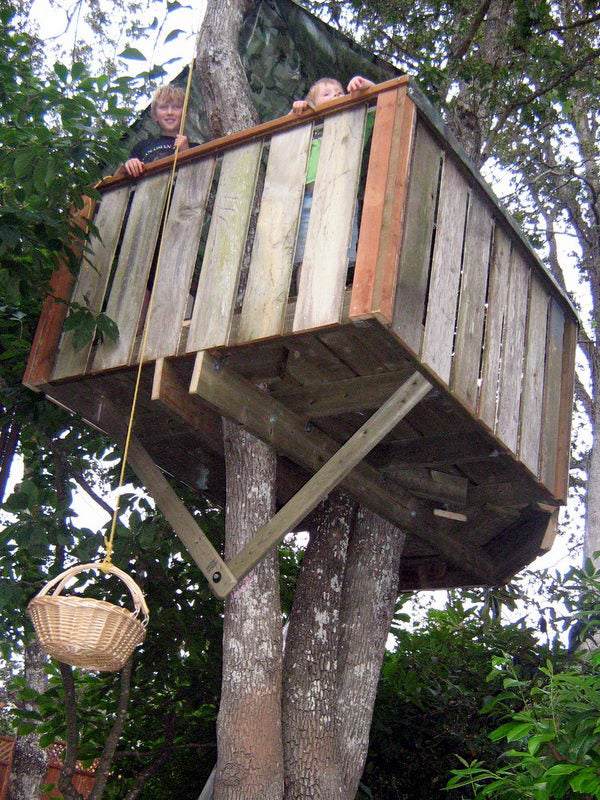 If you want to build a treehouse for your children, this guide will walk you through all the steps needed to build a treehouse for kids that is high enough for them to play safely. From selecting the right tree and sketching the frame design to gathering materials and constructing the piece, this guide gives you everything you need. To build a treehouse for the kids, they will love and have fun; you'll need to take your time, be patient, and have a creative mind. You can even let them help you build it with their ideas if you want, as long as it's safe.
Easy Treehouse Build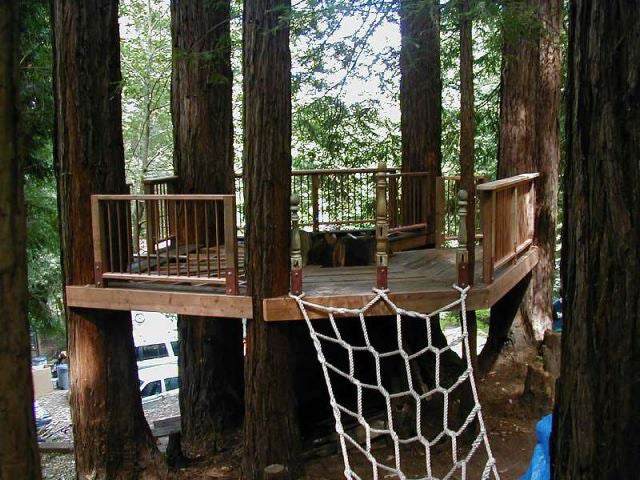 Treehouses instantly transform your backyard into a magical wonderland for your children. This DIY treehouse project shows you how to build a sturdy wooden treehouse with no tools required. It's simple and inexpensive, so let's get started! It is a great project to work on together and complete in one summer. The materials needed are easy to find, and you can use simple tools to put them together on your weekend. You can even build several of these and create a park for all your friends! This DIY treehouse is a popular project that's easy to do and makes for a great weekend project!
Easy Tree House
We all wish to escape the hustle and bustle of city life and have a slice of nature in our homes. With this DIY project, you will be able to make your dream come true! You can build a treehouse on your own, without professional help, at a reasonable cost, and without damaging the tree. This treehouse is built in the shape of a cabin and has a rustic feel. It's one of those homes built solely under the tree and in no way connected to the ground. The roof features a unique, sloped architecture that will please any child! It is a super fun and simple treehouse that you can build in just a weekend. It's perfect for kids and adults alike!
Cheap Tree House Build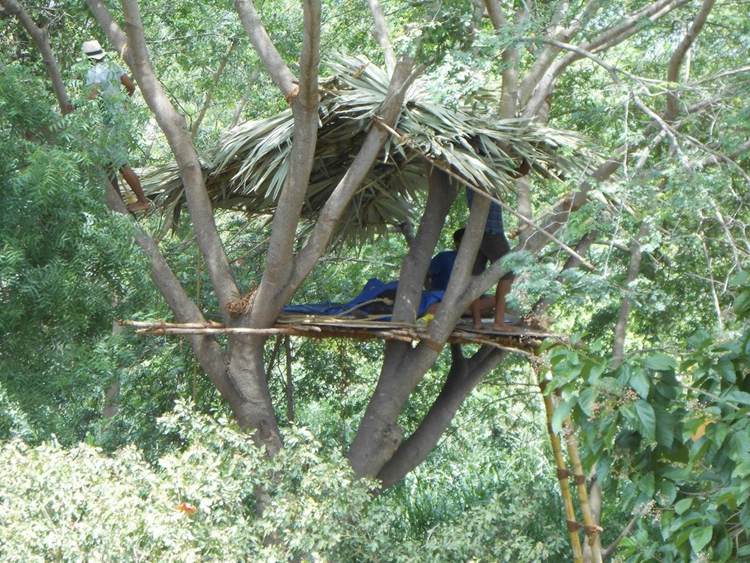 Finally, a do-it-yourself tree house project that's easy to make, affordable and stylish! The entire project takes only a few hours, and the materials cost less than $50. It can be built by a single person or two people working together. If you love the idea of having your very own tree house but don't have a lot of money to spend, this is an awesome example of how to make one. You can build your treehouse without breaking the bank with basic materials and tools! This project for a Coconut Coir Rope Treehouse is designed to make the process quick and easy. Follow the directions, and you'll enjoy your new backyard hangout in no time!
How To Make A Modern Kids Treehouse
When it comes to building a kid's treehouse, you can't go wrong. If you want something that your kids will love and don't have the money for a whole bunch of materials, then this one is perfect for you. This tutorial will teach you how to build a modern kids' treehouse. This guide can be used for adults or children, as long as you have the right time to complete the project. It may seem tedious, but it's well worth it when you can sit in your very own treehouse after a few hours of hard work.
Creating A Treehouse For Kids
Making A Treehouse for Kids is a fun activity that will teach them about woodworking and help them develop their spatial awareness and problem-solving skills. You can build this simple wooden treehouse indoors; it's a small indoor treehouse that is meant for your younger kids to play in. It's easy to build with simple wood boards and other woodworking materials and tools at your disposal. The making process is quick and easy to perform. In this video, you'll learn how you can build an indoor treehouse with simple wood boards and other woodworking items at hand. It's quick and easy to make, so get ready to start building today!
Pirate Hideout Treehouse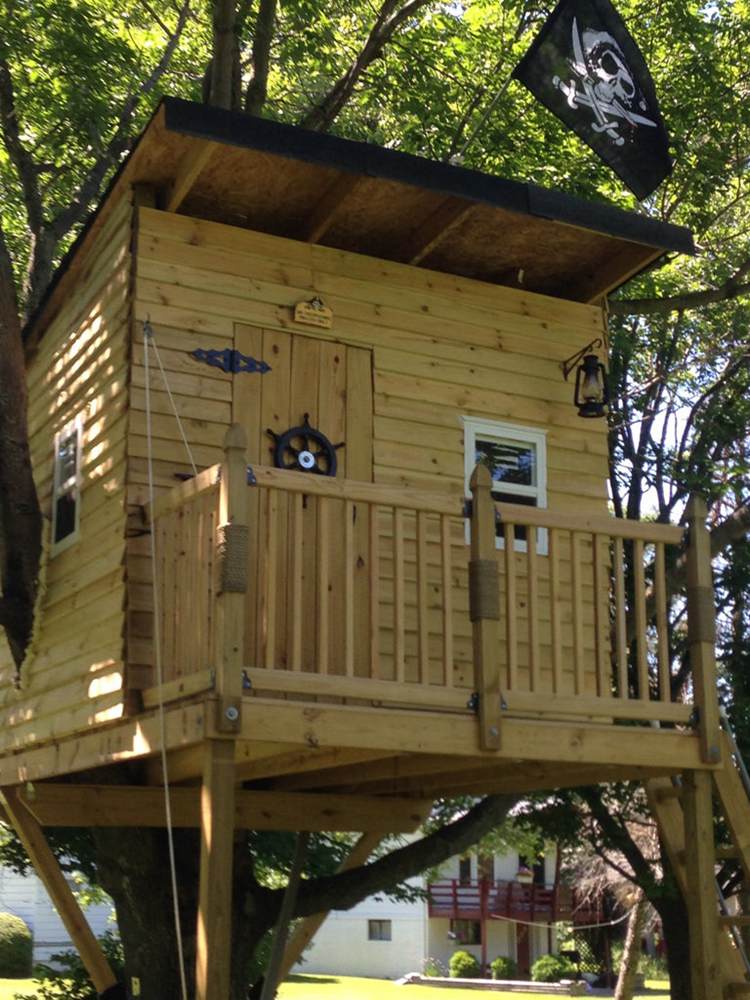 Are you looking for a fun place to hang out with your friends or kids? If so, this is the perfect DIY project for you. This treehouse is sure to be a hit with your kids! It's big, sturdy, and easily customizable. With its ladder, this treehouse also offers super easy access for kids and adults alike. You'll want to start by placing two wood boards between two trees facing each other, then adding another row of wood boards across both trees. It will give you hours of fun and outdoor adventure. It's sturdy and spacious to keep them safe while playing with their friends.
How To Build A Basic Treehouse
If you're looking for a super easy and inexpensive way to add some extra play space to your yard, here is a quick and easy guide for building a treehouse. The best part about the treehouse is that it can be built in a day and requires minimal tools such as power drills and saws. The process is simple, straightforward, and easy to follow, even for first-timers. Though keep in mind that you will need someone on hand for help when carrying up materials and assembling the finished product. This is a very simple way to build a treehouse. It does not have a wooden floor; if you want to add one, you can add it on the sides and make it solid with some other boards.
Treehouse For Kids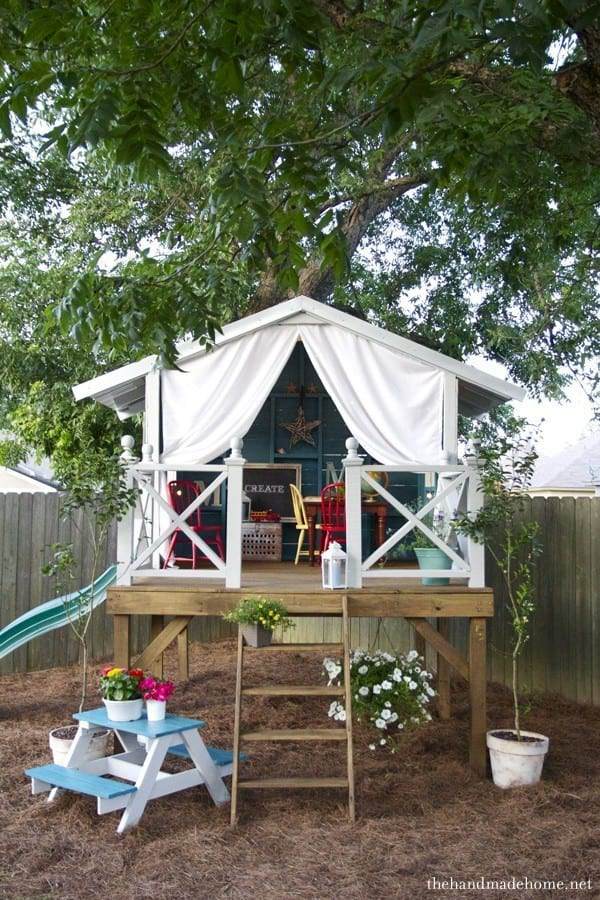 With a wisden base, you can assemble a treehouse in the comfort of your backyard. It's an ideal place to create your world and spend time with your kids. A treehouse allows a child's imaginative and creative mind to flourish. If you've never been up in one before, or even if you have, it's hard to imagine how great life could be up in one. The possibilities are endless for what you can do with this space. You can use it as a reading room, playroom, art studio, yoga space, and more!
Treehouse Miniature Tutorial
This DIY video guide makes your dream of living in a treehouse come true. Follow the instructions to create this miniature treehouse, and watch as it takes shape before your eyes. If you are crafty enough, this is a great project to do with your kids, maybe even yourself! This treehouse is the perfect place for children to play and imagine. The house has been built with a real tree trunk and supports on which it sits. It also has a slide that looks like a true scaled model of a real treehouse. You can build and paint this miniature on your own or use the video guide for easy instructions.
Tree House Wood Plans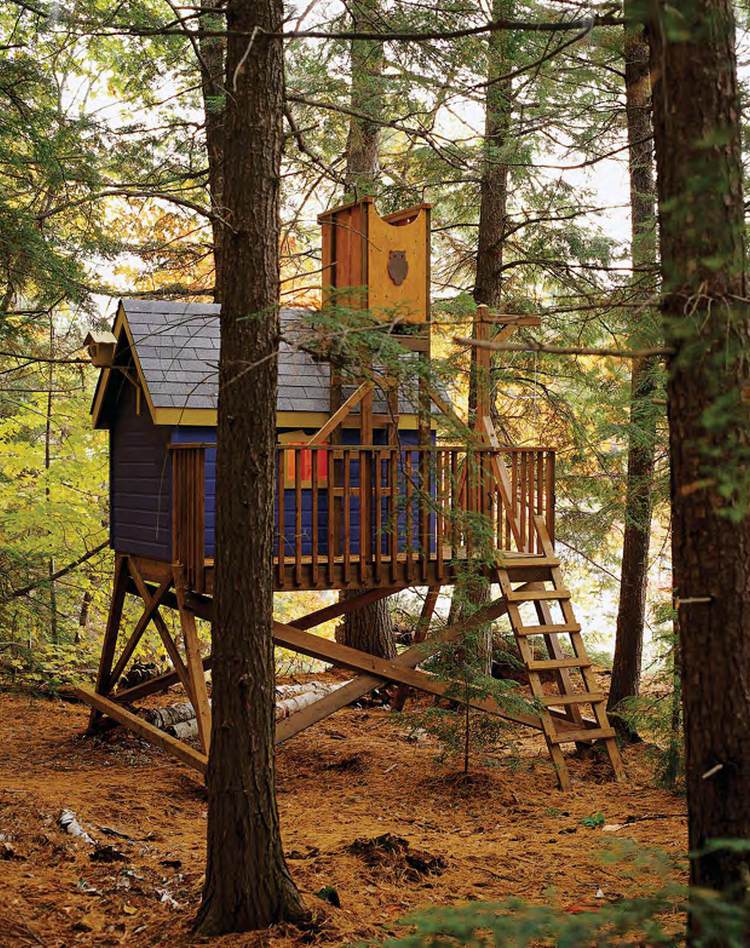 These Wood Plans are the perfect step-by-step instructions for building your very own tree house! These easy-to-follow plans will guide you through the process, including materials needed, tools and safety measures, diagrams, dimensions, and more. Perfect for kids and adults alike who want a great project they can build in their backyards or trees! This DIY project is easy to follow and will cost you less than $200. The materials needed are pressure-treated spruce, spruce strapping, untreated spruce, pine tongue, and groove. You can't go wrong with this amazing deluxe treehouse!
Treehouse Playhouse Plan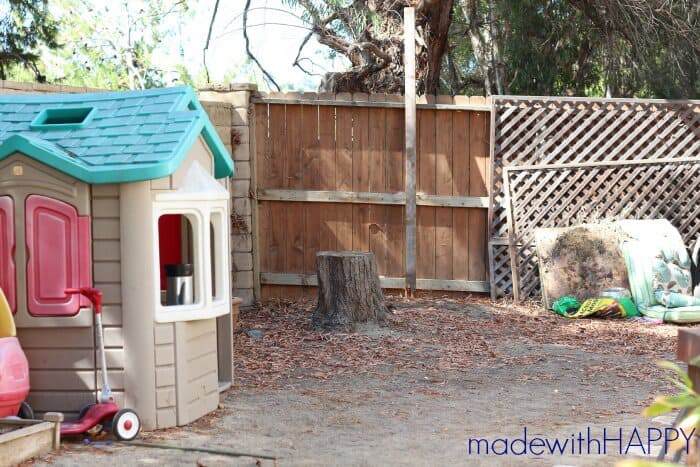 One of the best things about being a kid is climbing trees. Now, most kids can't climb trees as they used to when all their limbs were still attached and strong, but that doesn't mean you can't give them a chance to experience tree-climbing with this playhouse. This DIY treehouse playhouse is made entirely of wood and built on land, not on top of a tree. It is an awesome example of a DIY project that's been done. This treehouse playhouse is made of high-quality lumber wood, wooden post, and other wood parts. This project is also on land, not on top of a tree. So, the creator just built some sturdy wooden legs to hold the entire treehouse structure.
DIY Miniature Treehouse
This miniature treehouse is the perfect option if you want to make a treehouse for your kids but don't want them to play in it. This DIY is great for house decor, especially around your floating deck or tabletop. The making process is quick and easy to follow. You need the wood sticks, good glue, and a template. With a paper template, you will construct the treehouse on it and peel off the template for the miniature to stand. This DIY project can be done in a few hours, and you would have yourself a kiddie's dream playhouse. It's easy, cheap, and fun!
Tree Cabin Wooden Build
Let your kids play among the trees with this DIY tree cabin. This DIY tree cabin is perfect for a fun family project that will give the kids plenty of good memories. It's easy to assemble, is large enough for multiple kids, and can be built in just a few hours. This would also be great for camping or backyard make-believe play! It's large enough to fit an adult and features a slide and swing to keep them busy. You can use this anywhere, but having one in your backyard or near a park would be great. The post is made of pressure-treated wood, so it won't rot, even if it's left outside all year.
Build A Treehouse For Kids
Take a look at this treehouse building plan. Something unique about this is the concept the creator applied to turn it into a fun treehouse playground for kids. The creator didn't build it on a tree. This is meant for the younger kids; the older ones can't play here. This treehouse building plan will help you create a fun and unique treehouse for your kids, who will love it. You don't have to build it on a tree. The creator built it on the ground and then put the base beams on top of two trees at each end; that way, younger kids can play in it, and older ones cannot!
How To Make A Treehouse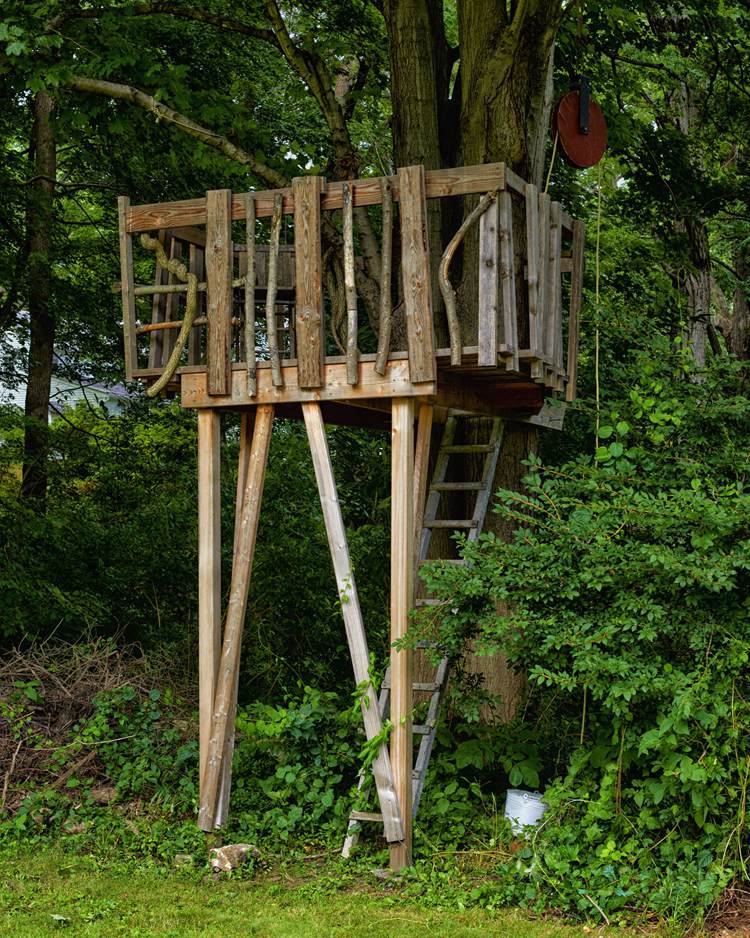 If you want to build your Treehouse, this guide will show you how to do it. Gather the materials needed, find a good spot for your Treehouse, and start building! This Treehouse is made up of simple pieces of wood, so you don't need to be a professional carpenter to build it. It's also fairly cheap to make, so if the wood isn't available, you can always use plastic or cardboard. The best part about this Treehouse is that it doesn't require any heavy lifting or help from other people to get built. It's just as easy for one person to build as for a group to build together.
DIY Reclaimed Treehouse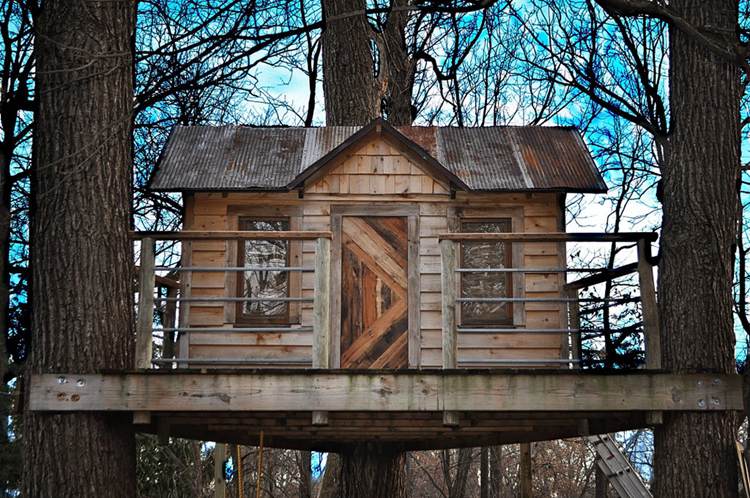 This treehouse is so cute; it will make you have to have one. If you are looking for a project to do, this treehouse is fun and easy to build. It's made from reclaimed wood, so when you're done building it, you can store it in your garage or wherever. Build your treehouse with this do-it-yourself reclaimed wood project. This treehouse is built from reclaimed wood, and the result is stunning! The creator of this reclaimed treehouse shows you how to make a simple platform before placing a roof over the top.
Easy Treehouse For Kids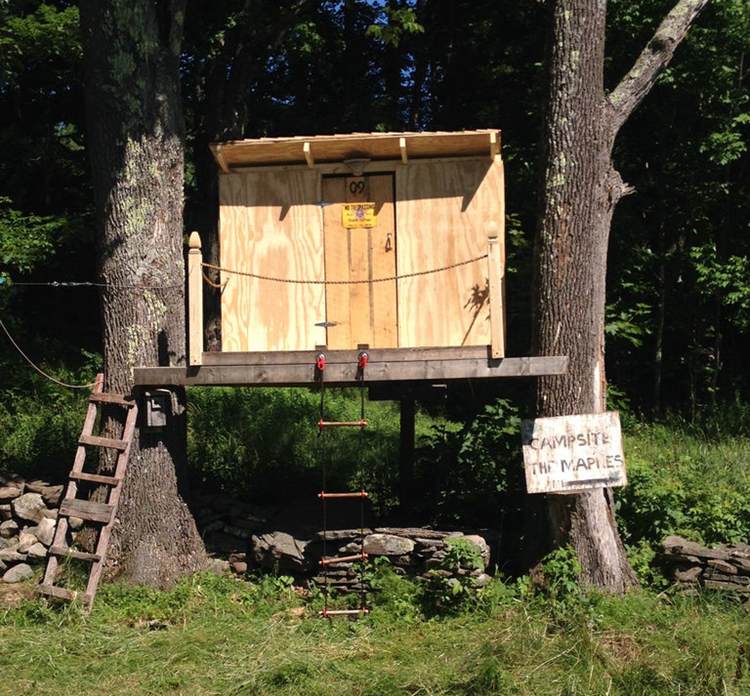 This small treehouse is a great idea for kids who want to stay outside but still be safe inside. This treehouse has its roof for shade, which is a good idea for kids to enjoy the trees. It looks like a small space, but you can put some furniture inside so your kids can play and be entertained. This treehouse is made from sturdy wood that will not easily break apart. It can stand the test of time and weather, making it last longer than most other things kids use for fun.
Pirate Ship Treehouse Creation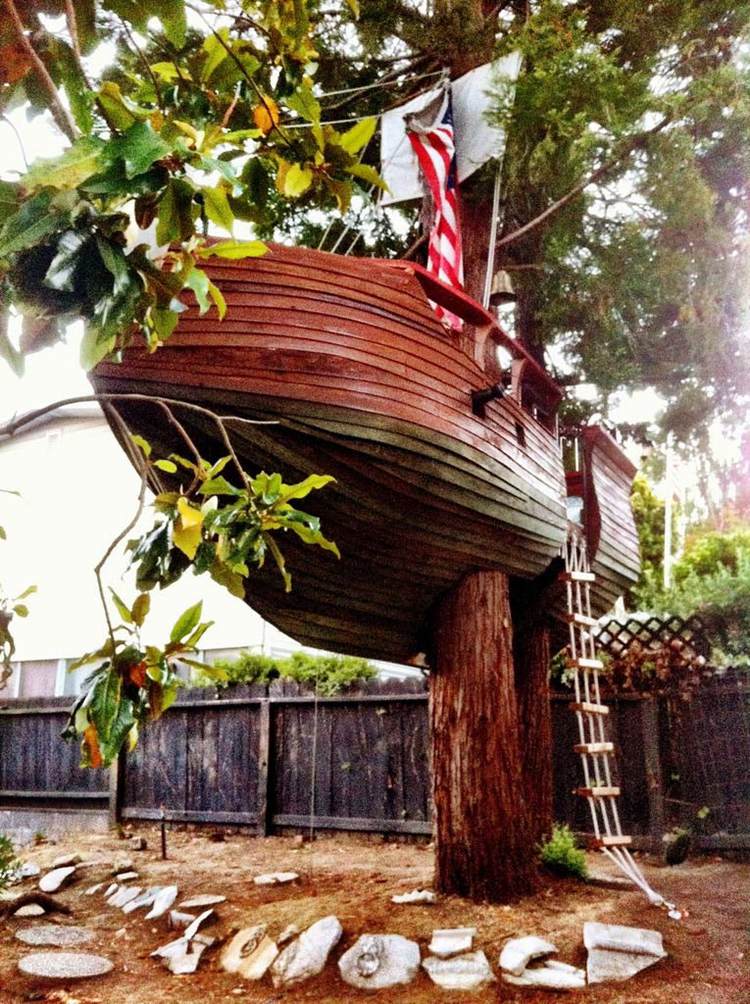 This simple DIY treehouse will look like something out of a storybook. It'll boost your imagination as you sail around in search of treasure and adventure on the high seas, so don't hesitate to plan for it now! You'll also need to use a lot of small pieces of wood, but the neat thing about this design is that you can easily make this treehouse with few materials. Once you've finished constructing it, you'll need a lot of stains to make the planks look old and worn.
Treehouse For Older Kids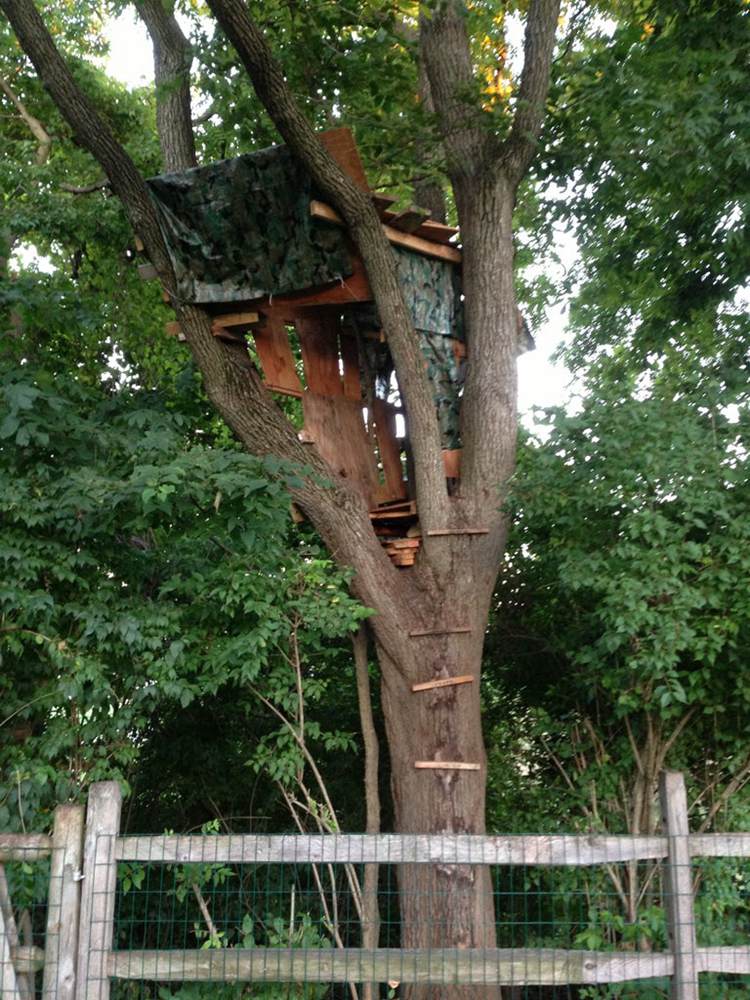 This is a great project for older kids, with some help from an adult. It'll give them somewhere to play and keep them occupied. This treehouse is suitable for older kids but also adults. It's unique, and kids will love it. The materials needed to build this treehouse should be cheaper than a regular treehouse because it requires less work. You can easily build it in a weekend or two if you have all the right tools, and if not, a little more time might be needed for framing. You can start with the assembly by following this free DIY guide and finish it up however you think looks best!