Building a DIY dollhouse for your daughter is one of the best things you can do for her. Not only does it build some beneficial skills, but it can also help to bring mother and daughter closer together in a fun way. You will be going over awesome ideas for building a 22 DIY Doll House in this post. As a mother and an interior designer, you know how important it is to your girl's development. A dollhouse is a great opportunity for your little girl to learn how to organize her space, share her toys with other kids, and be creative while having fun!
Building a dollhouse is a great way to spend time with your children and teach them valuable construction and engineering skills. Building a dollhouse isn't just for the expert builder; even if you haven't done any woodworking before, you can follow these DIY tutorials on How to Build A Doll House and build one in no time! Here is a list of 22 DIY Doll House Plans; some are free, some of them you will have to pay for, and hopefully, one or more of these dollhouses will end up in your daughter's life.
You can See: 25 Free DIY Toy Box Ideas You Can Make Easily
Material and Tool:
 Plywood sheets
 Wood glue
 Wood stain
Saw
Drill machine
 Sandpaper
varnish and paint
How To Build A DollHouse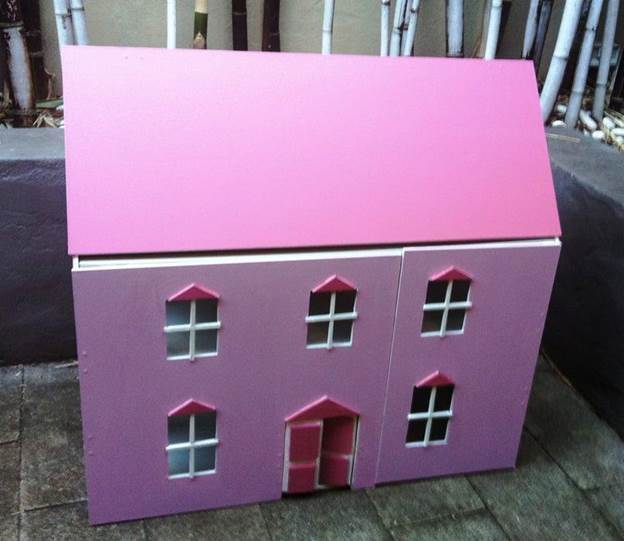 When building a dollhouse, you must ensure it is safe for any child playing with it. Many forms of wood can be used as a base, but plywood and hardwood are the most popular. The best way to construct any dollhouse is to start with a plan or design. This will allow you to manage your space and stock to best use what you have available. Building a dollhouse is enjoyable to exercise your creativity and get your hands dirty. It is an ideal project for adults and children to work together on. A dollhouse will give your child hours of fun and can also be used as a model for the child's own home when they grow up.
Skill Level: Simple
How To Make A Fold Away Doll House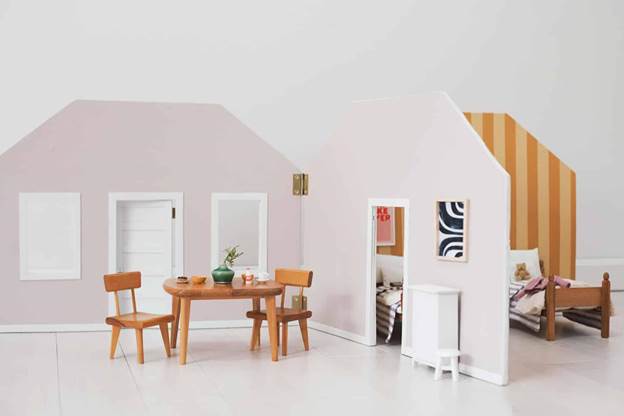 Use your favorite paints to add color to your dollhouse. Use the jigsaw to cut out all the pieces of plywood and sand them before assembling the toy. Cut out the door and windows with a jigsaw and use green paint for the walls, blue for the roof, and red for the flowers. Paint three sides of each wall section white and attach them to build up the walls of your adorable dollhouse. Your kids won't be able to resist the cuteness factor of this DIY dollhouse but don't forget to remind them not to litter around when they are done playing with it.
Skill Level: Simple
How To Build A DIY Dollhouse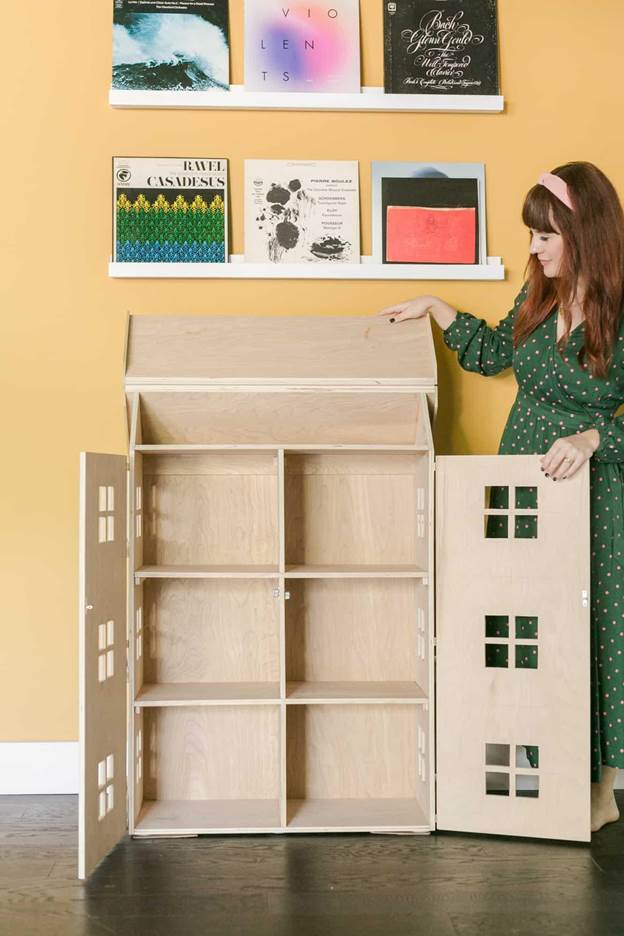 If you are looking for an ambition to build a dollhouse, this is your project. This DIY dollhouse is easy; with half-inch thick walls and only a few pieces of plywood, your kids will love playing in their own wooden house. It is a beautiful hobby project to keep your children occupied during the summer, on rainy days, or when they need something to do. Your dollhouse is perfect for both girls and boys. It can develop your child's imagination, sense of creativity, and attention to small details. In this guide, we have described all the steps necessary for you to build a lovely dollhouse from scratch in 2 weeks or less.
Skill Level: Easy
DIY Dollhouse Plans
A dollhouse is a great addition to your kid's playroom. They can spend hours playing pretend, which helps them develop their imagination. It's always nice to have a unique dollhouse that no one else has the same way you customize the furniture inside. These plans are ideal for any level of woodworking skills, and they're sure to get you started on the right path. This DIY Dollhouse plan is a beautiful and unique way to showcase your child's collection of dolls and toys. It also is quite fun to build for yourself or someone special. The plans are easy to follow and alter, depending on what kind of dollhouse shelf you have lying around your home.
Cardboard Box Dollhouse
A cardboard box is a perfect material for making a dollhouse. It is free, durable, and easy to work with. You can easily cut the cardboard into different shapes with simple tools. The instructions are included in the article below. A cardboard box dollhouse can be made by any one of you. It is easy to do, and anyone aged 12 to adults can do it. You only need a cardboard box and various craft items like paints, stickers, paper, glue, etc. Use your child's imagination to make this beautiful dollhouse they can play with for hours!
Shoe Box Doll House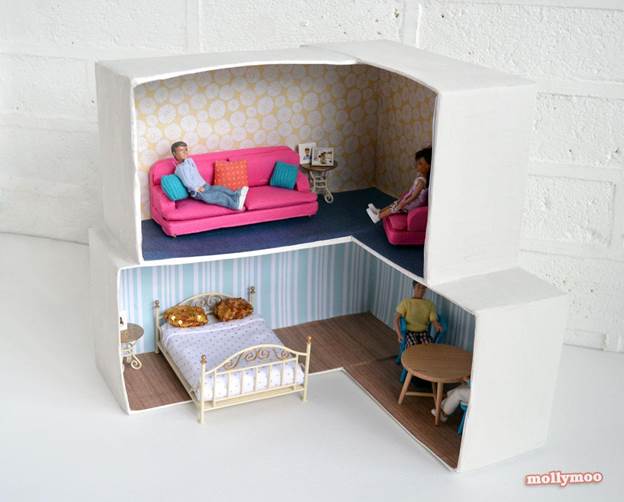 This tutorial for a shoebox dollhouse is perfect for kids and adults alike. I can complete this project in less than one hour, made from recycled materials. The materials you will need are old shoe boxes and newspapers, glue, paint, and colors of your choice. Let's get started! Another great way to recycle old shoeboxes is by turning them into dollhouses. Your child will love to watch as you paint, glue, and decorate your tiny house. The part is that you can use it as a plaything for years to come once you are finished!
Skill Level: Easy
How To Make A Pink Cardboard Dollhouse
Our DIY dollhouse is the perfect gift for any little girl. Not only will it keep them occupied, but it also helps develop fine motor skills and hand-eye coordination. There are a lot of pink cardboard projects on the web, but we guarantee our project has a lot to suggest in terms of design and creativity. Let's get started! This pink cardboard dollhouse is a beautiful decoration and something that your children will surely cherish. The best part is that I can make it in no time. Your kids will enjoy playing with this colorful set by creating their own stories.
How To Make A Doll House In A Shoebox
An attractive dollhouse is not a very big investment, especially if you can make it yourself. Remember that you are making an investment in your children's future, and your mind will always tell you what to daydream about driving for them. You are probably familiar with the story of María. This humble woman was a poor and hardworking person who wanted her daughters to have the best, so she took a cardboard box and turned it into a dollhouse. You can do the same with your old shoebox using this tutorial.
Homemade Dollhouse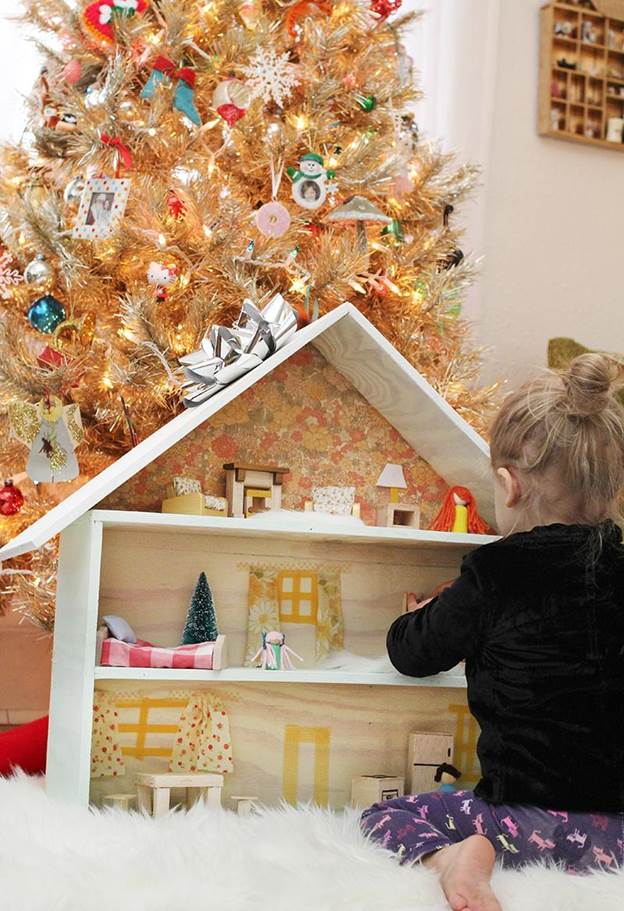 Christmas is in a few months, and I bet you're looking forward to Christmas as much as we all do. Making crafts to decorate the house is the best way to feel like Christmas. I am here today to guide you through how you can make a lovely dollhouse with sheets of plywood that can be decorated and look beautiful in your home. This homemade dollhouse is one of the best DIY ideas you can do. It's a perfect gift idea for kids, and they will love it. Try this out if you are looking forward to giving them something unique. These are children's favorite toys.
Skill Level: Moderate
DIY Doll Dog House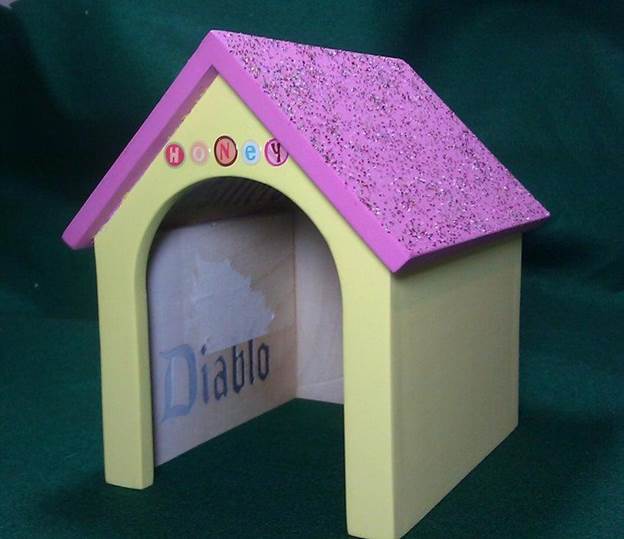 This DIY dollhouse is fit for your unique kids who want a doghouse. Don't forget to get the dog's size, so the house doesn't look too small for it. Cut wood from an old wine box was used for this project, assemble the pieces, and decorate it with whatever you want to be like the real thing! You will be surprised at how simple it is to make a doll dog house. You do not need concrete or any other expensive materials. The idea of this project is from an old wine box that can easily find in the local shopping centers. Your little girl will love it, especially with her favorite doll inside it.
DIY Halloween Doll House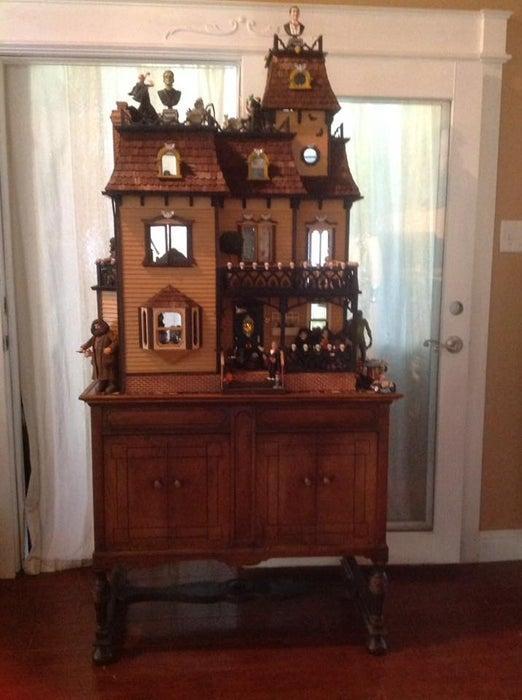 An exciting dollhouse for your kids is not as hard to build. This DIY Halloween dollhouse is made from a wine box and small wood pieces. It's painted with colorful spooky patterns, making it look perfect for creepy nights in October. Create your own DIY Halloween Doll House with an old wine box. Using glue, attach the pieces and decorate with paint, stickers, or whatever works for you. This house features a welcoming front door and windows on all sides, so your creepy doll family can come tomorrow. If your kid has become fond of playing with dolls, this DIY Halloween Doll House is just for them.
DIY Dollhouse From Crates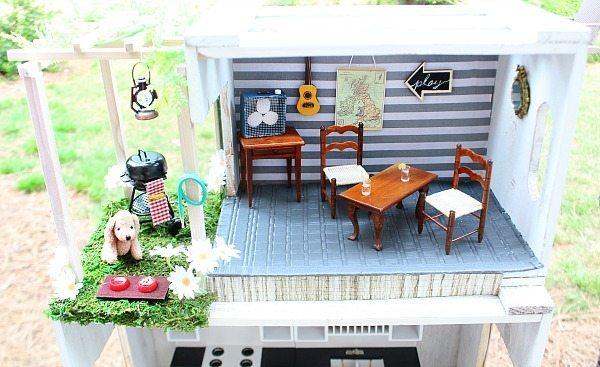 This DIY Dollhouse is an excellent activity for helping to develop your child's creativity. All you will need are some plastic crates and glue. Your kids can even paint and decorate the finished dollhouse, which is an ideal way to let them express their individuality. Do yourself crate dollhouse is a great way to get little hands busy and encourage creativity. Follow this tutorial and make your crate dollhouse with just a few essential tools and supplies. Use crates and wood scraps to create rooms, stairs, windows, doors, and more! Your kids will love playing in the finished house.
DIY Miniature Cardboard Dollhouse
This DIY cardboard dollhouse is an easy, fun, and mess-free project. You can use the leftovers from your other projects. The best thing about this dollhouse is that it's so simple that the kids can make it themselves with some help. It will be an excellent way to spend some rainy days and keep them entertained for hours! Build this cardboard house and paint it with your kids. Cut the pieces to shape, attach them with glue, and fit them in your construction. Use colored paper pieces as paintings. Build this cardboard house and paint it with your kids. Cut the pieces to shape, attach them with glue, and fit them into your construction. Use colored paper pieces as paintings.
Skill Level: Moderate
$37 Thrifted Doll House Makeover
When you build a dollhouse for someone, you give them something to cherish for the rest of their lives. This particular dollhouse costs around $37 and is made of plywood that needs to be painted. When building any project with wood, it is always best to sand it down and seal it before applying paint. Imagine how thrilled your daughter will be when she sees this makeover of her old dollhouse. The wood pieces are hand-painted in different colors and designs to give the house a new look. It may require a lot of work, but it would surely add value to your daughter's toy collection.
Skill Level: Easy
DIY Fairy Castle Doll House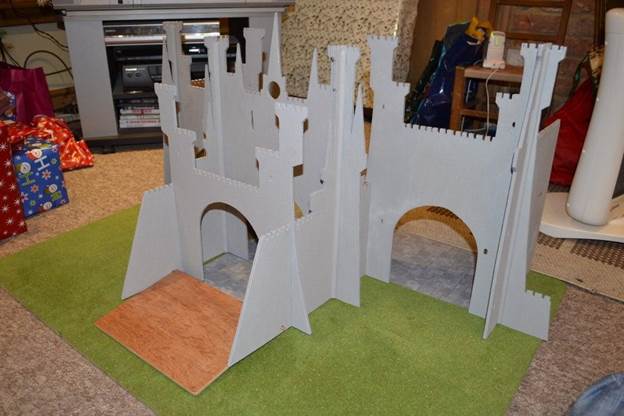 This DIY dollhouse is made of plywood sheets. You will need to cut the plywood into smaller pieces and assemble them according to your pinned designs. The dollhouse comes with a place for dolls and miniature furniture. The materials used are inexpensive, so it is best to be used by a child under the supervision of an adult. This futuristic-looking design will surely delight your children, who will feel that they are inside their castle or fortress as they make their dolls live in it. Investing in this DIY Fairy Castle Doll House is intelligent as it gives you the scope to create, customize and recreate your castles.
Skill Level: Moderate
Easy LED Doll's House Lighting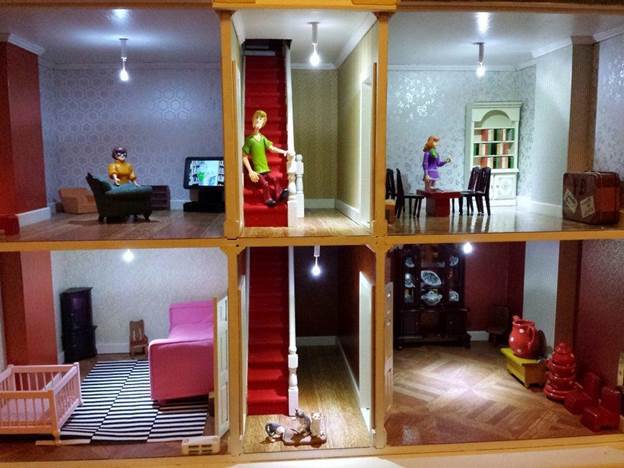 A dollhouse is an essential thing for girls to have. Some do it from scratch, and some buy a pre-made one. Since most items are easily accessible and we can now choose what we want, making a dollhouse should be more accessible. However, for it to stand out, you need to install led lights inside the house so it can stand out. LED lighting for doll's homes is a fun and easy way to enhance the look of your doll's house. They stand out, are safe, and make your dollhouse look beautiful. With our LED lights, you can create a realistic effect.
DIY Doll House With Cardboard Box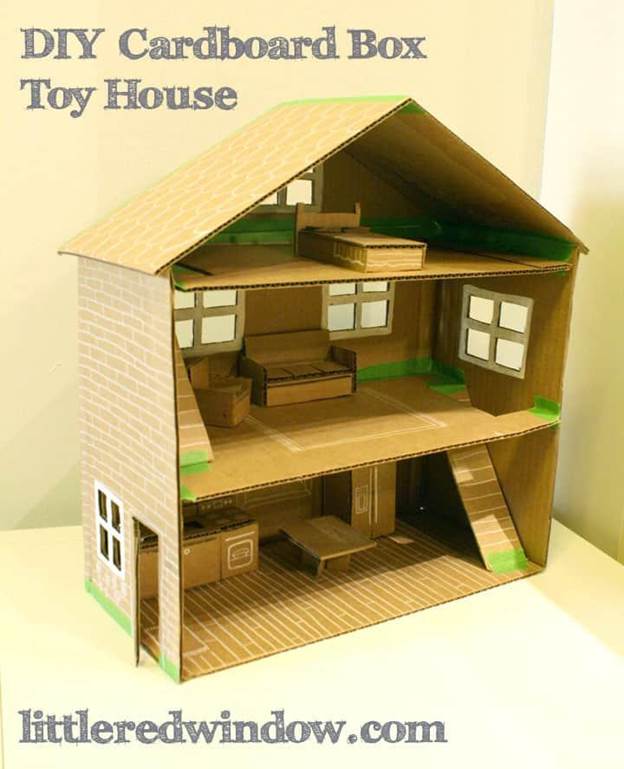 This DIY dollhouse is simple yet so adorable. Begin by painting the walls as bricks, then scribble with a pencil and ruler on the walls. The roof can be made from a piece of wood painted black and screwed onto the sides. This is a great idea if you want to make a home for your dolls. You can use cardboard boxes as the walls; you will only have to scribble on them with a pencil and ruler. You can make it similar to your house when you were younger. This will be great for your kids too!
Skill Level: Simple
DIY Collapsible Dollhouse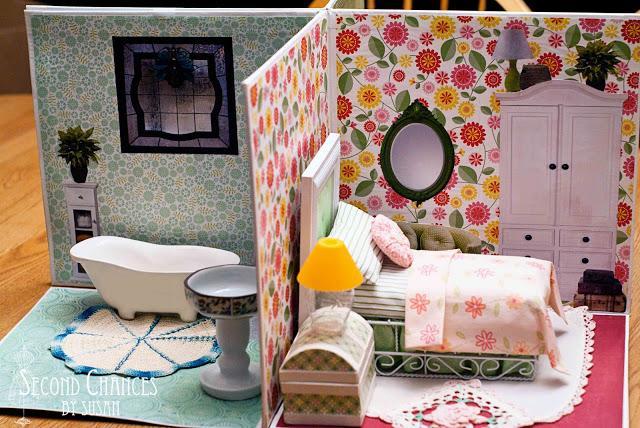 A DIY dollhouse that folds and unfolds in seconds! From architect and blogger Steph Knapp, this clever little house uses double album covers as the walls and is held up by four umbrella stands. The dollhouse is collapsible and can be stored away when not in use. It also consists of tape, cardboard, and recycled materials. It is a great way to get the children of your family settled during Christmas. The size of the dollhouse makes it perfect for a little girl's room or simply as a toy to be kept in the living room.
Pink Fairy Cottage House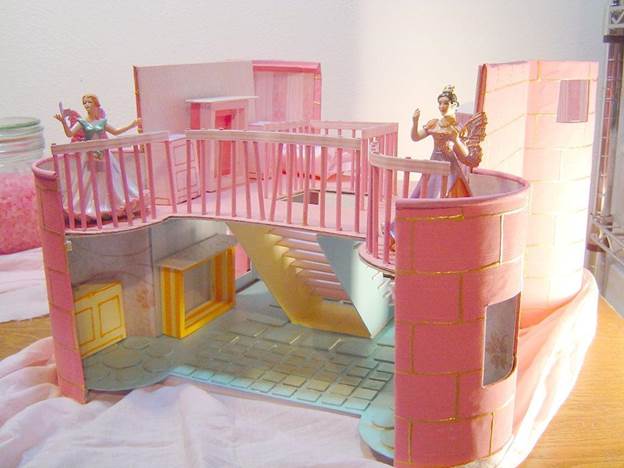 This Pink Fairy Cottage House was made from paper, fabric, lace, and paint. It is straightforward to make and can give you a dirty look. It is a two-floor house with a garage, a porch, and a garden. Use your imagination to create it your way. Use materials from your home that do not require you to spend too much money or time. The Pink Fairy Cottage House project is the perfect pink garden centerpiece. This two-floor house is a housewarming gift, a fairy tale centerpiece, or even a toy house for your child. The Pink Fairy Cottage House is easy to make and can be made from household materials with essential tools.
How To Wire A Dollhouse
To make a Didhouse, you must know how to wire its circuits. The book provides everything required on how to do it. In addition, the book also takes the reader from the most straightforward way of connecting wires together and gradually moving into more complex circuits by introducing new materials such as LEDs, resistors, and switches into the equation. The construction of a dollhouse is quite simple as long as you take it one step at a time. It's not a difficult task to construct and build your very own dollhouse. You can use many materials and tools like wire, plastic, or other materials.
Skill Level: Attractive
How To Build A Wooden Doll House
This DIY has a step-by-step guide on building your own dollhouse and making it look like the one in this video. The products used are readily available at local hardware stores. Create your wooden dollhouse by following this step-by-step guide. The assembled playset will be ready to decorate with paint and small furniture pieces. Start by measuring the space you need for the house you want. Consider how high your ceilings are and how big you want the rooms to be. You can also make two or more different house sections out of one kit.
Skill Level: Simple
Building A Simple Wooden DollHouse