There are many options when figuring out what bed to buy for your child. A toddler bed's size and height will depend on the size and height of your child, so the bed you choose must fit them well. Some beds are specifically designed to help with nighttime fears or to encourage independence through self-soothing. In contrast, others are made of eco-friendly materials or have a more sophisticated design. But if you're a DIY-er, we've got something better for you, a list of 20 DIY Toddler Bed Ideas that are attractive and easy to make. You can follow the tutorials below for inspiration or build your own bed from scratch—and if you get inspired to build something else for your growing kid, we'd love to see it!
Easy DIY Toddler Bed Plans
As soon as you start thinking about what your little one can do and where they can go, the idea of a toddler bed comes to mind. Chances are you spend more time with your toddler than anyone else. You want to make sure they're safe and comfortable. But, most importantly, you want to know that the things you buy for them are made from high-quality and safe materials. There is no doubt that convenience plays a very big role in the lives of many busy parents. You want to save time for yourself and your child to have fun together. That's why making your own toddler bed is a great way to save money and allow you to bond with your child. It's not as hard as it might seem.
Benefits Of DIY Toddler Bed Ideas
DIY toddler beds are a great way to save money and can be used for multiple children. They are also easy to make, and you can use them as a guest bed later on when your child has outgrown their crib. There are many benefits of DIY toddler beds, including the following:
Saving Money: You can save hundreds of dollars by making your own bed rather than buying one. The average cost of a new bed is $300-$600, but with a little work, you can make your own for less than $50!
Use For Multiple Children: This is an excellent option if you have more than one child. You can reuse the same bed repeatedly without purchasing a new one each time your child grows out of their crib! Each child will have their own style, so it won't look like two children are using the same bed!
Easy To Make: Most DIY projects are easy enough for anyone to do, even if you aren't an expert craftsman or woman! The instructions below will walk you through how to build your own DIY toddler bed easily!
How To Build A Toddler Bed
If you're looking for an easy DIY project for your toddler, check out this tutorial that shows how to build a toddler bed. It's simple and straightforward; your child will love having their own cozy space to rest in at night. You can complete this DIY project in just a couple of hours. It starts with cutting the timbers to size and assembling them. You can also use pre-cut timbers or even reclaimed timber here. After that, all you need to do is assemble the deck and add the legs. For this design, it's important to have some structure supporting the legs via screws so they don't sink while placed on top of the deck boards.
DIY Toddler Bed Under $60
Are you looking for a DIY toddler bed that costs less than $60? Well, look no further. This one was built with only the most basic tools, and it's made mostly out of wood you can find in your local hardware store. Using only a Kreg jig and some wood glue, it took me several hours to cut all the pieces and assemble them into one beautiful piece of furniture. You'll need to draw up a plan before you start, but creating this bed will be easy as pie once you do! This simple and easy-to-build DIY toddler bed is perfect for your little one. It's also very affordable, and you can make it under $60 -- no problem! Let me tell you what materials are needed to build this bed.
DIY Simple Toddler Bed
A DIY approach to making a toddler bed. This video tutorial is about a Montessori floor bed, but it can be used for any toddler bed. If you have spare wood lying around, this will be much easier. It is simple and super durable. You need a lot of thick boards, floorboards, sideboards, and other boards to fill up the top and bottom. The bed is light and easy to move from one place to another.
DIY Toddler Bed With Toy Box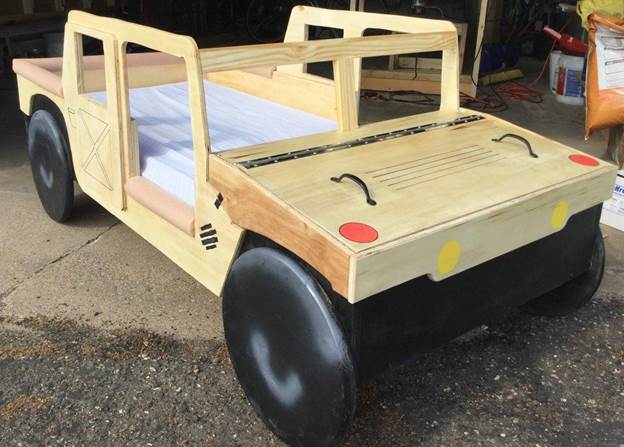 This DIY toddler bed with a toy box is a great starter project. It will help your child transition from a crib to his or her own sleeping space, plus it also looks great! This DIY toddler bed with a toy box is the coolest kid's bedroom addition ever. It includes a classic little-kid crib and an integrated toy box — so your child can keep all his stuffed animals, books, and games within arm's reach. If you're the do-it-yourself type, this project may be for you — but be warned that it requires a decent amount of work and more than a little patience.
How To Build A Toddler Bed With Bell Rails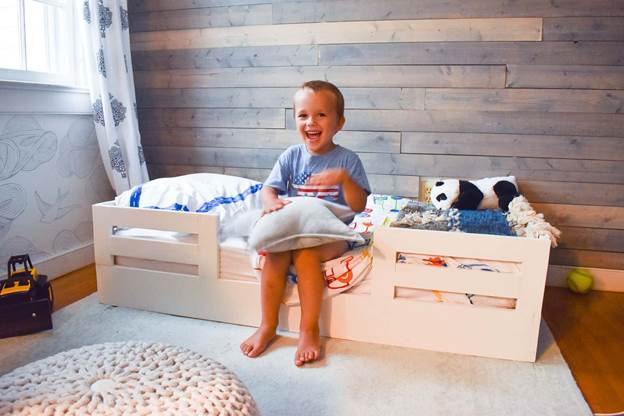 Learn how to build a basic toddler bed with plywood rails. You'll need lumber, a few pipes, and other common household supplies. It takes just a couple of hours, and you can build your kids a stylish bed that no one else has. This DIY toddler bed is perfect for your child's first big-girl or big-boy bedroom. It's super easy to build, with just a few essential supplies like lumber wood, plywood, and other tools. To assemble your new toddler bed, you'll need to cut the lumber wood, make the frame and rails with the plywood, and set it up.
Stylish Toddler Bed Under $40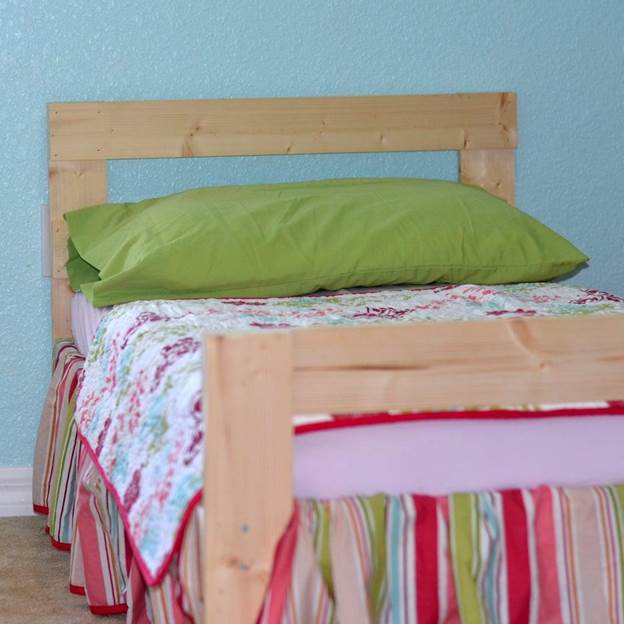 This stylish toddler bed is a great building project for beginner woodworkers. Made from lumber and plywood, the finished product is lightweight and sturdy. Building a toddler bed is an amazing project for both adults and kids. It's easy to build from scratch with just the required materials, and it's also super fun to create something unique bed that your kid loves. This stylish toddler bed can be made in less than 30 minutes of actual work time, and it's super affordable, costing around $40 to make. The bed is also lightweight enough to move easily if your child needs more space or travels a lot.
DIY Toddler Bed
This DIY toddler bed is easy to build and does not require any power tools. Start planning your project and then sketch what you want the bed to look like before starting construction. This bed is designed for toddlers with plenty of storage space below it. It is a great piece of furniture that a child can use while growing; from as young as 2 years old. Make a toddler bed using basic woodworking skills. This DIY toddler bed is easy to build and available to make use of leftover wood. The plans are detailed instructions that will guide you through the process of building this piece.
Traditional Wood Toddler Bed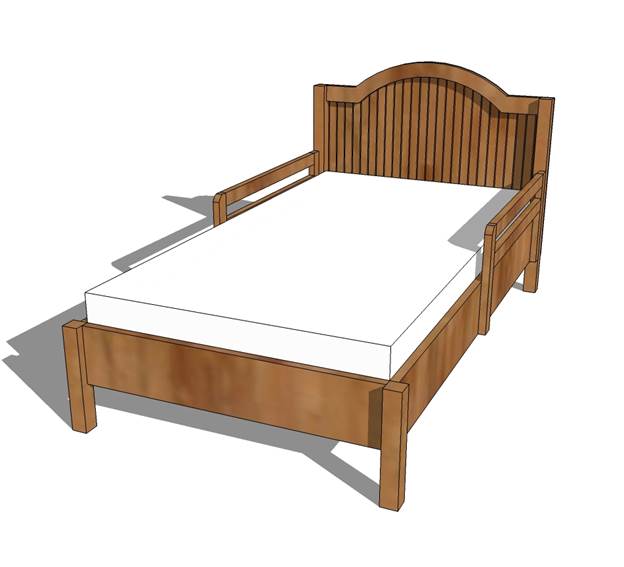 This traditional wood toddler bed is easy to assemble and is built with durable, sturdy hardwood that can withstand the rigors of busy children and pets. The simple design will complement various bedroom styles, from contemporary to country. This bed is perfect for your toddler. It's strong and durable, allowing you to use it for years. The first step will involve cutting two pieces that form the bed's headboard. Then, add two pieces to the bottom and mount them with a screwdriver. Add your slats, and voila! You have made your first traditional wood toddler bed by yourself!
DIY Modern Toddler Bed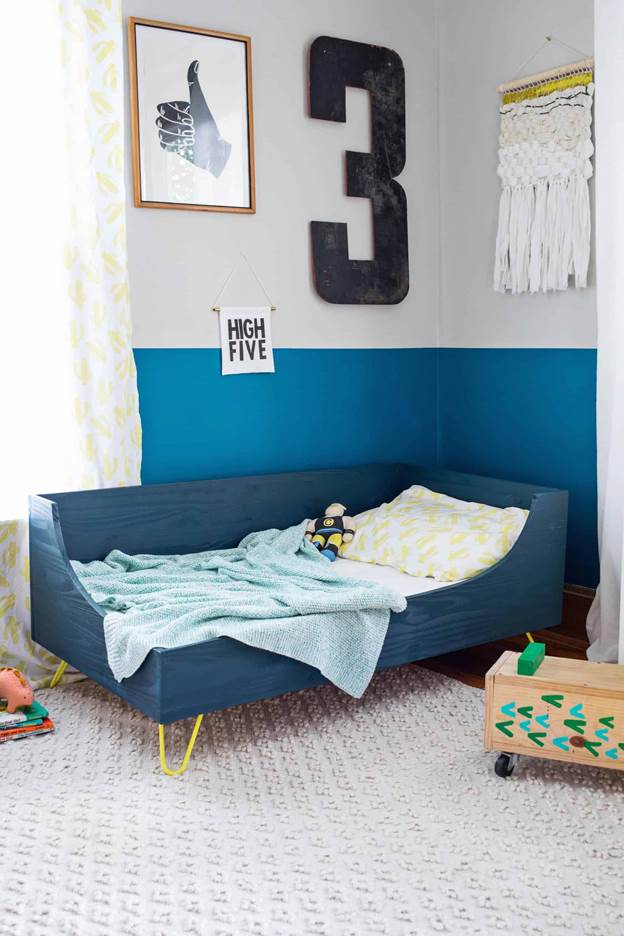 What's better than a new space for your toddler? A stylish, modern place to call their own! Create this DIY Toddler bed with our easy step-by-step plan. This is a project that can be completed in less than 2 hours. This modern toddler bed design is an excellent solution for small-space living. Its contemporary style and compact size make it ideal for any modern interior, while the safety features built into its construction ensure that your child is safe and secure.
DIY Toddler Bed With Rails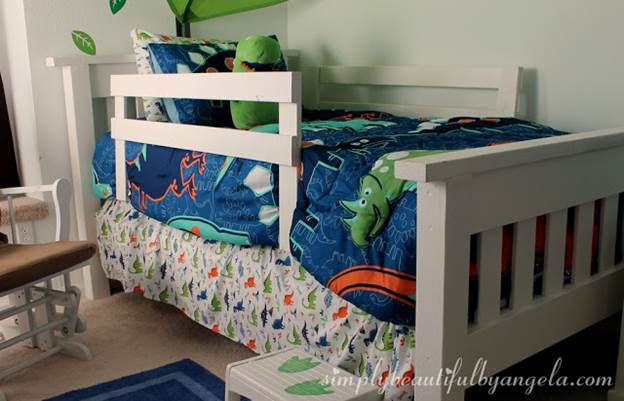 This toddler bed with rails gives your child a safe sleeping environment. It features a few safety features that help prevent your child from falling out of bed, which is very important in a space where you want them to play and be comfortable in their own space. This toddler bed rail is good for little ones or toddlers who have just learned how to walk and will be able to keep them safe from falling off the bed in the middle of the night.
DIY Treehouse Toddler Bed
Maybe your toddler prefers sleeping in a treehouse over the ordinary crib. To make it happen, you must build him/her a bed. This project is easy to build and, best of all, budget-friendly. The idea behind this DIY project is that it can be quickly constructed in just two days! This simple DIY project that can be completed on the weekend makes the perfect addition to any child's room. The Toddler Treehouse Bed is a unique, fun, and modern way to add extra comfort and imagination while they sleep.
DIY Toddler Bed Build
This simple DIY Toddler Bed project is the best way to ensure your little one has a comfy place to sleep. All you need are some basic tools and some good old-fashioned elbow grease! In no time, your toddler will have the perfect bed for them. Building a toddler bed is not just easy but fun as well. You'll need materials such as paint or stain and a bunch of wood at hand, then follow the simple steps below to come up with an attractive and sturdy bed that your baby surely deserves!
How To Build A Childs Car Bed
This is a great way to recycle an old toy car into a beautiful bed. This car bed will surely turn into the coolest spot in your house! You can build it yourself with our step-by-step instructions and accessorize it with a mattress and pillows to match your child's unique style. Whether you're looking for something simple or a challenge, this project is for anyone wanting to create a playroom that inspires creativity and imagination. This project includes a stunning design, and it's easy to build. If you have some woodworking experience, this project will be much easier to manage.
DIY Toddlers Bed
It's a fact: toddlers are at the height of their energy, and it takes a lot of creativity to keep up. These DIY Toddler Beds help you create the space your little ones need for fun, play, and sleep. The tutorial shows how to build the frame and sides and then attach them to form a sturdy toddler bed. It uses few tools, and no power saws, so building it is a great do-it-yourself project that you can complete in just a weekend.
House Frame Toddler Bed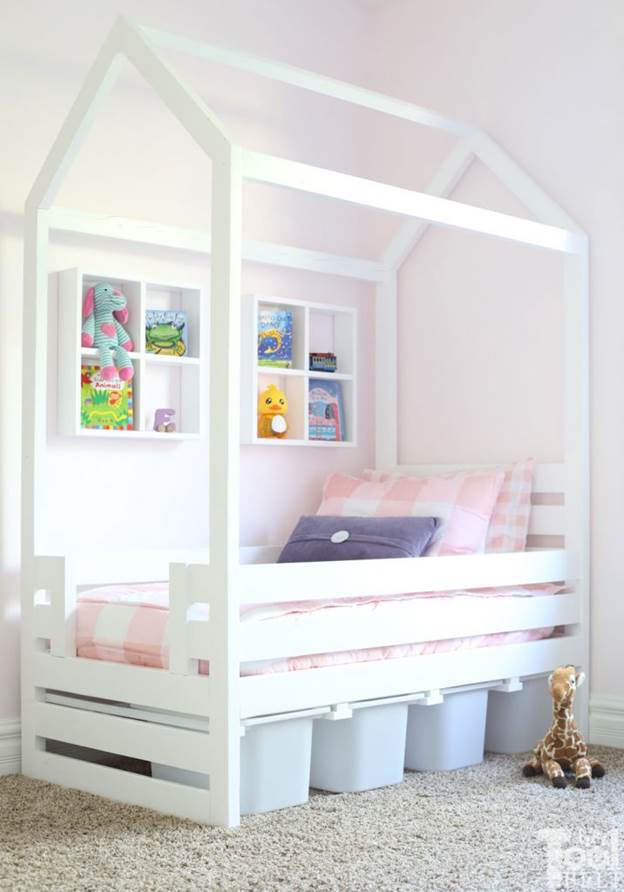 This bed is not like any other toddler bed. It's simple, high, and wide, with space for storage underneath. Store your dirty clothes underneath while they're being washed, and you'll never even know they're there. Furthermore, this bed takes up very little space in the room, although it is quite big. As the creator did, you should make a physical sketch of how the bed will look before starting to ensure you have a solid mental picture.
DIY Toddler House Bed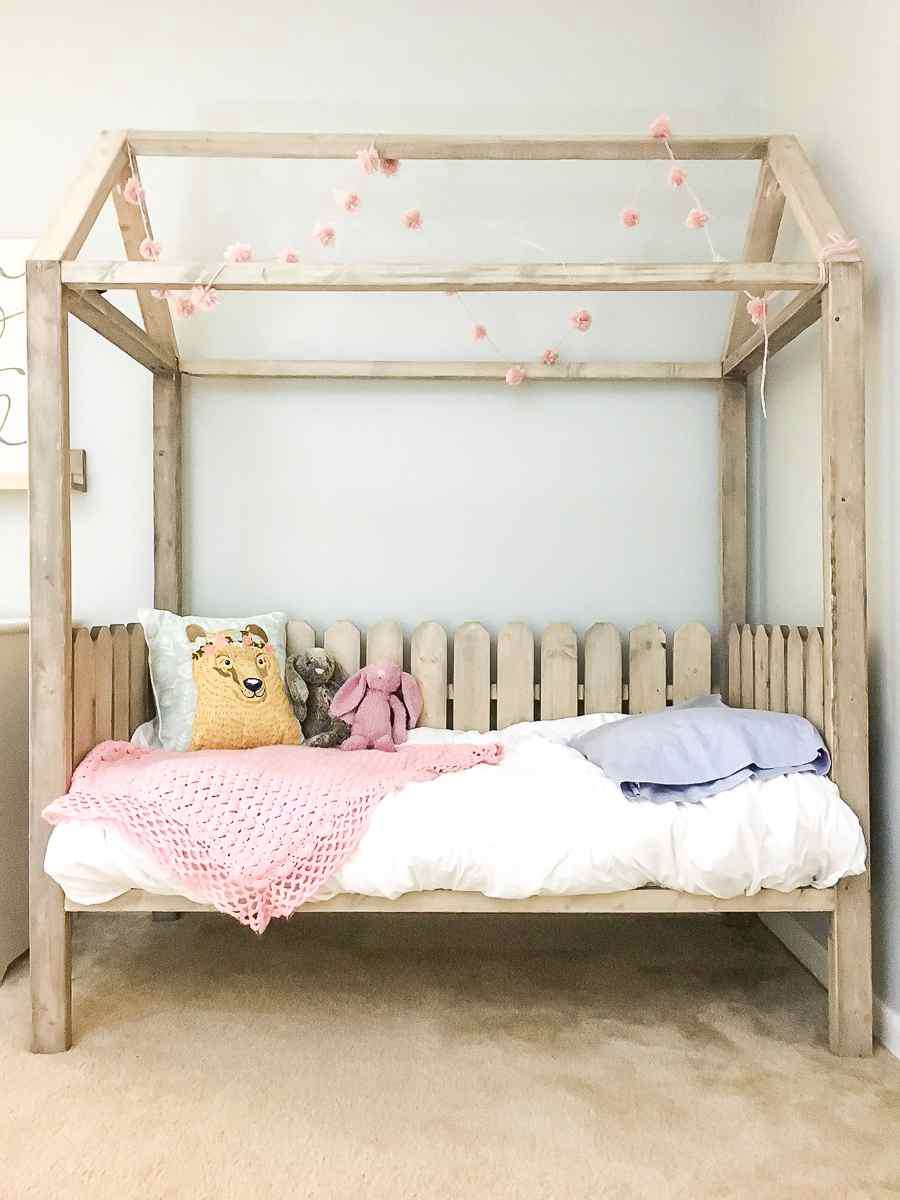 A toddler bed is a good investment when your child needs more space. This easy DIY project has all the necessary tools and only takes one weekend. Made with more than $50 worth of lumber, this new design will provide the best value for your money spent! This easy-to-make toddler bed was made for a family of 3 and is perfect for toddlers who have outgrown their crib. The crib was upgraded to the DIY Toddler House Bed, which is great for kids and saves money on furniture since it was made with reclaimed wood. The owners love their DIY Toddler House Bed because it is functional, safe, and durable.
DIY Toddler Bed
Who says toddler beds can't be fun? This DIY toddler bed is fun, affordable, and easy to build. The plywood base helps the bed support heavy loads, while the soft Eucalyptus sheet ensures that your child sleeps comfortably at night. Not only is it practical, but it's also super cute! This simple floor toddler bed is easy to build and can be customized however you like. The bed frame is made of plywood, and the headboard and footboard are made of Eucalyptus lush blankets. The mattress is placed on the floor and protected by a crib sheet underneath. A pillow provides extra comfort and visual appeal while the adorable pendant light hangs above the bed so little ones can have their own private space to read or dream at night.
Toddler Bed DIY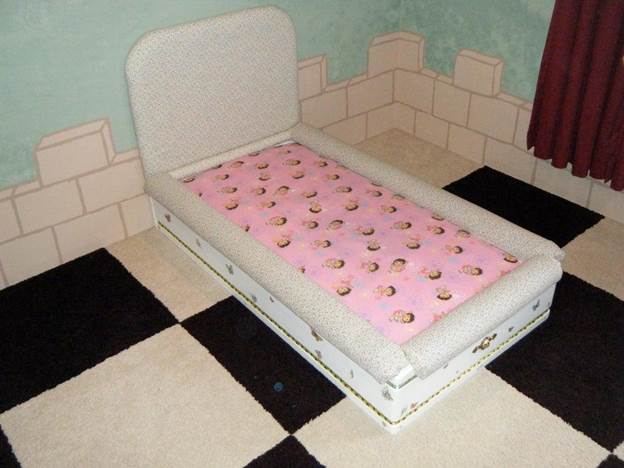 Do you want your child's room to look like a princess's or prince's castle? This bed design is just what you need. This project can create excitement in your child and make them proud of their work of art. The materials used are quite light and easy to work with, so it won't be hard on a little one's back. This toddler bed DIY is easy and quick to make; you won't need many tools. The bed is small, sturdy, and doesn't take up too much space. You can even use it for yourself if you want to! It will be comfortable for your child with a foam mattress, pillows, and a blanket.
Minimalist Toddler Bed
This DIY Toddler Bed is a great way to save money and provides your child with a comfortable place to sleep. This might be the cheapest toddler bed to build and doesn't require any carpentry skills. This bed is inexpensive, sturdy, and easy to put together. This DIY Toddler Bed is one of the easiest and most affordable ways to make your little one happy. The little ones are always moving fast, and this bed will help them sleep better and longer, allowing you some sleep too!
DIY Tractor Toddler Bed
Looking for an easy, high-quality DIY project to do with your toddler? Using this tutorial, you can create a tractor-inspired toddler bed that is durable and safe. This simple project will save you money, and you can start your child's room with a personalized touch. The DIY Tractor Toddler Bed boasts a cute, kid-friendly design that will turn any room into a rural paradise. This is the perfect bed for your little farmer! The tutorial will show you exactly how to build the tractor bed frame, assemble it and fit it to your favorite tractor, the hardware needed and how much of each so you can customize this project to fit your specific needs.