Ever find yourself at the end of your ski season with a pile of sticks in your garage or basement? Here is a great way to utilize that space. Building your ski rack is not a hard project. Whether you are looking for something quick and easy or an elaborate piece of furniture that showcases your crafting skills, you will find one of these DIY Ski Rack Projects below perfect for your situation.
A snowboard rack is a great way to store your boards, and it will save space in your garage and keep your snowboards safe from damage. Here are some ideas on how to build a snowboard rack. Ski season is upon us, and if you're lucky enough to live in an area where it snows, you'll want to invest in a ski rack that will keep your boards safe and secure. If you don't want to drop the cash on one, there are plenty of  DIY Ski Rack Project options that only cost a few bucks and take just minutes to put together.
DIY Ski Rack Projects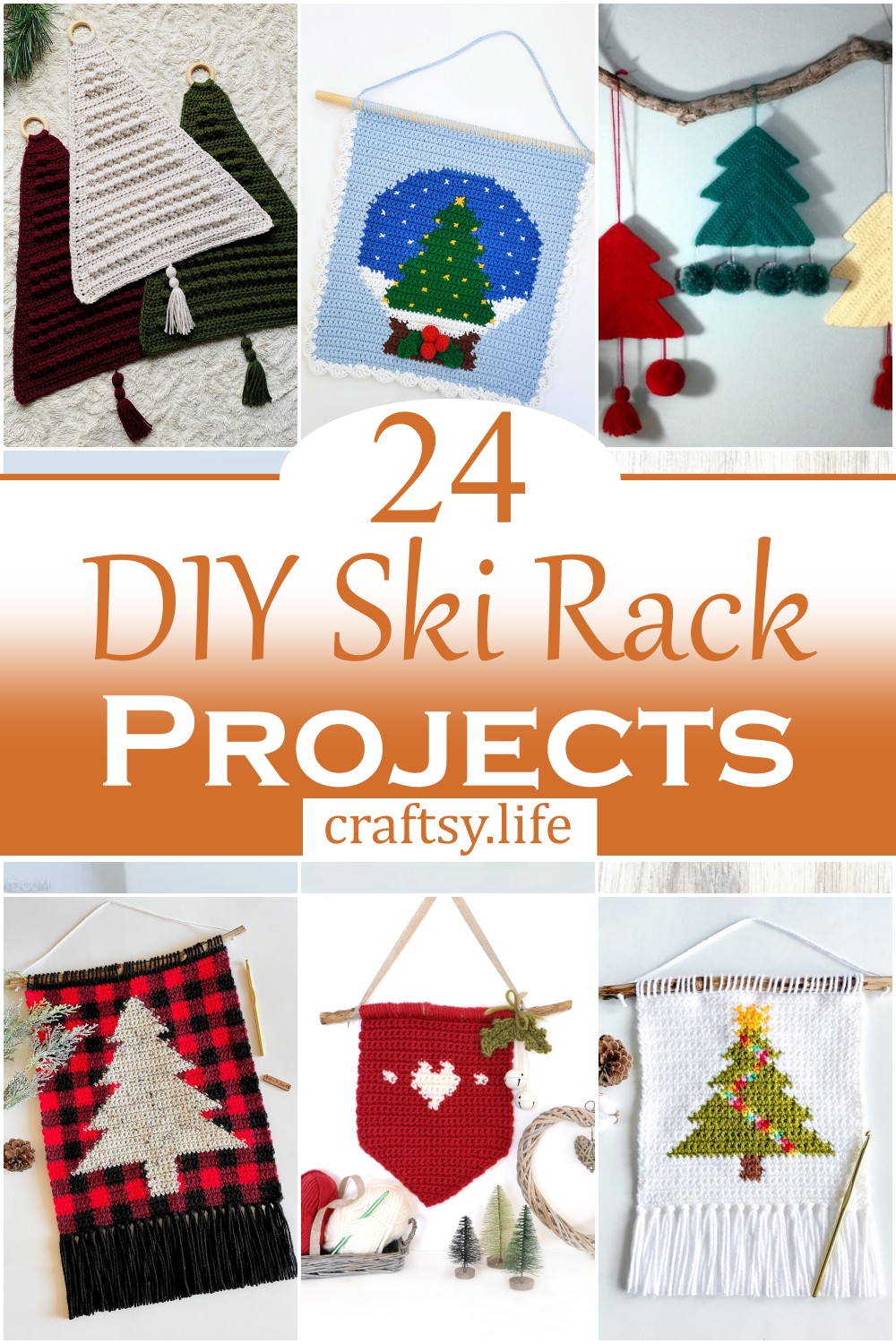 If you like to go skiing or snowboarding, you may have a lot of gear that needs to be stored in your home. You might have skis and boots and other equipment that takes up a lot of space. This is where a DIY Ski Rack Project comes into play. You can use these racks to store all of your gear in one place so that it doesn't take up valuable space in your home. They can be built in various styles and sizes, depending on how many boards you want to store and where you want to mount them.
How To Build A DIY Ski Rack
A Ski rack is one of the essential pieces of equipment for a skier. It helps you keep all your skis safe and organized to use them whenever you want! This DIY ski rack is so easy to make that even a beginner can do it! It is designed to assist you in organizing the skis and poles that you own and helps you store the equipment safely and securely without taking too much space on furniture or walls. A ski rack is essential for skiers. It will be more chaotic to store your skis and snowboards without a ski rack.
Simple DIY Ski Rack
Building a ski rack is a great DIY project that can save you money and looks pretty cool on the wall. In this video tutorial, here are going to show you how to make your ski rack. This rack is simple to create and sturdy enough to hold several pairs of skis! This ski rack is perfect for storing your skis up off the ground to keep them clean and safe from any damage. The frame has a durable framework to handle all your different types of skis. The framework also keeps the skis at a comfortable height for use instead of having them sit on a shelf.
How To Make A Ski Rack
A ski rack can be a great addition to your garage as it provides you with ample space to store and organize your skis. This will save you a lot of time, but it also helps you save money. All you need to make this ski rack is a skill saw, jigsaw, and miter saw. This ski rack is a perfect gift for your skier friends. It is both easy to construct and looks great as well. It is ideal for people with a lot of gear who want to keep their belongings organized and tidy.
Ski Rack From 2x4 and Plywood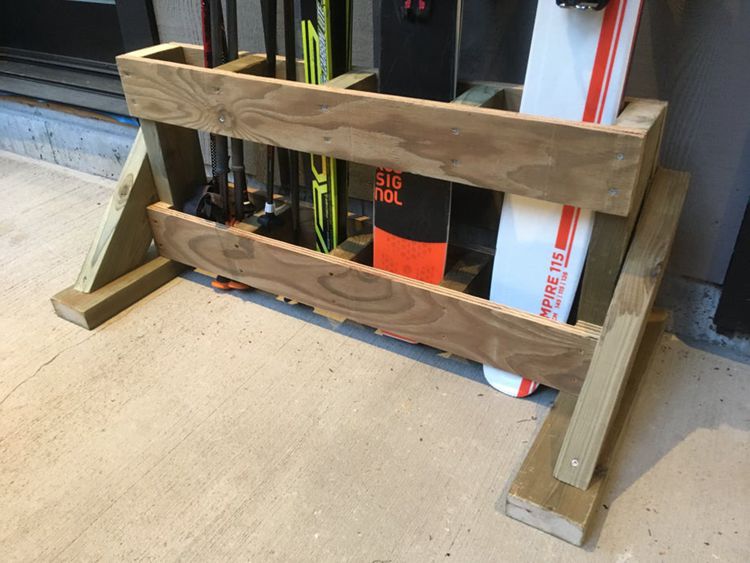 A ski rack is an excellent piece of furniture to have in your home, especially if you have young children or friends who like to spend time skiing at your home. You can use this rack as a desktop organizer or as a way of displaying some of your skis and other winter accessories. It is a freestanding rack which means it doesn't need a wall for support once you have a reasonably flat surface. The SketchUp file of the design is included in this tutorial, and you can use it for your ski rack. This project also gives you a chance to practice some basic woodworking skills.
Truck Bed Ski Rack DIY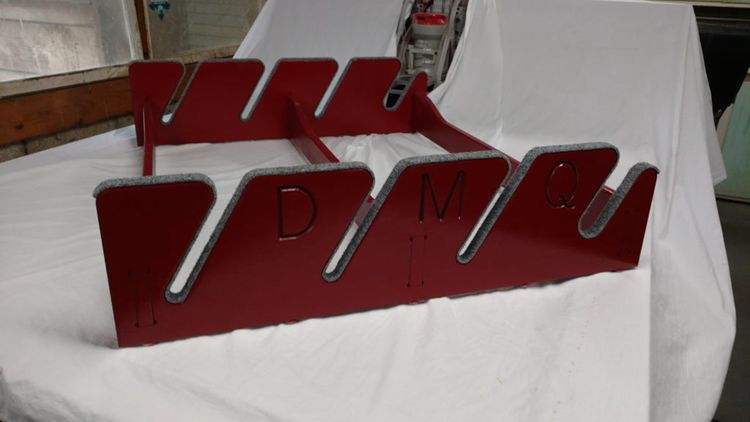 This simple rack for your truck bed will keep your skis safely stored on the way to the mountain. It also makes an excellent base for snowboard containers. Make your truck bed organized and neat anytime you're snowboarding with this Truck Bed, Ski Rack. You need to have the project, and you're good to go! It is such fantastic equipment that keeps your truck organized every time! Built This design in such a way that keeps your ski board from damage as there is enough space between each ski. This ski rack holds everything organized and makes it easy to transport your ski board when it's not in use.
How To Build A Ski Rack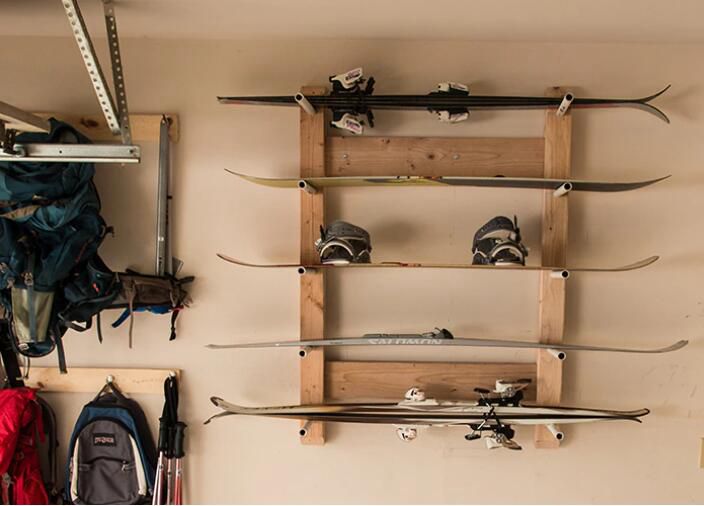 Ski racks are essential for any household with skis. It can be a hassle to find storage for your skis when they are not in use. If you want to stop this habit, you need to build a ski rack to hold your skis. You can still hang your skis on the wall or place them in a closet. But it won't help much when you need to pick up the phone and take an important call or your child wants to show off his new drawing at the dinner table. The solution? A ski rack will hold your skis wherever they are not in use.
How To Build Ski Rack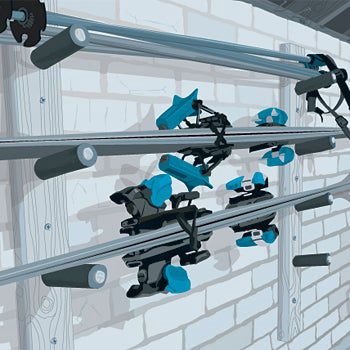 Ski racks can be pretty expensive, but you can build one at a much lower cost. Ski racks provide you with several advantages, including easy storage, protection from damage, and a place to display your skis. The process is quite simple to build a ski rack that provides plenty of storage space. First, you will have to measure the amount of space available and then consider what items need to be stored there. Once you know what you are working with, building this storage unit should be relatively easy. This rack makes it easy to keep your equipment in a ready-to-use condition and will help you cut down on wear and tear.
Freestanding Ski Rack Build
This freestanding ski rack is effortless to build, perfect for everyone, and does not require many tools. Anyone with basic carpentry knowledge can complete this project without difficulty. The ski rack stands on its own, leaning against a wall if you like, or can be mounted on an outside wall. You don't need a winter wonderland to enjoy the great outdoors. This ski rack will keep your gear in sight and out of the weather whether you live in an apartment or a mansion. The key is to build it freestanding, so it takes up minimal space when not in use and packs away quickly when you're ready to go.
DIY Ski Rack
The DIY Ski Rack is super easy to build and is an excellent choice for those who have limited space in their garage or the basement. This is the perfect place to store your skis, poles, and snowboards. It goes together quickly, is easy to build, and can accommodate several gear sets. If you love skiing and have a lot of equipment that needs to be stored, this DIY ski rack is perfect for your needs. It's simple to build and can hold a wide variety of skis. This DIY ski rack is easy to assemble and accommodates several pairs of skis.
DIY Ski Rack
The ski rack is an excellent little project, and it's a perfect way to save space in your garage, basement, or whatever you want to place it in. A ski rack is one of the best ways to store your skis and snowboards during the off-season. This project is a simple way to keep your equipment safe and organized for any weather. The board used is 80 inches long, and it takes eight pieces of the ski to complete it. It's 10 inches between each ski, making it easy to place them on the rack and off when you're done with skiing.
Ski Wall Rack Build
This beautiful wall ski rack will make you proud to display your skis and get them off the floor. This walk rack is made from timber, giving it a natural look and feel. This ski rack is a great way to keep your skis organized and displayed beautifully. If you choose the additional wood supports, they can be hung by hand off the wall with our hanging system or mounted directly into studs. This ski rack is sure to be a great addition to any home. Winter can be a great time to get out on your skis, but it can also be a total pain to store them! This ski rack is the perfect solution: it requires no floor space and is easy to mount.
DIY Garage Ski Rack
DIY ski racks can store, organize and protect expensive skis. It is cheaper to make your ski rack than to purchase one off the shelf at your local shop or online. There are many different designs that you can make yourself, such as single and double wall racks with slots for easy access. These plans will help you make a garage ski rack for storing your skis without taking up too much space. Some racks are single-wall racks with slots, while others are horizontal stands, and some even have vertical walls. All plans are easy and simple to follow so that you can create your rack within an hour.
Easy DIY Storage Rack For Ski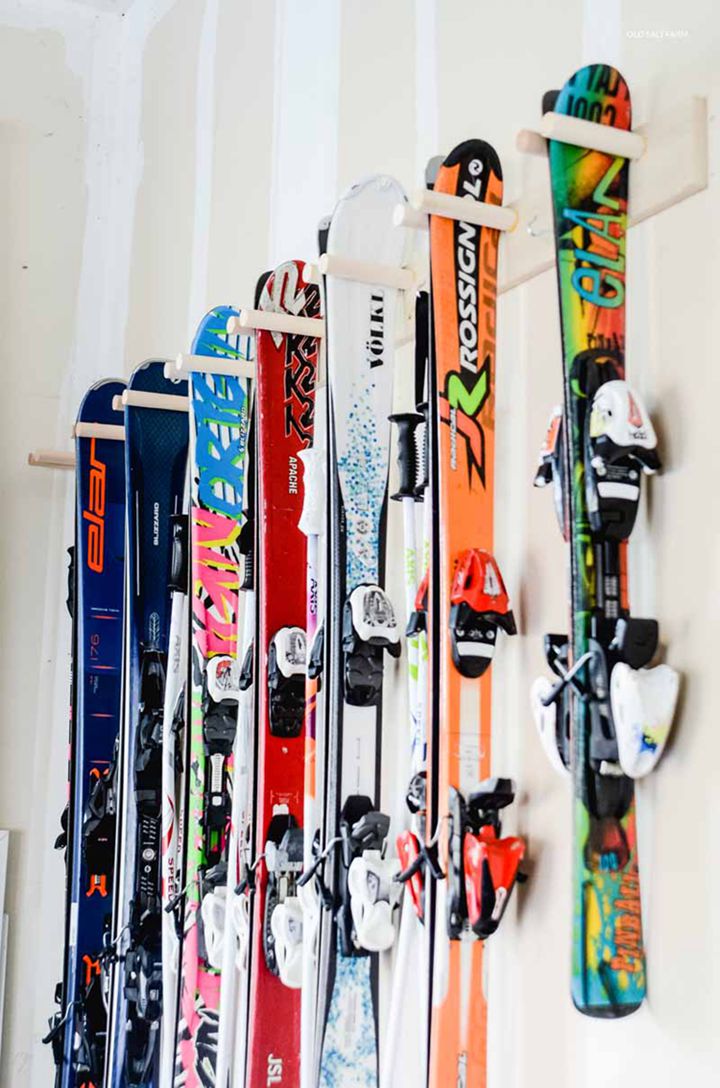 This DIY Ski storage rack is perfect for anyone who wants to keep their skis organized, easy to access, and cheap! This Easy DIY Storage Rack for Ski makes it easy for you to store your skis in an organized manner. Its vertical design means that it has enough space to accommodate multiple pairs of skis and keeps them from getting damaged or tangled up with one another. This is an effortless DIY rack that is not expensive, but it holds your skis upright and tight together. It's a great way to display your skis for the season when you don't want to use them anymore or need storage space!
Garage Ski Storage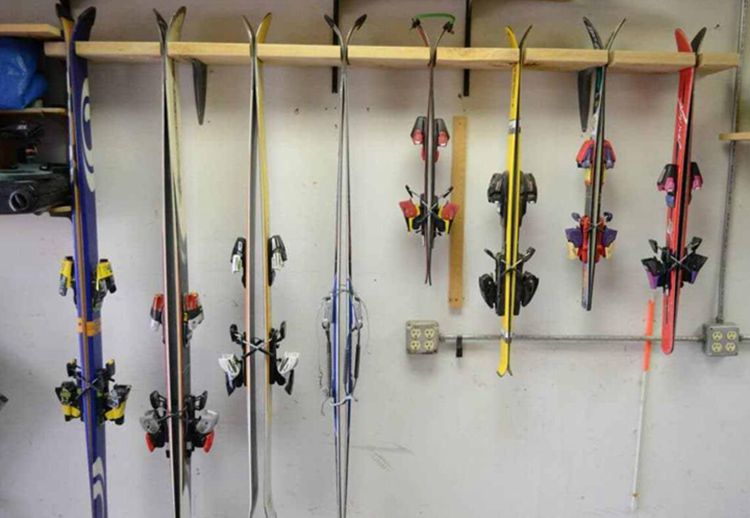 Ski racks are a great way to store your skis when you're not using them. This particular wall ski rack is designed to be used in the garage, although could put it up in any part of your home or business. It can fit a pair of skis snugly between each slot and uses clamps to hold the middle and bottom positions of the skis in place. It is made out of metal to provide long-lasting storage for your skis! If you're looking for a way to store your skis and snowboards, it's time to check out garage ski storage. The model also uses clamps to hold the skis in place—no more worrying about loose sticks on your wall!
DIY Snowboard Rack
This DIY Snowboard Rack is the perfect way to store your boards! While working with wood and screws, it is always advisable to predrill holes for the screws to prevent the wood from splitting while trying to drive the screw in forcefully. If you have ever tried to keep your snowboards from falling over, this DIY rack is for you. . The best part about this rack is that it fits neatly in any room of your house, making it easy to put away when not in use. Can use it to store your snowboard in the home or even outside.
DIY Ski Rack
Ski racks are available in different materials, sizes, and designs. They may be expensive, so building a DIY is the best option for saving money and time.  Should keep skis in a ski rack to protect them from being damaged. If this ski is poorly made, it can quickly get rusty and dirty. Keep your skis safe by choosing one of these. They are easy to make and sturdy enough to hold your skis safely. Skiing during the winter is fantastic and enjoyable because of the weather. The most challenging aspect of creating a DIY ski rack is choosing a design for the stand.
Ski Rack DIY
This DIY ski rack plan is a great thing to do if you are looking for a quick and easy project. If you plan to ski on your own, you will need somewhere to store your skis and other equipment. This ski rack is the perfect solution to store up to four pairs of skis while they are not in use. The best part about this DIY project is that you can make it at home with simple tools and a few materials. Building a ski rack is not difficult, and also it is inexpensive and functional.
DIY Snowboard Rack For 8 Boards
Snowboard racks are handy for storing your snowboards. You don't want to keep them carefully but in a way that they can rip off easily. To make a snowboard rack, you need to measure the size of your board and then accordingly build the frame. Make a place to store the snowboards of your ski and snowboard enthusiasts with this DIY storage rack. It can hold up to eight boards and fit any wall space you have available This DIY snowboard rack is perfect for you to store all your boards. Easy to assemble and made with high-quality wood.
10 Minutes Ski Rack Build
This DIY ski rack is impressive, and it's so simple to put together and keeps your skis in excellent condition. This ski rack will fit in any space and works with any skis. This simple ski rack is the most staggering woodworking project you can build in just 10 minutes. If you like to spend your holiday skiing, this project is ideal. And you plan to build a simple ski rack at home and have no idea where to start. This tutorial will surely help you out, in one hour or less, you will be able to build the ski rack in your garage.
Easiest Snowboard Rack With Plywood
Snowboarding is one of the most popular winter sports in the world. Hundreds of thousands of people love this sport and enjoy drifting down the slopes with their skis. But it can be hard to take care of your snowboard if you don't have an adequate rack system. If you're a snowboarder, you will know that keeping your equipment in good shape is essential. Whether you have a board or skis, it's no fun racing down the hill without them. That's why you need to ensure that you have a good way of storing them and keeping them safe. There is a straightforward method for making a rack using plywood and other items!
Wooden Snowboard Storage Rack
This wooden ski rack has been made from wood to offer it a more natural feel. It is designed to house your skis inside and allow you to store them in a convenient place. The box sits on the rack, where you can then place your skis through the slots provided on the edges of the box. This wooden snowboard rack is a genius solution for all you skiers, snowboarders, and surfers! It comprises a traditional ski rack and a stylish furniture piece by cleverly incorporating them into one. It's great for those with limited space in our homes or apartments and can make it cheaply with some basic woodworking skills and tools.
DIY Ski Rack
The DIY ski rack is a simple and easy way to organize your skiing gears. With this tutorial, you can make a sturdy ski rack at home without spending any money. Get a DIY Ski Rack to give your home or garage a clean look and ensure that all the gears are conveniently stored in one place. This rack is easy to assemble, and the best part is you can customize it according to your requirement. It is cost-effective and eco-friendly. With this ski rack, you could get more space in your garage or home for other purposes.
Scenic Metal Snowboard Rack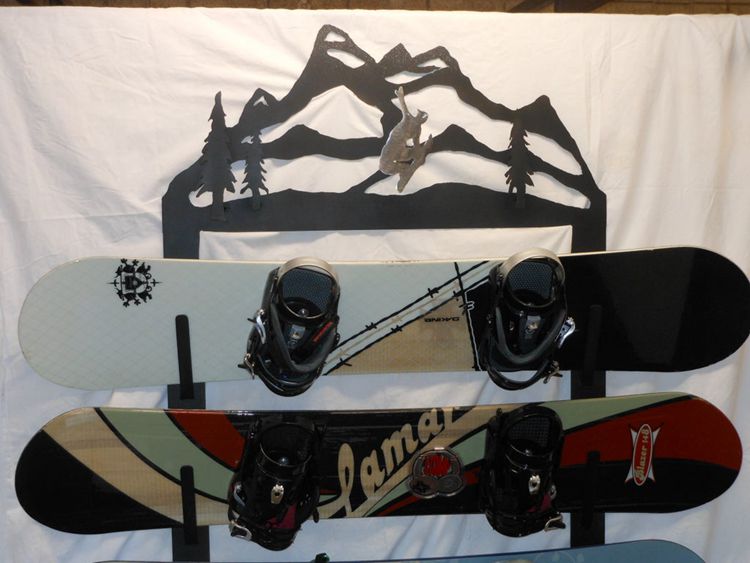 The Scenic Metal Snowboard Rack is a simple, elegant, and sturdy tool for storing your precious board. It is also a beautiful sculpture as it stands in your living room. It is an excellent alternative to the plastic rack if you look for more style and durability. The scalloped base design allows for better air circulation under your board, reducing snow build-up and the chance of corrosion and rust. This is an easy project where you can make a stylish and functional snowboard rack out of a steel conduit. This rack works great for storing kids and adult boards, longboards, and shortboards!
DIY Snowboard Wall Rack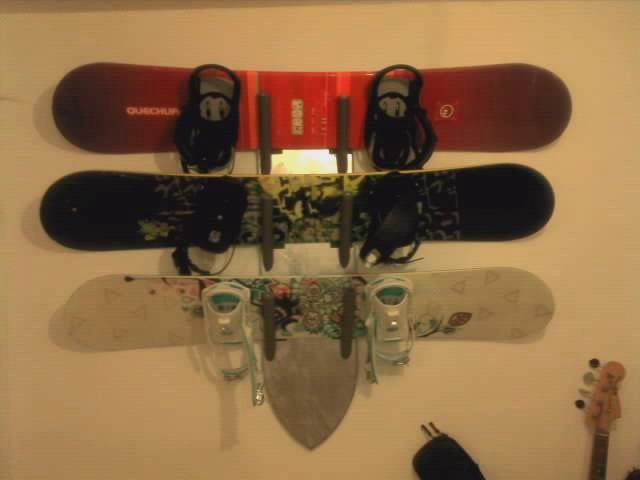 This DIY Snowboard Wall Rack was designed to store a bunch of snowboards and give plenty of space for other stuff. The rack is constructed from some scrap wood you might have lying around in your garage or shed. This DIY is a great way to display your snowboard and easily access it. If you have some scrap lumber lying around, you can quickly and easily build one of these wall racks. Have you ever wondered why snowboarders always hang their boards on the wall? Snowboards are expensive, and there is only so much space to store them. However, with a DIY Snowboard Wall Rack, you can save space and store more than just your board.
Conclusion
Ski racks are simple to make, and there are many sources you can use to get the materials needed. Ski racks are a great way to store your gear. Having a ski rack will help you keep your equipment organized, but it also keeps it safe. Here are some guides that will show you how to make a ski rack in no time! These are necessary because they help you store the gear neat and organized. Keeping the equipment organized helps to stay on top of things, which is beneficial when skiing.