Puzzle boards are a fun and inexpensive way to get your kids to learn how to solve puzzles. They can be made out of almost anything, and we'll show you some examples of different materials that you could use. We've also included a few DIY puzzle board ideas to help you make your own puzzle board. These are helpful when learning how to solve puzzles because they help teach logic skills, improve fine motor skills, and can even be used as a form of entertainment. Puzzle board ideas are not just limited to one type of material or design. Depending on your taste and choice, there are many different types of Puzzle inspired ideas for tables that you can make at home.
DIY Puzzle Board Ideas
Homemade Puzzle boards are great for kids and adults alike. The best thing about them is that they are easy to make, and the making process for each project is clear and concise enough for anyone, even a beginner, to work with and produce a unique and straightforward puzzle board. The below projects show you how to make a puzzle board easily with the materials you literally have at hand. This article also contains instructions on making a puzzle board that includes a unit for storing the pieces. Let's look at what you need to make this puzzle board.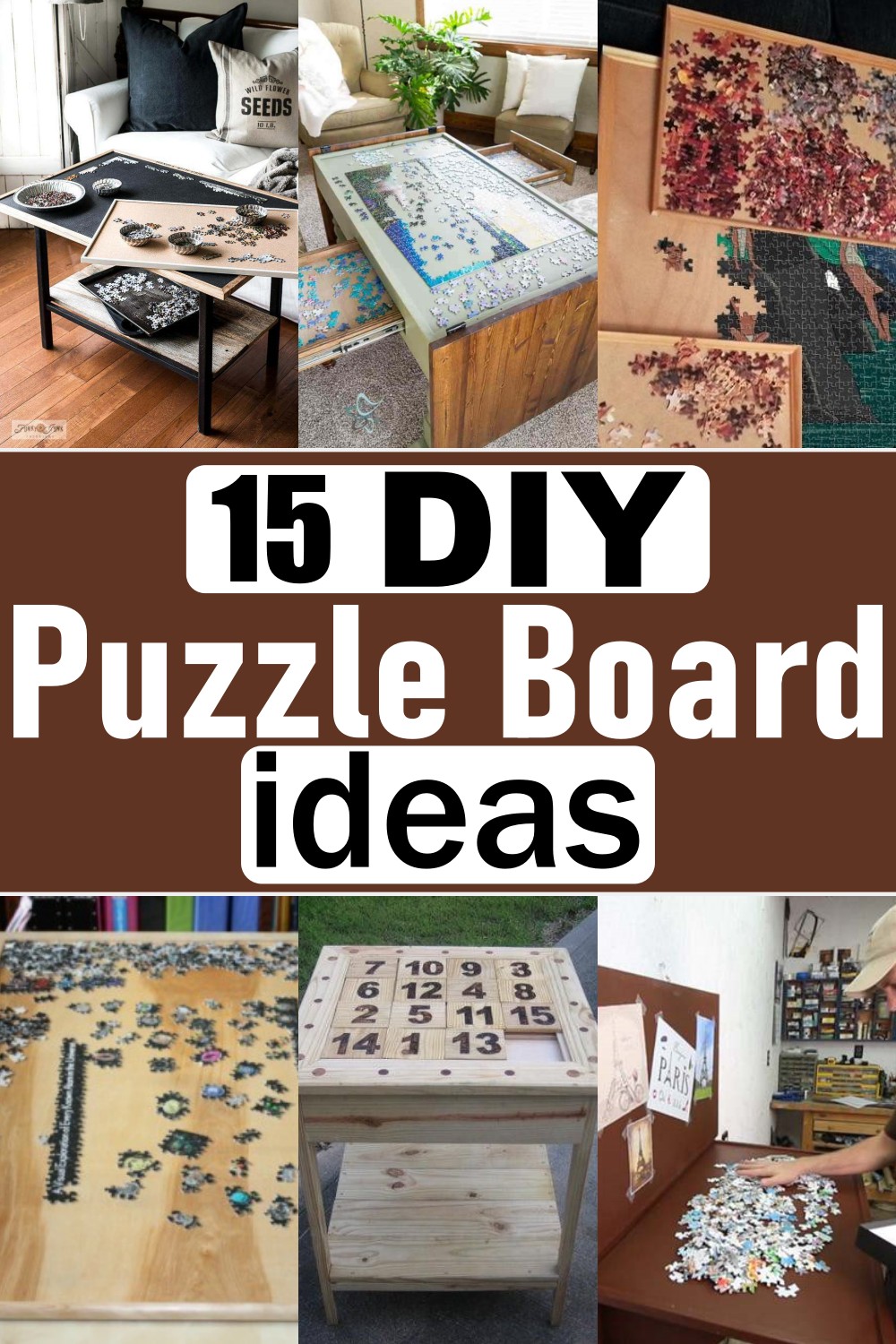 DIY Jigsaw Puzzle Table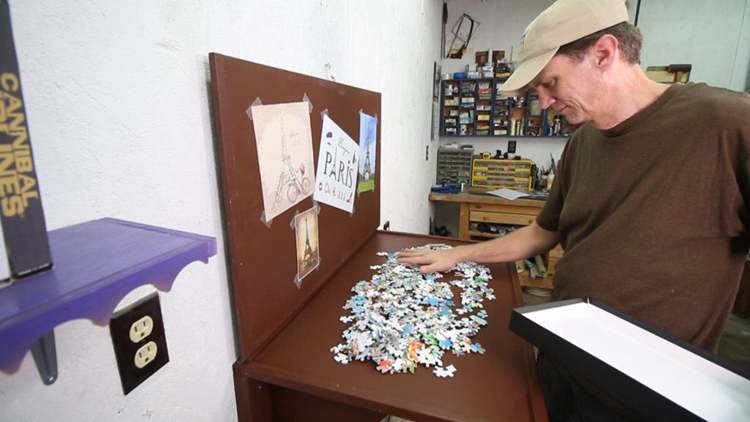 The Jigsaw Puzzle Table is the most excellent and most unique ever. Not only will it enable you to play any puzzle games, but it also has an added feature to hang on your living room wall while not in use! It means that you can use the table freely and save a lot of space at home. This table is one of the most extraordinary furniture pieces made there, so don't miss out!
DIY Jigsaw Puzzle Board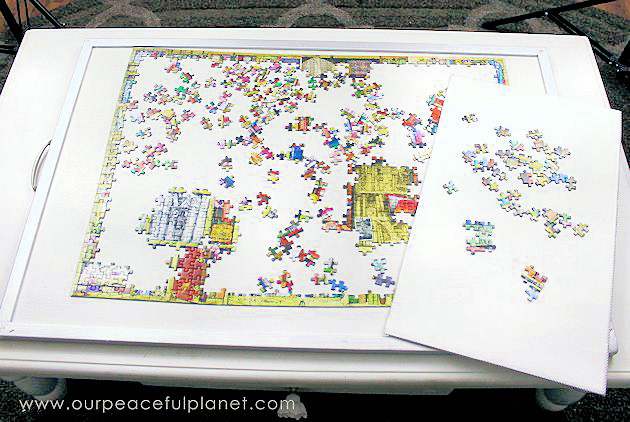 Are you looking to spend some quality time with your kids? Try our DIY Jigsaw Puzzle Board! It's a fun way to spend time with your kids, and it's easy to build. This project is simple, customizable, and inexpensive. You can turn an old dry erase board into a unique puzzle board perfect for your home with glue, handles, white acrylic paint, a white foam sheet, a utility knife, a roll of washi tape, and a few other supplies you'll be done in no time.
DIY Puzzle Board With Storage
If you are looking for a puzzle board with storage space, this DIY Puzzle Board With Storage is perfect. This tutorial guide walks you through every step to create this simple but brilliant puzzle board with small storage space inside. To make this DIY puzzle board, you need a piece of scrap plywood, MDF, or any other solid material. If the space is ample, you can make it even smaller by cutting off the extra top part and shortening it to fit your space requirements.
How To Make A Puzzle Board
This video will show you how to make a giant puzzle board using just paper and glue. It is straightforward, economical, and time-saving. The puzzle board is made of paper board, which is cheaper and faster to make. You will start by joining scraps of paper boards together to have a giant board. Using a spray adhesive, you convert the paper board to poster paper. Once done, using a puzzle pen, draw a grid on it by following this video guide. Lastly, start solving! It's a great gift idea, and making it yourself is simple enough that anyone can do it!
DIY Puzzle Table
A super easy DIY Puzzle Table is something you can make using just a few tools and the right supplies. It's simple, straightforward, and fun. You don't need to be an expert woodworker; have some carpentry skills and patience! The table features an excellent puzzle design on top and has a drawer for storage. Your kiddo will love being able to play with this table design repeatedly; follow the guidelines in this video.
How To Make A Puzzle Board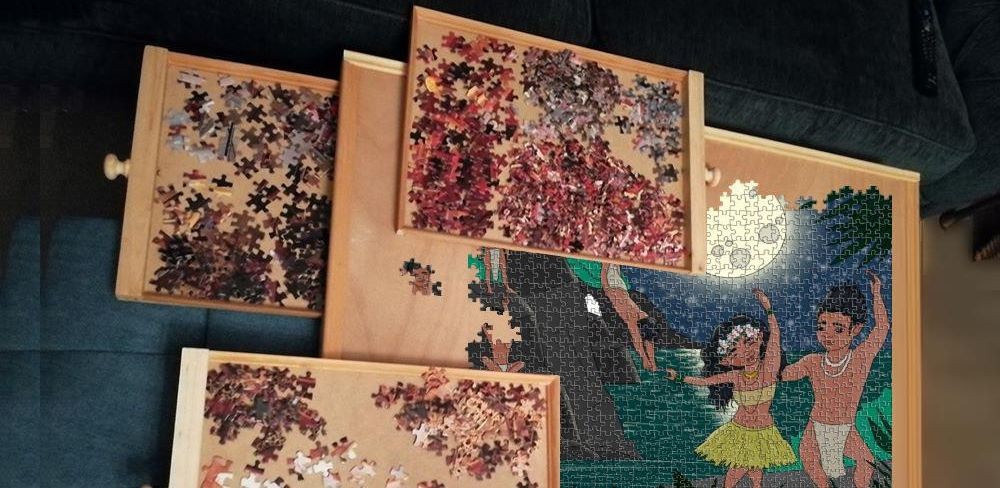 Puzzle boards are great for kids who love to build and create. boards with different patterns, sizes, and shapes. This guide will show you how to build a simple wooden puzzle board and explain how to make it more challenging by adding pieces with shapes that are harder to align (such as squares or triangles). You need first to look at the DIY plans, and then you can start purchasing the materials needed for it like pieces of wood, drawer knobs, screws, a picture frame of similar size for your board, wood glue, and finishing nails.
How To Make A Puzzle Tray With Storage
Turn your kids' puzzle pieces into a mess? No problem! Here's a simple trick that will help you keep them organized and ready for when it's time to play. With this simple DIY, your little ones will have an easy time keeping their toy together in one place. The best part about this is that you can build it for any size puzzle using wood, paint, or another decorating material. Watch this video to learn how to create A Puzzle Tray With Storage storage table for puzzles!
DIY Puzzle Board With Drawers
This board is easy to make yourself. It requires a few materials that you should be able to find at a home center or hardware store and will take around an hour of your time. Once you're done with this project, your next step is to pick up a puzzle for the board. A great thing about this DIY project is that it can be used as a woodworking project for all ages, so get crafty with these instructions in the video and make yourself a DIY puzzle board with drawers today!
How To Make A Puzzle Tray
Make A Puzzle Trayis a fun project using scrap materials and essential tools that makes a great gift. You can make this puzzle tray in just a few hours and use it to hold all those small things on your desk or craft table. This tutorial is easy to follow, even if you are new to woodworking. The puzzle can make by cutting several boards and adhering them together to make the frame, then cutting the top plywood board into the puzzle image.
DIY Puzzle Board
If you love puzzles, this DIY puzzle board is the perfect way to display them. This highly customizable DIY project makes a beautiful addition to any classroom or home. Use this step-by-step tutorial to make this bulletin board, complete with wooden dowels for hanging papers and stencils for the letters. This beautiful wooden puzzle board can adopt to fit your specific needs and style and is an excellent project for kids.
How To Make A Puzzle Board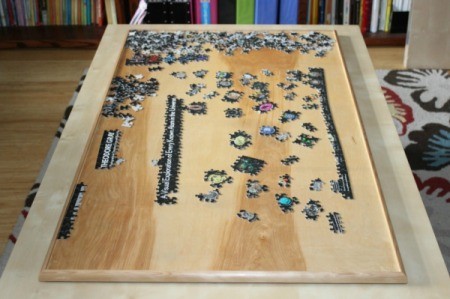 This puzzle board is quite large and can take as many puzzle pieces as possible. It is painted white, so it does not affect the sensation of playing with or seeing the pieces, and it can use for your kid's puzzles. The board works of pre-sanded beech plywood, which has a smooth surface that ensures no bumps on its surface. This DIY project uses a miter saw, fine grit sander, and polyurethane. You can have an awesome puzzle board for all your friends and family to enjoy in less than a day!
DIY Puzzle Game Table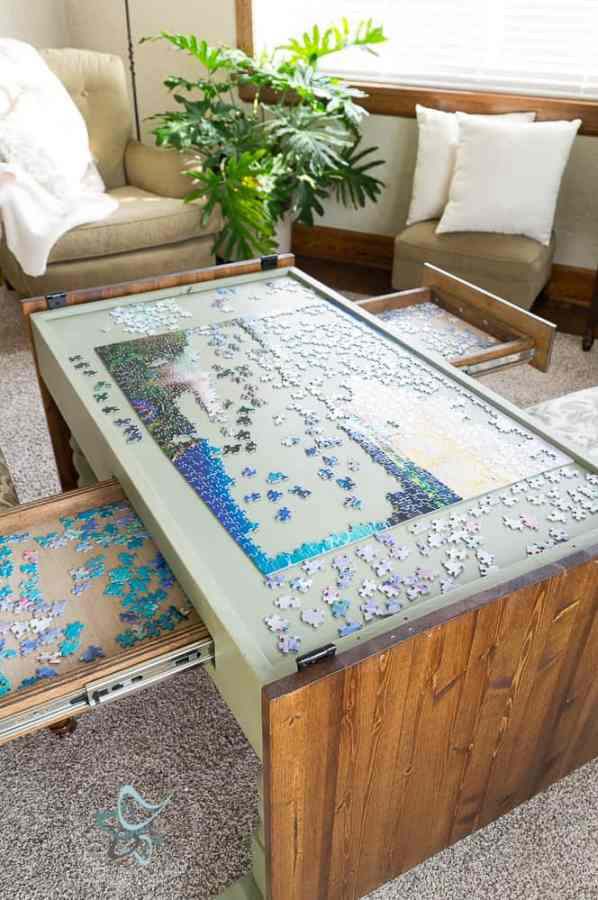 Do you love playing puzzle games? If so, you're going to love this Puzzle Game Table. This table is a great way to make a nice piece of furniture and puzzles simultaneously! All you need is some essential woodworking skills! The project walks you through the building process and gives a few tips on making your stylish puzzle table. It would make a wonderful gift, so get started now and have it all done before your next holiday celebration!
DIY Puzzle Table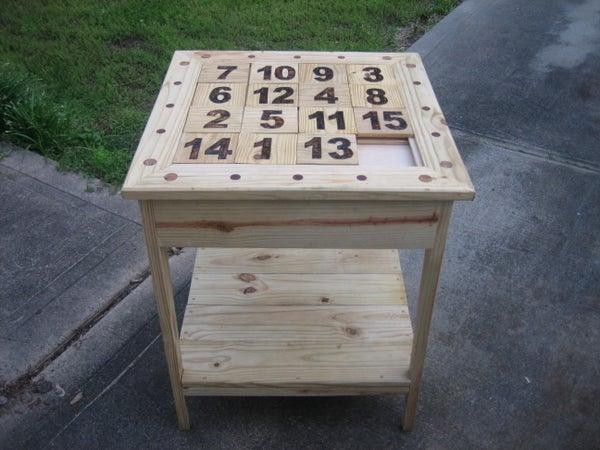 This DIY project is a fun one that combines a puzzle board and table into one. If you don't want to tackle building the table with the board, you'll be able to find a table that fits this puzzle board and either build the two separately or mount the tables together. This table can also make with a storage drawer to keep your games organized and handy, which can even store small puzzle pieces inside the drawer for quick access.
How To Make A 1000 Piece Puzzle Board
This excellent DIY puzzle board tutorial will show you how to make a 1000-piece puzzle board that is as easy to make and as fun as the puzzle you get out of it. You can make one with your kids or grandkids, and they will be proud to call it their own. With a little effort and a few new tools, you can make an attractive puzzle board of your own that will last for ages. It is simple to build, highly affordable, and super easy to make.
DIY Simple Puzzle Board
Creating a simple puzzle board is an easy DIY project that anyone can do! No special tools need to do this project, just a large cardboard box, hot glue gun, and masking tape. This guide is a wonderfully easy and simple way to make a DIY puzzle board. Follow the steps in this tutorial, and you'll have the perfect activity for rainy days, lazy weekends, or any time you want to try something new.