When you want to add plyometric power to your workout but don't have access to a gym, making your own Plyo box is a great way to get the benefits of this full-body workout at home. While many Plyo boxes are available for purchase, they vary significantly in price and quality. If you're looking for an inexpensive DIY alternative that will serve you well, here are 25 different plyometric box projects to help you build strength and power in your legs and core. These DIY plyo box plans range from the super simple to the more complex and are much less expensive than buying one pre-made.
Homemade DIY Plyo Box Ideas

One of the best things about plyo boxes is that they can be built from any repurposed materials. If you've got a little creativity, you can find boxes for sale around town or at big box stores, but these pre-made ones will cost more than making one yourself, and they won't have the unique qualities that make them perfect for your needs. From pallets to old exercise machines and barrels, here are 25 DIY plyo box plans to inspire your following workout routine! They're an effective way to strengthen and increase the speed and power of your movements, which will positively impact all aspects of sports performance—and it's an excellent way to build muscle and improve balance and Coordination.
What Is Plyometric Training?
Plyometrics is a form of exercise that uses explosive movements to develop power, speed, and agility. They help athletes train their bodies to move faster, jump higher, and land more safely. Plyometric exercises use maximum force to gain explosive power through muscle contraction. This type of training differs from traditional strength training because it focuses on fast movements instead of slow ones. Plyometric exercises also require short rest periods between sets, so your muscles constantly work hard during exercise sessions.
Benefits Of DIY Plyo Box
The benefits of using a plyometric box include the following:
Low Cost. Plyo boxes are relatively inexpensive compared to other strength training equipment.
Portable. Plyo boxes are lightweight and can be moved easily from one location to another.
Variety of Uses. Plyo boxes can be used for many exercises, including jumping and landing drills, step-ups, box squats, split squats, and reverse lunges.
Safety Benefits. Plyo boxes provide a safe surface for performing explosive movements without worrying about falling or injuring yourself on the ground.
Improved Coordination & Balance. Your Coordination and balance will improve with regular use of a plyometric box as you learn how to jump safely onto and off it while maintaining control of your body during the movement process.
How To Make 3 in 1 Plyometric Box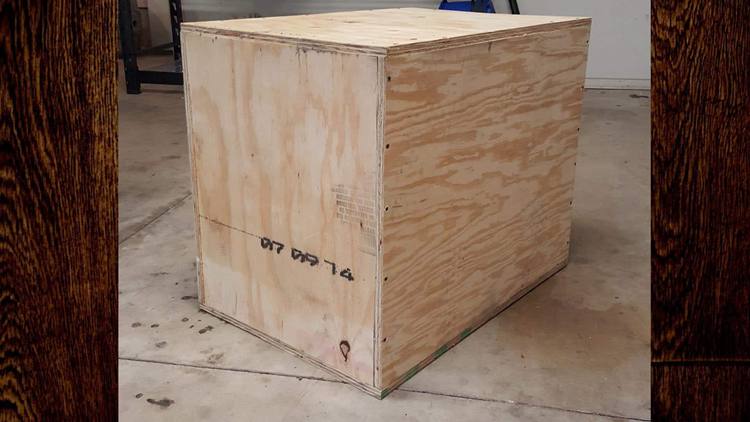 This plyometric box is the perfect size for use in any environment, whether in your gym or at home! This box gives you three different heights to practice with at one time, allowing you to do three other exercises that are all beneficial and key to your fitness goals. This plyo box is a straight-up rectangle. There's a tremendous benefit that comes with this design. It gives you three different heights to work with at any time. This box is 28″ x 24″ x 20″.
How To Make A Plyo Box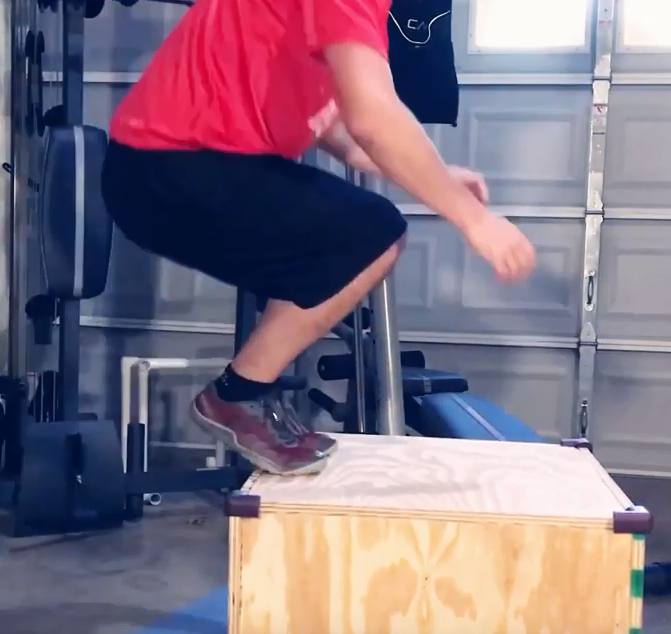 This plyo box is the perfect addition to your home gym. It's simple to make and will get you started on your way to more extensive, better workouts. All you need are the right tools and materials, which we've laid out below. Follow our step-by-step directions, and you'll be making your own plyo box in no time. This plyo box is a great way to work out at home quickly. Create your own plyometric box using a few simple tools and materials. After measuring, cutting, and assembling the box, you'll add edge protectors, screw the box together, and you're done!
Building Plyometric Boxes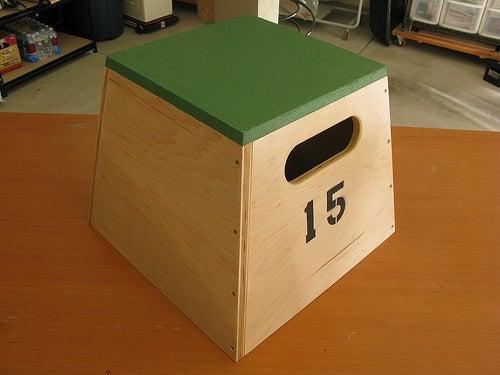 Boxes for building plyometric boxes are expensive and need a lot of set-up time. Luckily, you can create your own at home and save yourself a lot of expense and hassle. Plyometric boxes are versatile exercise tools that can improve strength and power. They're easy to store and quick to set up, allow you to customize your workout, and are versatile enough to be used indoors or outside. They are expensive to purchase and cost upwards of $60 (or more), but you can easily make them home for less than $30.
How To Build A 3 in 1 Plyo Box
Building a DIY Crossfit plyometric box is not rocket science; it's relatively easy unless you have no experience. This video shows you how to build a 3-in-1 plyo box for as low as 20$. The 3-in-1 design is perfect for easy storage and mobility. Make your own plyometric box for an intense workout at a fraction of the price of store-bought ones. This DIY box is made from one sheet of plywood and includes a space for storing shoes below so you can make an exercise routine at home or in the gym. Once you try it, you won't be able to get rid of it!
DIY Plyo Box
If you're looking to build explosive power, plyometric box jumps are a must. Plyometric training will help strengthen and improve the strength of your muscles by increasing muscle strength and maximizing athletic performance. Don't let your plyo box impede your training. Build your own plyo box using this simple guide to making one. It will be perfect for any home workout and helps you increase your power when jumping, exploding off the ground, or anything else that involves leaping into the air.
How To Build A Plyo Box
Before you begin, measure your plywood so the back sides are not warped and can stay straight. You can use a drill on your marks and cut them down to size. Once done, sand down the sides of your plywood and paint a coat of grey primer before staining it. Once you're satisfied with how everything looks, it's time to place your plyo box together. Use screws to secure each piece together and ensure it is well-built.
Crossfit Style DIY Plyo Box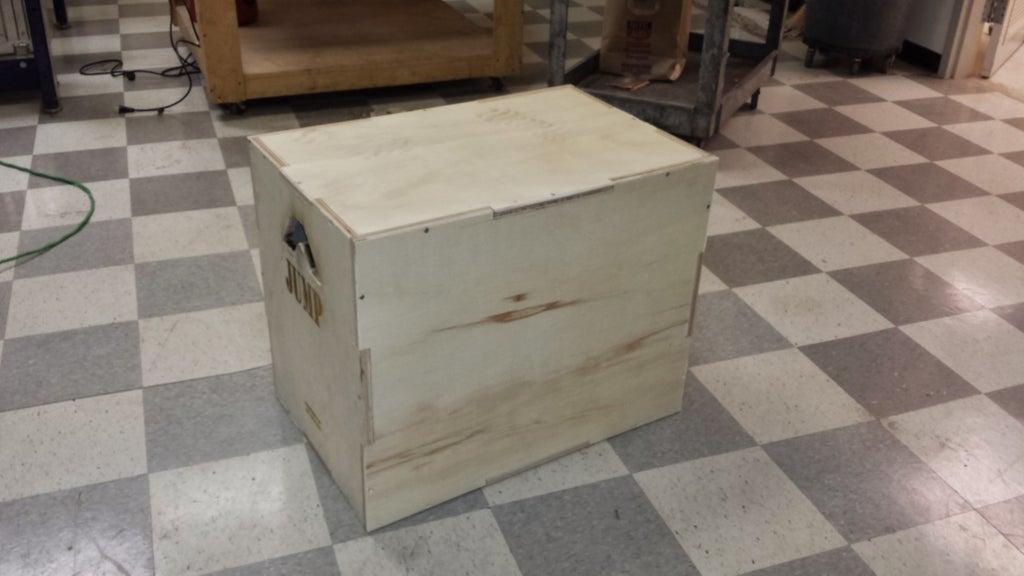 This DIY Plyo Box is straightforward to build, as you can see. With a few cuts of wood and a few screws, you'll have this excellent project to add to your home gym. This plyo box is a great way to improve explosiveness and agility. Plyometric training is one of the most effective methods for building speed, explosiveness, and power. It can significantly enhance vertical leap height and reduce athletic injuries by using your body weight as resistance.
DIY Plyo Box
You'll love this jump box for sure! It's sturdy and well-made, with metal rods welded together to form the base structure and wooden boards for the top. This plyo box is a must-have for anyone who wants to work out at home. It will help you bring your strength and conditioning exercises to the next level. This DIY plyo box is an excellent addition to any workout center. It's perfect for developing explosive power, agility, and conditioning. It's sturdy, stable, and durable. Built using recycled materials, it is environmentally friendly.
DIY Plyo Box With Scrap Wood
Check out this quick DIY video showing how it's done with a plyo box. You may also notice that it was done using scrap wood and was still made to be quite helpful. A great way to put together an excellent plyometric workout from just about any scraps you have lying around your workshop or garage. Plus, having extra space for calisthenics training in your home is always helpful. This video shows how we quickly built a plyo box with two scrap pieces of wood and a few screws. You will be surprised at how strong this plyo box is and how little time it took to make it!
How To Make A Plyo Jump Box For Less Than $70
If you love plyometrics but don't want to shell out loads of cash to jump, this video will show you how to make your own plyo box for less than $70. The best part is that it won't take much time, and you can use other tools around the house to do this project yourself. Whether you're a beginner or an expert, this plyo box is an excellent addition to your home gym. It has been designed for maximum effectiveness on your body and minimal impact on your joints.
How To Make A Plyometric Box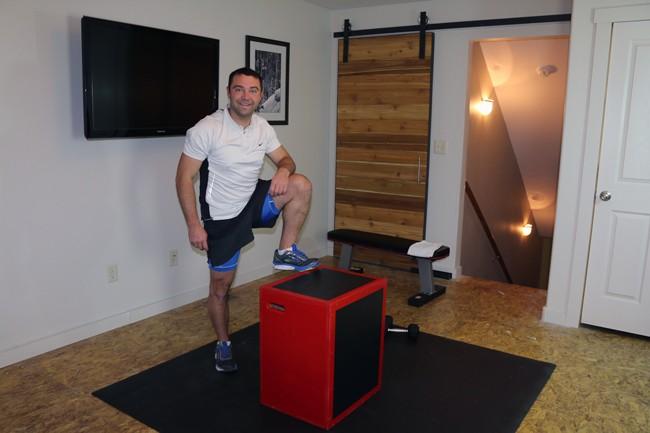 A plyometric box is an excellent tool for training to improve explosive power and quickness. This plyometric box is perfect for the athlete in you. Whether practicing your vertical jumps or introducing a new cardio routine, the platform height can be adjusted to meet different needs. This project makes a great addition to any home gym or workout space, creating a multifunctional piece of equipment in minutes with just one sheet of plywood. This plyometric box is excellent for conditioning workouts or explosive movement training. You can even think of it as a step that you can use with aerobic exercise or other types of floor work.
DIY Plyometric Boxes
These plyometric boxes are perfect for both home and professional gyms. Easily customize the box size to fit any space, whether a college dorm or the corner of your garage. It can easily be made with 2x4s and plywood, so there's no need for expensive framing lumber. The X-Carve CNC has been used to make these models by laser cutting them from layered pieces of plywood to create a durable, stable plyometric box that can withstand years of intense workouts!
Easy Plyo Box Build
If you want to get started with plyo workouts, our plyo box is a perfect addition to your home gym. The design allows various exercises and is easily portable to take it anywhere. This build is beginner-friendly, easy to assemble, and cost-effective. This plyo box is fun to add a new difficulty level to your favorite plyometric and jump training exercises. This plyo box will allow you to develop explosive power, ankle and hip stabilization, and better Coordination. This DIY project is beginner-friendly and cost-effective. It's a super easy build that will only require a couple of hours to create.
How To Build A Plyo Box Without A Saw
Plyo boxes are a great training tool for box jumps, mountain climbers, step-ups, and more. Plyo boxes build strength in the legs, glutes, and core. The plyo box is not just for the gym. It's an easy DIY project that anyone can build at home. To make this plyo box for CrossFit or jump training, no saw is required – just a few simple cuts and a little glue. The significant part about building this box is that you can customize it to your height with various-sized lumber. You can customize the size of your plyo box depending on the activity you are going to use it for.
How To Build A Plyometric Box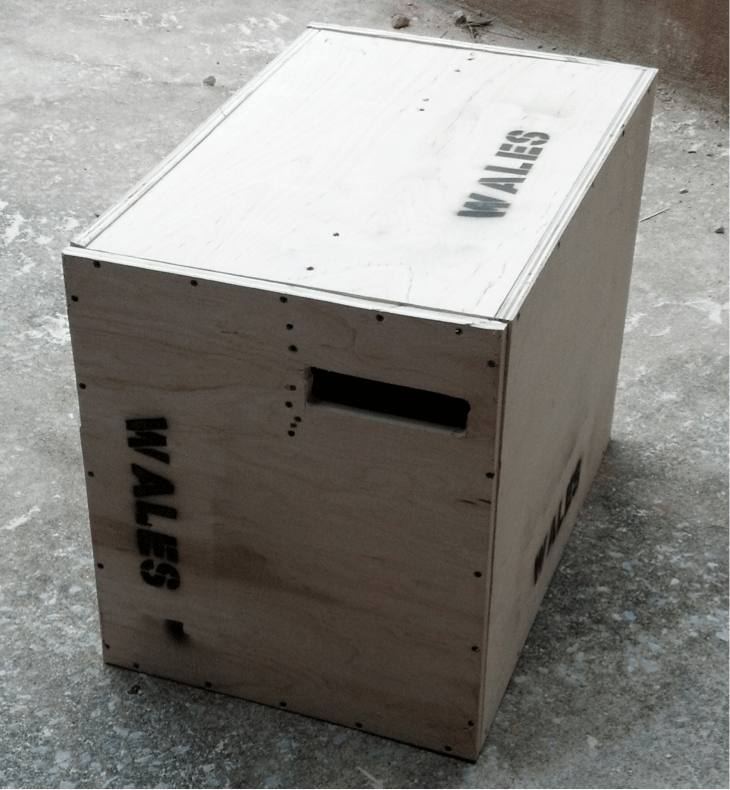 This plyometric box is perfect for any gym or home gym. Not only will it enhance your workout, but it'll help you stay safe and improve your form. This plyometrics box is perfect for developing speed, quickness, power, and Coordination. Use this jump box to create lower body strength and power that transfers to any sport. It can be made quickly with some wood planks and boards. The simple design allows you to use any heavily painted wood, like pine or a sheet of plywood, as the primary building material. While the plywood will be thicker, that's not necessarily bad since it adds some sturdiness to the box.
You can also see: DIY Power Rack Projects
DIY Plyo Box
Let's start building your plyo box, which you can customize to fit your needs. This DIY guide will walk you through the steps necessary to create an elegant plyo box that can be used by individuals of all ages and experience levels. Show off your hard work with these DIY Plyo Box Project Plans! This project is beginner-friendly and saves money by allowing you to choose your materials. Use this simple guide to make your own plyometric box!
Build A Plyo Box
Build your own plyo box, a compact, versatile, practical exercise tool for bodyweight training. You can also customize it to match your space and training needs. The box is made from high density, durable foam, perfect for all ages and fitness levels. You can order your plyo box from the store, but you can create yours at your convenience with this easy-to-follow build. It's interlocked, so you don't have to worry about missing any pieces or putting them together correctly. Your friends will be so impressed when they see your work!
DIY Wooden Plyo Boxes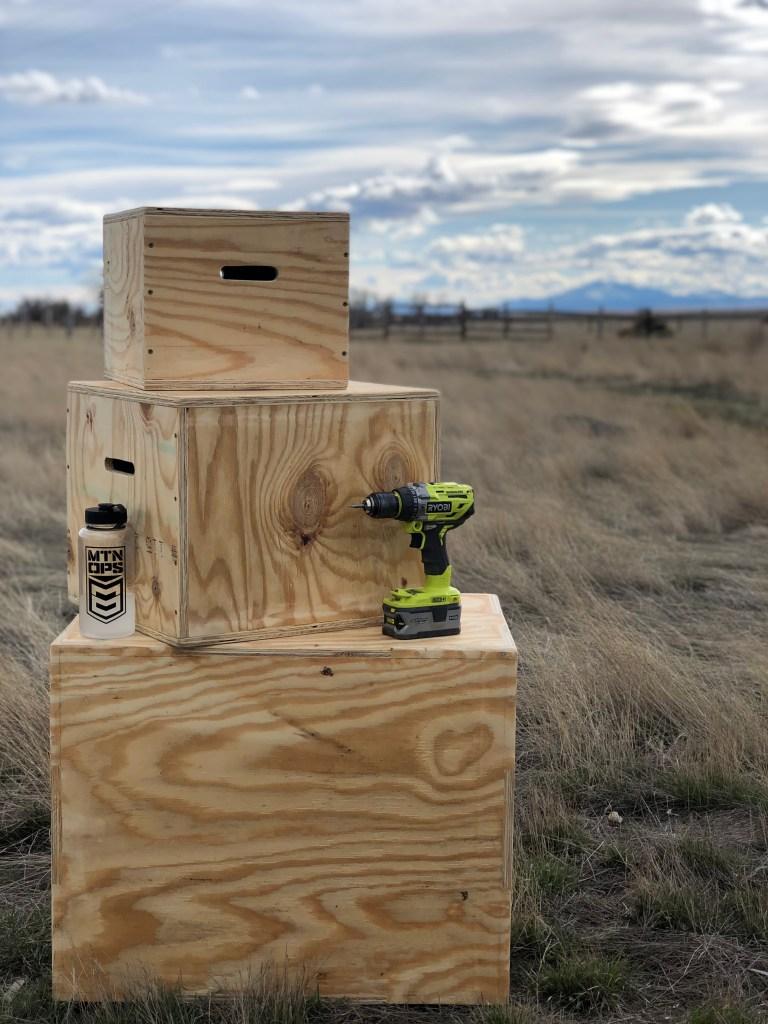 These plyometric boxes are perfect for your home gym or personal training studio. They're easy to make, so you don't have to spend much money on them! You can build these using ¾″ plywood and attach the height options with screws through the top board. Save the scraps from the tops and sides as spacers; you will securely screw your finished box together. These DIY plyo boxes are designed with a progressive training system. You start with the middle box and add more boxes as needed. They are perfect for box jumps, explosive movements, and conditioning.
DIY Plyo Boxes For $40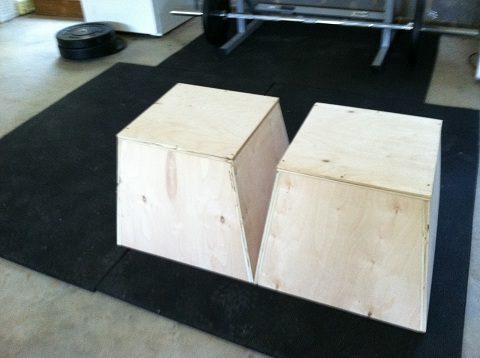 Plyo boxes are a great way to improve your vertical jump because the plyometric movements they allow you to perform will increase your reactive strength, power, and explosiveness. You can build these cheaply yourself with an old box and some screws. You can use these plyo boxes as part of your workout routine or even keep them in the garage or storage shed and pull them out whenever you need explosive power training. Enjoy being fit!
How To Create A DIY Plyo Box
This Jump Box is an excellent addition to any workout. It allows stability, power, and explosiveness, all required to add a plyometric element to your run or workout. Plyo boxes are a great way to increase your leg power and agility. This project will show you how to make your own plyo box so you can add a challenging athletic tool to your home gym. Using 2×6 boards and an attractive finish, you can customize this plyo box however you like. This project may take longer than other jumping workouts, but the results will be worth it!
How To Build A Plyo Box
This is an easy project and can be a great addition to any home gym. Plyo boxes are great for building explosive power and performance. They're an essential piece of equipment for any gym or home workout environment, as they allow you to mimic the movements involved in jumping and bounding while still creating a safe environment due to their solid construction. Building plyo boxes aren't so rugged; they're seamless and don't require a unique skill set. The best part is that they don't need special skills or equipment."
DIY Plyo Box
If you feel ready to plunge into plyometric training, then this DIY plyo box is the perfect place to start. You need basic carpentry skills and strong wood glue to finish the project. Plyo packages are indeed great for improving your squat, jumping, and anything else you can think of. But the problem is that they're expensive. You can fix this by making your own plyo box with just a few tools, space, and plywood. It's cheap to make, easy to put together, and will last you years!
DIY Plyometric Box
A plyometric box is a necessity for any home gym. It looks great and can improve your workouts and build muscle in your legs, thighs, and glutes. Plyometric boxes can be a great way to get your strength training exercises off the floor and make them more challenging. While it's not always necessary to have an expensive rig or fancy equipment, making your own plyo box means you won't have to pay twice as much as you would if you bought one at the store. You can build your own plyo box using your tools and materials in whatever size and shape are best for your needs.
DIY Wooden Plyometric Box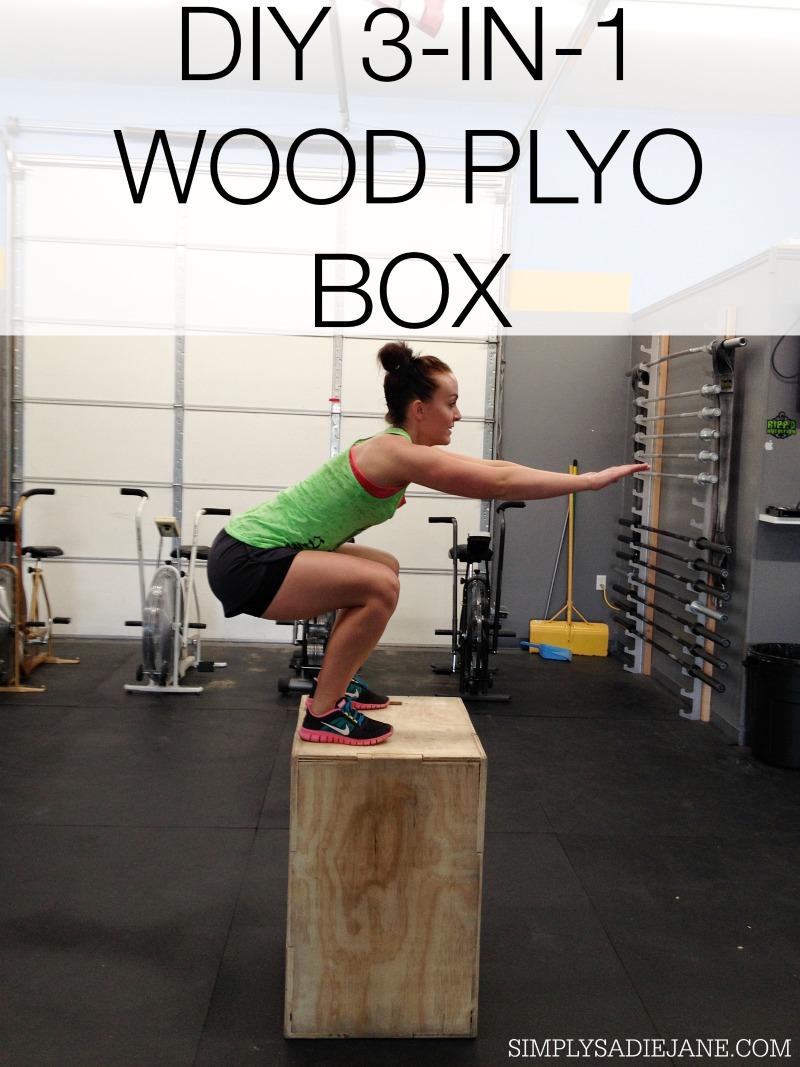 Are you tired of going to the gym and getting bored? Well, not at all! If you cannot get active because of your busy schedule, then it's time for you to make this DIY plyometric box at home. It's more like a workout for your cardio as well as strength. This plyo box is a great way to get active and stay in shape. It doesn't matter if you are trying to lose weight or build strength; this plyo box can help keep your body healthy and fit. The interlocking corners make for easier assembly and are durable.
How To Build Plyo Boxes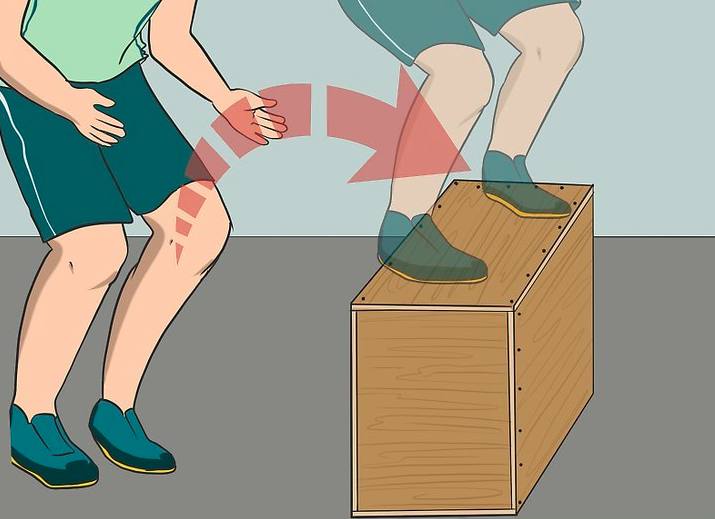 Building your plyo box is a great way to start strength training. We'll show you how to do it yourself if you want a high-quality piece of equipment without the expense. Build this simple jump box using plywood and some power tools, then fill it with sand or water for optimal impact resistance. This homemade jump box is a simple and doable project for any skill level; you can build it in a couple of hours and for less than $150.