20 DIY Firewood Storage Projects For Beginners And Pros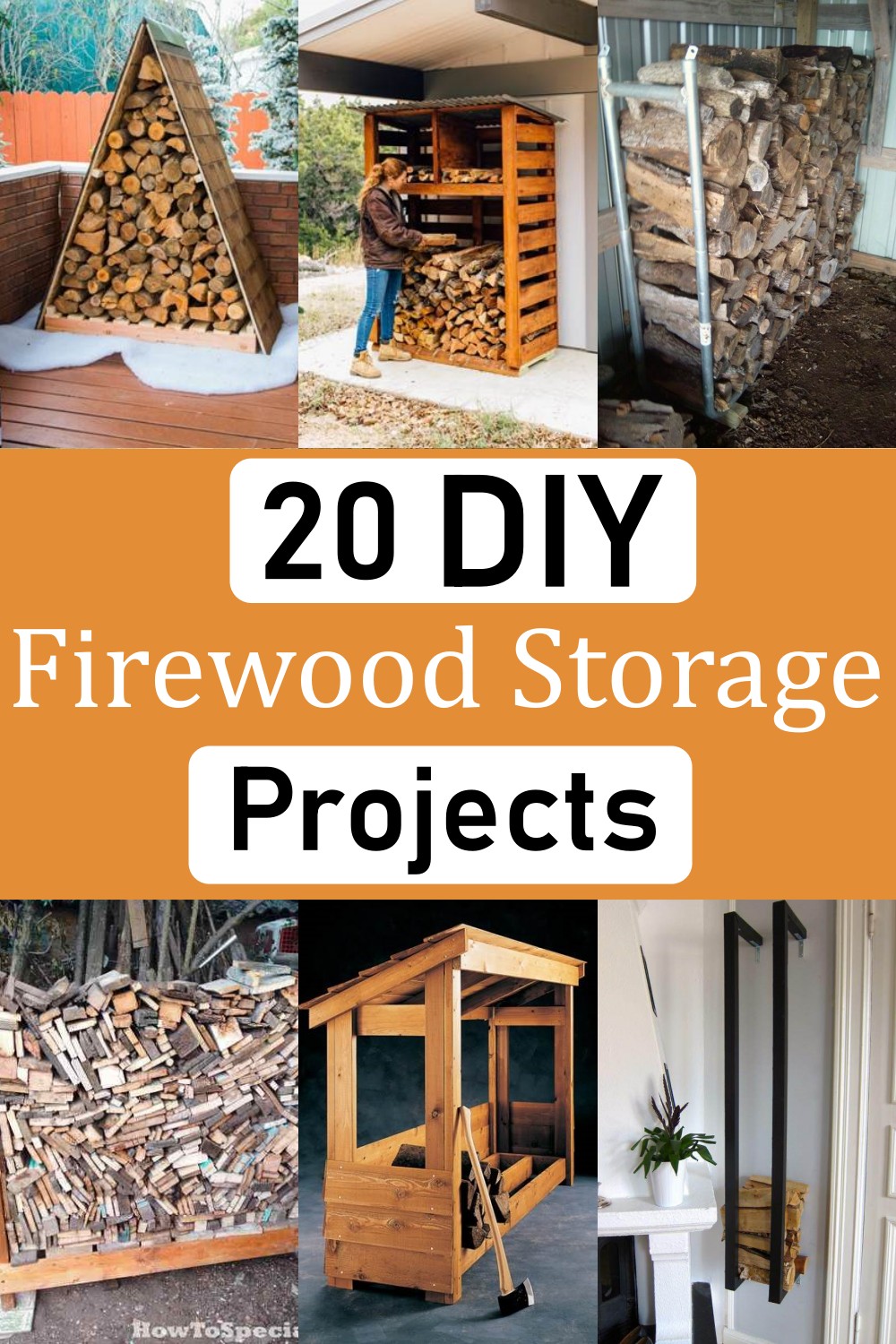 If you are a lover of firewood, you would want to store your firewood in the best way possible. It is always better to store your firewood neat and orderly. This will help you keep track of the stock and make it easier for you to find the best piece of wood for making a fire. Here we have put together awesome DIY firewood storage projects that are easy to create and sturdy. If you are a beginner, you can start with these simple designs, and as your skills grow, you can also try more complicated projects. Ultimately, this article will help you build a sturdy and effective firewood storage shed in your backyard without any major issues. So, here are some of the best DIY firewood storage projects we have for you.
DIY Firewood Storage Projects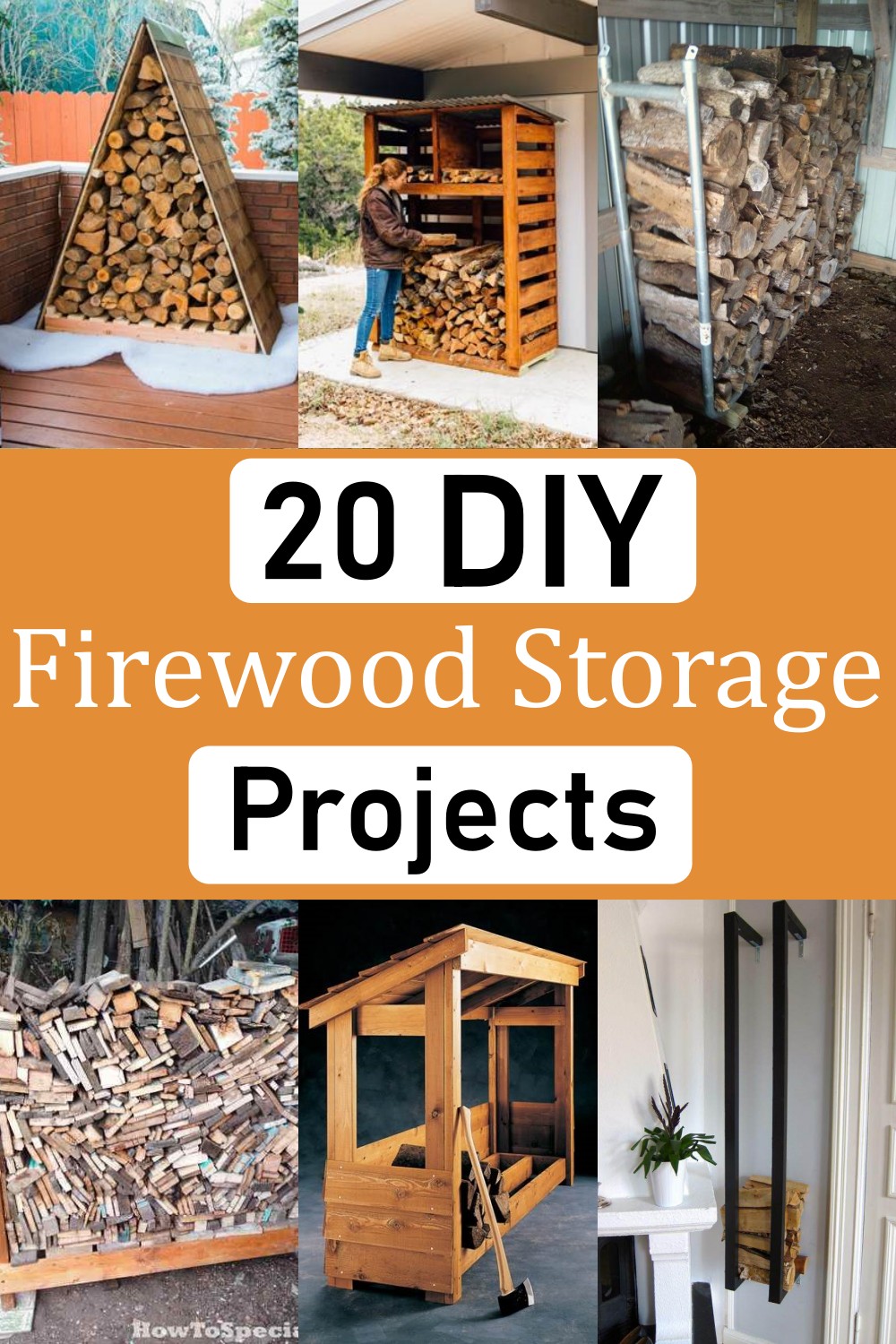 It's time to invest in a firewood storage shed; With the upcoming winter season, you will need a place to keep your firewood dry and protected from the elements. The right firewood storage can help you organize your firewood supplies and ensure them last longer. But before you rush out to buy one of those expensive sheds at your local home improvement store, consider building a DIY version. Here are 20 easy-to-make DIY firewood storage ideas that can help you organize your firewood supplies and keep them dry and protected. Depending on your available space, there are several ways to go about it. Some are for indoor use, and some can be used indoors and outdoors. We've selected the best DIY Firewood Storage Projects for you that are listed below.
Covered Firewood Rack Plan
You can easily build this DIY firewood rack to store your firewood indoors. This covered firewood storage will also protect pests and other animals from the wood and protect it from getting wet or soft. You can also use it indoors rather than storing your firewood outside where other animals may steal it or get into it. This project is easy to make and can be completed in no time. It will keep your firewood safe and dry while looking good simultaneously!
No Tools Firewood Rack
This no tools firewood rack DIY is the perfect way to store your firewood. This firewood rack is easy to make and requires no cutting or drilling. All you need is cinder blocks and some screws. It makes storing firewood in your backyard or front porch so easy. It is easy to assemble, requires minimal daily maintenance, and even discourages unwanted pests from bothering your wood supply! Watch this video tutorial that will teach you the whole making process.
Wall-Mounted Firewood Rack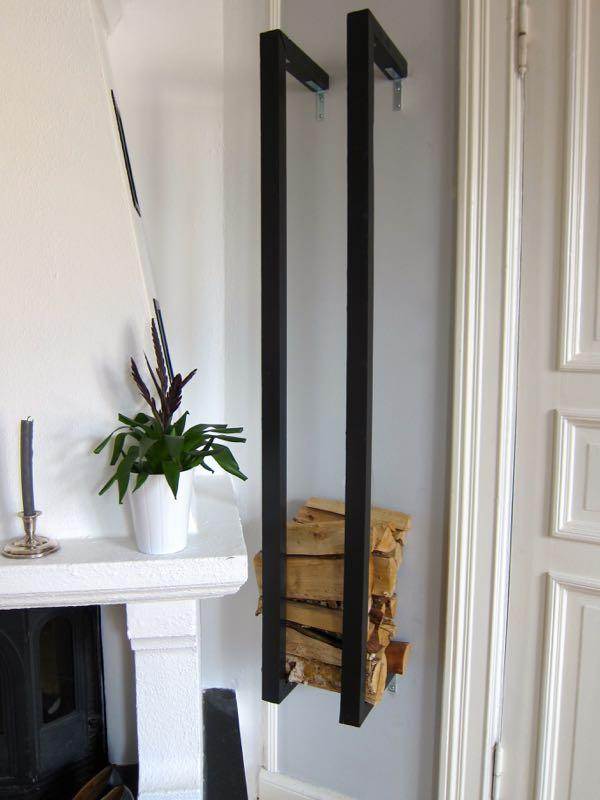 If you like the warmth and ambiance of a burning fire but want a cleaner, more contemporary look, this wall-mounted fireplace is perfect for you. It's easy to assemble, does not require much space on the floor, and can be mounted to the wall and ceiling. The good thing is that you can paint the wood to match the color of your room and create any shape you want. This project includes detailed instructions for making a wood storage rack; go through this guide and learn more.
Simple Firewood Storage
If you're looking for a better way to store your firewood, look no further than this simple DIY project. The small shed-like structure is made from cedar and has a slant roof that's both functional and aesthetically pleasing. It looks like it would be pretty easy to do. It's made with simple materials and a few basic tools, and it keeps your firewood off the ground, so you don't have to worry about moisture ruining the wood or bugs getting into it. The video below will walk you through the entire process of building this storage, watch this video and make it yourself!
DIY Firewood Rack Idea
This wood rack is perfect to use when building your firewood pile. You can use this as a multi-purpose storage rack outside your home, garage, or shed. It is easy to build with materials around the house and will take only a couple of hours to complete. With its rustic look, this firewood rack adds character to any space it's in! This DIY Wood Rack is a simple project you can build yourself using this guide. It's the perfect way to store firewood and keep it off the ground.
No Tools Firewood Rack Plan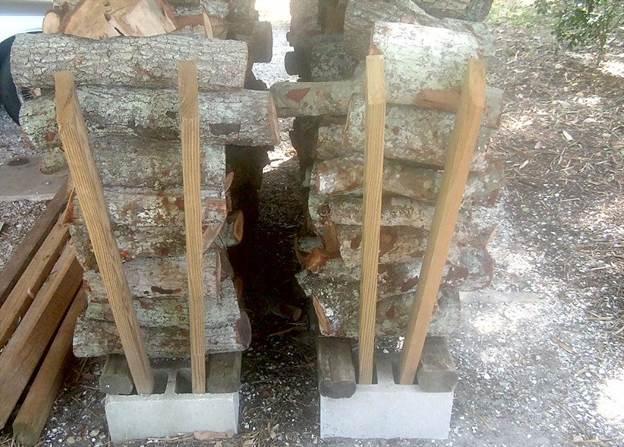 No Tools Firewood Rack is a quick and easy firewood rack to assemble. It requires no tools and will last for years, even in harsh weather conditions. The rack holds many cords of wood and can be used in any climate. It is built with precast concrete blocks and treated lumber that make it durable, long-lasting, and attractive; The measurements are up to you, and this project can be done in any size you want. This guide shows you the complete procedure.
Firewood Shed Plan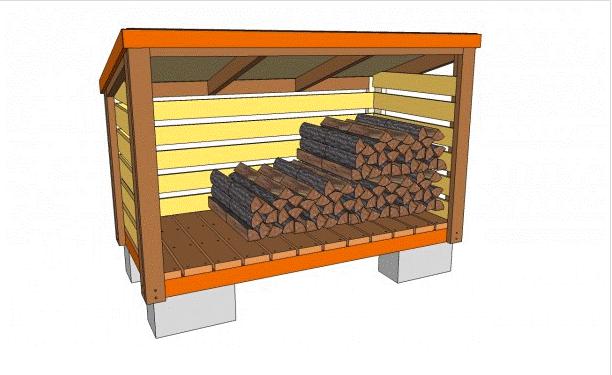 These firewood sheds are designed to store your firewood neatly, safely, and in a very small space. Whether you're looking for something to store your firewood for the coming winter season or need a place to keep a few logs ready for burning when the mood strikes, these plans will help you build the perfect storage shed. This guide will help you in building your very own firewood shed. Go through this guide and make one for yourself.
How To Make A Firewood Rack With Roof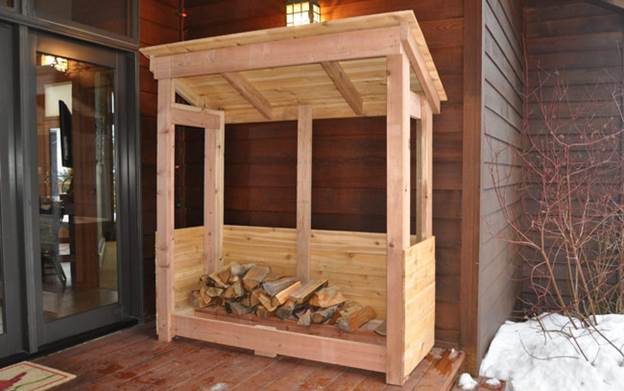 This project will help you build your firewood rack with a roof. This could be put in your backyard at home or out on the camping site to store your wood. The structure's base is built using wooden beams, and the sides are attached using structural screws. The top is also made using boards, three of which support the roof, while two other planks help to provide added support. Building this firewood rack with a roof is a great DIY project; This guide shows you the complete step-by-step instructions and follow-up steps.
DIY Wood Shed Plan
The wood shed plan here is easy to follow and will help you build a nice structure for the cut wood. This shed will keep your home neat and clean, and you'll never see a pile of firewood anywhere. The instructions are simple to follow, and everything you need is common materials, so if you do not want to spend money on this project. Then you can use what you already have in your home before you begin it.
Indoor Firewood Rack Tutorial
This DIY indoor firewood rack is perfect for displaying your firewood and showing off your creative side. Whether you are looking for a fun project or need some wood for the fireplace, this is a great idea that you can do at home. Create a modern indoor firewood rack with this step-by-step video guide. This Indoor Firewood Rack project won't take more than an hour, and it's perfect for adding some personality to small spaces.
Easy Outdoor Firewood Rack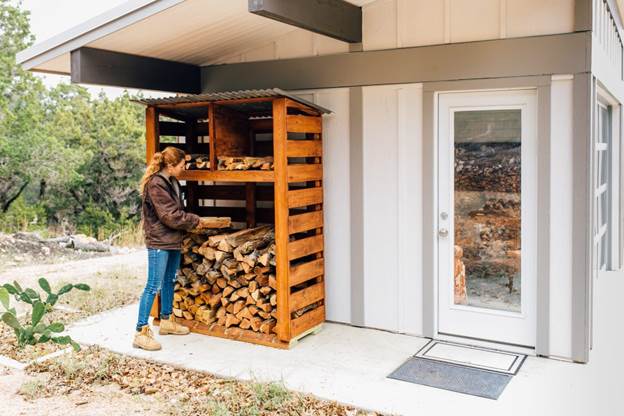 This is the guide if you want to put up an outdoor firewood rack. This DIY project has everything you need to build a fully functional and stylish firewood holder that will last a lifetime. You can build it with materials that are easy to find or recycle some pieces of wood lying around in the shed. The key thing is that the result looks great and costs nothing. This easy-to-make firewood rack takes only two days or less to put together and isn't much more expensive than buying one already made.
Firewood Storage Rack With Roof
This wood shed is spacious and can store all kinds of firewood, and it is weatherproof and ready to use in all seasons. The rooftop has deck boards to protect the wood from raindrops and other weather elements. The tall side walls are good enough to give easy access to your wood during the winter when temperatures get very low. Using waste materials—old deck boards, lumber scraps, and reclaimed wood siding—you can save money on wood storage while recycling in style.
How To Make A Firewood Shed
A firewood shed is a great option if you're looking for a better way to organize your backyard space. A firewood shed can be movable, but many people choose to construct them in one spot permanently. This project's building requires tools and equipment that can be rented from tool rental stores or operated locally, such as saws, drills, and hammers. This video shows you the steps to build your firewood shed.
How To Build A Log Rack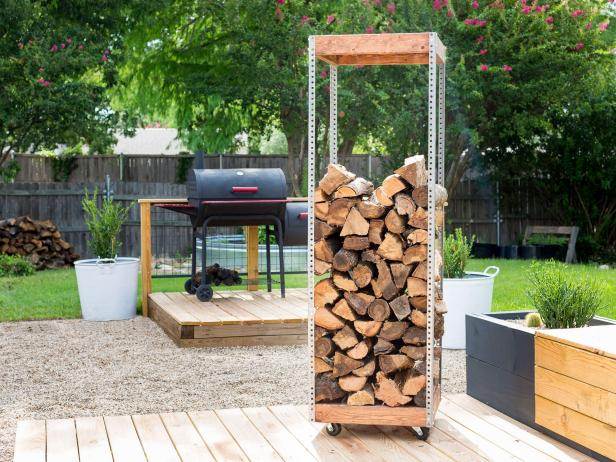 Making your log rack is a great way to save money and add style to your backyard. A log rack can be very easy to make using common building materials. This simple tutorial will show you how to make your log rack. This is a great way to store logs for the fireplace. The Log rack is sturdy yet easy to move from place to place and features a roof overhang to protect the wood from rain, snow, and sun damage. It's made of pine boards and has casters so you can move it around easily.
DIY Small And Mighty Firewood Rack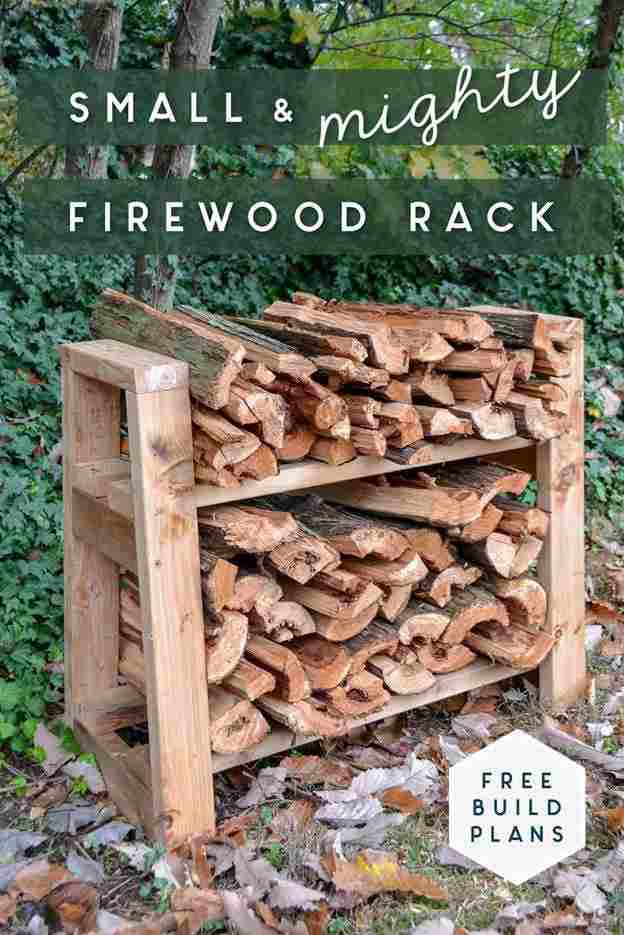 DIY Firewood Rack is a perfect solution that combines portability with precisely stacked firewood. The best thing about this tutorial is that it offers a step-by-step process, making the job easier than ever. You need miter saws, wood glue, screws, and a drill or driver to make this worthwhile project possible. This cute little piece takes up no space, is portable, and will hold enough wood logs so that you will never have to worry about running out in winter.
How To Make A Firewood Shack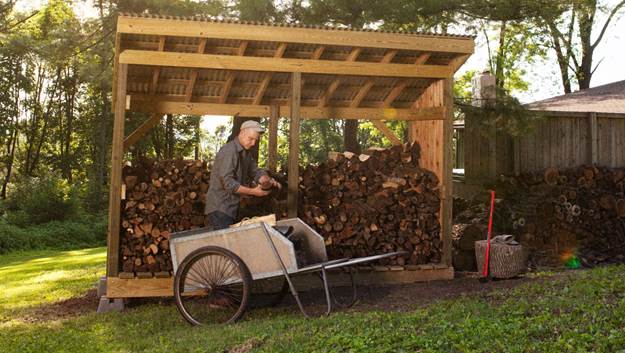 It's the perfect place to keep you warm and store your firewood. This design is simple to make and can complete in a week. The tutorial contains a detailed step-by-step guide for building this firewood shelter. Using common materials, you can put up this structure in no time, depending on your available time. It is one of the most effective and economical ways to store firewood and protect it from rain, snow, and other elements.
DIY Steel Firewood Storage Plan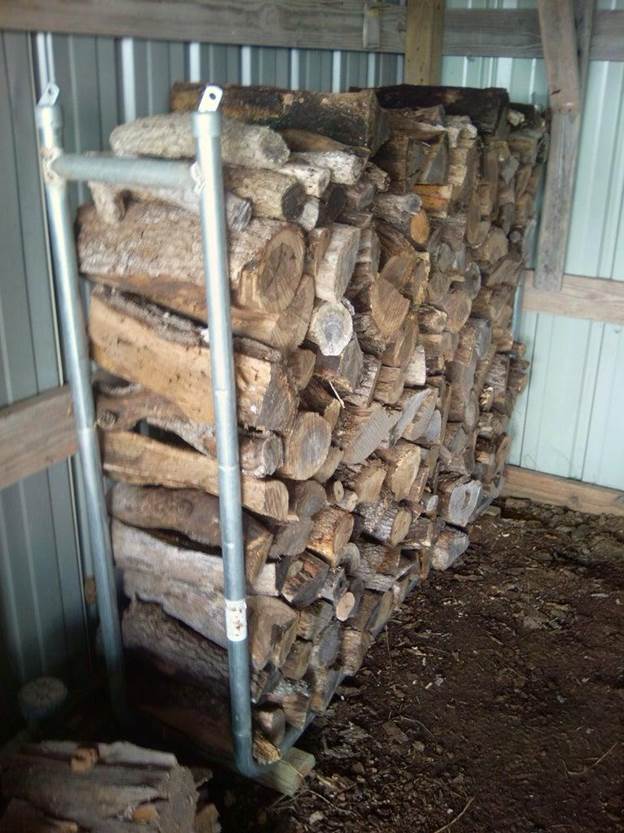 Want to keep your firewood neat without spending a lot? This DIY firewood rack can do the trick. It's a great project for those who love woodworking, and it's easy to make. This project requires some welding but is fairly simple. This firewood rack will construct entirely from steel, with no wood. It is fastened with lag screws and washers, and the timber is attached to the base of the rack. The firewood rack should be assembled on the ground in the desired position and installed.
Simple Firewood Rack Plan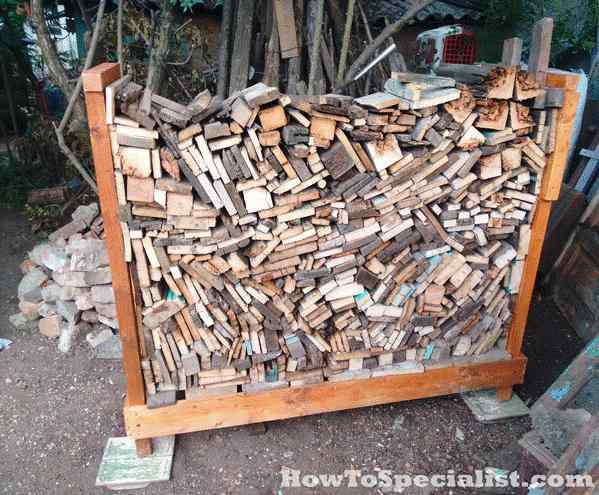 If you are short on space, this firewood rack is a great option. It stows wood off the ground and makes it easily accessible, keeping your wood dry and easy to carry in and out of your house. It's also heavy enough to stay put when filled with wood logs. The basic design of this wood rack is a simple rectangle with frames for the sides and legs. The frame constructs of wood planks, the legs for added support, and the sides will work with plywood boards.
How To Make A Firewood Shelter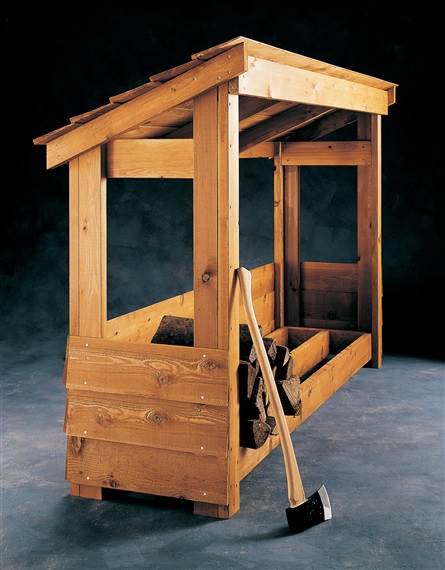 Many people leave their logs outside, but if you don't have enough space or tend to forget the outside, this firewood shelter will be useful in storing your logs while they are dry before using them later in the winter season. Build your firewood shelter with this DIY guide. It's durable and easy to build, although it will consume daily to complete. You can use the skills you have to make this project happen.
Easy DIY Outdoor Firewood Storage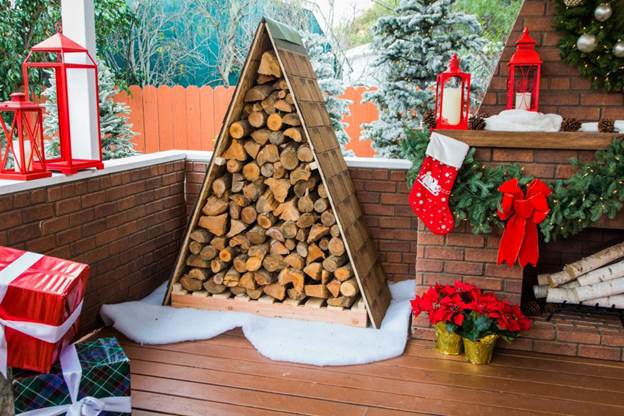 This DIY firewood storage is not only stylishly beautiful and unique but also extremely functional. The instructions to make this outdoor firewood storage are easy to follow, as long as you can cut wood properly. This project can be completed in a weekend or less if you already have most of the tools. This wood storage is a project anyone can do. It is useful for outdoor firewood storage and indoor decoration if you add some decorations.