Improve the comfort of your home by designing a hot tub. Hot tubs are a magical thing. They're the ultimate luxury; relaxationlaxation in warm, bubbly water is one of the most luxurious feelings. But with a hot tub comes responsibility—it's not as simple as throwing a cover over an above-ground pool. The chemicals involved can be dangerous, and you must maintain their temperature and cleanliness. It would be best if you also found ways to fund your hot tub habit (which gets more expensive with each addition, especially when they require electrical hookups). So here are some DIY Hot Tub Plans that are great for dipping into without breaking the bank or your back!
DIY Hot Tub Plans
If you are ready to build your hot tub, there is no reason why you can not do it. This article is filled with DIY hot tub plans and ideas to help you start the project easily. We compiled some great hot tub plans, ideas, and videos to help you build your own Hot Tub. We cover various topics, including the history of hot tubs and how they work and maintain. Several tips and tricks will help you throughout creating these hot tub projects.
Hot tubs have been a quintessential part of relaxation for centuries for a good reason. Whether you're after a break from the stresses of life or looking to kick back with family and friends, a hot tub can be your oasis. They're also becoming increasingly popular in people's front yards, where the whole neighborhood can enjoy them! Though they used to be considered luxury items, hot tubs are now so affordable that DIY Hot Tub Plans are within reach of almost everyone. If you've ever wanted to build your own backyard haven, here are some DIY Hot Tub Plans to make it happen. They are great for relaxing, but getting one built and installed can be expensive. Explore this collection of DIY hot tub plans and find a design that suits you.
Benefits Of DIY Hot Tub Projects
A DIY hot tub project is a great way to spend time with the whole family. The benefits of doing this type of project include:
1. It's a great way to bond with your kids and teach them how to do something they will always remember you for. You can make it fun by having them help you out, or at least give them an idea of what you're doing so they can learn from it.
2. This is an excellent way to get your kids off their devices and away from video games, which can be very good for them.
3. It's also a great way to stay healthy and fit! Hot tubs are known for being relaxing, and they're also known for having health benefits such as easing muscle pain and helping with circulation problems such as blood clots or varicose veins in the legs or feet (which are common among pregnant women).
DIY Hot Tub For Camping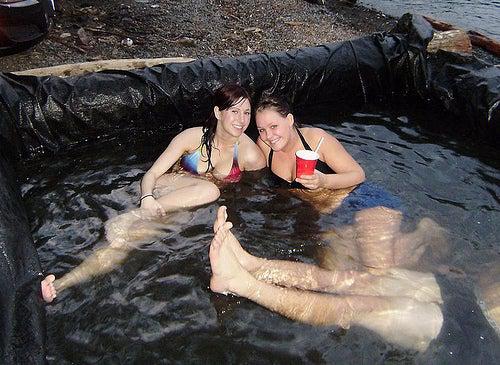 Build your camping hot tub! This guide shows how to create your custom DIY camping hot tub that can be used for camp, yard parties, or even at home. It's easier than you think and takes just a few hours. This project can be completed with the help of a friend, some basic tools, and good advice. You may also need to rent some heavy machinery or use a crane to lift some materials. You'll need to ensure that your hot tub is securely fastened and anchored, so it doesn't tip over when you start filling it up. The basic materials list is provided here with more detailed instructions for building this DIY campground spa.
Homemade Hot Tub
Have you ever wanted to try a hot tub in your home? Making one is easy with the instructions included in this DIY project plan. If you like to stay warm and comfortable, this homemade hot tub will be a great addition to your home. You'd love this hot tub if you're looking for a great home spa. It's easy to make, provides the most affordable way of bathing at home, and you'll love its comfort! It will keep you nice and warm and easy to make! The supply list is as follows: 30-40 feet ½" diameter copper coil, 2-foot straight copper tubes (½" diameter) X2, 2X ½" copper couplings, and others listed here.
DIY Hot Tub Plan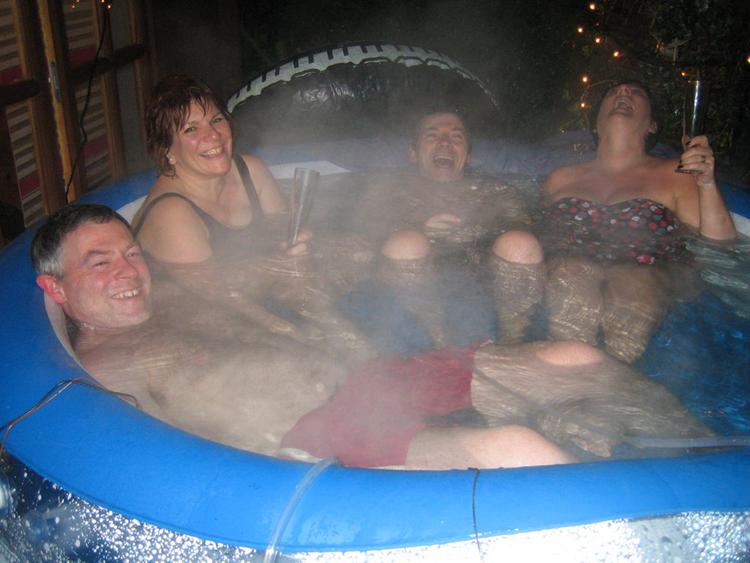 DIY HillBilly Hot Tub is a simple do-it-yourself project that can help you treat yourself to the luxury of a hot tub hassle-free. Love to soak in the tub but hate to spend the money? Now you can create your hot tub using a hillbilly hot tub kit. Simpler and cheaper than ever, all you need is a screwdriver and some ingenuity! Add your favorite warm beverage and soak in the view. This DIY HillBilly hot tub is the perfect spot for a relaxing soak after a long day.
In-Ground Hot Tub
This DIY in-ground hot tub is a great way to relax and enjoy the outdoors, with all the possibilities of hot mineral water. You'll need to acquire all the materials listed in the product video and some tools and space to install it. Read through the instructional video to see exactly how to build the frame and assemble everything, including tiles. Before completing this project, check local regulations and any decking, railing, or fence requirements that might need special consideration.
How To Build A DIY Hot Tub Step By Step Tutorial
Make your outdoor space even more, relaxing with a DIY backyard hot tub. Building your outdoor hot tub allows you to create your backyard oasis. This DIY video takes you through every step from beginning to end on how to build a hot tub in your backyard. The video covers everything from choosing the right location for placing it, planning for its size and shape, accessibility for power and water hookups, and finishing touches like making sure that it fits in style with your home's exterior.
Portable Hot Tub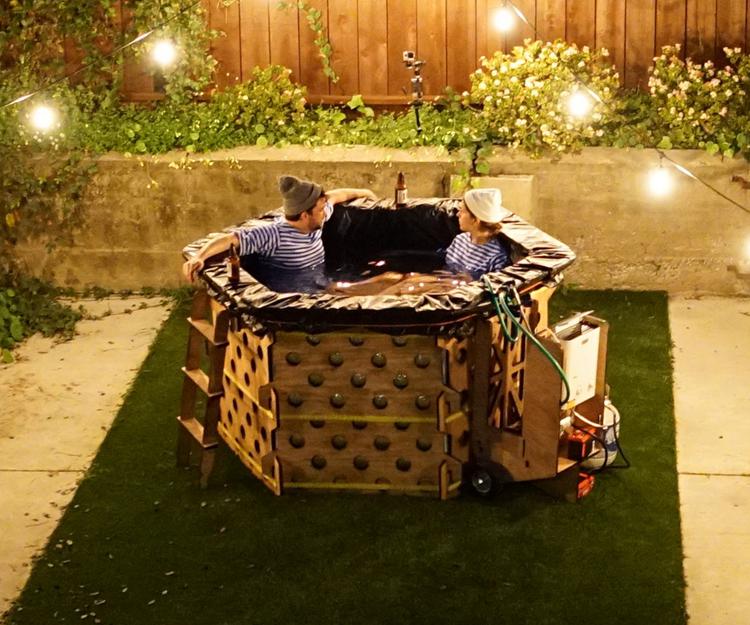 Build your portable hot tub with this easy-to-follow tutorial and helpful illustrations. This DIY project will provide endless relaxation for you and your guests, made from plywood, ratchet straps, a waterproof vinyl liner, heating equipment, and some lightweight plant pots. This portable hot tub is perfect for any yard, patio, or poolside. It's a great alternative to spending cold winter nights indoors and helps relax sore muscles after a hard day playing sports or working in your garden. The tub can fit into a small yard corner, providing spa-worthy relaxation wherever you go.
How To Make A Hot Tub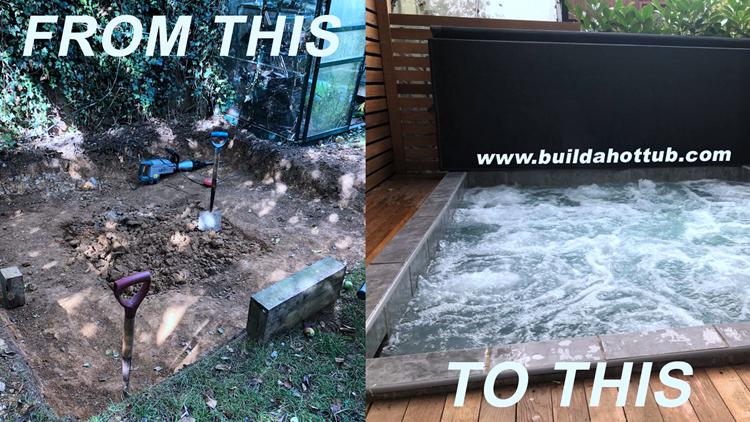 It is important to design a hot tub that is safe, secure, and sturdy. You should consult with a reputable building company to ensure you receive quality artistry. Installing a hot tub is expensive, so you must get it right first. When building a hot tub, the first thing to consider is the dimensions of your tub. To get the most insulation and protection for your tub and a comfortable seating area for its users, measure out a minimum of four inches front and back for your seating area.
Easy Wooden Fired Hot Tub
This DIY wood-fired hot tub features an awesome wood look and allows you to enjoy a nice hot soak after a hard day in the garden or on the patio. All parts are available at your local hardware store. Whether you want to relax in an all-natural warm water hot tub or enjoy the feel of one, you can rest assured that this DIY wood-fired hot tub is an excellent option for many reasons. If you are interested in saving money and creating a natural hot tub, this project can help.
How To Make A Wood-Fired Hot Tub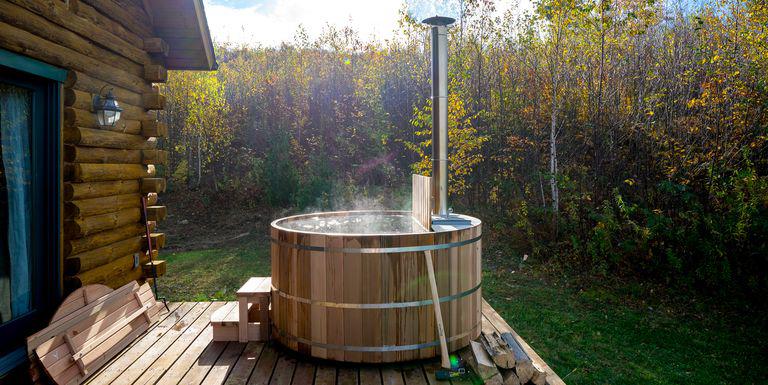 If you're looking to build a wood-fired hot tub, you'll need to find a site. The best place will be flat and able to withstand the weight of water and people in a hot tub. You'll also want to install a drain so that the water drains into your local water system rather than polluting the environment. When laying out your hot tub's design, make sure your layout everything before gathering materials and tools together so that everything fits together nicely. The DIY wood-fired spa isn't just for relaxing—it's also an excellent way to heat your house during winter when running the furnace is expensive and inefficient.
Jacuzzi Pool Whirlpool IBC Tank
A DIY jetted bathtub is the perfect solution if you want a fun and unique way to relax. This project uses an internal swimming pool, or IBC (tote) tank, as the water supply reservoir, which also acts as the heat source and circulates your hot water back into the pool. If you have ever wanted a hot tub but don't want to spend thousands, using this system will eliminate having to buy an expensive spa; plus, having any plumbing experience can help you save a lot of money. This DIY Jacuzzi will not only pamper your tired muscles but will provide a unique centerpiece for your backyard space.
DIY Hot Tub Build
If you want to build your heated hot tub, you've come to the right place! You can use this article to show how you got started building your own DIY heated hot tub. Take a trip down memory lane with the cozy feeling of a heated Jacuzzi tub. The great thing about DIY hot tub kits is that they're easy to build and don't require special plumbing skills or technical expertise. Plus, you can put these kits together to save money on installation fees and building materials. All it takes is a little bit of time and enthusiasm to get started on building your very own DIY hot tub kit!
Homemade Hot Tub In 1 Hour
You may think you need space and money to build a hot tub, but it is easy to do. In this video, you will learn how to build your hot tub for under $90 that can be stored in any shed or garage. In one hour from start to finish, you will have created something homemade and unique that you can enjoy with friends and family. This is a great project for the weekend and for those who like an occasional soak in their garden. A simple alternative that can be run off-grid and offers some fun.
How To Make A Cedar Hot Tub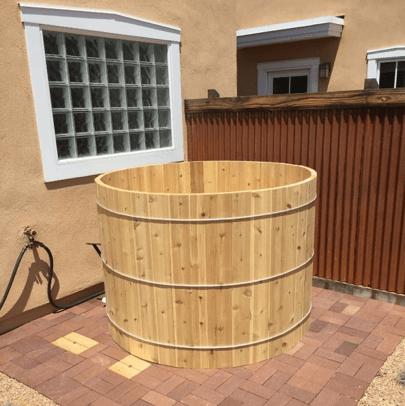 The cedar hot tub is a great addition to your backyard. The lumber and woodworking project will take about two days to complete. Building a cedar hot tub is a great way to get close to the outdoors. Your family and friends will love it because it's all-natural and made from the natural products of nature. Building a hot tub out of cedar allows you to enjoy a relaxing evening in your home or host parties on the weekends, where everyone can relax under the stars. The guide includes detailed step-by-step instructions for every aspect of building a cedar hot tub, including hardware preparation, assembly of the tub, and even finding quality toxic-free materials.
Wood Fired Hot Tub
If you like the idea of a wood-fired hot tub in your backyard but don't want to pay for one, this instructable will show you how it can be done using the tools and materials available at any local home improvement store. This DIY video captures the creation of a custom-built wood-fired hot tub. It only takes a few hours to put together in your backyard, and the whole thing is made from materials you can find at home improvement stores. This DIY wood-fired hot tub will give you the perfect opportunity to unwind after a long day. Watch this video to see how easy it is to install one in your backyard, and enjoy your next backyard barbecue in style.
How To Make A Wood-Fired Hot Tub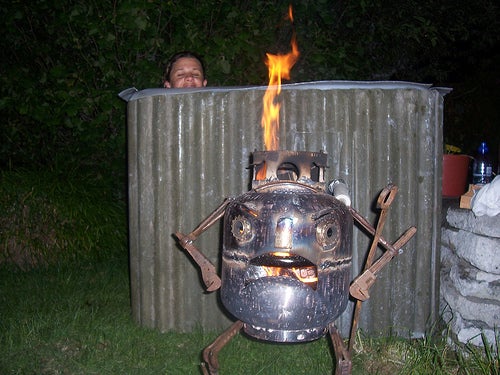 Like a swimming pool, a hot tub is great for all-year use. In winter, the water keeps warm and cozy. In summer, it's a huge plunge pool to cool off in after a BBQ on the deck. If you are a do-it-yourself person, this is for you. It's a very simple hot tub that uses an old bulk liquids tank and some other steel pieces to create an insulated box around the water heater and keep it warm. This project is cheap, easy to build, and very effective. It can be used as a plunge pool in hot weather, or if you have wood access, you could use it as a wood-fired spa. The best part is that you can cook on top of it too!
Wood Fire Heated Hot Tub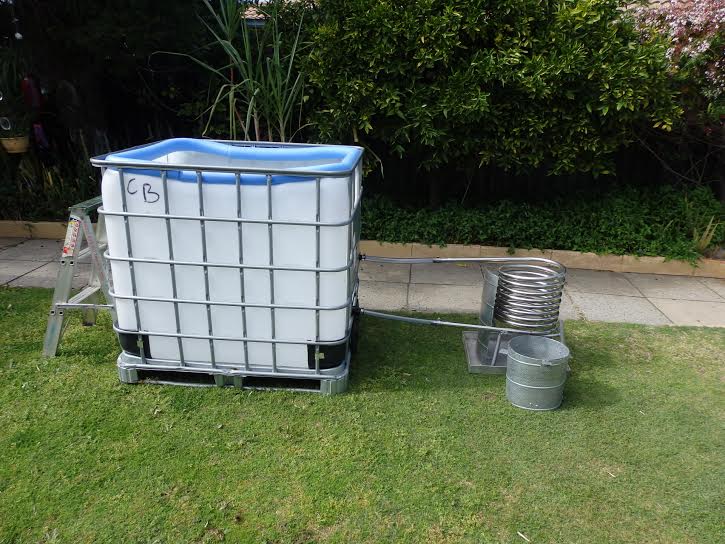 This DIY firewood-heated hot tub is quick, easy, and affordable. It uses a small fire in the heating basket to heat your water and has been designed to integrate perfectly into any garden setting. The step ladder allows access to a comfortable seat area that can be used by small children or as a romantic seating place for two. The tub can be taken anywhere, even on holidays! This portable, fire-heated hot tub will add a special touch to your lounge room or super-lodge. An hour and a bit of your time are all it takes to create this beauty that's sure to be the centerpiece of any party you have.
Wood-Fired Ocean Hot Tub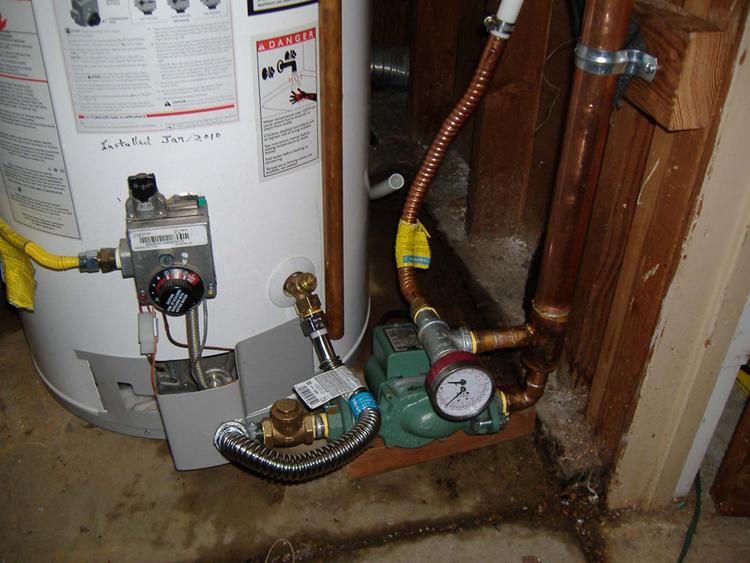 Are you looking to lounge around in your hot tub? How about an ocean-side one? With this DIY hot tub, you can check off two bucket lists on the same day. All you need is a backyard and an inflatable hot tub! When it's full of clean ocean water, you'll have a mini pool to lounge around in, but when the fire is burning, there's no better place to warm up than in this saltwater-heated hot tub. This hot tub experience is about being outdoors, cozy, and relaxing. It's a bonfire with a tiny pool of water in the center. There's nothing like a warm soak in ocean water while watching the sunset over the Pacific.
Wooden Hot Tub Build
A wooden hot tub can be a source of relaxation and rejuvenation. This project is ideal if you have some woodworking skills and spare time. It can be built with simple hand tools and materials available at your local hardware store or home center. Build your hot tub and keep money in your pocket! Try out this unique DIY wooden hot tub build. This great weekend project will give you something fun and useful to share with friends. And using wood to build it is much more sustainable than using cement or plastic.
DIY Gas Heated Hot Tub For Parties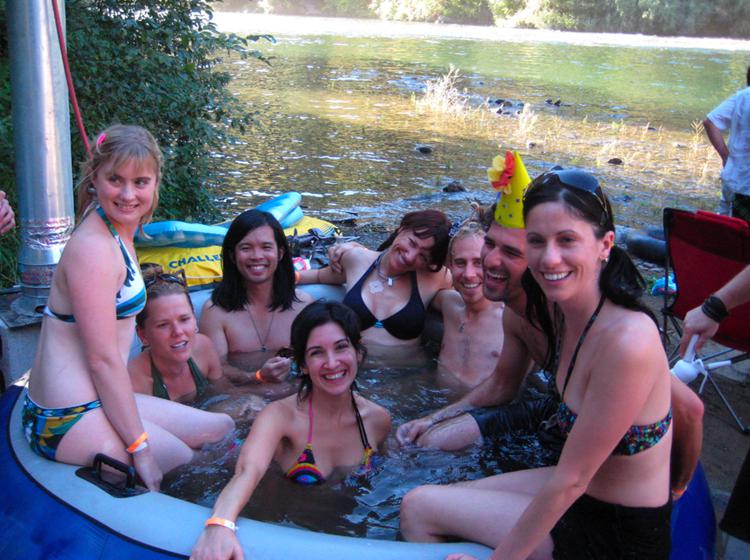 The goal of this project was to improve the heating of my outdoor hot tub and make it economical. The built-in electric heater uses water temperature probes and a small thermostat to maintain the water at 104 F. The new electric rate renders keeping the tub at a lower setting unaffordable. Turning it up only in anticipation of using the tub is unsatisfactory since it makes spontaneous use impossible and still uses expensive electricity for heat. This project helps you heat your hot tub economically, even if you don't have propane or a gas line. With a special heater, gas water pump, and pool heaters, you'll create an effective alternative to running the gas furnace during cold months.
DIY Hot Tub Plan
This wood-fired hippie hot tub is the ultimate DIY project, offering much more than just a place to sit around and relax. Take this opportunity to perfect your skills in construction, learn some new tricks along the way, or have some fun making something unique. All it takes is a little elbow grease and creative thinking to bring this project to life. Building a DIY hot tub is a fun and rewarding project. It's a great experience to learn how your hot tub works, and you'll save a lot of money compared to buying an expensive brand new one.
Hot Tub With Propane
Don't waste your money on a Jacuzzi tub when you can create your own at home and save a lot of money. This is such an easy project, and the final results are amazing! Learn how to build one of these do-it-yourself hot tubs right in your backyard. This fantastic blog includes step-by-step instructions on constructing a stock tank hot tub using materials you'll likely have around the house - and for a fraction of what you would pay for a prefabricated one!
Propane Powered Hot Tub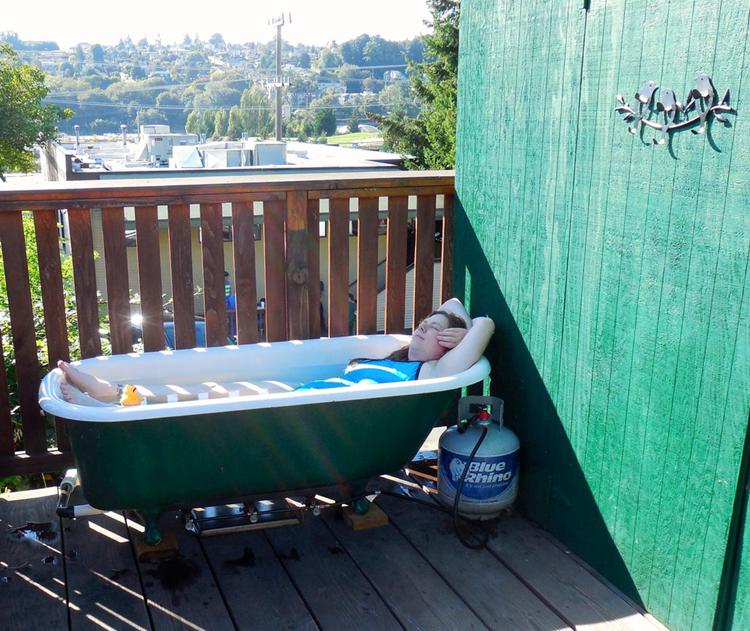 Want to relax in a hot tub for those cold nights? This project is for you. It includes finding a cast iron tub, cleaning the tub and painting it, buying a propane burner and regulator hose, filling it with hose heat, and enjoying! The star of your backyard party is about to be a hot tub on your patio. With this DIY solution, you can set up an outdoor spa with no trouble. This is a cheap DIY project and will cost less than $100. First, clean your tub and paint it to your desired color. Then, buy the burner and regulator hose from a hardware store. Fill up with propane fuel and enjoy.
Plywood Hot Tub Low-Cost
With just a few easy steps, you can turn this plywood hot tub into a special place for relaxation with friends and family. You will love this plywood tub once completed. It is a great project to build with your hands, and the outcome is an attractive hot tub that you can use yearly. It is ideal for chilling out during the warmer months or keeping you warm during winter evenings. The DIY nature of this project makes it inexpensive to build and easy on the eyes too.
Easy Primitive Hot Tub
Hot tubs are amazing, but they can be expensive and hard to build. This homemade hot tub uses a floor heating system to heat the water. The structure is made of rocks and mud, with a waterproof tarp around the base for easy maintenance. This hot tub is large enough for two adults to sit comfortably. Filled with water and plugged into an outdoor electrical outlet, it heats quickly to the desired temperature. The tub's floor is raised above its surroundings to hold a heating unit and pump that circulates warm water to the surface.