Here we came with a series of DIY Cat House Ideas that'll make your kitty happy! Once you have made a cat house, you will wonder how you ever lived without one. Creating a comfy cabana for your furry pet will make their time indoors more enjoyable and give you a chance to bond with your cat even if they don't like the outdoors much. Cats are adorable, but their resources don't always match their needs. We rounded up these DIY cat house ideas for your furry friends to enjoy. These ideas are bound to keep the kitties happy, from towers to tunnels and even something for multiple cats.
DIY Cat House Ideas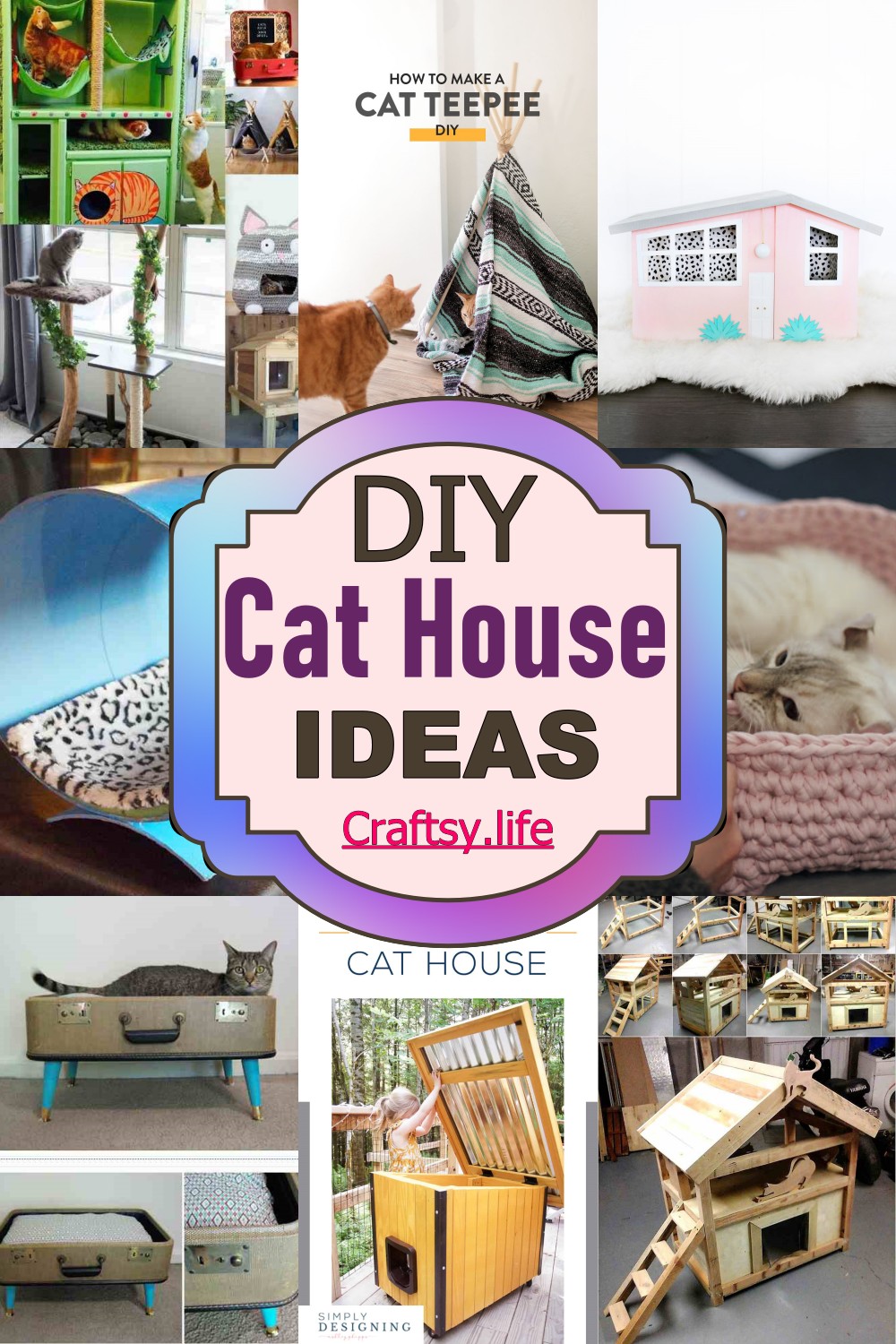 Cat houses are great for cats that want a place to call their own. They are a great alternative to your couch, bed, or wherever it is that you want to block off from the cat! Cat houses are perfect for providing security and warmth for your kitty. These are so easy to build, and they are just so cute. You could even incorporate some of these into your existing home decor. These are great if you want another place for your cat to sleep during the day or if you live in a smaller apartment and your cat is used to sleeping alone.
Advantages Of DIY Cat House Ideas
If you are a cat owner, you would know that cats love to go outside and roam around freely. But what happens when you have to leave for work for long hours? You don't want your cat to stay indoors alone all day long. If you cannot afford to hire a pet sitter, the best option is to build a DIY cat house. This way, your feline friend can enjoy playing outdoors while you are away from home.
Here are some advantages of building a DIY cat house:
Comfort:

 A DIY cat house allows your pet to enjoy the comforts of their home without spending money on buying one.

Variety:

 You can make different types of DIY houses depending on what suits your lifestyle and budget. For example, if you want something small and affordable, many options will fit into any backyard or garden area.

Aesthetics:

 If you want something that looks like it belongs in your home, then making your own will allow you to do this. You can choose any material that you want, including wood or plastic. If you wish, you can make it look like furniture in your house by painting it or covering it with fabric.

Customization:

 With DIY cat house ideas, there are no limits on what you can do with them! Making one yourself is the way to go if you want something more personalized than what is available in stores. With these types of projects, there are no limits on what kind of design you can come up with! Just think about what aesthetic style you would like for your kitty's new home and go from there! The sky's the limit when making a custom dream home for your pet cat!
Loveable Cat Teepee
This cat teepee is a spacious and cozy spot for your feline friends. The cat teepee is made of soft fabrics and has extra wide entryway doors to make it easy for kitties to get in and out. It also has carpeted floors, so the inside is comfortable, soft, and warm. You won't have to worry about your beloved pets when they are inside this teepee. The perfect hiding place to sleep, play or relax. It's easy to assemble and disassemble, so you can store it away when unused.
Rounded Top Cat House
This round-top cat house is perfect for any cat that loves to feel like they are in its own home. This rounded top model will give your kitty a little privacy but still allow for good interaction between you and them. It is made using reclaimed wood and includes an outdoor carpeted floor so that there is no worry about scratching up your hardwood floors while they play! This free sewing pattern shows you how to make your kitty their own cozy little home.
Vintage Cardboard Camper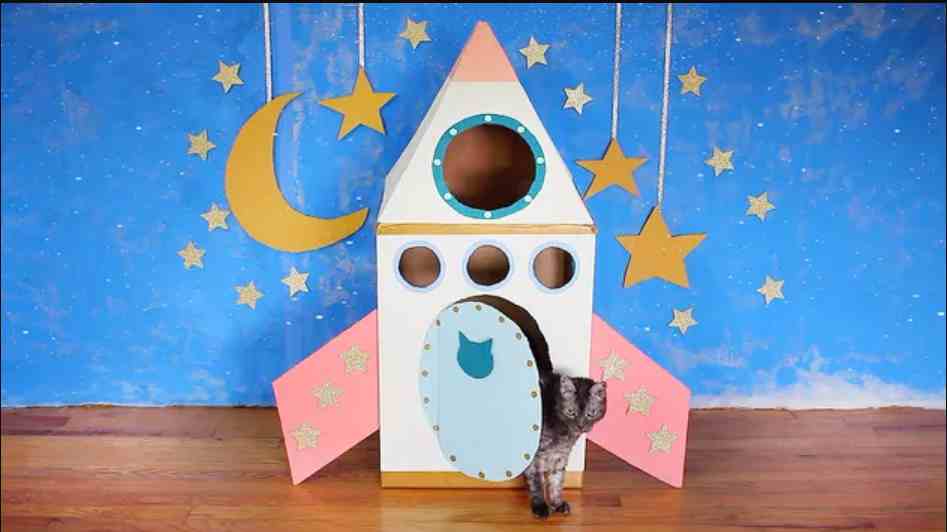 A cardboard box is an easy way to give a kitten home, but this cardboard cat house is one step better. This project shows you how to transform a cardboard box into a cozy home for your kitty. It's easy for adults but may be challenging for younger children. You'll need some essential tools and supplies — The guide below listed all in the instructions —but most of that stuff can be found around your house. You'll also need a good pair of scissors or box cutters!
Suitcase Pet Bedding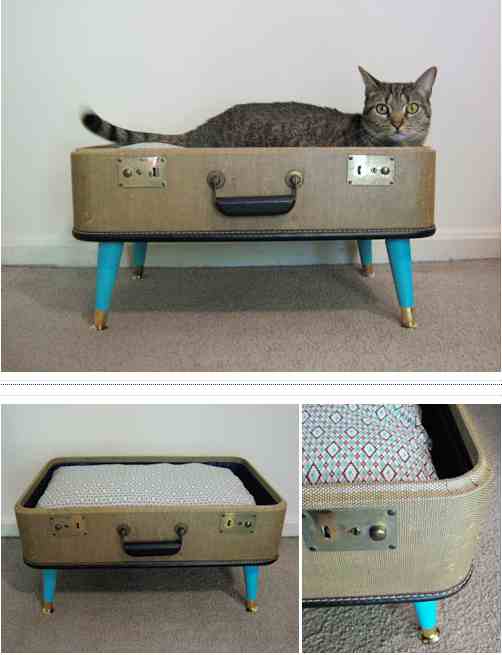 If you want to create a fun and functional pet bed, look no further! This suitcase pet bed is a great project for someone who wants a quick and easy project that doesn't require a lot of materials. This project uses a vintage suitcase to create a cozy place for your cat or small pet to nap. Complete step-by-step instructions are provided in the tutorial so that you can complete this project in a few hours.
Indoor Cat Tent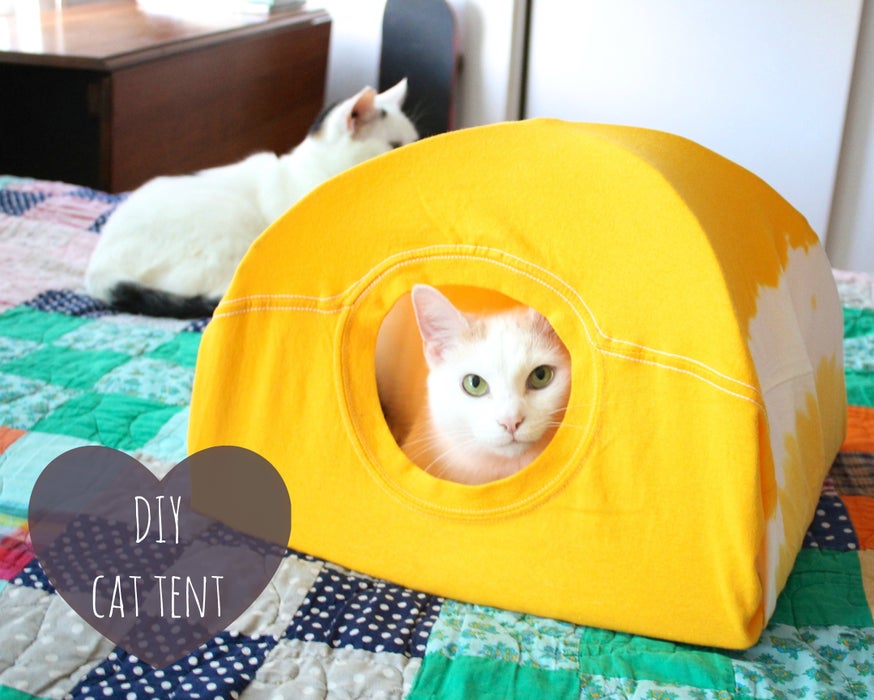 This simple house structure provides a good shelter for an indoor cat. Although it has no bells and whistles, it will protect your house cat. This indoor cat tent is a great option for timid cats or kittens. Also, it is eco-friendly because it doesn't require any additional purchase from the hardware store. The documentation is quite simple and easy to follow as well. Made of sturdy canvas, this tent is lined with soft cotton fabric and features an adjustable belt to tighten the flap around the opening.
You can also see: DIY Cat Feeder Plans 
Condo House for Outdoor Cat
If you love outdoor cats, this is the perfect project. You can impress anyone with a versatile condo that has a lock on it. This valuable video guide provides an easy tutorial on how to make it. This is a unique project for pets preferring to stay outside for the entire year. Their house is made of blocks and bricks; it has windows and doors to keep them warm in winter and cool in summer, an access ladder, and an outdoor stairway through which they can get in.
Shelter House for Winter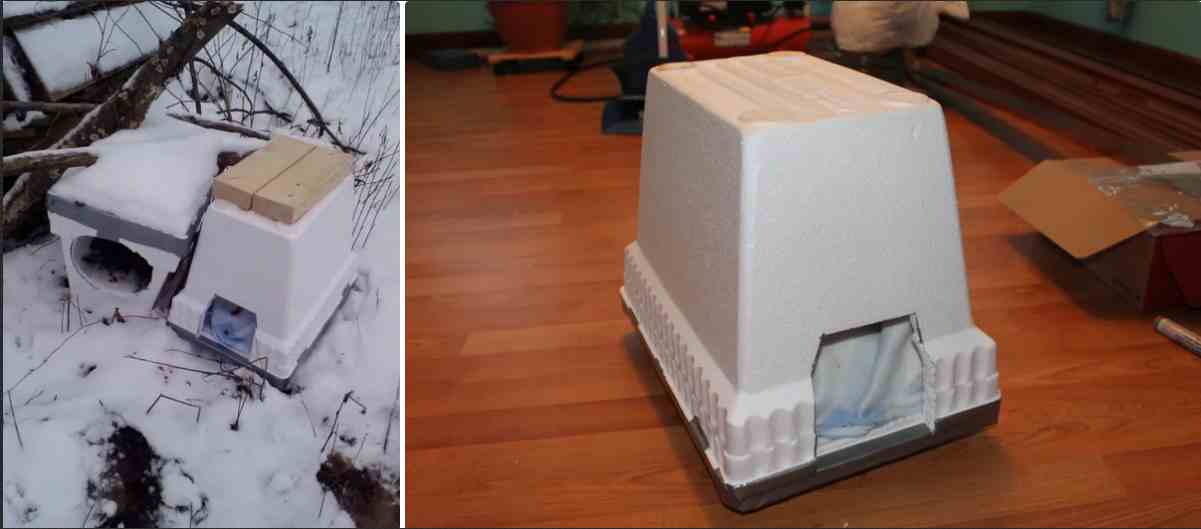 The idea is essential, allowing you to utilize some leftover household materials. It's one durable design to support the adventurous feral during extreme outdoor cold. This is an excellent option if you want an easy-to-make yet durable shelter for the winter. Made from common household materials, this shelter can be built in a few hours and can withstand some of the worst conditions on Earth. This DIY shed is a great affordable building offering a semi-permanent outdoor space solution.
Palm Springs Scratch House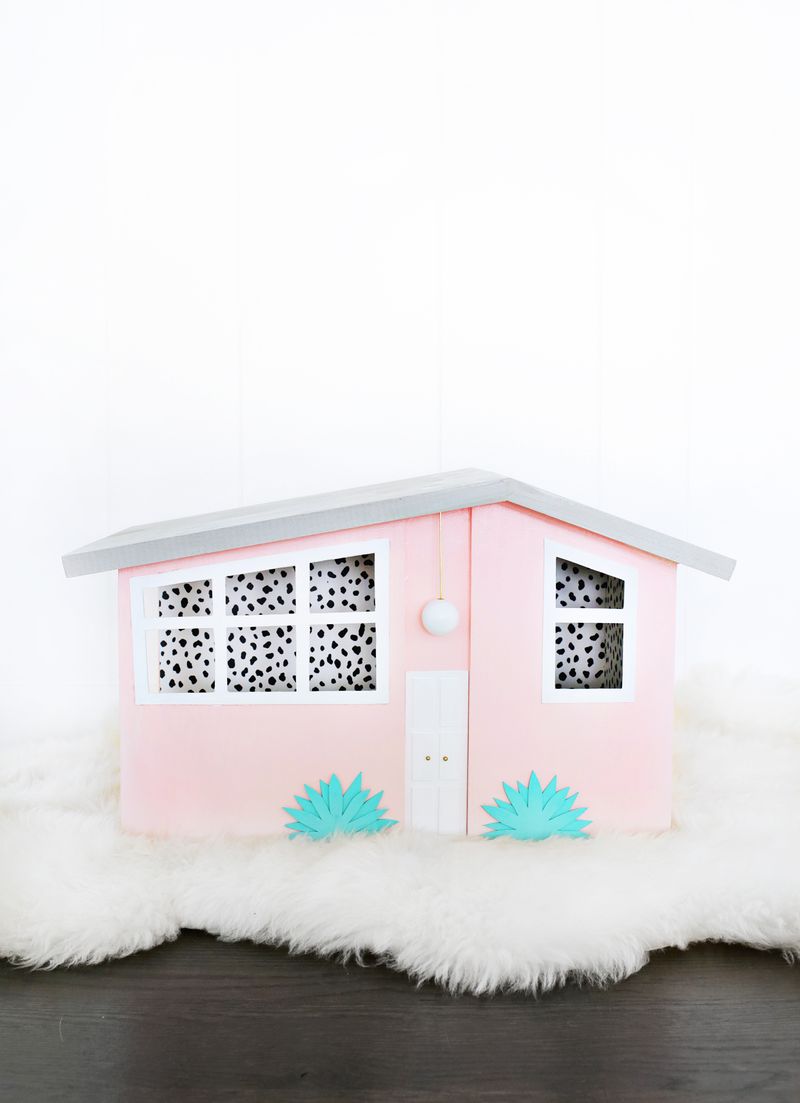 Keep your cat happy and healthy with a sturdy scratch house they will love to use. You can make a sturdy scratch post house with just a few tools and basic woodworking skills. A woodworking project, this durable house can be built by anyone. It's made of wood and finished with the best paints and stains designed for outdoor use. Follow the step-by-step instructions in this guide, or even use them to modify the design to fit into your home decor.
Feral Shelter for Winter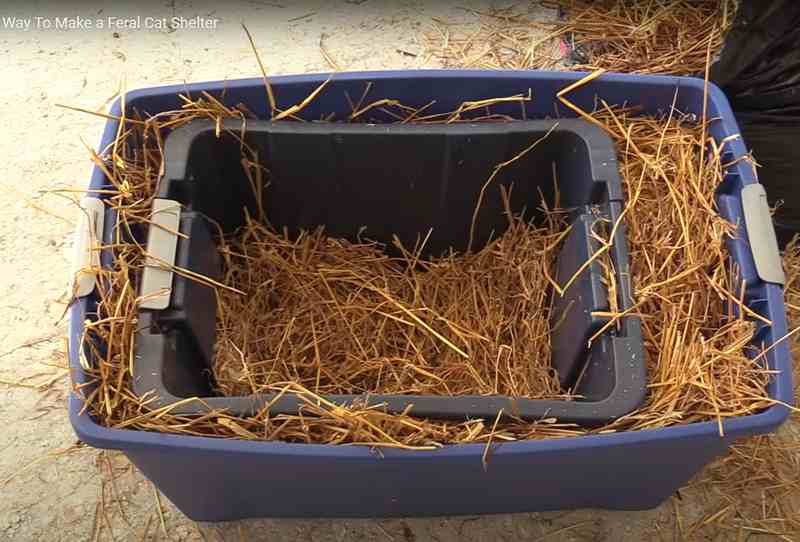 Are you looking for a solution to keep your furry friends warm during cold winter? Try our Feral Shelter for Winter! Get your feral cats a cozy shelter for the cold winter months. The Feral Cat Shelters are easy to set up and can be easily moved so that you can keep in touch with your feral cats. This kit includes everything you need, including materials, instructions, and even treats! You will learn in this guide how to make the best outdoor shelters for your feral community.
Contained Outdoor Shelter
This outdoor shelter makes an ideal spot for your cat to enjoy their time outdoors, whether it's raining outside or snowing. This DIY outdoor shelter is something your pet will be comfortable in and will ensure a dry living environment.'" Let your cat enjoy its outdoor time, even in rainy spring or chilly winters. This easy-to-install shelter provides a dry dwelling for neighborhood strays. Cat owners can make use of the cat's waterproof cover.
Ultimate Cat Tree
The Ultimate Cat Tree is a unique, high-quality piece of cat furniture that will provide your cat with hours of fun and entertainment. This beautiful and sturdy tree features five scratching posts, two sisal-roped perches, and multiple dangling toys. The height is ideal for even the most giant cats. Your pet will love playing in this tree's soft hammock beds or napping in one of its cozy cubbies. The structure is made of durable materials that ensure longevity. Your cat will love this tree so much; it also gives you extra space for your home!
Wood Pallet Cat House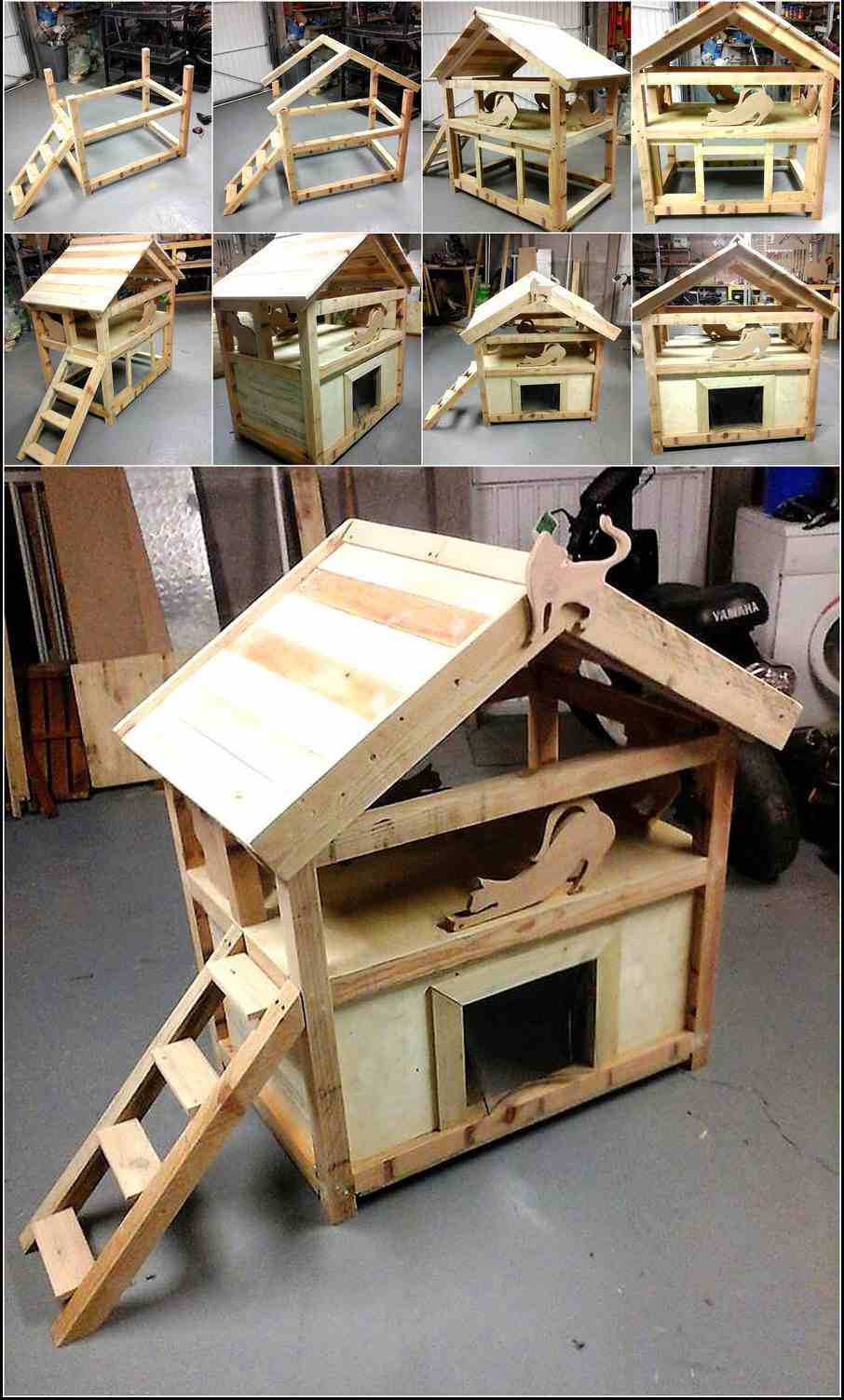 Wooden Pallet Cat House is easy and fun to build. It is a great project you can do with your kids, who are always curious about animals, especially cats. The design is simple but attractive and can be used for as long as you want – there is no risk of vandals taking apart this cat house. This DIY cat house will entertain your furry friend with a place to scratch, nap, climb, and more. The easy-to-assemble design features a cozy bed.
Simple Cat House Design
This cat house is an easy and inexpensive homemade project. It is a sturdy, simple structure, easy to make and enjoy. You can use it if you want a quick shelter from rain or snow at home or outside. Your cat will love sleeping there during the long winter and enjoy plenty of safe space for climbing, sleeping, and playing around. You can also save money using materials close to home or salvaged from your own property. This video tutorial features basic techniques you can learn to build your own cat shelter using your own hands on a budget under $130.
Scrap Wood Cat House
If you are a woodworker and love an opportunity to show off your skills or want an excellent project to complete with your children, this scrap wood cat house is right up your alley. This cat house is built entirely with scrap wood, so you can use whatever you have lying around the house. Creating two or more for your cat family can be a great way to recycle old lumber and recycle it into something new! The design will accommodate a cat or two, with enough space for each animal.
Eileen Tein Home Projection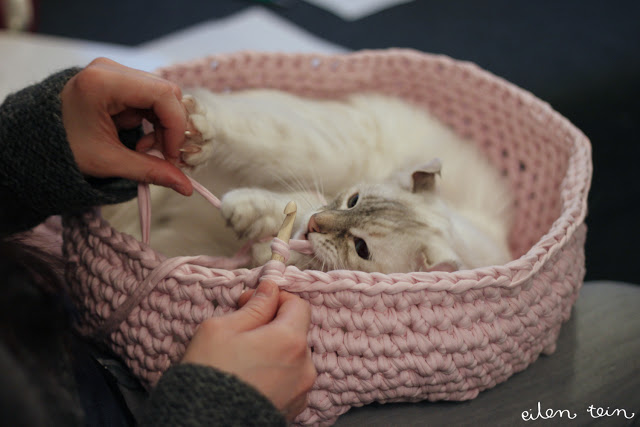 Eileen Tein Home Projection is a unique and refreshing way to turn your furry home into a quiet but colorful and original environment that you can enjoy. The fabric can be produced as a wall or curtain projection, depending on the length of the yarn. It is available in different colors with an indoor light fixture with built-in brightness settings. This includes a detailed introduction, easy and precise instructions, and step-by-step photos to guide you.
Creative Cat House Ideas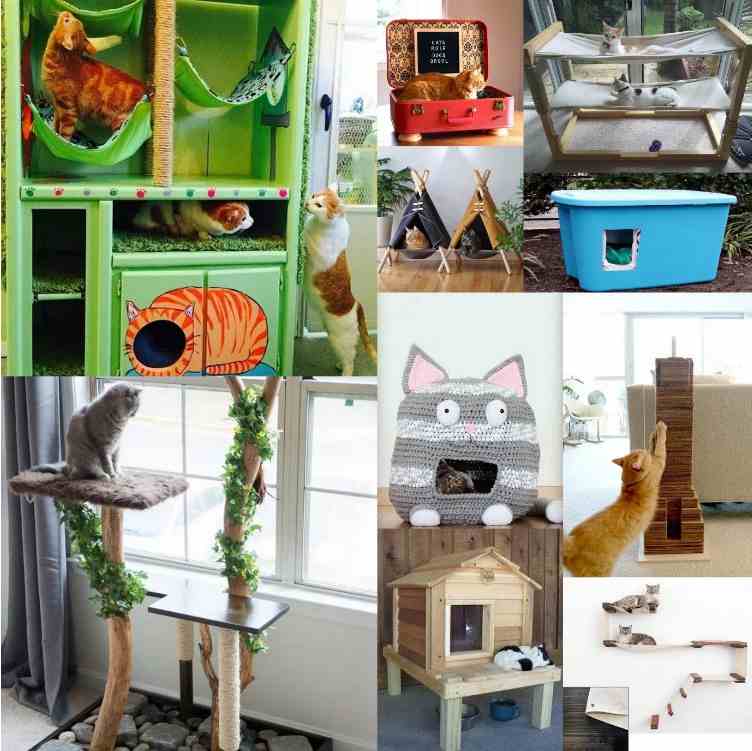 Many cat owners love to give shelter to their cats. This can be made of various materials and made of different types. Cat houses need not be significant, and they can also be placed in small corners. Some house owners have made creative ways to provide shelters for indoor cats. From tunnels to cat houses and tree houses, cats love to climb and play in the great outdoors. But what happens when they're cooped up indoors all day? That's where these creative DIY shelters come in handy! Go through the guide below to learn more!
Outdoor Feral Cat Shelter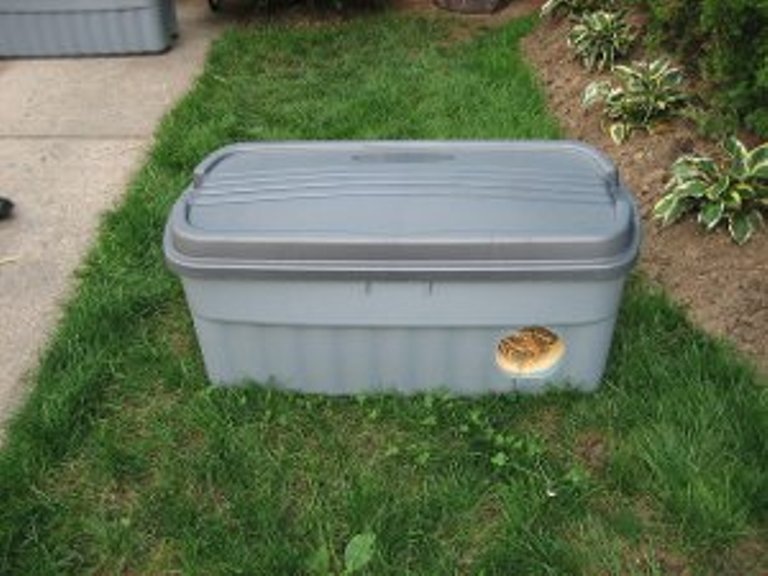 This project will suit you if you are looking for an outdoor shelter for feral cats. There are several ways to fit the available resources. Spending time on the content should help to improvise the overall concept. The shelter is designed to be used outdoors and has enough space for your cat to move around in any direction. It's straightforward to build too! The guide below shows you the complete procedure.
 iMac Bedding for Single Cat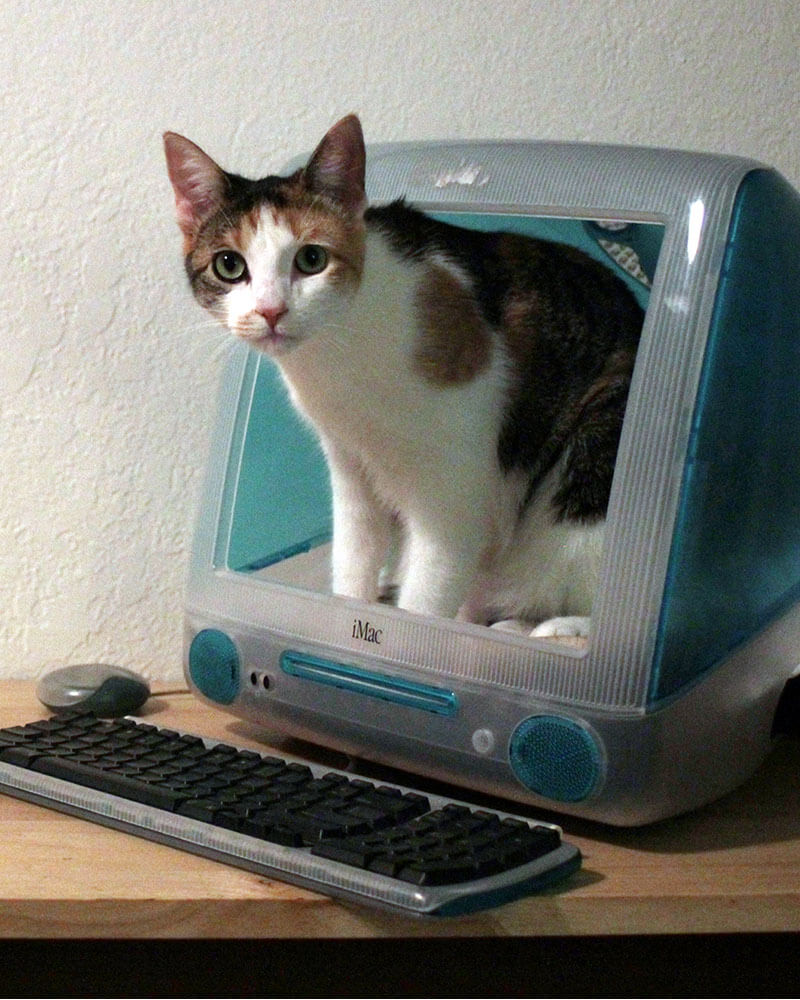 Have you ever wanted to create a favorite cat's bed for your beloved feline friend but could not find the proper place? The solution is this iCAT Bed! This indoor cat house is made from an old CRT Apple iMac flat-panel PC monitor. It looks like an actual "Apple" product, so you can put it on your desk and make your friends believe you own a real iMac.