Cat beds are a great way to make sure your furry friend is comfortable and happy while they're at home. The cat bed is one of the essential items in a cat's life; It provides them with a safe place to rest, play and sleep. Cats love having their bed/home where they can relax. There are many cat beds available to buy, but you can also make your own. This article will give you some DIY cat bed ideas to make your own at home. They can be an excellent addition to your home decor, helping you to personalize the space with your cat in mind.
How To DIY Cat Bed Ideas
The best thing is you don't have to spend any money on one if you have spare time and a few tools. There are so many different types of cat beds that you can create, from simple box beds to elaborate hammocks. There's something for every budget and skill level, so we've rounded up some creative DIY Cat Bed ideas to help you get started.
There are plenty of ways to make your kitty's life more comfortable. Check out this roundup of 25 DIY cat bed ideas that are easy to make and well-suited to your feline friend. From traditional cat cubes and basic cardboard boxes to plush beds made from old clothes and wood platforms, there's something for every type of cat in this roundup.
Benefits of DIY Cat Bed Ideas
DIY cat bed ideas are a great way to save money on pet products. This article will show some of the benefits of cat beds.
Save Money: One of the most apparent benefits of DIY cat bed ideas is that they can save you money. Making them yourself is probably the best option if you want to spend less on your cat's accessories. You can buy materials at any home improvement store or craft store, so you don't have to pay premium prices for them from specialty stores.
Customizable: Another benefit of cat bed ideas is that they are customizable! If you want something specific for your feline friend, then making it yourself allows you to create precisely what they need (or want). You can make their beds as small or large as they need them to be and even make different styles if required so that they have options when they decide where they want to sleep each night.
DIY No-Sew Cat Bed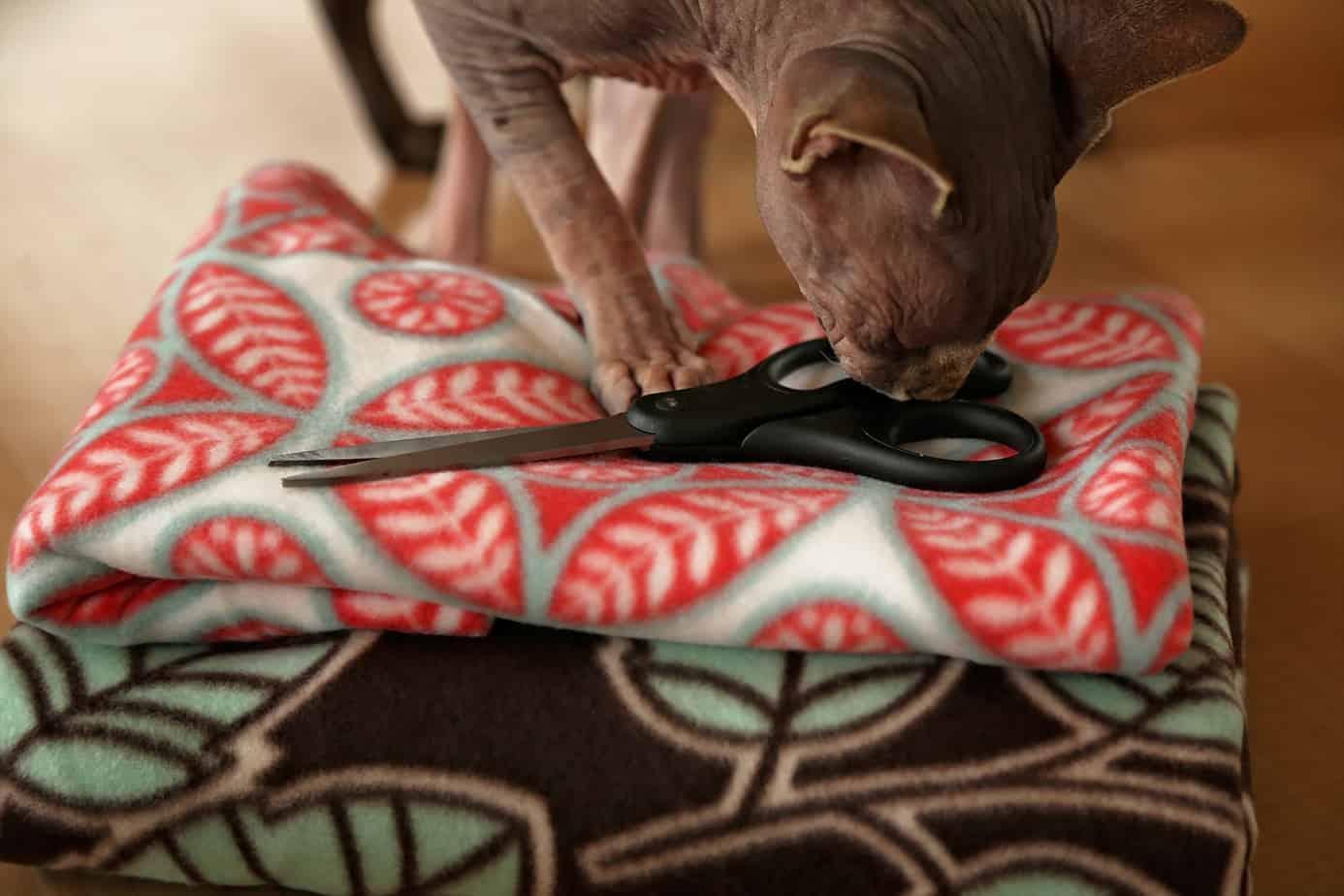 No-sew cat beds are a great way to make an inexpensive, personalized gift for the cat lover in your life. The best part about these is that you can use old fleece blankets from the closet that may have been subject to a cat's claws or drool. You don't need much time or materials to put this project together. Your cat will love the soft fabric, which is sure to become his absolute favorite spot in the house. This project can be made with just a few simple materials, and following these easy step-by-step instructions; anyone can make their own no-sew cat bed.
DIY Cat Bed From Old Sweatshirt
In this DIY Cat Bed From Old Sweatshirt tutorial, you will learn how to create your own cat bed. This pet bed is perfect for kitties of all ages, even kittens. It is easy to customize and make your own. All you need is an Old Sweatshirt, some poly-fill stuffing, and a sewing kit. It will give him or her a cozy place of their own, and you'll be able to relax knowing that you made it yourself. You don't need much time or materials to put this project together.
How To Make A Cat Bed
A cat bed is a great way to make your furry friend happy and cozy. Modern Pet partnered with DIY expert to create this step-by-step tutorial on how to make an easy, DIY cat bed. The bed's modern design pairs perfectly with most home decor while being easy to wash and durable. The band that ties the corners together makes it easy for pets to climb right into their new nap spot! This How To Make A Cat Bed project is great for beginner sewers or anyone looking for new sewing ideas that require little skill. With this DIY, you can build something unique and one-of-a-kind that your cats will love.
DIY Reversible Cat Bed
Give your cat the perfect place to lounge by making them a little bed of their own. This project is simple yet functional and absolutely adorable. Made from fabrics, a sewing machine and stuffing, it's the perfect gift for thoughtful pet owners as well as anyone who loves DIY projects. Your feline friend will love this reversible cat bed that's super easy to make. this DIY bed is reversible so your pet can take a nap in several different looks and places. Take the time to watch this DIY Reversible Cat Bed video tutorial then give it a try!
DIY iMac Cat Bed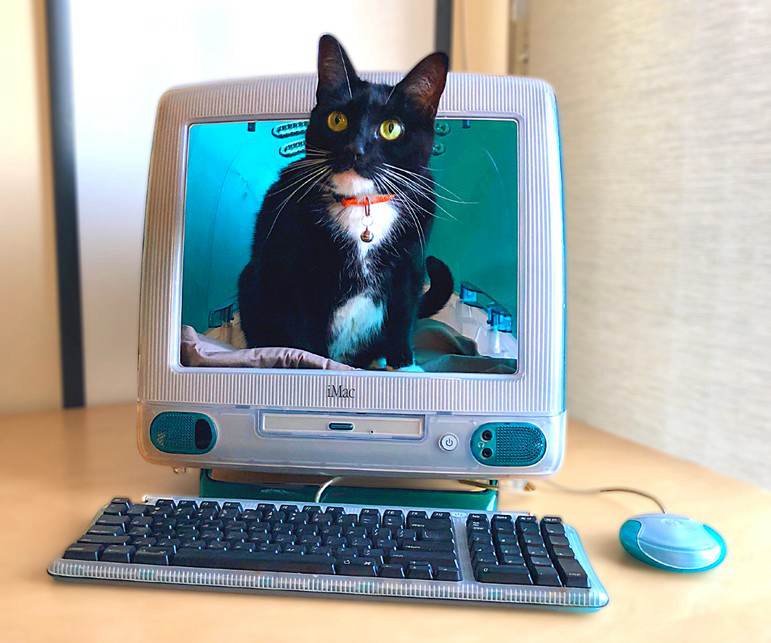 Cats love to cozy up and sleep on soft pillows and cushions. But the best place for the cat to sleep is in his or her own home, not on your bed. So why not make your own iMac Cat Bed? You can create a place just for the kitty and make it look even more special than your own if you like. Generally known for their fancy, high-tech gadgets, Apple is helping the cat world with this DIY iMac cat bed. Get your hands on an old iMac shell, clean it up and modify it. Then line it with an interior cushion, cover it in cute fabrics or pillowcases and voila!
DIY Cat Bed
Are you looking for a DIY cat bed that's simple, affordable, and adorable? Well, this tutorial will teach you how to make an easy, last-minute cat bed out of fleece and filling. This cat bed is the perfect place for your kitty to rest and relax. This DIY cat bed is a simple sewing project for the beginner sewer. The bed is filled with polyester stuffing and can be customized in size based on the material you're using. It's simple to make and requires only a few supplies, so head on over to the Materials List section below for all of the measurements and materials you'll need.
DIY Cat Bed From Cardboard
The cat bed is easy to do, and provides a comfortable place your cat can sleep and relax. Most cats love cardboard boxes, so this would not be a surprise!A cardboard pet bed is a great choice for those on a budget, who want to provide their cat with some extra comfort. This simple DIY cat bed will be great for your feline friends, especially if they love being sat on or curled up on it! This video provides step-by-step instructions on how to make a cardboard cat bed from scratch!
DIY Cat Bed With No Money
This simple and affordable project is great for those who want to make a pet bed but don't have the cash to spend. It can be completed in the afternoon and is easily stored when not in use. Not only does it add a decorative element to any room, but it also gives your cat all the comfort they need. It will make them happy and give them a sense of security. This bed is made from a crate and leather materials; you don't have to spend a dime!!
How To Make A DIY Cat Bed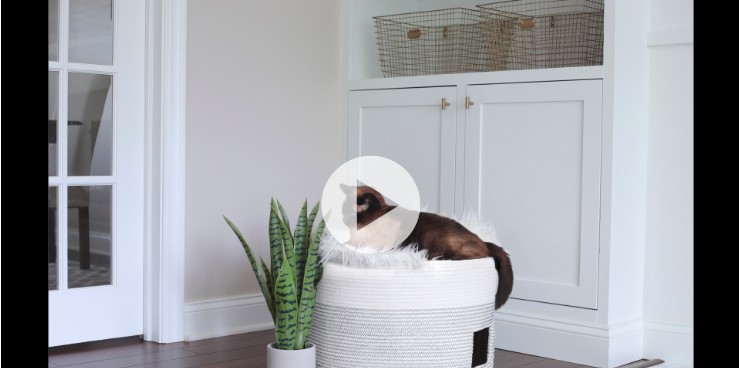 Looking for a DIY cat bed project to make your furry little friend? This tutorial shows you how to make a cat bed containing all the necessities: a cozy sleeping spot made from a woven basket and an opening for your kitty to enter . You can make a cat bed tailored to your personal taste. No one else will have anything like it! This DIY cat bed design is useful, stylish, and fun to make. Follow these simple steps to build your own pet bed.
DIY Hanging Cat Bed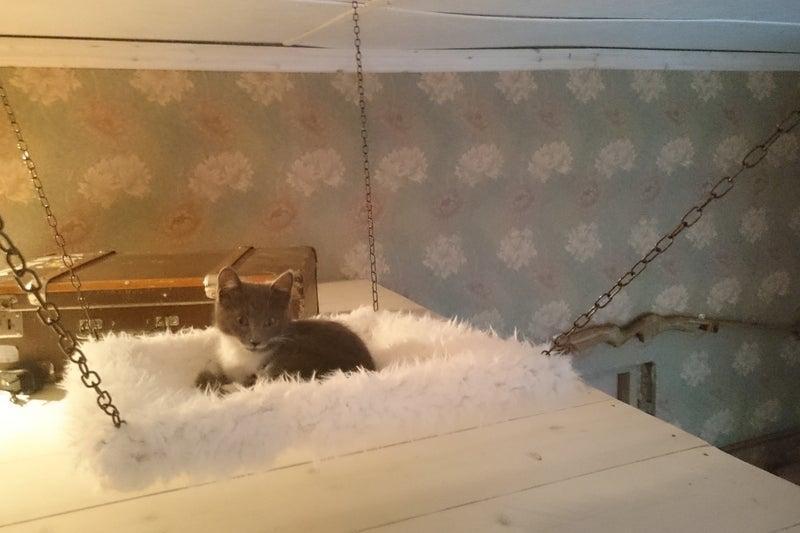 Making a hanging cat bed is simple and requires basic tools, like a nail gun or staple gun. Then you can get creative with materials to create a fun cat-napping spot that fits your space and style. This is the perfect project for anyone who's handy. You'll love this project if you love cats or looking for something to do with your kids. This is a great way to make an inexpensive cat bed and use up leftover wood from other projects! This is a really easy DIY that only takes a few minutes to make.
11. DIY Stargate Cat Bed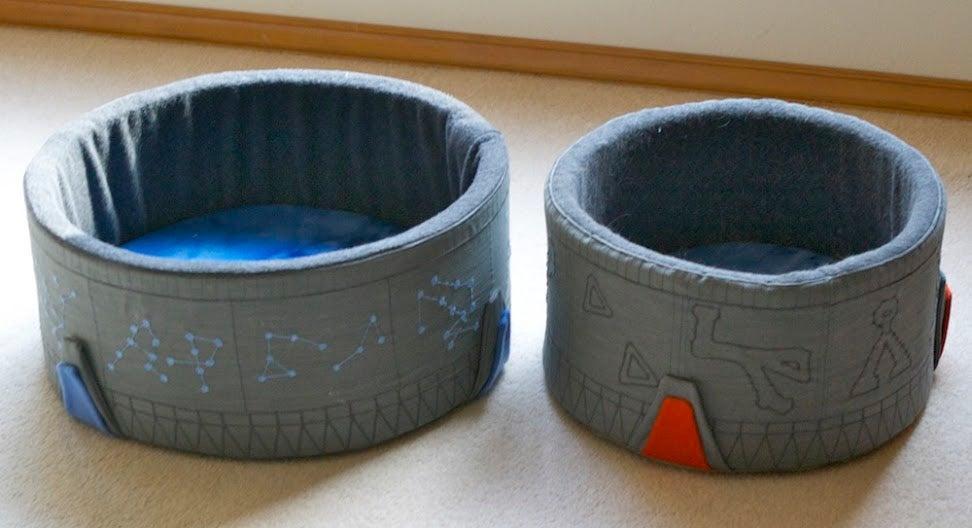 As you probably know, cats love to take naps. What better way to encourage them than with a DIY Stargate Cat Bed? This DIY Stargate Cat Bed is an easy and fun way to turn your cat's cat bed into a one-of-a-kind piece of furniture. This project is a fun and easy way to create your own unique cat bed. Follow these steps, use the template, and you'll have a great pet bed that's both comfortable and stylish.
How To Make A DIY Cat Bed
Are you looking for a sweet way to make your kitty feel welcome in the house? This How To Make A DIY Cat Bed project is a great choice. With a few simple materials, like a t-shirt, two hangers and tape, you can easily make your own cozy place for your pet to sleep. Combine it with your favorite cute blanket to complete the look! With just these few materials and about 10 minutes of your time, you'll have your cat snoozing in style. Your feline friend is going to love this homemade tent!
15. Stuffed Cat Bed DIY
This Stuffed Cat Bed DIY tutorial shows how to make a beautiful stuffed cat bed. The frame is made from a rectangle of batting, covered with fabric, and trimmed with piping. So easy to make! You can choose the colors of your favorite decor that will bring the right touch of color to your house. This DIY allows you to make your cat a cozy bed that they can be proud of. With easy-to-follow instructions, any beginner can make this cat bed, and the resulting project is so cute that it will have your cat napping in style.
Deluxe Cat Bed DIY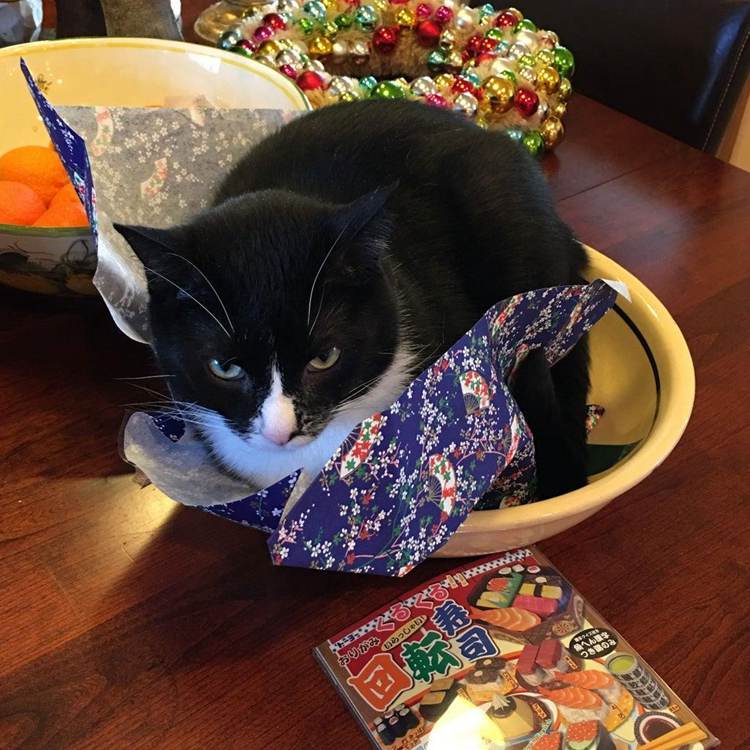 The Deluxe Cat Bed is the perfect place for your feline to lounge. This is especially important if they love to sleep in the most comfortable place, like in the bed. Plus, this cat bed will help keep them off of your furniture and up off the floor so you can relax and let them snooze in their comfy new bed. This cat bed is easy to make and won't break the bank. It's the perfect addition to your cat's sleeping quarters and will bring a smile to your face every time you see how happy it makes her.
DIY Iron Throne Cat Bed
This DIY Iron Throne Cat Bed is simply amazing. This is one of the easiest and quickest projects you will ever make. It takes very little time and doesn't require a lot of skill to make this amazing masterpiece of a cat bed. This DIY Iron Throne Cat Bed is the key to creating the perfect spot for them to rest and rule over their kingdom. All you need is some cardboard and hot glue, which are materials sure your cat will love just as much as they do real iron!
DIY Cat Tent
Don't spend hundreds of dollars on a tent for your cat! This DIY cat tent is so easy and affordable to make, and it will keep her entertained in style. You can create a comfortable cat tent for your furry friend with little effort. For little furballs of all ages, this cat tent is so much more than just a place to hide. It's also a cozy spot and definitely a cool structure in which to hide from visitors. From the basic materials, you could gather on your next trip to the hardware store, this DIY Cat Tent project is fun, fast, and easy.
How To Build A Cat Bed
The cat bed is an essential piece of furniture for your pet. It must be comfortable, warm, and with a good ventilation system. Besides that, it should represent a refuge for your cat to rest or play in total independence. This How To Build A Cat Bed project is super easy to make, and it's a great addition to any home, especially if you have a cat. It's built using four pieces of wood and six pipes that are round-tipped. Once you put the pipes together to form an 'A' shape, they should be tied with a leather strip. You will also need to stain it so your cat can feel comfortable sleeping on it or just lying down on top of it.
DIY Cat Bed Made Of Jeans
There are a lot of cat beds and outfits out there you can use, but sometimes the simplest things are the best. With this DIY Cat Bed Made Of Jean's tutorial, you'll learn how to make a jean-covered foam bed fit for your kitty's needs. All you need is one pair of old jeans and some leftover foam—in other words, both items you're likely to have to lie around in your basement or garage! It is simple and easy to make, especially for those who has no idea of how to sew.
DIY No-Sew Cat Bed
Are you looking for a new way to pamper your feline? This Cat Bed is easy to make and affordable. Your kitty will love this cozy spot on the floor or in a window! This easy, no-sew cat bed takes just a few minutes to make, and you probably have everything you need to make it in your house right now. Follow these simple instructions in this video guide to create your own DIY No Sew Cat Bed!
DIY Multi-purpose Cat Bed Description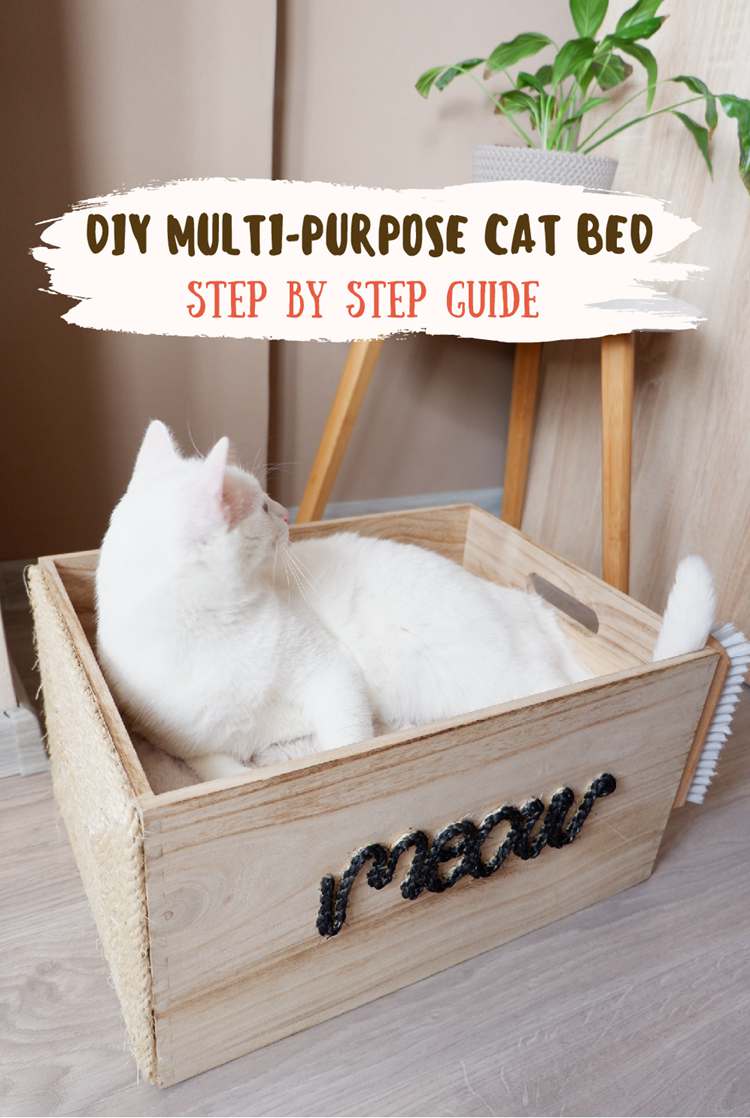 This do-it-yourself project is made out of an old wooden box. This tutorial is a good option for you if you are thinking about what to do with all those spare boxes lying around your house. This cat bed has a fun, jersey-like look and feel. It looks great in your home and makes an adorable hiding spot for your kitty to nap, play or snuggle. It's easy to customize and make it fit your space perfectly. The DIY Multi-purpose Cat Bed is the ultimate sleep sanctuary for your cat. This cat bed is great for sleeping, but it's also perfect to scratch their claws, rub their faces, or nap in!
How To Make A Cat Bed
If your cat loves kitty beds, then this How To Make A Cat Bed project is for you. From an ordinary cardboard box and a few other simple materials, you can make a cozy bed that your furry friend is going to love. Cut off the corners of the box, wear t-shirts in it, and then tie it on the bottom. Put a blanket inside the box, and your cat will be comfortable. The steps are easy to follow and fun too!
DIY Cat Bed Using Ohhio Braid
Do you have a cat that enjoys hiding? If so, then this DIY Cat Bed Using Ohio Braid might be just what your kitty is looking for. Make it by following these easy steps and watch your feline friend jump for joy when you bring it out to show him or her! This is a cat bed that can be made by anyone. It is easy and cheap. Most beds today are overpriced anyway. This should be a DIY project for any crafty person considering having at least one cat in their house because cats are cool.
DIY Quick Cat Bed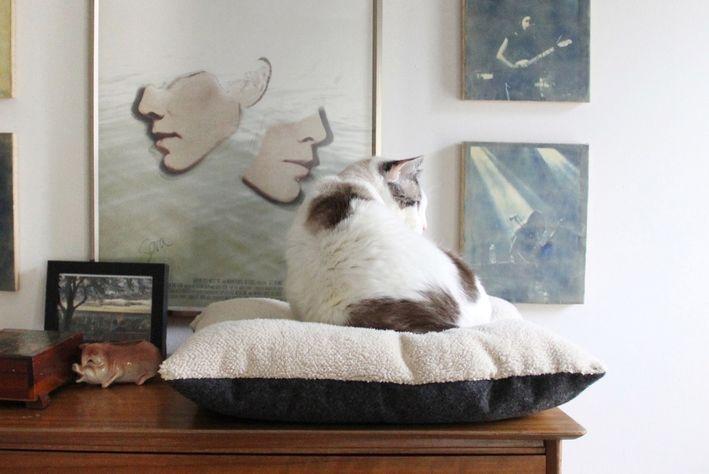 Make a DIY Quick Cat Bed with a few fabric scraps and some stuffing. It's quick and simple to make, so you can spend more time playing with your kitty when she finally comes home. Creation of a cat bed is very simple and short. You can customize it to the size of your kitten. It just requires some stuffing, thread, and fabric to create this homemade bed for your pet. Learn how easy it is to make one for your cat or as a gift for fellow cat lovers.
DIY Cat Nap Basket
There are several ways to make a cat bed. It's not easy to get a good shape, especially when you want to give your pet a comfortable place where it can nap without damaging the interior of your home. However, with this pattern, you will be able to build a stylish bed that your kitty will love sleeping in. Use your crafting skills to build an adorable cat nap basket. This DIY Cat Nap Basket project will give you something fun to do with your kids and a comfortable, comfy new place for your kitty to sleep.
23. DIY Basket Cat Bed
Consider this basket bed if you're looking for a simple DIY cat bed that's attractive and practical. This is an easy and affordable project that you can do at home. It only requires 2 things: a basket and a cushion (or other material). You can purchase a basket from the store at an affordable price of course, then make the cushion. The size of the cushion must be the same as the basket. Make sure you add some filling for extra comfort for your furry friend!