Keeping your baby safe is always a priority, including keeping them out of home areas where they may be at risk. One of the best ways to do this is with a baby gate. While these gates are great for keeping your child from wandering into dangerous places in the home, they can also be used in other ways. Making your baby gate is a great way to save some money, and they're also super easy to make! You don't need special skills or tools; you can find all the materials at home. We gathered some of the best DIY baby gates from around the web. Here are some amazing DIY baby gate ideas you'll love
Homemade DIY Baby Gate Plans
There are nothing parents like more than making their home a safe place for their kids to play, and one of the most effective ways to do that is by using baby gates. Baby gates aren't just practical, though—they're also super stylish! With so many DIY baby gate projects for you to try, you can make your home as safe as possible without losing your sense of style.
Benefits Of Installing DIY Baby Gate Projects
If you have a baby gate in your home, you know how important it is to find the right gate that fits the space and your needs. However, finding a baby gate that works for you can be difficult when you're on a budget. Luckily, many ways to build your DIY baby gate Ideas at home.
Here are some of the benefits of DIY Baby Gate Projects:
 They are cost-effective: Building your DIY baby gate will save money by reducing labor costs for someone else to do it for you. For example, some experts say that a custom-made baby gate can cost up to $300 per panel (depending on materials and size). But with these plans, you can make these gates much cheaper!
 They are customizable to fit any room or space in your home: Need a custom size? No problem! These plans give you everything you need to build any size or style of the gate from scratch.
 You can make them as decorative as you want: The plans show how to build beautiful custom gates with all types of materials like wood and iron so that they match the style of your home perfectly!
How To Build A Baby Gate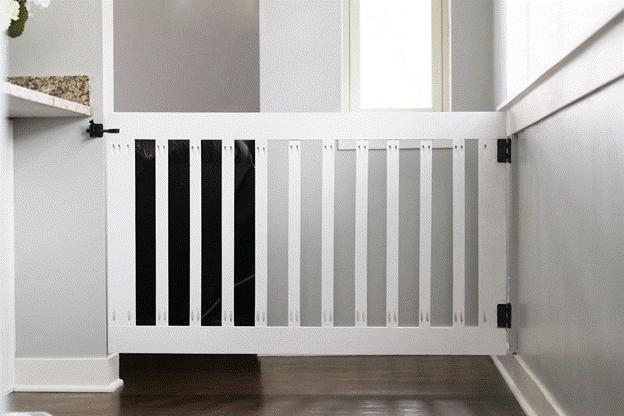 Building your baby gate can save you a lot of money, but it will also give you creative freedom in designing the size, color, and style you and your family need. For example, a larger baby gate may be better suited than a smaller one if you have a large open space at the top of your stairs or as an entrance door. Build your baby gate to fit a specific area in your home. The best thing about building one yourself is that you can customize it to fit the space perfectly.
DIY Cheap Baby Gate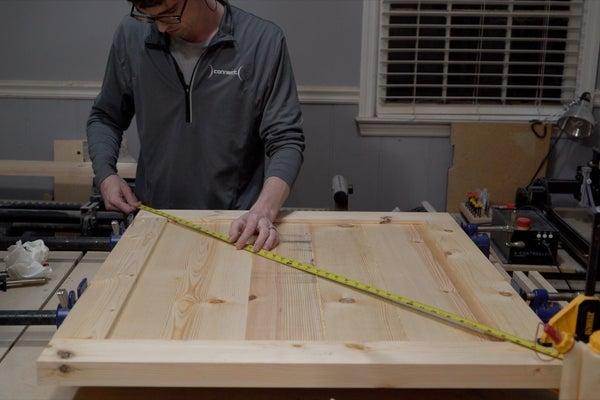 This baby gate DIY project is perfect if you want the best value for money. It is quick, easy, and budget-friendly. You don't even have to have building skills or experience. With just a few simple steps, you can build a sturdy, long-lasting baby gate to keep children and pets safely out of the way while trying to avoid certain areas in the house or add some style. The best thing about building this baby gate yourself is that you don't have to spend much money on it. And building this gate isn't hard at all!
DIY Fabric Baby Gate
This DIY fabric baby gate is great because it can be used to close a doorway or a room and can be added to any existing wooden gate. The material used is soft and provides safety for the child. It's easy to clean, and there's no need for maintenance. It will help keep your kids safe at home or when you are out. It is lightweight, non-toxic and rust-proof. You can easily fold it when not in use, making it an ideal baby gate for apartments and small homes with limited space.
DIY Strong Baby Gate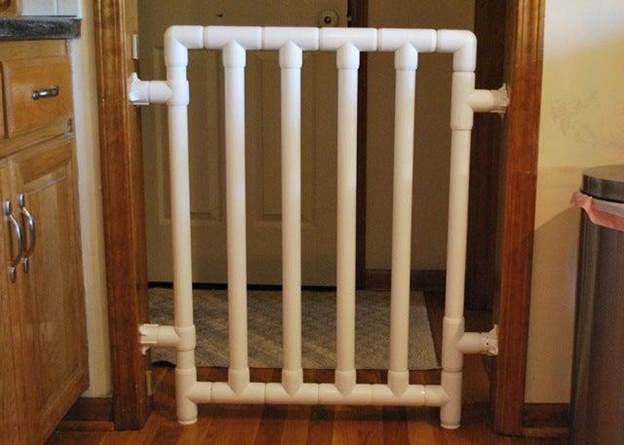 If you need to install a baby gate for your home, this DIY project is for you. The gate can easily be assembled and disassembled because it doesn't require drilling. Build your DIY baby gate with the extra strength you need. You'll need to pick up the essential materials, such as PVC, PVC cement and screws, but those should be easy to find at your local hardware store. This DIY project is not just a gate but also a training tool that teaches you how to create a strong PVC gate.
DIY Barn Door Baby Gate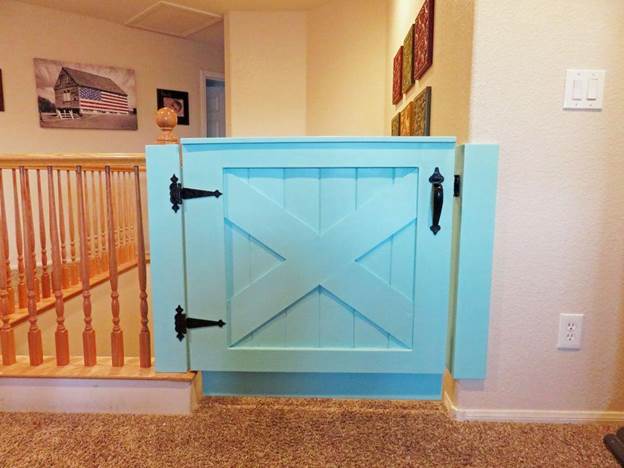 Your little one is all grown up, but many hazards remain to keep them away. A baby gate can come in handy if you have stairs to the main floor. But many pre-made products are ugly and leave an ugly visual impression on your doorway. This DIY Barn Door Baby Gate will give any door an awesome look and create a unique atmosphere in your home without sacrificing usability. Create a beautiful and functional baby gate with this easy-to-follow step-by-step guide. The DIY Barn Door Baby Gate is great for keeping your child safe from any potential dangers behind certain spaces in your home while still being stylish and functional.
DIY Baby Gate
Are you sick of keeping your baby or toddler in a play area? Stop the crib from being moved out and make it easy for them to reach the wall with this DIY baby gate. It is easy to install, super sturdy, and adorable! You can make your baby gate in just a few hours and save money. With the help of these instructions, you'll learn how to build a simple yet durable baby gate using wood scraps from your home improvement store.
DIY Baby Gate
If you require a baby gate you can make on your own rather than buying one; then this DIY baby gate is the perfect project for you. How hard is it to set up a baby gate? It's like a piece of cake. Buying one can be expensive, so why not make your own? This video tutorial will tell you how to build a simple wooden gate to separate areas in your house, block doors, or provide boundaries for younger children.
How To Build A Modern Baby Gate
Staircases are a great design element in homes, but they can pose a risk to little ones, who like to climb and explore independently. This DIY gate project is easy and inexpensive - The hardest part is finding a good spot to attach the gate, but if you want to keep your child safe on the stairs, it's worth the effort. Encourage your child to stay out of certain areas by creating this stylish wooden gate that closes off the top of stairs. With hinges mounted on a mounting block, the gate hangs freely from the stair railing without getting in the way of foot traffic.
DIY Baby Gate Without Drilling Wall
If you have a baby or toddler who tends to wander around in your home, you will know how important making sure you have a baby gate to restrict their movement. This DIY gate is easy to use, It doesn't require any drilling, and it fits anywhere in your home without causing harm to the walls. This is a perfect solution for restricting your baby's movement while trying to keep them in one particular place.
Modern Baby Gate Build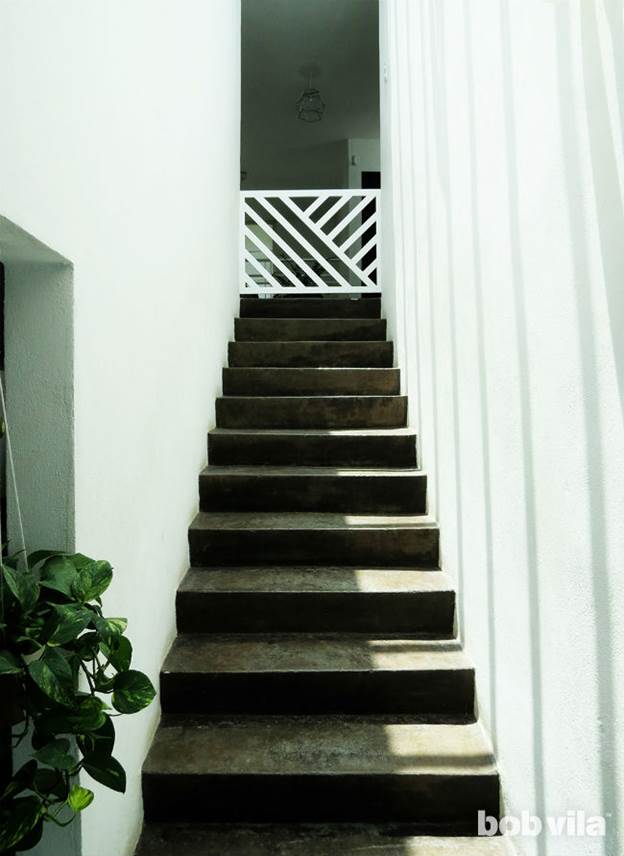 If you have stairs, it's a good idea to keep your baby from wandering off. This DIY modern baby gate is super simple to build and will give your child a sense of security without feeling too confined. This DIY Modern Baby Gate is one of the easiest DIY yet! It uses a clean, modern look that also incorporates style and function. This baby gate is very easy to build and will keep your little one safe from potential hazards.
DIY Sliding Baby Gate
Are you looking for an effective, safe, and easy-to-install kid's safety gate? This DIY sliding baby gate is easy to make and will keep your kids out of danger. Make a Sliding Baby Gate with the help of this guide. In a few simple steps, you can create an attractive, durable gate that will block off those areas you want your child to stay out of. To follow along and make one yourself, watch the video above! You'll love how simple it is to install and get rid of when you no longer need it.
How To Build A Cheap Baby Gate
A baby gate for stairs is a useful tool to keep your child safe. It can be made from wood, metal or plastic, and it's done for safety reasons (you don't want a child to fall off the stairs), aesthetic purposes, or both. This How To Build A Cheap Baby Gate tutorial will show you how to quickly create a great-looking wood child gate without breaking the bank. This project is easy enough for all beginner woodworkers, and no special tools or additional hardware is required.
DIY Magnetic Baby Gate
Did you know that you can create an adorable, elegant and highly functional baby gate yourself? This DIY Magnetic Baby Gate is made using wooden planks, which make it look appealing and add more elegance to your home decor. Compatible with all types of doors and staircases, this gate will keep your kid safe from the dangers of falling. Plus, you'll find that it's pretty rewarding to make something so functional for yourself!
$25 Baby Gate
If your child is crawling or walking, you need to protect them from the dangers of the house. Don't you think it's too difficult to make a baby gate; it is very simple. It's much cheaper than store-bought options, and it's better because you built it yourself. You only need $25, some wood and a few other items to build this baby gate yourself. It is secure, and babies will have no way out. Take some time and do this step-by-step video guide to see how it's done!
DIY Baby Gate With Great Design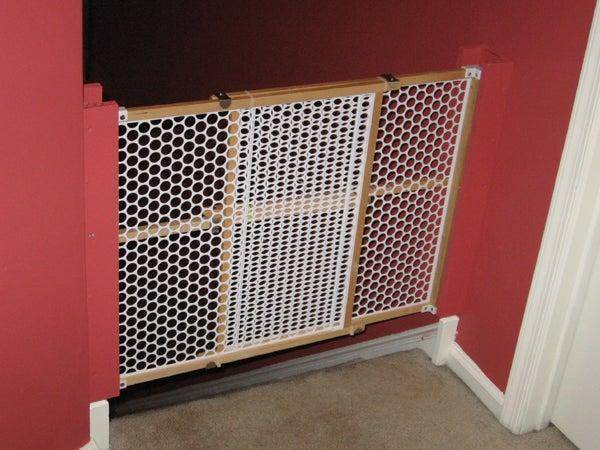 Creating your baby gate is easy; it is a good project to involve yourself in. The steps are straightforward, but they may take some time to complete. A few simple woodworking skills, basic tools, and the right materials like wood and screws are all you need to make one for your home. Follow this tutorial to learn how to build a baby gate that goes beyond the ordinary with some great design.
DIY Farmhouse Baby Gate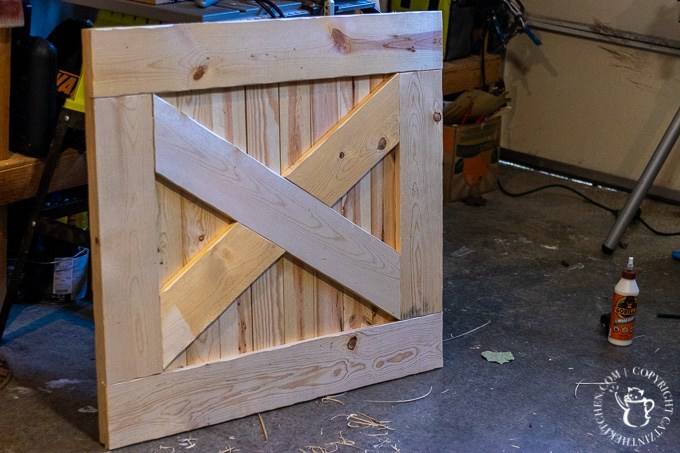 The DIY Farmhouse Style Baby Gate is creatively designed to fit into the smaller areas of your home while still providing the safety and protection you desire. This farm-style gate is great for keeping pets and children out of the kitchen or any other area. You can build or find your unique gate that truly fits your home decor. This gate requires some basic carpentry skills, but it is a very simple project that can be completed over a weekend!
You can also see: DIY Bassinet Projects 
How To Build A Modern Baby Gate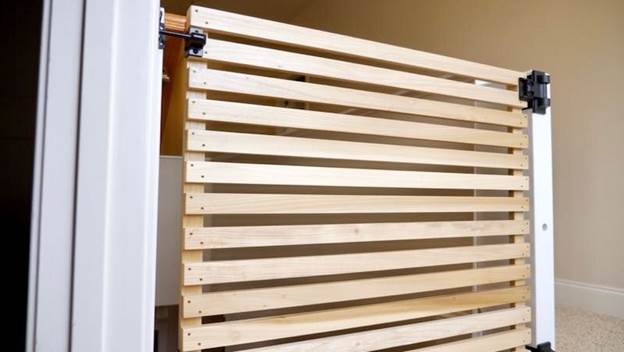 A baby gate is one of your home's most important and useful accessories. It keeps your babies safe, out of sharp corners and off unstable surfaces. Such as the staircase or table tops. A good baby gate helps to keep them away from these dangers while giving them peace of mind that they are safe. Making a DIY baby gate is cheaper than buying one, and they're easy to install. Building your baby gate is easy and doesn't require any special skills. The most important thing is knowing the dimensions to get the right size for your space. You can use any wood you like; pick one that's sturdy and weatherproof so it will last longer. When building with wood, always go with natural materials if possible.
DIY PVC Baby Gate
This baby gate tutorial will show you how to construct an effective, simple, safe PVC baby gate from easy-to-obtain materials. It attaches to a door with metal eye screws and has a strong spring hinge for easy opening by adults but not for little ones. This is a simple technique that can be applied to any PVC gate. It's pretty heavy-duty yet inexpensive and easy to make. Use this tutorial to make your baby gate.
Parallelogram Baby Gate From Old Crib
If you're looking for a practical yet stylish way to keep your little one out of harm's way, then this DIY Parallelogram Baby Gate From Old Crib is just what you need. Make sure that all of your trimmings match up with the parts you leftover from the crib when determining where to place screws or nails to attach your gate hardware. Learn how to create a DIY parallelogram baby gate from an old crib. This easy gate project is perfect for smaller doors or spaces where you cannot afford to have a gate that swings open on its own.
DIY Ship Style Baby Gate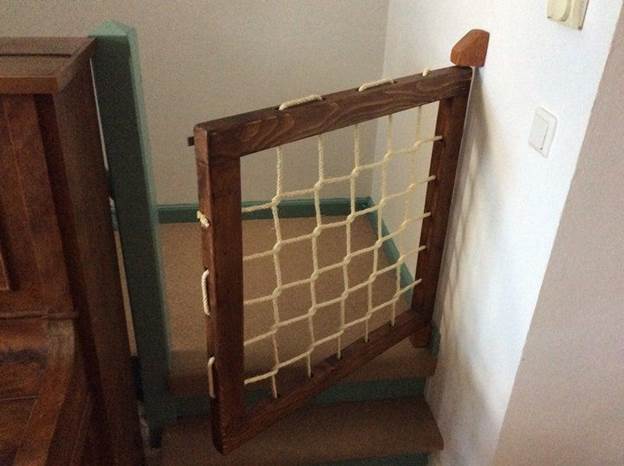 Are you looking for a safe and secure baby gate that is also beautiful? This DIY ship-style baby gate is perfect if you're on a budget and love a good DIY project. Add some Old World charm to your home with this fun DIY project. This ship-style baby gate is a simple design that only requires you to cut pieces of wood, glue them together, and then paint. The result is a beautiful piece that will stand out in any nursery, playroom or hallway.