You've probably seen plenty of crochet animals before. Crochet is a great hobby that lets you make all sorts of adorable creatures, from cats to cupcakes to cabbage patch dolls. But have you ever seen an elephant in crochet form? We've gathered some Free Crochet Elephant Patterns of all shapes and sizes so that you can make your little elephant friend. Maybe you've got a kid at home begging for a pet, but you don't want the hassle or expense of buying or cleaning up after an animal. Or maybe you're an adult looking for an alternative to the plush toy options on the market today. Or maybe you think it'd be cool to have a crocheted elephant in your house! Make one for yourself or someone else—here are some links to get you started.
Crochet Elephant Patterns Free

Elephants are majestic, large creatures loved by children and adults alike. There are many different things to love about elephants, from their long trunks to their big floppy ears. They also happen to make great crochet patterns! Below, you'll find some free crochet elephant patterns of varying difficulty levels. These elephant patterns are a great way to bring a bit of playfulness to your home. You can hang them up on the wall, use them as an accent pillow or even give them away as a cute gift! Get started on your next crochet project today by looking through these fun samples!
Benefits Of Crochet Elephant Patterns
Crochet elephant patterns are very popular among crafters. They are easy to make and can be made in different colors and sizes.
Here are the benefits of crochet elephant patterns:
They can be made in different colors and sizes.
They are easy to make.
It will appeal to people of all ages, especially children, because of their cute and cuddly appearance.
Mosaic Elephant Blanket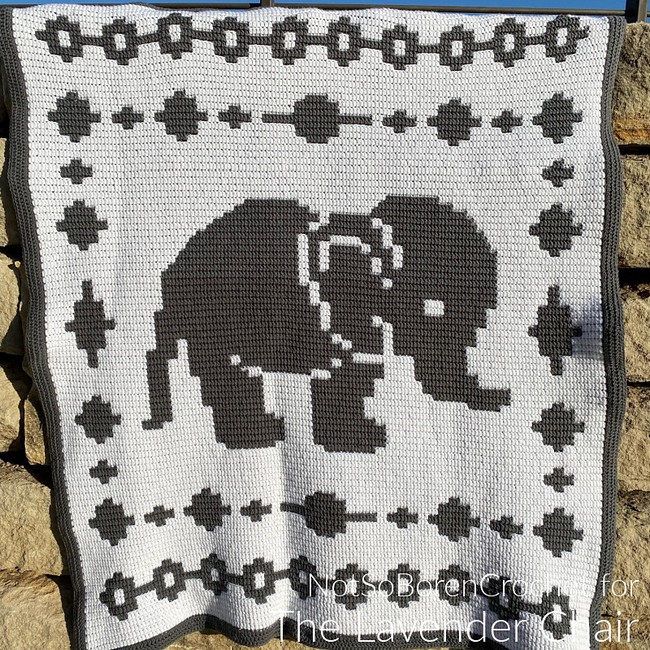 Create a unique piece of art with the new Mosaic Elephant Blanket. This crocheted blanket made from two different yarn colors is special, and making it is not too difficult. The pattern includes many fantastic pictures showing how to change colors accordingly and join the last round that makes up the trunk and head. This adorable elephant mosaic blanket is the perfect gift for your little one. It has everything you want in a crochet project: bright colors, fun shapes, and a warm and cozy design.
Materials
Worsted Weight Yarn
Background Color: (1700 Yards)
Main Color: (1000 yards)
Border Color: (350 Yards)
J 6.00mm Crochet Hook
Abbreviations
SS: (Slip Stitch) – Insert hook into stitch. Yarn over. Pull through stitch and loop.
Ch: (Chain) – Yarn over. Pull through loop.
Sc: (Single Crochet) – Insert hook into stitch. Yarn over. Draw up loop. Yarn over. Pull through 2 loops.
Dc: (Double Crochet) – Yarn over. Insert hook into stitch. Yarn over. Draw up loop. Yarn over. Pull through 2 loops. Yarn over. Pull through 2 loops.
Elephant C2C Blanket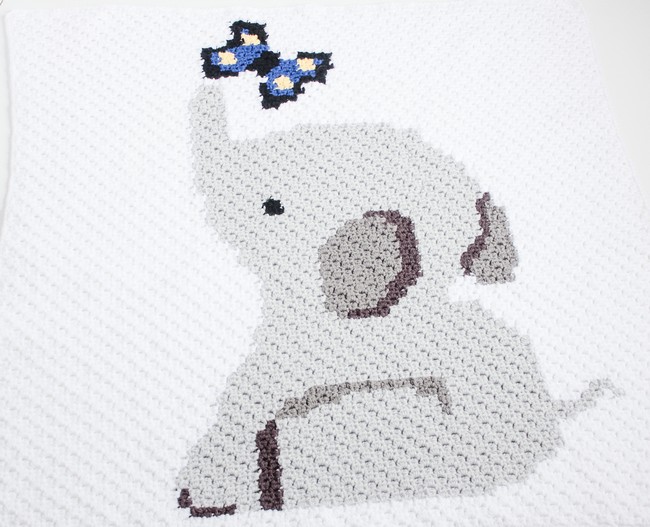 Here is the pattern for creating a giant elephant head for your baby blanket! Or make it into a C2C square. Whatever shape or size you want, with detailed instructions, you can't go wrong! This pattern includes a photo tutorial with pictures at each step to gain confidence in your abilities as you crochet your first elephant head. Make your crochet elephant blanket with this beginner-level pattern. This looks super cute lying over a bed, chair, or couch for a bit of fun!
Materials
Size I/9 (5.5 mm) crochet hook
Tapestry needle
Scissors
Abbreviations
W = white
S = silver
GR = grey
DG = dark grey
BLK = black
BL = blue
Y = yellow
RS = right side
WS = wrong side
hdc = half double crochet
ch = chain
sc = single crochet
sl st = slip stitch
Chubby Elephant
An adorable and cuddly design, the Chubby Elephant Crochet Pattern is an excellent project for beginners and advanced crocheters alike. This little elephant is made from wool and felt, with the plush body and tail covered in felt. Crochet this chubby elephant for your little one or as a baby shower gift. They are adorable, soft, and cuddly, making them the best snuggle buddy! You will have so much fun making these elephants, and they make super cute gifts.
Materials
2mm crochet hook
Light worsted (or DK) yarn color of your preference (I used merino wool for this pattern)
Stuffing material
Scissors
Embroidering needle for the eyes
Little Elephant
Add a pop of color to your child's room with this adorable elephant. The perfect gift idea for any little one! This sweet little toy is the ideal size for babies and toddlers to hold in their hands. The pattern includes a template for the body and ears and detailed instructions for assembling, filling, stuffing, and finishing your elephant. A lovely little crochet project that you can easily do on the weekend.
Materials
Crochet hook 3mm
6mm safety eyes ( but you could also embroider eyes )
 Yarn ( I used lanoso alara) 50%cotton 50%acrylic 50g=140m C:955- P:209)
 Stuffing
 Some black and white embroidery thread
 Nedlee
Abbreviations
    Sc- single crochet
    MR- magic ring
    Dec- decrease   • Inc- increase
    St, sts- stitch, stitches
    Hdc- half double crochet
    Hdc-inc- halfdouble crochet increase (2 hdc in 1 st)
    Icord
    Number in () is the number of sts at the end of each row
    Sts in are repeating
Amigurumi Elephant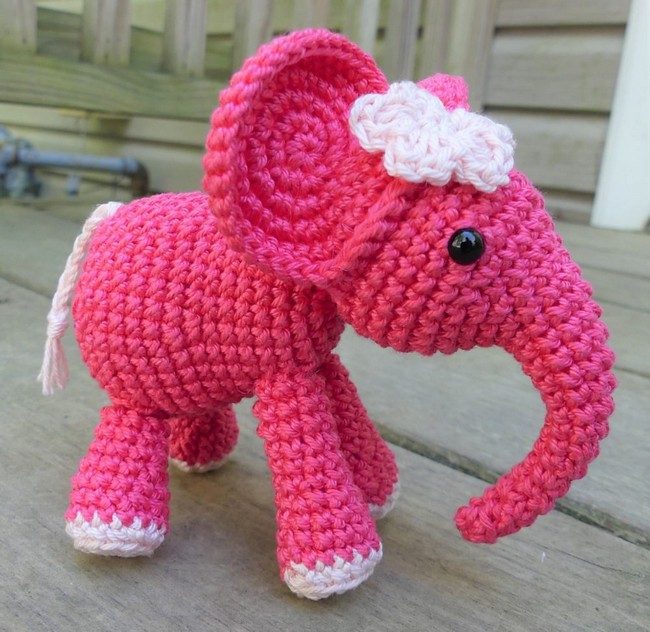 This crochet pattern will teach you everything you need to know to make an adorable elephant amigurumi! It can be made in any weight yarn, and all pattern sizes are included. This little elephant is sure to be a crowd-pleaser! Perfect for crafters of all skill levels, from beginners to advanced, this Amigurumi Elephant Pattern will be a treasured gift for someone special. This toy works quickly and is perfect when you need last-minute assistance or a special friend to brighten your day.
Materials
Size 2.25mm crochet hook
1 ball of mercerized cotton yarn for the main body color – my favorite is Patons Grace, the color I used is "Lotus"
A small amount of mercerized cotton yarn in the second color for the feet, tail, and flower – I used Patons Grace "Blush"
2 – 6mm black safety eyes
1 pipe cleaner, any color
Embroidery/yarn needle
Fiber fill
Sewing pins (for attaching legs)
Elephant Amigurumi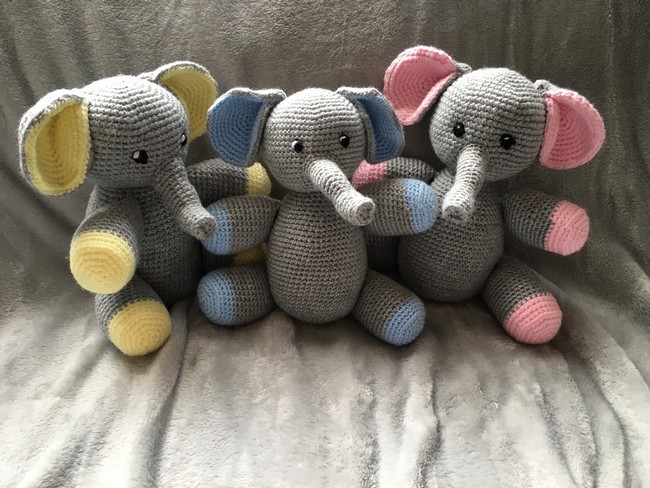 Check out this elephant if you need a crochet pattern to keep your hands busy and your heart warm! The design includes instructions for the trunk and ears. This a great beginner project for all ages! This sweet elephant is a great companion for your little one and is super simple to crochet. You can customize it with different colors and amounts of curly hair, or even make it bigger if you want! Use it as a decoration, gift, or to add love to your home!
Materials
4mm crochet hook
DK yarn in Grey (main body color) approx. 50g
Grey 1099 Stylecraft Special DK
DK yarn in Pink (or whichever contrasting color you like) approx. 25g
Candyfloss 1130 Stylecraft Special DK
DK yarn in White & Black (for eye details, a small amount of each)
White 1001 Stylecraft Special DK
Black 1002 Stylecraft Special DK
Soft toy filling
https://www.hobbycraft.co.uk/soft-toy-filling-200g/630191-1000?_br_psugg_q=soft+toy+filling+200g
Darning needle to sew it all together
Ribbon (for the bow, if using)
Abbreviations
MR – Magic Ring
SC – Single Crochet
INC – Increase
DEC – Decrease
BLO – Back Loop Only
SS – Slip Stitch
St/Sts – Stitch / Stitches
You can also see: Crochet Elephant Lovey Patterns 
Keychain Elephant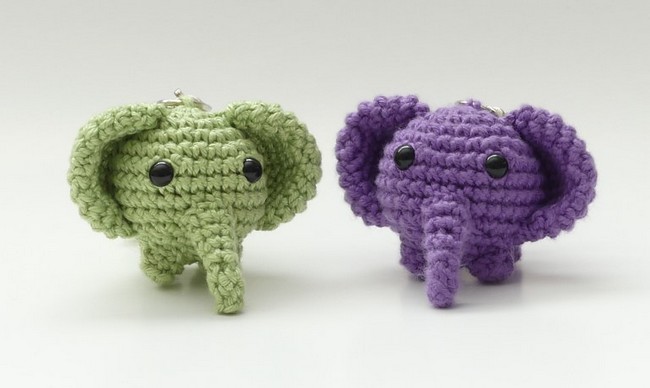 This little keychain elephant is a great way to use leftovers or create something fun and adorable for yourself or a friend. The pattern makes it easy to crochet an elephant in any color, with natural, black, brown, or grey options. A detailed photo tutorial will guide you through every step of the way! This is also a perfect gift idea - an original handmade design that can be amazingly funny too!
Materials
3.125mm crochet hook
Patons Grace Yarn or other sportweight cotton yarn (for the purple one, I used one Bonbon from a Lion Brand Bonbons Yarn pack)
2 – 6mm safety eyes
Fiberfill
Yarn needle
Lobster claw keychain
Sewing pins
Chubby Elephant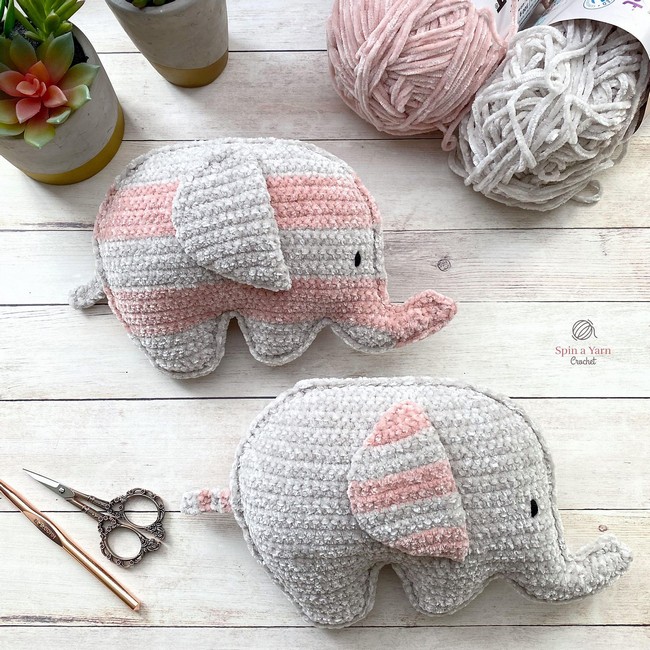 The Chubby Elephant is a sweet elephant that looks adorable on your Christmas tree. This chubby little elephant is cute and easy to make with the crochet pattern! You can make it any color you like or give it as a gift to anyone who loves elephants. The elephant pattern uses worsted weight yarn and simple half double crochet, single crochet, double crochet, and slip stitch stitches. This softie features fun textures, easy-to-use shaping, and detailed facial features. The completed product is perfect for play or display.
Materials
3.25mm hook for main (I use THESE hooks!);
Bernat Velvet in Pink Dusk (25 grams);
Bernat Velvet in Blissful Greige (less than 300 grams)
Bernat Handicrafter Crochet Thread, Size 5, in Black;
Scissors
Stuffing;
Tapestry needle.
Abbreviations
Ch – Chain
MR – Magic Ring
Slst – Slip stitch
Sc – Single Crochet (again, in rows with color changes, sc stitches will be indicated with the Colour Legend letter instead of "sc")
Inc – Increase. Work a regular sc increase
Dec – Decrease. Work a regular sc decrease
Flip Flop Elephant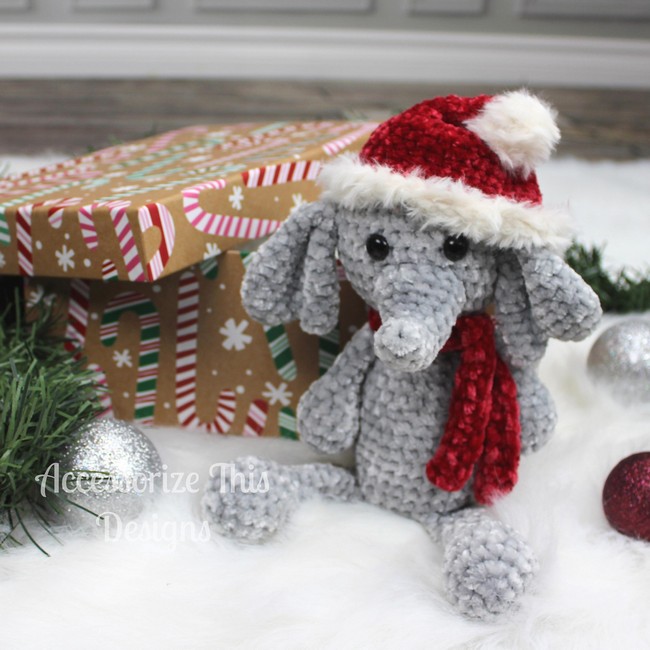 Add a splash of color and a fun elephant design to your flip-flops. This pattern turns plain black flip-flops into something to be proud of by adding three colors, a cute elephant and embroidered flowers. He's cute; he's soft, so fluffy, and so floppy! This little elephant crochet pattern can be made in just a few hours. The completed crochet elephant is the perfect stuffed animal to place in the crib or stroller, particularly as you venture out with him on your travels. A great gift idea, too, made up of straight seams and easy-to-follow instructions that even beginner crocheters can conquer.
Materials
Hook size        5.5 mm (I)
Main Colour –      Bernat Velvet Misty Gray (120 yards)
Optional – 40 yards (Red), small amount (favorite furry yarn)
Polyester filling – small amount
2 – 12mm black safety eyes (not suitable for children under 3):  see the video for embroidering sleepy eye as an alternative.
Stitch Markers or Safety pins to help with sewing placement
Yarn needle to weave in the ends
Abbreviations
| | |
| --- | --- |
| Bobble St. | Bobble Stitch |
| ch | chain |
| dc | double crochet |
| sc | single crochet |
| scdec | single crochet decrease |
| ss | slip stitch |
| st(s) | stich(es) |
| *to* | repeat the sequence between the ** the number of times indicated |
| YO | Yarn Over |
Elihu The Elephant
Elihu is an adorable elephant that can stand alone or be part of any jungle scene. This crochet Elephant is a beautiful toy for little ones. This pattern includes detailed instructions and a list of materials required to complete this project. The design is worked in the round, so minimal sewing is required. The Elihu crocheted elephant can be used as a toy or as part of your child's nursery decor. He will brighten up any space with his cute design!
Materials
Yarn Needle
PolyFil Stuffing
2 Removable Stitch Markers
¼ yd of Lining Fabric
Thread to match Lining Fabric
Sewing Needle
– Get your hook and notions together in THIS awesome set from BeCraftee!
4.0 mm (US G/6)
Abbreviations
blo – back loop only
ch – chain
dc – double crochet
hdc – half double crochet
pm – place marker
rs – right side
rnd – round
sc – single crochet
sc2tog – single crochet two together
sc3tog – single crochet three together
sl st – slip stitch
sp(s) – space(s)
st(s) – stitch(es)
ws – wrong side
( ) – work step in parentheses in indicated stitch
[ ] – work step in brackets number of times indicated
Elephant Plush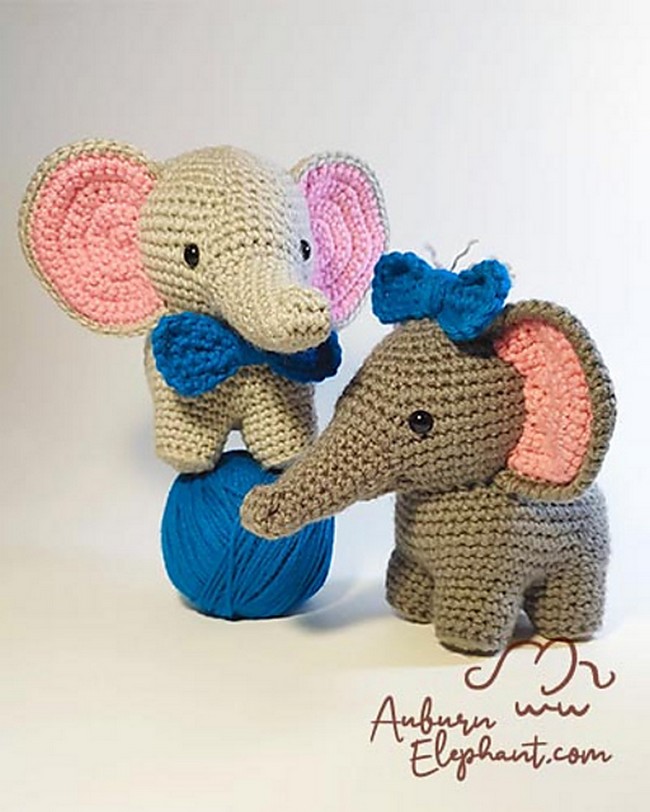 Swing down from the trees to brighten your day with the Crochet Elephant Pattern. This on-the-go companion is perfect for any elephant-loving enthusiast and will keep you company on those long journeys. This crochet elephant pattern is easy to make and perfect for beginners. This elephant pattern is excellent for using scrap yarn, as it only requires small amounts of different colors. What's more, it makes a lovely gift!
Materials
Big Twist Value Yarn, Medium Worsted Weight 4 (100% Acrylic, 371 yds, 6 oz) Soft Grey or Medium Grey, 1 skein- approx. 200 yds, Medium Rose, 1 skein- approx 12 yds, Sapphire, a small amount for bow
G/6 4.25mm
Polyfil
Needle, for weaving in ends
Safety eyes, 10mm (2)
T-Pins, for placing pieces (optional)
Abbreviations
Ch- Chain
Sl st- Slip stitch
St(s)- Stitch(es)
SC- Single Crochet
DEC- Single Crochet Decrease, Using the Invisible Decrease method, insert hook up through front loops of next 2 stitches, yarn over, pull through front loops, yarn over, pull through to finish decrease
2SC- Single Crochet Increase- 2 SC in same stitch to increase
BPSC- Back Post Single Crochet
FPSC- Front Post Single Crochet
Crab Stitch/Reverse SC (Optional for Ear Style 3)
HDC- Half Double Crochet (Optional for Ear Style 4)
Sitting Elephant
Sitting Elephant is the cutest new member of your following crochet collection! The perfectly round, baby-friendly body will have you grinning from ear to ear. Create a small sitting elephant or go large with a more prominent sitting elephant pattern; either way, this pattern's looks are sure to please. It is so much fun to crochet and will make a great companion for your little one. Great for beginners and experienced crocheters alike. This pattern is easy to follow, with clear instructions, detailed schematics, and many photos.
Materials
Abbreviations
Sc = single crochet
Slip st = slip stitch
2sc = 2 single crochet into the same stitch
2tog = sc the next to stitches together
Elzo the Elephant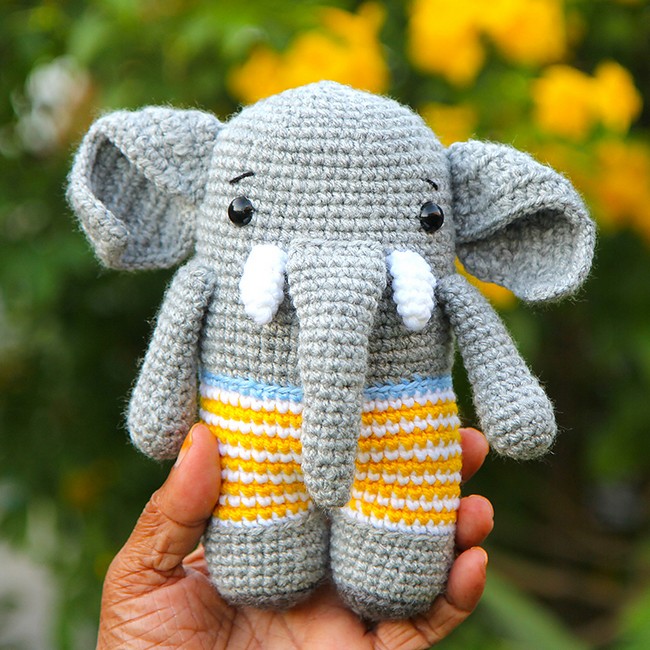 Elzo is a friendly and fun companion for your little one to play with. He has soft floppy ears, cute little eyes, and cute arms. This adorable crochet elephant is made from 100% cotton yarn. His body is worked in the round, starting with a magic ring. All of the pieces are crocheted together and sewn together. Then he's stuffed and ready to play! He's quick to make and makes a unique gift for someone special. However, this pattern is unsuitable for children under three years of age.
Materials
Yarn:  Less than 100 grams of DK yarn in grey and a small amount in dark gray, white, and three colors for the shorts.
3mm crochet hook
Tapestry needle
Stitch marker
Polyfill stuffing
Two 10 mm safety eyes, or you can crochet eyes for children under 3
Embroidery thread in black for the eyebrows
Abbreviations
Sl st: Slip stitch
SC: single crochet
INV DEC: invisible decrease
INC: two SC in the same stitch
HDC: half double crochet
HDC INC: two HDC in the same stitch
BLO: back loops only
Elephant Amigurumi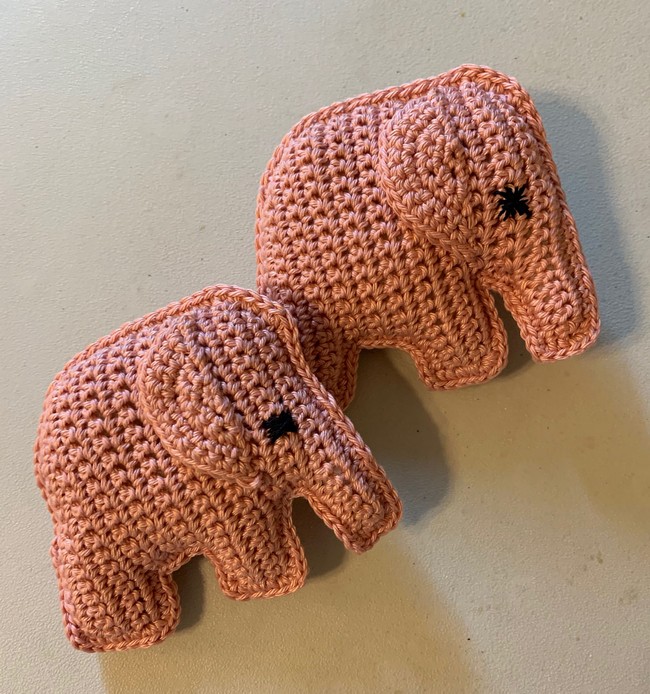 Get in on the animal trend by making this adorable crochet elephant pattern. Make an excellent toy for kids (and adults!) who are looking for something a little bit different from your average stuffed animal. The elephant is one of the most popular crochet projects. It is also one of the simplest and can be done by beginners. This pattern uses a single color and easy-to-follow instructions to learn how to crochet!
Materials
Yarn (I used Scheepjes Catona)
Hook (I used 3 mm)
Needle
Rattle bead if you want
Fiberfill
Abbreviations
ch = chain
sc = single crochet
st = stitch
sc2tog = crochet two single crochets together
Ellie The Elephant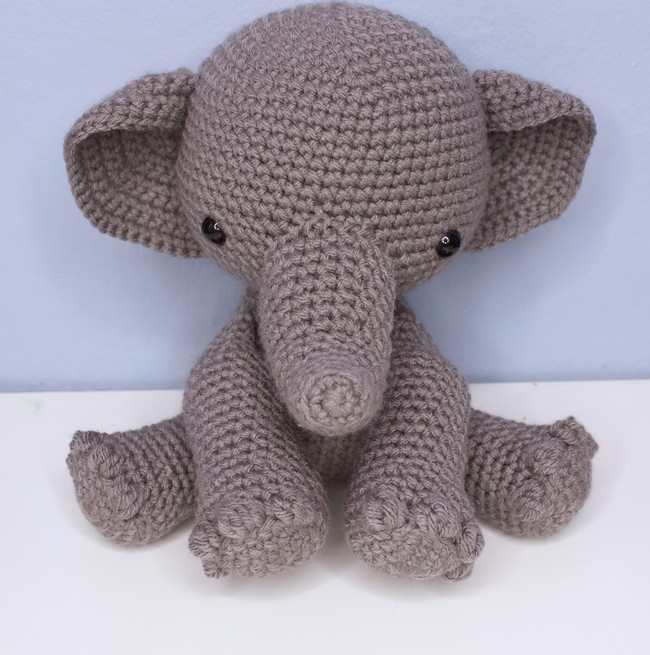 Meet Ellie the Elephant! She has many adorable features, including floppy ears and a curved trunk to give your little one their favorite new friend. Great for both boys and girls, she's sure to be a hit with kids of all ages. Ellie the Elephant is a cute, quick, and easy crochet pattern that makes the perfect toy for any baby or toddler! This crochet elephant pattern is ideal for beginners and pros alike. The design includes clear illustrations on how to make Ellie, step-by-step instructions, tips, and tricks.
Materials
3.75mm crochet hook
Worsted weight yarn in the color of your choice
12mm safety eyes
Fiber fill
Stitch markers
Yarn Needle
Scissors
Optional: dog slicker brush or comb
Abbreviations
mr- magic ring
st- stitch
sc- single crochet
inc- increase
dec- decrease
blsc- back loop single crochet
puff st- puff stitch
ch- chain