Mosaic crochet is a fun and colorful way to create blankets, scarves, bags, or even sweaters that burst with patterns and color. There are several ways to create mosaic crochet, but the most common method is to make squares and sew them together. These crochet mosaic patterns are a fun and easy way to use scrap yarn. Whether you have leftovers from past projects or have an excess of colors from your last shopping spree, this technique allows you to put them to good use in a beautiful way. All you need is a crochet hook, some yarn scraps, and the pattern of your choice.
Crochet Mosaic Patterns For Everyone

The art of crochet is versatile and can be turned into almost anything—toys, blankets, garments, and so much more. Mosaic crochet takes this idea further by creating a gorgeous design rather than a distinct shape or item. Whether a beginner or an experienced crocheter, the crochet mosaic technique is a fun way to add a little color to your work. It's a simple method of stringing together multiple stitches of the same color to create mosaic patterns with just about any number of stitches. The patterns below range from simple to elaborate, but they all share the same general concept: easy-to-learn techniques that create a stunning finished product. Here are some unique mosaic crochet patterns for you to try out!
Mosaic Crochet Patterns For Everyone To Try
Crochet Mosaic patterns have become popular because they can be used to make all kinds of garments. Mosaic crochet patterns are beautiful, and they are easy to use. As an experienced crocheter, you should know that crochet mosaic patterns are one of the most beautiful and creative ways to create a garment.
Benefits of Mosaic Crochet Patterns:
You can make any garment using mosaic crochet patterns. The only thing that matters is your creativity and imagination. You can create any garment from this technique, such as hats, shawls, blankets, sweaters, and many more.
The best part about mosaic crochet patterns is that they allow you to experiment with colors and textures. You can use different colors for each block or stick to just one color for all blocks if you want something simpler. The options are endless, and there are no rules when creating these types of designs.
These designs look great when completed, and they will add style to any outfit you wear them with!
Mosaic Pouch Shades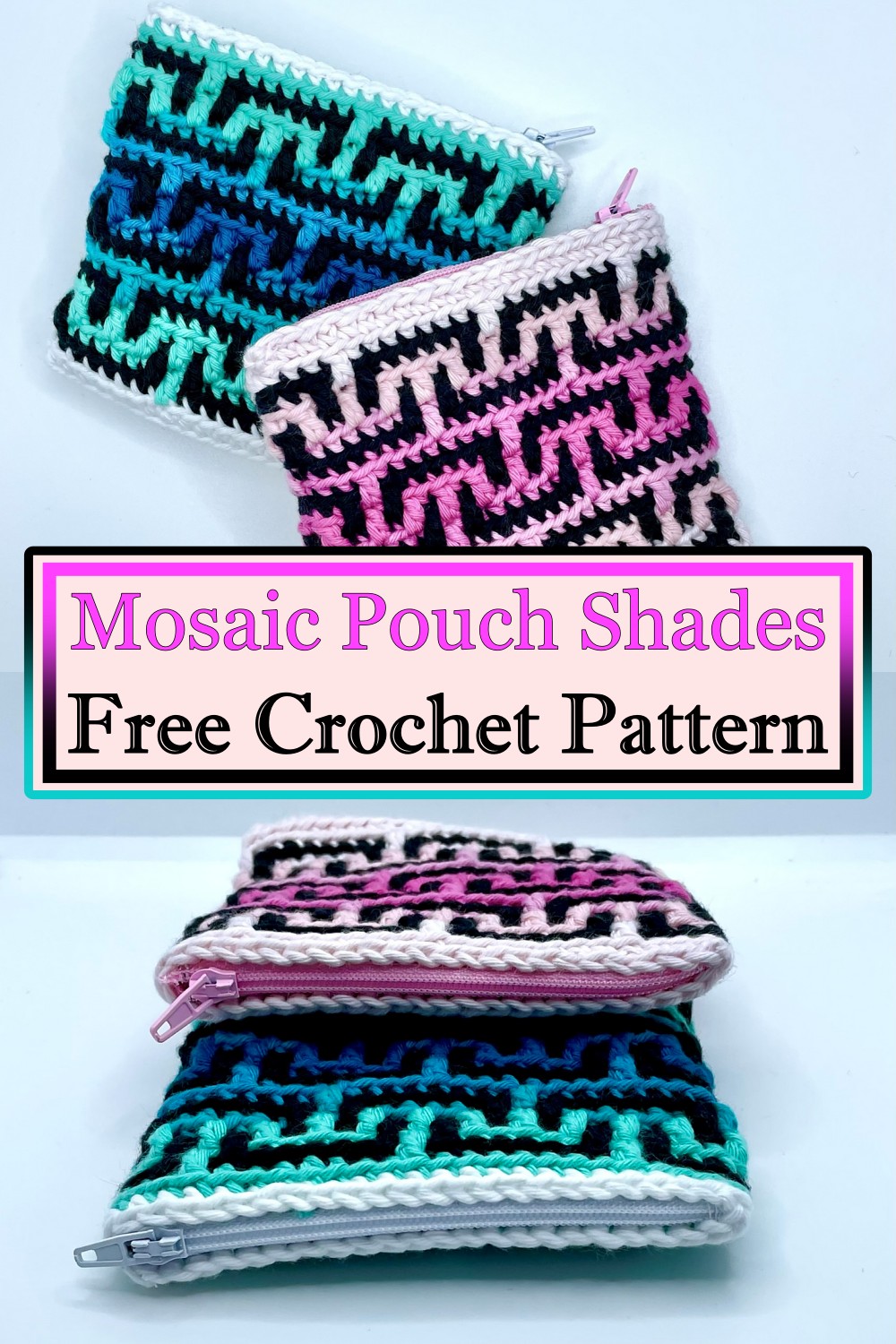 This easy mosaic crochet pattern is great for beginners starting with a chain and turning it into a square. Once you get the hang of making squares, you can create any size pouch you like. With this pattern, you'll be on your way to making chic pouches in no time! It uses a simple mosaic technique to create an elegant, unique shade design that is perfect for all seasons. The size of this pouch is large enough to carry all your essentials seamlessly. You can make this pouch using less than 50-gram crochet thread, so it's easy to clean and kept shiny too!
Mosaic Cropped Sweater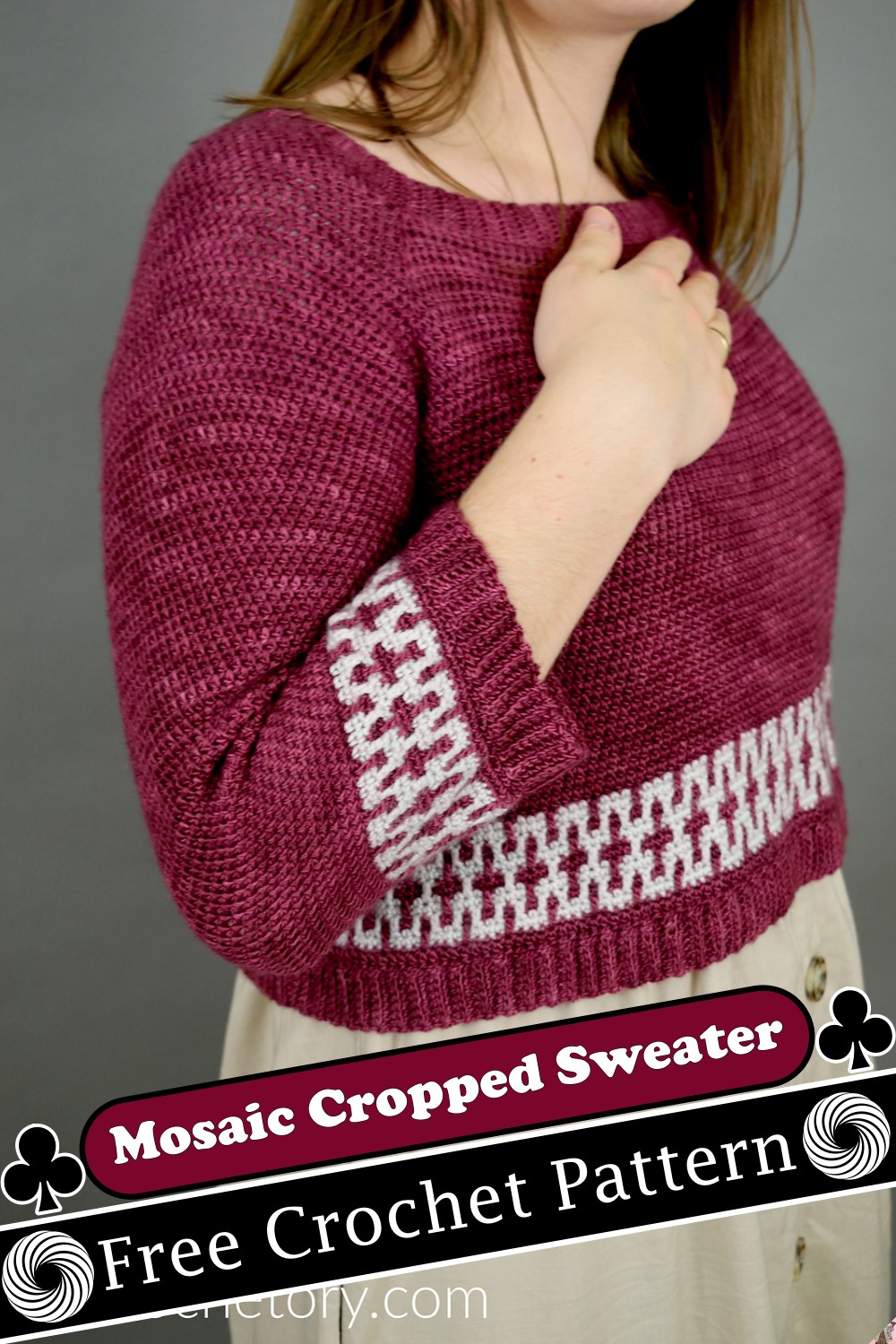 This Mosaic Cropped Sweater is a beautiful piece to wear, with its bold color and mosaic design. It can be worked up in a cotton blend, making it an excellent summer piece. Crochet this funky and fun sweater with skinny jeans, leggings, or a pair of high-waisted shorts. The fashionable gather waist and crop cap sleeves accent its basic silhouette. Make it unique using colorful yarns, and include your favorite gems in the mosaic design!
Mosaic Headband
A delightful headband featuring a mosaic pattern in various colors, this treasure will bring a touch of whimsy to any casual outfit. An elasticized band and unique design are great ways to show off your crochet skills. This super simple headband uses just 1 skein of yarn and basic stitches to create a colorful mosaic look. Knit it in multiple colors for a rainbow design or just one color for a unicolor effect. This crocheted headband adds fun and flair to your favorite outfits. Wrap it around the crown of your head for a neat braided look, or leave the ends loose and tie them in a knot for a bolder statement piece.
Mosaic Bricks Tote
This Tote is made with mosaic crochet, combining bright and colorful yarns. It is fun and easy to make — follow the charted pattern in the most basic way (chaining/sl st) until you've reached your desired length. The bag can work either in multiple shades of the same color or using two different yarns. A bright, colorful bag that will keep you organized and stylish. The roomy interior has plenty of space for your daily essentials, and the durable canvas material means it's built to last. This Mosaic Bricks Tote crotchet is a great assistant to carrying those groceries.
Mosaic Triangles Pillow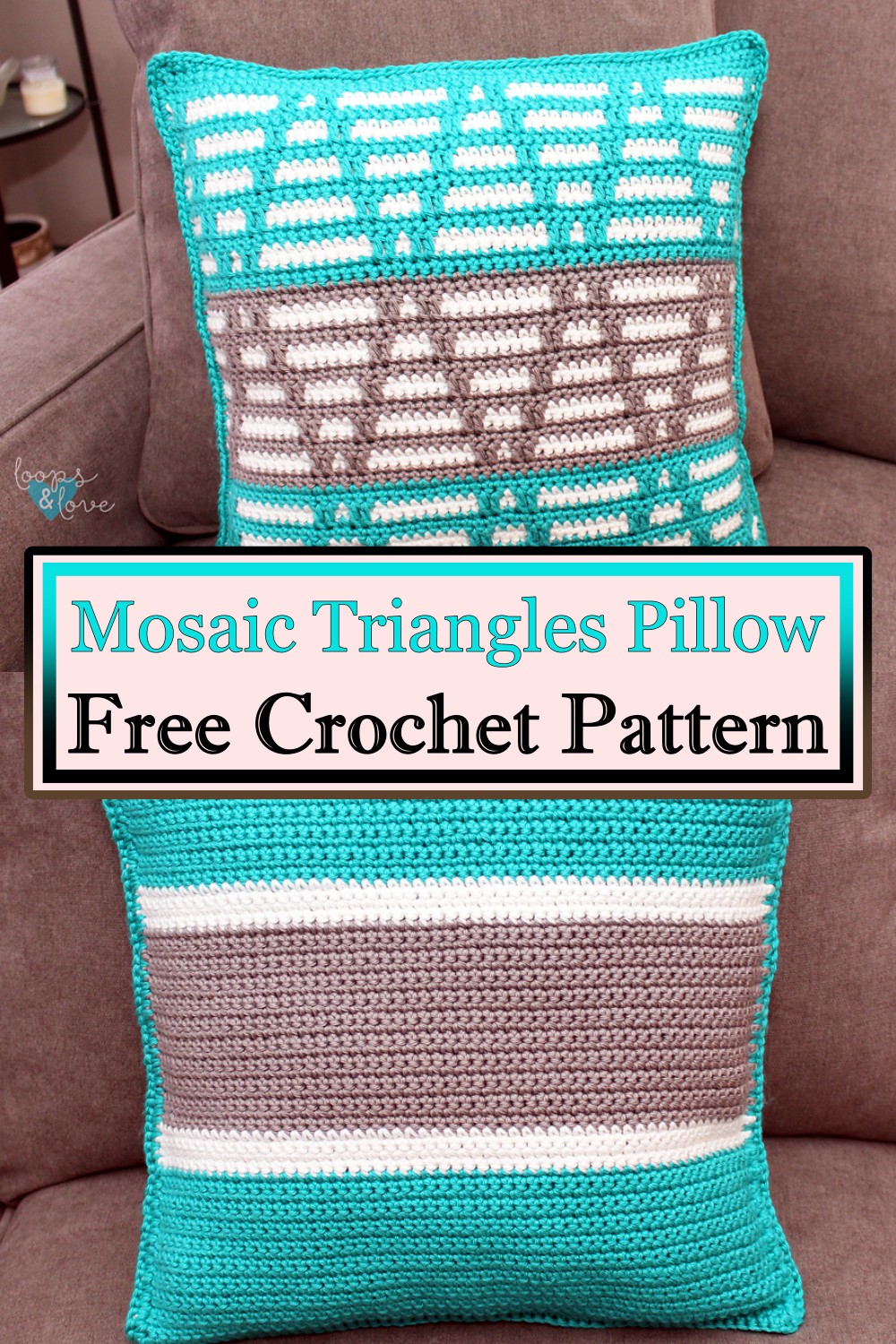 Make this sweet Mosaic Triangles Pillowin bright colors, and choose what kind of base you want to put your squares on—a pillow, a shawl, or a beanie hat. The possibilities are endless! This crochet pillow is the perfect accent for any room. Its colorful mosaic pattern will brighten up any space and create a fun vibe! This crocheted pillow is perfect for the home, office, or take-anywhere getaway. The yarn's softness makes it comfortable to rest your head on and helps you fall asleep in no time!
Mosaic Crochet Tote Bag
A Mosaic Crochet Tote Bag for the summer! Fabricated with colorful yarn, this bag is perfect for keeping all your summer necessities together, from magazines to sunscreen. The bag features an oval pattern in which each hexagon, or tile, consists of smaller repeating motifs. This crochet bag is perfect for everyday use! It is simple and stylish with a unique design that gives character to your outfit. Great for taking on the go, this strong tote will hold everything you need!