Introducing the sweetest crochet elephant lovey patterns to try. In this collection, you will find the best of Elephant Crochet including rugs, cushions, amigurumi, lovey blankets, and more. A must-have for all elephant lovers! No matter how big or small, from 2" tall to 1,000 squares. We provide you with the best free elephant crochet patterns that are unique and beautiful. This collection of crochet elephant lovey patterns is the perfect addition to your collection. Whether you're looking for yourself or as a gift this list will help you find the best elephant crochet patterns available.
These crocheted elephants are simply adorable! These elephant lovey blankets make the perfect gift for babies and young children. Plus, they are super easy to make so they are great projects to work on while watching TV or listening to music.
You Can See; 25 Free Crochet Owl Patterns for Those Who Loves Owls

Hug Me Elephant Lovey
This Hug Me Elephant Lovey is an easy-to-follow, step-by-step tutorial that takes you through the whole process of creating this adorable elephant. The segments of the body are worked in the round, with a classic star blanket giving a chevron appearance. The head is worked flat and then attached at the end. The ears and trunk are worked separately and attached to the blanket at the end, so the amigurumi pieces can be made in any color. This pattern is fun to make as a gift or something special for your little one!
Elephant Baby Lovey
Did you know that elephants are believed to bring good luck and also represent long life? And did you know that your baby will love snuggling with this fluffy elephant lovey? The Elephant Baby Lovey is perfect for a baby. It's super soft and cuddly and will keep your child happy in bed or car seat. This lovey comes with a simple crochet pattern that you can easily follow along with. There is also a chain border for durability and to give it an extra special touch. You will be amazed at how little time it takes to make one with the simple-to-follow pattern!
Elephant Lovey
Everyone loves a lovey, and our Elephant Lovey is perfect for all ages. This pattern includes lots of information and photos, so it's great for both beginning crocheters and those who are more experienced! Constructed from super bulky yarn, this lovey is thick and cuddly for little ones - but not so thick that it's unwieldy! With seamless construction, beginner-friendly pattern, and lots of practice photos, you'll have an adorable project to add to your collection in no time!
Elephant Lovey
This adorable, soft, and cuddly Elephant Lovey will be your child's favorite toy. It features a silky satin feel that is perfect for little hands to hold. The plush toy is also safe for all ages and machine washable. This cute and stylish elephant design makes the perfect gift for elephant lovers.
Elephant Lovey Puppet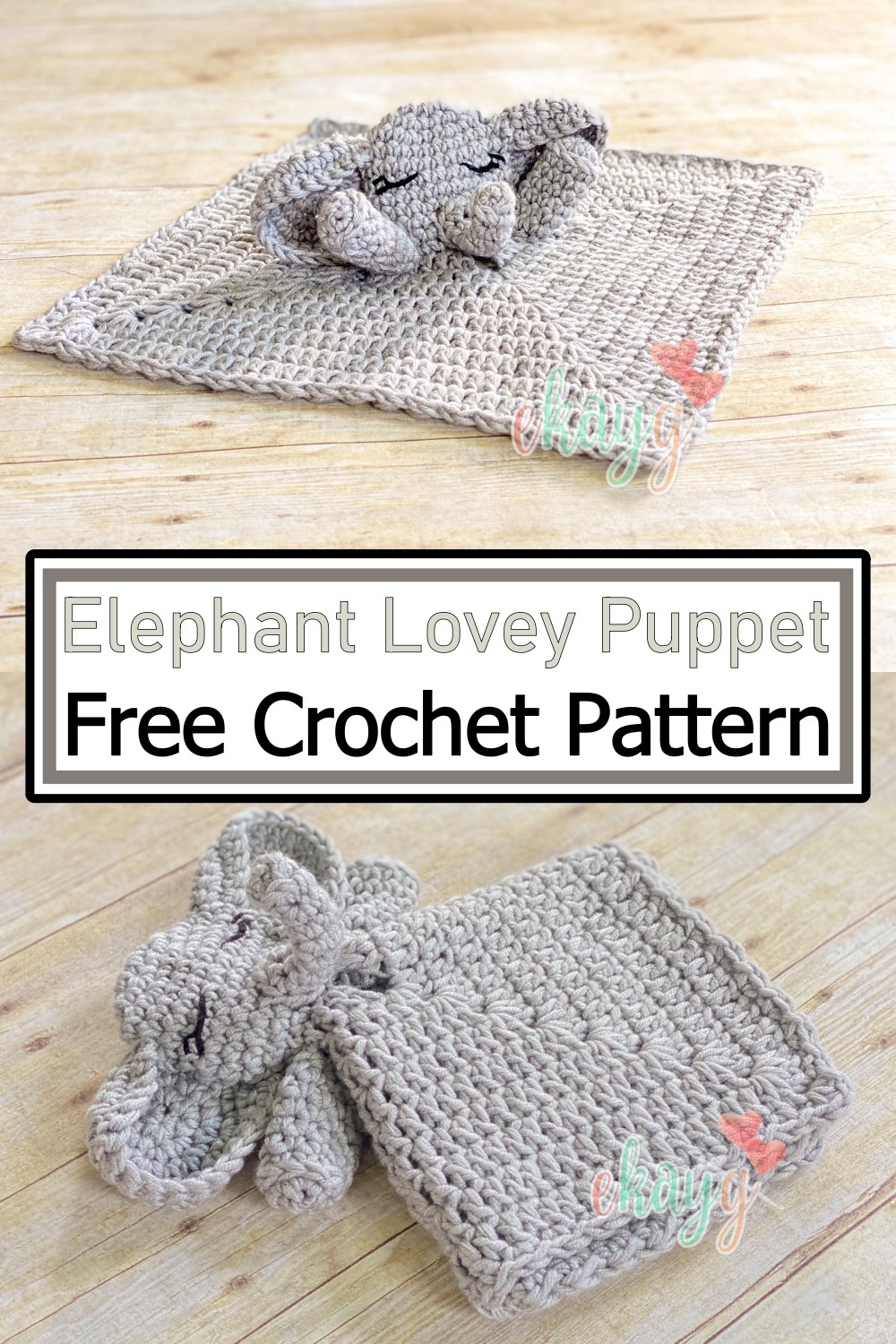 Meet Elephant Lovey Puppet! A fun combination of lovey and puppet, this design is absolutely perfect for your little one as they grow and learn to be creative with their toys. From tiny fingers grasping onto new textures, to toddler hands that love to explore, this toy can provide comfort, security, and imagination for years to come. Perfect for babies who love to explore their toys, this toy will provide both comfort and entertainment for years to come!
Pretty in Pink Elephant Lovey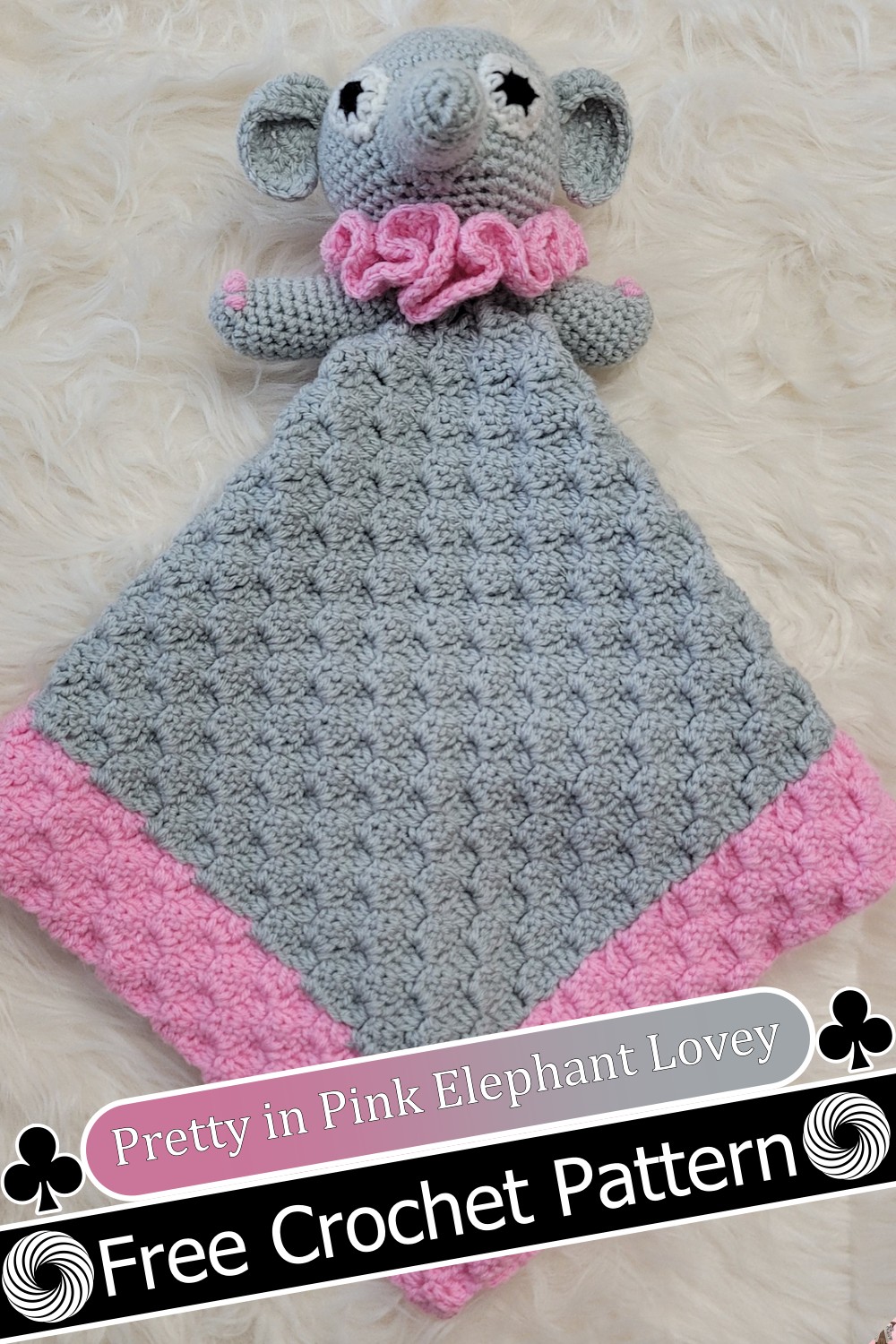 Cuddle up with Pretty in Pink Elephant Lovey for a super soft, adorable baby blanket! This easy C2C (corner-to-corner) blanket is sure to be a hit at your next baby shower or gender reveal party. Crocheted in worsted weight yarn with a size G crochet hook (affiliate link), this snuggly soft blanket is a great size for swaddling, stroller rides, and tummy time. A super simple motif works up quickly and the attached amigurumi elephant will be a favorite toy for the baby!