Incorporating owls into your crochet projects is a great way to add a sense of personality and fun to your work. If you love to crochet and enjoy making projects for your home, or handmade gifts for friends and family, here's a collection of free patterns for crocheted owls that are just too cute to miss! You'll find patterns that range widely in difficulty so there are some suitable for beginners, as well as more intricate ones for experienced crocheters.  You can use one of these patterns to create a wide variety of different types of toys, accessories, clothing, and much more. These crochet owl patterns will help you create the perfect gift for any occasion, or just make something fun for yourself.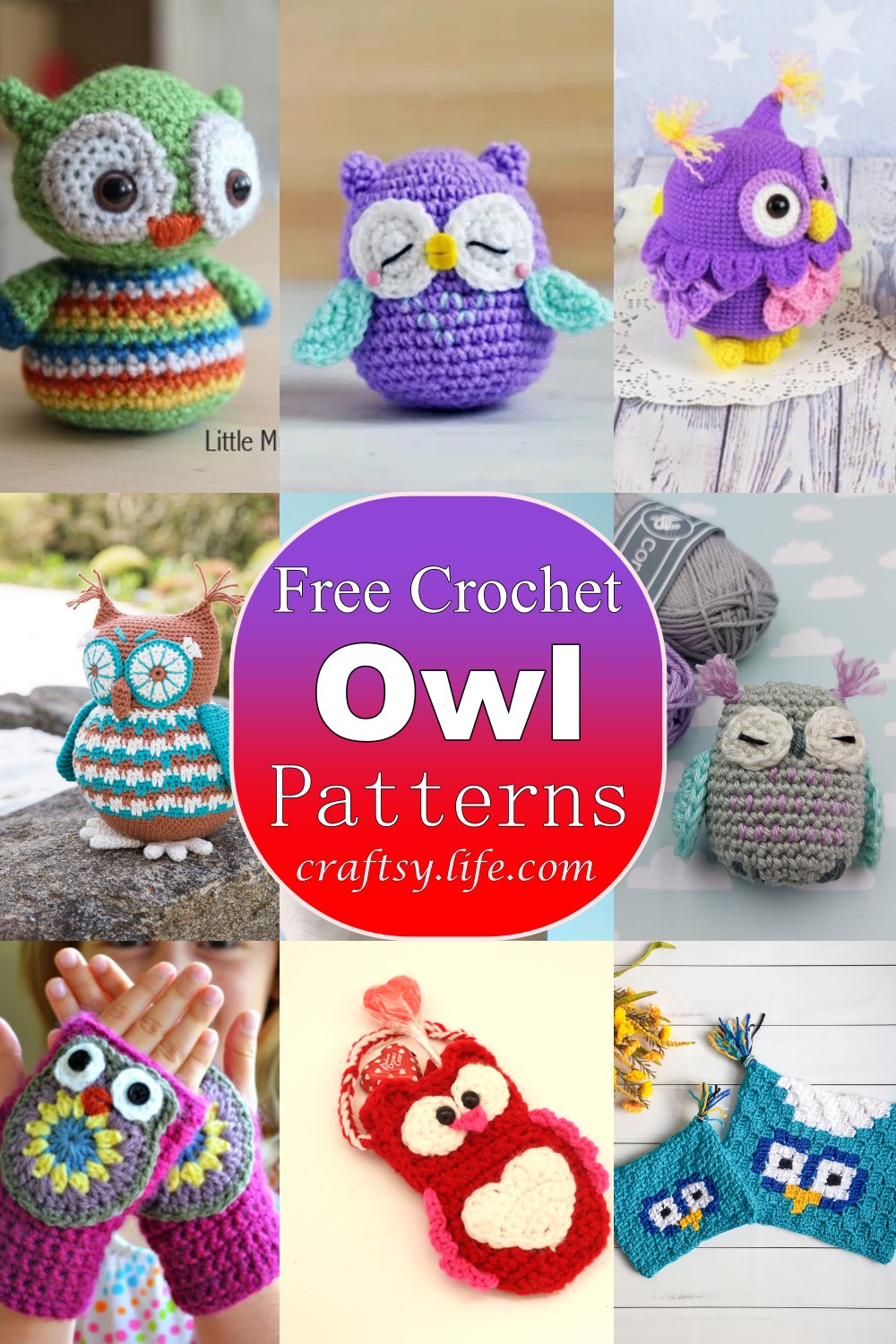 This collection of 25 Free Crochet Owl Patterns will force you to become a big fan of Owls as you will explore them in many different shapes, sizes, and designs. The most exciting thing about this collection is that they are so much cute and adorable that they are just irresistible. They are just not home decors but will also make great gifts for your kids and friends on special occasions. So, use your hook and yarn to crochet some beautiful owl patterns right now! It doesn't matter if it is Halloween or any season; owls are always trendy and fashionable. They look really cute with their large eyes and little feet. The most fun part of crocheting owls is that they can be altered in different sizes easily by changing the size of the hook and yarn weight.
These 25 Free Crochet Owl Patterns are adorable and sophisticated at the same time, they are also smart and mischievous.
Tips to Crochet Owls
Crocheting owls is a very fun and exciting project! There are many adorable patterns available, but they are also easily designed in an array of sizes. If you want to crochet your own owl, keep these tips in mind:
Although there are many owl patterns that require a special type of yarn, crochet thread, or even plastic canvas you can use any kind of yarn you like. The size of the owl will depend on the type of yarn used, so if you choose to use several different types of yarn for your project be sure to keep track of how much yarn you use for each part.
If you choose to crochet your owl with a crochet hook, keep in mind that the size will depend on the size of the hook used. Smaller hooks will produce smaller owls and larger hooks will produce larger owls.
Make different colors of yarns to make the owl more realistic. You can use brown and black for the body, wings, and legs of the owl and white for the face, tummy, and tail of the owl.
Make a chain of stitches that is six inches long or longer depending upon your preference.
Attach yarn in a magic ring by pulling it through its knot and then pulling it tight around your stitches to secure it.
Make a single stitch (sc) in the first two loops of your chain after you have made them into a ring by pulling your yarn through both loops.
Repeat this step (sc) over again till you reach six inches or whatever length you prefer for your owl's body.
Benefits Of Owl Patterns
Crochet owl patterns are helpful to learn crochet.
They are fun to make for all ages.
You can make a cute owl hat for your children to wear in the winter or summertime.
Make a cute toy to keep the baby occupied or to decorate the nursery room with a handmade touch.
Make decorative owls for your home or office or give them as a gift to someone in need of cheering up!
Owl C2c Hat
Crocheted corner to corner, this adorable hat will keep your loved one's head nice and cozy during those cold days! Crochet a cute hat that fits any size head with this easy c2c crochet pattern. The cozy hat is made in one piece, folded and seamed. With minimal color changes and just 4 rows to the pattern repeat, you can work on it while watching a movie or hanging out with friends. You don't have to worry about stitch counts or adjusting for the mystery size of your friend's head. Great gift for the holidays or just because. Choose your own colors to make it your own!
Amigurumi Eule Owl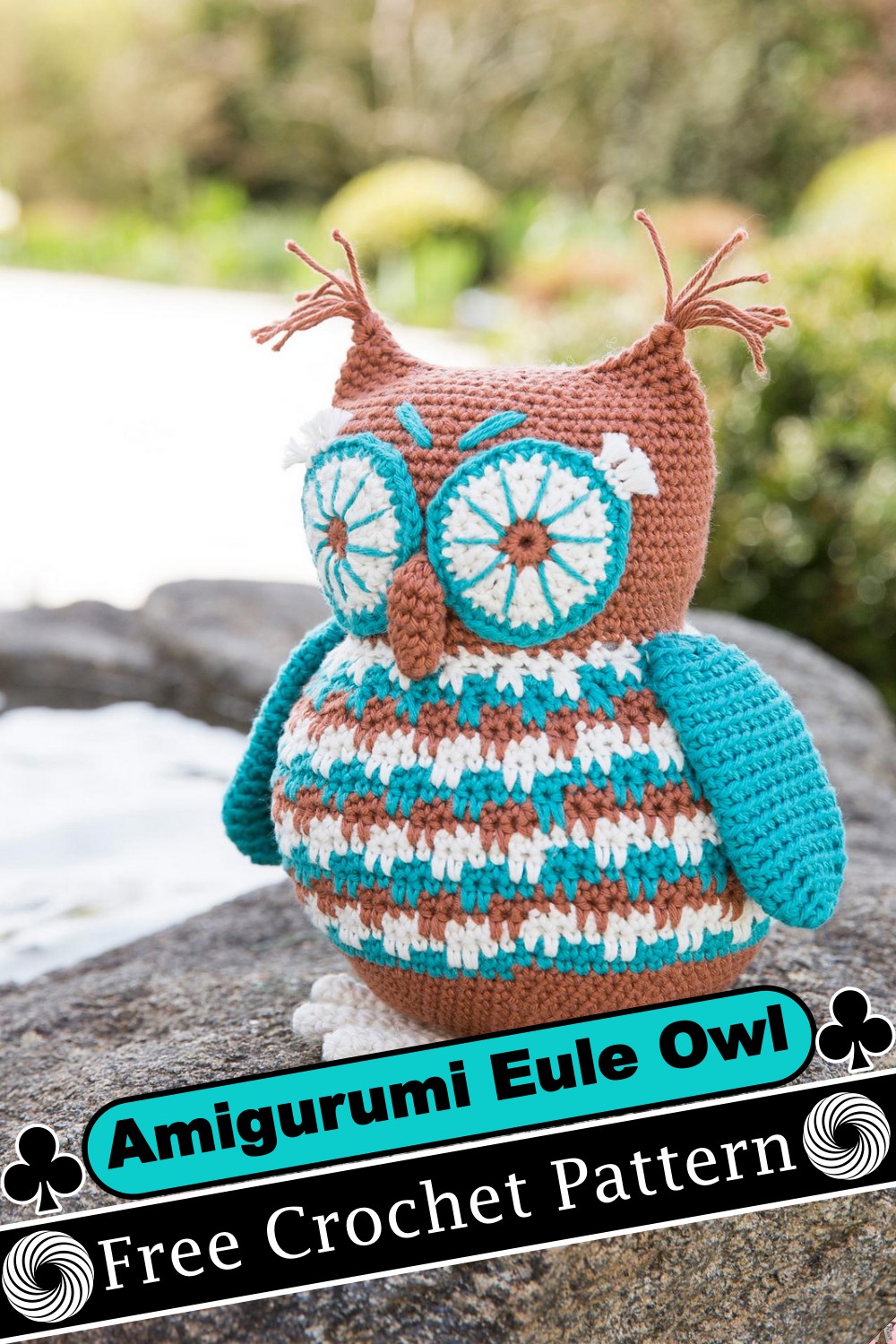 If you are looking for a unique, cute, and adorable plush toy, you have come to the right place. This owl amigurumi is handmade and comes in a variety of colors to complement any decor. This handmade crochet owl is the perfect gift for a loved one or yourself. This unique owl is perfect for any occasion, such as a birthday or Christmas. Crochet with love, it can also be used for decorating your home. Owls are such magnificent creatures and bring so much joy to others. Cute and sweet, this handmade owl will bring anyone squeals of delight. Everyone loves something handmade and this is sure to make you smile.
Valentine's Day Owl Candy Bag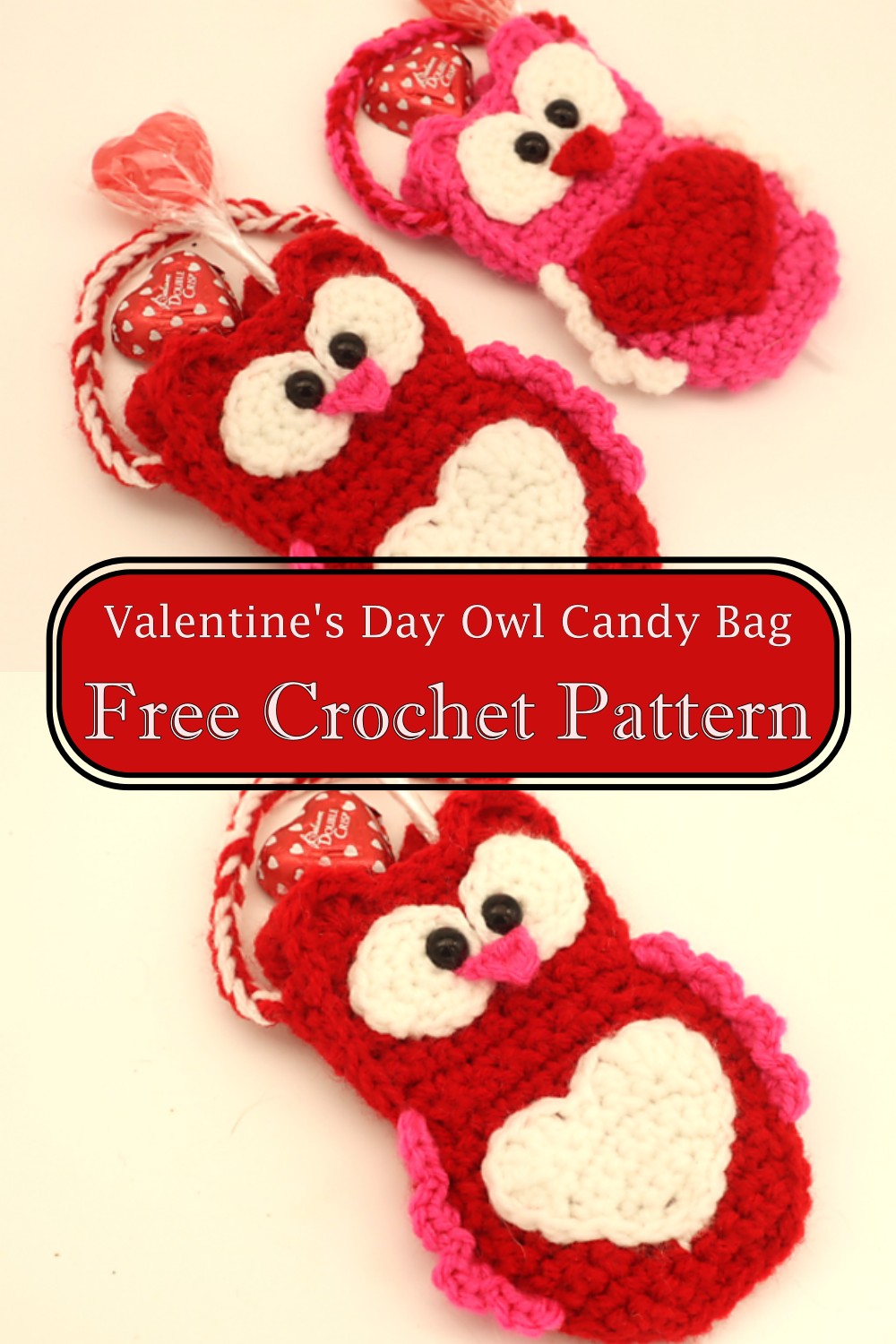 This owl is a charming candy bag for Valentine's Day. It is handmade with cotton thread and decorated with roses and ribbons. All parts of the owl are sewn so there are no small pieces to come off and cause a child to choke. It's a cute way to decorate for Valentine's Day or to use as a party favor on Valentine's Day. Bags are machine washable in cold water and can be put in a laundry bag on a gentle cycle.
Hoot the Owl
This is the story of Hoot. He was crocheted to be your friend. Hoot the Owl will definitely be your child's new best friend. Handmade from soft and durable cotton, this little owl is ready to cozy up together for a quiet nap at bedtime or take a ride in the car or stroller and sing along during playtime. Hoot the Owl's neutral color makes him a perfect gift for a boy or a girl. He will want to sit with you, sleep next to you, and make you laugh. Soft and huggable, Hoot has been prepared for you by a loving and caring Grandma, who wants only the best for her little ones.
Preemie Owl Hat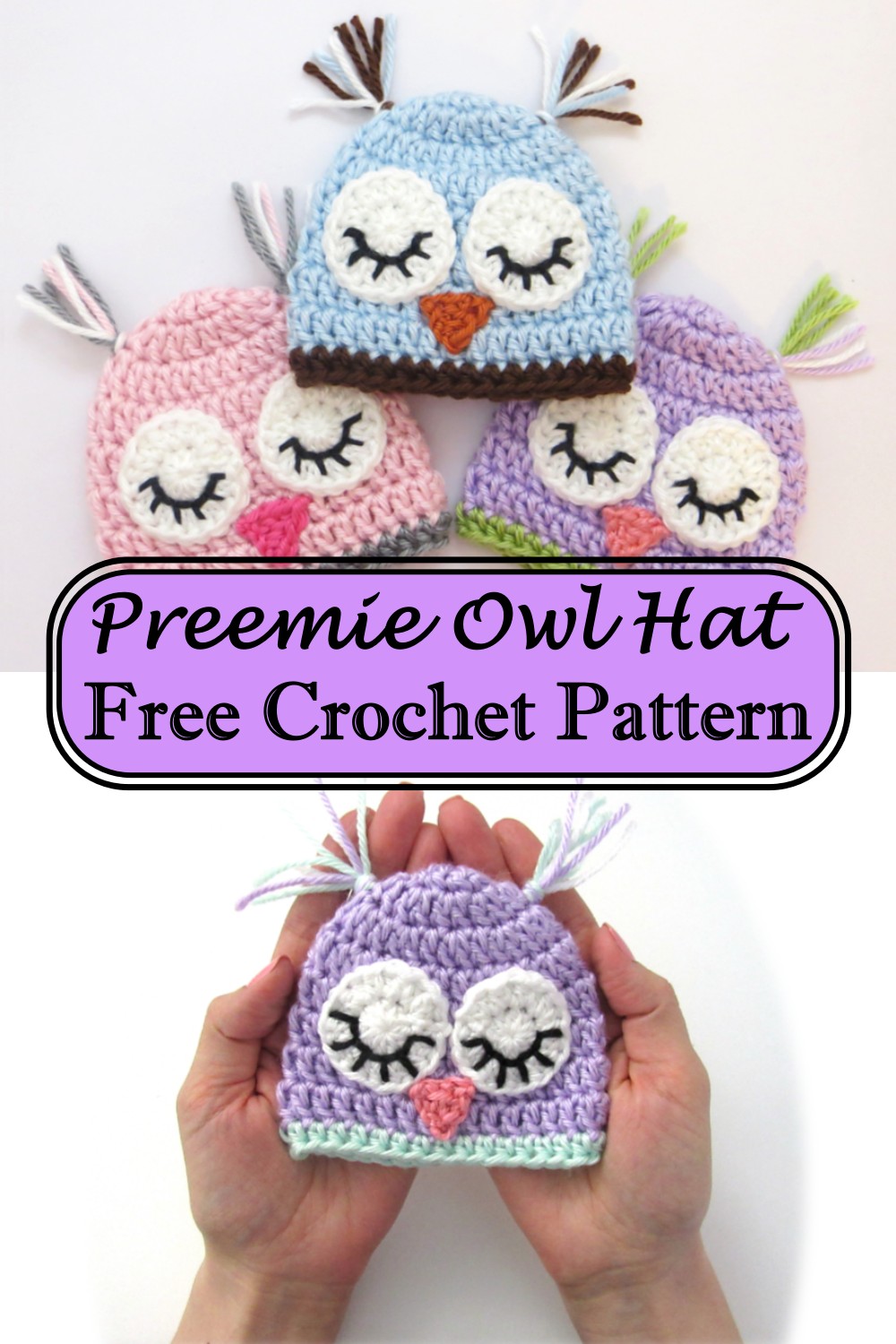 Your little one will look adorable when dressed in this hat! Made from a soft yarn, it will feel so comfy on your baby's head - and the adorable owl design is sure to make your baby the cutest in the hospital! Keep the head of your preemie baby warm with this fun owl hat. This hat is made from soft acrylic yarn and can be customized to fit a boy, girl, or neutral color. Add some fun and warmth to a preemie with this adorable owl hat. Preemie hats make great baby shower gifts and are wonderful presents for parents welcoming their premature babies home.
Witchy Owl
Meet Gypsy the Owl! She was hand-crocheted with love and care. This little owl has white and orange sparkling eyes and a pointy hat. Crochet Witchy Owl works up quickly, is a great way to use up your scrap yarn, and adds a touch of whimsy to your Halloween decor. Made with soft acrylic yarn, this owl is the perfect size for decorating your home. Place her on a shelf, on a window sill, or anywhere you need a little extra magic. Crochet Witchy Owl is a fun, functional, and unique decorative item.
Owl Applique
Bring a little bit of the woodland to your next project with this owl applique. It's the perfect little addition for skirts, sweaters, and hats, and it makes a great gift for any crocheter in your life. This project uses basic crochet stitches, like single crochet and double crochet, so it's a great first project for someone who is just learning to crochet. These adorable owl appliques are great for accessories, clothing, or use throughout the home. They can be used on just about any project you have in mind.
Olive The Owl
If you are looking for a quick and easy crochet project to make, this is perfect. Beginner-level Amigurumi pattern is also great for those who are new to crochet toys. It takes only one ball of yarn and a couple of hours to make your own cute amigurumi owl. This is a great idea for a handmade gift or just as a new friend for yourself. You can crochet this cute owl and make your friend or family member happy with a special handmade gift.
Duolingo Owl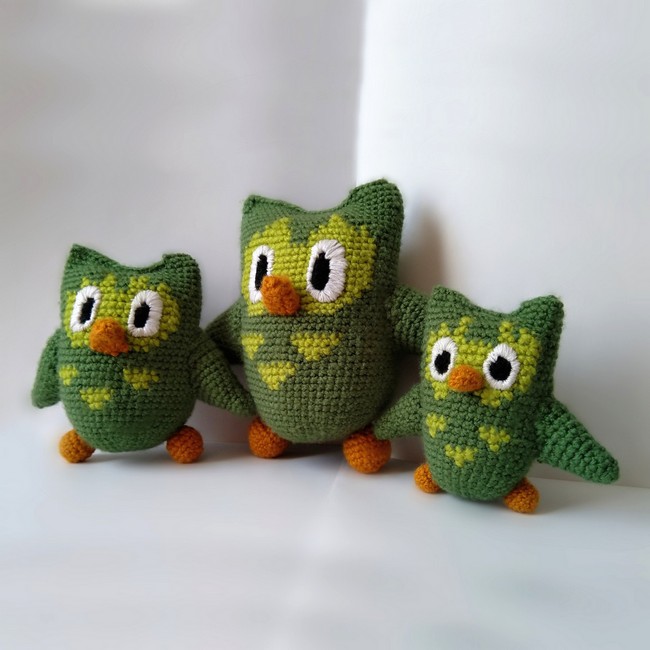 If you love Duolingo, then you must absolutely crochet this little owl! He's small enough to be a keychain but big enough to be extremely huggable. A true testament to your love and devotion to the language learning platform, this adorable plush will make a great gift for any loved one. Crocheted from soft acrylic yarn and polyester stuffing, this charming owl is perfect for squeezing when you need some stress relief. Get your crochet hook and get started on these adorable cuties right away!
Mocho The Owl
Mocho The Owl is a great toy to crochet for yourself, your kids or grandchildren, and even your friends. He's so cute and cuddly that you'll want to make more than one! This crochet kit is the perfect combination of artsy, crafty, and cute. It makes a wonderful gift for your friends and family. It is like your best pal: super soft, fun-loving, and willing to always lend an ear. Meticulously handmade to be as unique as you are. Makes a perfect stuffed animal for anyone looking for comfort.
Owl & Snow Owl Amigurumi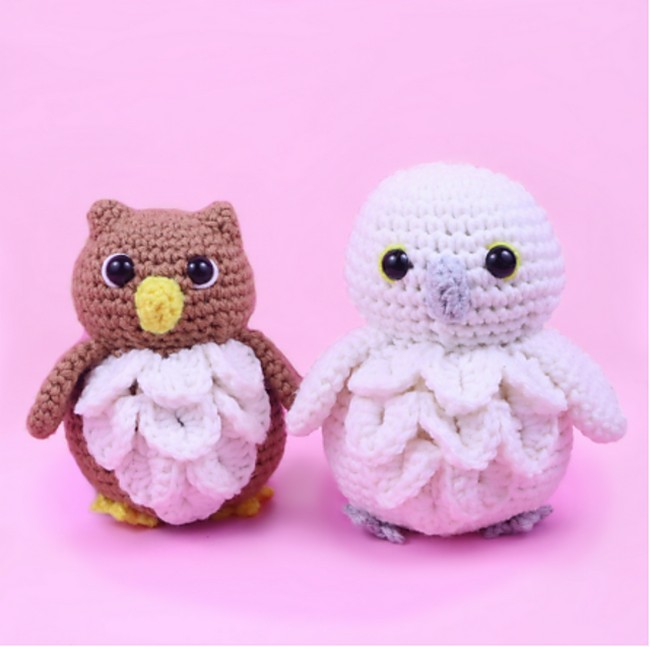 Crochet Owl and Snow Owl Amigurumi are very easy to crochet. They are both made with basic crochet stitches and they work up in no time. You can make a whole family of owls in an afternoon, and they are great gifts for children and adults alike. They are perfect for beginners, as well as more experienced crocheters, and they would make a great addition to any nursery or home decor. It can be customized in different colors to make it more personal and fun.
Baby Owl Lovey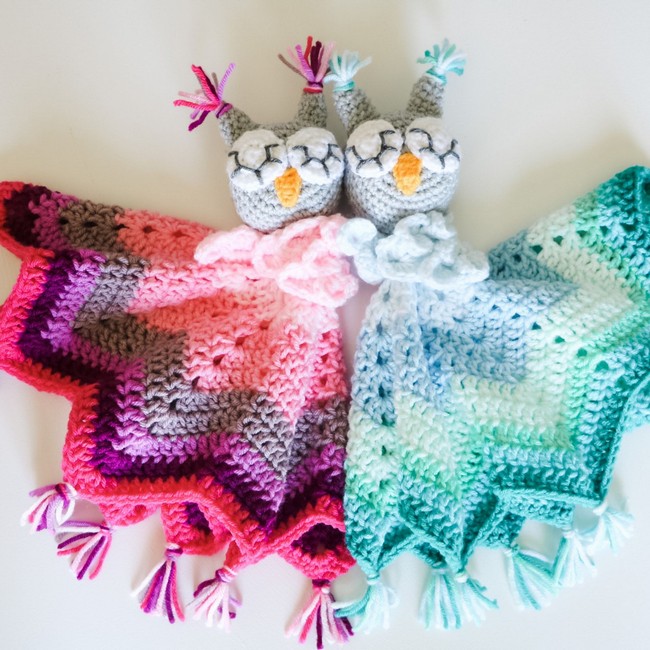 This two-in-one crochet baby lovey has it all—hug factor and security. With its simple stripes and cute little owl face, the Crochet Baby Owl Lovey will become your go-to pattern for baby shower gifts. It comes in one size but can easily be adjusted to make it bigger or smaller; just increase or decrease the number of stitches in your starting chain at the beginning of the pattern. It is perfect for beginners and perfect for a special little one in your life. This crochet baby blanket is sure to be one of your favorite crochet patterns.
Free Crochet Owl Purse Pattern: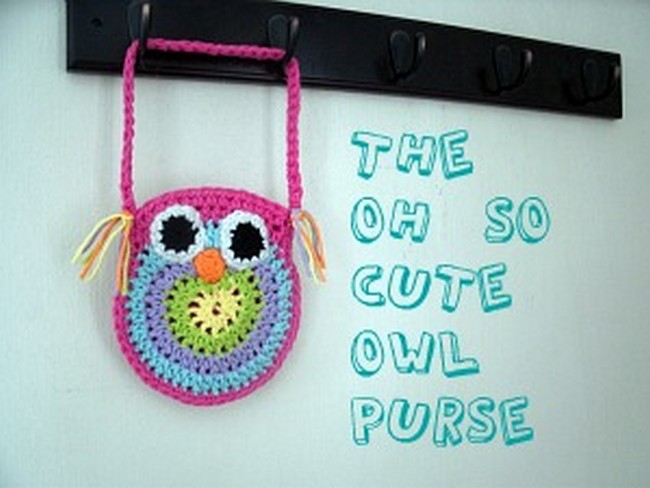 Have you ever got bored of using the same things that are bought from the market? Don't you want something special and unique thing, made by your own hand? The crochet owl purse pattern is here to fill the gap in such a way that is not only easy to make and crochet but also a wonderful gift for you to give your loved ones. The best way to carry your phone and other essentials, this adorable owl purse is just big enough to tuck in the necessities. It is a perfect project for a beginner and it uses cotton yarn.
Crochet Owl Pouch With Pattern: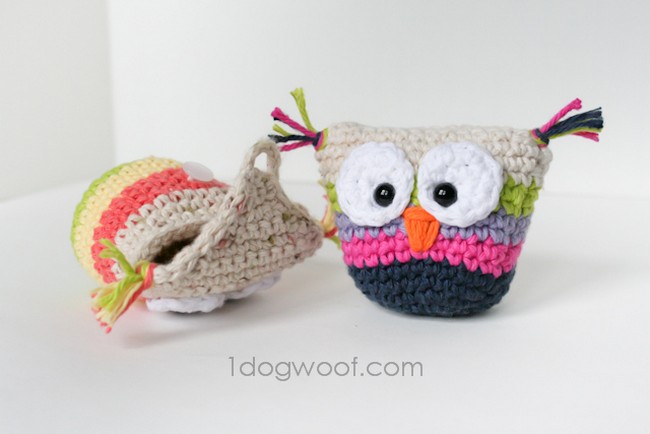 Make this easy, adorable owl pouch with a free crochet pattern. The best part of a handmade product is that you can make it as per your own likings and choices. If you want to make it more special, you can add buttons on it or anything you like. This owl pouch has black buttons for the eyes. You can also use any pop-up eyes or googly eyes for making the pouch adorable. Owl Pouch With Pattern is perfect for the owl lover with its shape, colours, and button eyes! This pattern is not recommended for beginner crocheters as it involves multiple colors and some tricky stitches.
Easy Free Crochet Owl: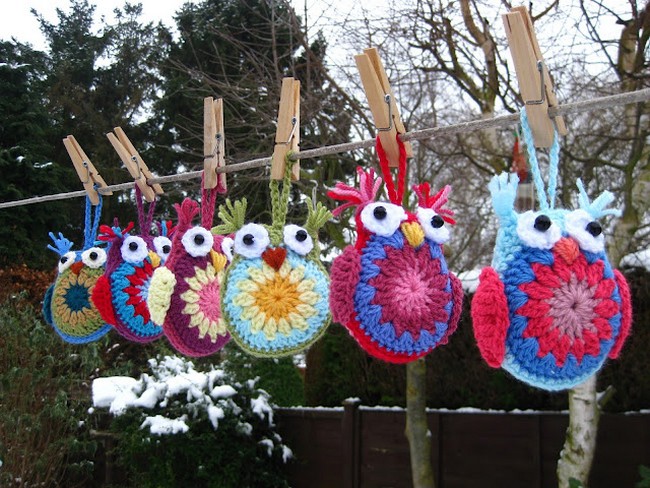 The Easy Free Crochet Owl is an amigurumi pattern that is easy to make. It is colorful and cute which makes it a great gift for friends. The frills make this owl special, as does a white-colored yarn for the formation of the eyes. This easy free crochet owl is fun to make. Not only will they allow you to practice using new techniques, but they also provide a great opportunity to try out new yarns and colors. The pattern is simple and easy to follow along, even for beginners.
bunnymummy-jacquie.blogspot.com
Crochet Owl Granny Square: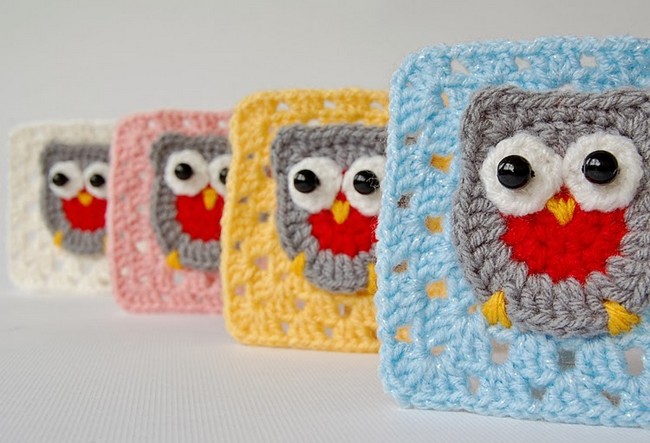 Are you looking for a crocheted owl pattern that is free and easy to make? This free crochet pattern is for Owl Granny Square. The pattern is created in a way that it would work well as the main focus of a blanket or as part of a granny square blanket. You can use this cute owl granny square on your home decors. It can be crocheted for the kitchen decor and can be used as a potholder. You also make it for your kid's toy. Let's start to learn how to crochet this cute owl granny square tutorial.
Crochet Owl Amigurumi Pattern: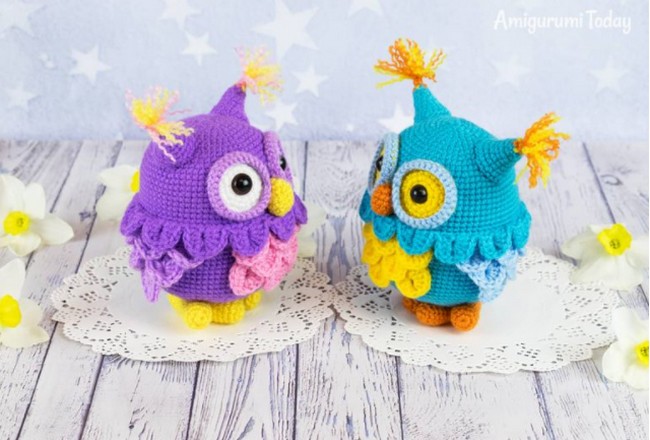 Crochet Owl Amigurumi Pattern would be a great help to you in enhancing the beauty of your home. It would also prove your great helper for enhancing the beauty of your home as well as you can crochet this for your friend's baby. It is also easy to make and the color used for making this owl is bright. The black button is added for making eyes and you can use cotton yarn for crafting this amigurumi. This owl not only looks cute but versatile enough to use as a gift or home decor.
Crochet Owl Amigurumi Mr. Murasaki: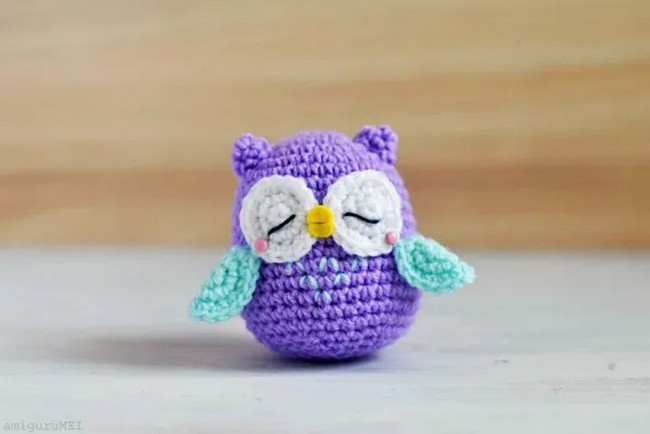 Baby toys are always the most important part of a baby's life. And when your baby is small, there is nothing but these small pretty toys it would like to play with. This gorgeous crochet Owl Amigurumi Mr. Murasaki is a perfect baby toy. This pattern uses cotton yarn, and there is no restriction of color for you. This free crochet owl amigurumi Mr. Murasaki is so quick and easy to make! It will prove a perfect project if you are a beginner. The color is so unique that you will look at it and smile on it with joy as well as with your babies. It's a cute and free crochet pattern, easy to make, and quick to finish.
Baby Owl Pattern: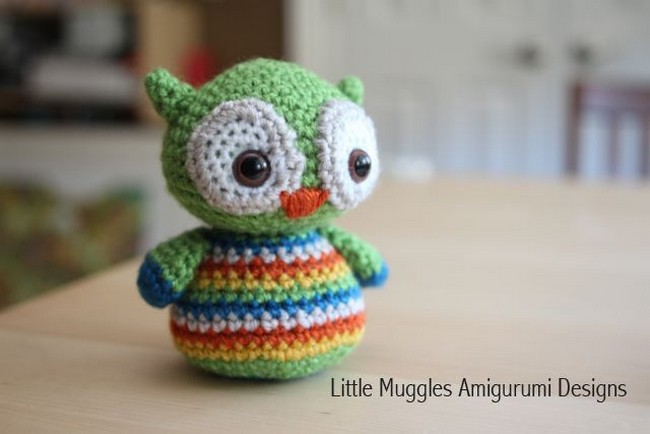 This is the best project for crocheting and cotton yarn, and there is no restriction of color for you. This baby owl-free pattern is easy to make and a very quick project. The addition of black buttons makes it more special. This one is the best project if you are a beginner. All colors have used in this are bright, but it depends on your choice.
Free Crochet Owl Family Amigurumi Pattern:
Ready to get your crochet mojo going? This free crochet pattern demystifies amigurumi and simplifies even the most intricate-looking creatures. It's a great starter pattern: you will learn how to use the magic circle, single crochet, increase, decrease, and change colors — all while making an adorable owl family. Save time on your first project by using this simple and easy crochet pattern. Beautiful crochet owl family pattern to decorate your home, nursery, and room decorations. You can create this charming owl family to decorate your home or give it as a gift for family and friends who are also nature lovers.
Crochet Soren The Barn Owl: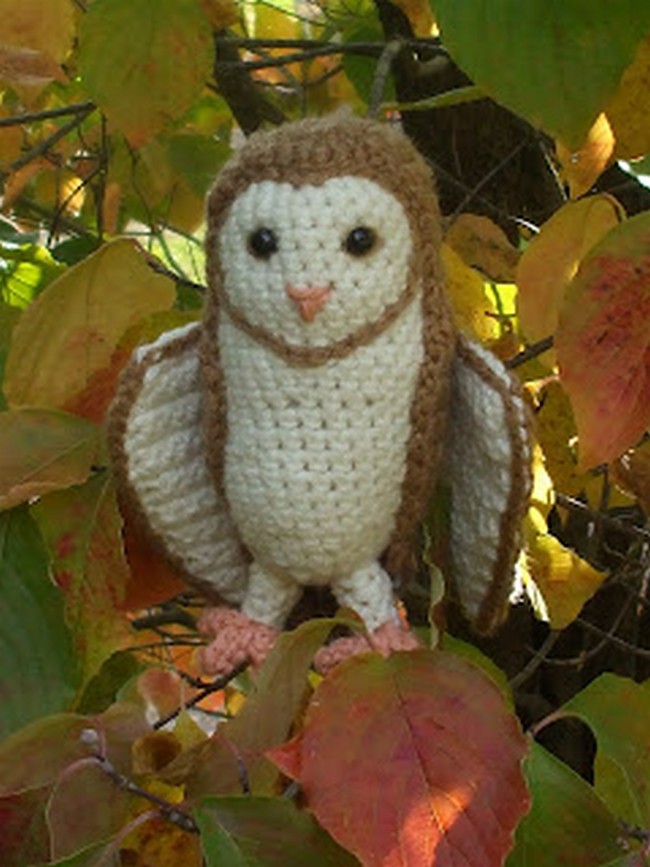 If you want to decorate your home or like to make something new and unique, crochet this Soren The Barn Owl. You will definitely enjoy its crochet. Because it's a little bit different from the regular patterns. But it's not difficult at all.​ Enjoy crocheting this wonderful owl using cotton yarn and spend your time with joy. It is a great friend for your kids, or maybe for you too. He loves to go to the park and hang on walls, cabinets, and anywhere you want. As this owl is crocheted with cotton yarn so it is washable by hands using cold water.
Owl Granny Square Crochet Pattern: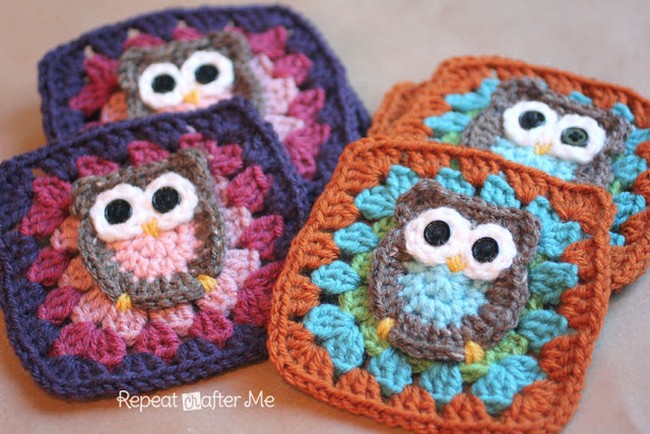 Owl granny's square crochet pattern works up quickly, and the result is so impressive. Granny squares are easy to make and so versatile. Beautiful and very colorful and the best of all is that it can be made without any difficulty and with a lot of fun You can use this pattern to create all kinds of amazing projects, like blankets, cardigans, jerseys, shawls, etc. You can use this square as a coaster or placemat, or you can combine it with some other squares of your choice to make a pillow or blanket.
Owl Crochet Hat Pattern: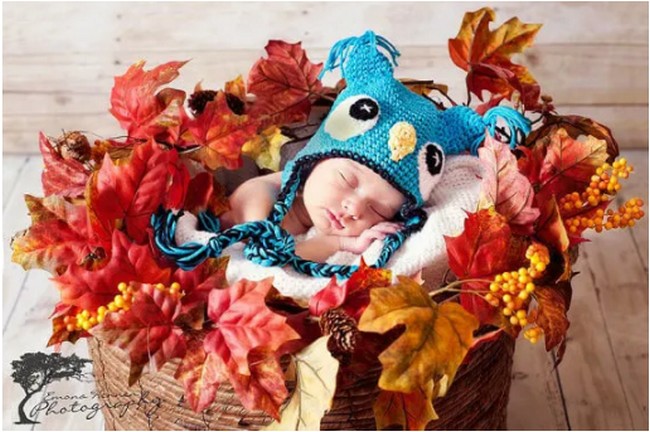 This Owl Crochet Hat is a perfect gift for the cold winter days. You can keep your baby warm through this hat in your homemade style. This hat will be a great gift for a baby shower or birthday gift. This can be a great hit by using your choice of colors. You need to get the supplies for crocheting this and then start with it to crochet an owl crochet hat-free pattern for your baby. The pattern is easy and can be worked up in an evening, making it convenient for last-minute gifts like a baby shower present or new baby gifts.
Crochet Owl Blanket Lovey Pattern: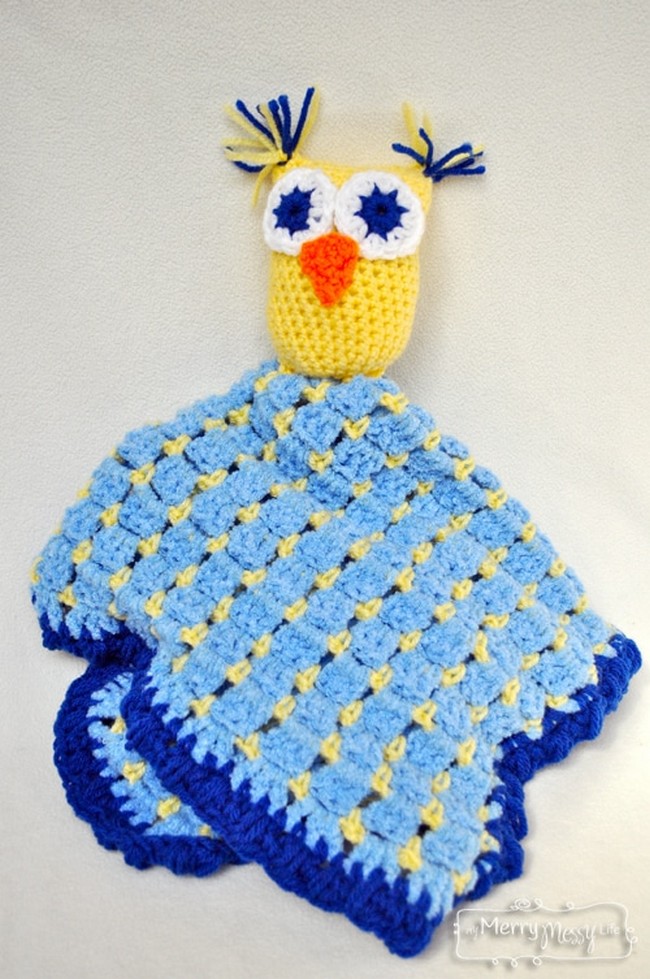 This crochet owl blanket lovey-free pattern is great for a baby. It keeps you warm and cozy in winter. This crochet owl blanket is lovey is ready for winter. If you also want to stay snuggly and warm in winter, you will love this pattern. Crochet this myself, and it took not enough time to make it. You will use cotton yarn to make it; therefore, it is soft as well as warm. It is a fantastic gift, and most importantly, it is easy to customize because if you change the color scheme, it all looks unique. To make an owl blanket, you need time, but once you make this, you can't stop yourself from making more blankets for your family and friends.
Crochet Owl Mittens:
The best thing about these free crochet owl mittens is that it keeps the hand warm and cozy in winter. It also provides full protection against cold. This is so lovely for hand warmth, especially for toddlers, which keeps you more active. These free crochet owl mittens are very easy to make in less time and effort as compared to other hand warmers. These free patterns make your winter more pleasant, beautiful, and elegant. These mittens keep your hands warm in cold weather. You can make these amazing colorful mittens for yourself or any other family member, or friend, a great gift idea if you can crochet this type of project.